Vegan Peppermint Mocha Frappuccino (Paleo, V, GF, DF): an easy, whole ingredient recipe for minty, thick and chocolatey peppermint mocha frappes! Vegan, Paleo, Gluten Free, Dairy-Free.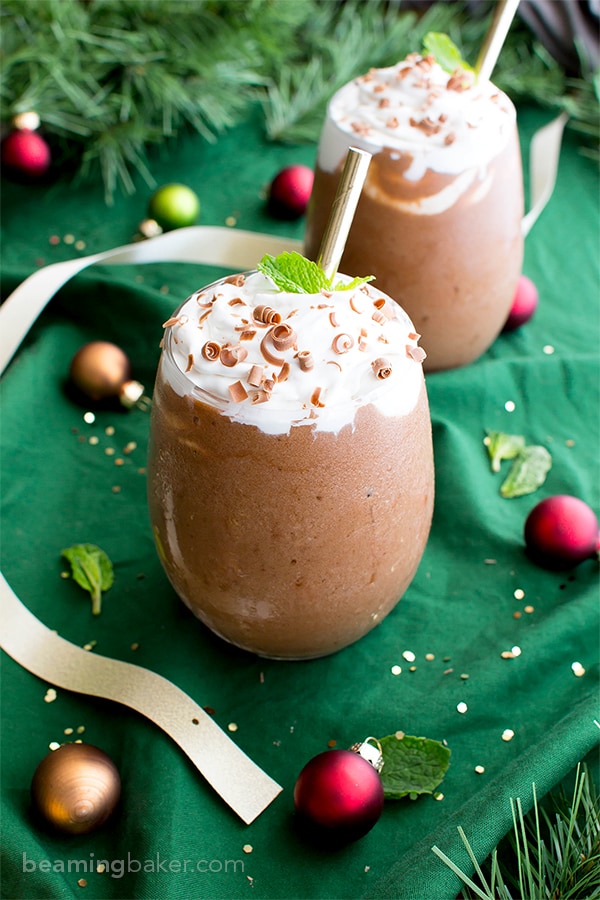 So right now the soft piano tunes of Christmas are playing in the background, snow is falling lightly right outside my window, and Erik's happily tapping his cartoon reindeer sock-clad feet on the carpet.
I've just finished making a double batch of triple peppermint chocolate chip cookies (I know) and some of this easy peppermint fudge (I know again!), and we've got gift wrap everywhere. Just, everywhere. Hold on a sec, I think I see a spot on my couch that's bare of gift wrap.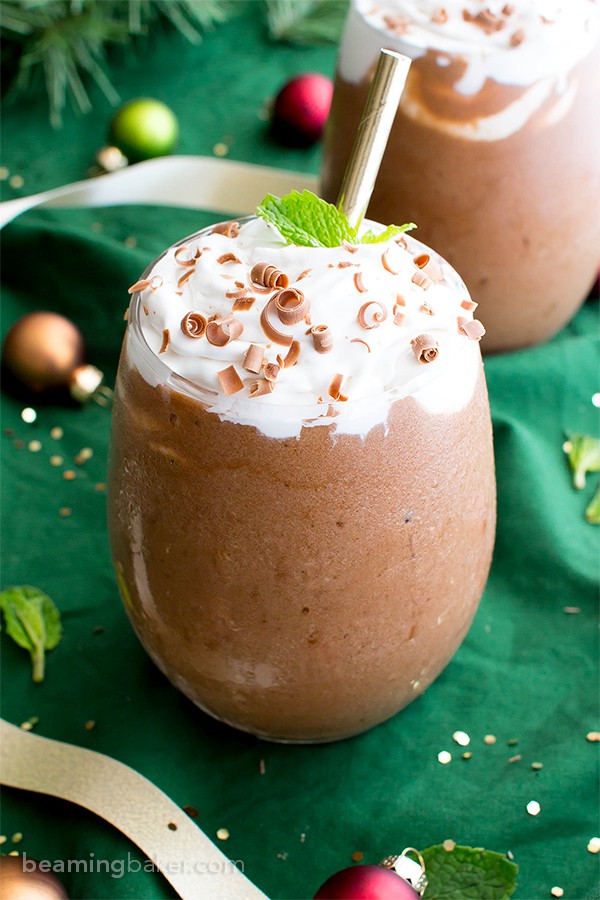 …
Okay, just fixed it! In fact, there was a nice, big golden bow that was just waiting for its cozy spot on the couch. 😉
With the twinkly lights on and Jingle Bell Rock floating merrily throughout the house, with the excitement of seeing my family soon, I just think… what could be better? 🙂 The winter holidays are my favorite time of year. Okay, maybe in October I said that Halloween was my fave. But, erm… allow me to get super excited about each holiday as they come. That's cool with you, right?
Because Halloween is the buildup to Thanksgiving, which is then the for-realsies buildup/practice round for Christmas, Kwanzaa, Hanukkah and all the lovely winter holidays. Anyway, this year, I really wanted to create recipes around one of my family's favorite Christmas flavor combos: peppermint and chocolate.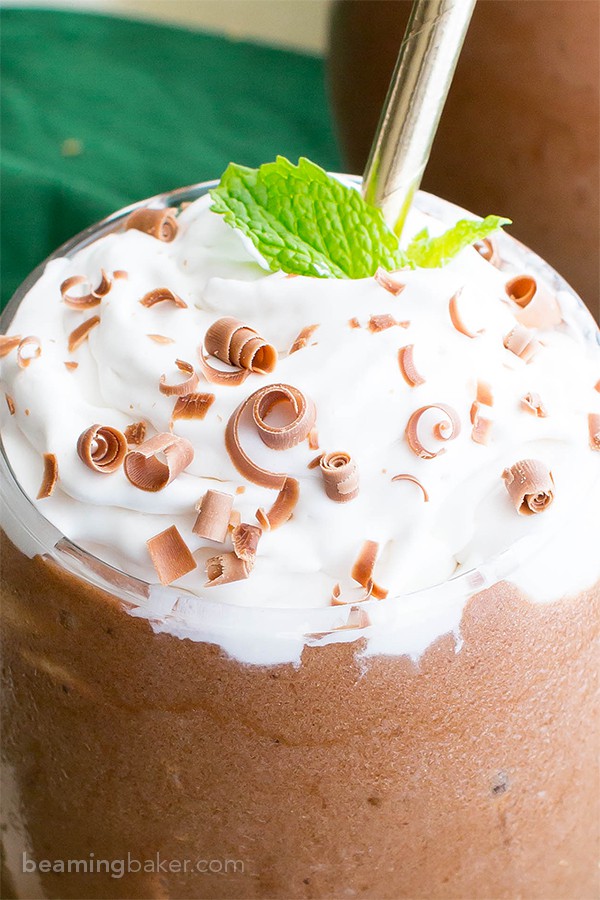 If you've been checking into the blog these past few weeks, you might've spied the last two peppermint treats: cookies and homemade crunch bars. Yep, I certainly thought about layering those two bad boys and creating a festive treat that would shock even Santa. But alas, those treats might just have to be saved for next year. Sorry, Nick!
Good news for the big guy and us (I like to think), I decided to whip up the coffee-shop-worthy Vegan Peppermint Mocha Frappuccino. It was SO much fun to blend, pour, decorate, and then decorate some more. Did I mention the golden bow/couch situation? 😉
The result is Christmas in a glass! How cool is that? It's not like that already exists. Or anything. Okaaaaay, there are snowglobes… and those decoration thingies wherein people stuff candle holders with ornaments and holly. Now that is Christmas in a glass, folks! Where can I find a couple of those? The bow on my couch is looking ever so lonely.
But what was I saying? Oh right, this Vegan Peppermint Mocha Frappuccino is totally Christmas in a glass! Not the first of its kind, mind you (see: snowglobe, decorative holly thingy, and these vegan peppermint mocha cupcakes), but definitely one of the tastiest! After all, who even eats/drinks a snowglobe… or decorative holly thingies?
Who??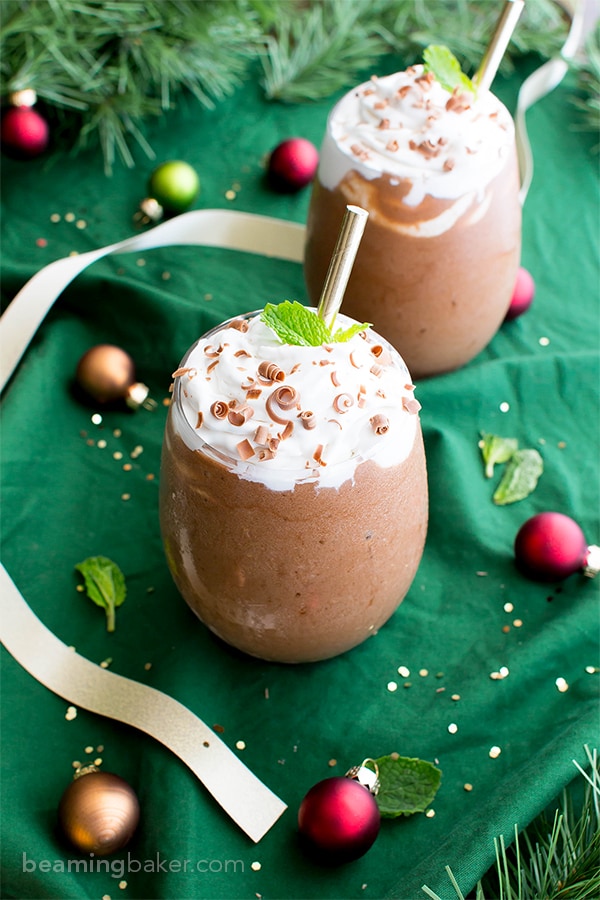 Ahem. In any case, I've obviously let too much peppermint extract go to my head, and spent too much time endlessly wrapping gifts/the couch. It's clearly time to take a break and get the blender out. Do you like to enjoy frozen, blended drinks during the winter? Or do you prefer hot toddies and other steaming hot beverages? Btw, if you're ever in the mood for a warm, delicious drink, you've got to try Vegetarian Mamma's Dairy Free Cafe Mocha! How good does that look?
While I eagerly await to hear about your favorite winter beverages, allow me to tell you all about my Vegan Peppermint Mocha Frappuccino (quick, before I get distracted again!). This seriously festive and tasty drink is:
made with just 5 ingredients
vegan, paleo, gluten free and dairy-free
the perfect combo of chocolate, peppermint and coffee
a match made in Peppermint Christmas Heaven
so easy to make, and ready in minutes
thick, rich and delicious
perfect for topping with your favorites: coconut whip, candy canes, chocolate drizzle
plant-based and allergy-friendly
Christmas in a glass, but way better than those inedible things…
So whaddya say? Would you like to join me for a freshly blended frozen delight? I think we should totally set up a decorations/toppings table. I'll blend up the drinks, you set up the chocolate curls, sprinkles and crushed candy canes. 🙂 Sound good? I'm so happy to spend the season getting ready with you. Wishing you lots of laughter, tons of fun gift-wrapping times, perhaps some sleigh bells, and some mistletoe with big hugs this year!
Tell me, what's your favorite holiday song?
Sending you all my love and maybe even a dove, xo Demeter ❤️
☀︎ Click below to Pin ☀︎

☀︎ Did you make this recipe? Take a pic and share it on Instagram with the hashtag #beamingbaker and tag @beamingbaker. I would love to see it! ☀︎
Print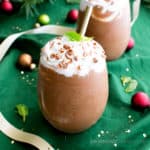 Vegan Peppermint Mocha Frappuccino (V, Paleo, Gluten Free, Dairy-Free)
---
Description
Vegan Peppermint Mocha Frappuccino (Paleo, V, GF, DF): an easy, whole ingredient recipe for minty, thick and chocolatey peppermint mocha frappes! Vegan, Paleo, Gluten Free, Dairy-Free.
---
Frappuccino
½ cup

cold coffee

4

medium bananas, sliced and frozen

½ cup

unsweetened almond milk

1 tablespoon

unsweetened cocoa powder

¼ teaspoon

pure peppermint extract
Optional Toppings
Dairy-free whipped topping, chocolate, or your favorite toppings
---
Instructions
At least 3 hours before, or the night before, pour coffee into an ice cube tray and place in the freezer.
Day of, add bananas into the blender. Blend until the bananas become crumbly. Add almond milk. Blend until smooth and creamy, scraping down the sides of the blender as needed.
Add coffee ice cubes. Blend until well incorporated and smooth, again scraping down the sides of the blender as needed. Add cocoa powder and peppermint extract. Blend until smooth.
Pour into two cups. Top with coconut whip, chocolate or any of your favorite toppings. Enjoy!
Category:

Frozen Drinks, Paleo, Vegan, Gluten Free, Dairy-Free
© beamingbaker.com. All content and images are protected by copyright. Please do not use my images or recipe without my permission. If you wish to republish this recipe, please re-write the entire recipe using your own words and include a link to this post for the recipe.

☀︎ More Holiday & Peppermint Recipes☀︎
Facebook ☀︎ Pinterest  ☀︎ Twitter ☀︎ Instagram