5 Ingredient No Bake Chocolate Coconut Bars (V, GF): A decadent 'n easy dessert recipe for thick, indulgent coconut bars enrobed in a velvety layer of rich chocolate ganache. Made with simple, whole ingredients. Vegan, Gluten Free, Paleo, Dairy-Free.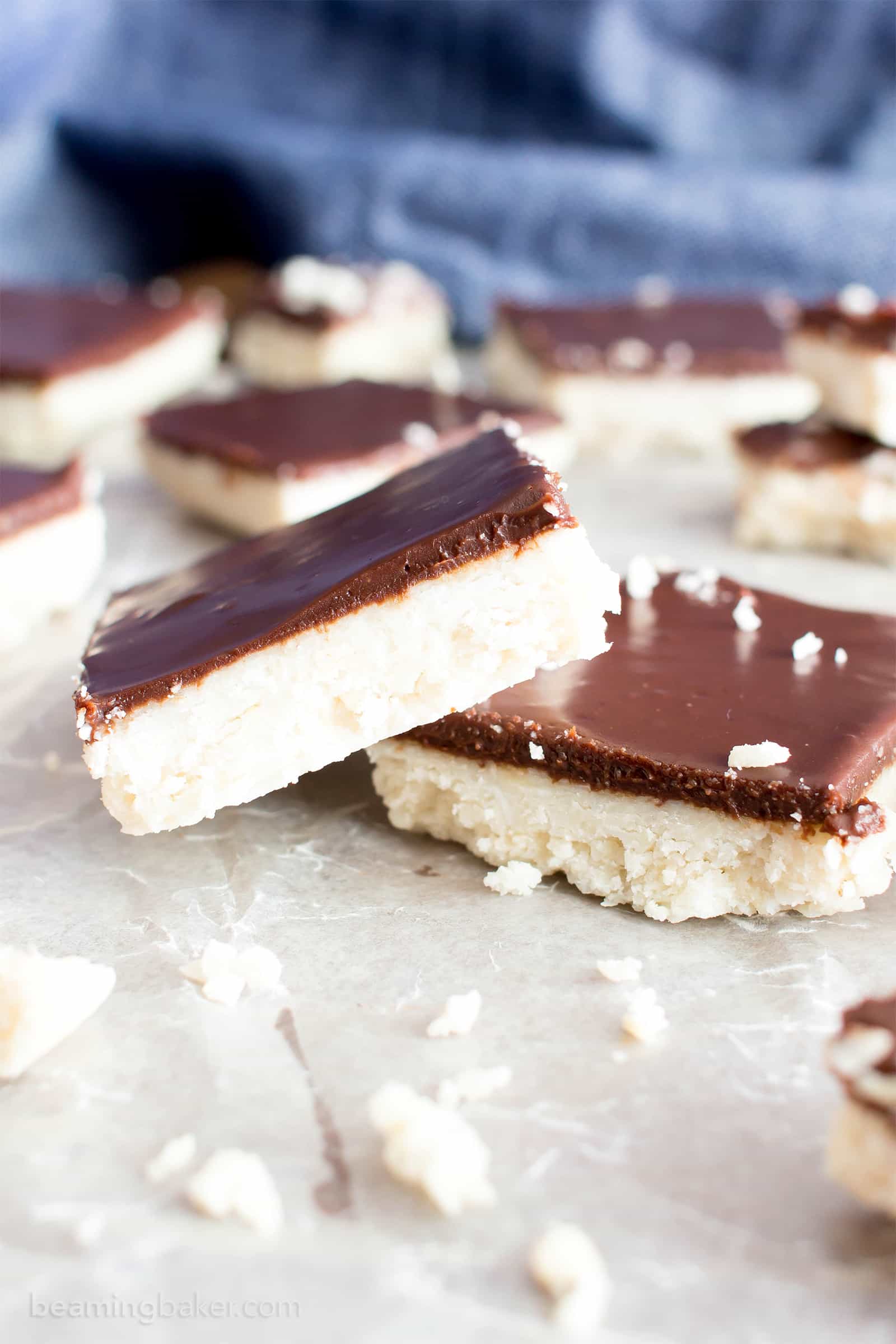 This post is dedicated to the most important person in the world to me: my mom. 🙂 No offense, Erik! 😉 He's such a spotlight hog! J/k!! My mom's birthday is coming up… and for realsies though, every year I wrack my brain to think of how I might express how much she means to me.
Tbh, I usually try to bake/no-bake my appreciation for her. Okay, that's a weird sentence. But you know what I mean! There's just something about a homemade gift that always seems to say more. Case in point: these paleo vegan Almond Joy truffles I made for her recently. Second case in point: these paleo coconut macaroons that my mom specifically requested. ☺ Third case in point: these Ultimate Chewy Paleo Coconut Cookies for her bday… Okay… she kind of LOVES coconut. What can I say?
This love of homemade gift giving probably comes from my childhood.
Back when I was a kid, we didn't have much. But us four kids did have a mama that tried her darndest to make sure we never felt that way for long. She didn't have the moola to buy us toys, trendy clothes, or things like that, but she did have this amazing way in the kitchen.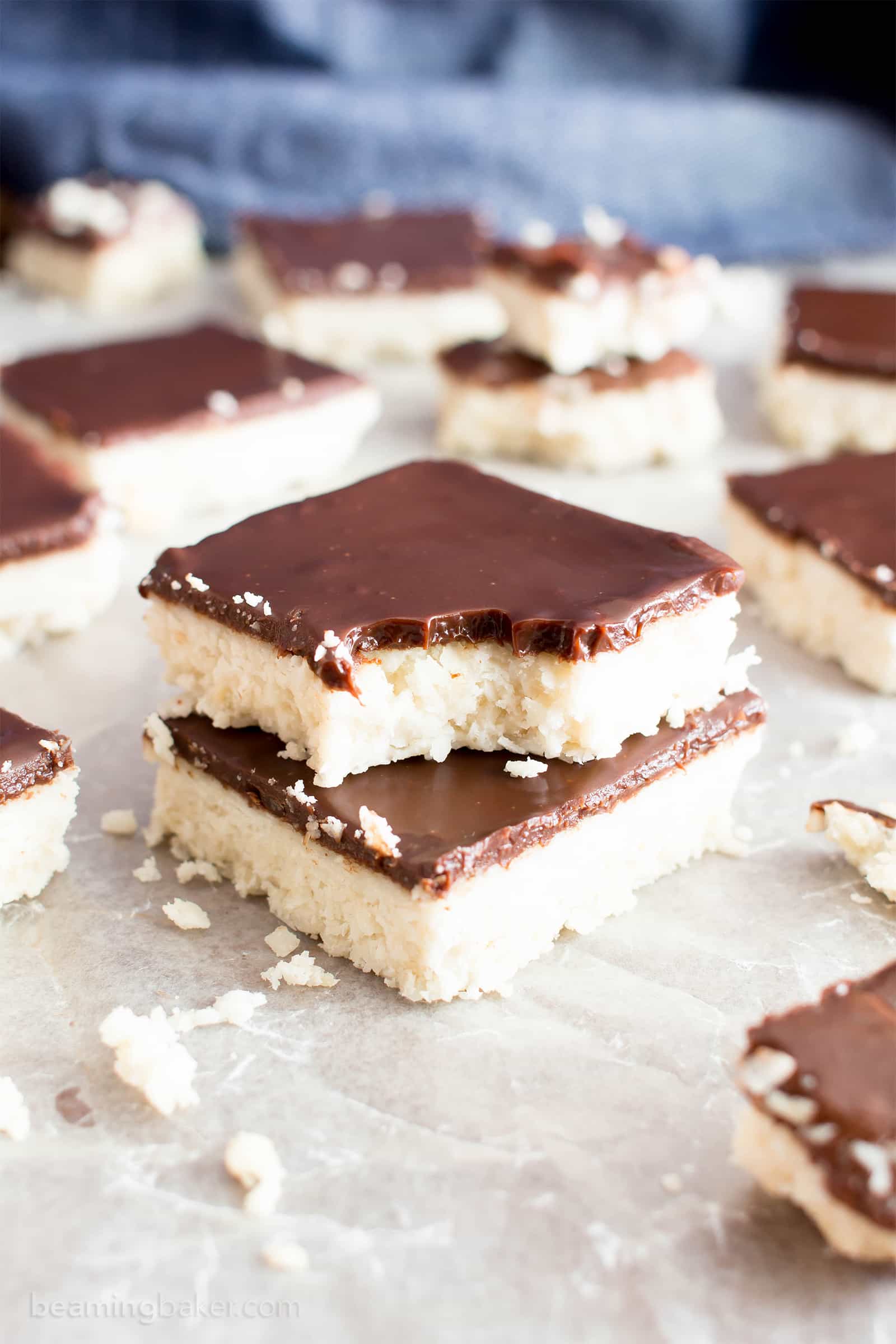 And still does, just for the record. 😉
After a long day of working on her feet, my mom would make the 3-mile walk home, lugging a big bag of potatoes, some tofu and loads of veggies. She'd get home and we'd all scramble to greet her: limbs and giggles flying everywhere.
She'd hug and kiss each and every one of us, then set to making dinner. She'd spend hours in the kitchen, chopping, cutting, peeling… adding little touches to show us kids how much we meant to her. It didn't matter that she had already spent 14 hours on her feet and didn't have any energy left. 🙁
All of these amazing scents would start wafting through the kitchen: spices, curry, oil. She'd turn on her radio and do a little dance between stirring and chopping (which kinda sounds dangerous, but my mom is a total badass, just sayin'). 😉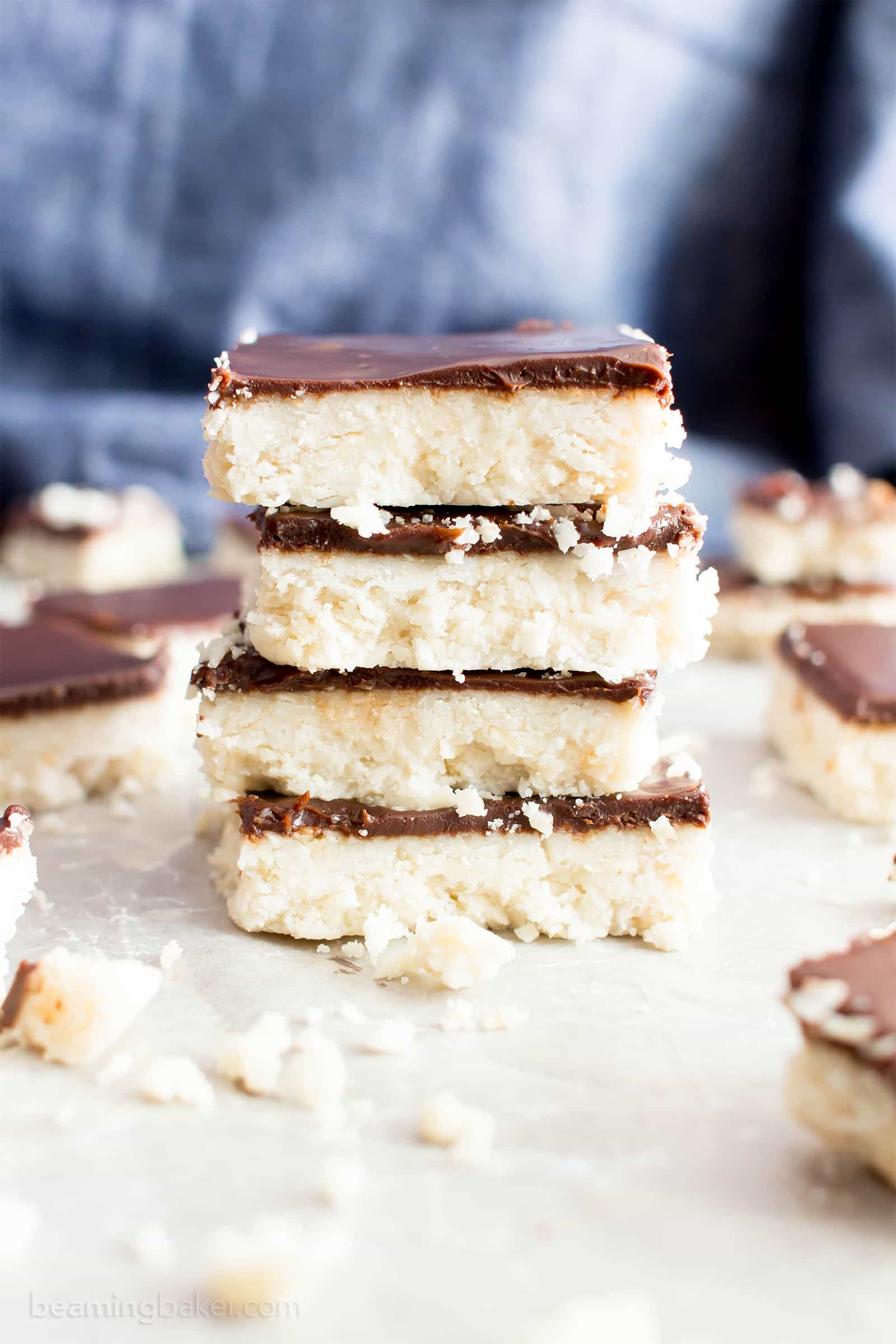 In between stirs, us kids would run into the kitchen, asking for the latest Barbie, why Monica would eat the last fudgesicle when she knew it was mine, and help with our homework.
A while later, dinner was ready. As if by magic, the dinner table was covered, covered in an assortment of steaming hot dishes: fried noodles, curry tofu, two different veggie dishes and more.
To this day, I still don't know how she does it.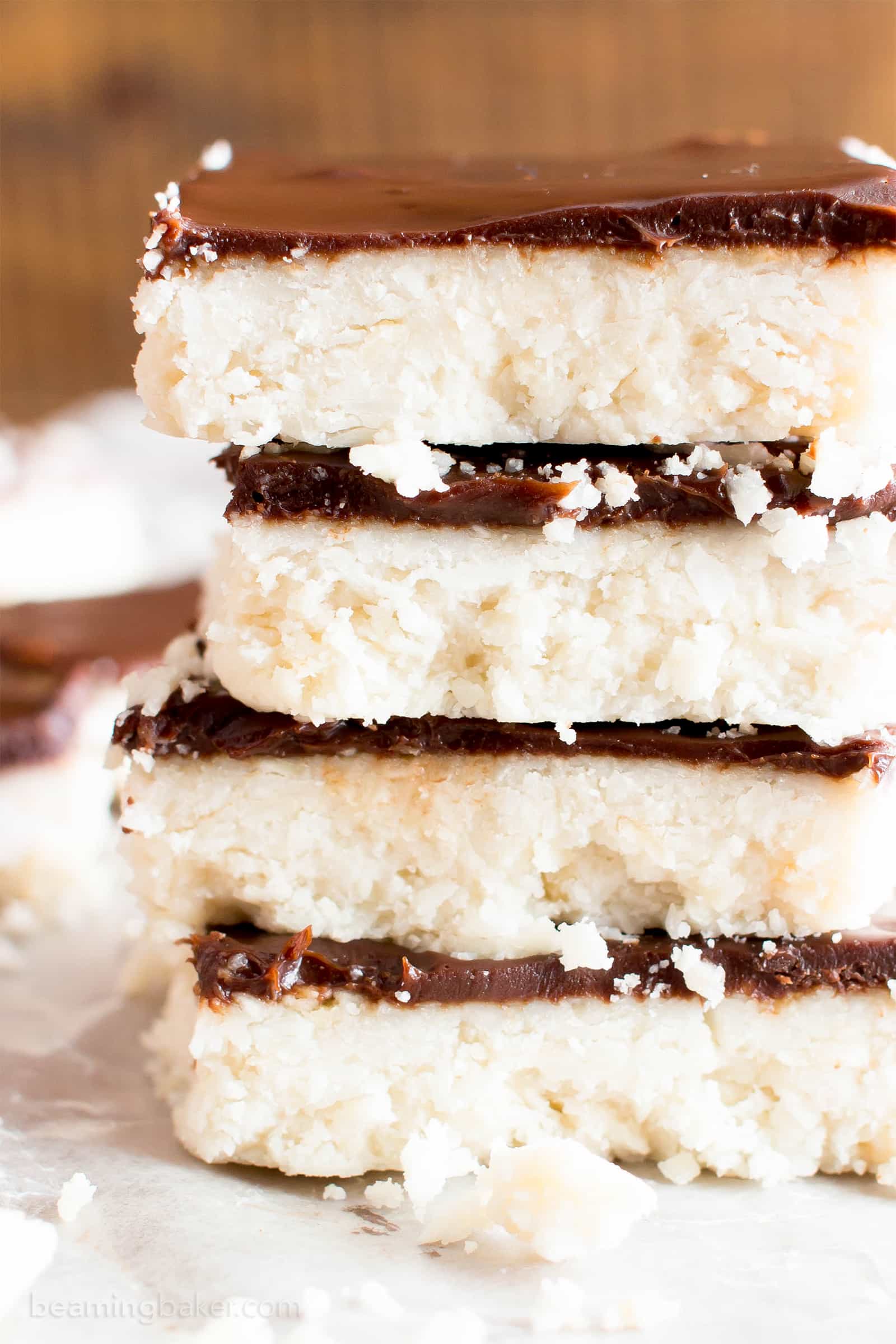 We'd all run to the table, squealing about which dish was "ours," and climb over each other to get to the food. And there my mom would be, just beaming.
Just, beaming.
No matter how rough of a day she had, how rude her boss was, or how terrible and stressed she'd felt about our financial situation (which we later spoke of as adults), she felt it all disappear in the kitchen. In the kitchen, she could conquer the world. She could do this for us and make everything just right, if even for an hour.
She'd completely transform in the kitchen. Become brighter, happier, more confident. And that warm feeling seeped into everything she made, and it lifted us up.
And to this day, I've never forgotten that feeling. I've never forgotten the power of food… and especially the love that comes from it.
As I get older, I realize more and more how much sheer, herculean effort must've gone into those dinners… how deflating and depressing that stress must've been on her shoulders all day…and I remind myself to appreciate her even more for how much she's always done for us.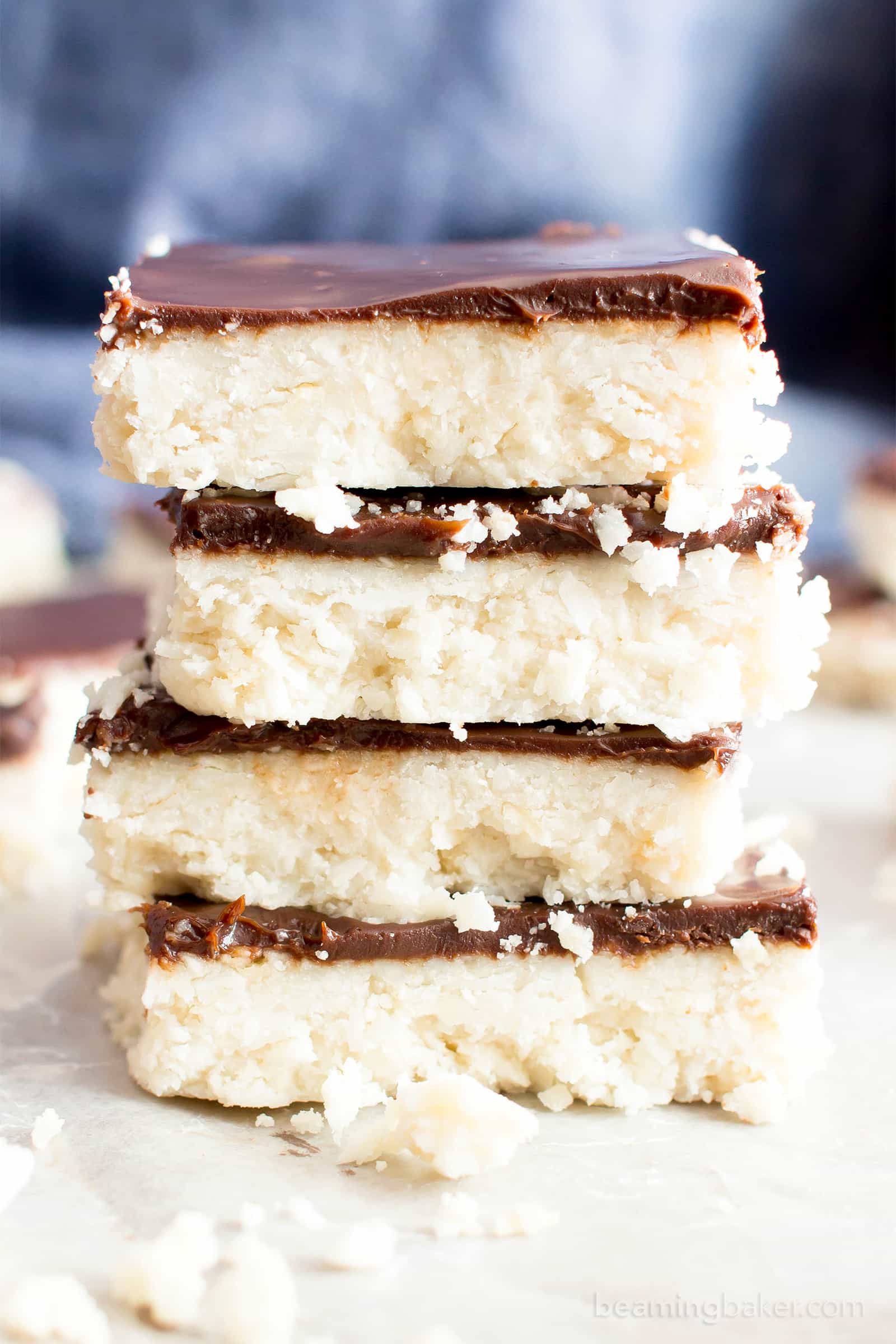 I make and share these recipes for my momma. She's always reminded me that people around the world struggled like we did growing up. Whether it's with a diet restriction, money or just the blues. And we have to do what we can to try and make things a little bit better, a bit funnier. A bit sweeter.
So I hope that, in a small, teeny-tiny way, my recipes can help you overcome those rough days, feelings of deprivation from crappy dietary restrictions, or even just make you laugh for just a second. If I did, then tell me immediately so I can screenshot that and send it to my mom. 😉
Will you join me today in saying happy birthday to one of the coolest people on the planet? 🙂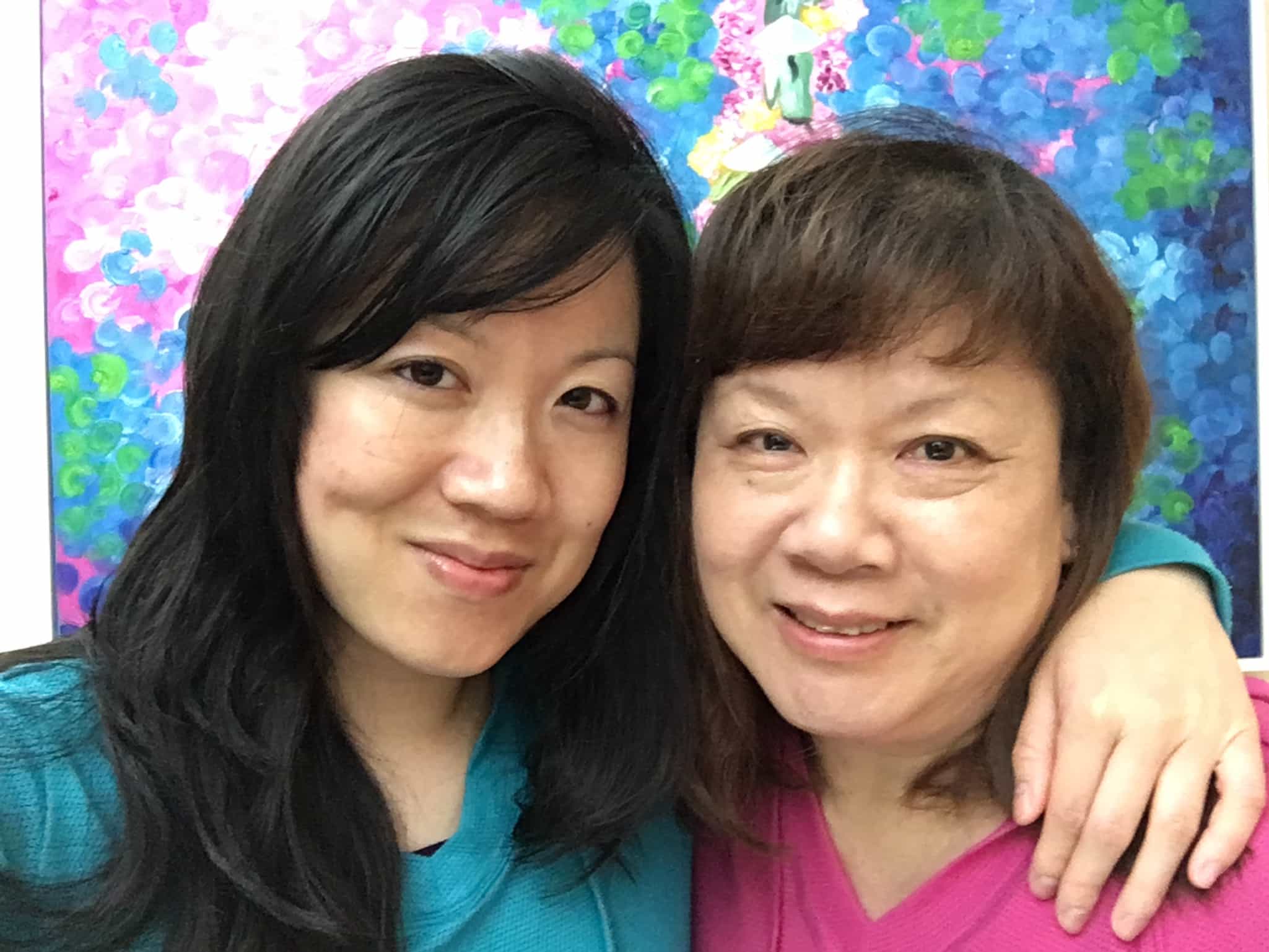 To my mom, the most incredible, kind, funny, goofy, loving and wonderful person in my life. Happy Birthday, Mommy. You are my inspiration, always.
Your edible birthday present (as requested, of course) 5 Ingredient No Bake Chocolate Coconut Bars: jam-packed with your two favorite flavors of all time: chocolate and coconut!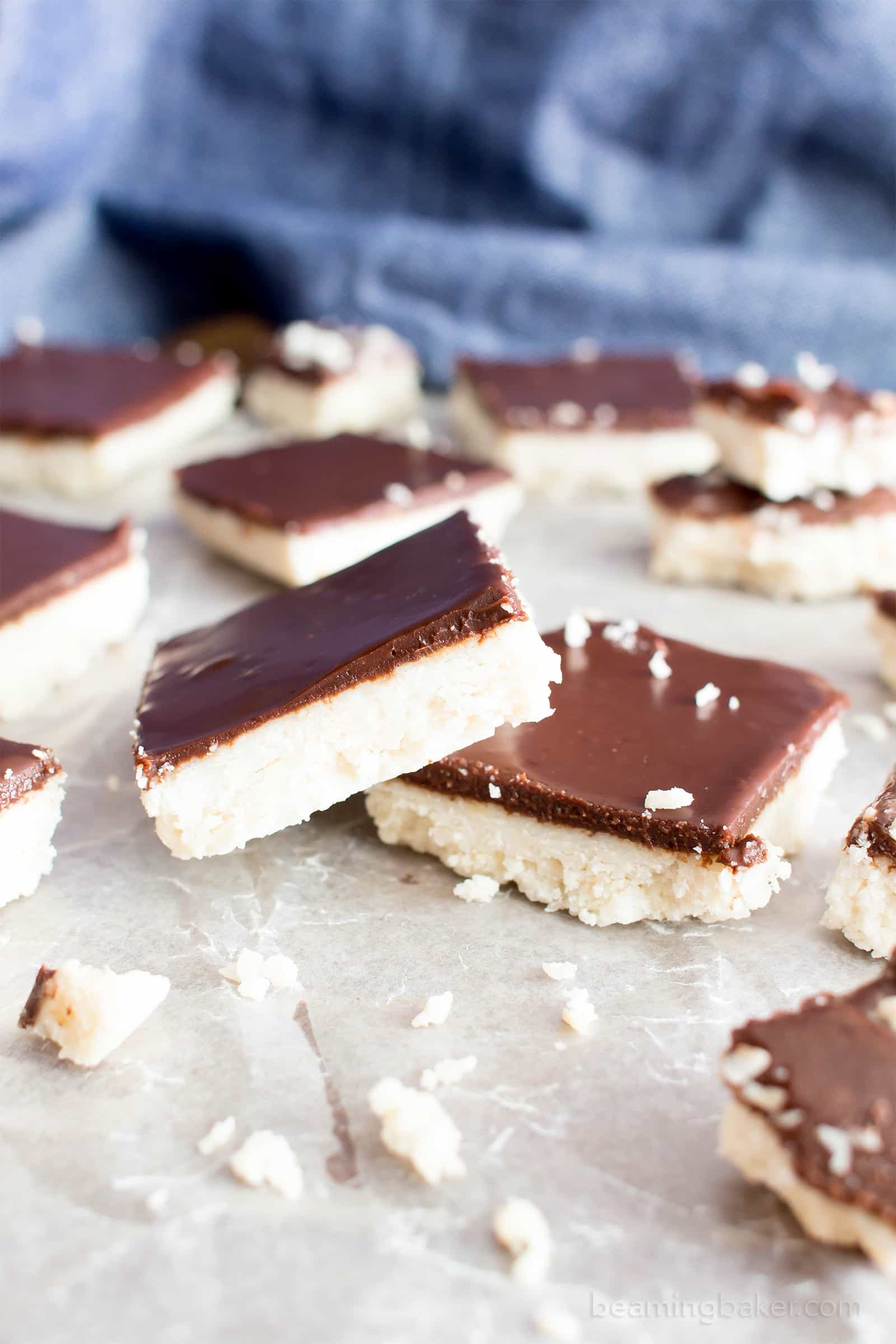 I hope you enjoy this recipe as much as my mom does (yep, I already treated her to a sneak peek of these). Just in case you're on the fence, let me tell you all about them. These 5 Ingredient No Bake Chocolate Coconut Bars are:
made with just 5 ingredients
perfectly chocolatey, perfectly coconut-ty
easy to make, and prep'd in just minutes
made with a thick layer of sweet coconut
… and topped with a soft chocolate ganache
paleo, vegan, dairy-free, gluten-free
basically as close as you can get to a healthy chocolate coconut dessert!
deliciously refined sugar-free
seriously so delicious when paired with my paleo almond flour cookie dough bars and no bake chocolate almond butter bars (both paleo!)
plant-based and allergy-friendly
made with the whole, simple and healthy ingredients you love
extra special, and dedicated to my hero, my mom 🙂
So whaddya say? Will you grab the chocolate as I break a few coconuts? 😉 Okay, fine, I'm just gonna bring over my 15-lb bag of coconut flakes… if you don't mind. 🙂 Just so you know, I'm always so grateful to share these recipes and make them with you. I can't wait to hear what you and your loved ones think of these 5 Ingredient No Bake Chocolate Coconut Bars. In the meantime, tell me:
Who's your hero?
Sending you all my love and maybe even a dove, xo Demeter ❤
☀︎ Click below to Pin ☀︎

☀︎ Did you make this recipe? Take a pic and share it on Instagram with the hashtag #beamingbaker and tag @beamingbaker. I would love to see it! ☀︎
Paleo Vegan Gluten Free Coconut Recipes + More
Print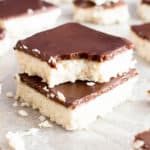 5 Ingredient No Bake Chocolate Coconut Bars (Paleo, Vegan, Gluten Free, Dairy-Free, Refined Sugar-Free)
---
Description
5 Ingredient No Bake Chocolate Coconut Bars (V, GF): A decadent 'n easy dessert recipe for thick, indulgent coconut bars enrobed in a velvety layer of rich chocolate ganache. Paleo, Vegan, Gluten Free, Dairy-Free.
---
Scale
Ingredients
Coconut Bars
2 ½ cups

unsweetened coconut, flakes or shreds or raw coconut chips

2 tablespoons

coconut oil, solid or melted

¼ cup

+

2 tablespoons

coconut cream*

3 tablespoons

pure maple syrup
Chocolate Layer
---
Instructions
Line an 8-inch square baking pan with wax paper or parchment paper. Set aside for later.
Make the Coconut Bars: Add coconut flakes, coconut oil, coconut cream, and maple syrup to a blender or food processor. Blend until you get a wet and sticky mixture, with smaller, just slightly noticeable coconut pieces. Note: the bigger the pieces, the more crumbly the bars will be.
Pour coconut mixture into the prepared pan. Press down and smooth until you get a tightly packed layer. Set aside while preparing the chocolate layer.
Make the Chocolate Layer: Use the double boiler method, or the following. In a medium, microwave-safe bowl, add Chocolate Layer ingredients: chocolate chips and coconut cream. Heat in 15-second increments until just slightly softened and melted, being careful not to burn. Stir thoroughly in between heating increments, until smooth.
Pour melted chocolate over coconut bars. Using a clean rubber spatula, smooth into an even layer. Freeze for 40-70 minutes. The longer the bars chill, the cleaner and less crumbly the slices (a little crumble is normal). Slice into 16 bars. Enjoy! Storing instructions below.
Delicious Paleo Vegan Coconut Recipes You'll ❤️
---
Equipment
Notes
*How to replace coconut cream with cream from canned coconut milk: the night before, place a can of full-fat coconut milk (cans NOT marked "light") in the fridge, being careful not to shake the contents. Day of, open the can and gently scoop the solid, white coconut layer off the top—this is coconut cream.
Store in an airtight container for 1-2 weeks in the refrigerator. If freezing, store in an airtight, freezer-friendly container for up to 1 month. Allow to thaw for 15 minutes before enjoying.
Room temperature storing: Okay to store at room temperature for 3-4 hours, but soft and a bit fragile. Best if kept in the refrigerator.
Category:

Dessert, Vegan, Gluten Free, Dairy-Free, Paleo, Chocolate

Method:

Chill

Cuisine:

American
© beamingbaker.com. All content and images are protected by copyright. Please do not use my images or recipe without my permission. If you wish to republish this recipe, please re-write the entire recipe using your own words and include a link to this post for the recipe.
If you enjoyed these plant-based, allergy-friendly 5 Ingredient No Bake Chocolate Coconut Bars, then you'll just love these delicious paleo vegan dessert recipes:
Here are a few items I used in today's recipe. .
Coconut Flakes | Baking Pan (8-inch) | Coconut Flakes | My Favorite Knife | Glass Mixing Bowls | Silicone Spatulas | Coconut Oil
☀︎ More Paleo Vegan Dessert Recipes ☀︎
Paleo Almond Joy | Ultimate Fudgy Paleo Vegan Brownies | Chocolate Coconut Cups | Almond Joy Ice Cream | Super Fudgy Paleo Maple Pecan Brownies | No Bake Chocolate Almond Butter Bars and… No Bake Almond Butter Paleo Brownie Bites, just for fun. 😉
This post may contain affiliate links, which allow me to make a small commission for my referral, at no additional cost to you. Thank you for supporting Beaming Baker.
Facebook ☀︎ Pinterest ☀︎ Twitter ☀︎ Instagram