Whole Wheat Blueberry Coconut Pancakes
Whole Wheat Blueberry Pancakes: A one bowl recipe for fluffy, moist blueberry pancakes that are perfect for a cozy breakfast or brunch.
Happy Thursday! What are you planning to do this weekend? Anything special?
As for me, I'll be living vicariously through you, the wildly dramatic stories of the peeps in my Netflix marathons and… sleeping. I've got no shame—only a comfy robe and cozy socks.
Okay, so it's been like, what, a month since Daylight Savings Time defied the laws of time and common decency and jumped us forward… but I'm still sleepy.
Anyone else feel this way?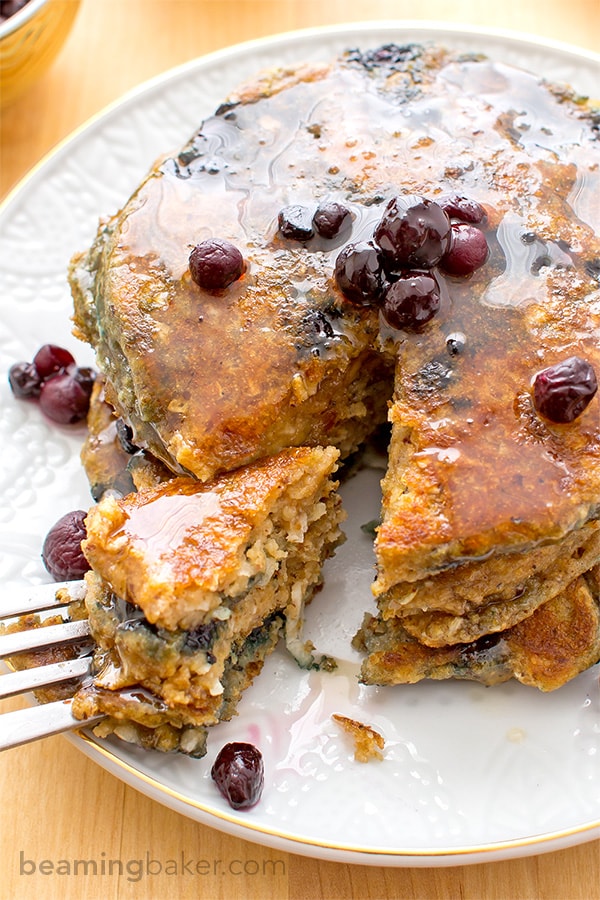 Meanwhile, I've turned to my usual go-tos for a nice pick me up: fun workout videos on YouTube, a brisk walk with Erik to one of our favorite places (the grocery store, who are we kidding), calling up my mom to hear another one of her wild stories, or a GIANT cup of coffee and so forth.
I've also been checking out all the delicious and creative breakfast recipes online. Can you believe this super creative recipe from Vegetarian Mamma– it's chocolate chip coffeecake made with pancake mix! And, I totally just peeped (yeah, I said that) this seriously perfect-looking stack of banana oatmeal pancakes from Dishing Delish. Just gonna use almondmilk and flax eggs to make 'em vegan. .
But when the going gets goin' and I'm all cozy-like in my jammies, all I want is a big, fluffy stack of pancakes. Scratch that—all I need is a giant stack of Vegan Blueberry Pancakes. Like, woah.
There's just something about a glorious stack of blueberry pancakes that makes the world brighter and better, dontcha think?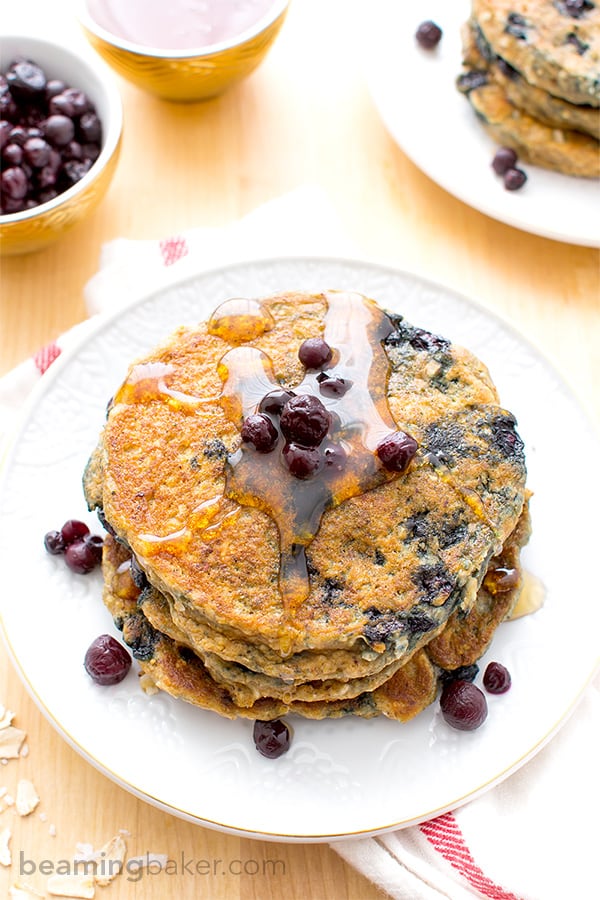 Check it out, these Whole Wheat Blueberry Coconut Pancakes are:
ridiculously easy to make
made with just one bowl
full of simple, whole ingredients
vegan and whole grain
fluffy, moist and just everything
If you're looking for a super cozy accoutrement to your weekend in, or just want to add a guilt-free recipe to your breakfast and brunch repertoire, look no further than these guys. Consider your tummies happy.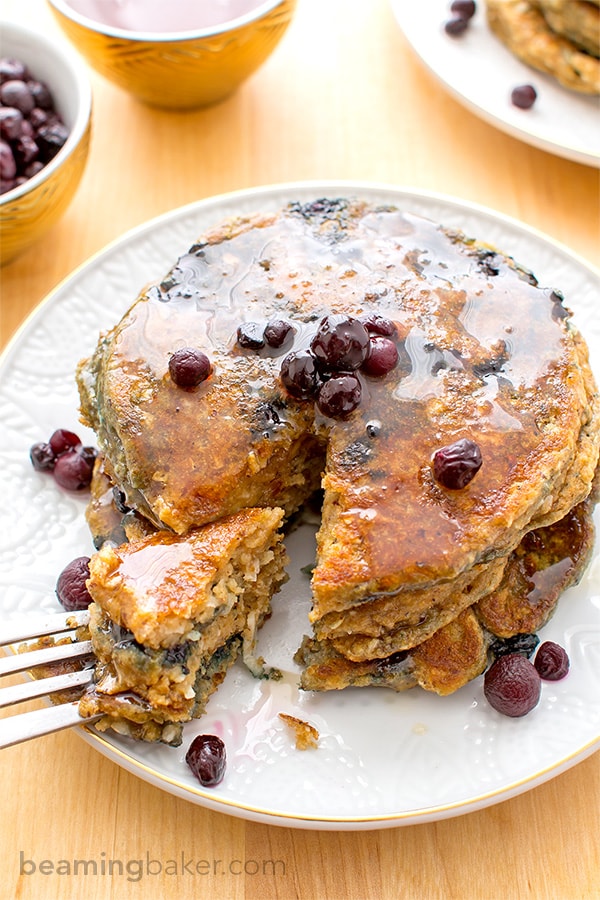 Plus, you wouldn't want your GIANT cup of coffee to be lonely, right?
Remember, the fluffy robe is only suggested, not required, to make these. 😉 And if you're looking for a citrus-y twist on breakfast, you've got to try Healthy Seasonal Recipes' deliciously gluten-free tangerine protein pancakes. <– Doesn't that sound yummy? To make vegan + dairy-free, use vegan cottage cheese and flax eggs instead of eggs! 😉
Print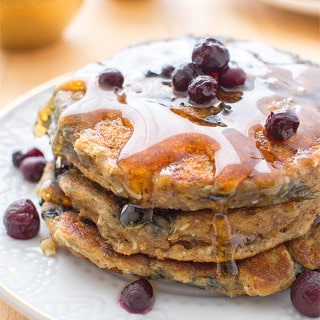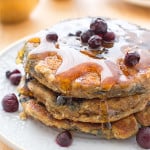 Whole Wheat Blueberry Coconut Pancakes
---
Description
Whole Wheat Blueberry Coconut Pancakes: A one bowl recipe for fluffy, moist blueberry pancakes that are perfect for a cozy breakfast or brunch.
---
Dry Ingredients
½ cup

homemade oat flour*

¼ cup

white whole wheat flour

¼ cup

almond meal

¼ cup

unsweetened shredded coconut

2 tablespoons

coconut sugar or dark brown sugar

¾ teaspoon

baking soda

1 teaspoon

baking powder

¼ teaspoon

salt
Wet Ingredients
¾ cup

almond milk

1

modified flax egg (

1 1/3 tablespoons

ground flax +

3 tablespoons

water, whisked together, set for 5 mins)

2 tablespoons

unsweetened applesauce**

1 teaspoon

pure vanilla extract
Add-in Ingredients
---
Instructions
In a medium bowl, whisk together the dry ingredients: oat flour, whole wheat flour, almond meal, coconut, sugar, baking soda, baking powder and salt. Add in the wet ingredients: milk, flax egg, applesauce and vanilla. Whisk together until just well mixed—do not overmix, as doing so will result in tough pancakes.
Gently fold in blueberries—be careful not to overmix, as doing so will make the batter purple.
To keep pancakes warm: Preheat the oven to 225°F degrees. Line a baking sheet with foil. Coat with nonstick spray. Set aside.
Set a skillet to medium-low heat. Coat with nonstick spray or oil. Scoop about ¼ cup batter into the skillet to make each pancake. When several bubbles of air rise up and pop in the pancake, that's a good sign that it's time to flip. You can gently test one pancake: using a very flat, heatproof spatula, lift up a corner of the pancake. If it stays firm, it's time to flip.
In between rounds of pancakes, make sure to carefully wipe the skillet off with a damp cloth and recoat with nonstick spray or oil.
To keep warm, place pancakes on the prepared baking sheet and into the oven. Remove from the oven when ready.
Serve as you'd like, with maple syrup or other toppings. Enjoy!
Notes
– *To make homemade oat flour: place rolled oats into a blender. Blend until you get a just slightly grainy flour. Remember: 1 cup of rolled oats does not equal 1 cup of oat flour. You'll need to blend more rolled oats to create less flour- the oats decrease in volume as you turn it into a flour. It's easiest to blend up a big batch of oat flour, and just scoop out what's needed for any recipe.
– **You can substitute the unsweetened applesauce with coconut oil.
Prep Time:

1 min

Cook Time:

14 mins

Category:

pancakes, breakfast
© beamingbaker.com. All content and images are protected by copyright. Please do not use my images without my permission. If you wish to republish this recipe, please re-write the entire recipe using your own words and include a link to this post for the recipe.
If you're craving strawberries instead of blueberries, try out my Strawberry White Chocolate Pancakes. Enjoy!
Round out your incredible brunch + breakfast menu with my Good Morning Breakfast Cookies. Oh, what a good morning it'll be. 🙂
Question of the Day
What are your favorite fruits or toppings to have in your pancakes?
I can't wait to hear your responses. ❤️ demeter