Fresh blueberries, creamy vanilla yogurt and crunchy granola settle into loving layers in this wonderfully satisfying blueberry yogurt parfait recipe!
A 3-Ingredient Recipe for Deliciously Fresh Blueberry Yogurt Parfait
Wait a sec… just three ingredients?!? No way!! Okay, fine… by now you may be quite used to/comfortable with the abundance of 3-ingredient recipes here on Beaming Beaming Baker. But let me tell you this: today's blueberry yogurt parfait is one of the easiest things you'll ever make. And once you're done, you can pat yourself on the back for a treat well done. Think: creamy, dreamy vanilla yogurt, layers and layers of crunchy granola—all sandwiched between a wealth of fresh, tart blueberries. Let's make this!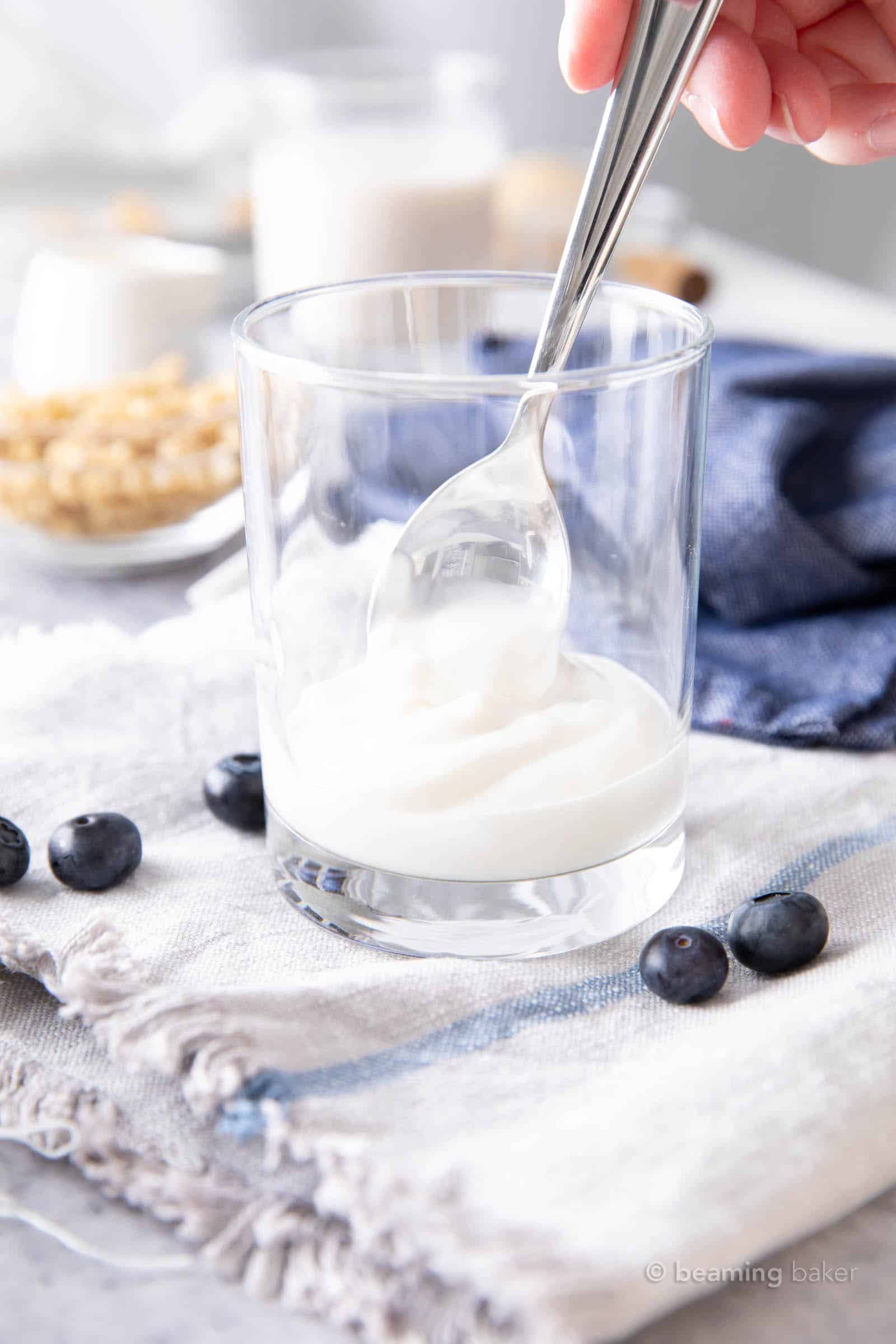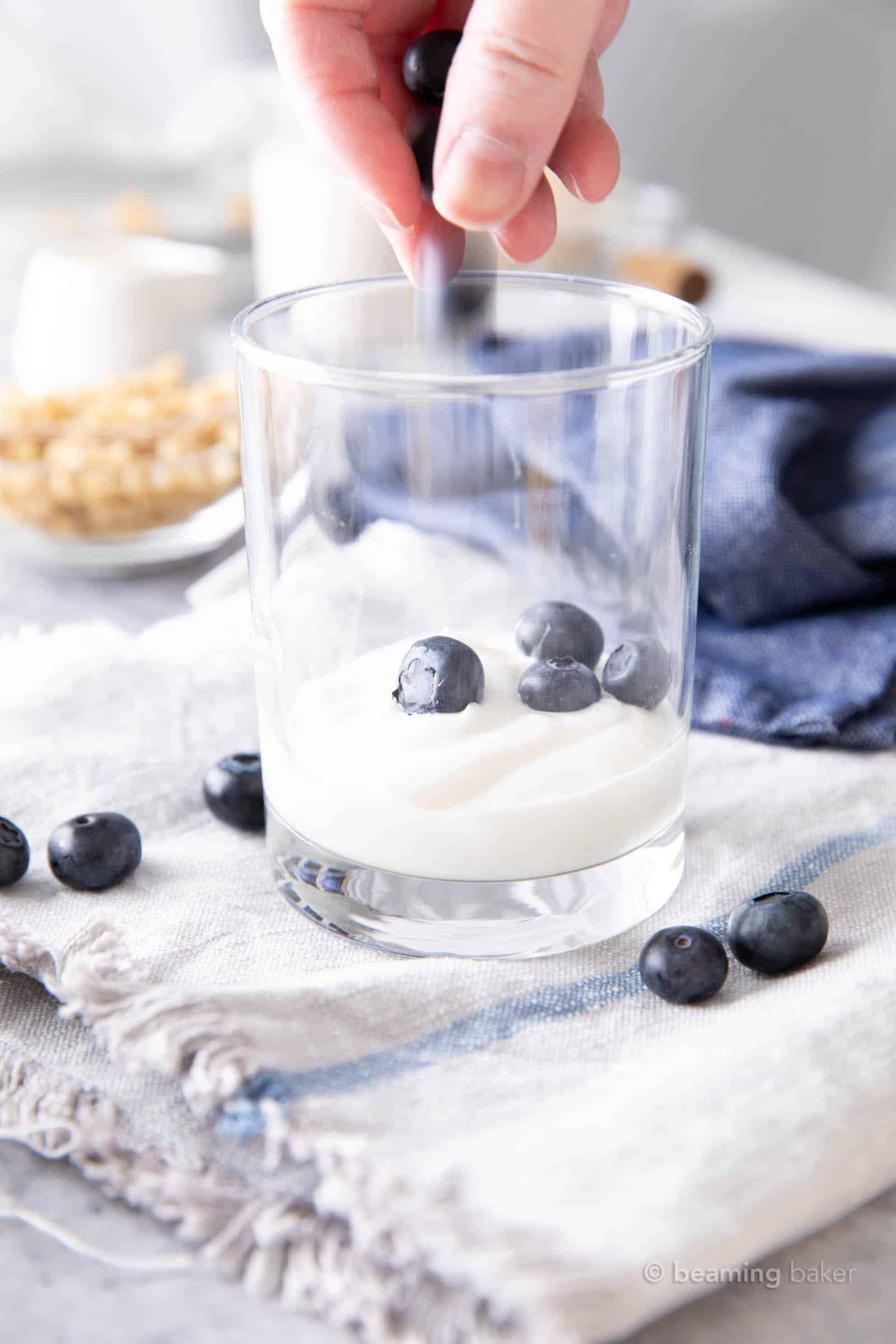 The Ingredients List
I promised you a 3-ingredient recipe, and that's what you're gonna get! Today's blueberry parfait is made with just 3 simple ingredients, as follows:
Ingredient 1. Vanilla Yogurt
Ingredient 2. Fresh Blueberries
Ingredient 3. Homemade Granola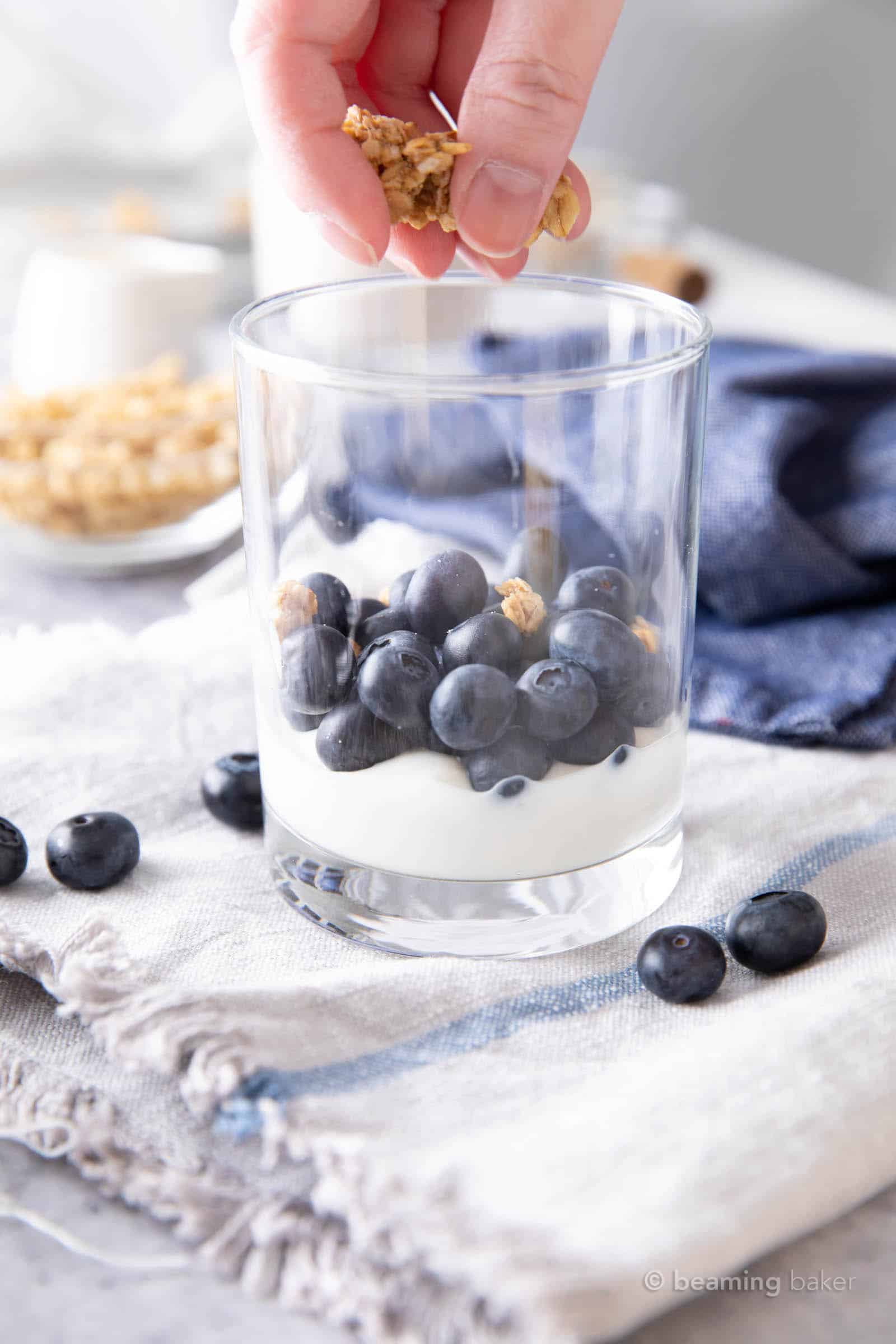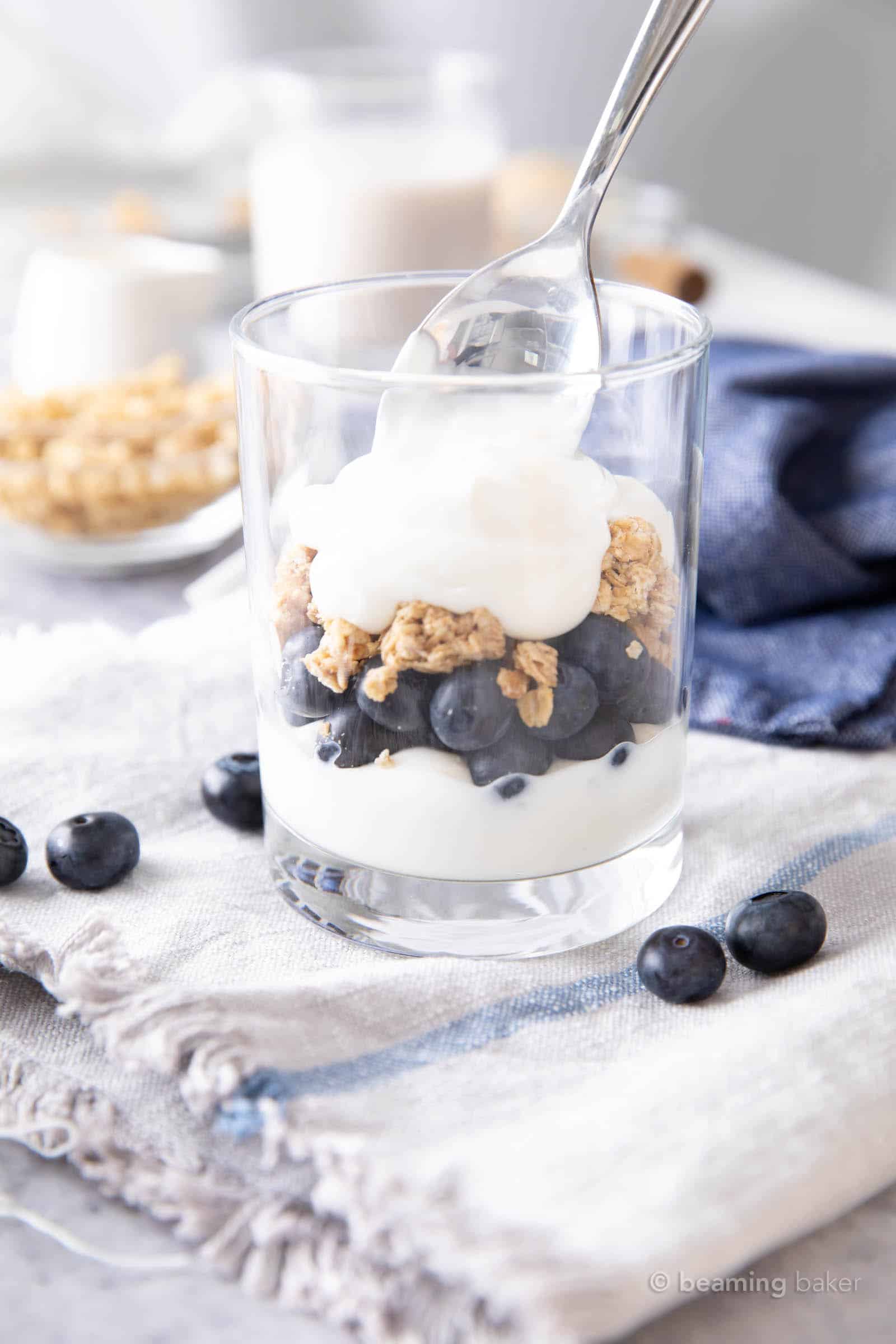 How to Make a Blueberry Parfait
What is it about a blueberry parfait that is so dang impressive looking? Is it just me? (They're kinda impressive like these healthy breakfast bars.) I love seeing the layers so beautifully and lovingly created, with delightful textures all mingling in one glass. To make a blueberry parfait, you need only to follow these super easy directions:
Set aside a jar or glass.
Spoon yogurt into the glass to create the first layer.
Sprinkle blueberries over the yogurt.
Optionally, sprinkle some sweetener.
Add granola over the blueberries.
Repeat as many times as you'd like for a blueberry yogurt parfait that's as big or as little as you want.
Enjoy!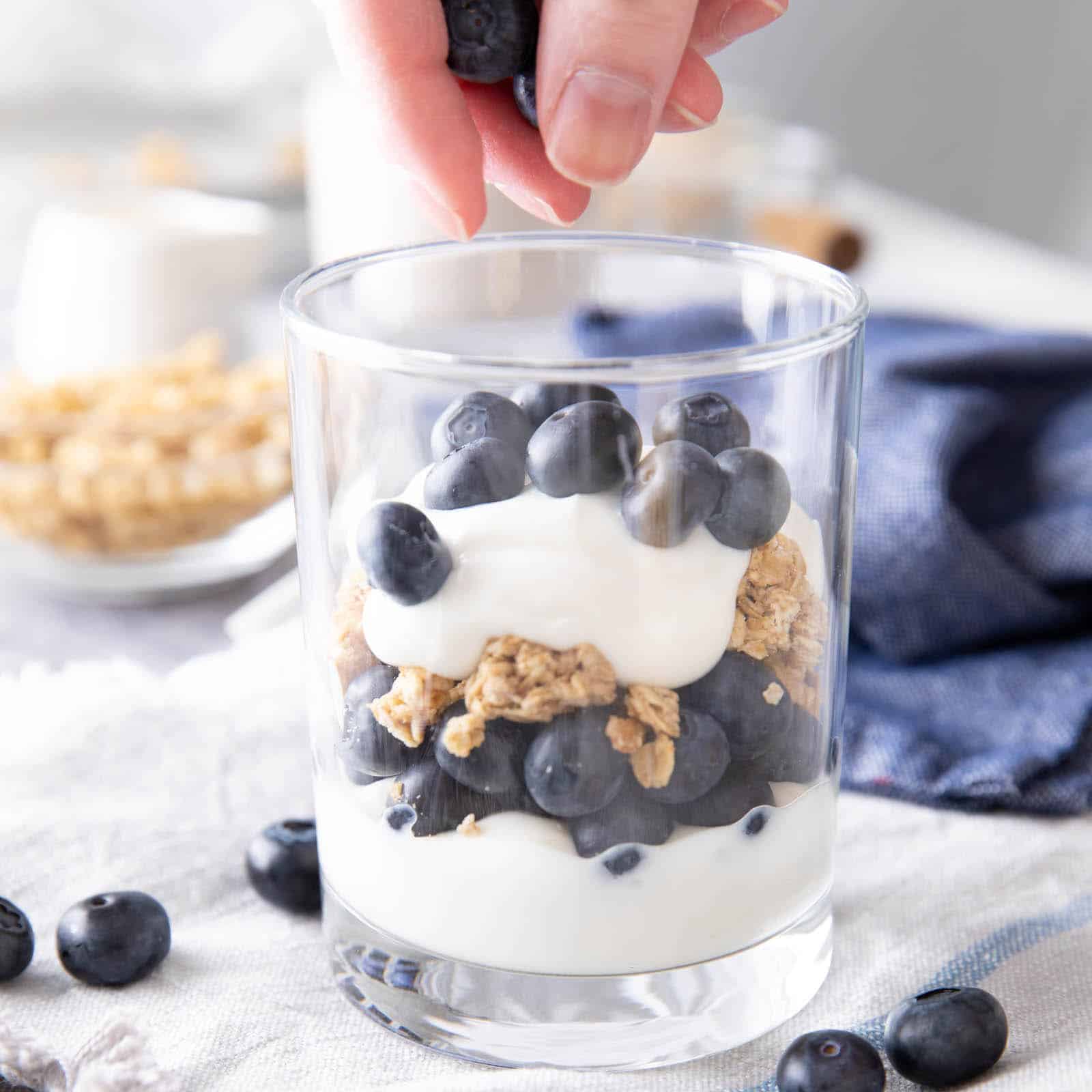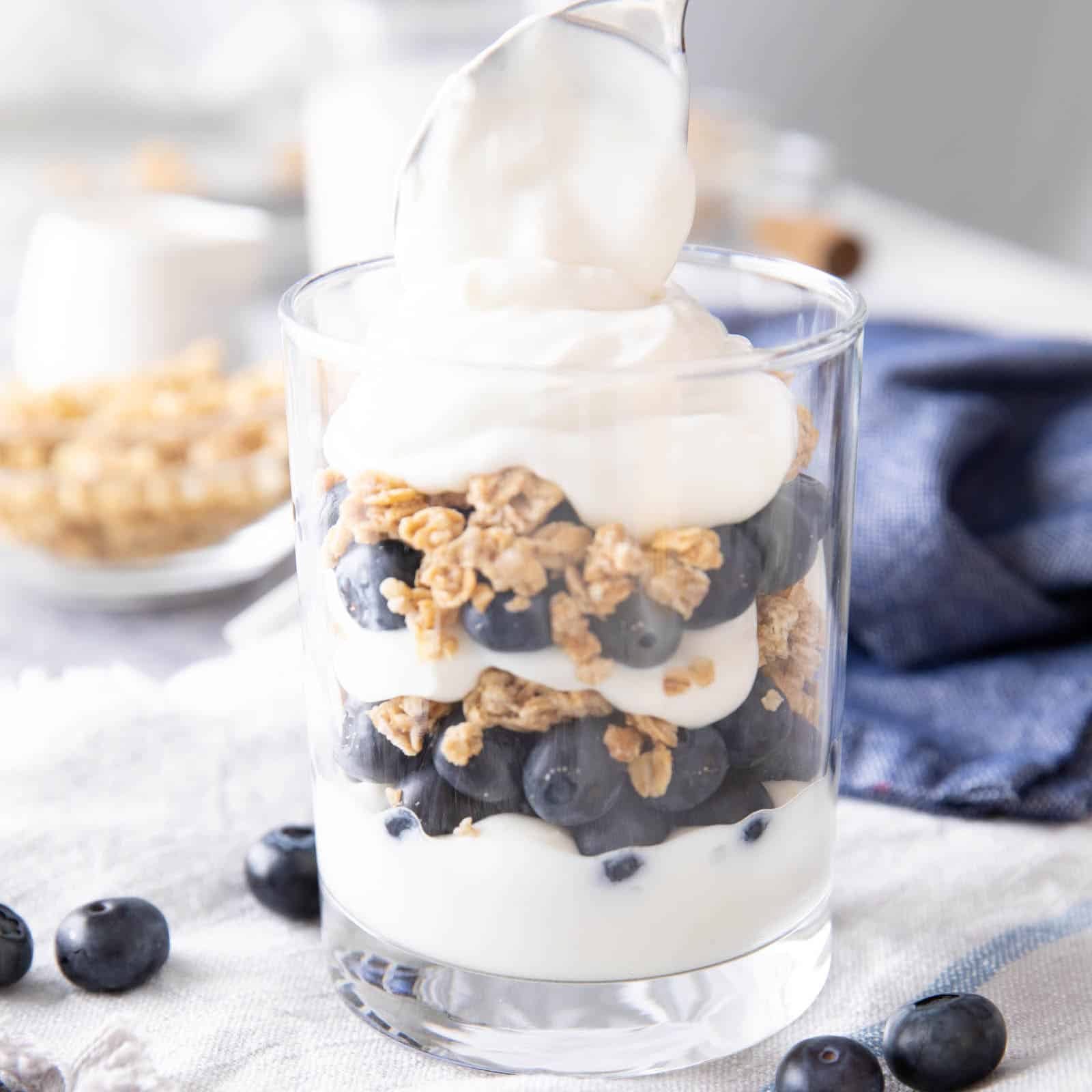 What Granola Can I Use To Make This Blueberry Yogurt Parfait?
I've rounded up my favorite granola recipes for your homemade granola layer pleasure. (Oh, you know what I mean…) Try your hand at making this breakfast treat at home and see how wonderfully it elevates your blueberry granola parfait: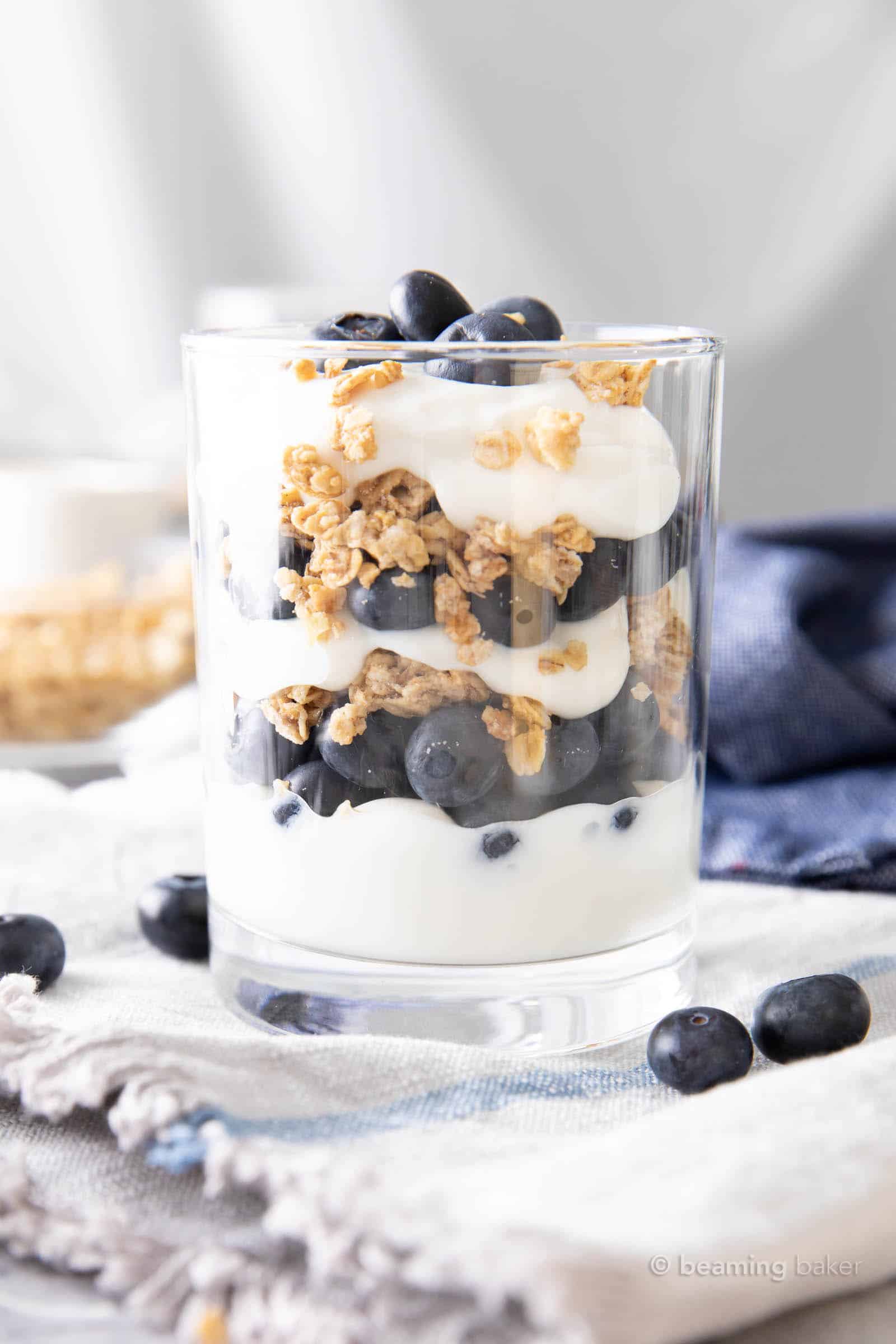 More Bountiful Breakfast Recipes
I'm always pondering which to make first for my breakfast buffet: today's blueberry parfaits, these exceptional, reader-loved vegan breakfast bars, or these super-satisfying healthy coconut oat cookies.
Sometimes, when I'm in a bind, the easiest thing to do is whip up an easy berry smoothie, or make a triple-batch of this coconut chia pudding so I'm covered for the next few days' worth of breakfast.
For those of y'all looking for more blueberry breakfast deliciousness, try these scrumptiously soft & filling oat flour blueberry muffins, or perhaps this cool blueberry smoothie… or one of the most popular BB recipes: this healthy vegan gluten free blueberry muffins.
And, if you're craving more yogurt-based delights, be sure to check out these 3 ingredient frozen yogurt bites and these strawberry yogurt bites. With just a few minutes of prep, you'll have a perfectly portable breakfast for the busiest of busy days.
Tools You Need
I'm So Berry Happy That You're Here
How many blueberries do you need to freshen up your morning? All of them!! Anyone a total blueberry lover like I am? It's just the amount of sweet, fresh and healthy goodness that's packed into one little blueberry gem always astounds me. *Happy sigh* I hope you enjoy making these simple blueberry parfaits as much as I did sharing them. If you make these, take a pic and share it on Instagram using @beamingbaker and #beamingbaker. I can't wait to see! 'Til the next one…
Sending you all my love and maybe even a dove, xo Demeter ❤️
🫐 📸 🫐
📸 Did you make this blueberry parfait recipe? Take a pic and share it on Instagram with the hashtag #beamingbaker & tag @beamingbaker. I'd love to see it! 📸
Print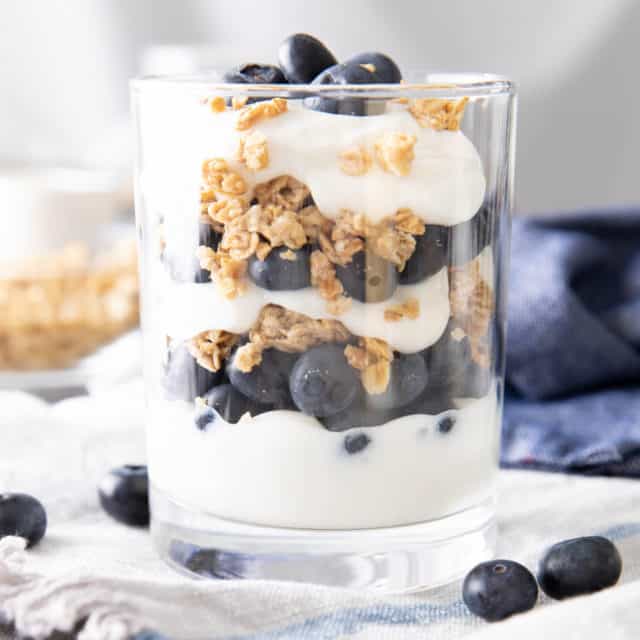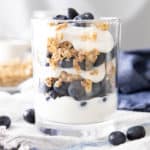 Blueberry & Yogurt Parfait
---
Description
Fresh blueberries, creamy vanilla yogurt and crunchy granola settle into loving layers in this wonderfully satisfying blueberry yogurt parfait recipe!
---
---
Instructions
Set aside 1 glass jar or cup.
Spoon 1/3 cup yogurt into the bottom of the jar, creating an even, smooth layer.
Sprinkle blueberries over the yogurt, creating a single or double layer, depending on the size of your jar.
Optionally, sprinkle granulated monkfruit or sweetener of choice over the berries. Add more to sweeten tart fruit, less if the fruit is already very sweet or you like your parfait on the less sweet side.
Pour 1 tablespoon of your favorite granola over the sweetened fruit layer. I like baking up a fresh batch of low calorie granola or gluten free granola for my blueberry parfaits.
Repeat this sequence twice more.
Serve and enjoy!
Prep Time:

5 minutes

Cook Time:

0 minutes

Category:

Breakfast, Snack

Method:

Chill

Cuisine:

American
Keywords: blueberry yogurt parfait
© beamingbaker.com. All content and images are protected by copyright. Please do not use my images or recipe without my permission. Please do not republish this recipe, instead, include a link to this post for the recipe.
Wanna help grow the Beaming Baker community? ☀️
You play such an important part in the livelihood of Beaming Baker–and just know that Erik and I truly appreciate it. 🧡 If you want to help grow the BB community, you can do the following:
📝 Leave a comment & rating. When you try a recipe, leave a comment and star rating to let us know how you liked the recipe. It truly helps all of our readers discover which recipe works best–and keeps us going in the right direction.
📸 Instagram. Made a recipe? Take a photo and share it on Instagram with the tag #beamingbaker and tag us at @beamingbaker. It makes our day to see how the recipe turned out for you!
👭 Tell a friend. You know when you love something, you can't help but tell others about it? If you love any of the recipes on Beaming Baker, tell a friend. 🙂 It truly helps to grow the BB community. ☀️
This post may contain affiliate links, which allow me to make a small commission for my referral, at no additional cost to you.