Good Morning Breakfast Cookies: an easy recipe for feel-good, energy-boosting cookies made with whole ingredients. Vegan and Gluten Free.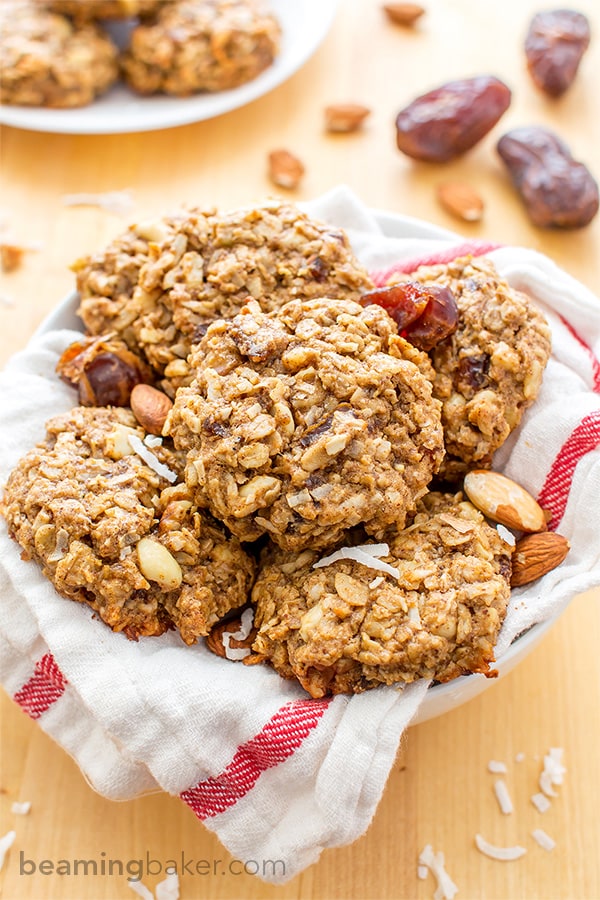 Cookies just make every day better don't they? ?
Well, what would you say if I told you there was a cookie made especially for starting the day right? Alright, I really DO need to stop asking questions… don't I? 😉 These awesome blossom Good Morning Breakfast Cookies do exactly what you think they do… based on the name. Ahem.
Plate of Good Morning Breakfast Cookies = Good Morning.
Oooooooh, yeah. But before I get into that, let me tell you all about the thrilling adventures of my super-duper (read: mildly boring, but pleasant) life.
About a year ago, Erik and I moved to Maine. From California. Yup, there needed to be a period in between those two. As you can probably imagine, it was a big shock, culturally and all of the other –allys. I'll shower you with all of that shocking goodness on another occasion. In any case, we moved across the country and decided it was just time to pretty much purge everything.
Like, EVERYTHING. For reals.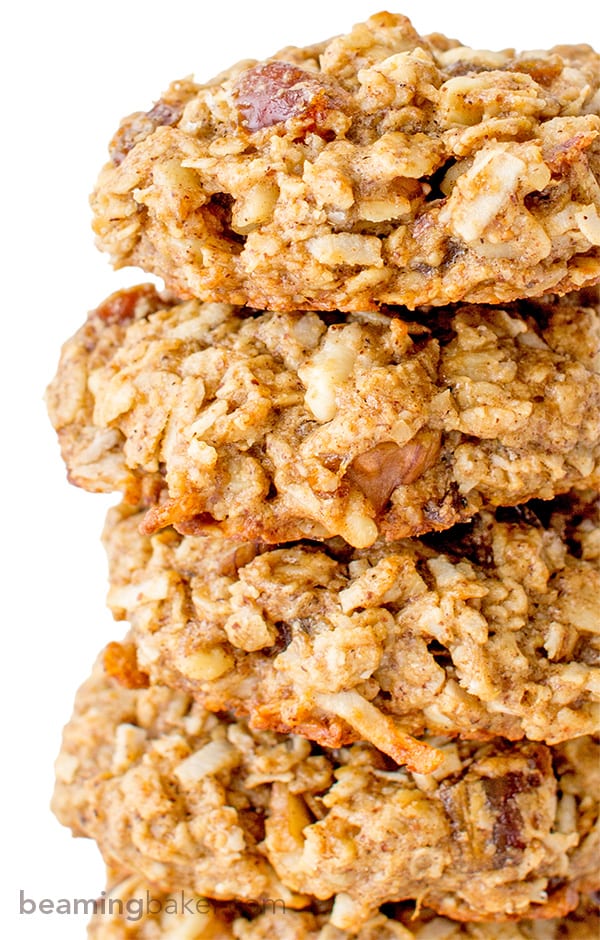 We moved with just four large suitcases and two little ones (carry-on friendly). Imagine the shock of moving from California to Maine, coupled with the shock of having almost no material things. Dude. Right?
But Erik and I are pretty prone to adventurous, bold moves. That probably sounds kind of conceited or something, but what I really mean is that we get The Itch. Anyone feel me?
Sometimes, you just have to do something BIG to start fresh.
Anyway, with said bold move having been completed, we then had to do the Bold Move Follow-up Procedure. Which is basically the What The Frack Did We Just Do? Procedure, and the even more impressive Oh, Crap Procedure.
So imagine, the two of us sitting (on the floor, of course) of our new apartment, surrounded by those four (now not lookin' so large) "large" suitcases and two teeny-tiny suitcases. Woah. Boldness was never so frightening.
Worse, we were waaaay past hungry and rushing headfast into hangry. You guys, we didn't even know where the friggin grocery store was. As you can imagine, those early days were filled with the saddest, most pathetic breakfasts there ever was:
Cold cereal. With sink water.
Yes, sink water. I hang my head in shame. Have pity on us, we didn't even have plates!! Now if you weren't already judging us for the sink water, you are surely now judging us for the bowl-less cold cereal.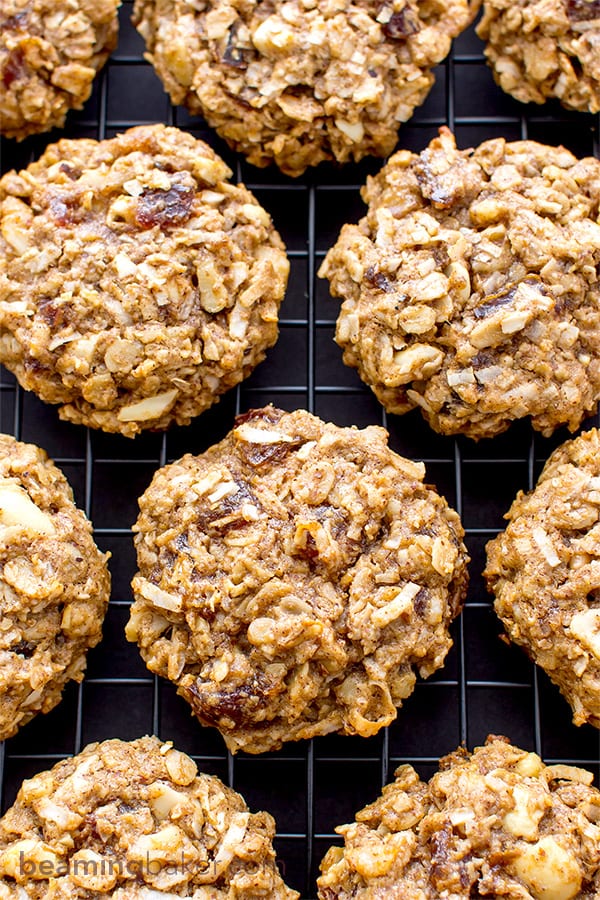 Meanwhile, those days are long-gone (we have not one, but four bowls now—jazz hands!). Nowadays, the kitchen is the most populated room in the apartment because… there just happen to be TWO food-obsessed occupants, and everything's all good. But not too cramped.
These Good Morning Breakfast Cookies are my way of saying, "What's up now, Bowl-less Cold Cereal with Sink Water?! What's up now??"
You see, we not only picked up more things for the apartment, we also gained a stunningly rich and highly-developed sense of maturity.
You ready for this?
Good Morning Breakfast Cookies are:
scrumdiddlyumptious
lightly crispy on the outside, soft and moist on the inside
easy peasy to make
full of the simple, whole ingredients you love to love
vegan and gluten free
bursting with energy-boosting nuts and dried fruit
not cold cereal
Whatcha waitin' for? Make these Good Morning Breakfast Cookies and have said awesome day.

☀︎ Did you make this recipe? Take a pic and share it on Instagram with the hashtag #beamingbaker and tag @beamingbaker. I would love to see it! ☀︎
Good Morning Breakfast Cookies (Vegan, Gluten Free)
Good Morning Breakfast Cookies: an easy recipe for feel-good, energy-boosting cookies made with whole ingredients.
Author:
Demeter | Beaming Baker
Recipe type:
breakfast, cookies, vegan, gluten free
Ingredients
Dry Ingredients
1 cup gluten-free rolled oats
½ cup homemade, gluten-free oat flour*
¾ cup unsweetened shredded coconut, divided
1 teaspoon ground cinnamon
½ teaspoon baking powder
½ teaspoon baking soda
½ teaspoon salt

Wet Ingredients
2 flax eggs (whisk together 2 tablespoons ground flax + 6 tablespoons water, let set for 15 mins)
¼ cup melted coconut oil
½ cup natural, unsalted almond butter
¼ cup pure maple syrup
¼ cup coconut sugar
1 teaspoon pure vanilla extract

Add-in Ingredients
½ cup almonds, finely chopped
¼ cup cashews, finely chopped
¾ cup pitted, chopped dates (about 6-8 medjool dates)
Instructions
Preheat oven to 350°F. Line a cookie sheet with parchment paper or greased foil. Set aside.
In a large bowl, whisk together all of the dry ingredients: oats, flour, ½ cup coconut, cinnamon, baking powder, baking soda and salt.
In a medium bowl, whisk together all of the wet ingredients: flax eggs, coconut oil, almond butter, maple syrup, coconut sugar and vanilla. Whisk until smooth.
Pour the wet mixture over the dry mixture. Use a rubber spatula or wooden spoon to fold the ingredients together until you get a cohesive cookie dough. Fold in almonds, cashews, dates and remaining ¼ cup coconut.
Scoop about 3 tablespoons of cookie dough into your hands. Shape into a ball and place evenly apart on the prepared cookie sheet. Flatten cookies with a fork to keep the texture.
Bake for 8-11 minutes.
Using a spatula, carefully remove cookies from the baking sheet and place onto a cooling rack. Allow to cool, then enjoy!
Notes
- *To make homemade oat flour: place rolled oats into a blender. Blend until you get a just slightly grainy flour. Remember: 1 cup of rolled oats does not equal 1 cup of oat flour. You'll need to blend more rolled oats to create less flour- the oats decrease in volume as you turn it into a flour. It's easiest to blend up a big batch of oat flour, and just scoop out what's needed for any recipe.
- Store in an airtight container for 1-2 weeks.
© beamingbaker.com. All content and images are protected by copyright. Please do not use my images without my permission. If you wish to republish this recipe, please re-write the entire recipe using your own words and include a link to this post for the recipe.
Instant chocolate bliss. Try my Gluten Free Vegan Brownies (V, GF, Dairy Free).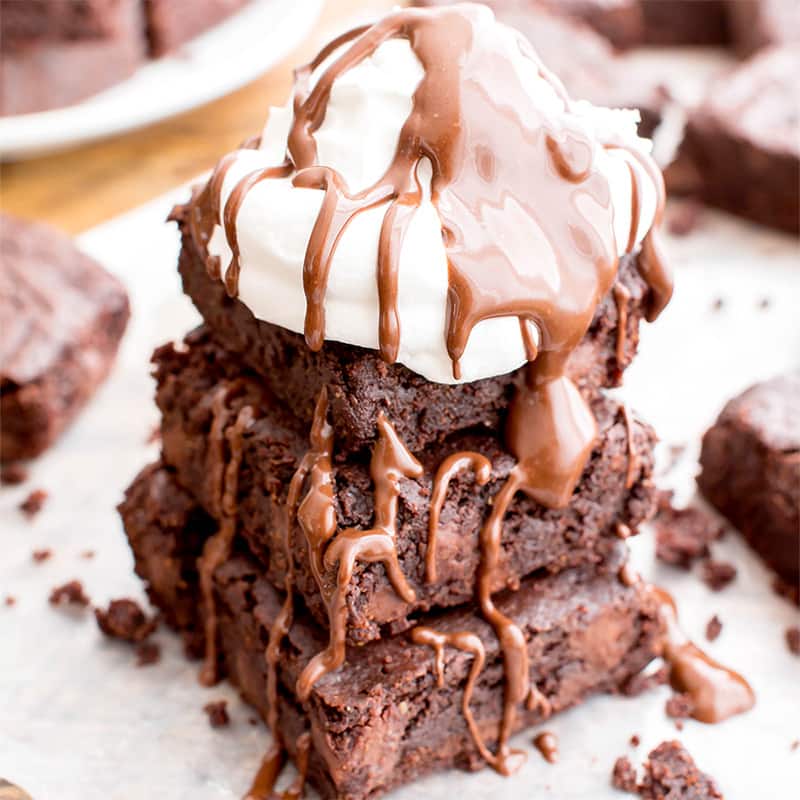 So you can have MORE cookies for breakfast. Because… these are bars! 😉 Try my Peanut Butter Chocolate Chip Oatmeal Breakfast Bars (Vegan, Gluten Free, Dairy Free).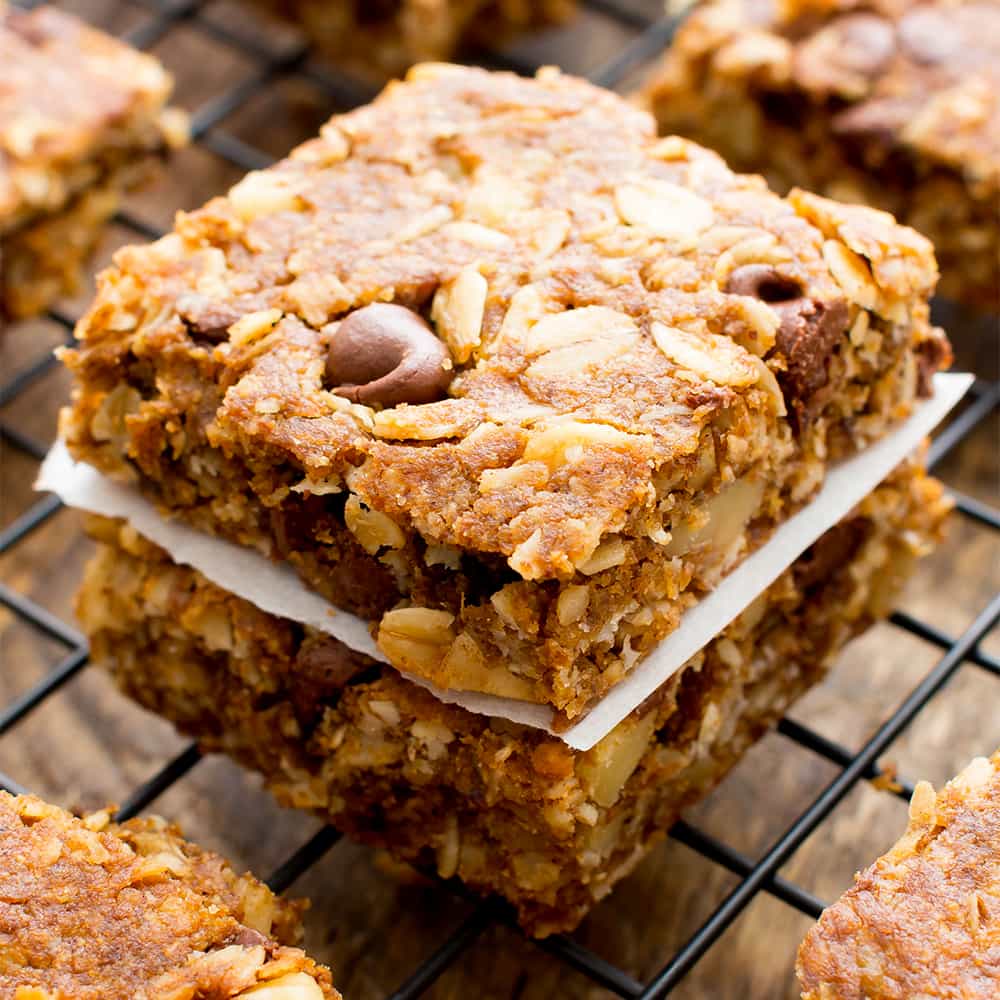 Another great reason to make cookies!!! Try my Gluten Free Trail Mix Cookies (Vegan, GF, Dairy Free). So. Good.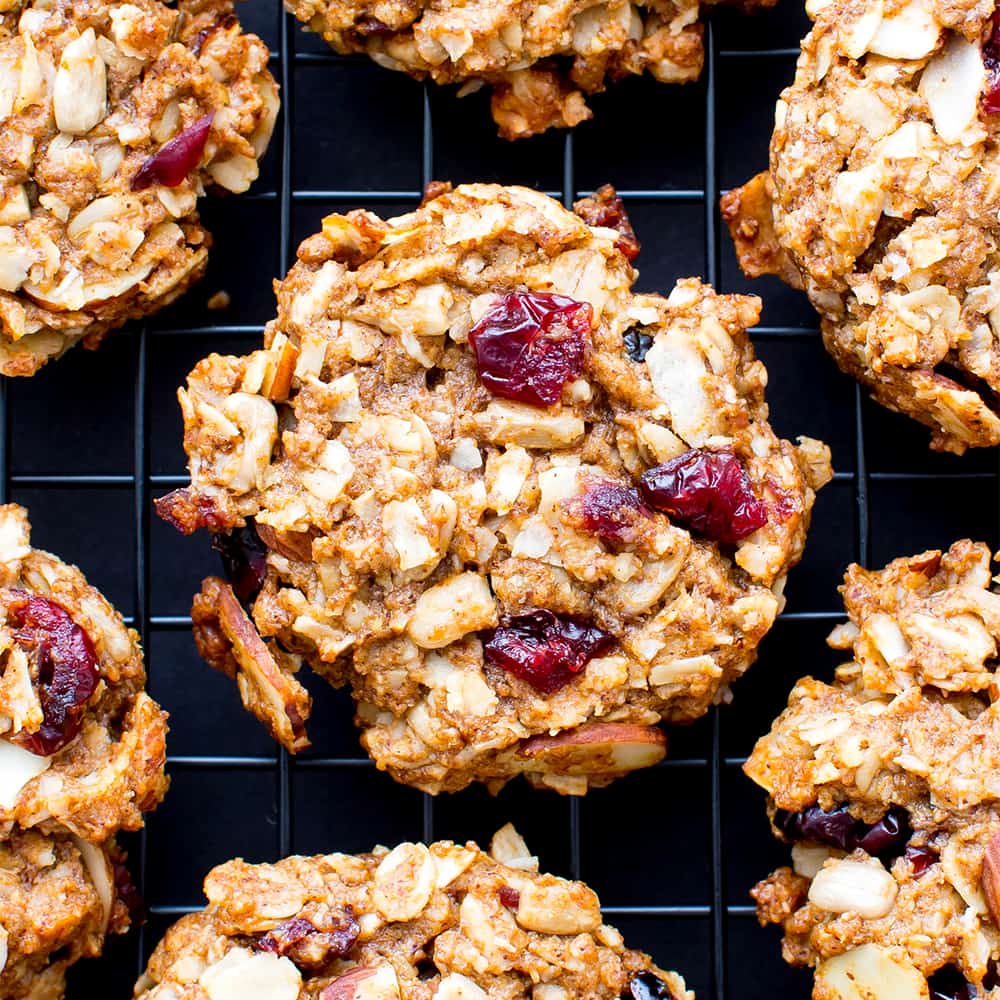 Questions of the Day
Do you have any zany moving stories?
What's your perfect breakfast meal?
I can't wait to hear your responses. ❤️ Demeter
Facebook ☀︎ Pinterest  ☀︎ Twitter ☀︎ Instagram