4 Ingredient Homemade Strawberry Sorbet (V+GF): an easy recipe for deliciously creamy and refreshing strawberry sorbet. Vegan, Dairy-Free, Paleo, Gluten-Free.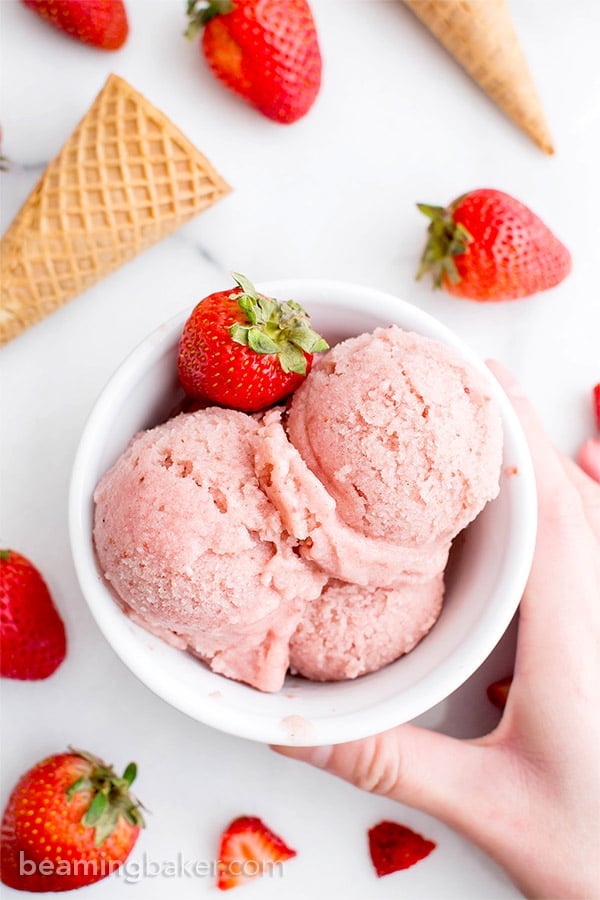 Sometimes the coolest things happen when you stop trying. Or when you kinda sorta failed and go, "to heck with it!", throw out the rule book and decide to just have some fun.
Remember fun? I always ask Erik this question and remind myself of the same. Anyway, it was just a few weeks ago that I was testing a recipe for Strawberry Coconut Popsicles and Strawberry Coconut Milkshake. It was all strawberries, all the time. And who wouldn't want that? 😉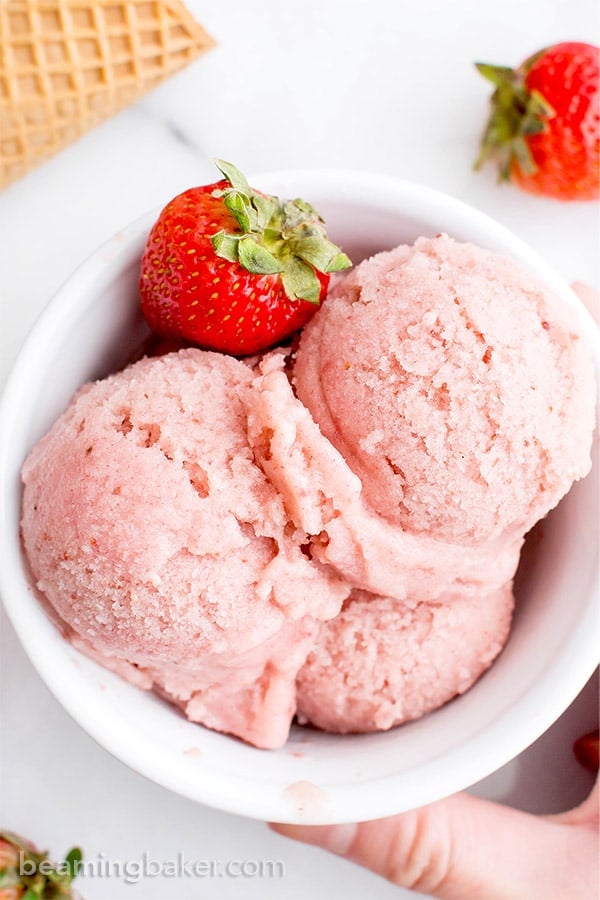 I was trying to defy the laws of food science (or unicorns, or who knows what) and whipping up the leanest possible strawberry coconut milkshake. But. The thing is, milkshakes aren't supposed to be lean. Note to self: don't just forget about fun, remember reason too! *Blushing* Needless to say, but I'm gonna say it anyway, I ended up making a trial run of milkshakes that didn't have enough delicious coconut fat and had too many strawberries.
As for my second "but" of the day: But, the frozen strawberry mixture that I made was so unbelievably good. It tasted lightly creamy, but super refreshing fruity. Huh… refreshing fruity. I like the sound of that. Do you?
So after kicking myself multiple times, then turning in a circle to try to kick myself better, then looking like a perfect dork, I decided, to heck with it! Now that I'm dizzy and I've got nothing to lose, let's pour this strawberry sweetness into a bucket and freeze it! Oh YES.
And guess what? I had fun. And I made strawberry sorbet. Wait a minute, I made 4 ingredient Homemade Strawberry Sorbet. Even better.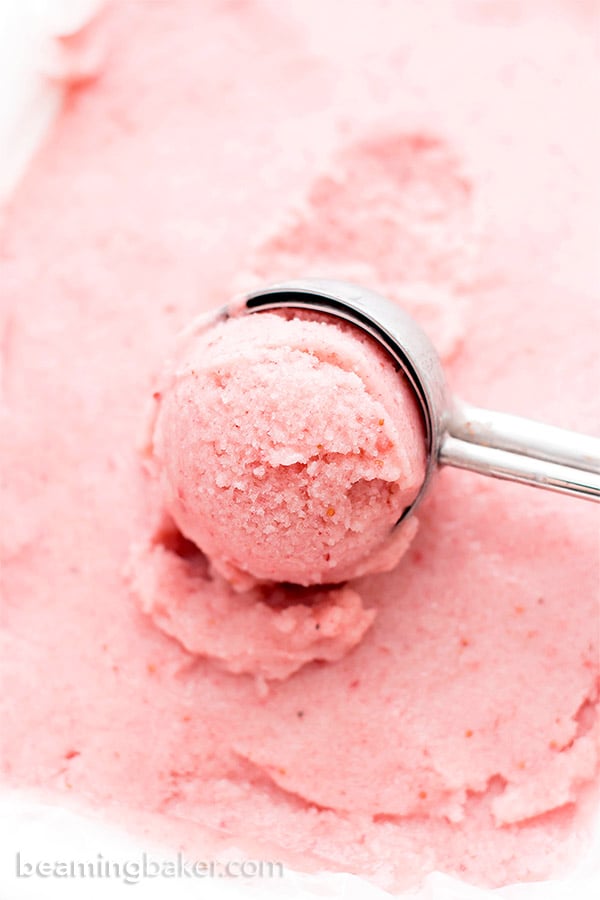 Mayhaps a little circle-spinning, "messing up," and loosening of the reins is a good thing. Don't you think?
I poured that deliciously fruity refreshing (yep, this is a thing now), would-be 4 ingredient homemade strawberry sorbet mixture into a bucket (this is as glamorous as it sounds). I checked on it every hour, gave it a sassy stir, then did a few more circle spins for good measure. Then, voilà, a few hours later, Erik and I were scooping this sorbet awesomeness into ice cream cones like it was our job.
Btw, if anyone's looking for an extremely professional ice cream/sorbet scooper and taste tester, I might know of somebody. Or two somebodies. Ahem. Uh, we promise not to eat all of the frozen treats.
…
Yeah, right. 😉
I also know of someone who is fantastically amazing at creating the most delicious fruit-sweetened treats. Meet my friend Natalie from Feasting on Fruit. Well, you know how I love creating secretly healthy sweet treats? Natalie is like my recipe soulmate. ❤  She makes the most incredible desserts and more. I've been fantasizing about her Strawberry Cupcake Milkshake since forever. And if you think it sounds good, wait til you see the pictures and you'll just pass out. 😉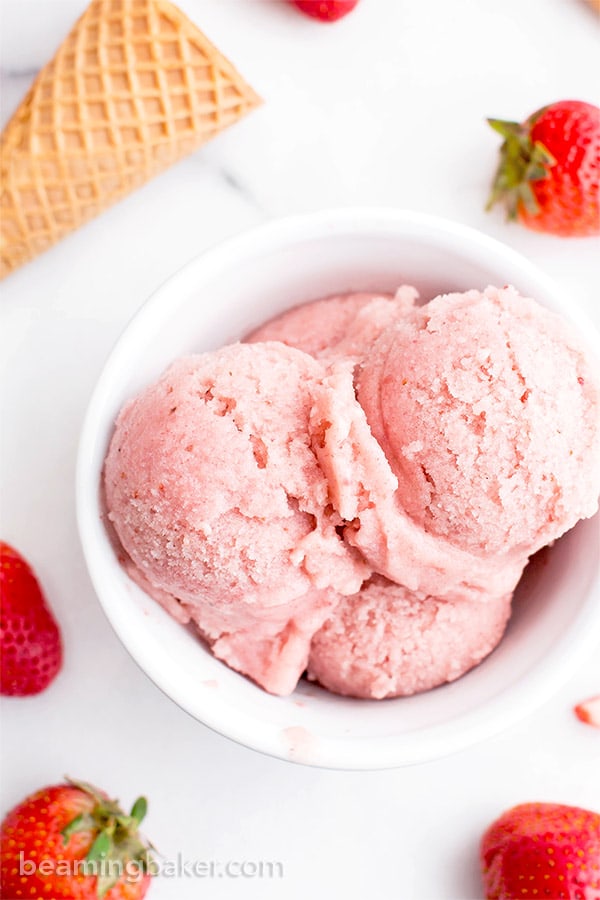 So now that it's blissful summer, and now that you feel so much better about being waaaay cooler than me, I invite you to just breathe. To enjoy some time for yourself. Sometimes mess-ups can turn into the most delicious of things. And sometimes even the happiest. And and, if you still feel like you just can't resist being hard on yourself and you need a reminder to go easier, read this.
In the mean time, let me tell you all about this refreshing treat. My 4 Ingredient Homemade Strawberry Sorbet is:
made of just 4 ingredients (in case you missed the memo) 😉
exceptionally easy to make
vegan, dairy free, gluten free and paleo
awesome for making you feel better about your "mistakes"
refreshing, creamy and packed with strawberry flavor
plant-based and allergy-friendly
made without an ice cream machine. Aw, yeah!
Whip up a nice, cool batch of this 4 ingredient homemade strawberry sorbet. And I do mean that literally… eh, you need to whip this once an hour. Just sayin'. 😉 Then, call up some friends, and plan that movie + snacks night that you've been putting off. You bring the strawberry sorbet, and they'll bring the movies and nachos. Heck, plan that spa weekend you've been meaning to treat yourself to. If not now, when? 🙂 You deserve it.
Sending you all my love and refreshing fruity strawberries. xo
☀︎ Click below to pin ☀︎

☀︎ Did you make this recipe? Take a pic and share it on Instagram with the hashtag #beamingbaker and tag @beamingbaker. I would love to see it! ☀︎
Looking for even more strawberry sorbet deliciousness? Of course you are! . You simply must check out my delightfully tasty and wonderfully easy 3 Ingredient Strawberry Coconut Sorbet. Trust me, you're gonna love it!
Print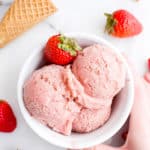 4 Ingredient Homemade Strawberry Sorbet (Vegan, Paleo, Dairy Free, Gluten Free)
---
Description
4 Ingredient Homemade Strawberry Sorbet (V+GF): an easy recipe for deliciously creamy and refreshing strawberry sorbet. Vegan, Dairy-free, Paleo, Gluten-free.
---
2

medium bananas, sliced and frozen

1

can lite coconut milk (

13.5

–

13.7

oz.)

1 ½ cups

frozen strawberries

2

–

3

tablespoons pure maple syrup
---
Instructions
Add bananas and coconut milk to a blender. Blend until smooth, scraping down the sides of the blender as needed.
Add strawberries and maple syrup. Blend until smooth, again scraping down the sides of the blender as needed.
Pour into an airtight, freezer-friendly container and place in the freezer. Freeze for 4-6 hours, stirring once every hour for the first four hours. When stirring, make sure to scrape down the sides of the container. Stir for about a minute each time.
Enjoy immediately! If keeping overnight, or enjoying later in the week, allow to thaw for 15-25 minutes before scooping.
Category:

Frozen Dessert, Vegan, Dairy-free, Paleo, Gluten-Free
© beamingbaker.com. All content and images are protected by copyright. Please do not use my images without my permission. If you wish to republish this recipe, please re-write the entire recipe using your own words and include a link to this post for the recipe.
Loving strawberries feels so good, it must be right. Right? 😉 Try my Chocolate-Dipped Strawberry Ice Cream Bars (Vegan, Paleo, Dairy Free, Gluten Free). Instant strawberry bliss.
Biting into one is like biting into a strawberry rainbow. Yep, I said it. Try my Strawberry Coconut Popsicles (Vegan, Paleo, Dairy Free, Gluten Free).
Nothing like a homemade milkshake. Try my Strawberry Coconut Milkshake (Vegan, Paleo, Dairy Free, Gluten Free).
Have you ever had a mistake turn into something good?
I can't wait to hear your responses.