5 Ingredient Chocolate Chip Cookie Dough Bites Recipe (V, GF): a quick 'n easy recipe for decadent no bake cookie dough bites made with healthy gluten free ingredients and PLENTY of chocolate!! Vegan, Gluten-Free, Dairy-Free, Refined Sugar-Free.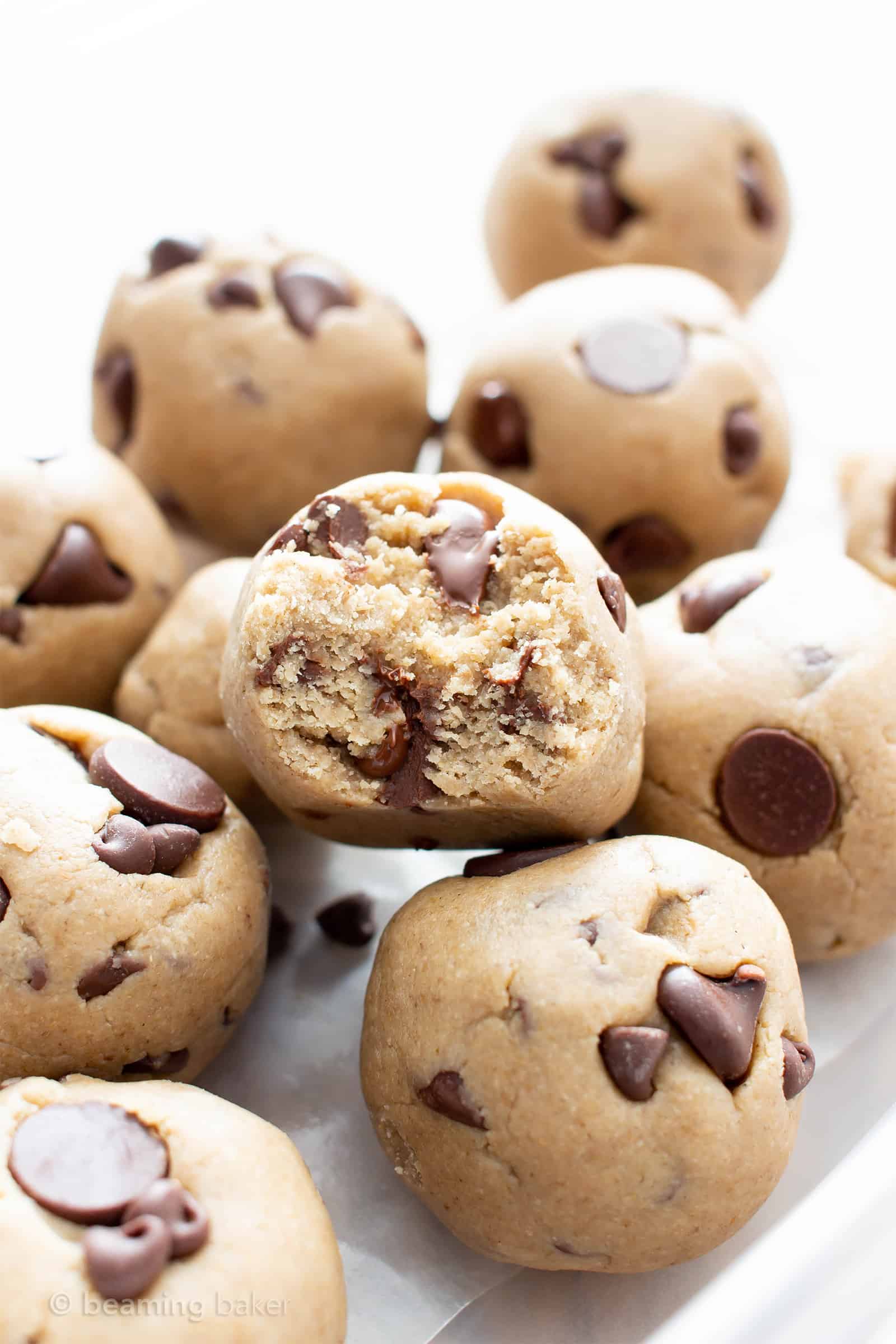 Can you believe it's been 16 months since I've shared a cookie dough recipe with you? It's also been about 2 years since I shared my reader-favorite no bake chocolate chip cookie dough bites. Update: I've since come to my senses (hehe) and shared this Dairy-Free Coconut Flour Cookie Dough Recipe and my Healthy Gluten Free Cookie Dough Bars!
You could call those bites a cult favorite of sorts because I get emails/comments about them fairly frequently, but they never make it to the top 20 or even top 40 recipes of any given day. Poor guy!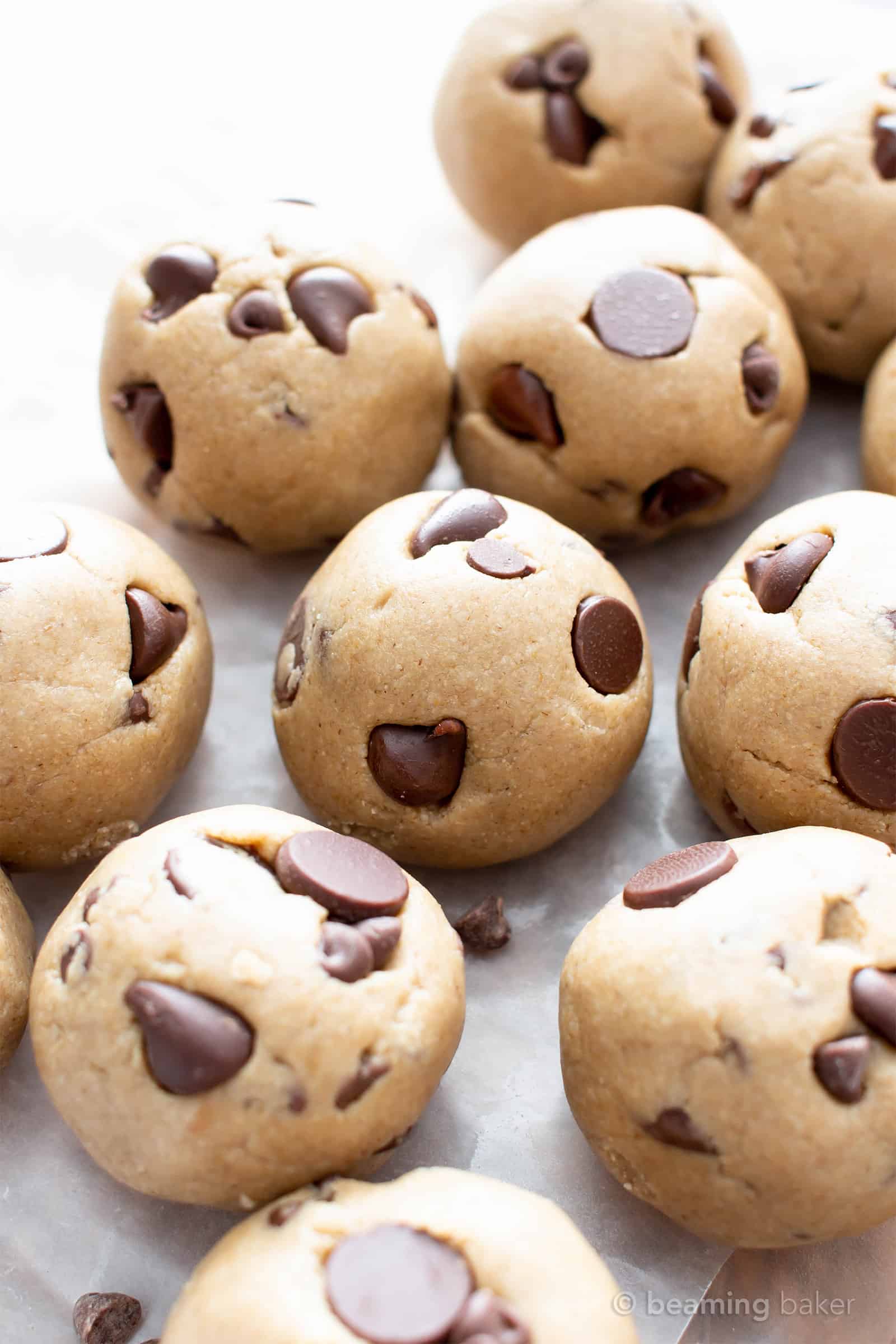 Although that recipe will always have a special place in my cookie jar heart (that didn't sound as great as I thought it would hehe), it's not quite on the level of simplicity and ease that you've come to know and love here at Beaming Baker.
For one, they're called cookie dough bites, but they're made with coconut flakes! Boooooo!!! Alright, yes I love coconut flakes just as much as you do (you do, right?), especially in these no bake almond butter coconut bites, but ya just can't sneak coconut into a recipe without it being a featured character in the title. (Unless it's coconut oil.)
I've had so many requests and comments for how to swap that ingredient and this ingredient in that cookie dough recipe. So I decided it was high time to create a brand-new, simple as can be, as few-ingredients-involved-as-possible 5 Ingredient Chocolate Chip Cookie Dough Bites recipe.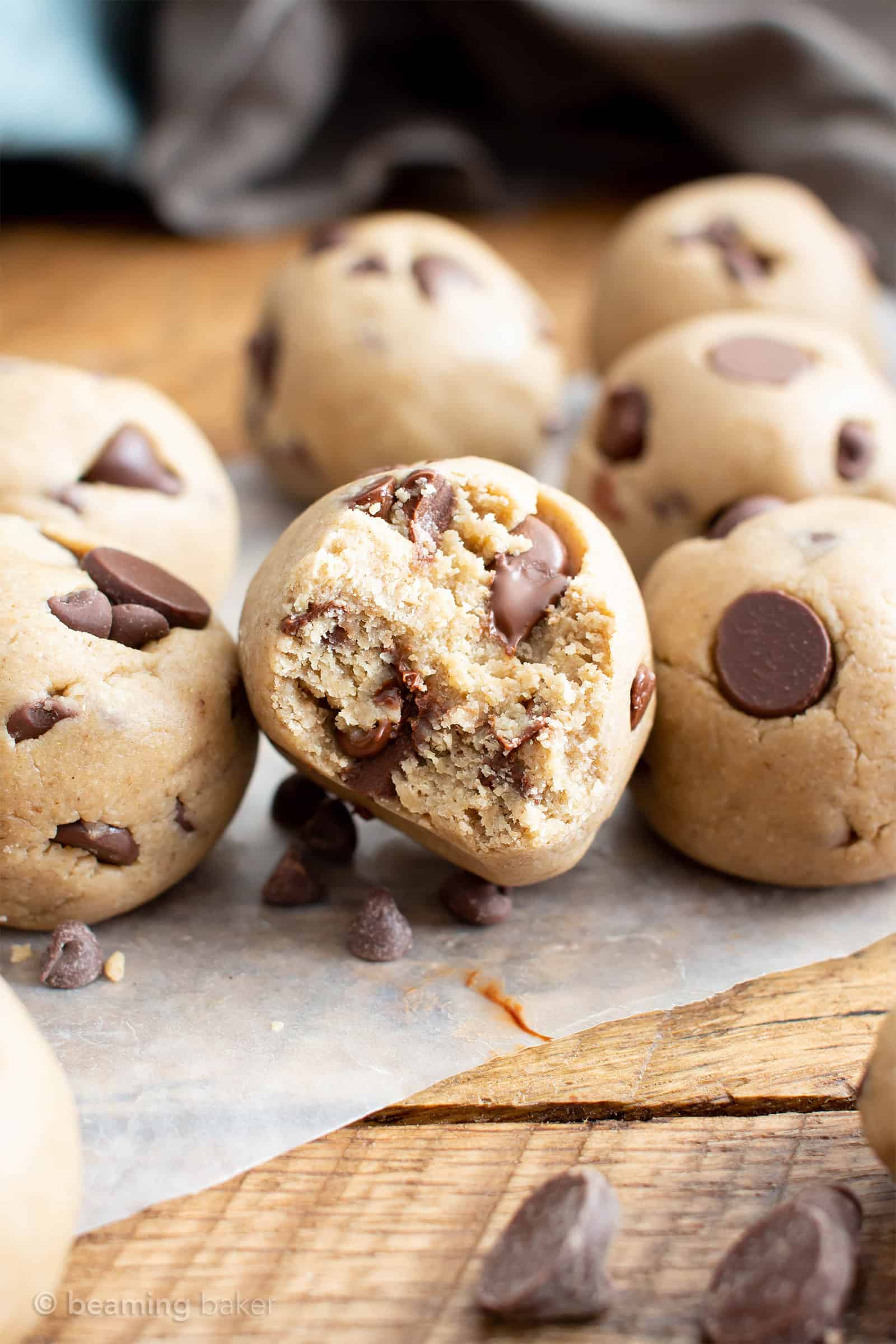 The old cookie dough recipe called for 9 whopping ingredients. You had to make flax eggs, bust out rolled oats (which some people really did not love) and every-thang! This time, we're gonna dial it down to just FIVE INGREDIENTS.
You heard me right. 5 ingredients. That's it.
I tried my darnedest to leave out anything that wasn't necessary or that you might not want in your homemade cookie dough bites. Here's lookin' at you, coconut flakes and oats! 😉
They're so unbelievably easy to put together–possibly the easiest cookie dough bites recipe you'll ever make. And they taste just like the real thing. All you have to do is throw all of the ingredients in a bowl, stir until thickened, scoop and roll into bites. Then, leave the bites for just a few minutes to thicken up.
That's it. For real.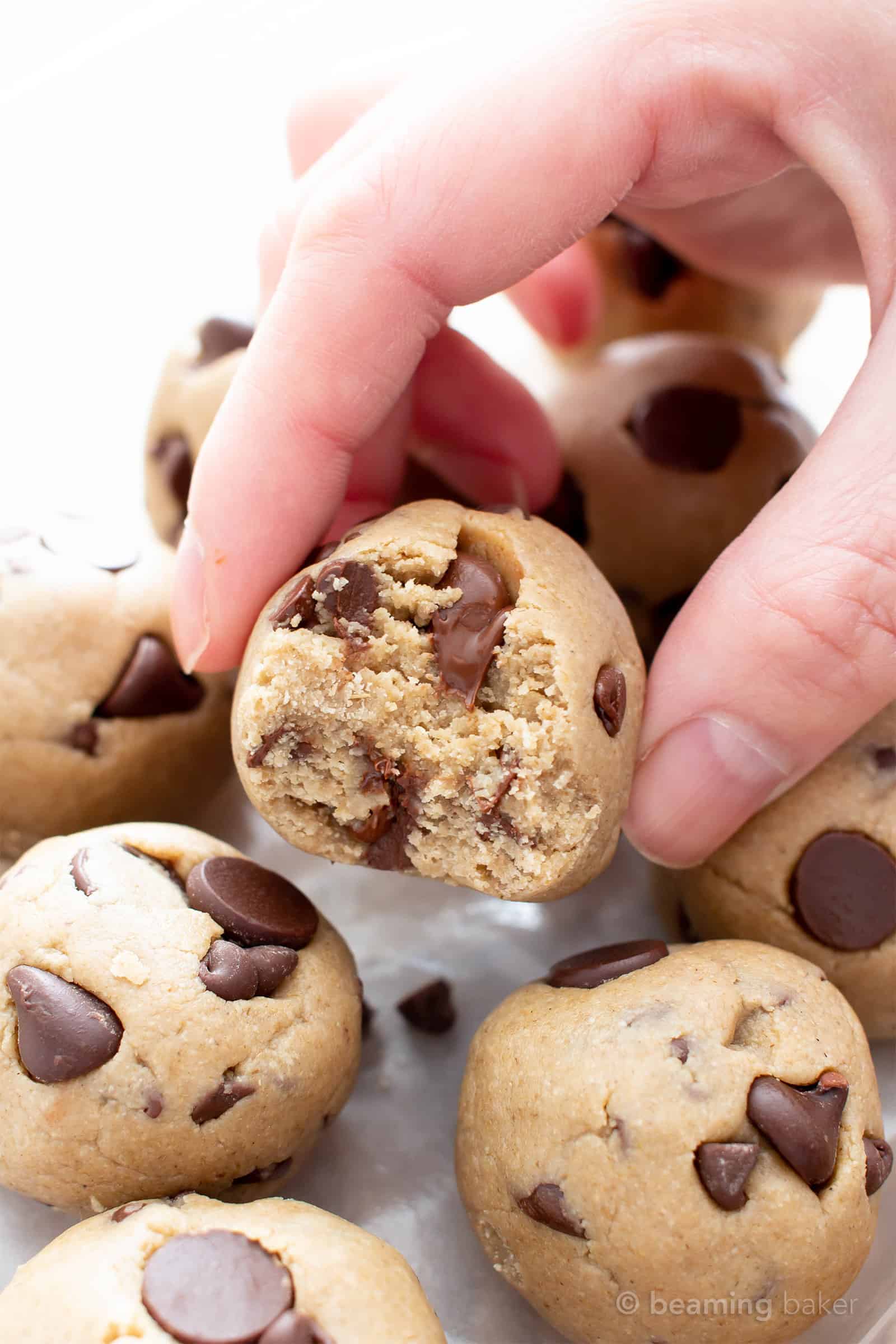 Oh, and you've GOT to try them warmed up after the first day. They get really firm after that… and it's a problem easily solved by a few seconds in the microwave. They literally taste like perfectly under-baked, fresh-out-of-the-oven chocolate chip cookies. And speaking of no bake goodies that taste amazing when warmed up, you have got to try my No Bake Almond Butter Paleo Brownie Bites heated up for a few seconds. They taste just like fresh baked brownies! Or my brand new paleo cookie dough recipe: Paleo Cookie Dough Bites!
Raise your hand if that sounds heavenly to you.
That's what I thought. 😉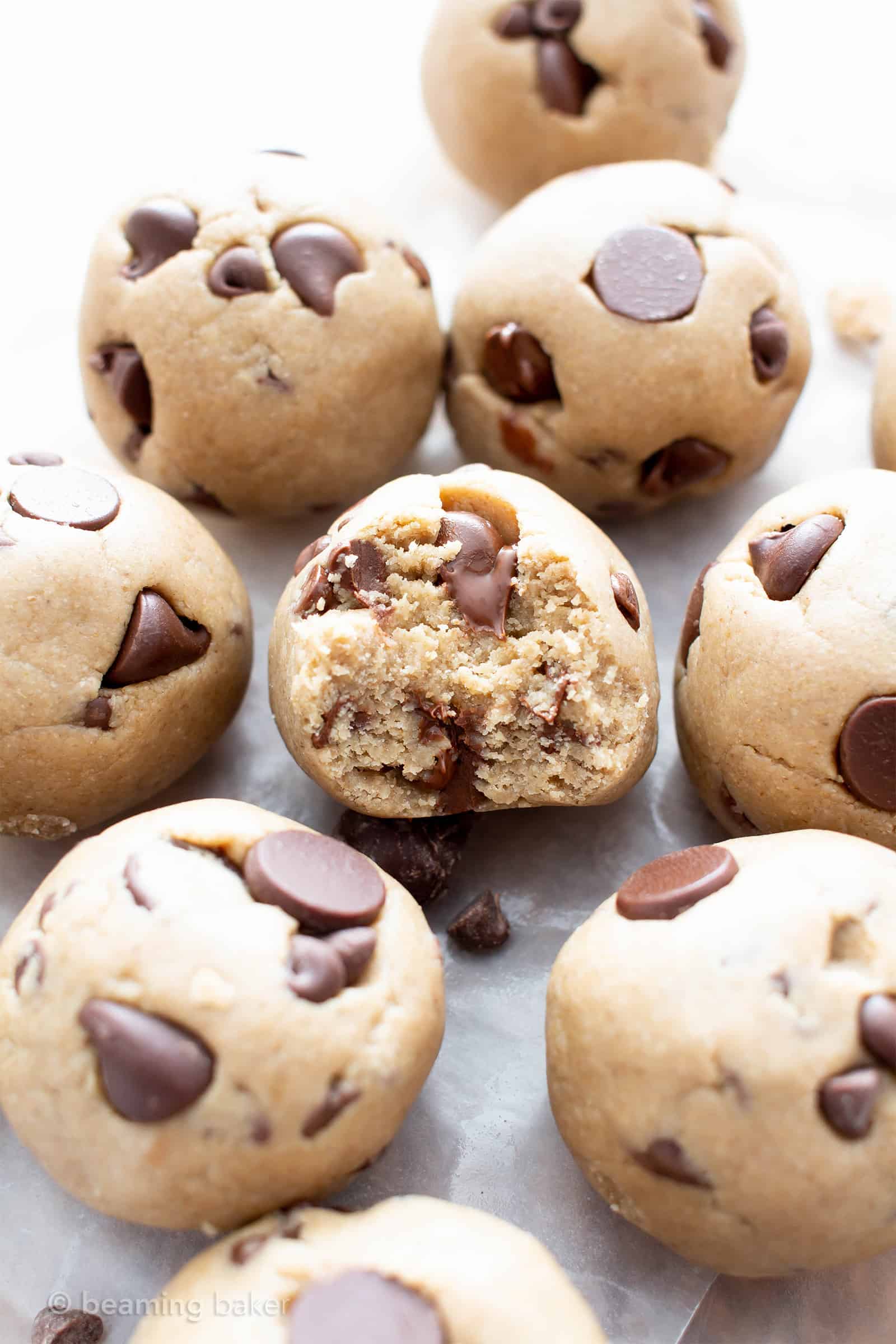 And if it doesn't, allow me to go over the finest points about these 5 Ingredient Chocolate Chip Cookie Dough Bites. They're:
so good… and taste just like real cookie dough
safe to eat and, of course, 100% eggless
bursting with amazing cookie dough flavor
and all the chocolate chip vibes
vegan, gluten-free, dairy-free, and refined sugar-free
just the vegan chocolate chip cookie dough recipe you've been looking for
sooooo good served up with this paleo mocha frappe (coffee and cookie dough bites? Um, YES!)
made with the healthy, allergy-friendly, whole ingredients you know and love
seriously delicious, and basically the best eggless chocolate chip cookie dough you've ever had
served on a variety vegan dessert platter with: this vegan chocolate chip cookies recipe, gluten free vegan oatmeal chocolate chip cookies
the tastiest easy gluten free cookie dough you'll find!
Who's ready to get their chocolate chip cookie dough bite on? 🙂 You get the maple syrup, I'll grab/lug my 50-lb bin of gluten free oat flour over. And in case you're wondering, you can totally make your own at home, check it out here —> how to make homemade oat flour. As always, I'm so grateful that you're here, sharing in these kitchen adventures with me. 🙂 I can't wait to hear what you think of this recipe!
Sending you all my love and maybe even a dove, xo Demeter ❤️
Click below to Pin

Did you make this recipe? Take a pic and share it on Instagram with the hashtag #beamingbaker and tag @beamingbaker. I would love to see it!
If you enjoyed this 5 Ingredient Chocolate Chip Cookie Dough Bites Recipe, then you'll just love these healthy no bake dessert recipes:
More Gluten Free Vegan No Bake Recipes
Print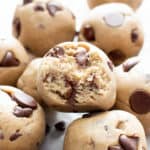 5 Ingredient Chocolate Chip Cookie Dough Bites Recipe (Vegan, Gluten Free, Dairy-Free, Refined Sugar-Free)
---
Description
5 Ingredient Chocolate Chip Cookie Dough Bites Recipe (V, GF): a quick 'n easy recipe for decadent no bake cookie dough bites made with healthy gluten free ingredients and PLENTY of chocolate!! Vegan, Gluten Free, Dairy Free.
---
Scale
Ingredients
Cookie Dough Bites
Optional
---
Instructions
Line a small or medium baking sheet with parchment paper or wax paper. Set aside.
Add oat flour, maple syrup, oil and vanilla to a medium bowl. Using a spoon, stir until thickened and well incorporated. If needed, use a rubber spatula to fold together into a cohesive dough. Fold in ¼ cup + 2 tablespoons chocolate chips.
Using a cookie scoop, scoop and drop balls of dough onto the prepared baking sheet. Here are the 1-tablespoon scoop and 2-tablespoon scoops that I use. Using your hands, shape into spheres, or keep as is if you like the shape. Optionally, dot with 2 tablespoons chocolate chips.
Allow to firm up for about 5 minutes. Enjoy! Storing instructions below.
Looking for more cookie dough treats? Try my Paleo Cookie Dough Bites and my Vegan Chocolate Chip Cookies Recipe.
---
Equipment
Notes
Best if enjoyed the first day; Day 2 and on, the bites will become much drier. Day 2 and forward, to soften, heat in 10-second increments in the microwave until warm.
Store for 1-2 weeks in an airtight container at room temperature or in the refrigerator.
Category:

Dessert, Cookie Dough, No Bake, Vegan, Gluten-Free, Dairy-Free
© beamingbaker.com. All content and images are protected by copyright. Please do not use my images or recipe without my permission. Please do not republish this recipe, instead, include a link to this post for the recipe.
This post may contain affiliate links, which allow me to make a small commission for my referral, at no additional cost to you. Thank you for supporting Beaming Baker.
Facebook ☀︎ Pinterest ☀︎ Twitter ☀︎ Instagram