Healthy Gluten Free Cookie Dough Bars (Vegan, Edible, Dairy-Free, Easy)
Healthy Gluten Free Cookie Dough Bars (V, GF): an easy, no bake recipe for decadent edible cookie dough bars coated in a thick layer of mouthwatering chocolate topping. Made with healthy, whole ingredients. Vegan, Gluten-Free, Dairy-Free, Egg-Free.
It's almost All Hallow's Eve!! Anyone else as excited as I am? It's been ages since I've done a bonafide Halloween recipe (mainly bc in recent years I've been feeling less crafty), but I am still as pumped for the holiday as ever!
Side note, if you're curious about past Halloween recipes, here's a fun one: spiderweb brownies.
I even super, super got into telling Halloween stories every year. One was actually a two parter that started in the these creepy-crawly edible spider treats, and finished up in the spiderweb brownies I mentioned above. Another story thoroughly embarrassed my mom (what are kids for? Hehe) in this paleo almond joy post. I'm hoping I can get back into the swing of telling grand Halloween tales next year, but for this year, we'll just kick back and chat a bit. (And also make all the Halloween yummies!! AKA: these Healthy Gluten Free Cookie Dough Bars!)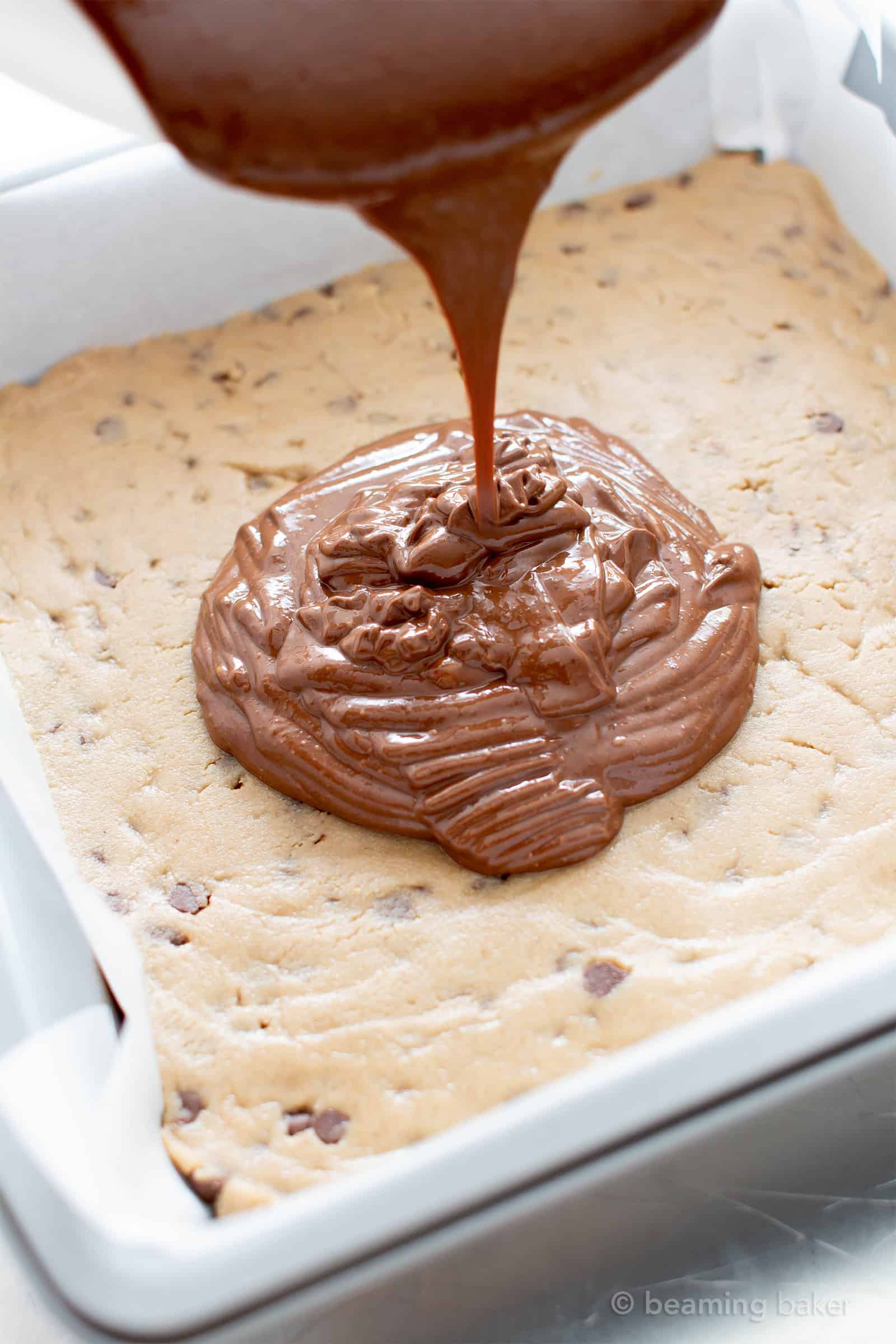 Since we've been together, Erik and I have been really focused on creating our very own annual family traditions for the holidays. Christmas: homemade treat-making marathon. Valentine's Day: ignoring the holiday and doing something slightly crazy. Halloween: vow to make the most elaborate costumes, drink all the apple cider, make all the apple crisps, carve all the pumpkins, AND… watch all the finest Halloween-themed TV and movies! We really got into watching Halloween-themed episodes of Home Improvement, The Simpsons, The Office and more.
But one thing I really, really loved was watching Hocus Pocus. Have you ever seen it?
Not to spoil things… but if you've seen it before you might understand why I had to stop watching it every year. Literally, there's this one scene that I cannot stand. It involves the main kid and perhaps… well, losing/being robbed of his shoes!! That shiz gives me anxiety!! Like, remember when 90s movies used to always pull things like that? Remember movies like Blank Check and such? There were no real boundaries when it came to zany things happening with any real reasoning behind them. And the more aggravating things were, the more "hilarious" they were!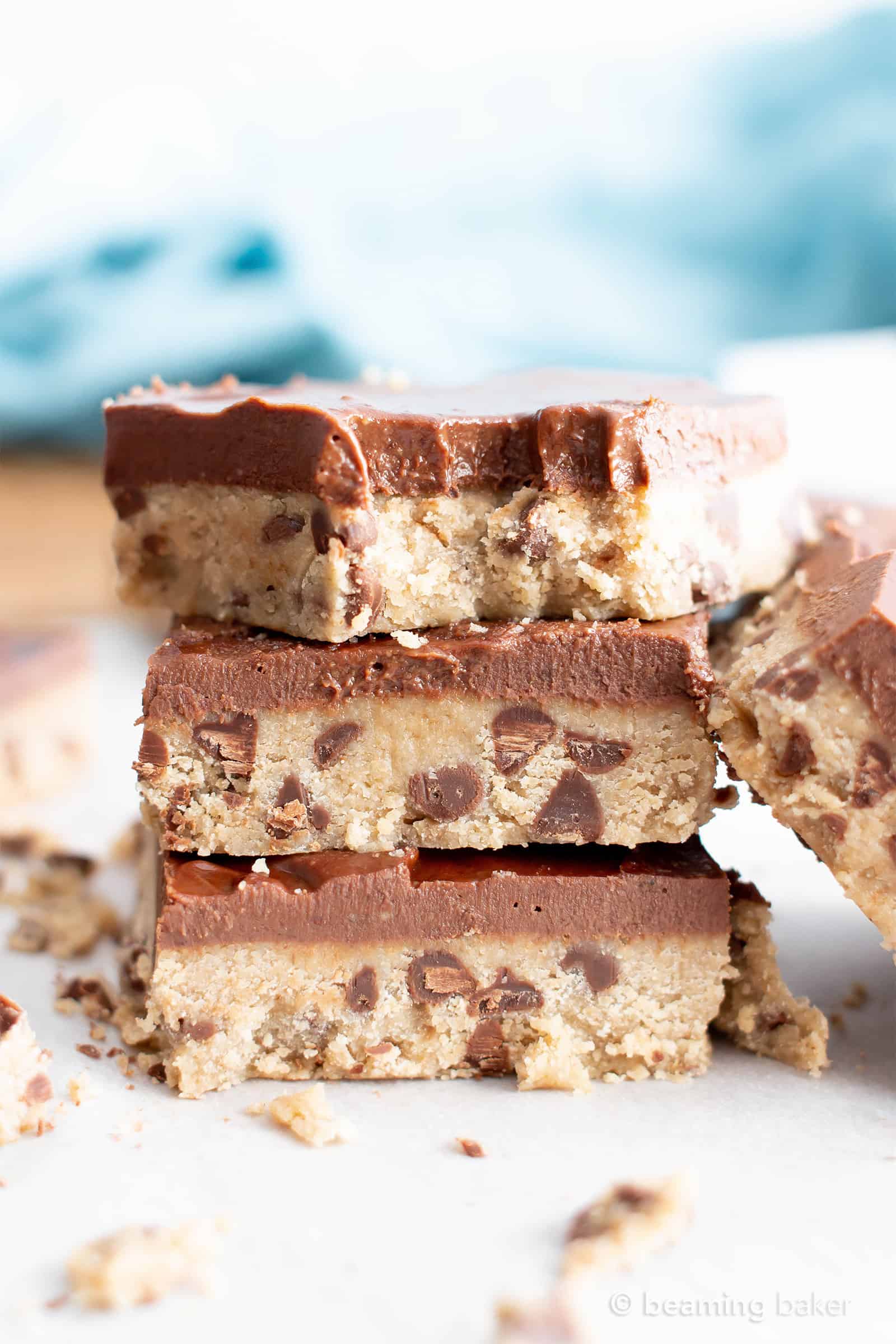 In my more adult-ish years, I'm too rational for this shitake! Like, "UM, DID SOMEONE JUST STEAL HIS $100 SHOES?" How're gonna blow past that? Lolol. If that had happened to me growing up (not that my mom would've ever allowed me to get shoes that expensive), I would've been disowned! Or my mom would've probably called the police. Haha. But for real…
Or at least gone to my school and hunted down the kid who stole my shoes and made him give them back! With a new pair of socks, for good measure. .Go, Mommy!
Anyway… now that I've got myself all worked up about 90s movies and Hocus Pocus, let's move on. Today, I'm sharing a wonderfully yummy and simple-ingredients-filled recipe that's perfect for Halloween: Healthy Gluten Free Cookie Dough Bars. Trust me, there's no aggravation or nonsensical, wily shenanigans involved. Unless you ride your bike straight back into the 90s—then you're on your own! 😉 ..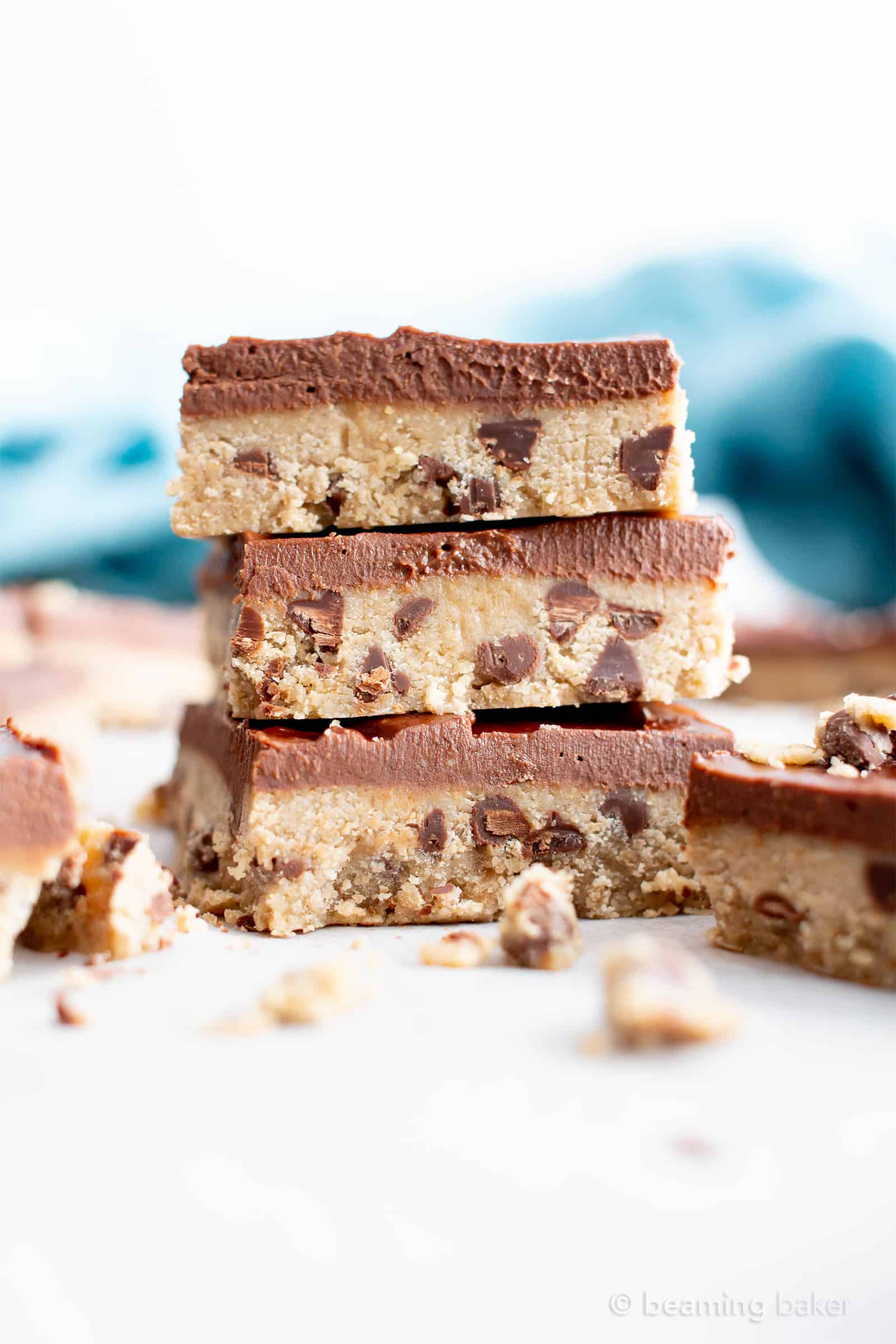 Don't tell me, you're jumping out of your $100 shoes, you're so excited about making this recipe! 😉 Just in case you aren't, let me tell you all about them and relieve you of your shoes, as ample punishment… . This Healthy Gluten Free Cookie Dough Bars recipe is:
deliciously decadent
just like real cookie dough, except without the eggs
the perfect balance between dense and soft, to satisfy those vegan cookie dough cravings
vegan, gluten-free, dairy-free
seriously so good paired with paleo almond joy ice cream
allergy-friendly and made with whole, healthy ingredients
just the gluten free cookie dough recipe you've been searching for
one of my favorite no bake vegan desserts to make, including these: vegan rice crispy treats, homemade crunch bars, no bake paleo chocolate pecan bars
soon to be your favorite vegan cookie dough bars
and just the soothing treat you'd need to calm your nerves after a bout of watching 90s movies
Are you ready to get your no bake on? You grab the gluten free homemade oat flour, I'll grab the vegan chocolate chips! I'll meet you in the kitchen! It's so wonderful preparing these healthy 'n tasty treats with you. I can't wait to hear what you think! 'Till then…
Sending you all my love and maybe even a dove, xo Demeter ❤️
.︎ Click below to Pin .︎

. Did you make this recipe? Take a pic and share it on Instagram with the hashtag #beamingbaker and tag @beamingbaker. I would love to see it! .︎
If you enjoyed these Healthy Edible Gluten Free Cookie Dough Bars, then you'll just love these yummy vegan gluten free recipes:
Print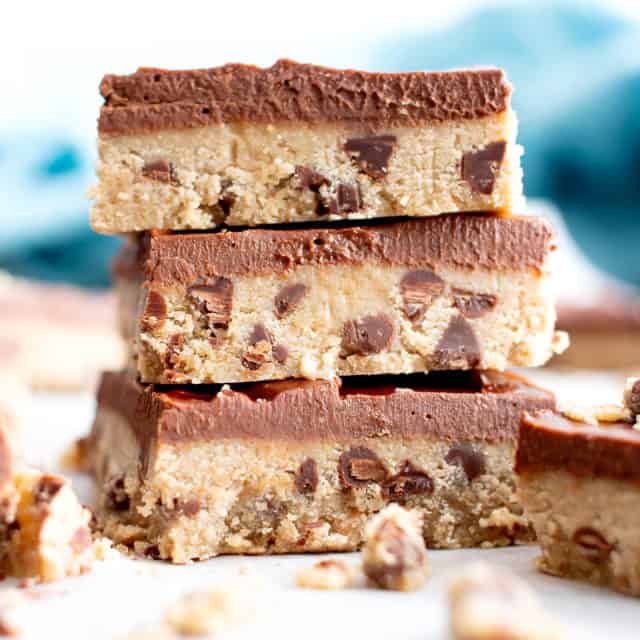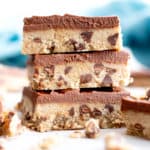 Healthy Gluten Free Cookie Dough Bars (Vegan, Edible, Dairy-Free, Easy)
---
Description
Healthy Gluten Free Cookie Dough Bars (V, GF): an easy, no bake recipe for decadent edible cookie dough bars coated in a thick layer of mouthwatering chocolate topping. Made with healthy, whole ingredients. Vegan, Gluten Free, Dairy-Free, No Bake.
---
Cookie Dough Bars
Chocolate Topping
½ cup

vegan chocolate chips

¼ cup

+

1 tablespoon

natural unsalted, creamy almond butter
---
Instructions
Line an 8-inch square baking pan with parchment paper or wax paper. Set aside. Clear some space in the freezer for this pan—you will need it later.
Make the Cookie Dough Bars: Add oat flour, maple syrup, oil and vanilla to a medium bowl. Using a spoon, stir until thickened and well incorporated. If needed, use a rubber spatula to fold together into a cohesive dough. Fold in 1/2 cup chocolate chips.
Pour cookie dough into the prepared baking pan. Using a rubber spatula, smooth into an even layer. Set aside.
Prepare Chocolate Topping using a double-boiler or do the following. Add Chocolate Topping ingredients to a medium, microwave-safe bowl. Heat in 20-second increments until softened and melted. Stir in between heating until smooth and well mixed. Pour topping over cookie dough bars. Using a clean rubber spatula, smooth into an even layer. Optionally, make swirls on top for fun!
Transfer pan to freezer. Chill for 20-30 minutes, or until firm. Remove from freezer and slice into 16 bars. Enjoy! Storing instructions below.

Adapted from my 5 Ingredient Chocolate Chip Cookie Dough Bites.

Try my Chocolate Chip Cookie Dough Bites with oats and coconut and my No Bake Pumpkin Chocolate Chip Cookie Dough Bites.
Notes
– *If you'd like to make these a few days in advance, leave out 1 to 2 tablespoons of oat flour. This will keep the dough softer for the later days—however, it may be too soft on the first day.
– Best if enjoyed the first day; Day 2 and on, the bars will become drier. Day 2 and forward, to soften, heat in 10-second increments in the microwave until just warm. The topping will become melty.
– Store for 1 week in an airtight container at room temperature. If stored in the refrigerator, bars will harden and become dry much faster.
Category:

No Bake, Bars, Vegan, Gluten Free, Dairy-Free, Dessert
© beamingbaker.com. All content and images are protected by copyright. Please do not use my images or recipe without my permission. Please do not republish this recipe, instead, include a link to this post for the recipe.
Facebook ☀︎ Pinterest  ☀︎ Twitter ☀︎ Instagram