6 Things I Learned on My First International Trip
6 invaluable travel lessons I learned the hard way, so you don't have to. (#4 is super important IMO).
Howdy, everyone! It's Erik today with a truly valuable (if I do say so myself) post on the important travel lessons I learned on my 1st international trip. Hope you enjoy today's post! Demeter will be back on Monday with yummy treats. 🙂
Ever since I was a kid I had always dreamed about traveling, but it wasn't something that was at all feasible for me to do. Money, obligations, jobs, school—there were always so many factors to consider, and no matter how often I tried I just couldn't make it happen.
Growing up in Southern California, there was a lot of awesome scenery and things to do, but I just wanted to see what the rest of the world had to offer. By the time I was in my early 20s, I had only been as far south as San Diego and as far north as Humboldt. And let's just say that both of those trips left a lot to be desired.
In fact, before I met Demeter, I had never even been out of the state (!), let alone out of the country. So, when we had the chance to plan an international trip together a few years back, I was beyond excited. We'd done a few out of state trips together over the years, but nothing as big as traveling out of the country! I was stoked to finally start satisfying all of my pent-up wanderlust.
I didn't really know what to expect from our two-week trip to Vietnam, and I did my best to research the cities we were visiting, read some guides, and figure out the best way to wear a money belt comfortably (still trying to figure that one out). But, as is often the case in life, there's only so much you can prepare, and the best way to learn is by doing.
Thus, in order to help you be a bit more prepared than I was, here are 6 of the most important things I learned from my first international trip.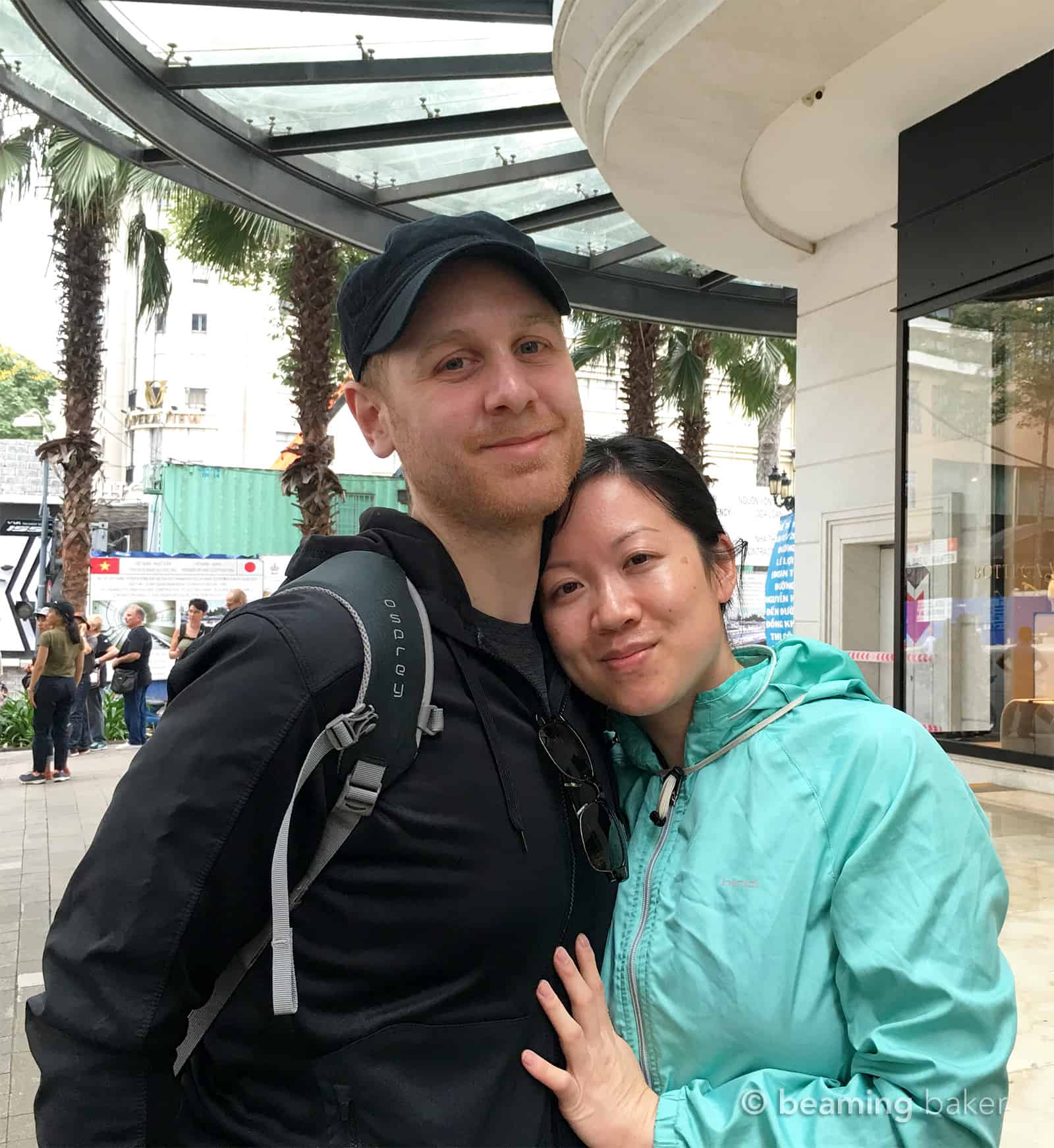 1. Take the Total Flight Duration Seriously
The last few years aside, I've probably taken about a minimum of 3 flights per year since I turned 18, so I thought I was a veteran flyer. But I was wrong. Oh, so wrong. I don't think you can truly understand what a long flight is until you've flown internationally.
You see, most of my flights were short jaunts (Southwest between Oakland and Burbank, back when they regularly had $39 flights). In case you're not familiar with that route, it's typically under one hour in the air. Even if I flew cross country, it would usually be about six hours, or maybe an eight hour red eye.
Our total flight time from Boston to Ho Chi Minh City, Vietnam? Nearly 40 hours. Or, 33 hours and 50 minutes, to be precise. And a total of 3 different flights. With one 4 hour layover, and one 6 hour layover. .‍♂️
By the end of the flight, I was three things:
Smelly
Sleep deprived
Super achey
I pushed for those flights because it was among the cheapest options, and I would never do it again. I definitely didn't understand how grueling nearly 40 hours of travel is. Like, we spent over an entire day on planes, sitting in cramped seats watching bad movies. It was not the best way to kick off my first international trip, or any trip, for that matter.
Travel Tip: When you're booking your international flights, make sure you really think about the total travel time. Look at the flight durations and the layovers, check the times to make sure there will be places open to get food when you land, and just ask yourself: do I really want to spend that much time in the air?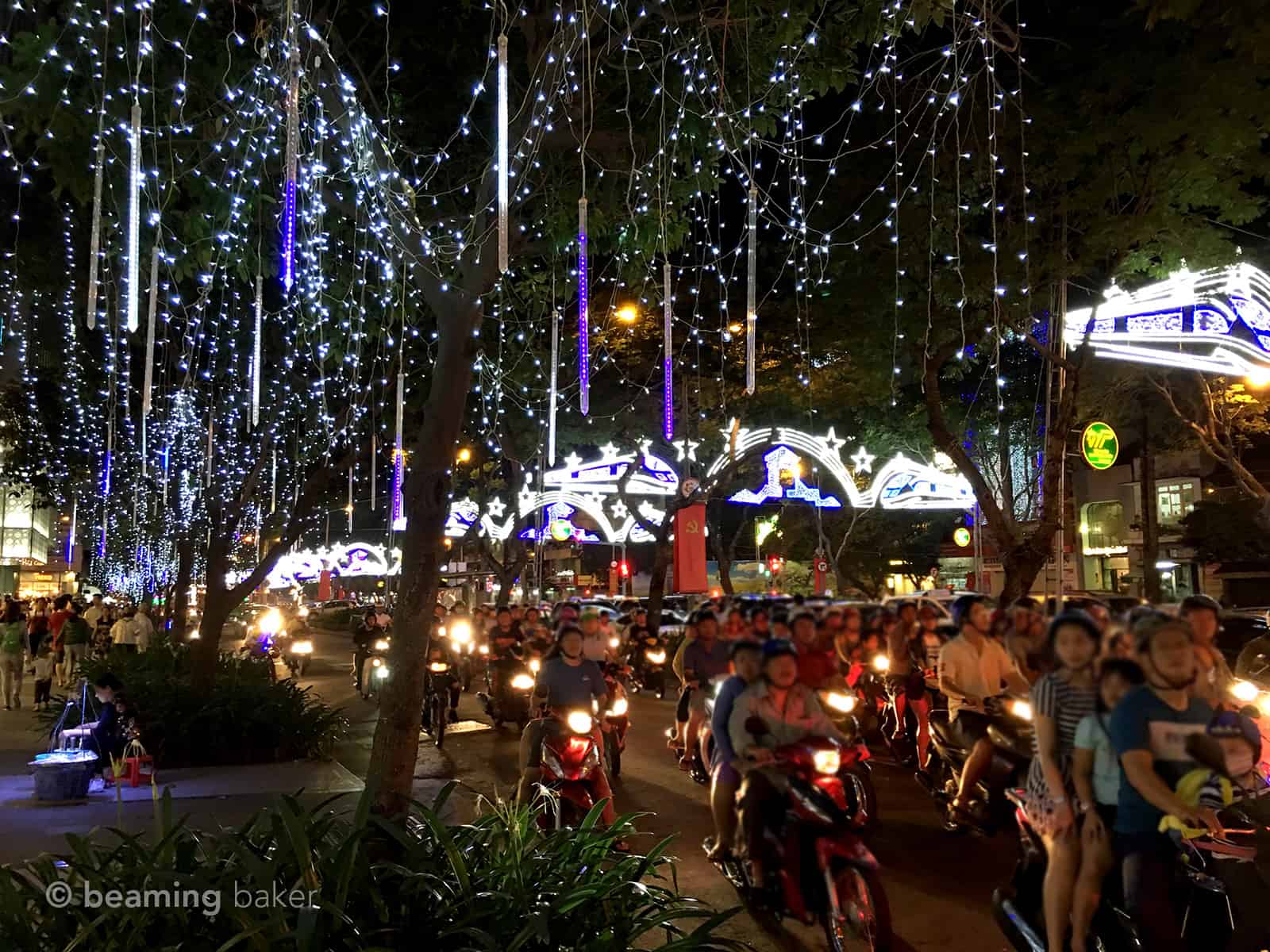 2. Realize That the Airline Will Probably Lose Your Checked Bags (And That's Okay)
Now, that ridiculously long flight was no walk in the park, but once we finally landed in Vietnam I thought, "Alright, we're here! That was rough, but now I'm on solid ground and the fun can begin!"
Until we got to the baggage claim. If you think it's scary and frustrating to not see your bags come down the carousel on a domestic flight, imagine how terrifying it is when you're in a different country. (Spoiler Alert: it's hella terrifying, but not the end of the world).
Guess what happened on this trip? They lost all of our bags.
The whole experience really soured our arrival, because we couldn't just take in the surroundings, embrace the excitement of being somewhere we've never been before, and start planning what to eat once we got to the hotel. Instead, we had to wait in lines, fill out a bunch forms, explain to multiple airport workers what happened, and then immediately track down stores to repurchase all the stuff we didn't have.
We had some important things in our checked bags (like contact solution), which turned out to be very hard to find. Thankfully, one of the hotel attendants was able to stay on top of the situation at the airport and got them to not only locate our luggage, but deliver it right to our hotel about 3 days later. Everything worked out in the end, but it was a lot of headache and extra expenses we just didn't need.
Travel Tip: Keep everything super important with you (in your carry-on), and just assume that the airline will lose your checked baggage.
3. Overpacking is Real, and Totally Not Worth It
This kind of ties into the issues of Tip #2, but it's definitely important to remember. Traveling to a different country is a big deal, and it can be hard to figure out exactly what you need. Electrical outlet converters? Swim suits? Peanut butter? 😉 International travel packing can be a logistical nightmare! Especially when you're traveling with more than one person. (Demeter's mom came with us on the trip, and so we all had to pack and plan together.)
One thing I discovered during our first day of re-buying all our essentials (due to, ya know, not having any of our luggage) is that pretty much everything we packed from home (either because we were concerned about price, quality, or availability) we were able to find at the local super market. (Except for contact solution, it turns out.)
Travel Tip: This one 100% comes from Demeter, the total packing expert: Pack your absolute essentials with you in your carry-ons, and do your best to cover your bases with the rest of your space. If you run into something unexpected during your trip, odds are you can just go out and buy it. It'll make packing easier, and give you less to carry around on flights or between hotels.
4. Find Out if You're Visiting During a National Holiday
Okay, this is a big one. We planned our trip to Vietnam to coincide with Tết (Lunar New Year) because we thought it would be fun to visit during a major celebration. Turns out, almost all stores, malls, and restaurants close for about a week once Lunar New Year starts.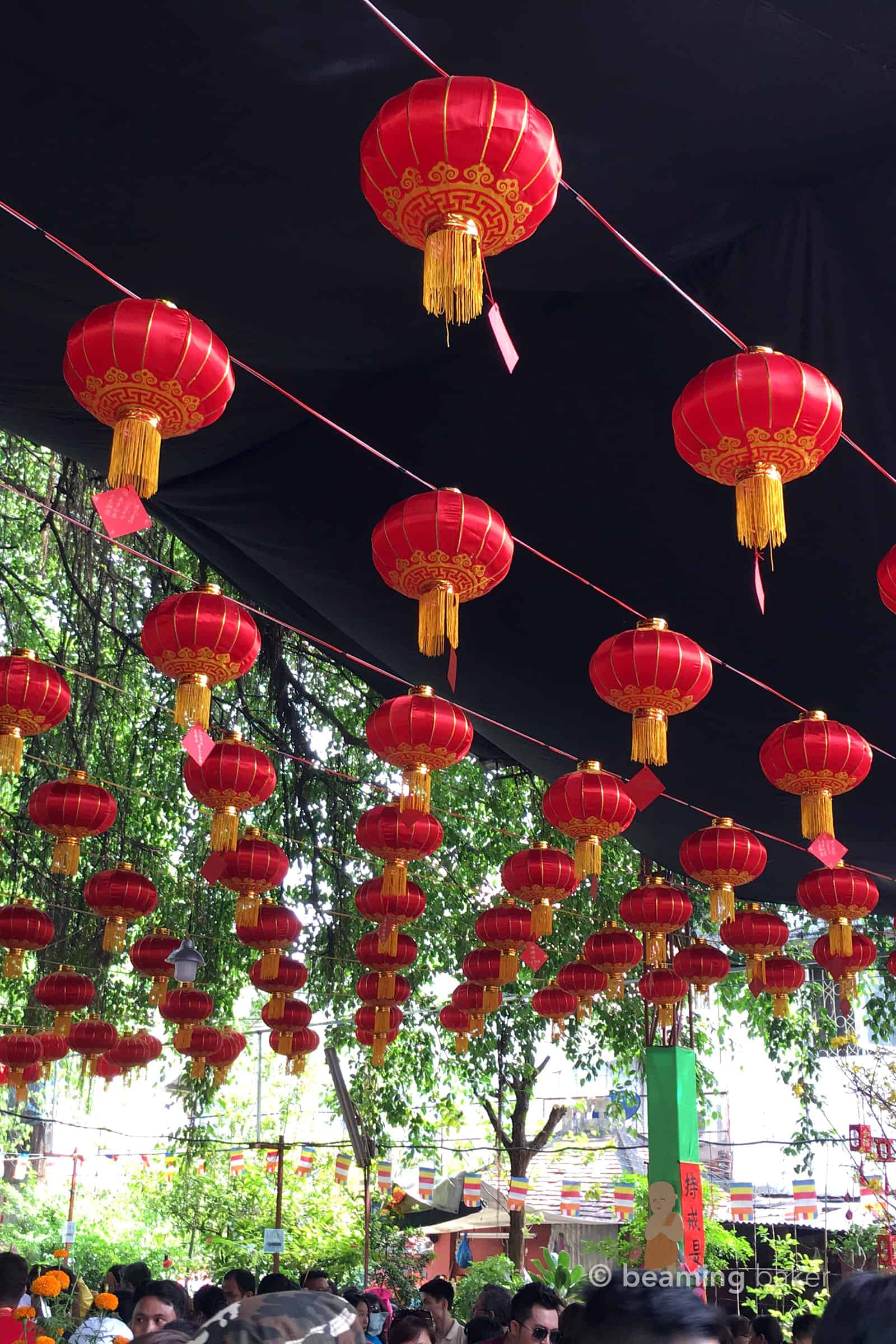 Two days after we arrived, 90% of the businesses in the city closed their doors. And they stayed closed for the next week. So all the restaurants, stores, street food vendors we planned on visiting were closed.
We ended up having to get most of our food at a tiny convenience store across the street from our hotel. We ate a lot of instant noodles during that week, let me tell you.
Travel Tip: So when you're planning an international trip, make sure you find out if there are any big holidays or cultural events going on during your stay and do some research to see how they might affect the city. After the fact, I found several TripAdvisor posts saying that visiting during Tết was not recommended, so the info is out there. You just gotta find it.
5. A 12 Hour Time Difference is No Joke
This one comes into play in two different ways: adjusting your sleep schedule and working.
As far as sleeping goes, you're probably gonna need a day or two for your body to get used to sleeping when it's usually awake, and vice versa. Don't plan on doing anything too massive right out of the gate, and instead give yourself some time to rest up first. I promise you'll have a better time overall.
For me, the working part was the hardest thing to deal with. At the time, I was working as a freelance writer, and I had clients that needed projects completed while we were on the trip. Everything took longer because I was emailing them while they were asleep, and didn't get responses until it was time for me to head to bed. I didn't even think about the kind of delays that would cause, and the timezone-related obstacles to getting my work done.
Also, if you have to do any kind of social media scheduling as part of your job, time differences can really be a headache. Facebook definitely didn't make it easy for me, and kept changing things to local time almost at random. So, if you have to do anything that is time sensitive, just be prepared for it to take at least twice as long as usual.
Travel Tip: Give yourself 1-2 days to adjust to the local timezone by planning lighter days at the beginning of your trip. Be prepared for timezone-related obstacles & think about getting a cheap watch set to your normal timezone to keep track of when it's "supposed" to be.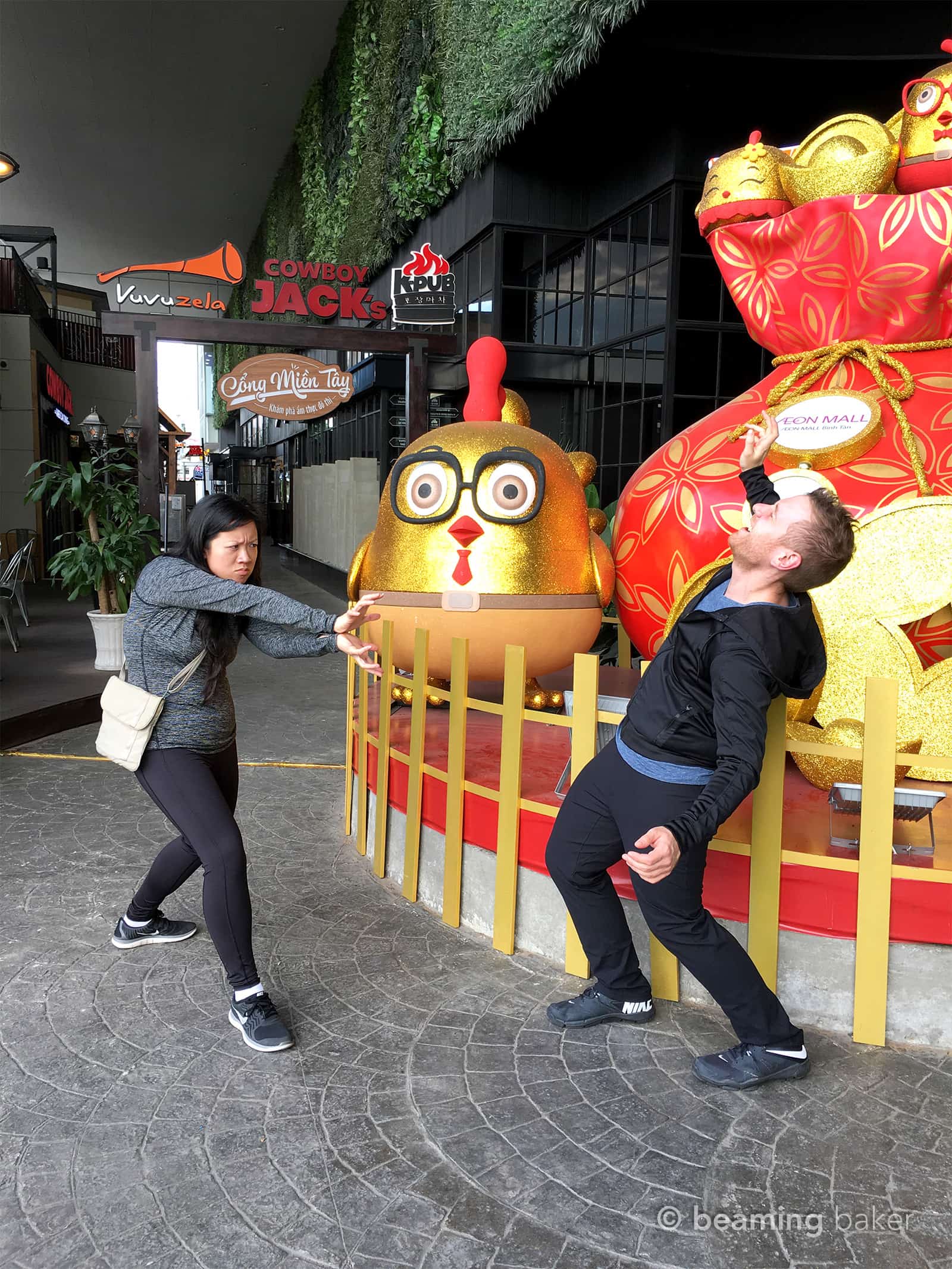 6. You're in Another Country (which is wild), So Have Fun!
Even with all the speed bumps, roadblocks and detours we faced (there were definitely times it felt like we were on The Amazing Race during that trip), it was still one of the most memorable times of my life.
Remember, no matter what gets thrown your way on your international trip, you gotta have some fun.
Even though I was tired, frustrated at work, and bummed that I couldn't do all the things I planned, Demeter and I still found time to laugh and enjoy the excitement of being in a different part of the world. She was absolutely amazing at reminding me of the bright side of things. If it weren't for her, I would have had a very different experience on that trip.
Demeter taught me: no matter what goes wrong, you can always have fun and choose to make something go right.
Case in point, these rideable, coin-operated animatronic motorcycles we found at a mall in Hanoi. I mean, how could you not smile?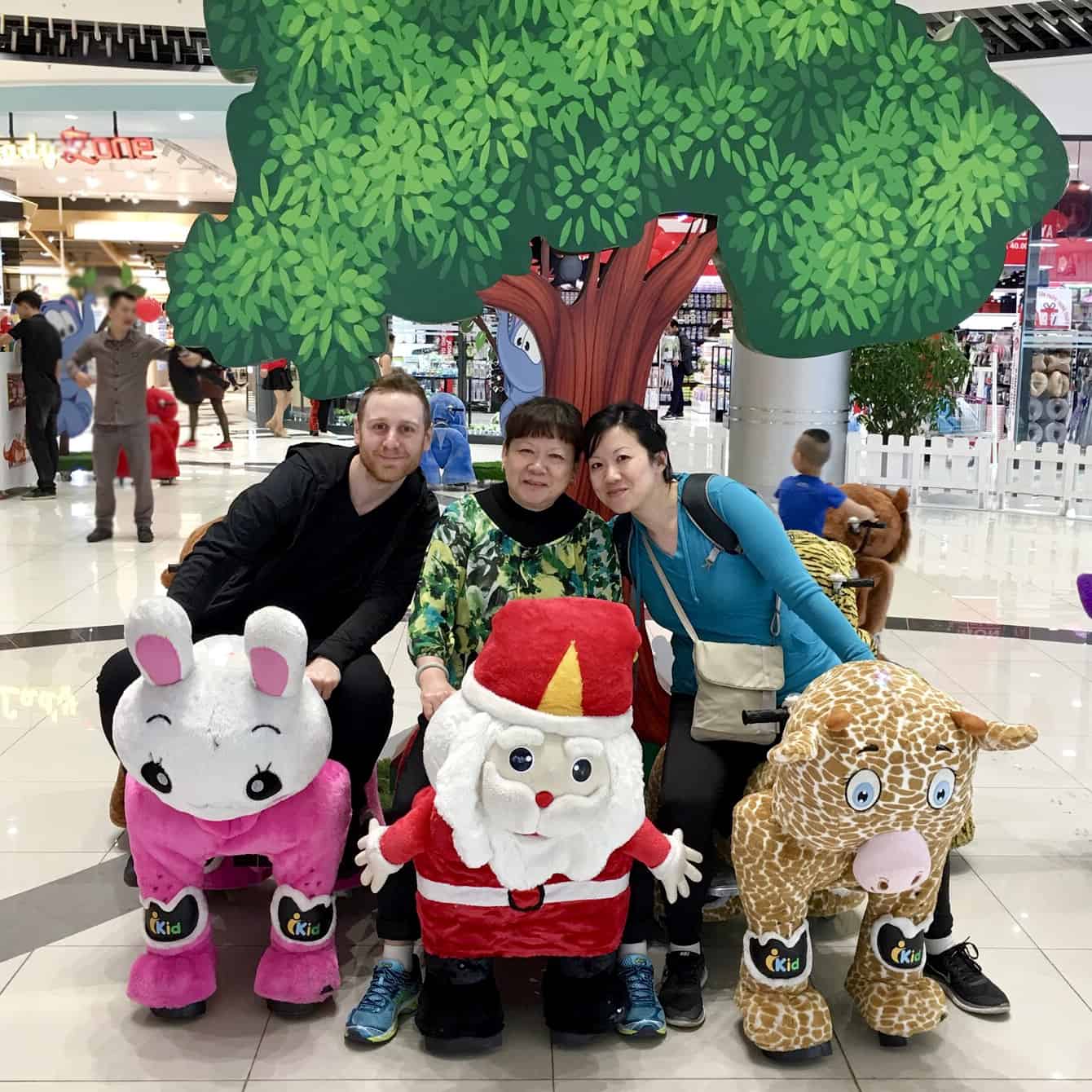 What are your tips for international travel? What was your first trip out of the country like?
Tell me all about it in the comments below!
Until next time…
Travel safe, and remember to have some fun!
– Erik .
Facebook ☀︎ Pinterest ☀︎ Twitter ☀︎ Instagram