Blueberry Coconut Smoothie Bowl (Vegan, Gluten Free)
Blueberry Coconut Smoothie Bowl (V+GF): An easy recipe for a refreshing smoothie bowl packed with antioxidants, blueberries and coconut. Vegan and Gluten Free.
Happy Monday everyone! What did you do this weekend? Tell me all about it as we paint each other's nails and… oh, you're not here in real life. Bummer! But you can still tell me all about it—and open a bottle of nail polish for that, erm… potent scent. 🙂
I spent the weekend puttering around the house and…. Gasp! Strolling around town. Can you believe, Erik and I actually went outside? Woah! I know. I know. Even us homebodies have to get outside and soak up some (mostly) overcast rays. Maine, ya know?
There's this really cute antiques store in town that has EVERYTHING!! You guys, there are two levels of so much timeless awesomeness that I get excited just writing about it. A couple weekends ago, Erik and I took my mom and she actually recognized a bunch of the antiques in the store.
From her childhood. (Don't tell her I told you that. Remember, she's only 35. ?)
Now now, it's not because they robbed her childhood home, mind you. 😉 It's because she actually grew up with this stuff in Vietnam. How cool is that? The three of us had a grand ol' time just reminiscing with mom about the olden days. She was telling us about how, back in the day, you actually had to beat your clothing by a stream and then roll it in one of those laundry rolling things (yes, that's the official name—I checked with the Smithsonian and every-thang).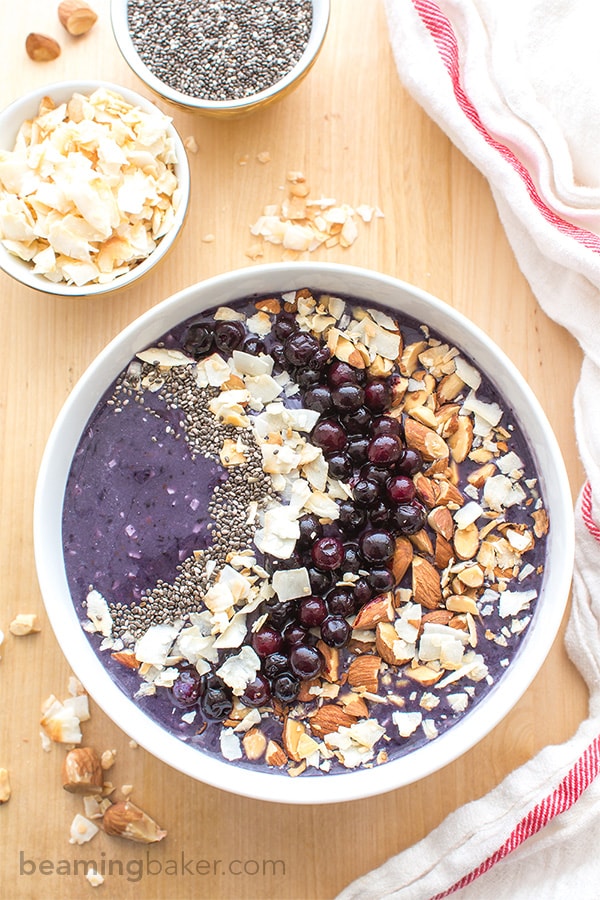 And guess what I saw that really perked my interest? An old school, like when Socrates was teaching, KitchenAid blender!!! Okay, okay… so blenders aren't that old. But isn't it fun to exaggerate?
Anywho, this blender was AMAZING!! It was pink and had a glass pitcher… Goodness knows I'm no appliance historian (I wonder how many of those there are in this world?), but it was so retro cool. This guy almost, almost rivaled the 1940s KitchenAid we got from Erik's grandma.
Don't ask me where I got this fascination with antique appliances. Well, it's probably from my sister Monica, who actually worked at the Smithsonian (!!!). How cool is that? She's always been a history lover and a baker. Yep, it runs in the family.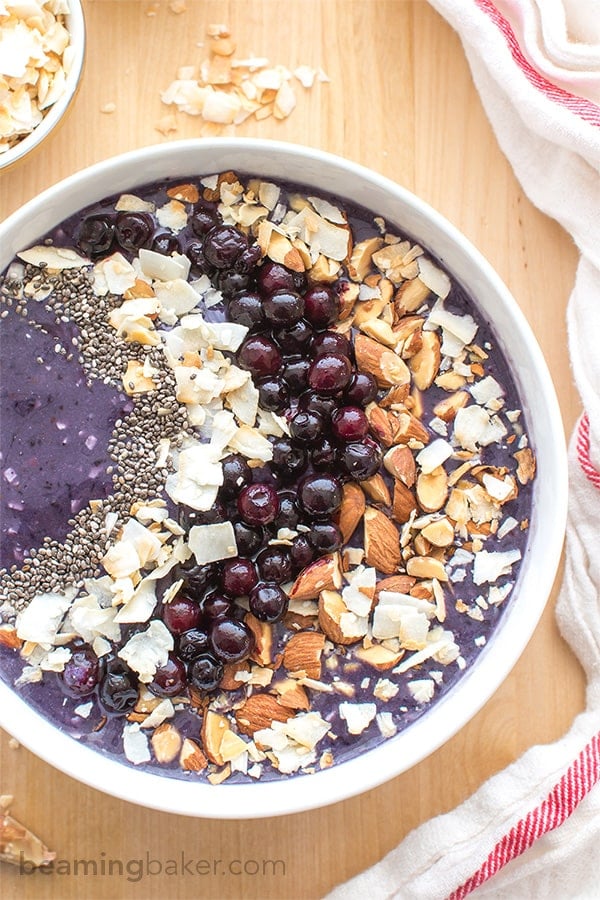 But anyway, the blender got me thinking about my love for smoothies. Can you tell from the sheer amount of smoothie recipes on this site? From this strawberry peanut butter guy to this mango chia goodness and this pineapple berry one, I gotcha covered!
I've been trying to get my mom to eat more blueberries… what with all of the nutritional greatness it packs, but it's been a bumpy road because she doesn't like blueberries! Can you believe? So it's been my sworn duty to convince her otherwise. What better way to do so than to use her beloved coconut to curry some favor for these little blue guys? Speaking of which, I should make her some coconut curry.
Hence, my friends, the Blueberry Coconut Smoothie Bowl was born.
Okay, so you're sitting there like, I may or may not have read this post, but I can scan some bullet points. Right? Well, either way, the Bullet Point Train is leaving the station and we've got some seats available. OMG. I just had my coffee. Can you tell?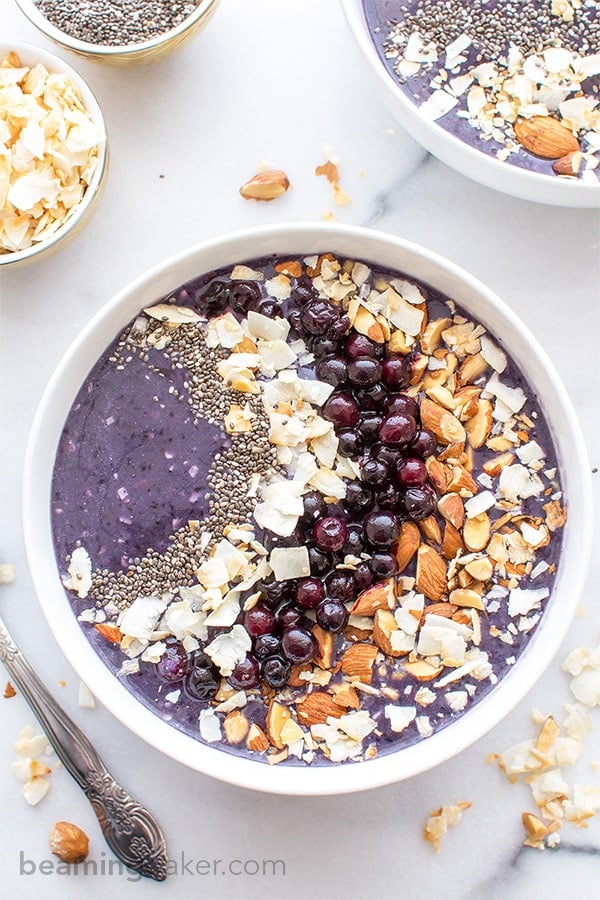 This Blueberry Coconut Smoothie Bowl is:
refreshing, cool and energizing
vegan and gluten free
ready in 10 mins, or faster if you're a blending superhero!
packed with antioxidants, Vitamin C and dietary fiber
super easy to make
good for ya, love!
So bust out your retro-cool blender from the 50s or grab your dependable modern blender from the… well, this decade, and get ready for some blueberry dreams to come true.
Let's have a Blueberry Coconut Smoothie Bowl together and catch up, shall we? 🙂

Print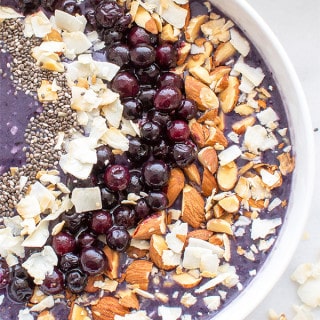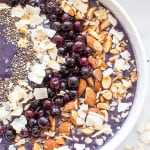 Blueberry Coconut Smoothie Bowl (Vegan, Gluten Free)
---
Description
Blueberry Coconut Smoothie Bowl (V+GF): An easy recipe for a refreshing smoothie bowl packed with antioxidants, blueberries and coconut. Vegan and Gluten Free.
---
2

medium bananas, sliced and frozen

1 cup

unsweetened almond milk, divided

1 cup

frozen blueberries

¼

–

½

cup unsweetened, shredded coconut
Optional toppings

1 tablespoon

each: chia seeds, shredded coconut, nuts, blueberries
---
Instructions
Place bananas and ½ cup almond milk into a blender. Blend until smooth, scraping down the sides of the blender as need. Add blueberries and blend for about a minute.
Add in the last ½ cup of almond milk, blending until smooth. I like to scrape down the sides periodically to help the blender along.
Add coconut, blending until well incorporated. Blend extra if you want the coconut pieces to be less noticeable in the smoothie bowl.
Pour evenly into two bowls. Optional: top with your favorite toppings. Enjoy immediately!
Prep Time:

5 mins

Category:

smoothies, vegan, gluten free
© beamingbaker.com. All content and images are protected by copyright. Please do not use my images without my permission. If you wish to republish this recipe, please re-write the entire recipe using your own words and include a link to this post for the recipe.
Ride the Smoothie Train straight to YUM with my Protein-Packed Strawberry Peanut Butter Smoothie.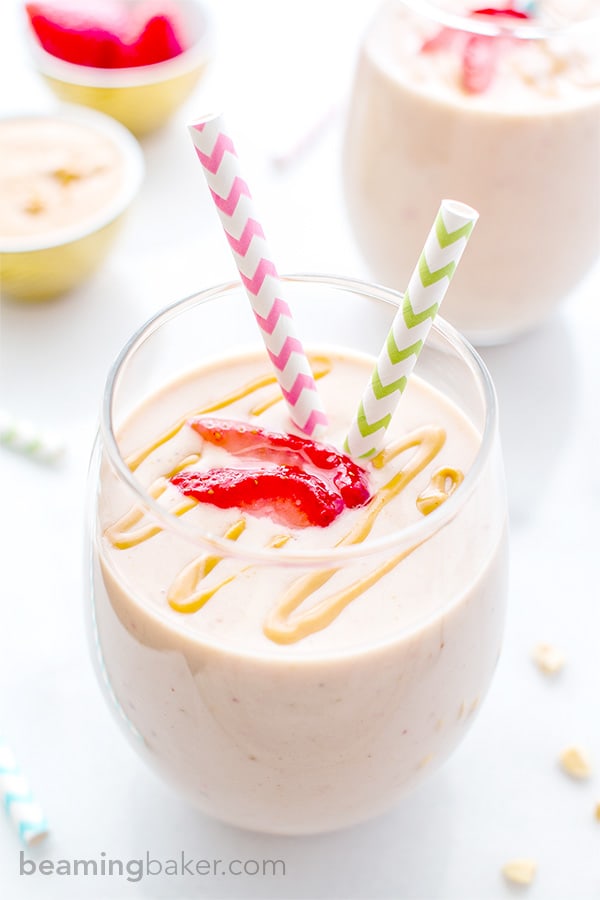 Mangos + Chia Seeds = Sunshine in a Glass with my Mango Chia Seed Smoothie (Vegan + Gluten Free).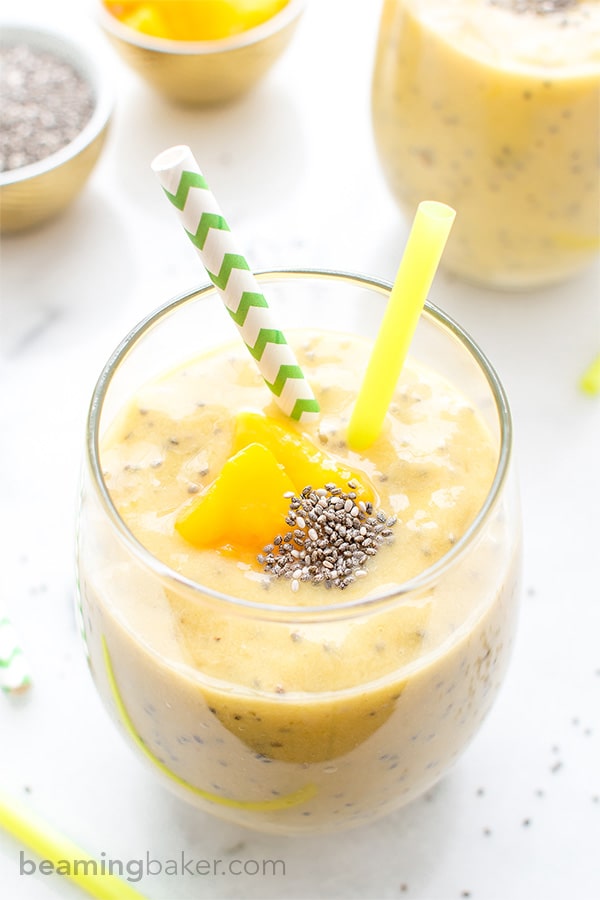 Question of the Day
How's your week going so far?
I can't wait to hear your responses. ❤️ demeter