Refreshing, sweet, protein-packed Pineapple Berry Smoothie: made with Greek yogurt, strawberries, blueberries and almond milk, these smoothies are perfect for breakfast or a snack.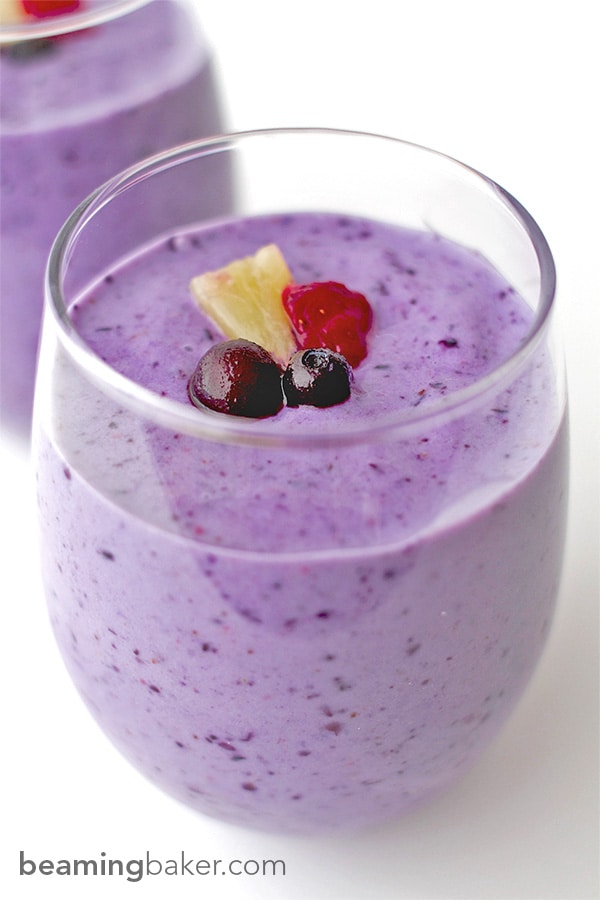 After a long weekend of eating Foods that Shall Not Be Named, it's time for a refreshing pineapple berry smoothie!
Erik and I spent the weekend making pizzas with all of our favorite toppings: pineapples, jalapenos, mushrooms, minced garlic and tomatoes. My goodness, these pizzas were unbelievable. They just hit every freaking spot.
But, alas, those spots are now worn out and need a break. You know, to rejuvenate for more stimulation next weekend. Hmm… suddenly what I'm writing is leading to a distinct eyebrow raise. Awwwkard. Moving on!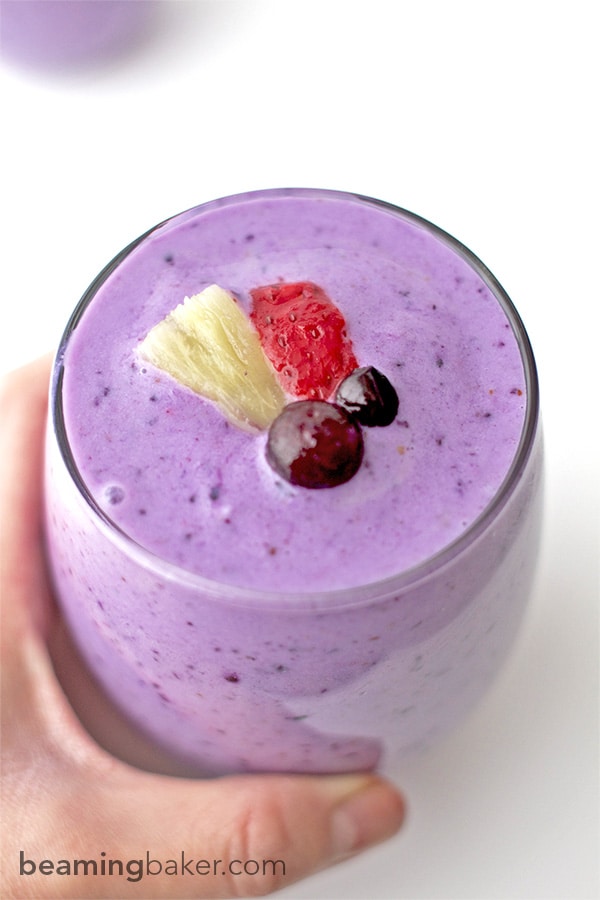 If you've had a weekend like ours, which may or may not have included buffalo bagels (!!!) with an embarrassingly large serving of fresh-made cream cheese, then you're gonna need one/maybe two of these smoothies.
The Pineapple Berry Smoothie is amazing for a couple (or more, but I need to be modest on a weekday. Sigh.;) reasons. They're:
Packed with protein-rich yogurt goodness
Just the right amount of sweet, with a hint of berry tang
Super quick, super easy to make
Yummy on so many levels. Each time you take a sip, you'll appreciate the taste of each ingredient
Made with pineapples, strawberries and blueberries (delicious combo, much?)
And… well, I have to stop now. Because. Modesty? (Overrated, if you ask me.)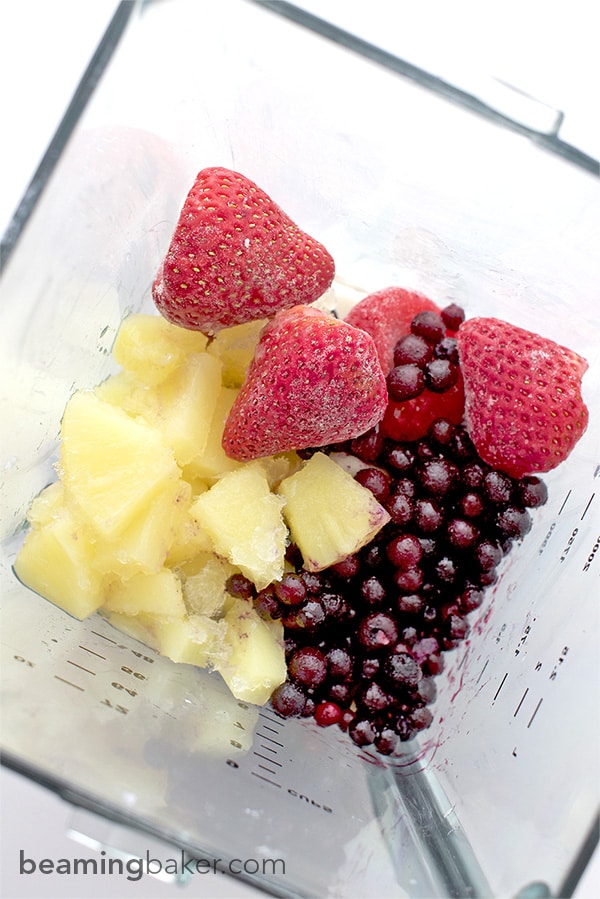 Simply take out your blender, pop in Greek yogurt, frozen bananas and almond milk, and blend until it's all silky smooth. Then, add in a delightful bounty of strawberries, blueberries and pineapple. Blend it like you're whirring away all memories of those Foods that Shall Not Be Named you ate this weekend.
Then pour, sip and feel better about yourself. Like, instantly.

pineapple berry smoothie
Refreshing, sweet, protein-packed Pineapple Berry Smoothies: made with Greek yogurt, strawberries, blueberries and almond milk, these smoothies are the perfect fruity boost.
Author:
demeter the beaming baker
Serves:
2-3 smoothies (5 cups)
Ingredients
1 ½ cups plain Greek yogurt
2 medium bananas, ripened, sliced and frozen
¾ cup almond milk, plus more if needed
½ cup frozen strawberries
¾ cup frozen blueberries
½ cup frozen pineapple
Instructions
Add yogurt, bananas and milk into blender. Blend until smooth, scraping down sides of blender as needed.
Add strawberries, blueberries, and pineapple. Blend until smooth. If it's too thick, add more milk.
Pour into 2-3 cups. Enjoy immediately!
© beamingbaker.com. All content and images are protected by copyright. Please do not use my images without my permission. If you wish to republish this recipe, please re-write the entire recipe using your own words and include a link to this post for the recipe.
Looking for more smoothie joy? Try my Mango Chia Seed Smoothie (Vegan, Gluten Free).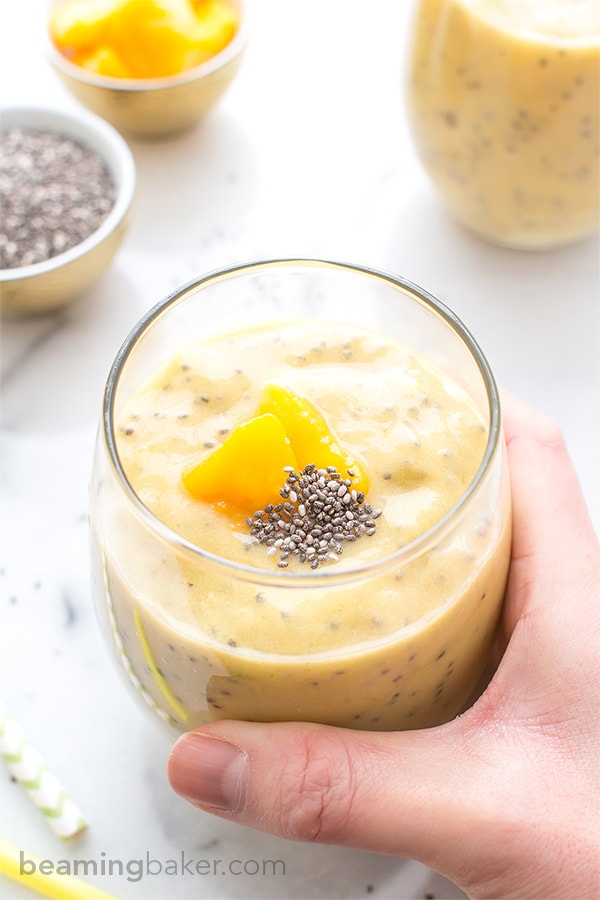 Questions of the Day
What kind of foods do you consider Foods that Shall Not Be Named (i.e. junk food)?
What kind of fruits do you love in your smoothies?
I can't wait to read your replies. <3, demeter