Gluten Free Vegan Brownies (V+GF): a one bowl recipe for the best gluten free vegan brownies made with simple, whole ingredients. Vegan, Gluten Free, One Bowl. Try the paleo version here.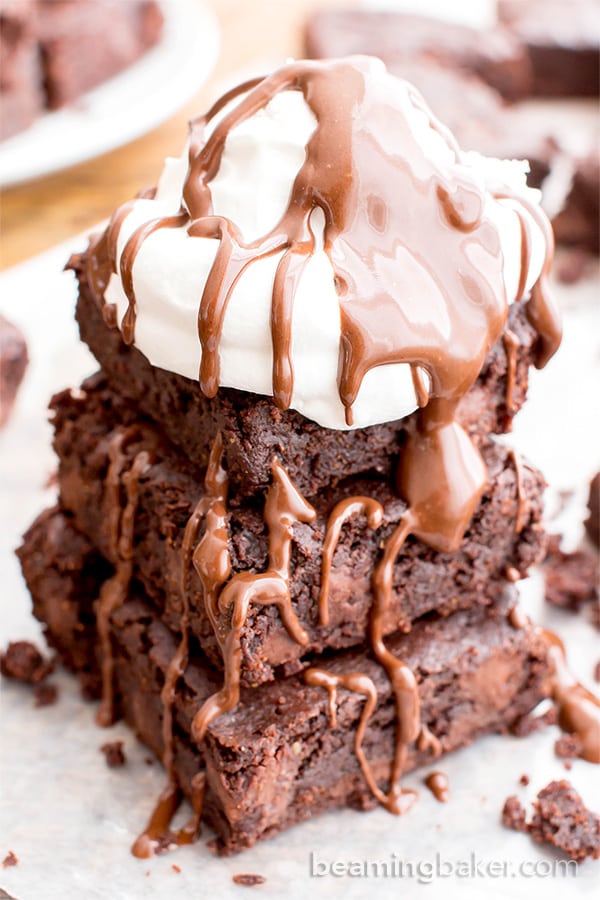 Happy Fourth of July! And what a happy 4th it'll be with these gluten free vegan brownies. Say whaaaaa? Yup. I said it. But how did this all begin? All with a question (yes, I'm in the habit of answering my own as well as other people's questions). Okay, maybe it was several questions.
"Can you make this recipe?" "Wait, can you veganize this?" "But, what if you combined this meal with this dessert?" (Don't even get me started on this one.) "You could totally make this gluten free, right??"
As a food blogger, I get all of these awesome, challenging, and sometimes nerve-wracking questions everyday. And most of them are from my family. They mean well, but truth be told, they are HUNGRY. And they're not afraid to show it.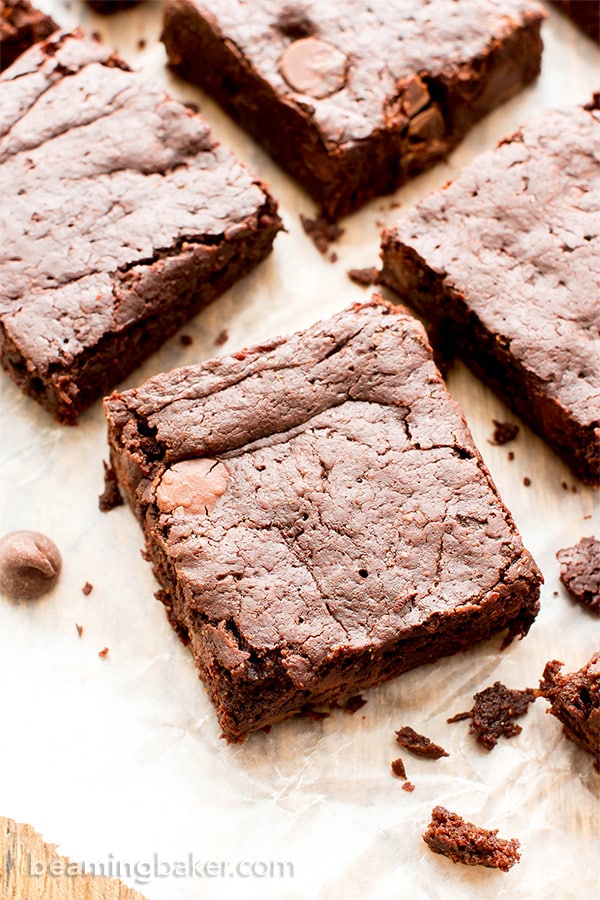 Well, Family, I'm gonna BRING IT. Cause that's what I was born to do (and be constantly hungry, too). Today, I bring you, and that wonderfully quizzical family of mine, the ultimate Gluten Free Vegan Brownies recipe.
Yeah, I said it. ULTIMATE.
The way I feel about this recipe is the way I feel about my Best Vegan Brownies. But even better because, they're gluten free. Oh yeah! And did I mention, one bowl? I mean, one bowl?? This satisfies even the most dishwashing-repelled folks in the room. I'm not the only one here, right?
You see, ever since I published my best vegan brownies recipe, I've been getting requests to:
Make those brownies for every occasion. Think: birthday parties, picnics, brunches, first day of school, Netflix-marathons, just cause, bad day pick me ups, and plain old I Need 'Em–That's Why occasions.
Make them gluten free. Note to self: why, oh why weren't they GF to begin with? Was I too hungry to think?
Make a paleo version, which I finally did!
Sleep less so I can bake more.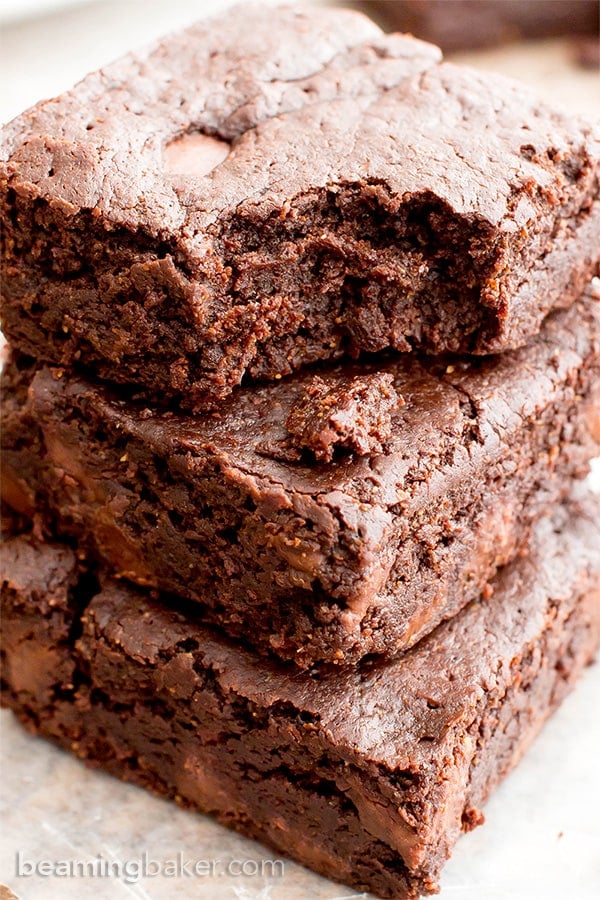 Here you are, my lovely readers, my lovely family. Make these gluten free vegan brownies. Close the shades. Cancel all of your plans. Get into your favoritest, coziest, softest pajamas. It's time to treat yourself to a full evening/afternoon/heck morning of chocolate indulgence, brownie-style.
My sister Jenny, who is the ultimate (word of the day, pshaw) brownie lover LOVES these brownies. Back in the day, when I was in college, Jenny made her incredible brownies every time I visited. Those brownies were moist, indulgent, chocolatey and just plain ol' YUM.
Since then, she's retired her brownie pan, and her brownie edge pan. And her brownie mascot uniform. But she's never forgotten her love of brownies. She also probably can't forget as she reminds me to make another batch of these for her every time we chat. So, I raise my brownie to you, sis. Cheers to our mutual, undying love of chocolate. 🙂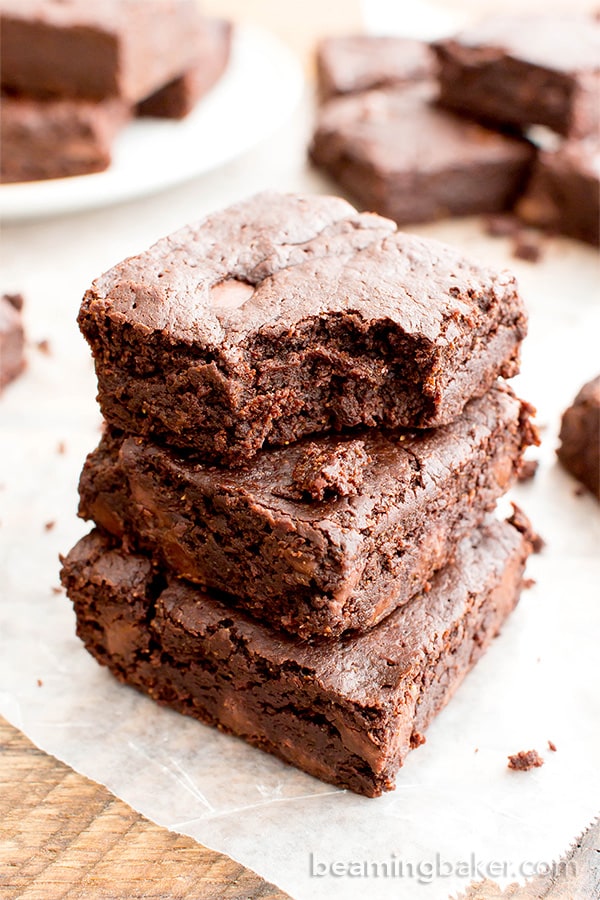 Just a suggestion—and make that a highly delicious one—whenever Erik and I are craving chocolate dessert like it's nobody's business, here's how we get our life-saving chocolate fix:
Step One: Bake one batch of these gluten free vegan brownies.
Step Two: Whip up a big bowl of coconut whip.
Step Three: Make some homemade chocolate shell (recipe coming soon).
Step Four: Get into cozy jammies, grab a good book or two.
Step Five: Slice brownies, top with a HUGE dollop of coconut whip and drizzle with homemade chocolate shell.
Step Six: Bask in 100% chocolate bliss.
Optional Step Seven: Enjoy with a nice big scoop of this or this. Or both. Cuz… summer.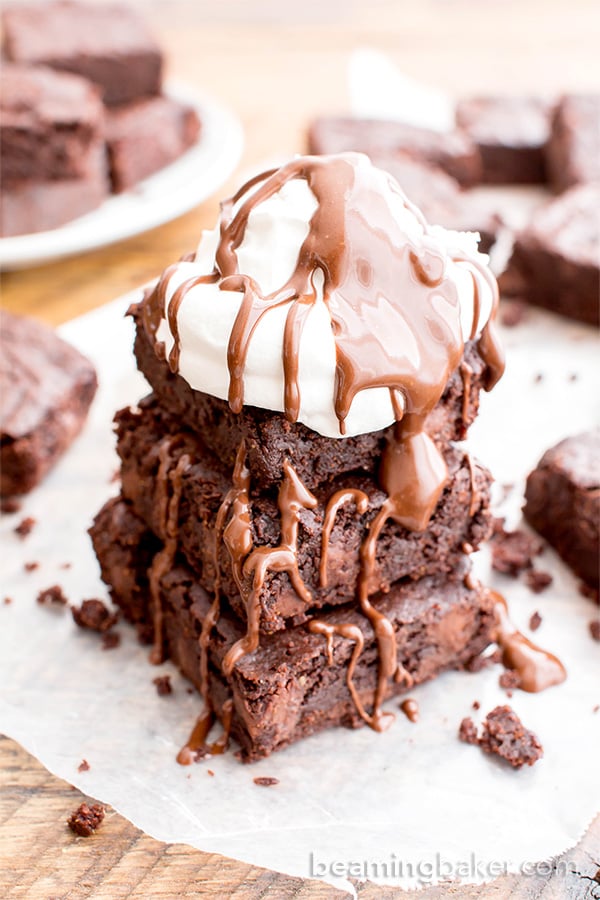 My Gluten Free Vegan Brownies are:
beyond easy to make, in just one bowl
vegan, gluten free, dairy free
made with just 10 ingredients, yep, including the salt
rich, chocolatey and just everything
full of whole ingredients
simply and wonderfully indulgent
moist, fudgy and just the right amount of dense
plant-based and allergy-friendly
perfect for those who don't like washing dishes (that would be all of us, right?)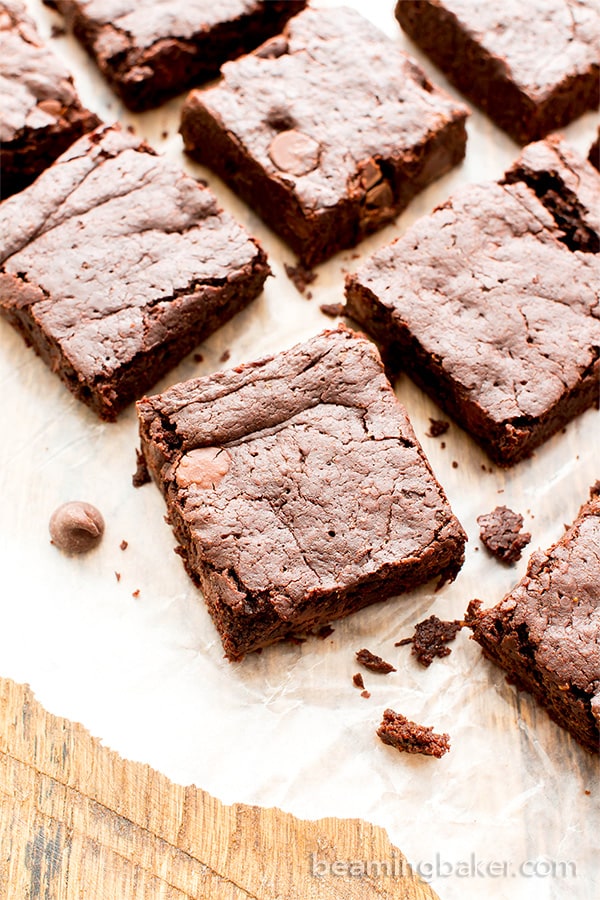 So grab a bowl, just one, and put on some of your favorite feel-good tunes. It's time to get our bake on! I'll bring the coconut whipped cream, you bring the appetite. I'll meet you by the couch. Or the fireworks show. You let me know, okay? 😉
Sending you all my love and maybe even a dove, xo Demeter ❤️
☀︎Click below to pin ☀︎

☀︎ Did you make this recipe? Take a pic and share it on Instagram with the hashtag #beamingbaker and tag @beamingbaker. I would love to see it! ☀︎
Just in case you're looking for the SUPER fudgy and paleo vegan version of these brownies, try my Ultimate Fudgy Paleo Vegan Brownies. Watch the video below and see just how easy they are to make. 😉
SHOP THIS RECIPE
Here are a few items I used in today's recipe. 🙂
OXO Mixing Bowls | Coconut Oil | Silicone Spatulas | Maple Syrup | Baking Pan (8-inch) | Cooling Rack | Glass Mixing Bowls | My Favorite Knife
More Gluten Free Brownie Recipes
Print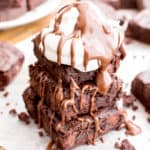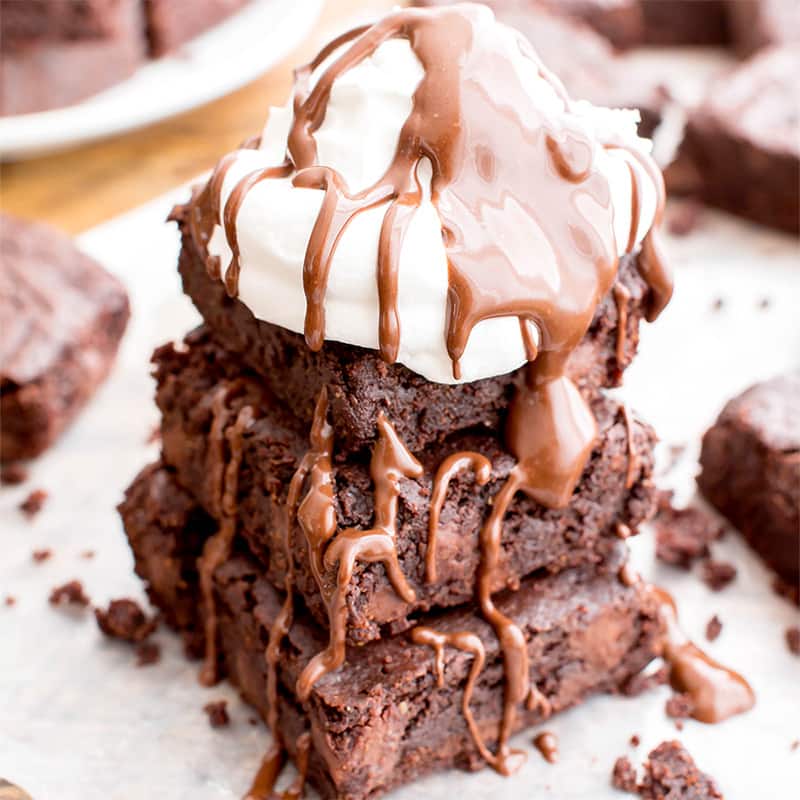 Gluten Free Vegan Brownies
---
Description
Gluten Free Vegan Brownies (V+GF): a one bowl recipe for the best gluten free vegan brownies made with simple, whole ingredients. Vegan, Gluten Free, One Bowl, Dairy Free.
---
Scale
Ingredients
¼ cup

natural, unsalted almond butter

½ cup

coconut sugar

1/3 cup

pure maple syrup

¼ cup

+

2 tablespoons

melted coconut oil

¾ cup

unsweetened cocoa powder

1 teaspoon

pure vanilla extract

¼ teaspoon

salt

2

flax eggs (

2 tablespoons

ground flax +

6 tablespoons

water, whisk together, set for 15 mins)

¼ cup

+

2 tablespoons

gluten free oat flour

½ cup

vegan chocolate chips
---
Instructions
Preheat oven to 325°F. Line an 8-inch square baking pan with parchment paper or greased foil. Set aside.
In a medium bowl, whisk together almond butter, coconut sugar, maple syrup and melted coconut oil. Whisk until it resembles caramel.
Add cocoa powder in ¼ cup increments, whisking until shiny and smooth. Scrape down the sides of the bowl as necessary. Whisk in vanilla and salt.
Add flax eggs in, whisking until well incorporated. In thirds, whisk in the oat flour. As the batter gets harder to whisk, switch to folding with a rubber spatula. Fold until well incorporated and no flour patches remain.
Fold in chocolate chips. Pour batter into pan. Using a rubber spatula, smooth batter into an even layer.
Bake for 28-32 mins. Mine took about 30 minutes. Cool for 1 hour, or until completely cool. Slice into 16 brownies. Enjoy!
---
Equipment
Category:

Vegan, Gluten Free, Dairy Free, Brownies, Dessert
© beamingbaker.com. All content and images are protected by copyright. Please do not use my images without my permission. If you wish to republish this recipe, please re-write the entire recipe using your own words and include a link to this post for the recipe.
If you're looking for a paleo option, try my Ultimate Fudgy Paleo Vegan Brownies (V, GF, Paleo, DF). YUM.
When you just can't decide between a cookie and a brownie: try my Vegan Chocolate Brownie Cookies (GF, V, DF)
Chocolate for DAYS. Chocolate Chip Cookie Dough Truffles (Vegan, Gluten Free, Dairy Free). This must be what love tastes like.
What's your favorite way to eat a brownie? In a sundae, all by itself?
I can't wait to hear your responses.
This post may contain affiliate links, which allow me to make a small commission for my referral, at no additional cost to you. Thank you for supporting Beaming Baker.
Facebook ☀︎ Pinterest ☀︎ Twitter ☀︎ Instagram