Best Vegan Brownies Recipe: easy & moist homemade vegan brownies—the BEST vegan chocolate brownies ever! Rich chocolate flavor, super fudgy center and made from scratch!
Looking for the Gluten Free version? Try My Favorite Gluten Free Brownies Recipe From Scratch!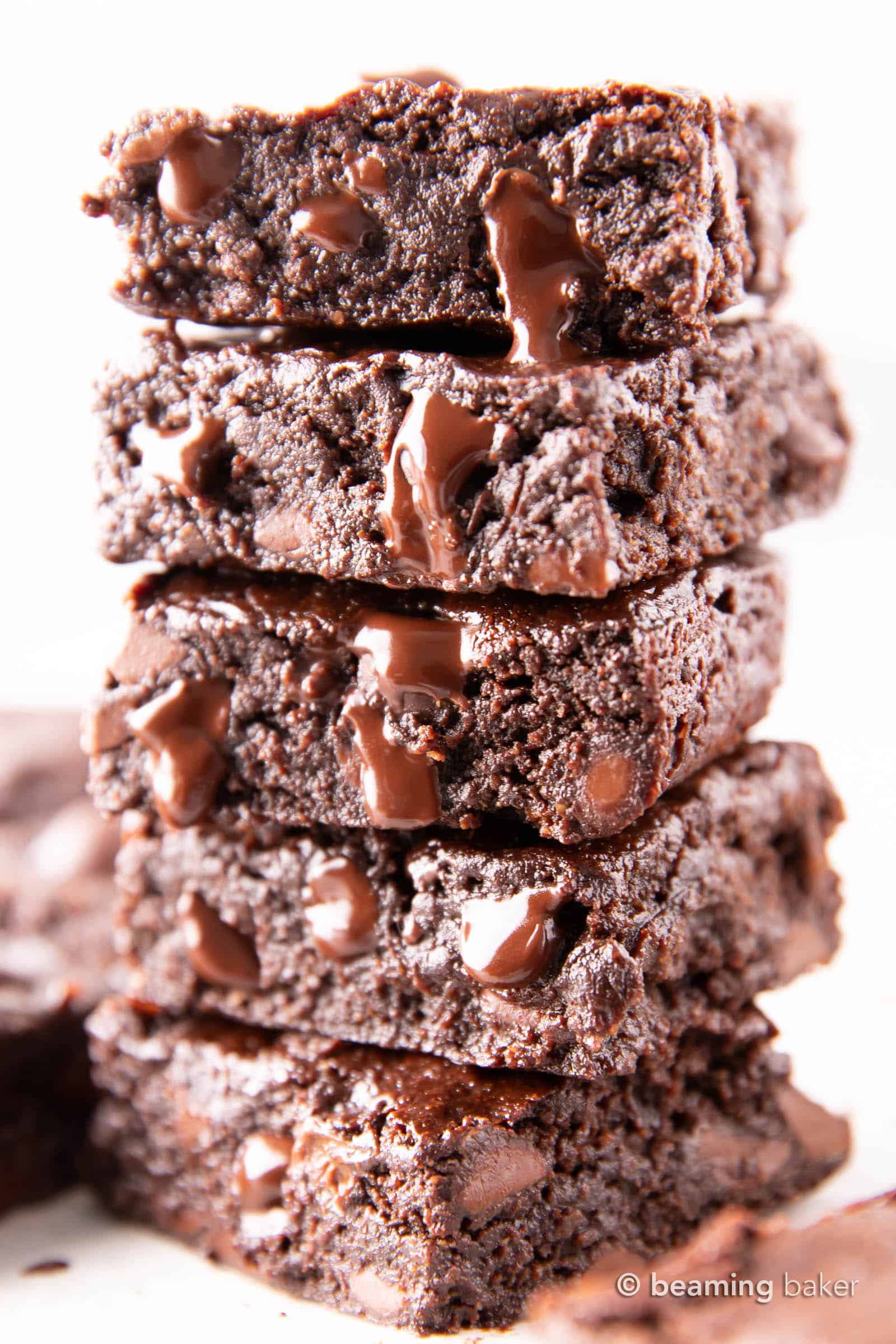 So what's your favorite brownie ever? Be honest. Is it cakey, fudgy, more cookie-ish, or something in between?
Lately, I've been on a bit of a vegan brownie odyssey. And by lately, I mean I've been on a brownie odyssey since the day I was born. No exaggeration or anything. Hehe! It's just—brownies are unlike anything else—they're not cake, they're not cookies, and they're most certainly not pudding.
But if you can find a brownie that is the perfect combo of something in between all of that, you've got a winner.
And if you can find a vegan brownie that's a perfect combo of something in between, and perhaps above all of that, you've got a lifetime achievement award winner. Ya know?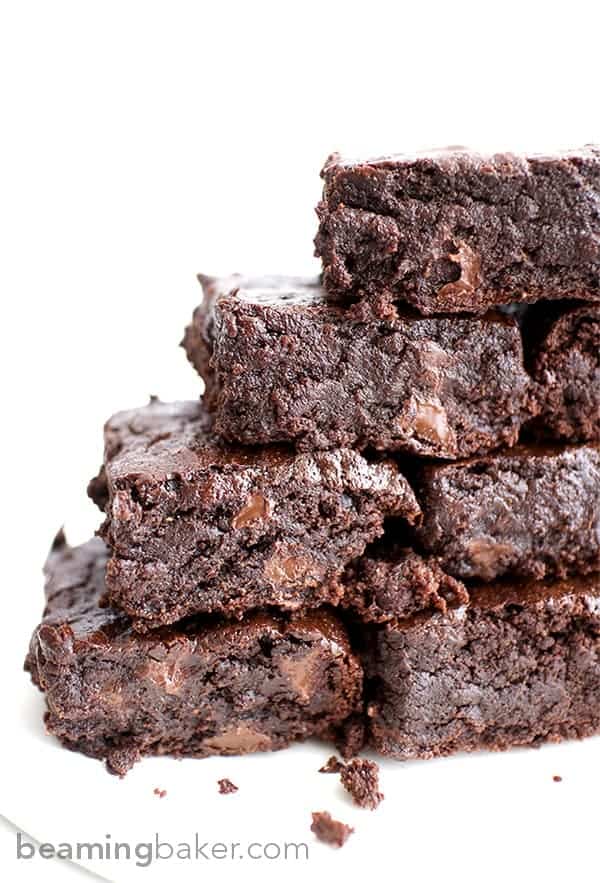 The Looooooong Vegan Brownie Odyssey
If you think my brownie odyssey was long, then you've got to see how loooooong my vegan brownie odyssey was. Wait a minute, are several of you nodding back there? (Where "back there" is on the internet, we'll never know…) It's just, there might be some standout brownie recipes out there, but are there standout vegan brownie recipes? Psssch!
Today, we're gonna kick it back, basically hop into the Wayback Machine version of the Beaming Baker archives and revisit my favorite (and best) vegan brownie recipe of all time. Not to worry, it's made with good ingredients, and it's gonna satisfy that sweet tooth big time. But if you're like, where's the gluten free version? Worry not, here ya go: Gluten Free Vegan Brownies.
Now with that out of the day, let's get started!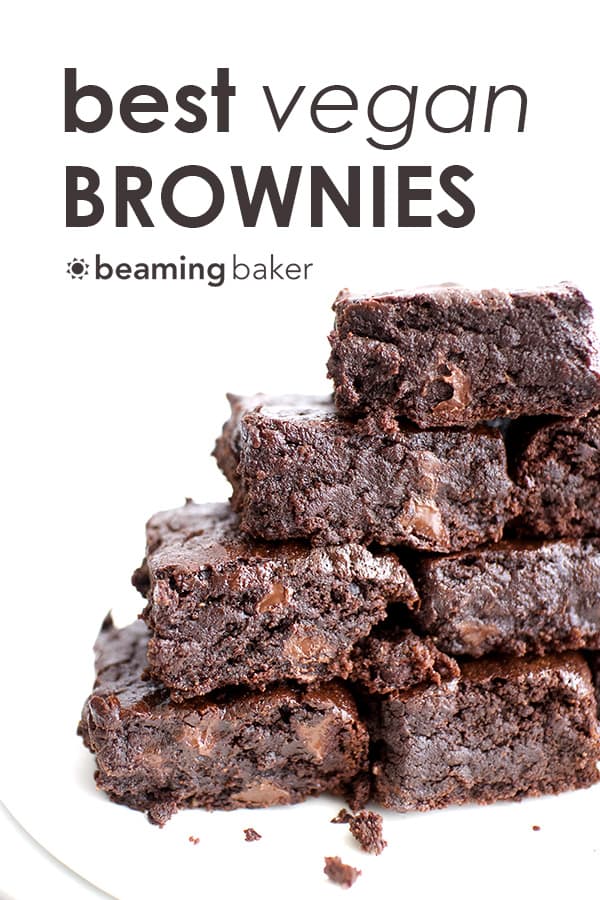 The Best Vegan Brownie Recipe Ever
What makes for the best vegan brownie recipe ever? Well, I'm glad you asked (sort of asked). The best vegan brownie recipe ever is easy to make and even easier to eat. The best vegan brownie recipe ever is fudgy, moist, chocolatey and… well, we'll get into that later. The best vegan brownie recipe ever is one that you'll have to tell you friends, family, and even your frenemies about (either to share the wealth, or to at least rub it in their faces that you found it first). The best vegan brownies recipe ever is the only recipe you'll ever need for homemade vegan brownies. And more importantly…
The best vegan brownies recipe ever is a brownie recipe that doesn't taste vegan. Like, your non-vegan friends will love these vegan brownies. Like, your non-vegan friends who always complain that vegan desserts taste "weird" or "odd" or "off" are gonna be silenced. Because they're too busy eating the entire pan of the best vegan brownies. Not because they've been silenced or anything creepy like that. Lol.
For No Bake Brownies, try my No Bake Vegan Brownies – 5 Ingredient recipe.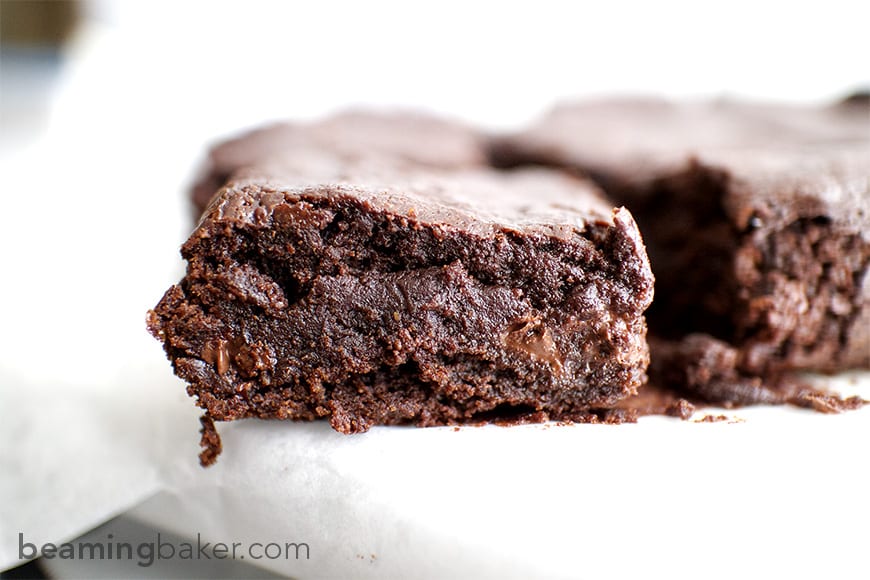 Describe it: Easy & Moist Vegan Brownies
Now, you asked for the taste of the best vegan chocolate brownies recipe ever? Here ya go. These best vegan brownies are the perfect amount of moist and fudgy—not too much, not too little. And if you're like, but I LIKE my hella fudgy brownies, go ahead and try my Ultimate Fudgy Paleo Vegan Brownies. Back on point, these perfectly moist vegan brownies boast a delicate, tender crumb with pockets of melted chocolate tucked in between. They bake up right between fudgy and fluffy, with the right amount of dense & rich brownie goodness. Savor every bite of the deep chocolate flavor in the best vegan brownie recipe ever.
How to Make Vegan Brownies from Scratch
Best of all, this best vegan brownies recipe totally qualifies as the easy vegan brownie recipe you've been looking for. Learn how to make vegan brownies from scratch in no time! Whisk together the wet ingredients in a medium bowl. Then, whisk cocoa powder in until smooth. Stir in flax eggs, salt & extract. Fold in flour, then vegan chocolate chips and pour brownie batter into prepared pan. Bake, slice and enjoy the best vegan chocolate brownie recipe ever! If you're searching for vegan peanut butter brownies, try my Fudgy Vegan Peanut Butter Swirl Brownies Recipe – Gluten Free, From Scratch.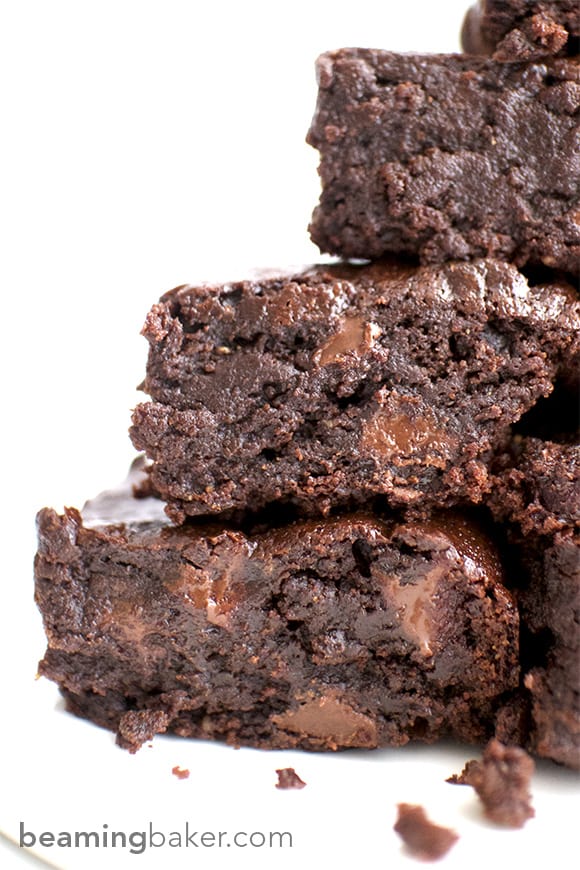 How to Store the Best Vegan Brownies
Room Temperature: Store your moist vegan brownies in an airtight container at room temperature for 1-2 weeks.
Fridge: I recommend this option if you enjoy firmer, much fudgier & dense vegan brownies. Store in an airtight container in the refrigerator for 1-3 weeks.
Freezer: To keep much longer. Store this easy vegan brownie recipe in a freezer-friendly, airtight container for 1-2 months. Allow vegan brownies to thaw at room temperature for 10-30 minutes, or heat brownies in the microwave in 5-second increments until just warm.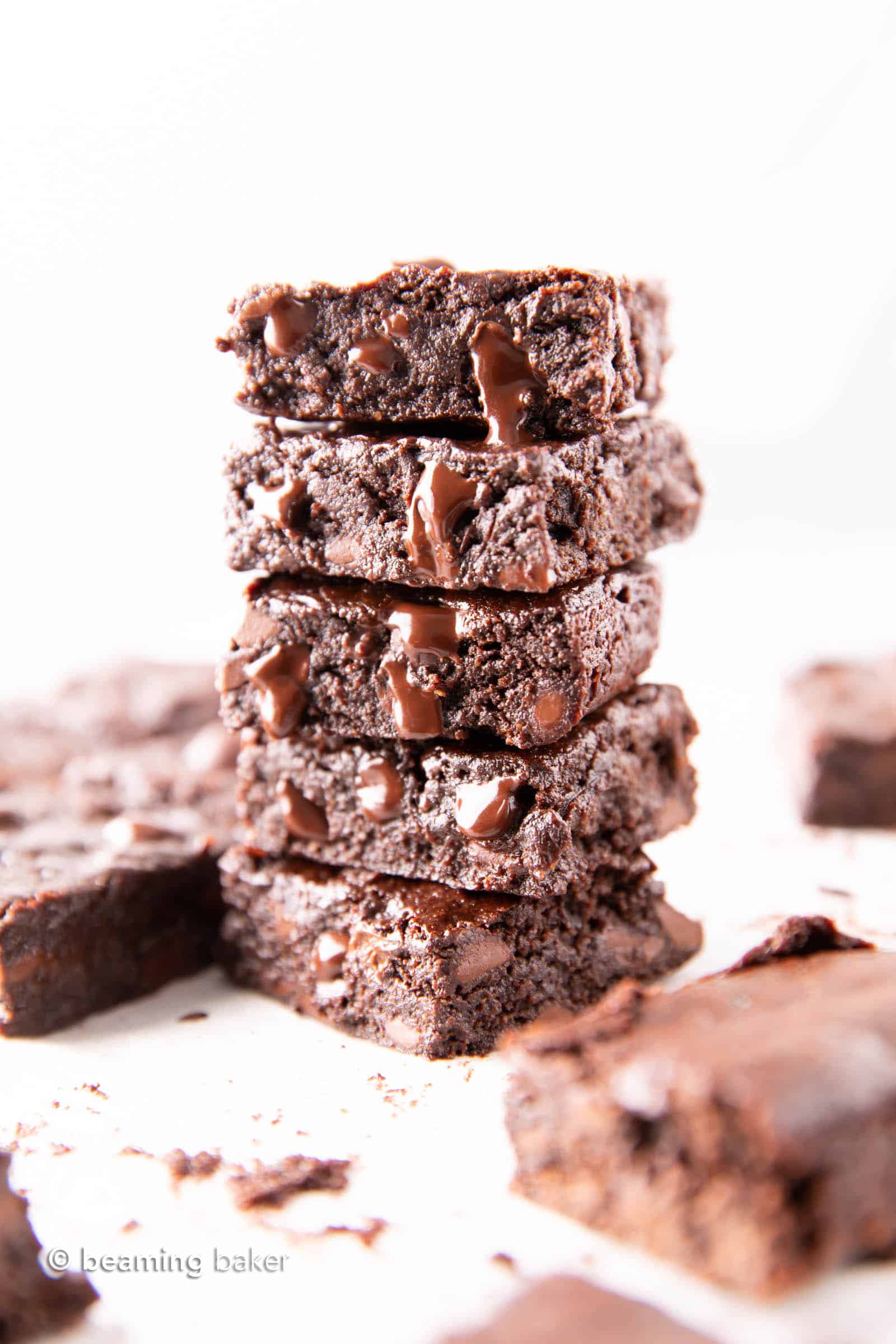 Tools for the Best Vegan Chocolate Brownie Recipe Ever!
Are you totally excited to end your Vegan Brownie Odyssey with a most delicious bang? Sans bang, and more delicious vibes. Hehe. Let me know if you've tried my vegan brownies recipe in the comments below. I love hearing from you. Just so you know, I'm so grateful that you're here, sharing in these kitchen adventures with me. 'Til the next one…
Sending you all my love and maybe even a dove, xo Demeter ❤️
. Click below to Pin .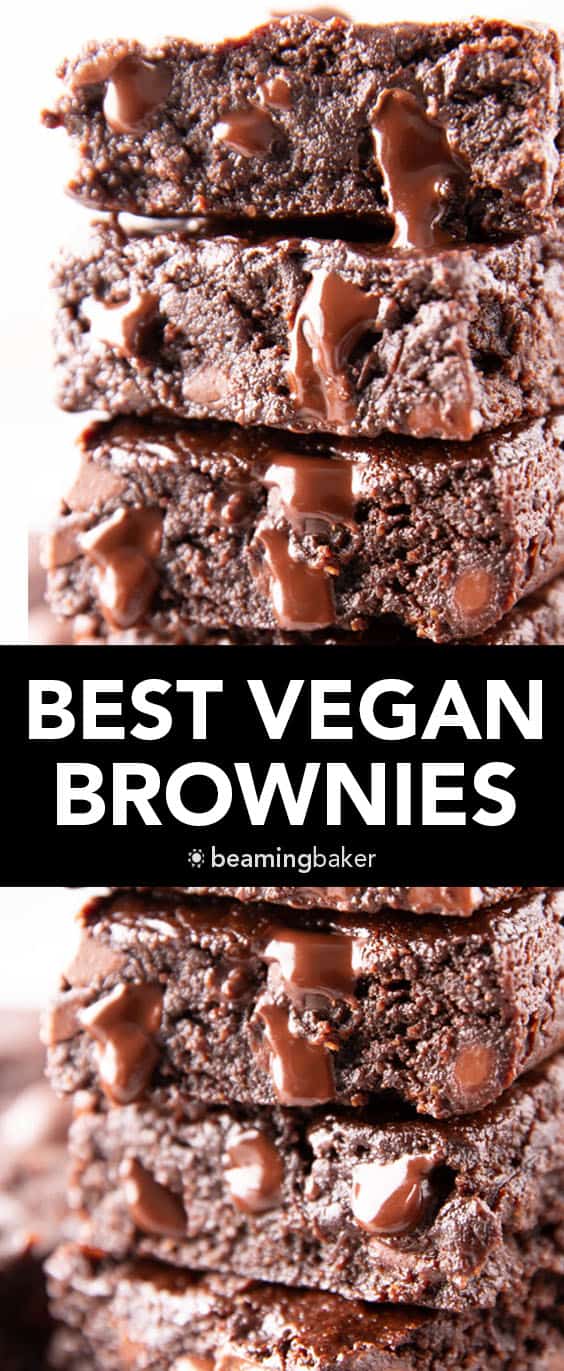 . Did you make this best vegan brownies recipe? Take a pic and share it on Instagram with the hashtag #beamingbaker & tag @beamingbaker. I'd love to see it! .
More Homemade Vegan Brownies Recipes
Print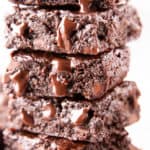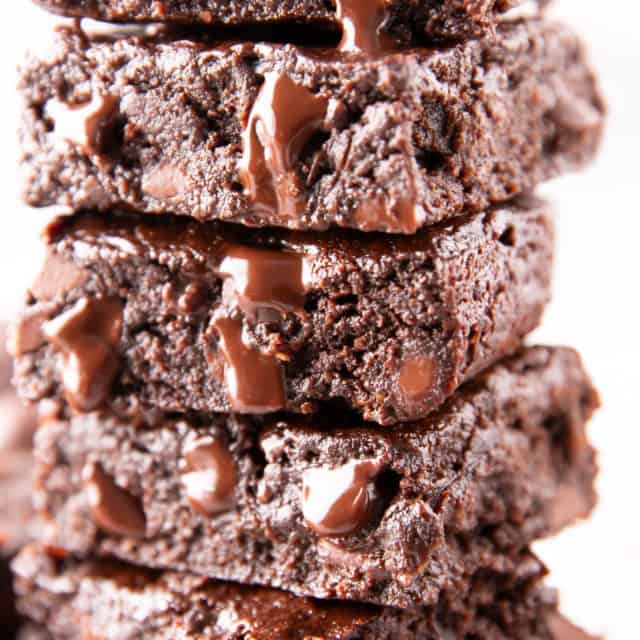 Best Vegan Brownies Recipe – Easy 'n Moist!
---
Description
Best Vegan Brownies Recipe: easy & moist homemade vegan brownies—the BEST vegan chocolate brownies ever! Rich chocolate flavor, fudgy center and made from scratch!
---
Best Vegan Brownies
Add-in
---
Instructions
Preheat oven to 325°F. Line an 8-inch square baking pan with parchment paper or greased foil. Set aside.
In a medium bowl, whisk together almond butter, brown sugar, maple syrup and melted coconut oil. Whisk until it resembles caramel.
Add cocoa powder in ¼ cup increments, whisking until shiny and smooth. Scrape down the sides of the bowl as necessary. Add in flax eggs, extract, and salt. Stir just a few times to gently incorporate.
Using a rubber spatula, fold in flour until you get the consistency of soft dough or very thick batter, and no flour patches remain.
Fold in vegan chocolate chips. Pour batter into pan. Using a rubber spatula, smooth batter into an even layer.
Bake for 25-35 minutes. Mine took 30 minutes. Cool for 1 hour, or until completely cool.* Slice into 9-16 brownies. Enjoy!
Delicious Vegan Brownie Recipes
Equipment
Prep Time:

25 mins

Cook Time:

30 mins

Category:

Dessert

Method:

Bake

Cuisine:

American
© beamingbaker.com. All content and images are protected by copyright. Please do not use my images or recipe without my permission. Please do not republish this recipe, instead, include a link to this post for the recipe.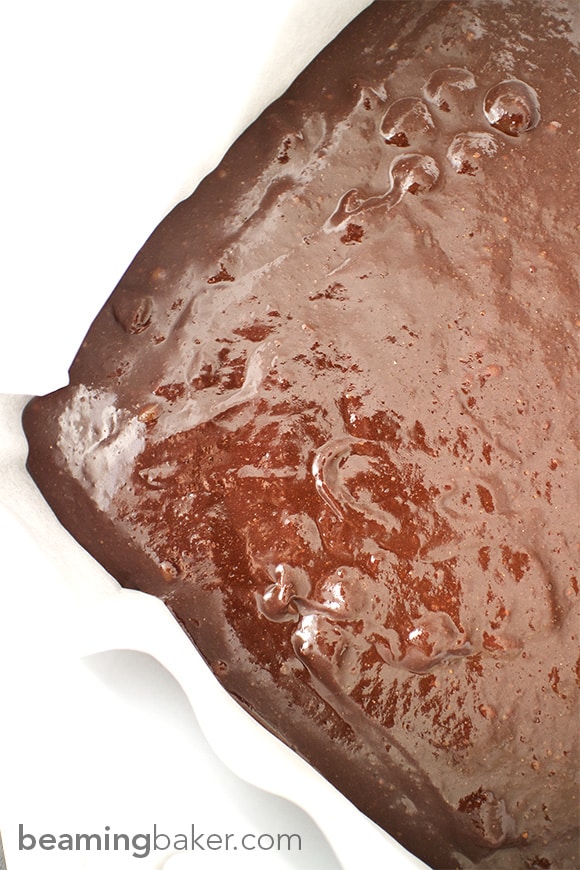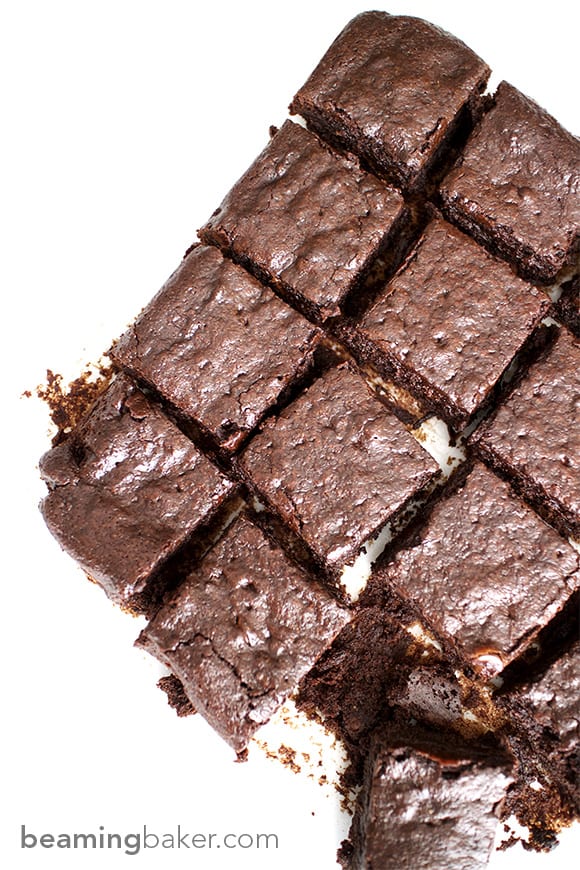 This post may contain affiliate links, which allow me to make a small commission for my referral, at no additional cost to you. Thank you for supporting Beaming Baker.