Chocolate Covered Coconut Granola (Vegan, Gluten Free)
Chocolate Covered Coconut Granola (V+GF): A simple recipe for rich, chocolatey, crunchy granola covered in chocolate and coconut. Vegan and Gluten Free.
Welcome friends! Welcome to what will be known only in our special, super secret inner circle as Beaming Baker's Chocolate Week! (Yep, still working on the name. Should I add the word "chocolate" in there like five more times? For posterity's sake, of course.)
You see, I was doing a little bit of blog housekeeping the other day and realized: there aren't too many chocolate recipes on this blog. Say what??? Sure, I did publish a chocolate chip cookie dough recipe last week. But we need more chocolate. Obviously. And always. ? ?
Besides the fact that this is a straight-up travesty, it's pretty much against my heritage, my philosophy and all of that other good stuff. I mean, I come from a looooong, long line of chocolate lovers. Really, have you seen my ode to chocolate here? Have you met my mom? Or my sisters.
Anywho, eager to solve this egregious misstep, I whipped up a nice, big, crunchy and chunky (oh yeah) batch of Chocolate Covered Coconut Granola. Thank you food, for being so yummy. And thank you the letter "C" for agreeing to this morning's alliteration. Ahem.
And just in case you're in the mood for something deliciously non-chocolately, try this easy homemade gluten free granola from Vegetarian Mamma. Can we say yum, like 500 times? 😉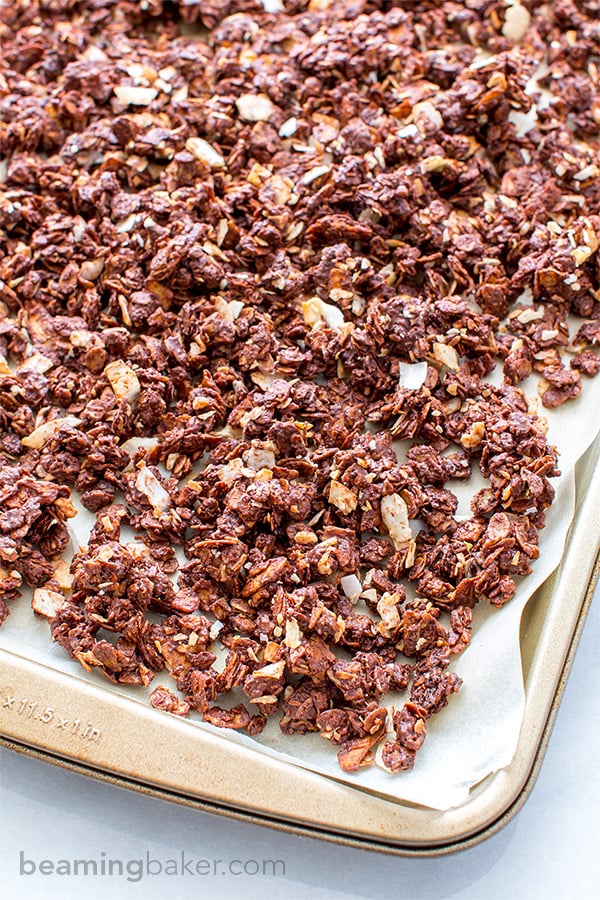 Sometimes, mere cocoa-infused granola won't cut it. Sometimes, you just need to melt like all the chocolate you can find and pour it gloriously over any and all items (preferably edible) in your house. Because. If it's not edible, you'll just have to lick the chocolate off. Then, discard said item. Waste not, want not! ? 
Um…
Okay then. Sometimes my "humor" can be a bit… inedible. That is all.
Good news is that my recipes aren't! Okay, coconut lovers: raise your hands. Chocolate lovers? If you're raising your hands, your feet, your pencils (who uses pencils anymore?) and your eyebrows just to emphasize your steadfast love of these two Cs, then come on over! And just in case you're looking for a paleo option… check out this totally droolworthy Chocolate Paleo Granola from Gluten-Free Palate! And while I'm on the topic of amazing recipes from my friends, try this Chili Seasoning Recipe from A Mind "Full" Mom! Sometimes ya need a bit of savory to balance out all of this chocolate! 😉
Meanwhile, this recipe is straightforward to make and, more importantly, leaves your kitchen smelling like the Chocolate Heaven we all want to live in. Plus, you don't have to feel super guilty about eating it. How cool is that?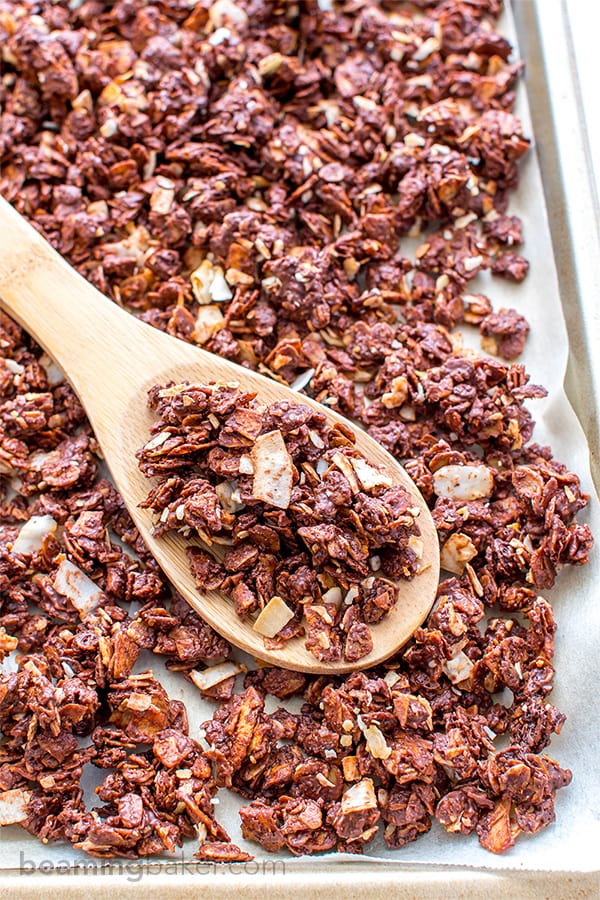 My chocolate covered coconut granola tastes like the perfect harmony of sweet, nutty coconut and rich, dark chocolate coming together. Do you hears the birds singing? 'Cuz I do. 🙂
Check it out, my Chocolate Covered Coconut Granola is:
crunchy, chunky and full of incredible texture
rich with chocolate and coconut flavor
vegan and gluten free
simple to make
secretly chockfull of the good stuff: flax, rolled oats and more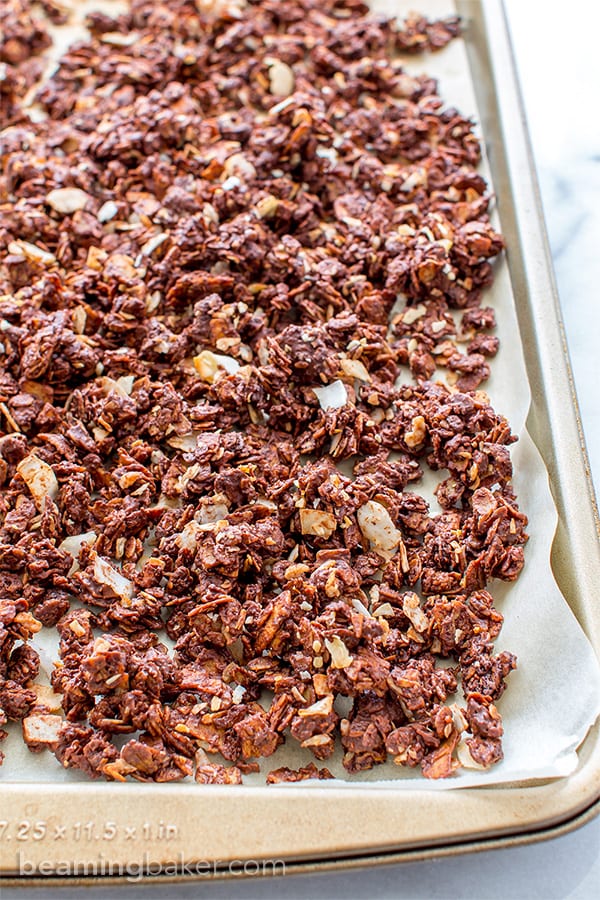 Might I present to you some Chocolate Covered Coconut Granola serving suggestions?
sprinkled over banana soft serve (or "nice cream" as the kids are calling it)
in a bowl with a generous splash of almond milk
as is, with a steaming hot cup of espresso
in a big bowl, for movie night!
Just so you know, I have grand, grand plans for this recipe. Get your bibs ready. I know I am. 😉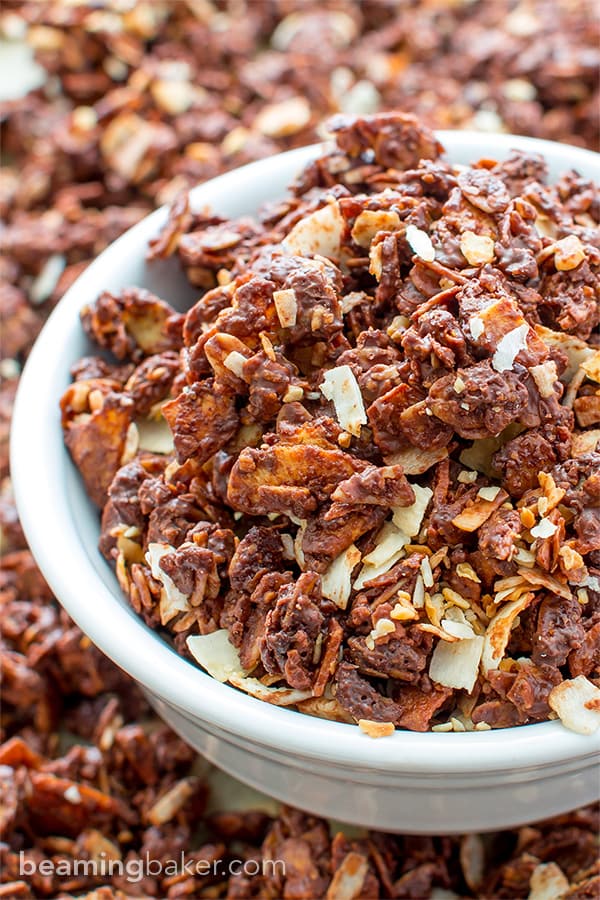 Dear friends, if you make this recipe, take a snap, load it up to our old friend Instagram and tag it #beamingbaker. I can't wait to see it!
☀︎Click below to Pin it ☀︎

Print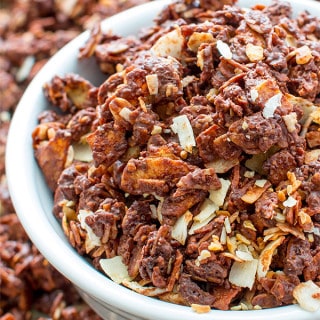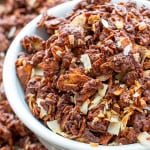 Chocolate Covered Coconut Granola (Vegan, Gluten Free)
---
Description
Chocolate Covered Coconut Granola (V+GF): A simple recipe for rich, chocolatey, crunchy granola covered in chocolate and coconut. Vegan and Gluten Free.
---
Dry Ingredients
1 ½ cups

gluten free rolled oats

1 ½ cups

unsweetened coconut flakes, more later

¼ cup

ground flaxseed

¼ teaspoon

salt
Wet Ingredients
2 tablespoons

almond butter

¼ cup

melted coconut oil

¼ cup

cocoa powder

¼ cup

pure maple syrup

1 teaspoon

pure vanilla extract
Toppings
¾ cup

vegan chocolate chips

½ teaspoon

coconut oil or nonstick spray

¾ cup

unsweetened coconut flakes, toasted
---
Instructions
Preheat the oven to 300°F. Line two medium baking sheets with parchment paper or greased foil. Set aside.
Make the granola: In a large bowl, use a rubber spatula or wooden spoon to stir together the dry ingredients: rolled oats, coconut, ground flax and salt.
In a medium bowl, whisk together the almond butter, coconut oil, cocoa powder and maple syrup. Add vanilla and stir until very well incorporated and smooth.
Pour the wet mixture over the dry mixture. Stir until the granola is evenly coated in the wet mixture.
Pour the granola onto the prepared baking sheets and spread into an even layer. Create pockets of space between clusters of granola so it can really crisp up. Set your large mixing bowl aside for later. You'll need it after the granola is done baking.
Bake for 10-15 minutes on one side, then flip the granola over with a spatula. Bake for another 10-15 minutes. Monitor the granola closely so it doesn't burn. Don't worry if the granola is slightly soft. It will harden up as it cools. Clear some space in your freezer for a large baking sheet. You'll need this space later. Remove granola from the oven and pour into the large mixing bowl.
Melt the chocolate: In a small saucepan over medium-low heat, melt chocolate chips and coconut oil (or coat with nonstick spray). Stir until chocolate is just slightly soft and melted. Quickly remove from heat, placing on a insulated surface. Continue stirring until smooth.

Alternate chocolate melting method (microwave): Place chocolate chips and ½ teaspoon coconut oil in a bowl. Heat in the microwave for 10-20 seconds, until chocolate is softened. Stir until smooth.

Pour melted chocolate over granola and fold until granola is well coated. Fold in ¾ cup toasted coconut. Line a large baking sheet with wax paper. Pour the granola onto this sheet, in an even layer. Place the baking sheet, with an insulating cloth underneath, in the freezer for 15 minutes.
Remove from freezer. Break granola into clusters by hand. Enjoy!
Prep Time:

15 mins

Cook Time:

20 mins

Category:

Snacks, Vegan, Gluten Free
© beamingbaker.com. All content and images are protected by copyright. Please do not use my images without my permission. If you wish to republish this recipe, please re-write the entire recipe using your own words and include a link to this post for the recipe.
I'm sensing that you like chocolate. How's this for ya? Best Vegan Brownies. Chocolate bliss.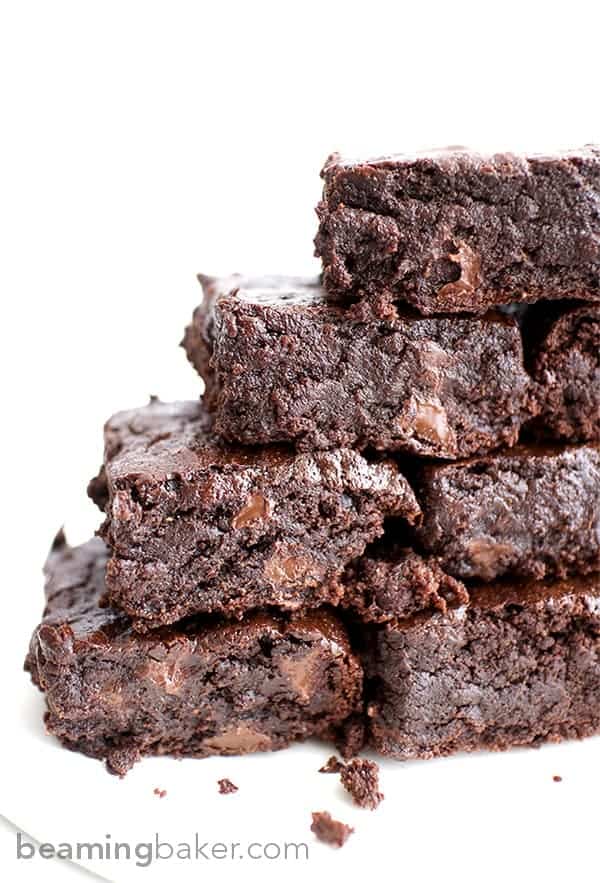 Just when you didn't think it could get any better. Chocolate Coconut Granola Bark (Vegan, Gluten Free). YUM.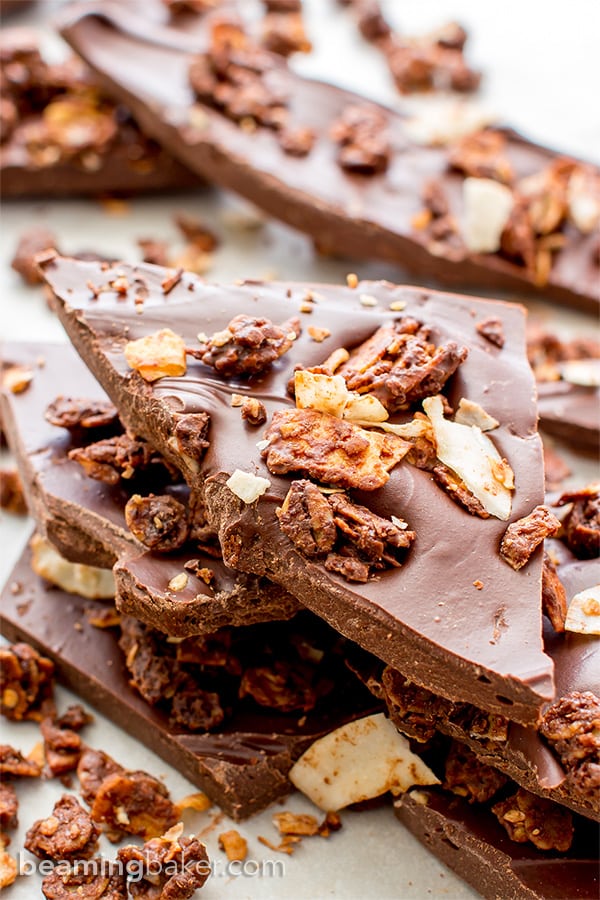 What's your favorite way to eat granola?
I can't wait to hear your responses.