A simple and sleek Gibson cocktail recipe made with just 2 ingredients, finished off with a beautiful cocktail onion skewer—a standout drink at cocktail hour.
The Gibson—Cocktail, Instrument or… Something Else?
When I hurriedly and excitedly ran into the kitchen to tell Erik that we were making Gibsons, his eyes immediately bulged, he jumped into the air (for air guitaring, obvs), and spoke of our long-awaited destiny/calling for making guitars. As I paused, then bulged mine own eyes, then summoned up the courage to dash his dreams of starting a luthier-duo woodshop, I realized I should have started by running into the kitchen and yelling, "It's Cocktail Time!!!" instead of leading with the G-word.
So just in case I also dashed your dreams, allow my to apologize, and offer you a Gibson cocktail apology. Anyone wants to make cocktails today? 🙂
What's in a Gibson Cocktail?
The Gibson drink recipe calls for two simple ingredients, a few fun cocktail time tools, and your most-beautiful coupe glasses. To make a Gibson cocktail, grab your favorite gin and dry vermouth. Then, add an onion skewer for high drama, aka, the signature piece that makes a Gibson, well, a Gibson.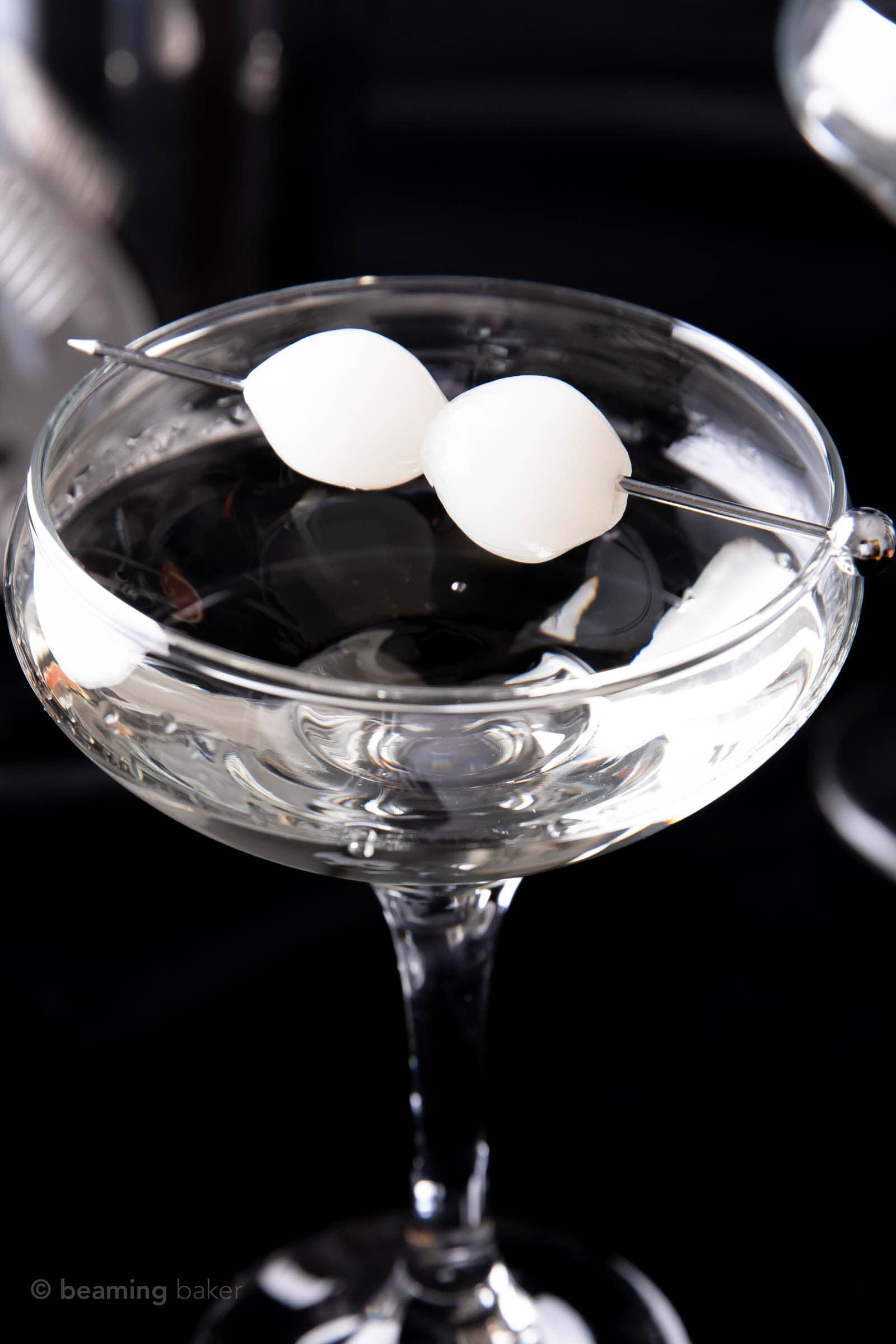 The Fascinating, Supposed History of the Gibson Cocktail
Like with any good cocktail, the Gibson drink has a murky history with no one quite sure of its origins. The earliest written recipe for a Gibson drink comes from The World's Drinks and How to Mix Them by William T. "Cocktail" Boothby. On pg. 25, Boothby writes that the Gibson Cocktail is comprised of "half a jigger of French vermouth and half a jigger of dry English gin," with no mention of the Gibson's signature onion garnish whatsoever. Interestingly enough, he notes that "an olive is sometimes added." But not an onion. [1]
So where did the onion garnish come from? In 1912, the Tacoma Times published an article in which a drink containing "a dry martini with an onion in it" was called "The Hanford Cocktail." [2] So is the Gibson cocktail actually the Hanford Cocktail?
Or, does the Gibson drink stand on its own, on account of one of the rumored persons with the same name to have created the cocktail? Think of Walter D.K. Gibson, who, in 1898, is said to have added the onion to his martini due to the belief that onions could combat a cold. [3] According to Charles Pollock Gibson, a descendant of Walter D.K. Gibson, "W.D.K. Gibson objected to the way the bartender at the Bohemian made martinis. He preferred them stirred and made with Plymouth Gin. He also believed that eating onions would prevent colds. Hence the onion."
In another account, Charles Dana Gibson, the artist who created the Gibson Girl pen-and-ink drawings, asked Charley Connolly, the Players Club bartender, to make a better version of the classic martini recipe [4]. Connolly responded by making a martini and garnishing it with an onion, rather than an olive.
So which Gibson truly created the Gibson cocktail? You decide.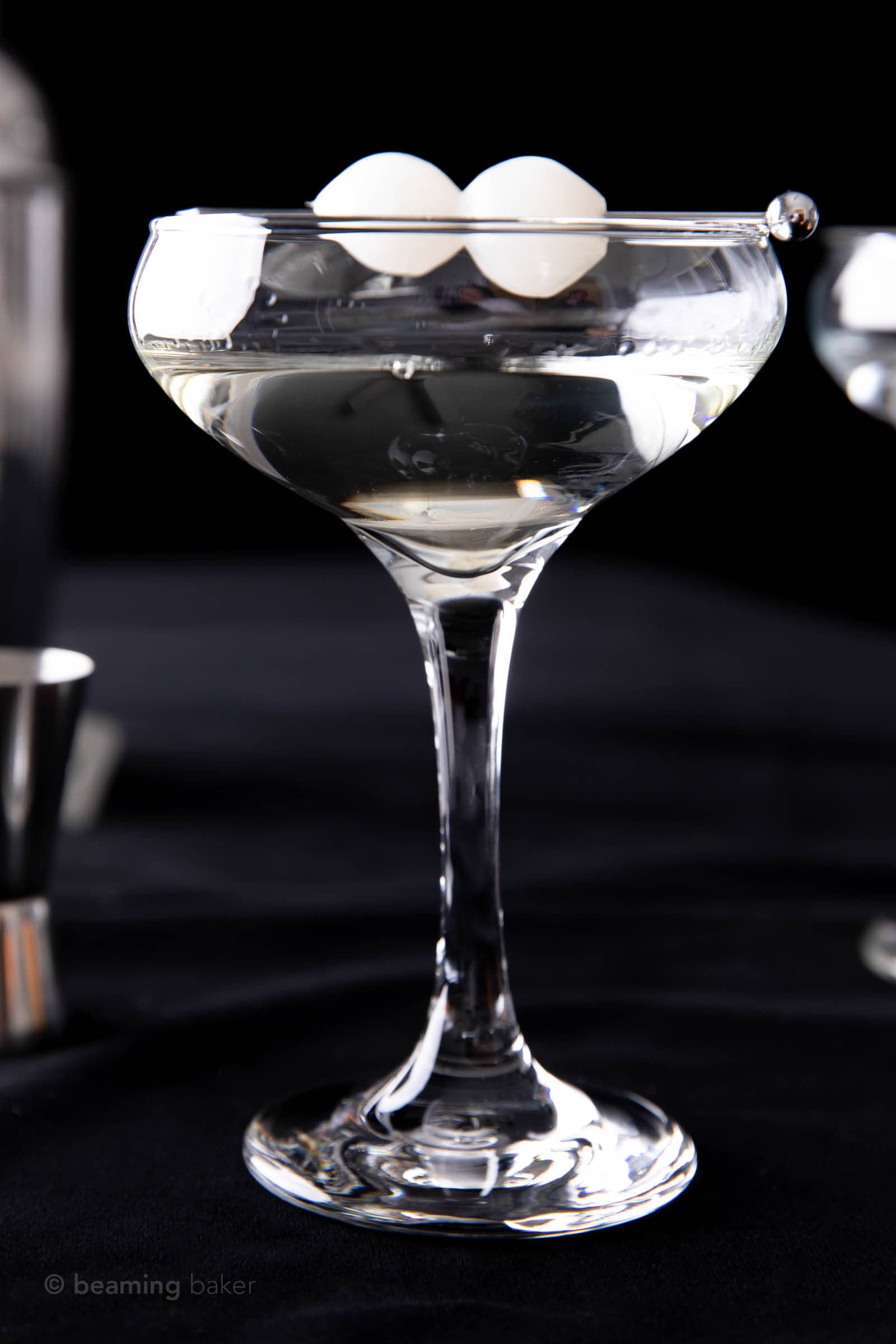 How to Make a Gibson Cocktail
The Gibson, known to some as a dry martini with an onion, is just as simple to make. To make a Gibson cocktail, follow the steps below:
Fill a cocktail glass or shaker with ice.
Add gin and vermouth.
Stir the gin and vermouth together.
Strain into a chilled glass, such as this coupe glass.
Garnish by dropping a few onions straight into the glass, or by adding a cocktail skewer.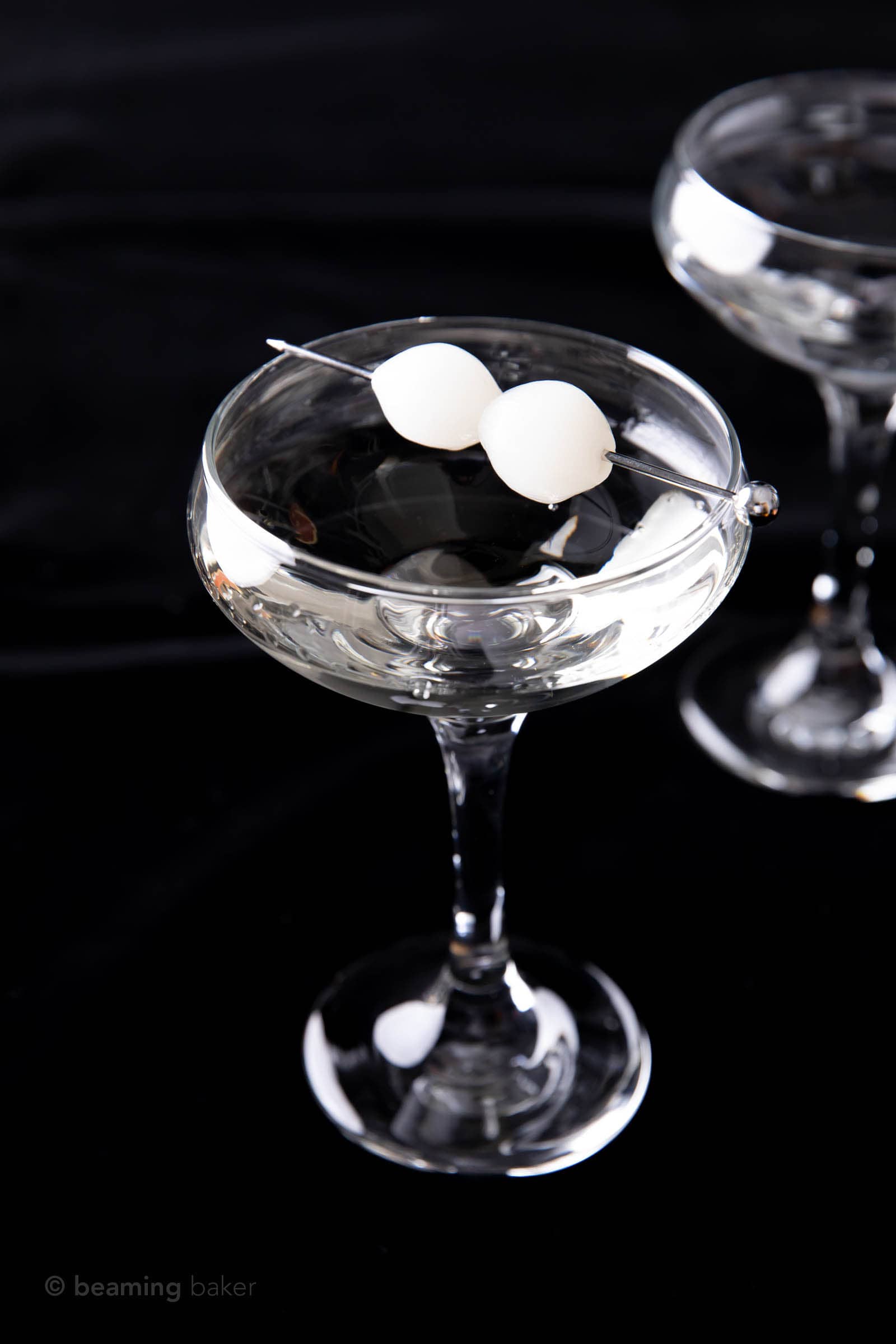 What If I Actually Want To Make a Dirty Gibson Cocktail Instead?
If you're looking to make a Dirty Gibson Cocktail, you'd follow a recipe very similar to my Dirty Martini recipe. However, you'll add onion brine instead of olive brine. To make a dirty Gibson, do the following:
Add these ingredients to mixing glass filled with ice and stir:
2 to 2.5 oz gin
.5 oz dry vermouth
.5 oz onion brine
Strain into a cocktail glass.
Then, garnish by dropping a few cocktail onions into the glass, or by adding an onion skewer.
Super Fun Drink Recipes to Make! 🥃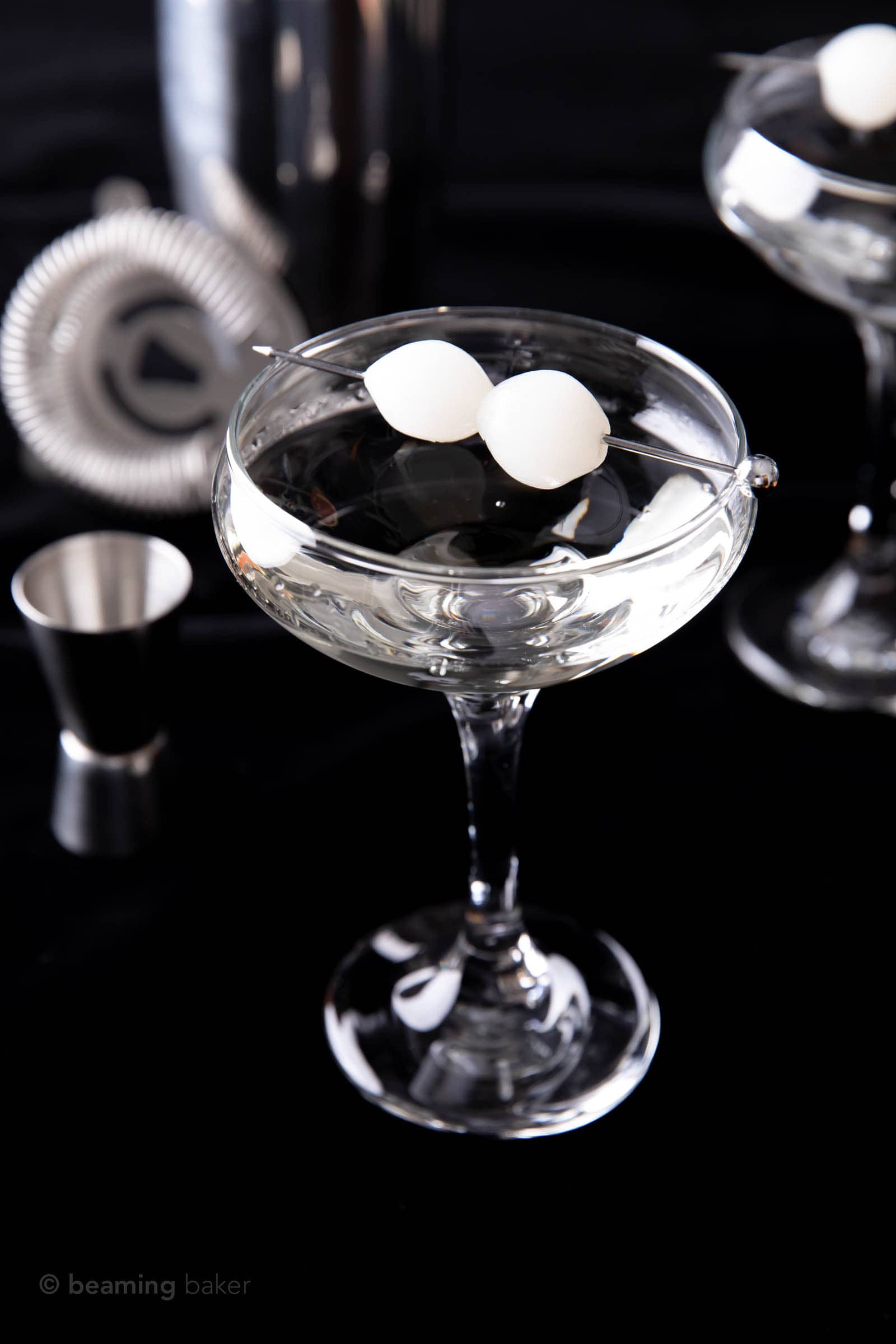 Tools You Need
Stirred, Not Shaken
What a change of pace! Sometimes, one feels so effervescent getting to shake our way through cocktail hour… other times, an elegant stir is all you need. 😉 Either way, I hope you love today's Gibson drink recipe. When you make it, take a pic and share it on Instagram with @beamingbaker and #beamingbaker tags. I can't wait to see it! 'Til our next cocktail adventure…
Sending you all my love and maybe even a dove, xo Demeter ❤️
🍸📸 🍸
📸 Did you make this gibson drink recipe? Take a pic and share it on Instagram with the hashtag #beamingbaker & tag @beamingbaker. I'd love to see it! 📸
Print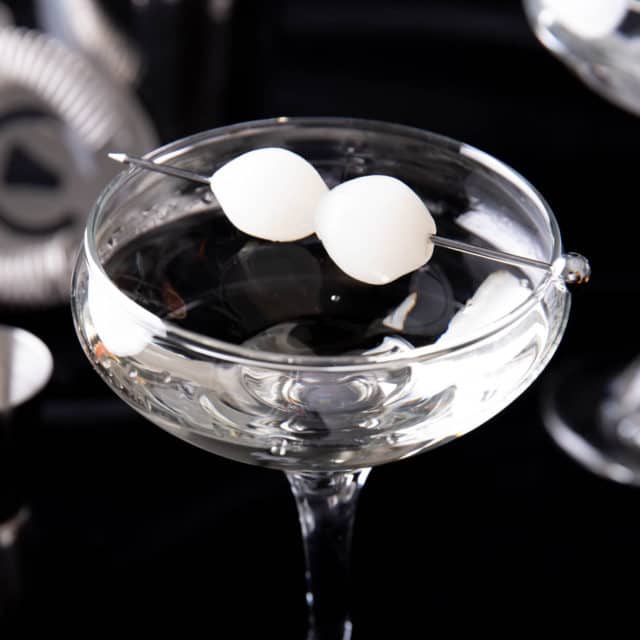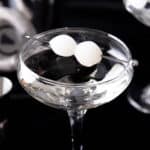 Gibson Cocktail Recipe
---
Description
A simple and sleek Gibson cocktail recipe made with just 2 ingredients, finished off with a beautiful cocktail onion skewer—a standout drink at cocktail hour.
---
Tools Needed: 
Gibson Cocktail
2.5 oz

gin
.5 oz dry vermouth
Garnish
cocktail onions on a skewer
---
Instructions
Fill a mixing glass or cocktail shaker with ice.
Pour gin and vermouth over ice.
Using a stirring spoon, stir until well mixed and chilled.
Strain into a coupe glass.
Garnish with a cocktail onion skewer. Sip and enjoy.
Prep Time:

2 minutes

Cook Time:

0 minutes

Category:

Drinks, Cocktails

Method:

Chill

Cuisine:

American
© beamingbaker.com. All content and images are protected by copyright. Please do not use my images or recipe without my permission. Please do not republish this recipe, instead, include a link to this post for the recipe.
More Cocktail Recipes for Your Bar Cart 🍹
This post may contain affiliate links, which allow me to make a small commission for my referral, at no additional cost to you.