Jack Skellington Mounds Cups (Vegan, Paleo, Gluten Free, Dairy Free)
Jack Skellington Mounds Cups (V, GF): a spooktacular 4-ingredient recipe for paleo mounds cups inspired by The Nightmare Before Christmas. Paleo, Vegan, Gluten Free, Dairy Free.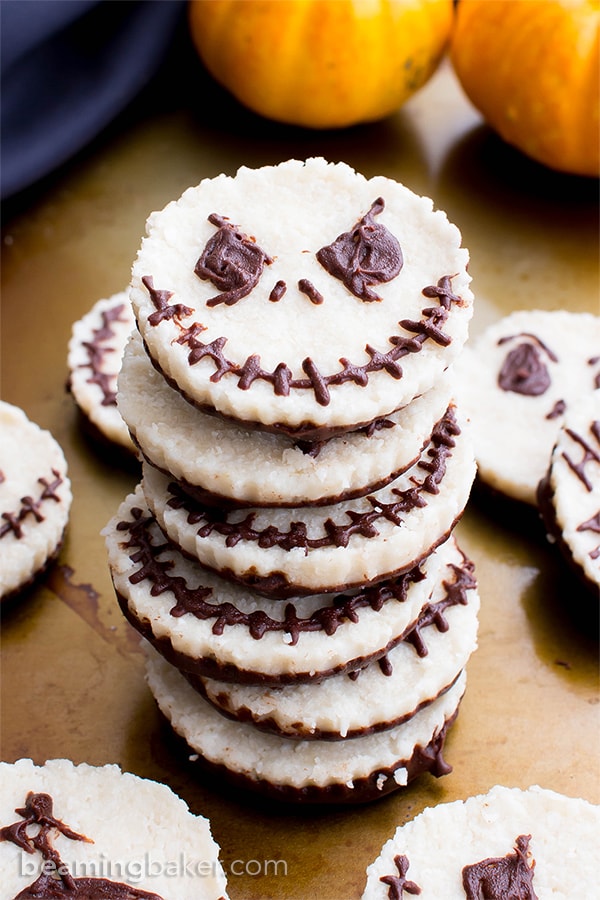 Happy Halloween!!! Too soon? Still?? Darn it… Well, seeing as how it's the first official week of October, let's start celebrating anyway. Is that cool with you? If not, we must part ways… J/k! I'll have something distinctly non-Halloween-ish for you on Thursday. Plus, let's be honest, I already had the creeptastic All Hallows' Eve ball rolling weeks ago. And it was delicious.
In the meantime, Halloween lovers, Christmas lovers, and everything in between gather 'round. Because we're kicking off this most awesome spooktacular month with something special inspired by The Nightmare Before Christmas. Which is obviously, one of the best crossover holiday excuses to celebrate. Like, ever.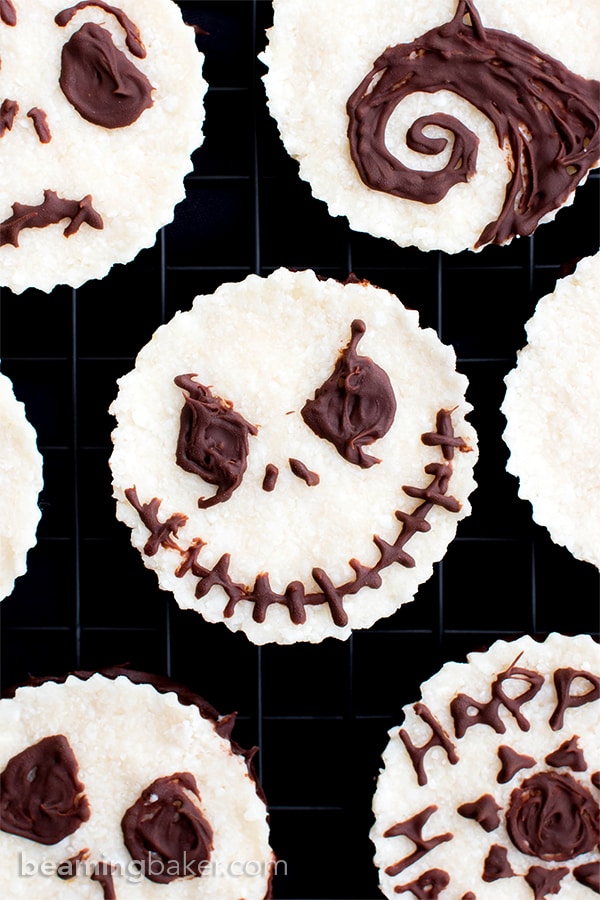 Probably better than Christmas in July (does that count as a crossover holiday between summer and xmas??), Cronut Day (um… crossover desserts totally counts), and Happy Valentine's Thanksgiving Day. Okaaaaay, I'm just making stuff up now. But seriously, didn't you expect there to be more (or at least more than one) crossover holiday? Especially since there's like 10 million national food days?
Anyway, before I lose my train of thought… allow me to introduce you to my co-conspirator in this joyful terrifyingly spine-chilling The Nightmare Before Christmas fun: Natalie from Feasting on Fruit. She's one of my favorite partners in crime—a true wizard/genius/fellow big-hearted weirdo—in making the tastiest and most satisfying goodies that no one would guess were made with whole ingredients. Yep, #FoodLove. Hop on over to her site to check out her half of this collab: The Nightmare Before Christmas Cookie.
While you click over to her site, might I also suggest queuing up the The Nightmare Before Christmas soundtrack? It's SO much fun to listen to! Such a delightful mix of Halloween and Christmas. It totally gets you in the mood for both. .. What better way to get pumped for all the festive fun that's to come?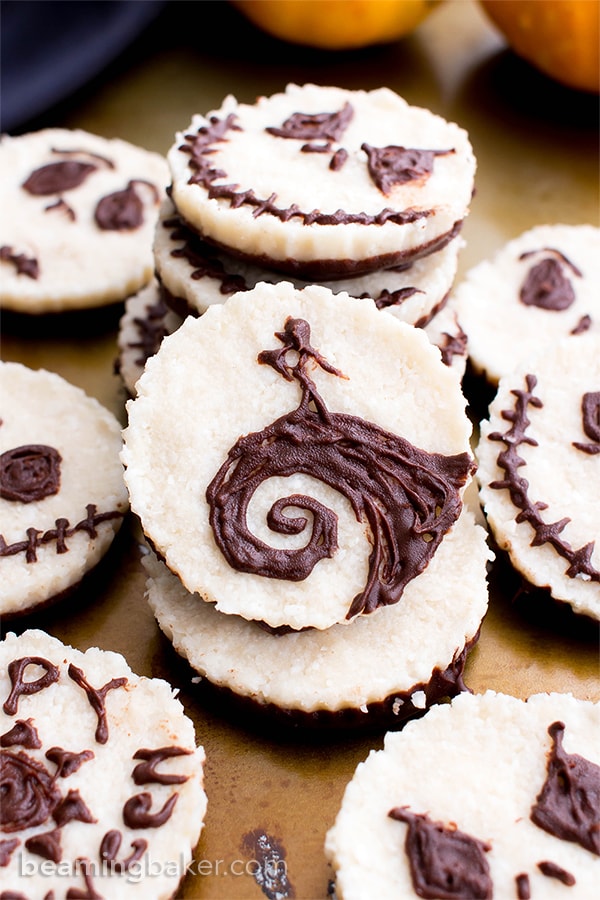 As I was planning to get these Jack Skellington Mounds Cups together, I started doing all the usual things: scheduled a time to re-watch the movie, set the soundtrack on repeat, eyeballed the ingredients in my pantry to see what might work (coconut, chocolate, frog's breath, deadly nightshade, worm's wort, and coconut oil), and got to chatting with Erik about his memories of the movie.
His first memories came from 3rd grade. Can you believe it?? 3rd grade! And I thought I was advanced, watching Sailor Moon and reading Nancy Drew in the 3rd grade. Well, it turns out that in the 3rd grade, he had a teacher that had this whole super-fun, super-creative way to get the kiddos learning and junk. (Yes, my teacher sister Jenny would totally bop me on the head for saying "junk." Hi, Jenny!!) .
Anyway… first, his teacher picked a movie, then had all the kids learn the lyrics to the movie's songs. All year long. Then, at the end of the year, after all the kids knew every song in that movie by heart, they would be rewarded with a screening of that movie. Guess what that movie was?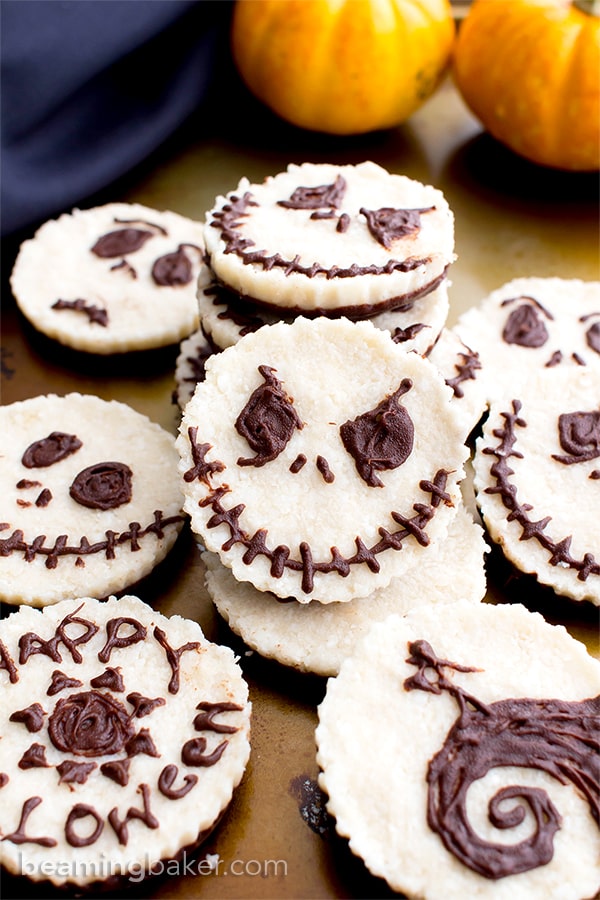 The Nightmare Before Christmas.
Yep, totally appropriate for 3rd graders. Heh heh. Anywho, so there lil Erik was, pumped as all get out, singing "What's This?" and "This Is Halloween" nonstop. He was as ready as the mayor of Halloween Town was to start planning next Halloween.
The day finally came for the movie screening. Erik even wore his Jack Skellington t-shirt that he saved up for, and… the teacher decided not to show the movie. Major. Bummer.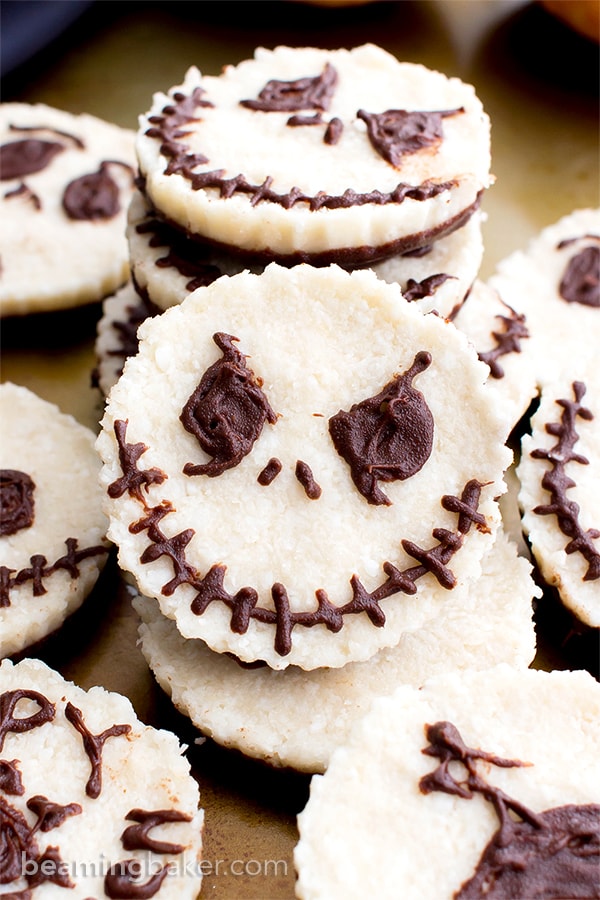 So now, as his partner in life/biggest supporter/occasional jeerer (it's all about balance), I've got to make sure we do The Nightmare Before Christmas just right. We're gonna sing all the lyrics to all the songs (my fave is Sally's Song…and not just because I love Sally), make all of the Jack and Sally embracing silhouette crafts, and prance around the living room like we're kids getting ready for THE movie screening…
BUT, we're actually going to watch the movie. Like a million times. .
And between these millions of screenings, we're gonna be drooling all over Natalie's amazing TNBC creation. Just a sneak peek, to scintillate you: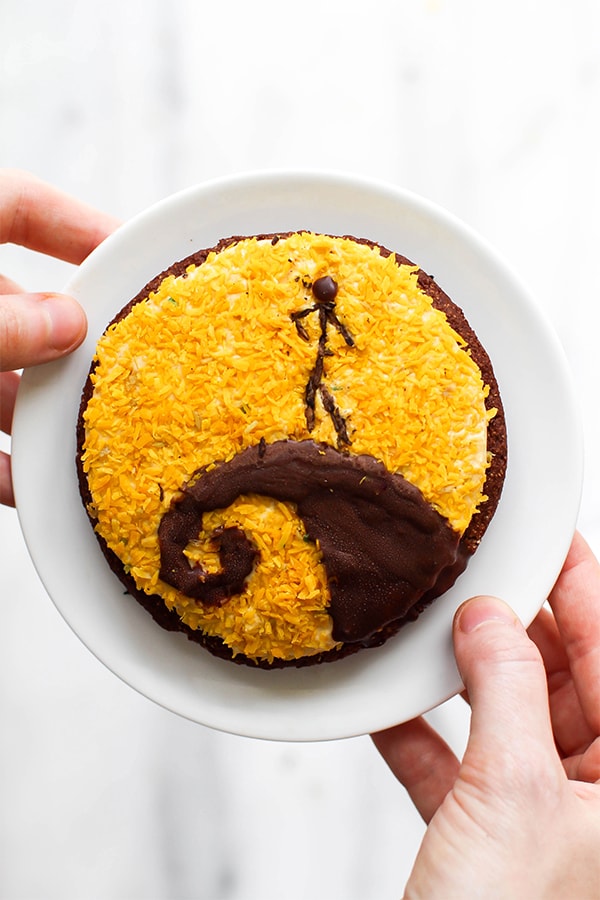 Plus, Erik has been super annoying most charmingly singing "This is Halloween" til my ears bleed my heart sings back. 😉 I'll have to, of course, do my best Fiona Apple rendition of Sally's Song—as due retribution my way of joining in on the fun!
Won't you join us? We'll be making these Jack Skellington Mounds Cups, Natalie's amazing cookies, plus fruit + nut spiders, bone-chilling brownies and perhaps all the candies. Sounds yummy doesn't it?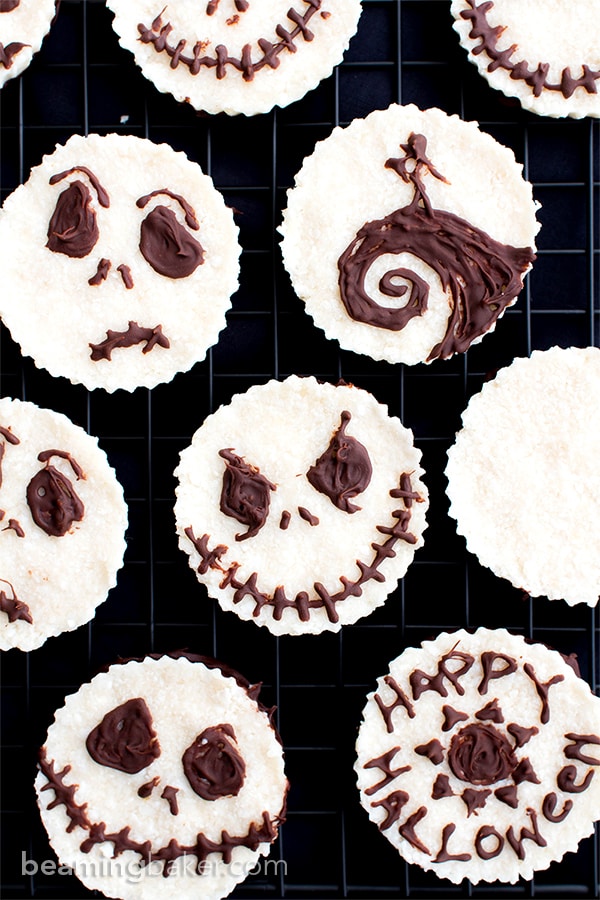 And while you battle Lock, Shock and Barrel in Kingdom Hearts 2 (because you are totally gonna do ALL The Nightmare Before Christmas things), you can dream happily about these treats… Allow me to tell you all about them. These Jack Skellington Mounds Cups are:
crazy fun, because: The Nightmare Before Christmas
made with just 4 ingredients
vegan, paleo, gluten free, dairy free
deliciously packed with coconut and chocolate
fun for practicing your chocolate-drawing freehand
pretty much guilt-free
plant-based and allergy-friendly
perfect for making in advance
totally showstoppers for your next awesome festive event
So whaddya say? Make this for Halloween day? Bring out the muffin pan and make your most hair-raising plans! The holidays are so much fun, especially when it's just begun! Excuse my Halloween rhyming, it's all due to the timing. Try this treat and tell me what you think.
I hope you have a great time this holiday season! It would be my pleasure to help you make it super yummy and fun. And don't forget to check out Feasting on Fruit's creeptastic creation!
Sending you all my love and maybe even a dove (okay, it's got to be a raven for Halloween!) xo, Demeter ❤️ .
☀︎ Click below to Pin ☀︎

☀︎ Did you make this recipe? Take a pic and share it on Instagram with the hashtag #beamingbaker and tag @beamingbaker. I would love to see it! ☀︎
Print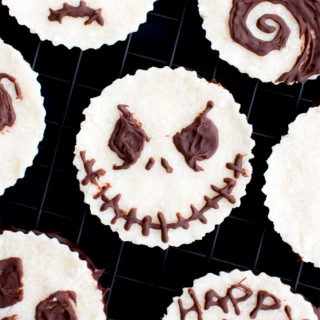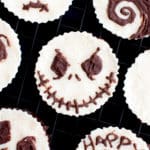 Jack Skellington Mounds Cups (Vegan, Paleo, Gluten Free, Dairy Free)
---
Description
Jack Skellington Mounds Cups (V, GF): a spooktacular 4-ingredient recipe for paleo mounds cups inspired by The Nightmare Before Christmas. Paleo, Vegan, Gluten Free, Dairy Free.
---
Coconut Cups
1 ½ cups

unsweetened coconut, shreds or flakes

¼ cup

coconut oil, solid or melted

2 tablespoons

pure maple syrup
Chocolate Dip Layer
½ cup

vegan chocolate chips

1 teaspoon

coconut oil
Chocolate Decoration
2 tablespoons

vegan chocolate chips

¼ teaspoon

coconut oil
---
Instructions
Line a standard 12-muffin pan with cupcake liners. Set aside for later.
Make the coconut cups: Add coconut, oil and maple syrup to a food processor. Blend until you get a wet and sticky dough-like mixture, with just a bit of texture.
Pour coconut mixture into the prepared muffin pan. Each cup will be about 1 tablespoon and 1 teaspoon of coconut. Press down and smooth until you get a tightly packed layer. I like to use one hand to hold the liner in place and another hand to press down on the coconut. Freeze for 10-15 minutes.
Remove coconut cups from freezer. Line a baking sheet with wax paper or parchment. Peel liners off coconut cups. Lay cups on the prepared sheet, evenly spaced apart. Transfer to freezer.
Make the Chocolate Dip Layer: Use the double boiler method, or the following. In a medium, microwave-safe bowl, add the Chocolate Dip Layer ingredients: ½ cup vegan chocolate chips + 1 teaspoon coconut oil. Heat in 20 second increments until just slightly softened and melted. Stir until smooth.
Remove coconut cups from freezer. Dip the bottom of one coconut cup into the bowl of melted chocolate. Use the side of the bowl to scrape off excess chocolate. Return to the baking sheet. Repeat for all cups. Transfer to freezer.
Make the chocolate decoration: Add the Chocolate Decoration ingredients to the bowl of leftover melted chocolate (2 tablespoons chocolate chips + 1/4 teaspoon coconut oil). Heat in microwave in 20 second increments until just softened. Stir until smooth.
Pour melted chocolate into a plastic zip bag with a very small tip cut off, or a small piping bag fitted with a very fine tip. Holding the bag over a cup, pipe the chocolate into two large dots, creating Jack Skellington's eyes. Make two tiny slashes under the eyes, creating his nose. Pipe an arc across the bottom of the cup, creating his mouth. Add tiny dashes along the mouth, creating the mouth stitches. Repeat for all cups.
Place baking sheet into the freezer for 10-15 minutes. Thaw for 10-15 minutes before serving. Enjoy! Storing instructions below.
Notes
– Adapted from my Paleo Almond Joy recipe.
– Store in an airtight container for 1-2 weeks at room temperature or in the refrigerator.
– If freezing, store in an airtight, freezer-friendly container for 1-2 months. Allow to thaw for 10-20 minutes before enjoying.
– More Halloween treat recipes (all vegan, gluten free, dairy free): Paleo Almond Joy, Peanut Butter Cups, PB Cup Brownies, Chocolate Chip Cookie Dough Truffles.
– More coconut recipes (all V, GF, DF): Toasted Coconut Chocolate Chip Nice Cream (Paleo), Almond Butter Chocolate Chip Oatmeal Cookies, Toasted Coconut Rice Crispy Treats.
Category:

Candy, Paleo, Vegan, Gluten Free, Dairy Free
© beamingbaker.com. All content and images are protected by copyright. Please do not use my images without my permission. If you wish to republish this recipe, please re-write the entire recipe using your own words and include a link to this post for the recipe.
Looking for more Halloween treats? Try my Paleo Almond Joy (Vegan, Gluten Free, Paleo, Dairy Free). How can so few ingredients taste this good? You'll see. 😉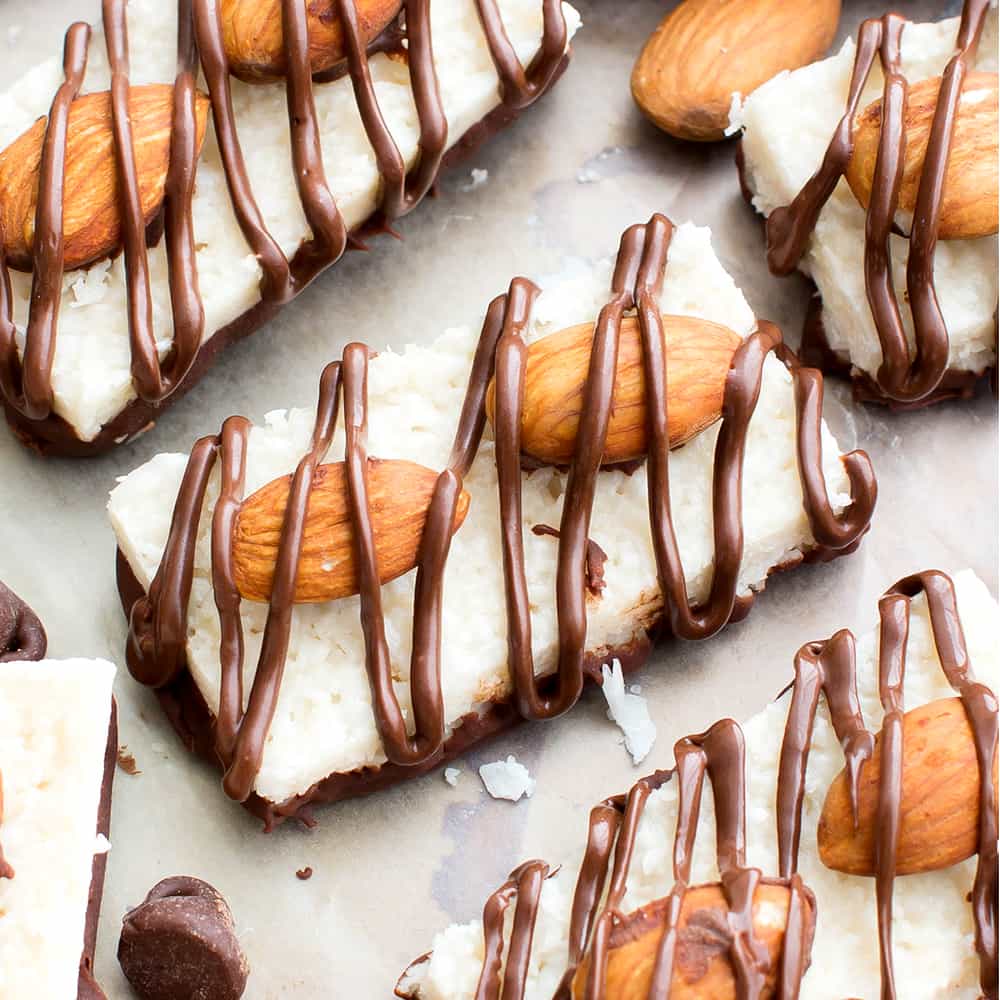 So I hear you like cups… try my Chocolate PB Cups (Vegan, Gluten Free, Dairy Free). One of the most delicious ways to stuff a chocolate cup. 😉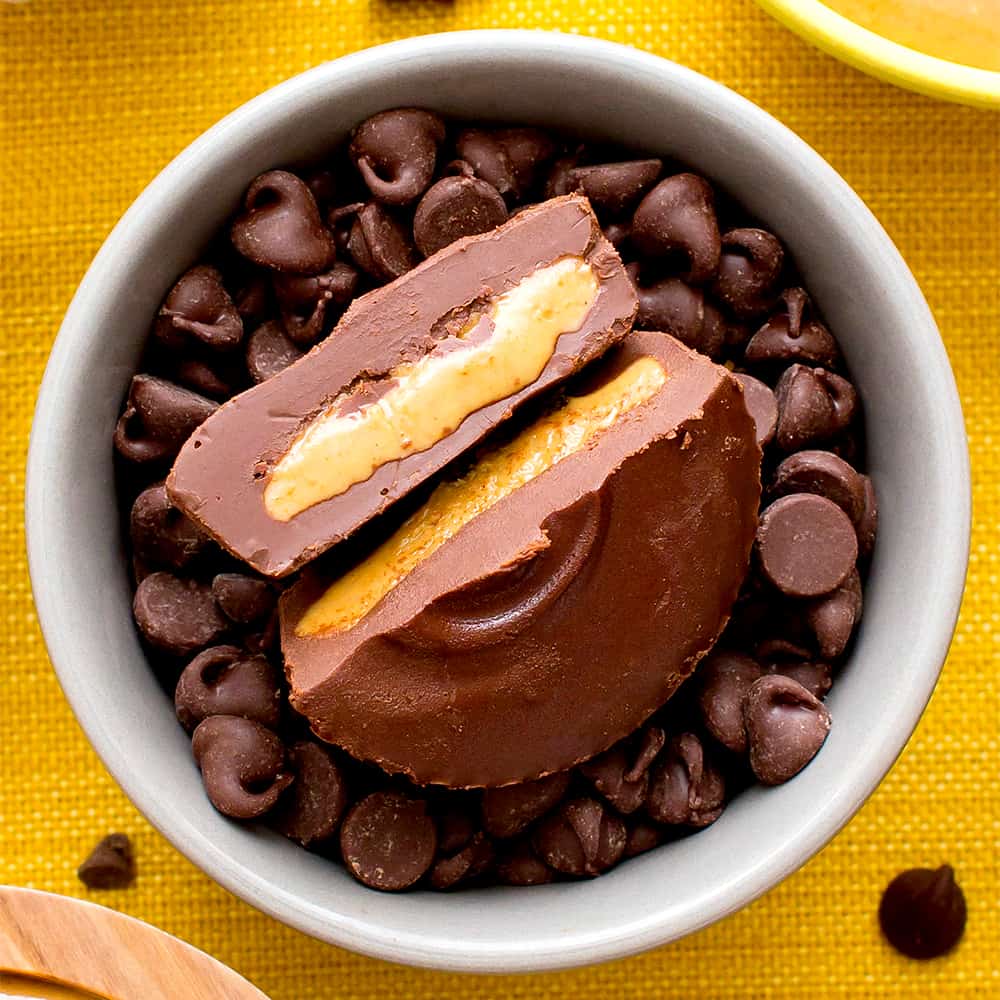 Paleo. Spider. Treats. Three words that are perfect for All Hallows' Eve. Try my Halloween Spider Treats (Paleo, Vegan, Gluten Free, Dairy Free). Spooky, creepy and fun!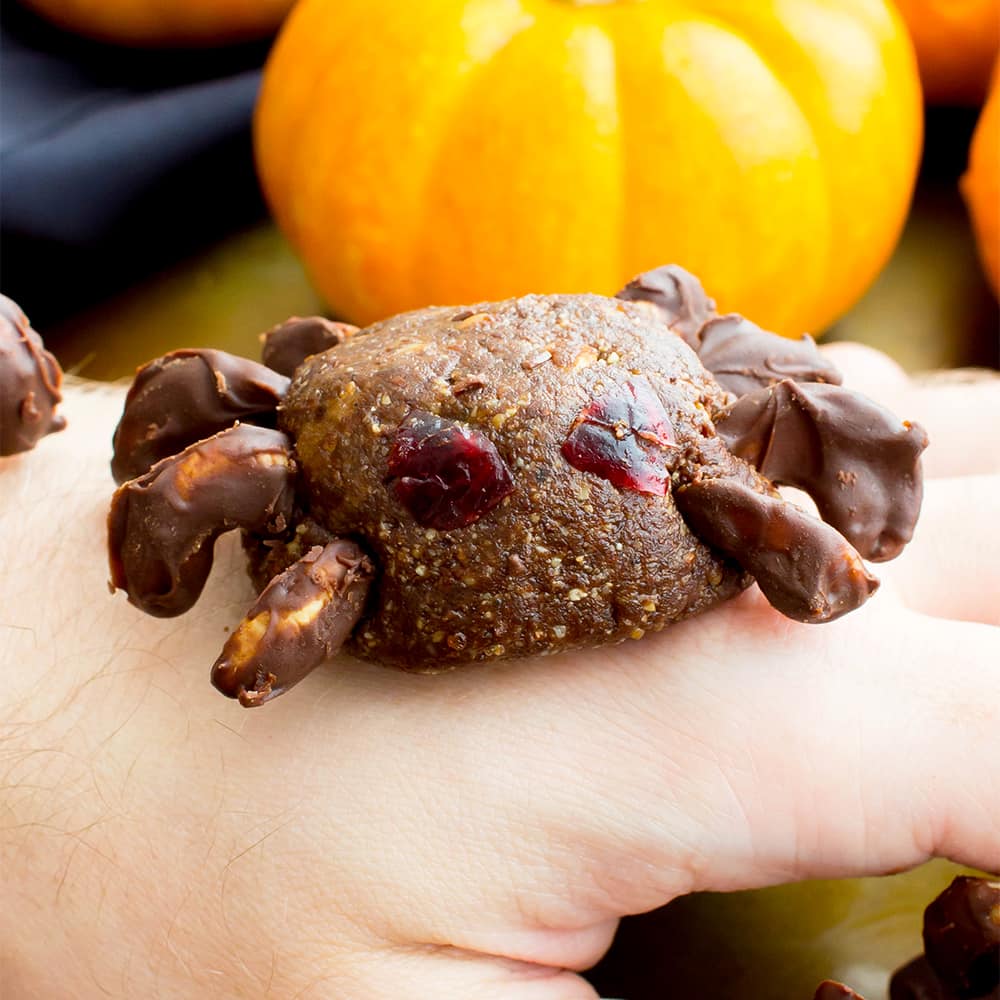 What's your favorite scene in The Nightmare Before Christmas?
I can't wait to hear your responses.