Paleo Almond Joy (V, GF, DF): a 5-ingredient recipe for deliciously satisfying homemade Almond Joy candy bars bursting with coconut and chocolate. Paleo, Vegan, Gluten Free, Dairy Free. Try Homemade Almond Joy Cups here.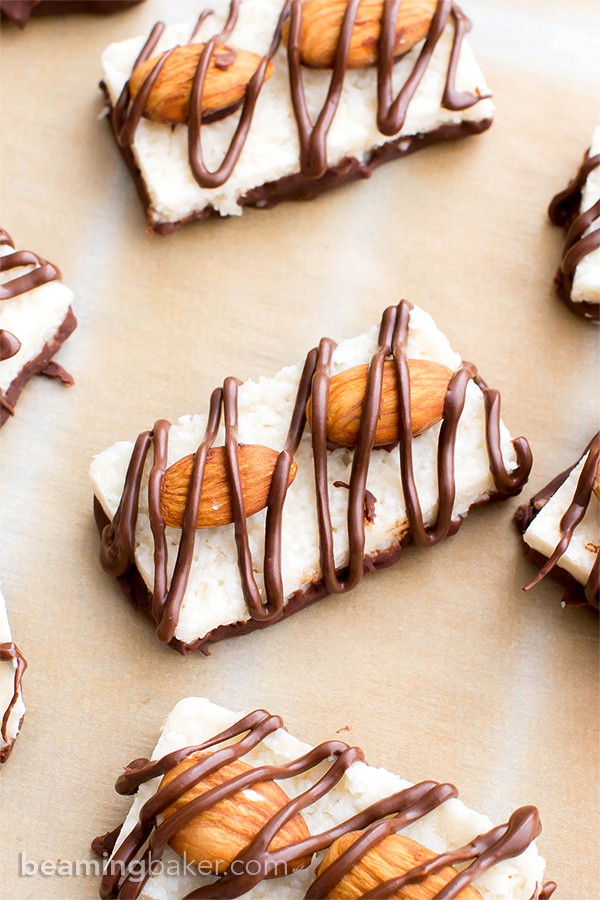 Candy. It makes the world go 'round. Wait, is that the right saying? Eh, who cares when it's obviously the tastiest saying! 😉 It's just that the fall, a case of the Mondays, and waaaay too much excitement for Halloween has me craving/making/eating LOTS of homemade candy and other goodies.
Exhibit A: peanut butter cups. Exhibit PB: peanut butter cup brownies.
And don't forget Exhibit C (for coconut): Paleo Coconut Macaroons. Oh yes!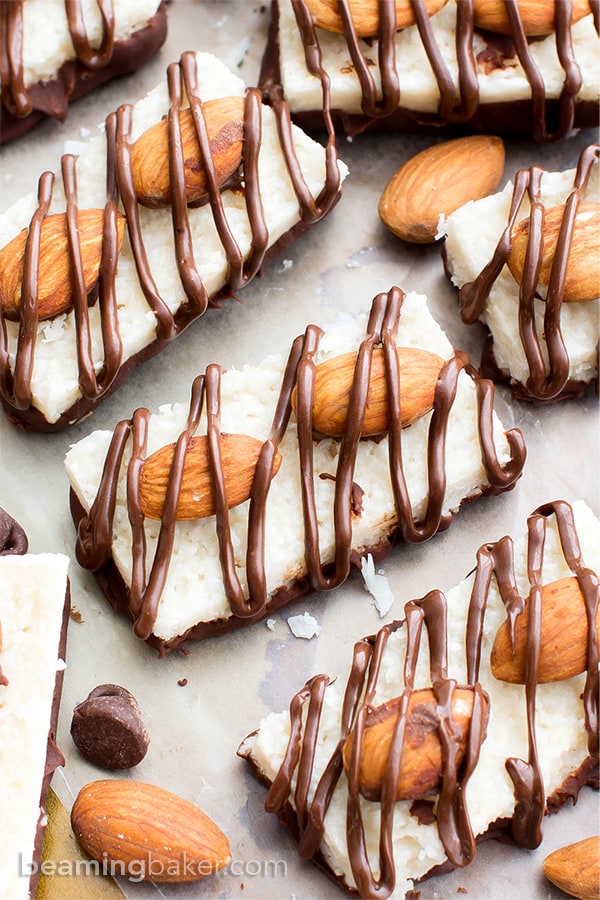 Meanwhile, as I see more and more pumpkin recipes, caramel spice yum, and all things fall sprinkled warmly and lovingly around the web, I get to thinking about All Hallow's Eve. Way back when, and even still to this day, my momma's FAVORITE candy of all time was Almond Joy. Even before she took to making sure I trick-or-treated in high school safely. But, more on those fun hijinks later. 😉
As some of y'all might know, she's not allowed to eat things like Almond Joy candy bars anymore. One of the reasons why I started this blog in the first place was to learn how to make her favorites better, healthier, more whole for her—without sacrificing taste.
It's been too long that I've put off this super important recipe. Sorry, Mommy! But, hey, it's still early for Halloween, right? Hello there, Silver Lining. 😉 So, Mommy, this one's just for you: Paleo Almond Joy. Woot woot!
I wanted to publish this recipe early enough so that you, me and a couple other homemade candy lovers could practice our hands at getting this just right—with the perfect drizzle; proving we can do it better than a machine. You in? 😉 That way, by the time Halloween, or Christmas, or some super important homemade-candy-required life-changing event happens, we'll all have something beyond impressive to show.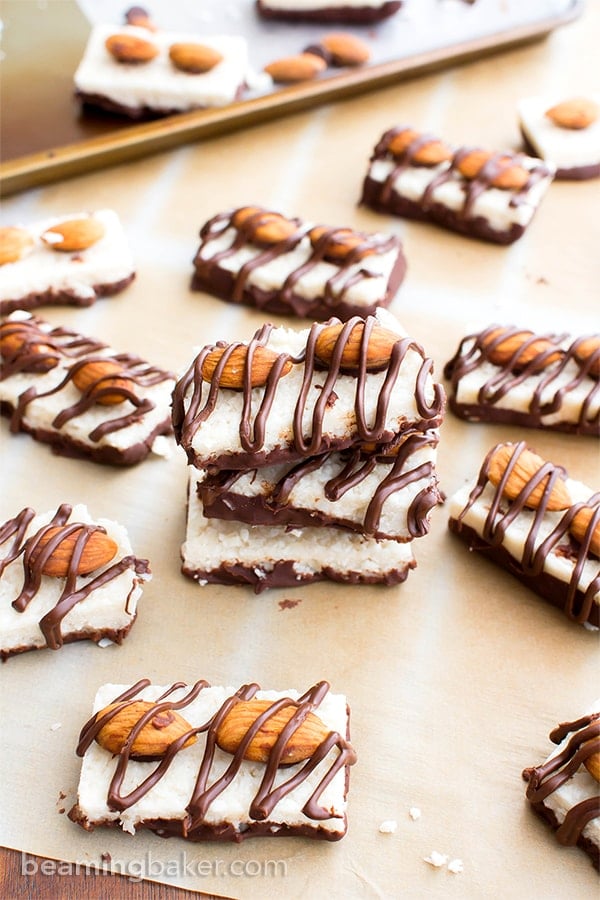 Yeah!!!
But before I tell you all about how easy this Paleo Almond Joy candy is to make, I MUST tell you about one of my most memorable Halloween memories with my mom. What are the holidays for, if not to reminisce on the most embarrassing, awkward family memories? Together? 🙂
It was a long time ago… on a gloomy evening in spooky San Jose, California. Okay, fine, it never really gets that gloomy in San Jose and it's not always spooky ;), but you know what I mean. Ahem. I was in high school, a mere 16 years old. On one of just four total trick-or-treating excursions I would ever go on in my life.
Dramatic much? Most certainly! You see, my parents thought that trick-or-treating was extremely dangerous, full of opportunities for creepsters to snatch kids, and most of all, replete with tainted temporary tattoo "treats" and poison-injected candy bars… Thank you, 90s news. Thank you for your feel-bad fear broadcasts that led to a very sheltered childhood.
I was allowed to go trick-or-treating twice in elementary school, but only because I went on a field trip that I'm not totally sure my parents were fully aware was going to turn into forbidden, high-danger-zone, life-risking trick-or-treating. Oh well.
Anyway, by the time I got to high school, I finally convinced my too-generous mama to let me go trick-or-treating. Sure, I was too old, too big, and too whatever for it. But who cares! Life's too short to care what people think anyway. Don't you think? … Wait a minute. .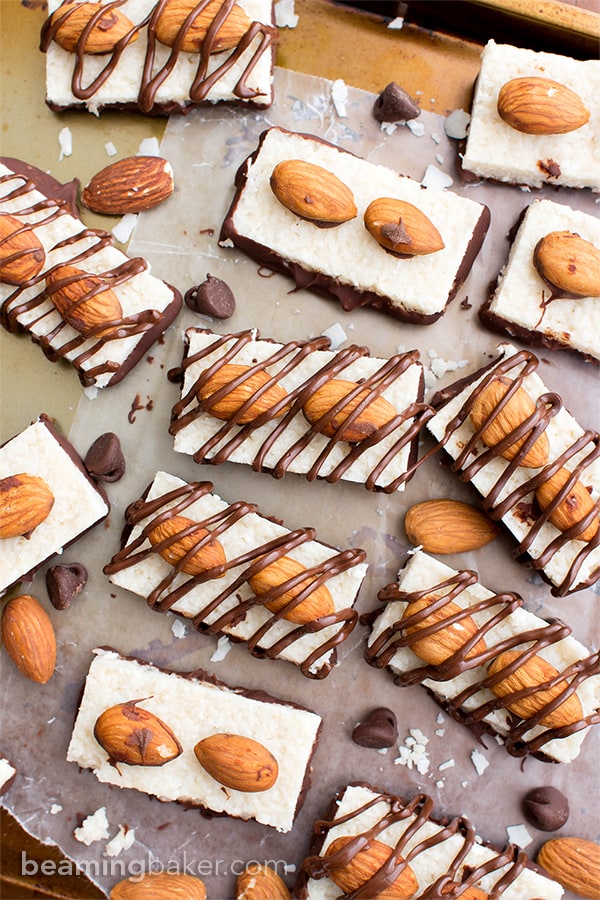 I had somehow convinced a friend of mine, Brigitte (who cared even less about others' opinions) to go with me. And even though she was vulnerable to those danger tattoos and poison candies like I was, she did not let her 17 years on earth hold her back. Plus, she had gone every year since she was little. Um.
So, at 4:30pm on a brisk evening in San Jose, we left on foot, with pillowcases in tow, convenient excuses for why we were still trick-or-treating at this age in hand, world-was-our-oyster attitudes on. We started chatting about what houses to go to first, strategy on the best neighborhoods, and so forth.
Pretty soon, the sun set and orange streetlamps cast eerie dark shadows across the pavement. Things that looked normal in the daytime looked completely freaky at night. Oh, and seeing car-sized spiders, hanging witches and sinister-faced jack-o-lanterns did not help. At all.
I remember feeling the skin prickle at the back of my neck as we continued walking. We approached the first house, and then the next. Slowly but surely, our pillowcases started filling up. Some people didn't even ask us if we were out collecting candy for our sick-from-the-flu much younger siblings.
As we turned a corner, I saw a dark figure move quickly out of the corner of my eye. I was obviously letting the Halloween mood get to me. "Let's walk faster," I told my friend. We picked up the pace and went to more houses. She started telling me about this boy she liked, and how she didn't think he had the… pumpkins to ask her out. And how…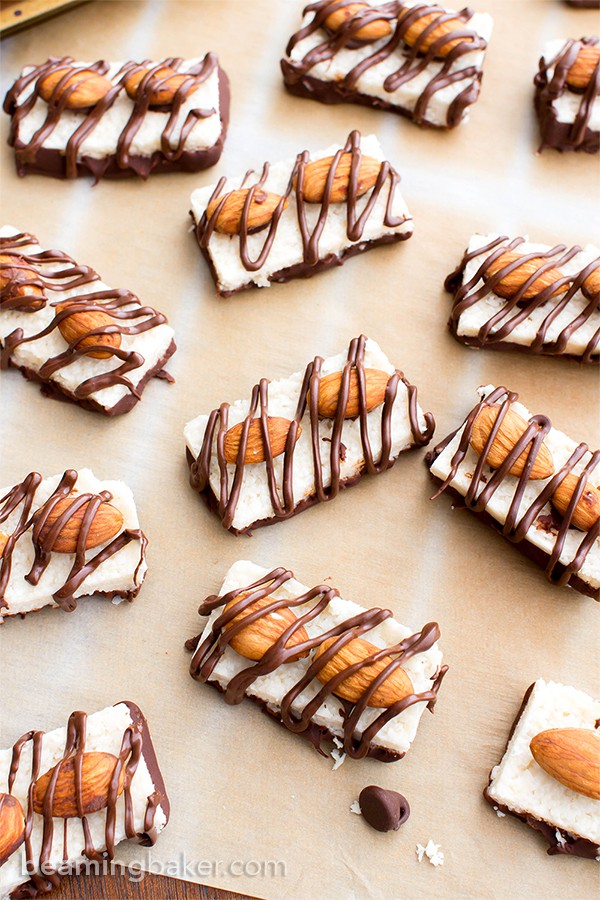 Me, stage-whispering: "Oh dude!!! I think someone's following us."
B: "You are seriously paranoid."
Me: "No, I'm serious!!!"
B: *Eye roll* "Anyway, Seth is like, so hot. But I don't know if I should do something, like—"
Me: "Forget Seth!! Someone is following us. We seriously need to move. Dude, it's pitch black out here. My mom was right!!! Trick-or-treating is the WORST, most dangerous thing ever. Why did I—"
B: "—grab his hand during lunch. Or maybe offer him some gum after class. What do you think?"
Me: "Dude, I'm going home. Like, NOW!!!"
B: "You are so dramatic. Like, high school dramatic. That's saying something."
Me: "Gosh darn it!!! Just–"
I grabbed her hand and dragged her along with me, practically running/stomping my way back home, looking over my shoulders as we went. Brigitte, ever the calm one, walked like it was a lazy Sunday afternoon. I tried to carry her, but to no avail.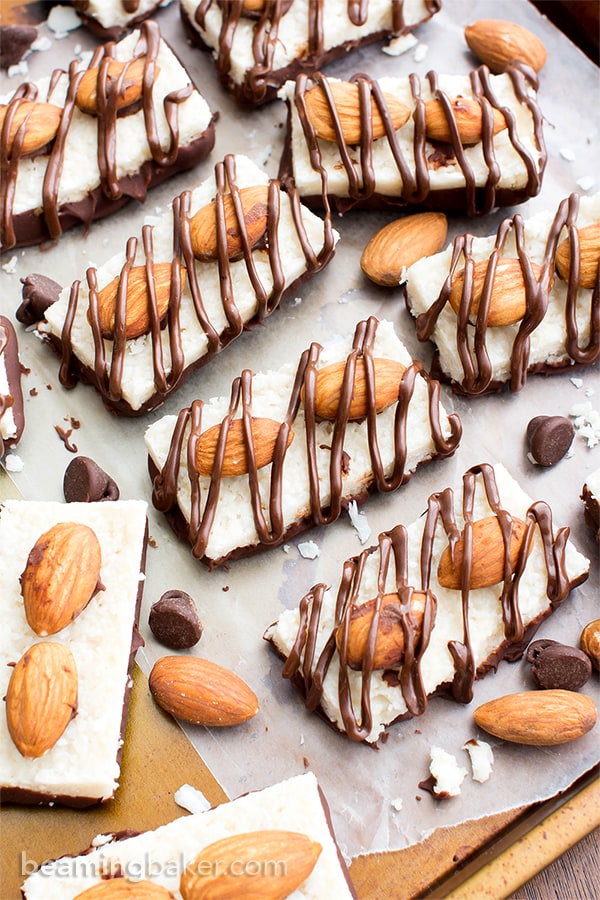 My heart started racing, my palms got sweaty and I was seriously doubting Halloween as a legit holiday, as a whole. Like, who wants to be scared? Are we stable for wanting to be scared? What's up with candy shaped like spiders? Or cakes shaped like gravestones. This ish is scary!!! Why oh why. I need my mommy!!!
I'm almost home, I think. But suddenly, the weight of dragging Brigitte by the hand is gone. I turn back and almost stumble over some lovely disembodied limbs. Plastic, of course. I turn back and Brigitte is standing there, calm as can be.
I frown and look at her, questioning/debating whether or not to leave her behind. She puts her hand calmly into her now-stuffed pillowcase and retrieves an Almond Joy out of it. She proceeds to eat it. Standing there, in a pool of orange, black and gray shadows, she says to me:
"It's your mom."
Whaaaaaaaaaaaaaaaaaaaaaaaaa? Of course, I can barely hear her over the exuberant chewing of Almond Joy. Did she just say? And what does she? Will we live today? Why is Halloween a thing? And—OH. I see.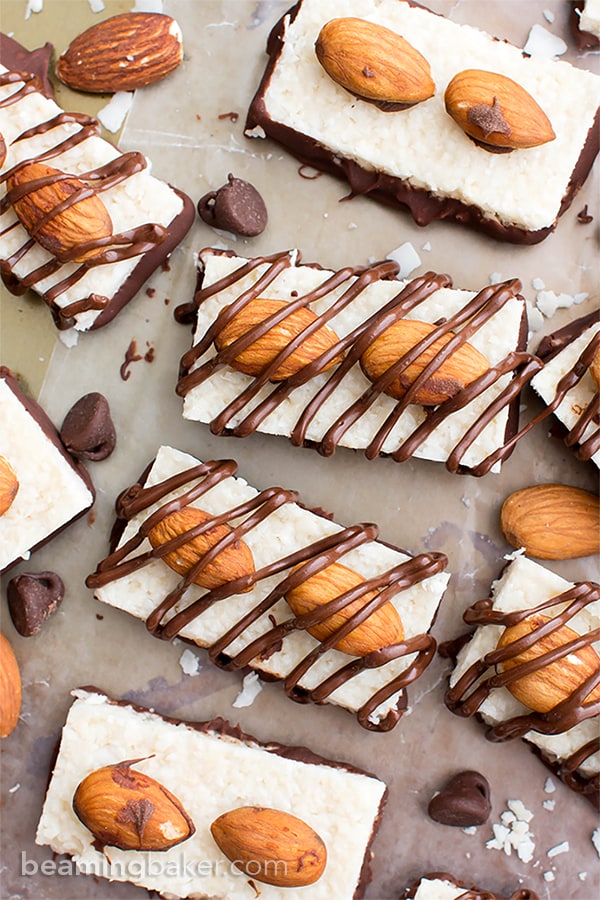 I whip my head toward that clump of tall bushes just beyond the bend. I narrow my eyes and will my mom to come out. I also half-expect a Wolfman or a vampire to appear. Because: Halloween. "Mommy?"
Gingerly, a head pokes out. One all too familiar. One such lover of the exact candy Brigitte is chewing on right now. One such mother to the wildly-active imagination of the mini me. She shrugs, comes completely out from behind the bushes, shakes off some twigs and stands tall.
"I just want you to be safe."
"Mommy, you're SO embarrassing!!!!"
"I just love you. Do you remember those dangerous tattoos and the poison candy when you were little? What about all the kidnappings? Someone could kidnap you!! Do you have any extra Almond Joy for mommy? Did you have fun my baby? How about we do this next year?"
Brigitte holds out an extra Almond Joy to my mom. I stare her down, then burst out laughing. My mom starts chuckling and B cracks a huge grin. "I'll never forget the time you did this, Mommy. You know I can embarrass you about this forever and ever, right?"
Mommy: "I love Almond Joy!! I can't wait to do this next year!!! I like Brigitte!!"
And that's how I came to love Halloween. And hold Almond Joy in very high regard. And applaud my mom for always doing what she felt was right, not giving a hoot about how "embarrassing" something was.
So allow me to dedicate this Paleo Almond Joy to the best mom in the world. Here's to more Halloweens full of super-embarrassing, super-loving, and unforgettable moments. With you. And LOTS of candy.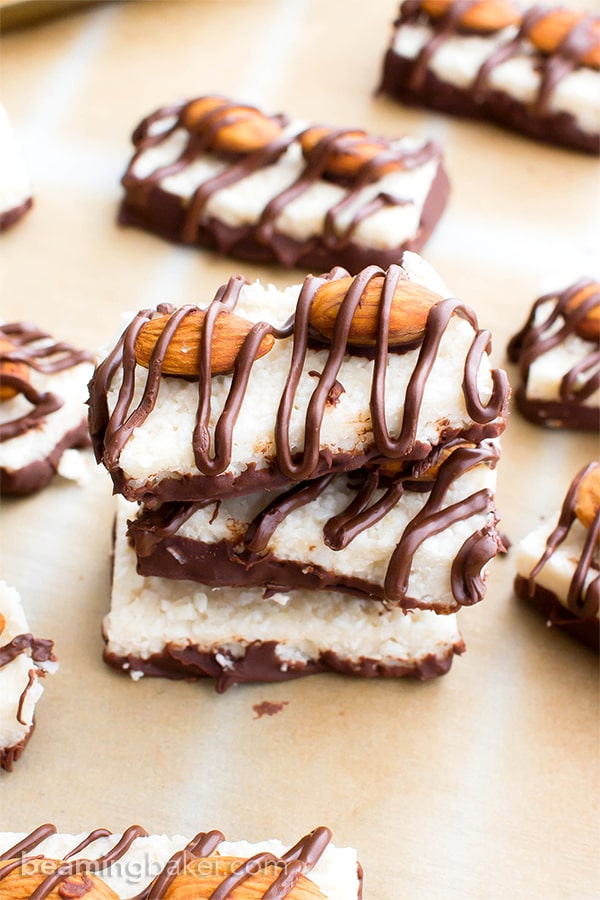 This Best Halloween Ever Thanks to You Mommy, Paleo Almond Joy is:
made with just 5 ingredients
vegan, paleo, gluten free and dairy free
bursting with chocolate, coconut and almond… joy! 😉
plant-based and allergy-friendly
full of ingredients you can feel good about
made for someone really special
So tell me, what are some of your favorite memories of Halloween? Is there any thing, any candy, or even a costume that reminds you of one very epic Halloween? Tell me all about it below. In the meantime, allow me to wish you a safe, happy and heartwarmingly embarrassing Halloween this year! It's never too soon to start celebrating right?
Sending you all my love and maybe even a dove, xo Demeter. ❤️
☀︎ Click below to Pin ☀︎

☀︎ Did you make this recipe? Take a pic and share it on Instagram with the hashtag #beamingbaker and tag @beamingbaker. I would love to see it! ☀︎
Shop the Recipe
Food Processor | Paleo Vegan Dark Chocolate | Gluten Free Unsweetened Coconut | Vegan Chocolate Chips | Coconut Oil | Baking Pan (8-inch) | Maple Syrup | Unbleached Parchment Paper | My Favorite Knife
Print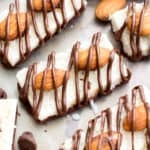 Paleo Almond Joy (Vegan, Gluten Free, Dairy Free)
---
Description
Paleo Almond Joy (V, GF, DF): a 5-ingredient recipe for deliciously satisfying homemade Almond Joy candy bars bursting with coconut and chocolate. Paleo, Vegan, Gluten Free, Dairy Free.
---
Coconut Bars
1 ½ cups

unsweetened coconut, shreds or flakes

¼ cup

coconut oil, solid or melted

2 tablespoons

pure maple syrup
Chocolate Dip Layer
Almonds
Chocolate Drizzle
---
Instructions
Line an 8-inch loaf pan or 9-inch loaf pan with parchment paper or wax paper. Set aside for later.
Make the Coconut Bars: Add all Coconut Bars ingredients to a food processor: coconut, coconut oil and maple syrup. Blend until you get a wet and sticky mixture, with smaller, but still noticeable coconut pieces.
Pour coconut mixture into the prepared loaf pan. Using a rubber spatula, press down and smooth until you get a tightly packed, even layer. Freeze for 15-20 minutes.
Remove from freezer. Lift the coconut bars out of the loaf pan. Cut into 16 rectangular bars. Line a baking sheet with wax paper or parchment. Lay these bars on the sheet, evenly spaced apart. Place back into the freezer while you prepare the chocolate layer.
Make the Chocolate Dip Layer: Use the double boiler method, or the following. In a medium, microwave safe bowl, add the Chocolate Dip Layer ingredients: ½ cup vegan chocolate chips and 1 teaspoon coconut oil. Heat in 20-second increments until just slightly softened and melted. Stir until smooth.
Remove coconut bars from the freezer. Dip the bottom of one coconut bar into the bowl of melted chocolate, creating a thin coating. Use the side of the bowl to scrape off excess chocolate. Place back onto the baking sheet. Repeat until all coconut bars have been coated.
Dip one side of an almond in the melted chocolate and press into half the surface of one bar, leaving room for another almond. Dip another almond in chocolate and press into the remaining surface of the bar. Repeat for all bars. Place baking sheet back into the freezer while you make the chocolate drizzle.
Make the chocolate drizzle: Add the Chocolate Drizzle ingredients to the bowl of leftover melted chocolate: 2 tablespoons chocolate chips and 1/4 teaspoon coconut oil. Heat in the microwave in 20-second increments until just softened. Stir until smooth.
Using a rubber spatula, scrape melted chocolate into a plastic zip bag with a very small tip cut off, or a small piping bag fitted with a very fine tip. Holding the bag over one candy bar, pipe the chocolate in a zigzag motion, starting from one end of the bar and finishing at the other. Repeat for all bars.
Place baking sheet into the freezer for 10-15 minutes. Thaw for 10-15 minutes before serving. Enjoy! Storing instructions below.
Category:

Candy, Dessert, Paleo, Vegan, Gluten Free, Dairy Free
© beamingbaker.com. All content and images are protected by copyright. Please do not use my images without my permission. If you wish to republish this recipe, please re-write the entire recipe using your own words and include a link to this post for the recipe.
☀ More deliciously decadent paleo dessert recipes
Just in case you're feeling more like cups… check out my delicious 5-Ingredient Homemade Almond Joy Cups. Delightfully paleo, vegan, gluten-free and dairy-free! 🙂
Paleo Almond Butter Fudge Cups (V, GF, Paleo, DF): Just 3 ingredients to rich, indulgent fudge cup bliss.
Chocolate Coconut Truffles (Paleo, Vegan, Gluten Free, Dairy-Free). 4 easy, whole ingredients to chocolate, coconut truffles bliss.
Homemade candy is the best, don't you think? 😉 Try my Paleo Almond Butter Cups (V, GF, Dairy Free). This is what Chocolate Almond Butter Love tastes like.
When candy just won't do… because you needUltimate Fudgy Paleo Vegan Brownies a brownie! Whip up a batch of my (V, GF, Paleo, DF). .
4 Ingredient Chocolate Coconut Cups (V, GF, DF, Paleo)
No Bake Paleo Chocolate Almond Butter Bars (V, GF, DF, Paleo, Protein-Packed)
Paleo Mocha Frappe (V, GF, DF, Paleo, No Added Sugar)
Facebook ☀︎ Pinterest  ☀︎ Twitter ☀︎ Instagram