Jazz up brunch or even a warm afternoon with the fizzy classic mimosa, that's so easy to make it only requires two ingredients!
It Isn't Brunch without a Mimosa!
Or… is it? If a tree falls in the forest and—oh, I'm not even gonna try to finish that one. It's just, isn't brunch way brunchier with a mimosa? There's just something so fancy and luxurious about having the presence of a champagne glass (nay—champagne!) on your brunch table to feel like a true treat-yourself moment. So grab your favorite champagne & beautiful glasses, and join me in the mixology room, 'cuz we're gonna make mimosas!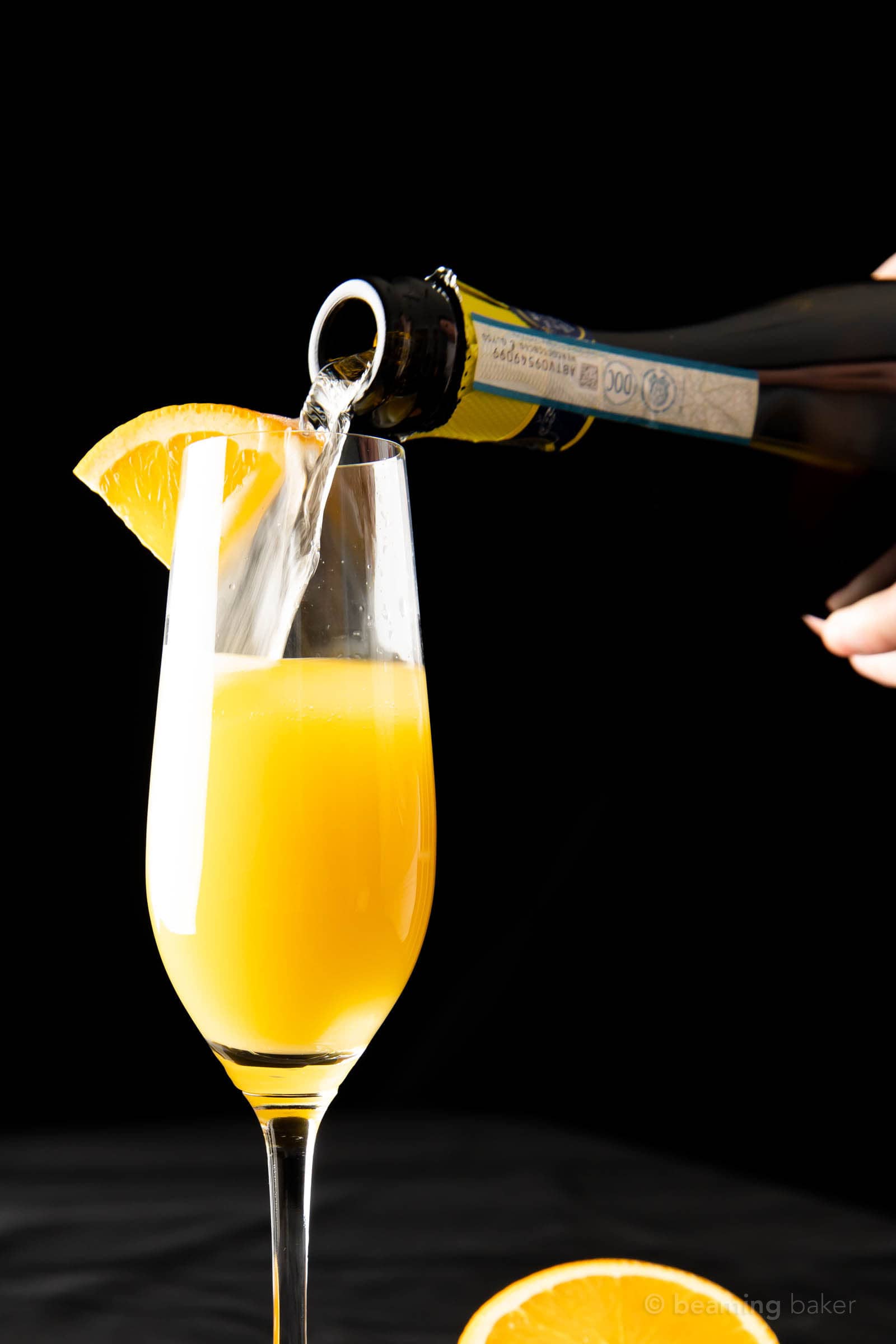 Everything You Need to Make this Mimosa Drink Recipe
The classic recipe for a mimosa is literally made with just 2 ingredients. It's truly that simple.
What is a Mimosa?
A mimosa is a brunch-approved cocktail that's sweet, light, and bubbly. It's made with just two ingredients in equal parts: Prosecco and orange juice. While a mimosa can be served in a stemless champagne glass or a classic stemmed champagne flute, the choice is up to you. [1]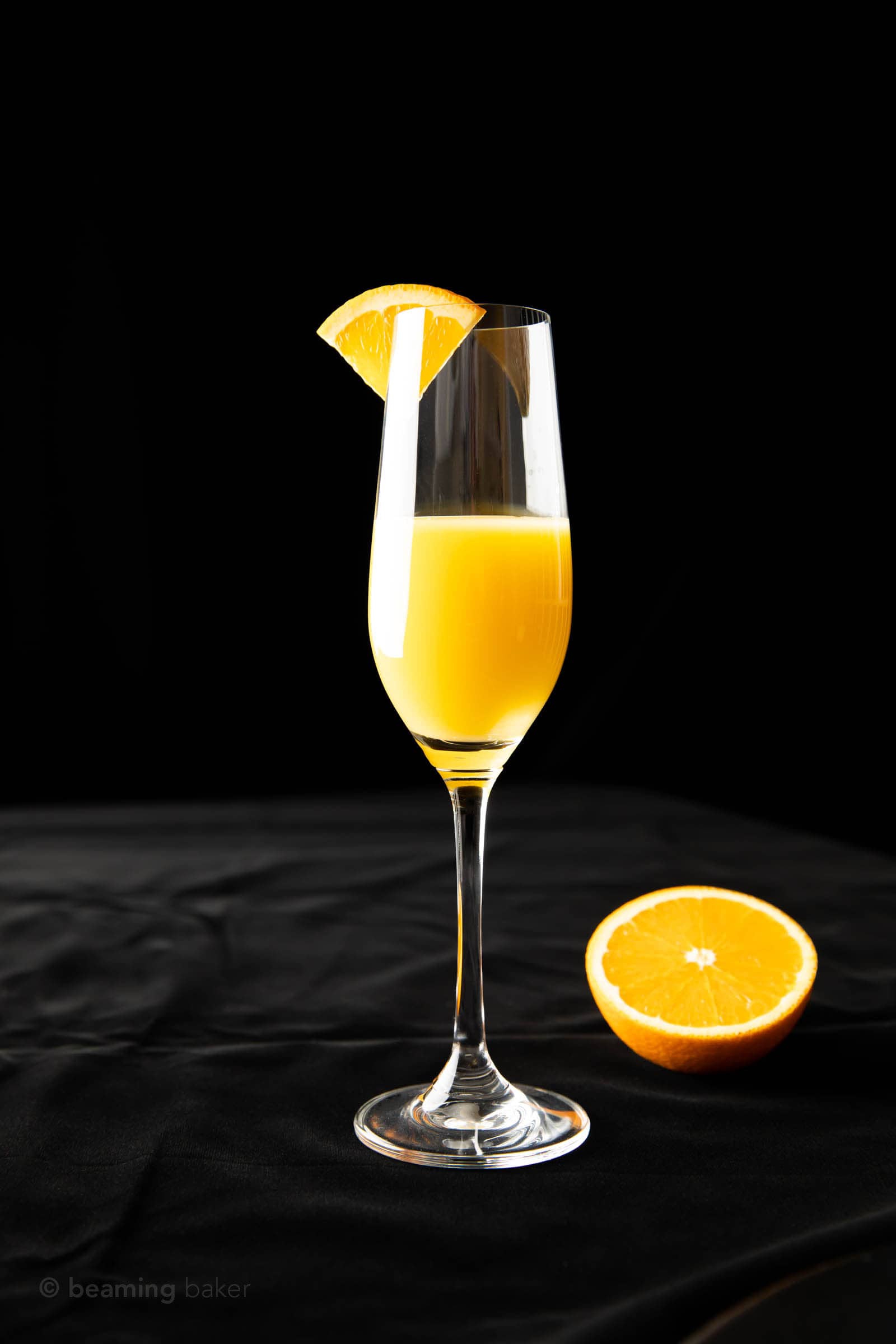 What is the History of the Mimosa?
It's believed that the first mimosa was actually a spin off of a 1921 London drink called Buck's Fizz, a cocktail made with the two mimosa ingredients you know and love: orange juice and champagne (and now Prosecco). [2]
Some believe that the mimosa was actually invented by a bartender named Frank Meier tending at the Ritz Hotel, Paris. He purportedly made the mimosa as you know it today: with equal parts orange juice and sparkling wine. Meier shared this recipe for a mimosa in his book, The Artistry of Mixing Drinks. [3] [4]
Others believe that the mimosa was invented by famed horror movie director Alfred Hitchcock. The story goes, after a particularly hairy night of drinking, Hitchcock and a friend threw together orange juice and sparkling wine to mix up a concoction they felt might help reduce the effects of their hangover. [5] [6] Nevertheless, the actual printed proof of a mimosa in Meier's book can lead us to conclude that Hitchcock probably wasn't the inventor of the mimosa.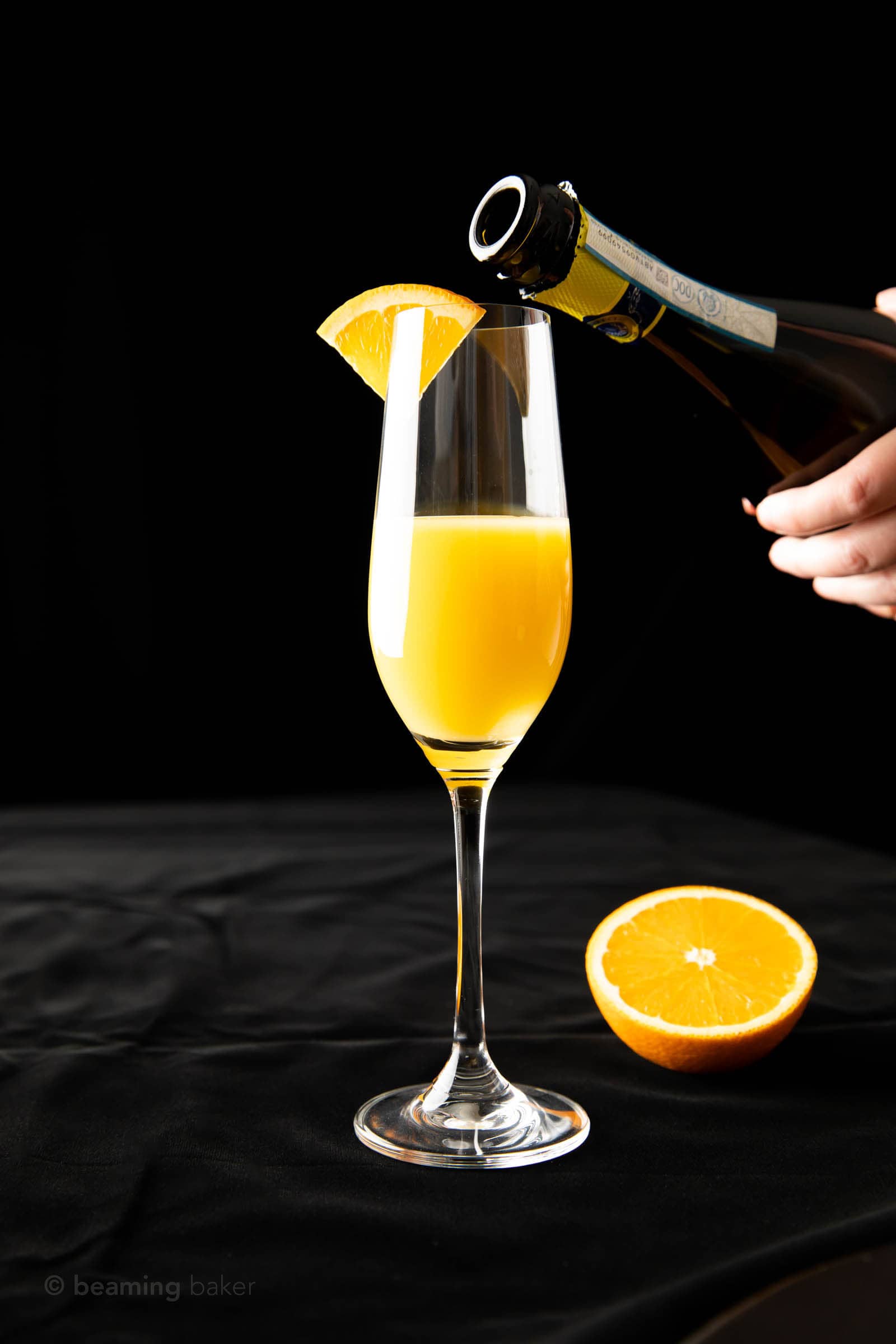 How to Make a Mimosa
Once you try making a mimosa, you'll wonder why you should ever make any other cocktail! Okay, that's an exaggeration, since variety is the spice of life and all that. But this mimosa cocktail business? It's easy as all get out!
Simply fill a champagne flute halfway with Prosecco.
Top it off with orange juice.
Garnish with an orange wedge and serve. That's truly it.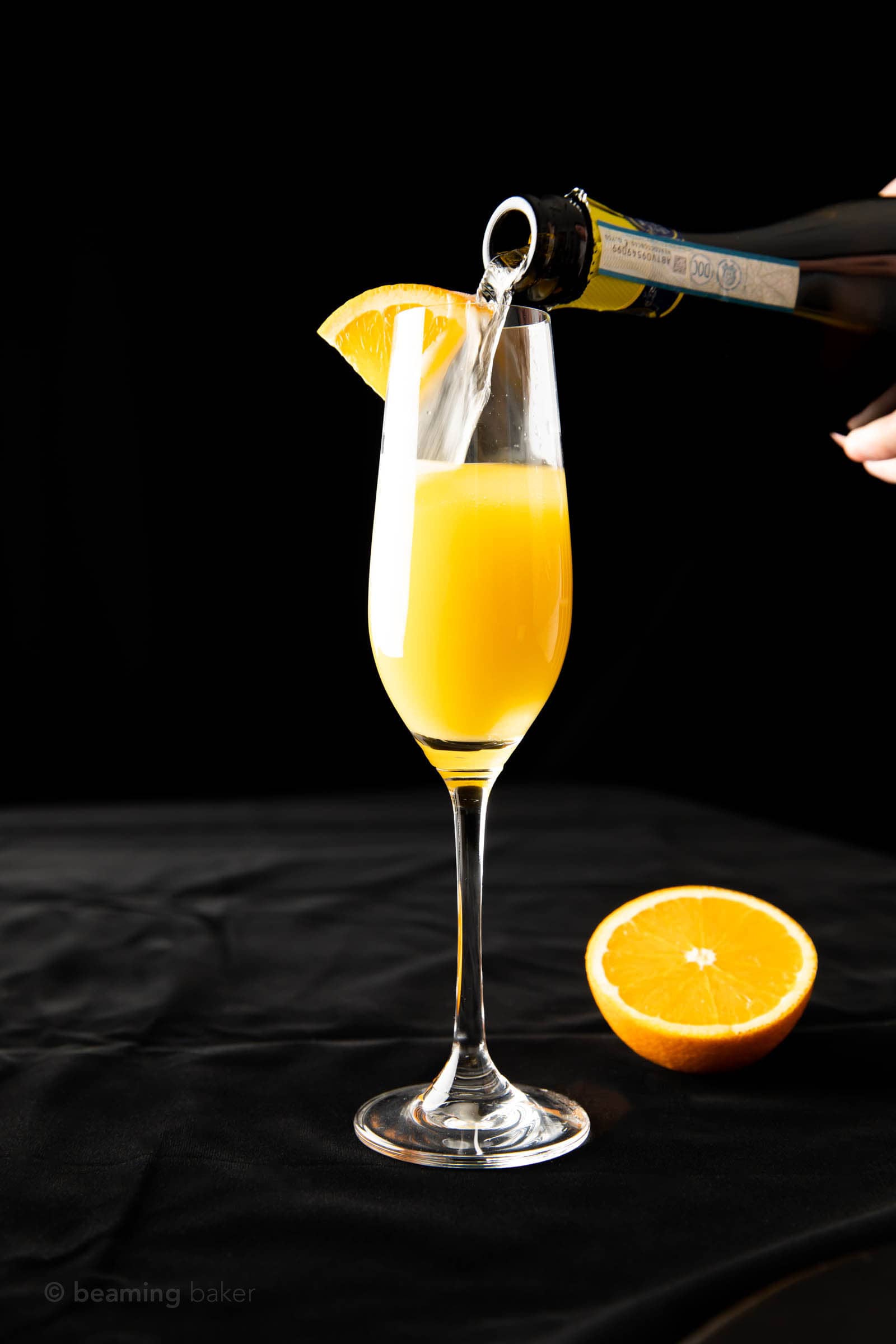 What is the Difference between Prosecco and Champagne anyway?
The main difference between Prosecco and champagne is the region it is from. While both champagne and Prosecco qualify as sparkling wine, each is made in a different geographical region. [7] Champagne is made in Champagne, France, while Prosecco is made in Italy. [8] [9] Legally speaking, the only champagne that can be called "Champagne" must be bottled within 100 miles of Champagne, France.
Can you simply use champagne if that's what you have on hand? Why is Prosecco better than champagne in making mimosa?
In a word, yes. If you're not a stickler for flavor profiles and the subtle nuances in champagne versus Prosecco, go for it. But for the most part, Prosecco is preferred because it has a sweeter flavor and pairs better with orange juice.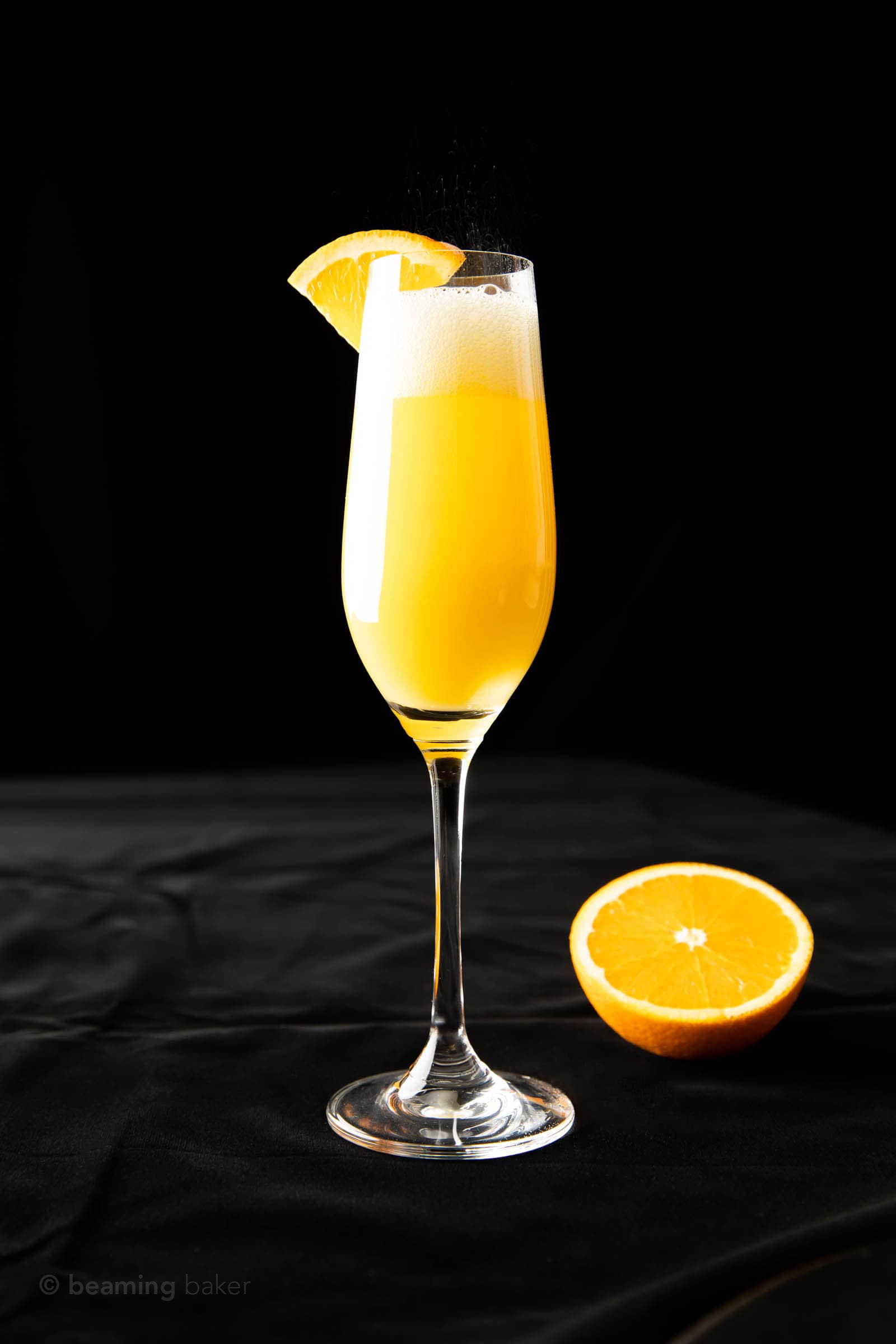 More Recipes
Tools You Need
Thanks a Brunch!
You know I love it when you stop by and chat with me, bake with me, mix drinks with me, or just wave hello. 🙂 So thanks a brunch for being a part of the Beaming Baker community. Erik and I truly couldn't do it without you. 'Til our next cocktail adventure…
Sending you all my love and maybe even a dove, xo Demeter ❤️
🍊 📸 🥂
📸 Did you make this recipe for a mimosa? Take a pic and share it on Instagram with the hashtag #beamingbaker & tag @beamingbaker. I'd love to see it! 📸
Print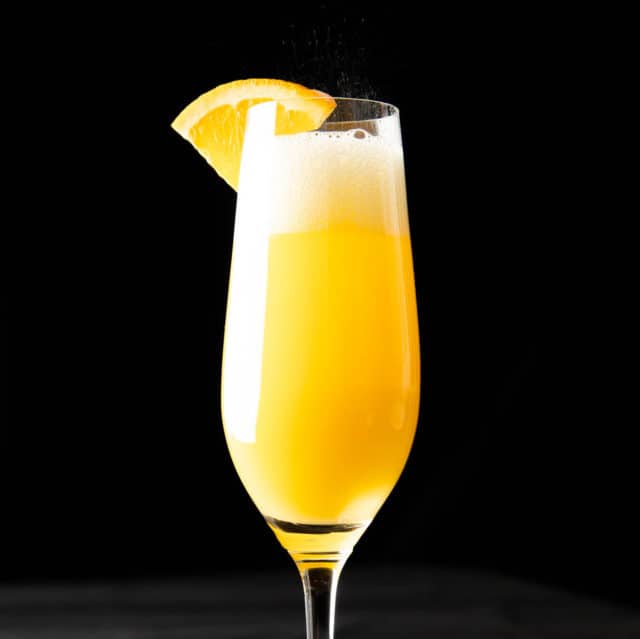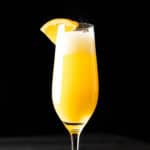 Mimosa
---
Description
Jazz up brunch or even a warm afternoon with the fizzy classic mimosa, that's so easy to make it only requires two ingredients!
---
1

(750 ml) bottle of Prosecco

3 cups

orange juice
---
Instructions
Set out champagne flutes.
Fill each glass about ½ way with Prosecco.
Add orange juice to the champagne flutes until you reach nearly to the top.
Garnish with an orange wedge. Sip and enjoy!
Notes
Tip: To get the orange wedge to stay on the glass, slice it nearly in half, creating an opening for the rim of the glass. Hold the orange wedge open over the rim of the glass then allow it to close over that rim, thereby creating a clamp.
Prep Time:

1 minute

Cook Time:

0 minutes

Category:

Drinks, Cocktails

Method:

Pour
© beamingbaker.com. All content and images are protected by copyright. Please do not use my images or recipe without my permission. Please do not republish this recipe, instead, include a link to this post for the recipe.
Wanna help grow the Beaming Baker community? ☀️
You play such an important part in the livelihood of Beaming Baker–and just know that Erik and I truly appreciate it. 🧡 If you want to help grow the BB community, you can do the following:
📝 Leave a comment & rating. When you try a recipe, leave a comment and star rating to let us know how you liked the recipe. It truly helps all of our readers discover which recipe works best–and keeps us going in the right direction.
📸 Instagram. Made a recipe? Take a photo and share it on Instagram with the tag #beamingbaker and tag us at @beamingbaker. It makes our day to see how the recipe turned out for you!
👭 Tell a friend. You know when you love something, you can't help but tell others about it? If you love any of the recipes on Beaming Baker, tell a friend. 🙂 It truly helps to grow the BB community. ☀️
This post may contain affiliate links, which allow me to make a small commission for my referral, at no additional cost to you.