3 Ingredient Homemade Crunch Bar Recipe (V, GF): Quick & Easy DIY crispy homemade crunch bars! Made with rich, decadent chocolate and vegan gluten free brown rice crisp cereal. Vegan, Gluten-Free, Dairy-Free, DIY.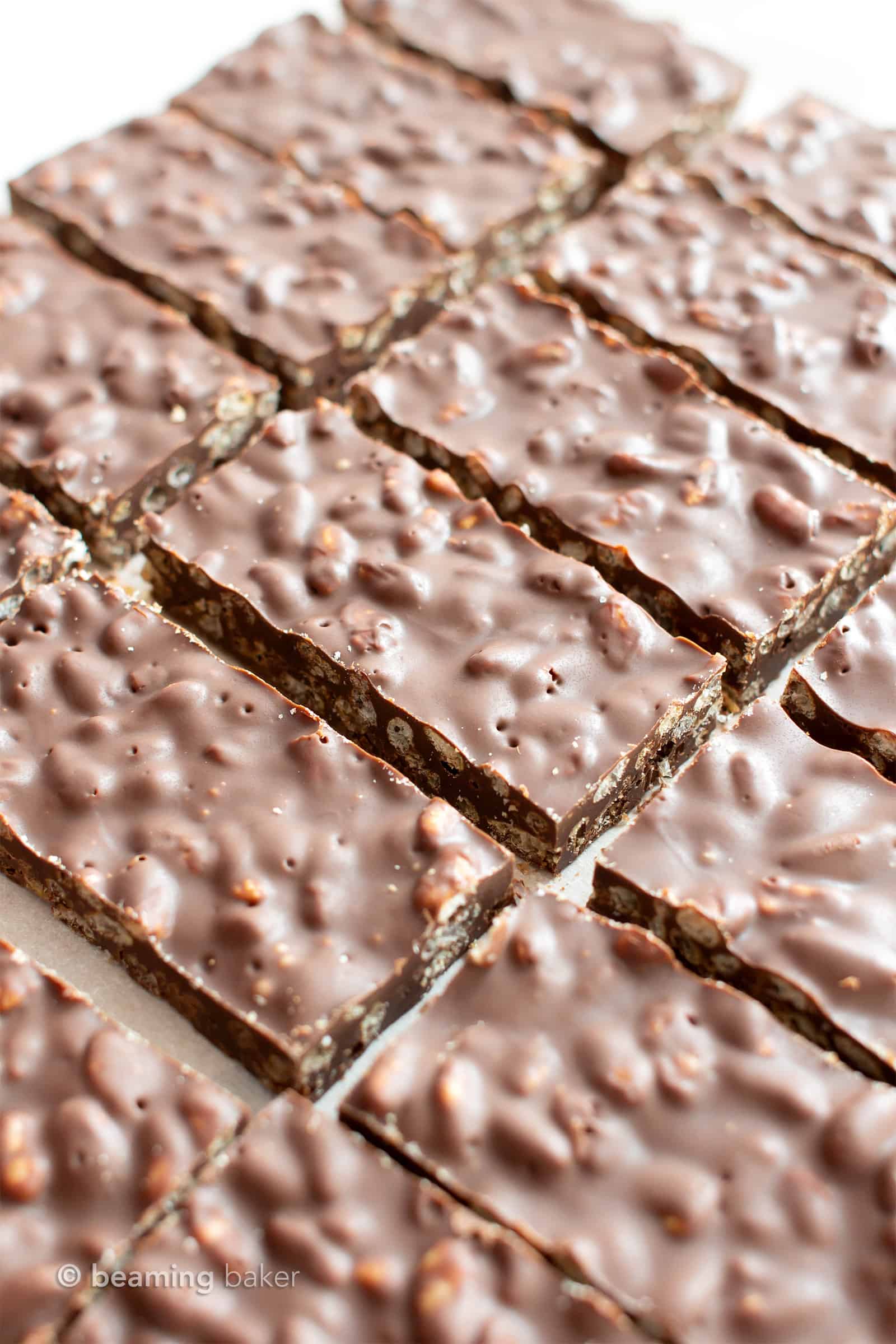 What's your favorite candy bar? For some people, it's peanut butter cups, for others it's Almond Joy, or maybe even cookie dough bars (that totally counts as candy, right?).
For some people, it's paleo chocolate cupcakes. Okaaaaay, fine, those don't qualify as candy… and neither do these peanut butter cup rice crispy treats. But, still! (They're so yummy, so who cares?) 🙂
For other people—make that super awesome people—it's crunch bars! 🙂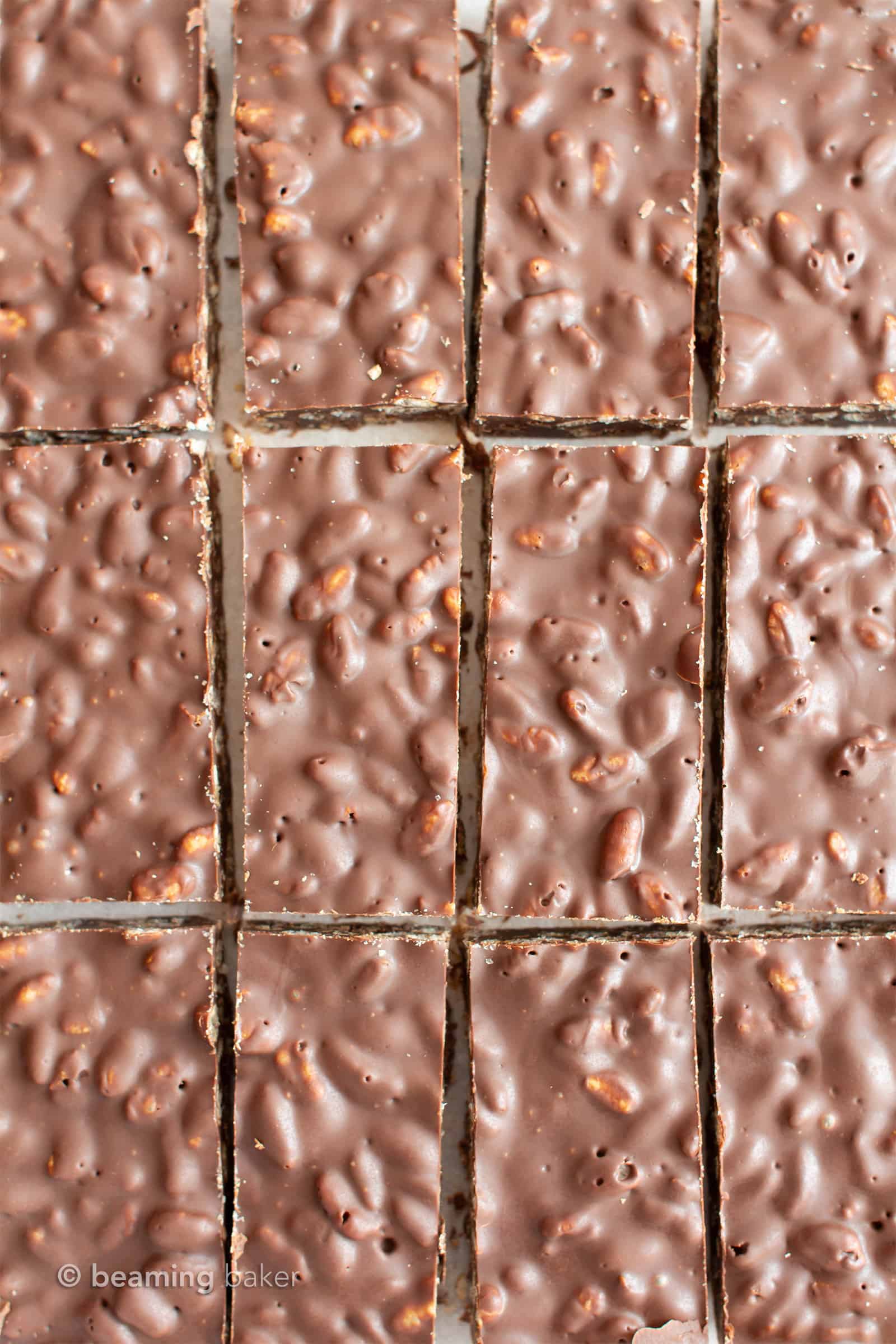 Homemade Crunch Bar Recipe
That sounded a little too biased, didn't it? Darn it… Y'all know that I have a soft spot for all the candy bars in my heart. And I've definitely made it one of my missions to remake these bars into healthified versions. 3 Ingredient Homemade Crunch Bars is one of my latest candy creations!
If you're new around these parts, here's a teeny tiny directory of what I'm talking about. Let's call it the Beaming Baker Candy Directory. Oooh…. Sounds all official and delicious, doesn't it?? And of course, everything's vegan and gluten free! 🙂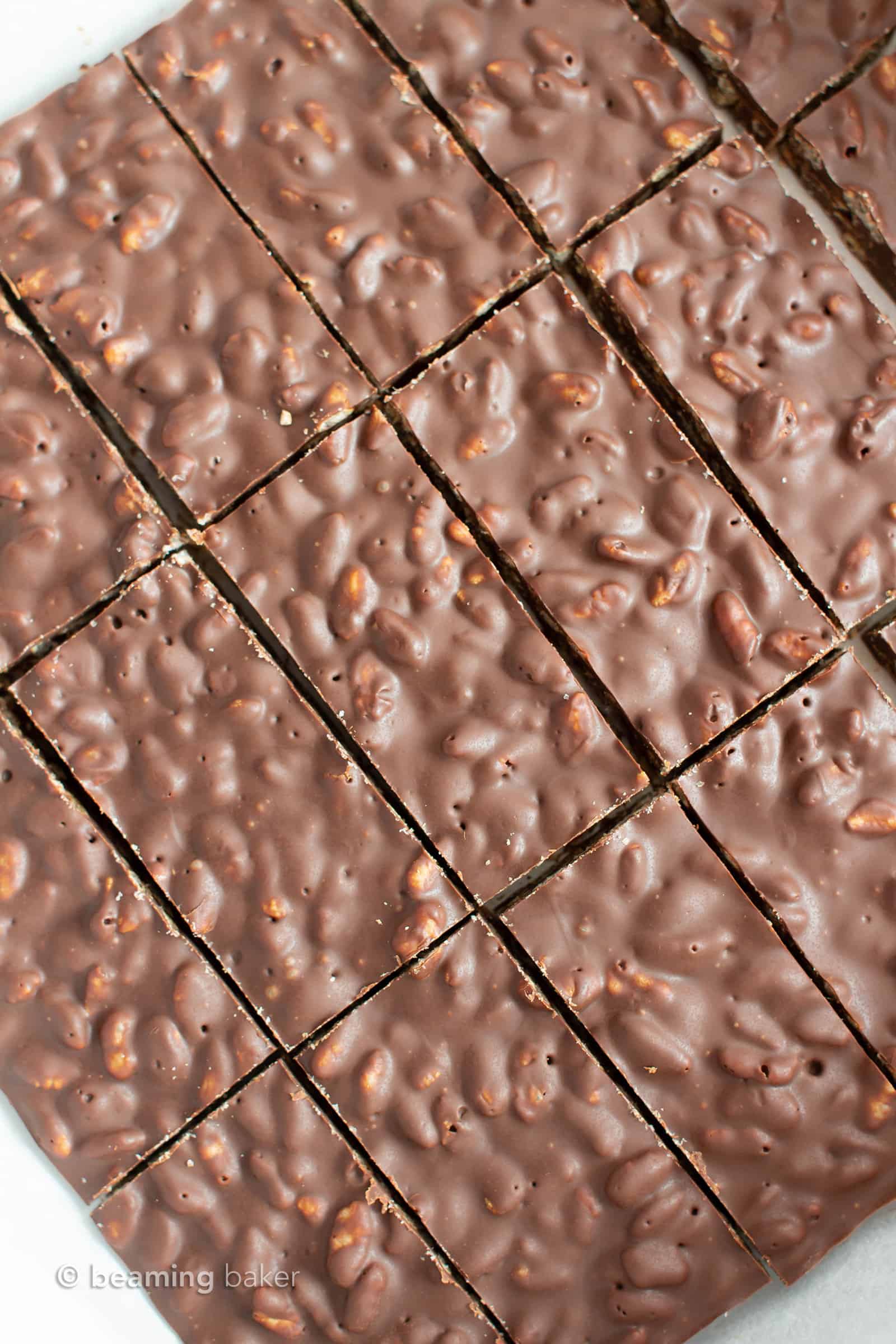 And there's more where that came from… by now I hope you're drooling over one of my true loves: homemade candy! I seriously do not know where this even came from.
But if I had to guess, I'd say it's because of my momma.
When she first caught a glimpse of all those homemade candy treats, she immediately demanded I make her a healthified version of Almond Joy. Okay, she didn't demand it… she just gently suggested it. Like, 5 million times. 😉 By that time, a few more chocolate dessert cups were in the works… and my mom was ready to print out business cards for my candy shop.
Btw, my mom really loves business cards. I cannot begin to say why. But on that note, I really should make her some funny business cards… just for a few laughs.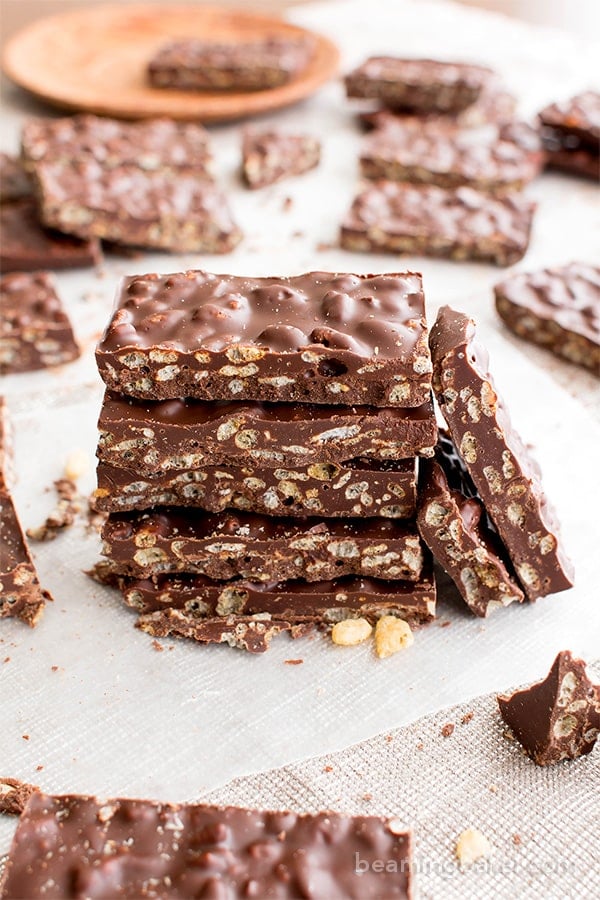 Just 3 Ingredients for Vegan Crunch Bars!
Anyway, by the time Christmas rolled around, I realized that I hadn't created a crunch bar recipe. Gasp!!! And since I was adding peppermint to anything and everything (don't even ask about the peppermint curry and peppermint candy-shaped hand soap I made…), I thought, why not add peppermint to crunch bars??
As usual, something that seemed totally normal and par for the course in my mind ended up being kind of unexpected and unusual to others. <– That's what I get for being so "interesting." 😉
The great news is that everyone LOVED the recipe: 4 Ingredient Peppermint Crunch Bars. But then, Christmas was over. Boooooooo… And I had to put the ol' guy away. Double boooooo…
Then I realized, "Duh, Demeter… make a normal, non-quirky, non-peppermint-y, all-seasons version so you can spread the word far and wide all year!!! Oh, and stop talking to yourself! It's weird. Also, pick up more apples at the grocery store this weekend."
I duly noted all pieces of sage advice. Then updated my shopping list. And did not tell myself thanks. Ahem.
So here we are! Are you as excited as I am? Do you feel a teeny tiny bit backwards that I shared the peppermint version first, then this version?
Either way, I'm super excited to tell you all about these homemade crunch bars!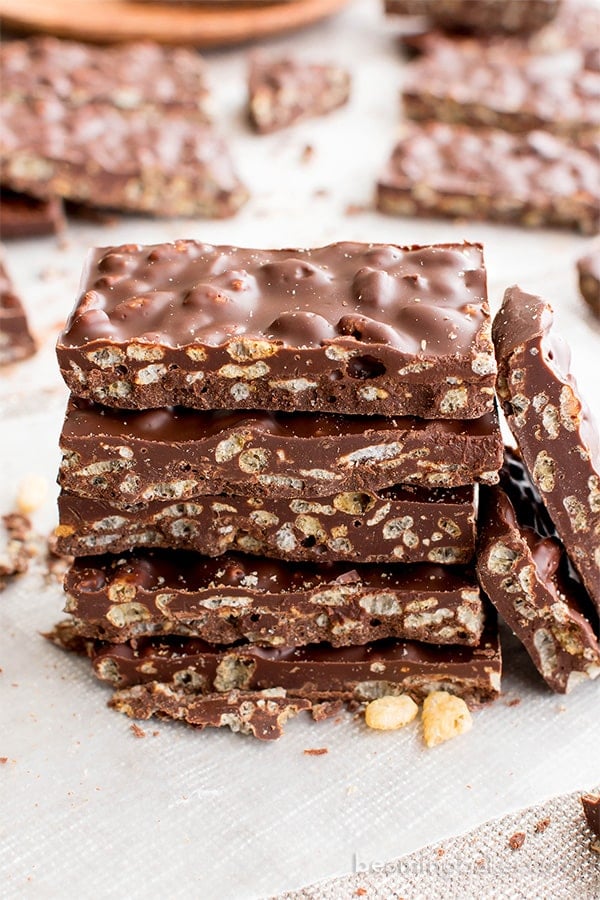 Q&A for Homemade Crunch Bar Recipe (DIY Crunch Bar)
Where do I find gluten free brown rice crisp cereal?
I get this question all the time! Click here for the exact vegan gluten free brown rice crisp cereal that I use.
What vegan chocolate chips do you use?
If you're looking high and low for vegan chocolate chips, try these super tasty vegan chocolate chips.
Where can I find refined sugar-free chocolate to make healthy vegan crunch bars?
When I want to make sure my vegan chocolate candy recipes are refined sugar-free, I chop up this paleo chocolate bar and use it in place of the usual vegan chocolate chips.
How do I make these homemade crunch bars low-carb or lower in carbs?
Use these low carb chocolate chips. They're super tasty & practically sugar-free.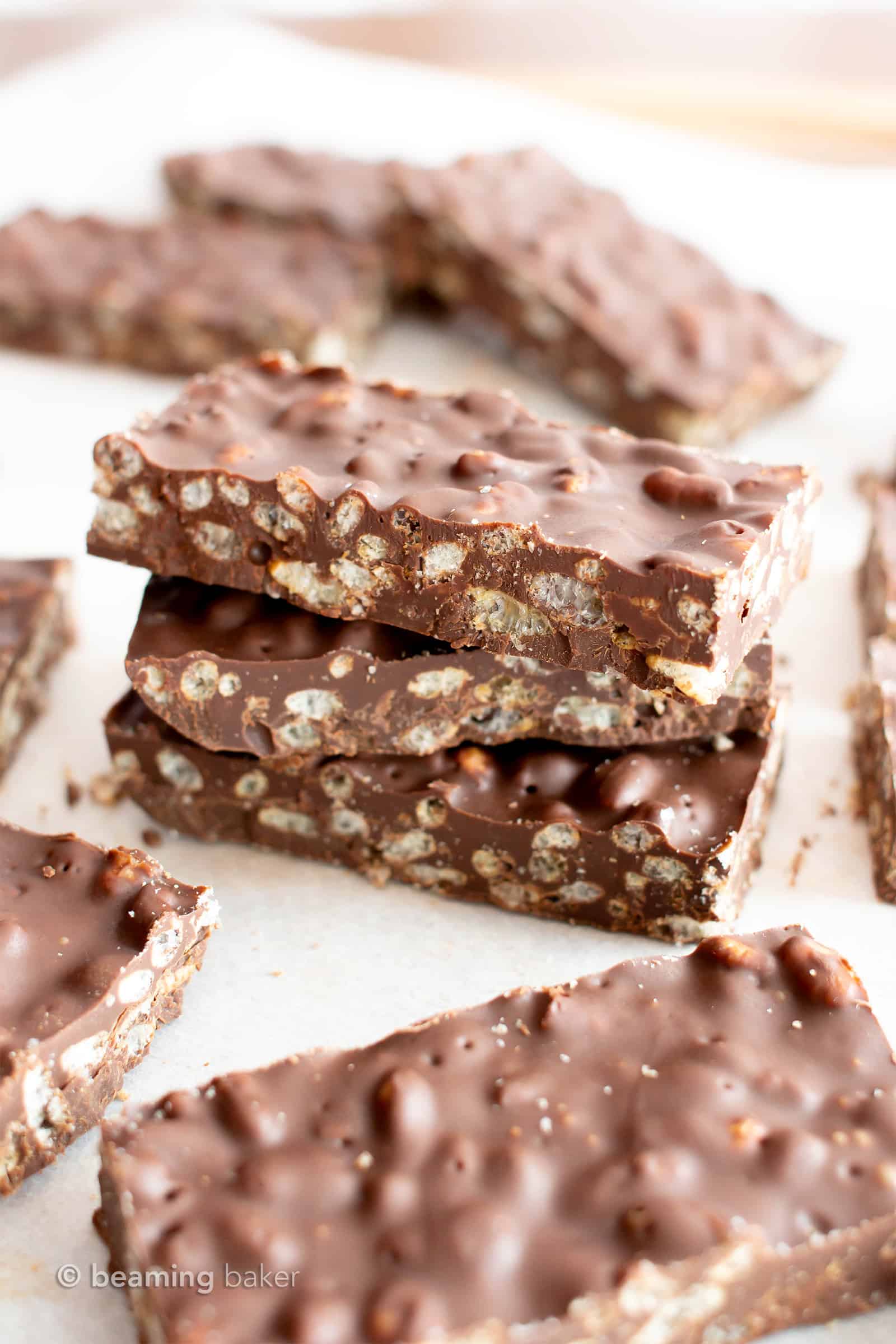 Tools for the Best Homemade Crunch Bar Recipe
So grab three easy ingredients, a candy-striped apron just for fun, and get ready for some amazing homemade candy fun. You ready? Let's do this! Before you go, tell me…
What candy would you love to see me make next on Beaming Baker?
Sending you all my love and maybe even a dove, xo Demeter ❤️
. Click below to Pin .
. Did you make this vegan homemade crunch bars recipe? Take a pic & share it on Instagram with the hashtag #beamingbaker & tag @beamingbaker. I'd love to see it! .
More Easy Vegan Candy Recipes
Print
3 Ingredient Homemade Crunch Bar Recipe (DIY Vegan Crunch Bars, Gluten Free)
---
Description
3 Ingredient Homemade Crunch Bar Recipe (V, GF): Quick & easy DIY crispy homemade crunch bars! Made with rich, decadent chocolate and vegan gluten free brown rice crisp cereal. Vegan, Gluten-Free, Dairy-Free.
---
---
Instructions
Line an 8-inch square baking pan with parchment paper, greased foil or wax paper. Or, use this break-apart candy mold. Set aside at room temperature.
Melt the chocolate using the double boiler method, or do the following: add chocolate chips and coconut oil to a medium, microwave-safe bowl (large enough to add cereal later). Heat in 20-second increments until softened and melty. Stir in between heating increments, until smooth.
Add cereal to melted chocolate. Here is the vegan gluten free brown rice crisp cereal I use. Using a rubber spatula, stir and fold until well incorporated. Pour this mixture into the prepared baking pan. Using the spatula, smooth into an even layer. Tap the pan a few times to help even out the mixture.
Allow to set at room temperature until firm. Or, for a quick fix, follow freezing instructions. Transfer this pan into the freezer. Freeze for 10-15 minutes. Remove from freezer and allow to thaw for 10-15 minutes. Slice into 18 rectangular bars (3 rows by 6 columns). Enjoy! Storing instructions below.
Also try the peppermint version: 4 Ingredient Peppermint Chocolate Crunch Bars.
More Crispy & Chocolate Recipes
Equipment
Category:

Dessert, Snacks

Method:

Freeze

Cuisine:

American
Keywords: DIY crunch bars, homemade crunch bars, crunch bar recipe, vegan candy
© beamingbaker.com. All content and images are protected by copyright. Please do not use my images or recipe without my permission. Please do not republish this recipe, instead, include a link to this post for the recipe.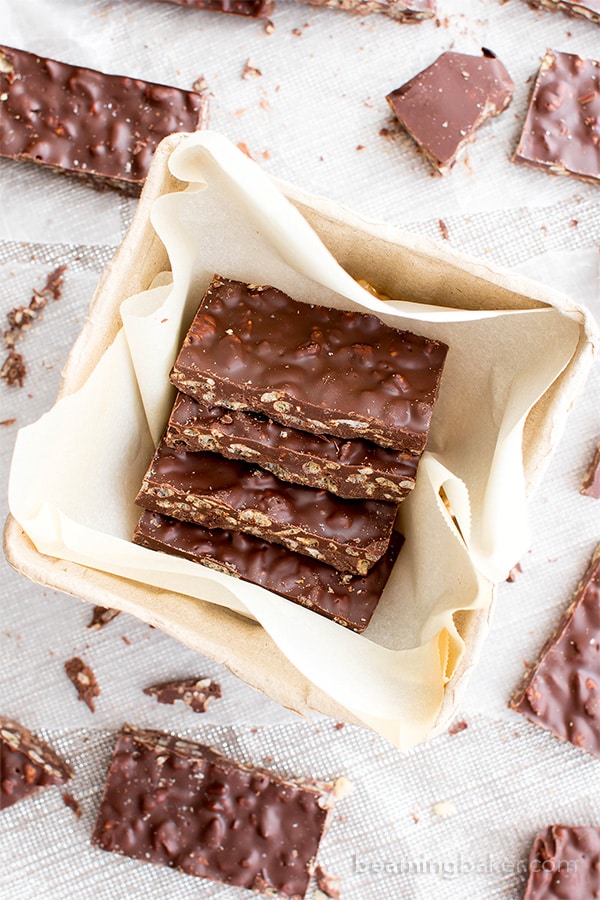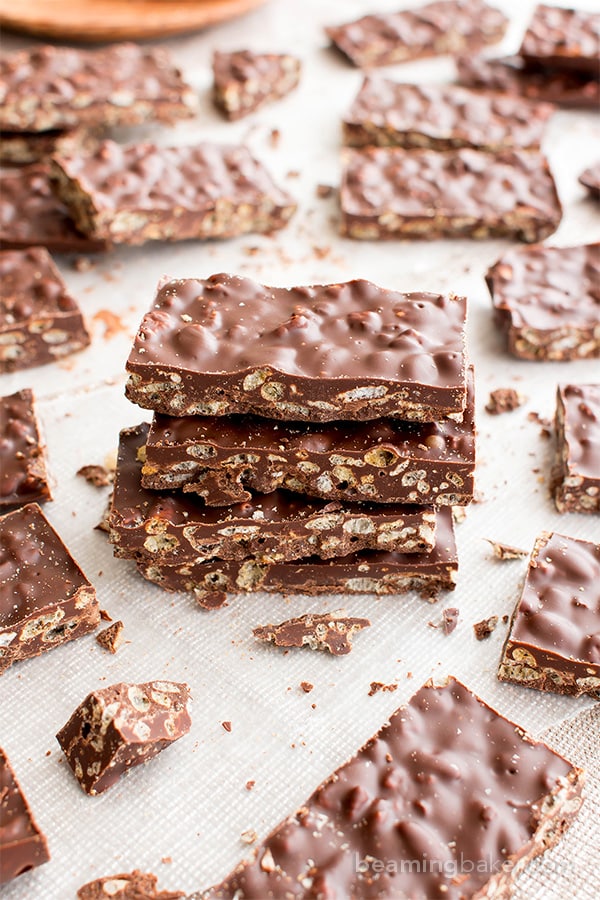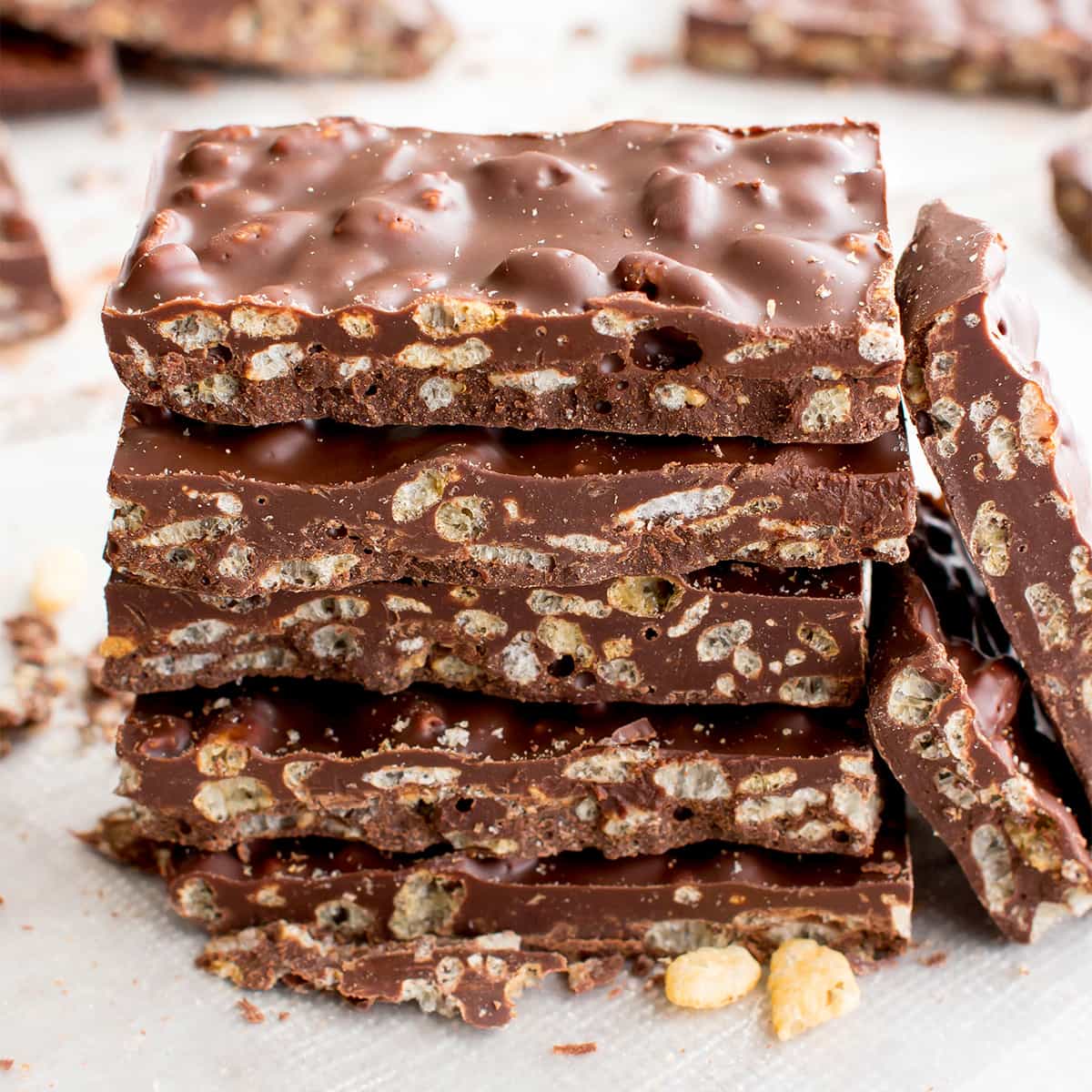 This post may contain affiliate links, which allow me to make a small commission for my referral, at no additional cost to you. Thank you for supporting Beaming Baker.