2 Ingredient Chocolate Coconut Candy Clusters (V, GF, Paleo): a 5 minute prep recipe for deliciously indulgent chocolate clusters with chewy coconut flakes. Vegan, Paleo, Dairy-Free, Gluten-Free.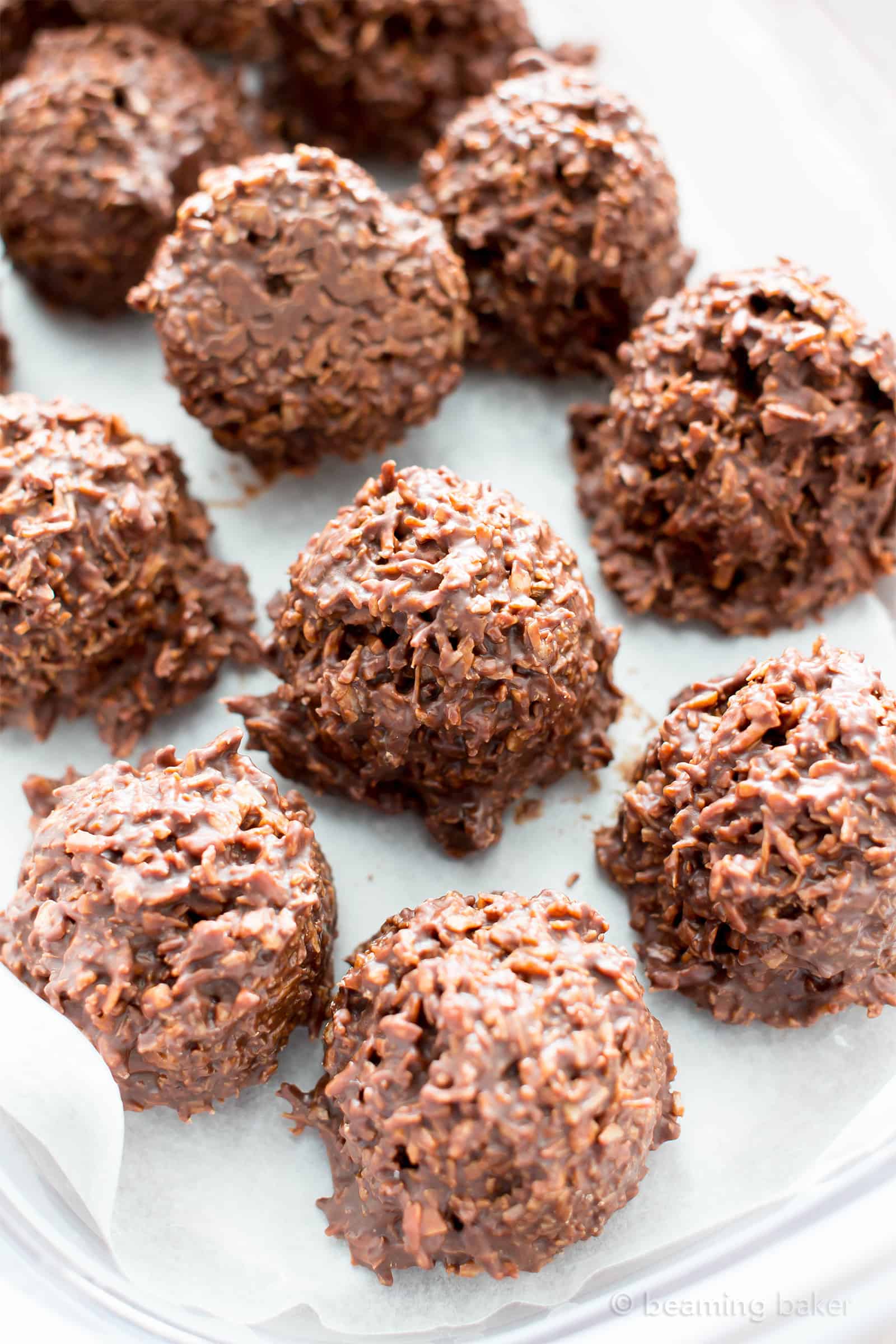 Raise your hand if you just LOVE chocolate and coconut together. And for the rest of ya, you're dismissed! J/k! Even if you don't love chocolate and coconut together, you've got to try these chocolate coconut candy clusters. They're that good. .
Way before I listened to everything my momma said (I know, what was I thinking "before"?!?), I wasn't the biggest fan of coconut. Sure, I wouldn't turn it down if there were coconut cookies in front of me (especially if they were peanut butter coconut cookies)… or let's say a slice of coconut cake (I know). Or or, these vegan coconut macaroons.
But a huge coconut fan I was not. So, mommy, it took just 3 decades to convince me. And ya did, are you happy? 😉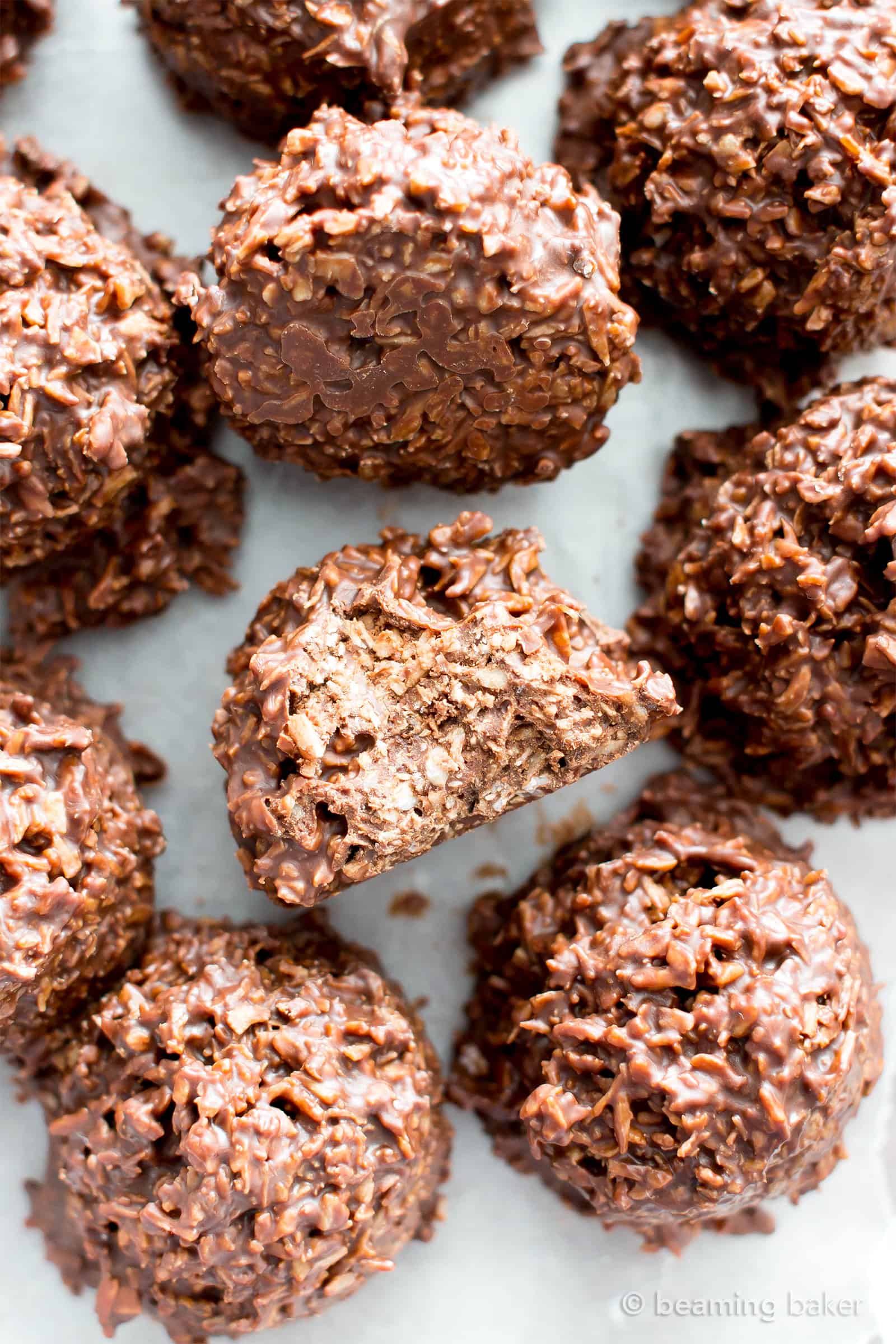 Meanwhile, another such person affected by my mom's powers of persuasion: Erik. When my mom and Erik first met, they got along just fine. But they weren't soul sisters like I wanted them to be. (Yes, everyone considered IN in my family must be a soul sister or an actual sister haha).
Overtime, they grew close, and Erik finally came to the dark side. Make that the coconut side (by way of almond joy cups). Okay, that was too cheesy, even for me. But I had to say it. Forgive me?
Now that it's Erik's birthday (!!!), we've got to celebrate in style with all the homemade candies we can find/make!
Since Erik is always my trusty Beaming Baker Candy Shoppe assistant, we're gonna dedicate (oh dude, autocorrect seriously tried to just type 'decimate'—how… destructive??) these Chocolate Coconut Candy Clusters to him. 🙂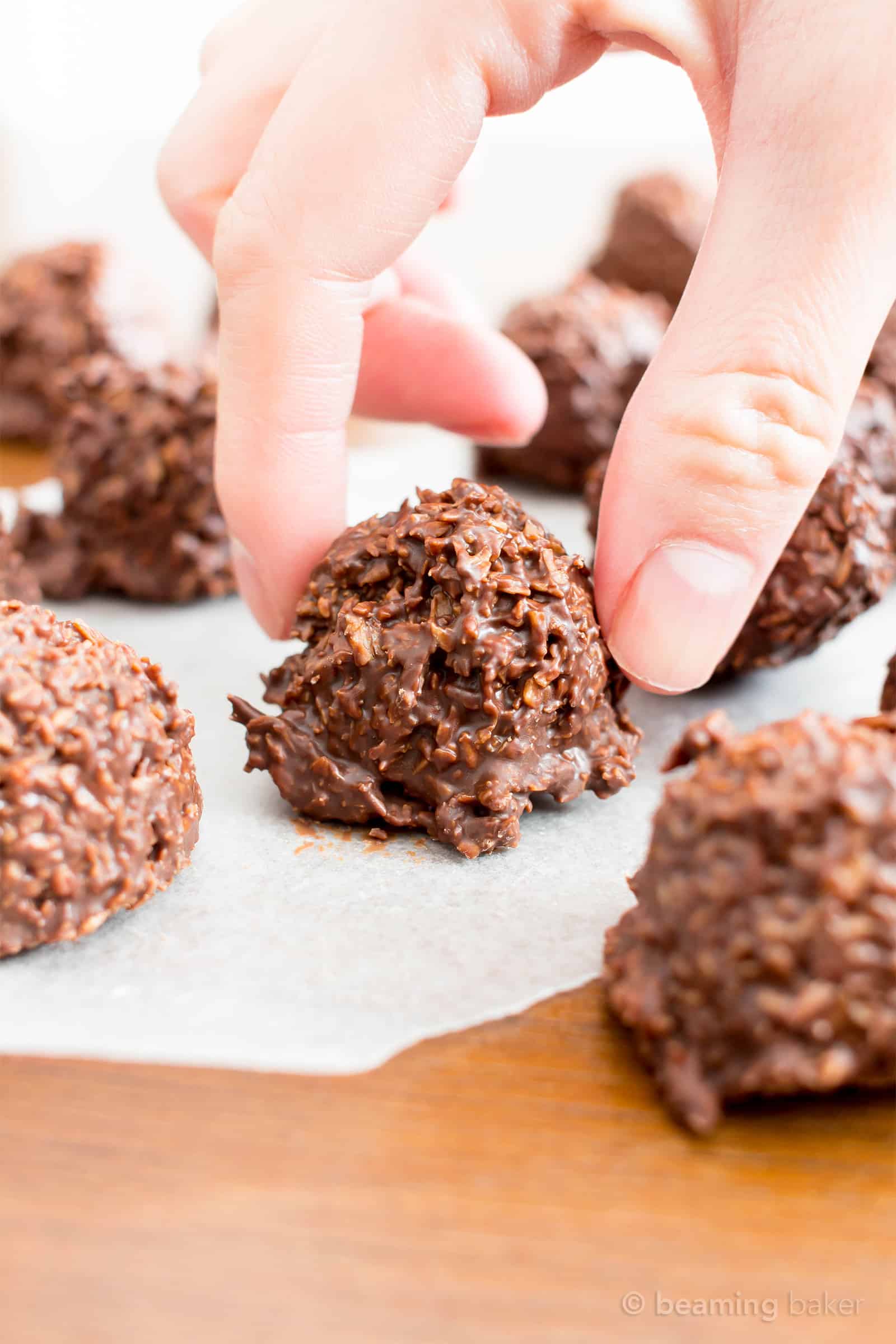 Here are a few more Homemade Candy Recipes I might be whipping up for his birthday:
And of course, I'll also be whipping up some of his new favorite recipe: vegan chocolate chip cookies. Seriously, I've had to hide them from him to make sure he doesn't eat them all in one sitting.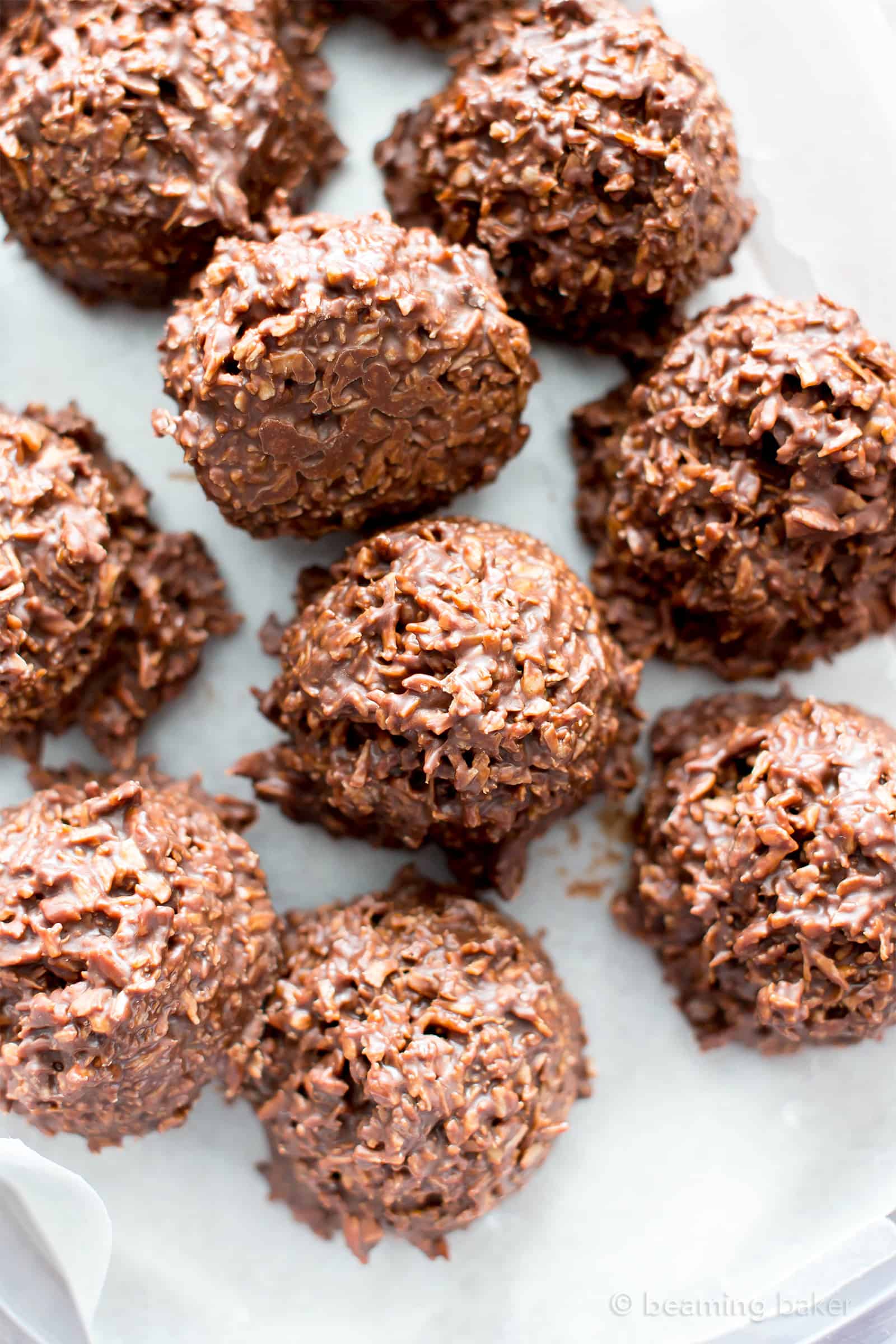 Happy Birthday, Erik. To my one and only candy shoppe helper soul mate. I love you more than I love chocolate. So you know I mean it. 😉 Thank you for always being so kind, generous, patient and goofy with me. Here's to more than forever. <3
Now let's talk homemade candy! These clusters are easy to make, composed of just 2 ingredients, and come together in a jiffy. One of my favorite things about these chocolate coconut candy clusters? The gluten free coconut flakes I used give the chocolate clusters this delicious crunch.
Erik suggested I use this exact type of coconut flake to replace rice crispy cereal in some kind of paleo crunch recipe. Thoughts?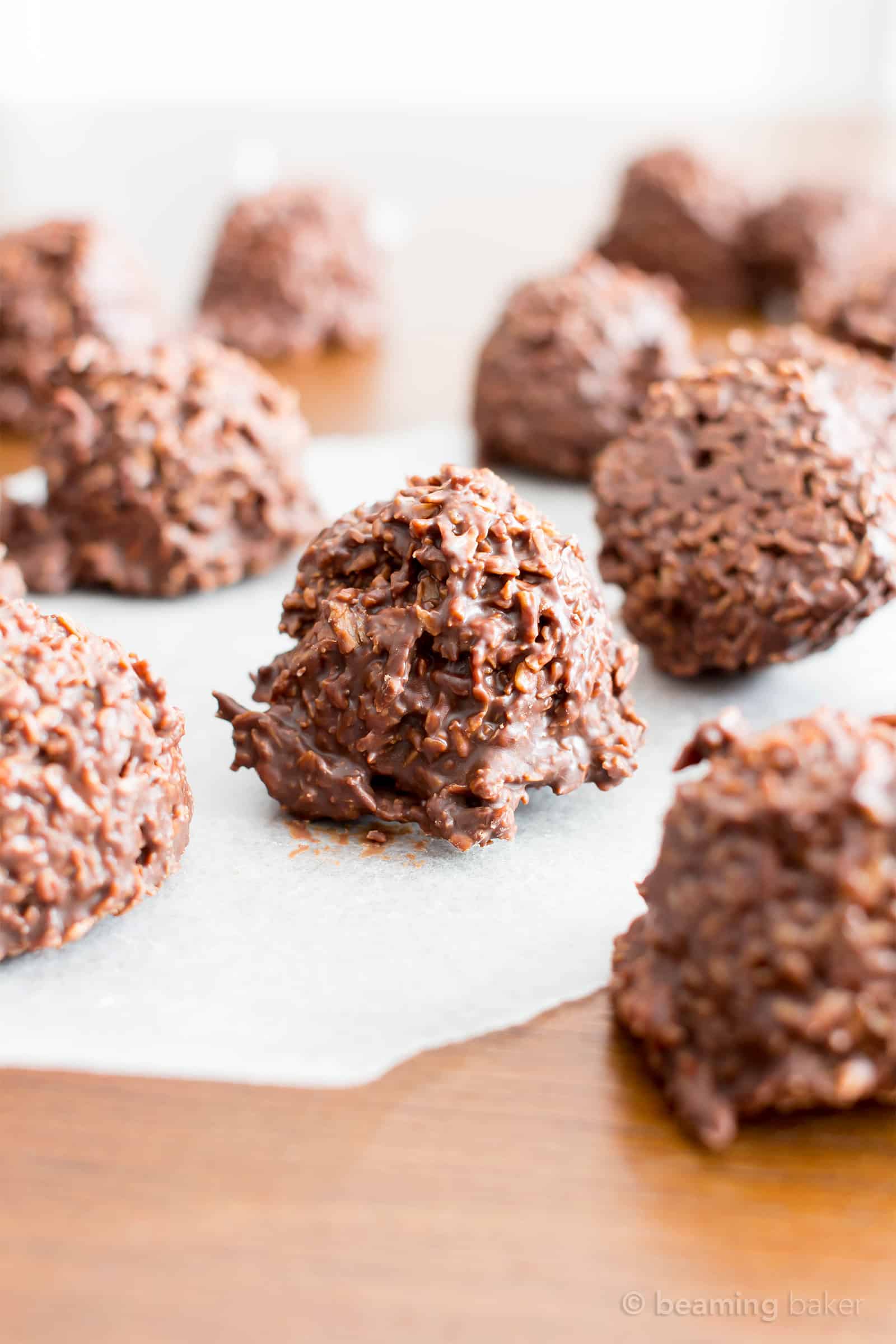 While you mull that over, allow me to tell you all about these paleo treats! They're:
made with just 2 ingredients
so easy to whip up
paleo, vegan, gluten free, dairy-free
totally the perfect plant-based, allergy-friendly Easter candy you've been looking for
deliciously oil-free and refined sugar-free
even more sweet tooth-satisfying when paired with my Gluten Free Coconut Macaroons Recipe
just the paleo vegan homemade coconut candy to add to your homemade edible gifts repertoire
dedicated to a super special someone 🙂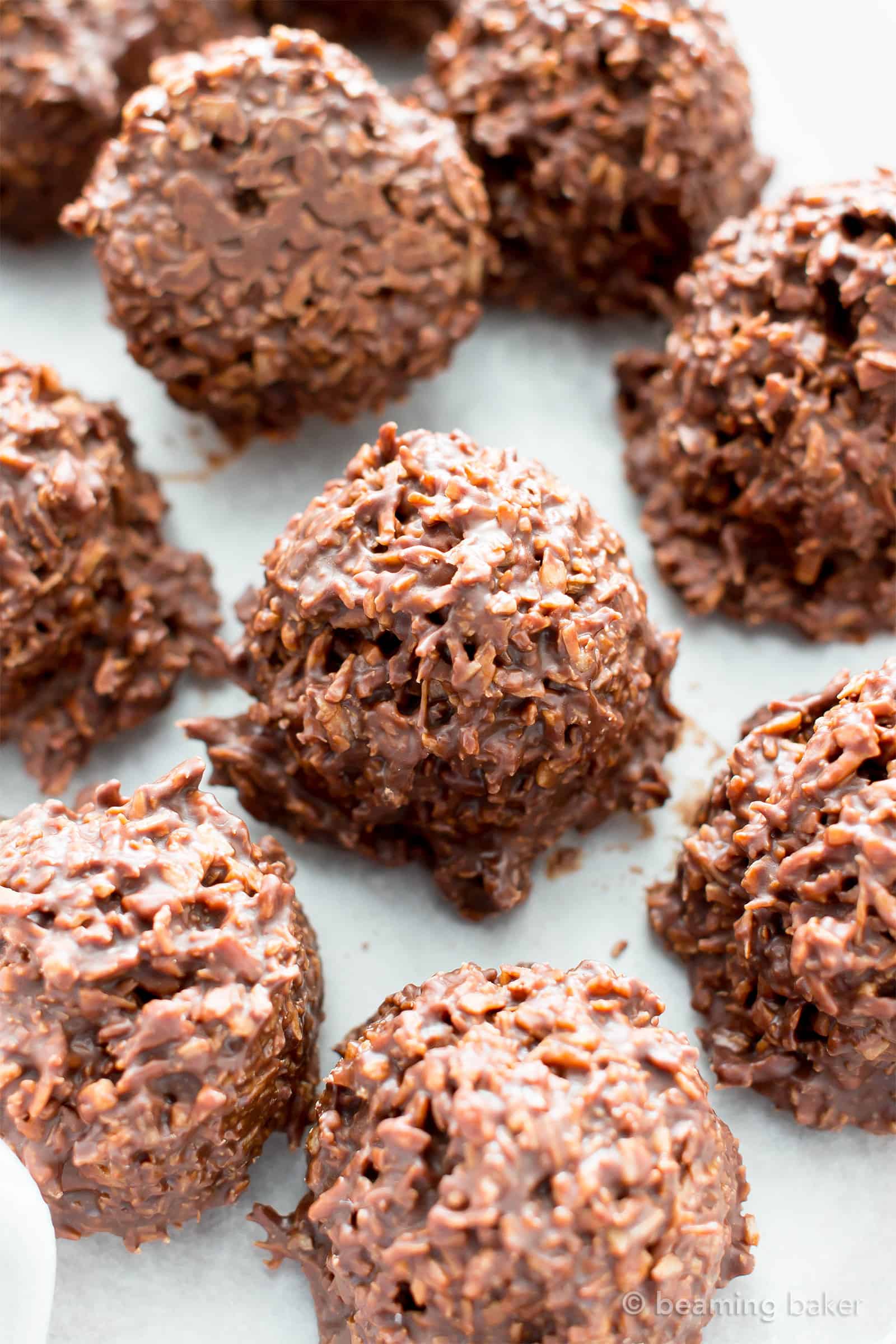 Are you ready to get your homemade candy on? Let's do this! I'll grab the coconut, you grab the vegan chocolate. It's so much fun making, baking, no-baking, and just creating all the tasty plant-based treats with you. I can't wait to hear what you think! In the meantime, make sure you sign up for the email list so we can keep in touch!
Sending you all my love and maybe even a dove, xo Demeter ❤
. Click below to Pin .

📸 Did you make this recipe? Take a pic and share it on Instagram with the hashtag #beamingbaker and tag @beamingbaker. I would love to see it! 📸
If you enjoyed these delightfully sweet and satisfying chocolate coconut clusters, then you'll just love these vegan & paleo candy recipes:
Print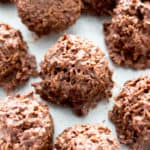 2 Ingredient Chocolate Coconut Candy Clusters (Vegan, Gluten Free, Paleo, Dairy-Free)
---
Description
2 Ingredient Chocolate Coconut Candy Clusters (V, GF, Paleo): a 5 minute recipe for deliciously indulgent chocolate clusters with chewy coconut flakes. Vegan, Paleo, Dairy-Free, Gluten Free.
---
1 cup

paleo vegan chocolate chips

1 cup

unsweetened coconut shreds or flakes
---
Instructions
Line a medium baking sheet with wax paper or parchment paper. Clear some room in the freezer for this sheet. Set aside.
To melt the chocolate, use the double boiler method or do the following. Add chocolate to a medium, microwave-safe bowl. Heat in 20-second increments until melted. Stir in between heating increments, until smooth.
Add in coconut. Stir and fold until well combined and thoroughly mixed.
Using a 1-tablespoon cookie scoop, scoop and drop candy mixture onto the prepared baking sheet, spaced evenly apart. Here is the 1-tablespoon cookie scoop that I use and love.
Chill in the freezer for 10-20 mins, until firm. Enjoy! Storing instructions below.
Category:

Candy, Dessert, Paleo, Vegan, Dairy-Free, Gluten-Free, Refined Sugar-Free
© beamingbaker.com. All content and images are protected by copyright. Please do not use my images or recipe without my permission. Please do not republish this recipe, instead, include a link to this post for the recipe.
SHOP THE RECIPE
Unbleached Parchment Paper | Stainless Steel Measuring Cups | Coconut Oil | Glass Mixing Bowls | Silicone Spatulas | 1-Tablespoon Cookie Scoop
This post may contain affiliate links, which allow me to make a small commission for my referral, at no additional cost to you. Thank you for supporting Beaming Baker.
Facebook ☀︎ Pinterest ☀︎ Twitter ☀︎ Instagram