2 Ingredient Chocolate Coconut Candy Clusters: just 5 mins of prep for coconut chocolate clusters packed with chewy coconut flakes. The easiest chocolate coconut candy!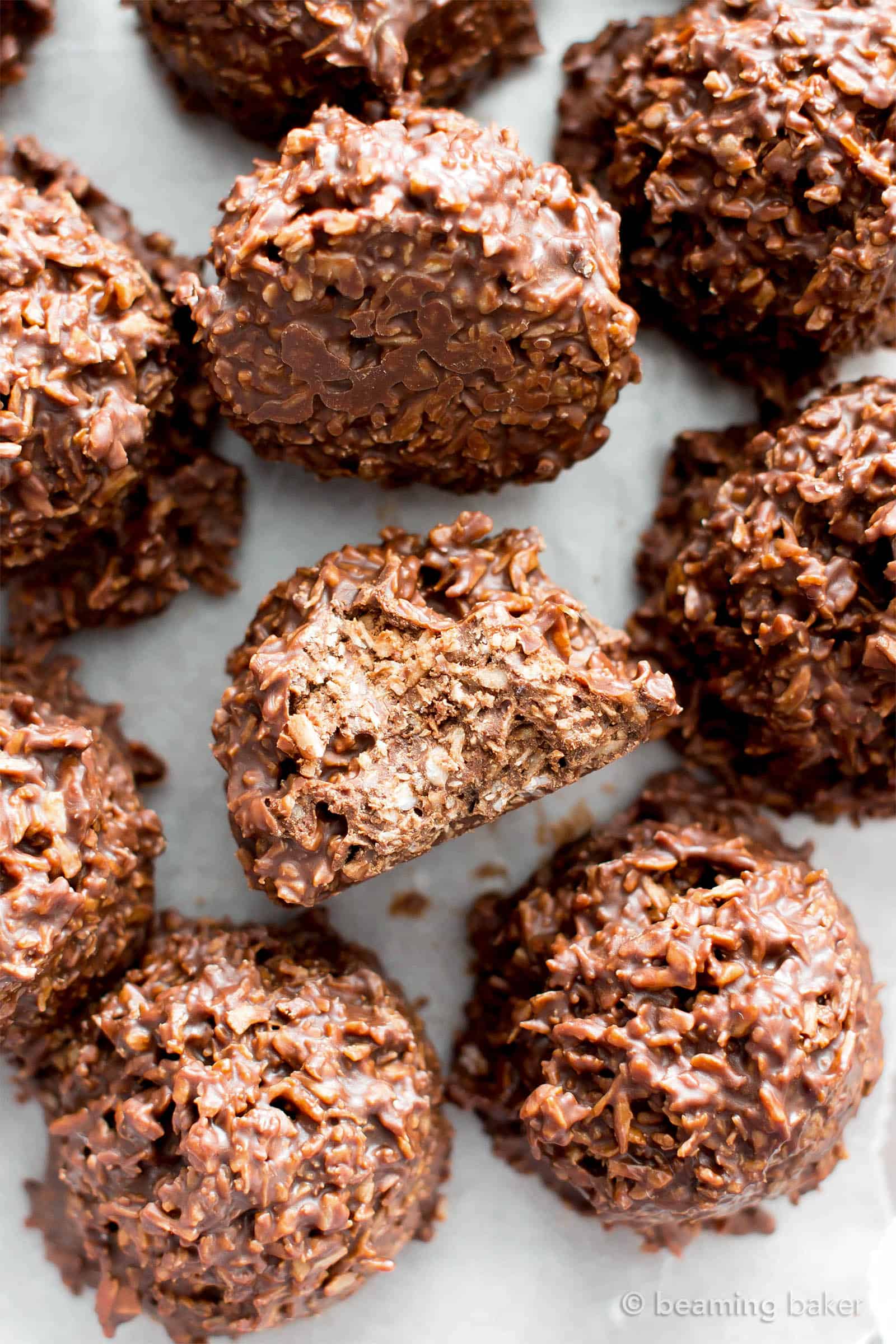 Raise your hand if you like chocolate and coconut together. Any takers? 😉 Way before I saw the light, I wasn't the biggest fan of coconut. It took basically decades for my mom, the Resident Coconut Advisor/Advocate to convince me otherwise.
Today's chocolate coconut candy clusters are made for Top Lovers of Coconut, Coconut Mediums (that sounds kind of magical doesn't it?), and Coconut Skeptics alike. 😉
With just 2 ingredients and 5 minutes of prep, you can invest very little time and effort to try the easiest chocolate coconut clusters—and see what end of the spectrum you're on for Coconut Love.
Ready to prove my mom so right? Let's make candy!
How to Make Coconut Chocolate Candy Clusters
Line
Line a baking sheet with wax paper or parchment paper. You can even use a plate (but I prefer a sheet so the clusters aren't lopsided.)
Melt
Melt the chocolate your favorite way: with a double-boiler or in the microwave.
Add
Now, add in your [favorite coconut chips] or shreds. Fold the melted chocolate and coconut together until everything is well mixed.
Scoop
Using a small cookie scoop, scoop and drop dollops of coconut chocolate mixture onto the sheet (or plate) you prepared earlier.
Chill
Place the sheet into the freezer and chill the coconut clusters until firm. Enjoy the best coconut chocolate candy clusters!
Coconut Recipes You'll Fall For: Coconut Chia Pudding Recipe • Coconut Chocolate Chip Ice Cream • Coconut Breakfast Cookies • No Bake Peanut Butter Coconut Balls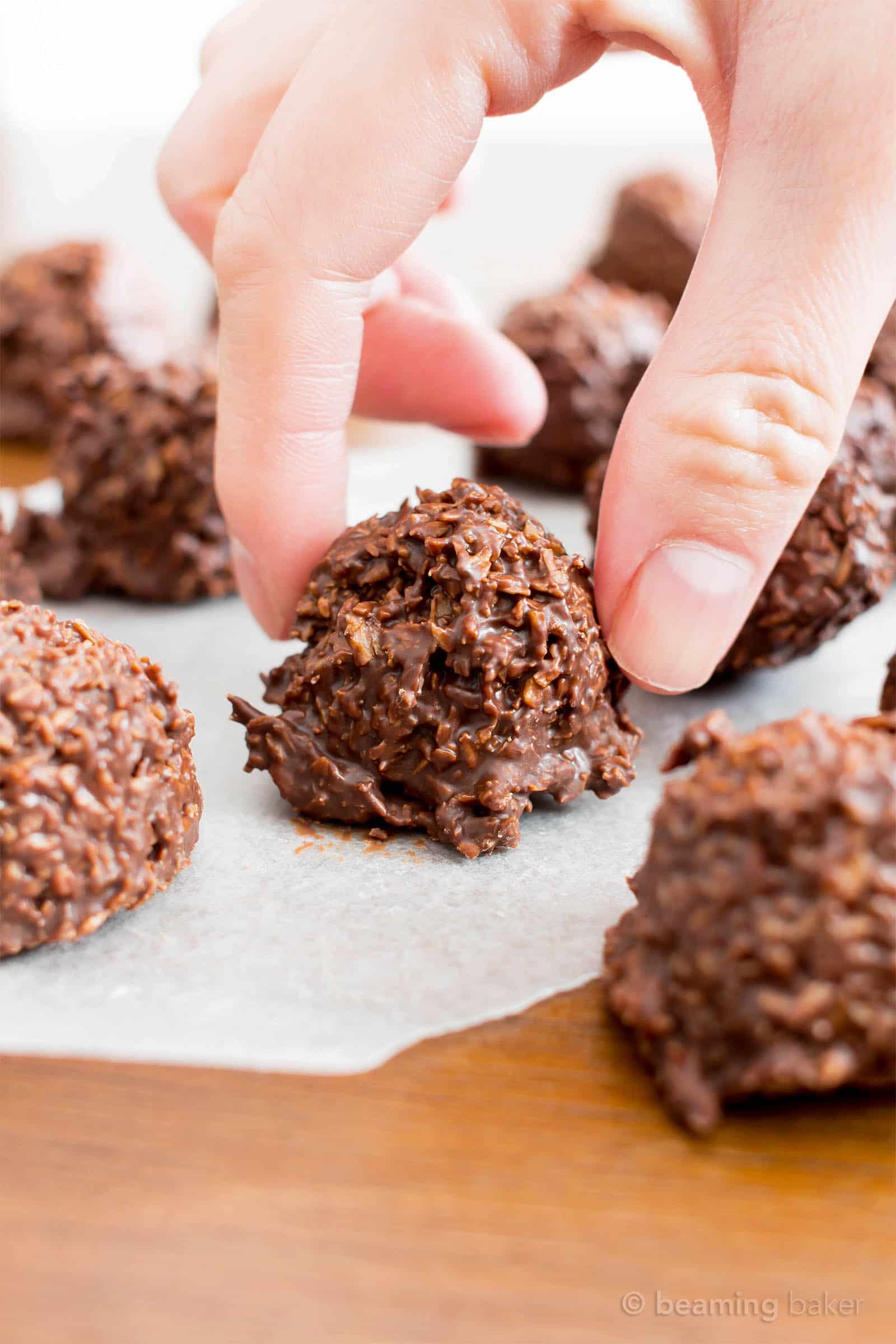 Tips for the Best Chocolate Coconut Candy Clusters
Use your favorite chocolate chips
With just 2 ingredients, today's chocolate coconut clusters are so simple & easy. That also means that you can really taste the flavor of each ingredient. So make sure to use your faves! Here are mine: for vegan chocolate chips, for sugar-free, keto chocolate chips, and for allergy-friendly chocolate chips.
As much as I'd love to make the biggest desserts on the block, I find that a small cookie scoop such as this one makes for the perfect-sized coconut chocolate candy cluster—each one is dense and packed with chocolate coconut goodness. Bonus: this scoop makes the entire candy-making process so much easier and faster.
These chocolate coconut clusters are meant to be quick 'n easy, with no fuss. Simply melt together your favorite chocolate & coconut flakes or shreds, then scoop and chill it. After your first round, feel free to play around with different add-ins—you'll soon be making your favorite custom chocolate candy clusters! Just remember to have fun. 😉
Use your favorite kind of dried coconut
I absolutely love using raw coconut chips in my coconut chocolate candy because those coconut chips are large, chewy and delish. You might not be into that. You might like small coconut shreds that look like falling snow and coat yummy snowballs. Or, you could be a long coconut flakes-type of person. Embrace what you love!
2 Ingredient Coconut Chocolate Candy Bliss
Chocolate Chips
Coconut Chips, Shreds or Flakes (these raw coconut chips are amazing)
Just 5 mins of prep and 2 ingredients for the easiest, most delicious coconut chocolate candy clusters!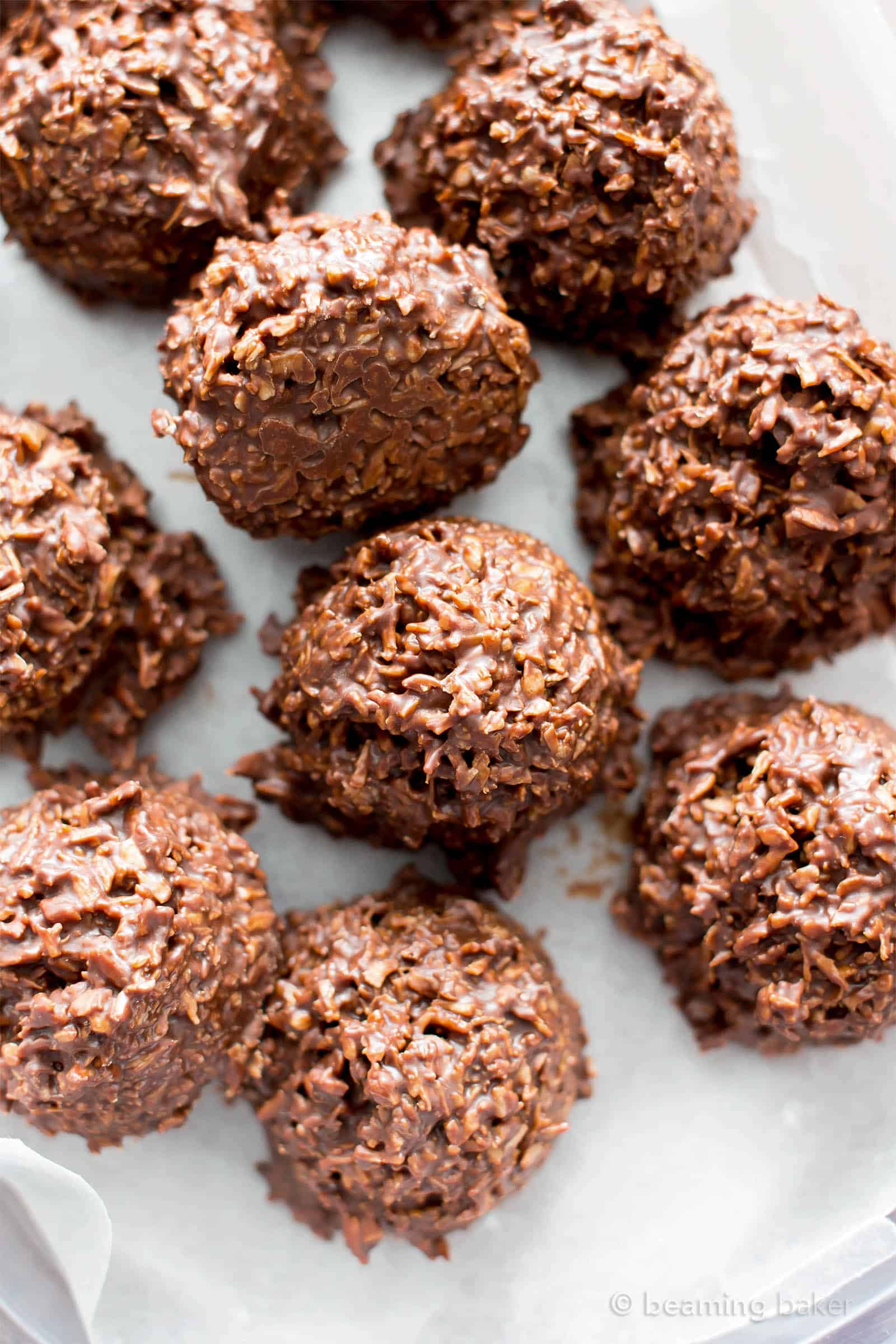 Top Coconut Lover or Coconut Medium? 😉 I simply cannot wait to hear what you and you loved ones think of today's coconut candy recipe. Thank you so much for stopping by and sharing in these candy-making adventures with me. 'Til the next one…
Sending you all my love and maybe even a dove, xo Demeter ❤️
☀ Click below to Pin ☀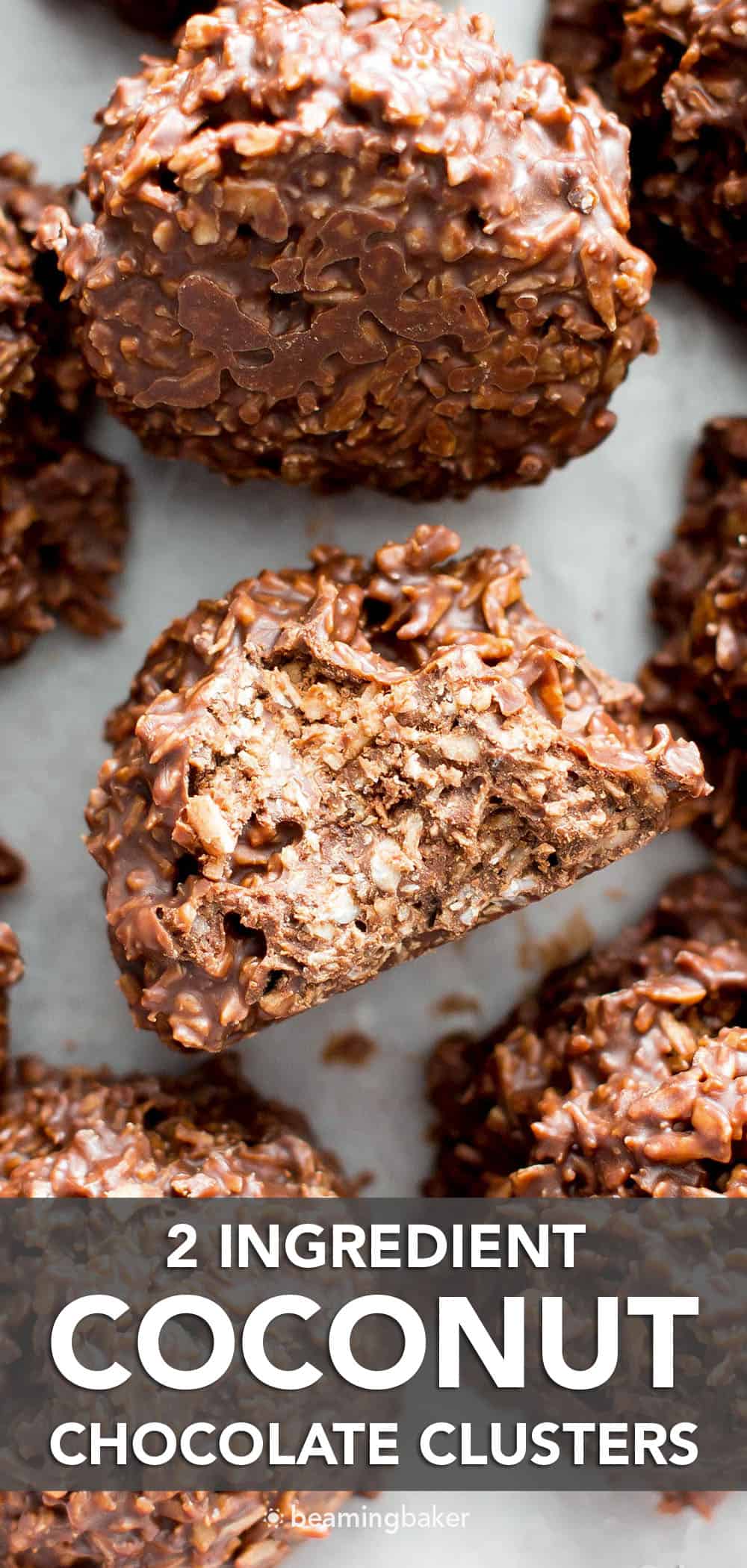 📸 Did you make this coconut chocolate recipe? Take a pic and share it on Instagram with the hashtag #beamingbaker & tag @beamingbaker. I'd love to see it! 📸
More Coconut Recipes
Print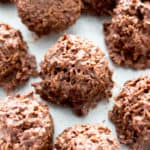 2 Ingredient Chocolate Coconut Candy Clusters
---
Description
2 Ingredient Chocolate Coconut Candy Clusters: just 5 mins of prep for 2 ingredient coconut chocolate clusters packed with chewy coconut flakes. The easiest chocolate coconut candy clusters!
---
---
Instructions
Line a medium baking sheet with wax paper or parchment paper. Clear some room in the freezer for this sheet. Set aside.
To melt the chocolate, use the double boiler method or do the following. Add chocolate to a medium, microwave-safe bowl. Heat in 20-second increments until melted. Stir in between heating increments, until smooth.
Add in coconut. Stir and fold until well combined and thoroughly mixed.
Using a small cookie scoop, scoop and drop candy mixture onto the prepared baking sheet, spaced evenly apart. Here is the small cookie scoop that I use and love.
Chill in the freezer for 10-20 mins, until firm. Enjoy! Storing instructions below.
More Coconut Recipes
Equipment
Prep Time:

5 mins

Category:

Dessert

Method:

Melt

Cuisine:

American
Keywords: coconut chocolate candy, coconut clusters chocolate
© beamingbaker.com. All content and images are protected by copyright. Please do not use my images or recipe without my permission. Please do not republish this recipe, instead, include a link to this post for the recipe.
This post may contain affiliate links, which allow me to make a small commission for my referral, at no additional cost to you.