3 Ingredient Healthy Vegan Rice Crispy Treats (V, GF): a chewy homemade vegan rice krispy treats recipe, made with whole, gluten-free, protein-rich ingredients. Vegan, Gluten-Free, Dairy-Free, Refined Sugar-Free, No Marshmallows.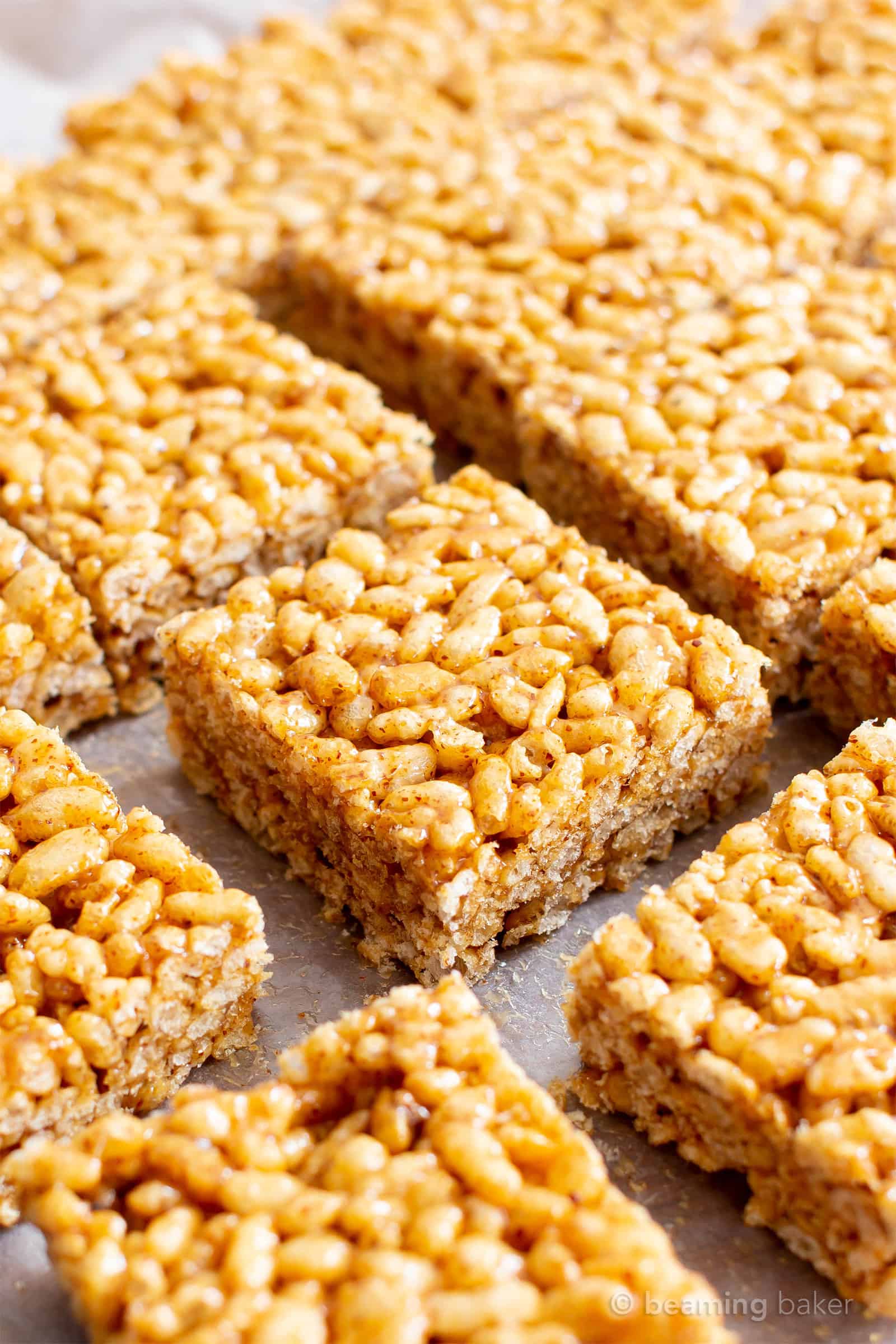 When I was a little kid, I seriously, seriously LOVED rice crispy treats… or I should say, rice krispy treats. Yep, that "k" was absolutely essential in capturing this goodie's, uh, goodness. Hehe.
We weren't allowed to eat it very often, and it took me until semi-adulthood to make my very own treats at home, replete with butter, marshmallows and that bright blue box of crisp rice cereal.
It was almost magical, watching those marshmallows melt and meld with butter and create that sticky sweet glue. Even better was the part when my older sister, Monica, would help me hold the heavy pot of hot treats and pour it into the baking pan to press down.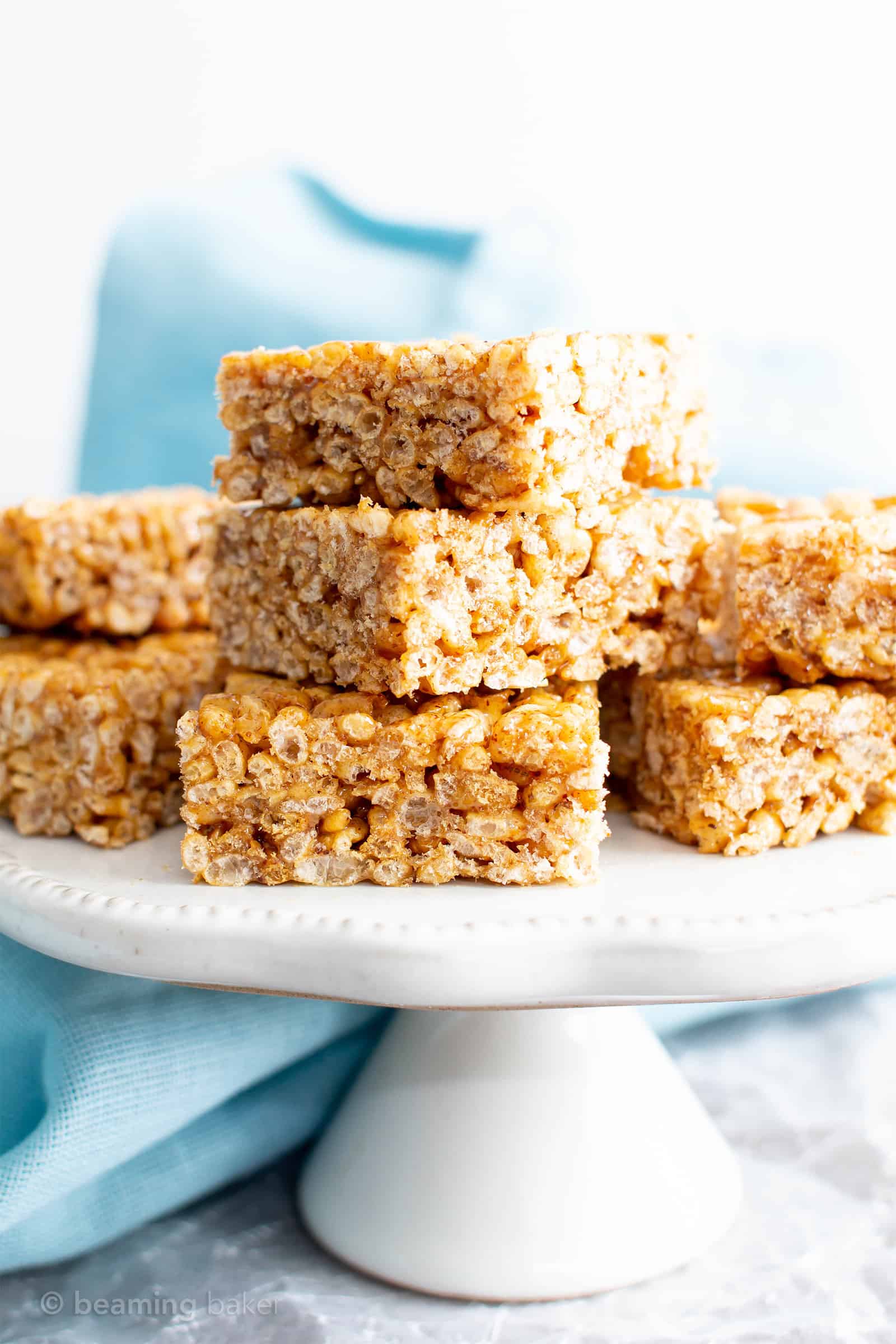 There's something oddly satisfying about getting a perfectly tightly-packed layer. 🙂
But now that I'm older and just ever-so-slightly wiser, I know that when I get these cravings, I gotta go for something just a tad (okay, a loooot) healthier. So today, we're gonna learn how to make rice crispy treats without marshmallows, together. 🙂 The next time someone asks you if rice crispy treats are vegan, you can so, "well, these are!" Also, "I don't share." 😉
I promise you, these healthy vegan rice crispy treats are just as satisfying and way, wayyyy less guilt-inducing. They're super easy to make—with just 3 ingredients needed. And, there's also a quick 'n easy warming process (for the almond butter and maple syrup) that gives you the same cozy vibes as those melting marshmallows and butter! 😉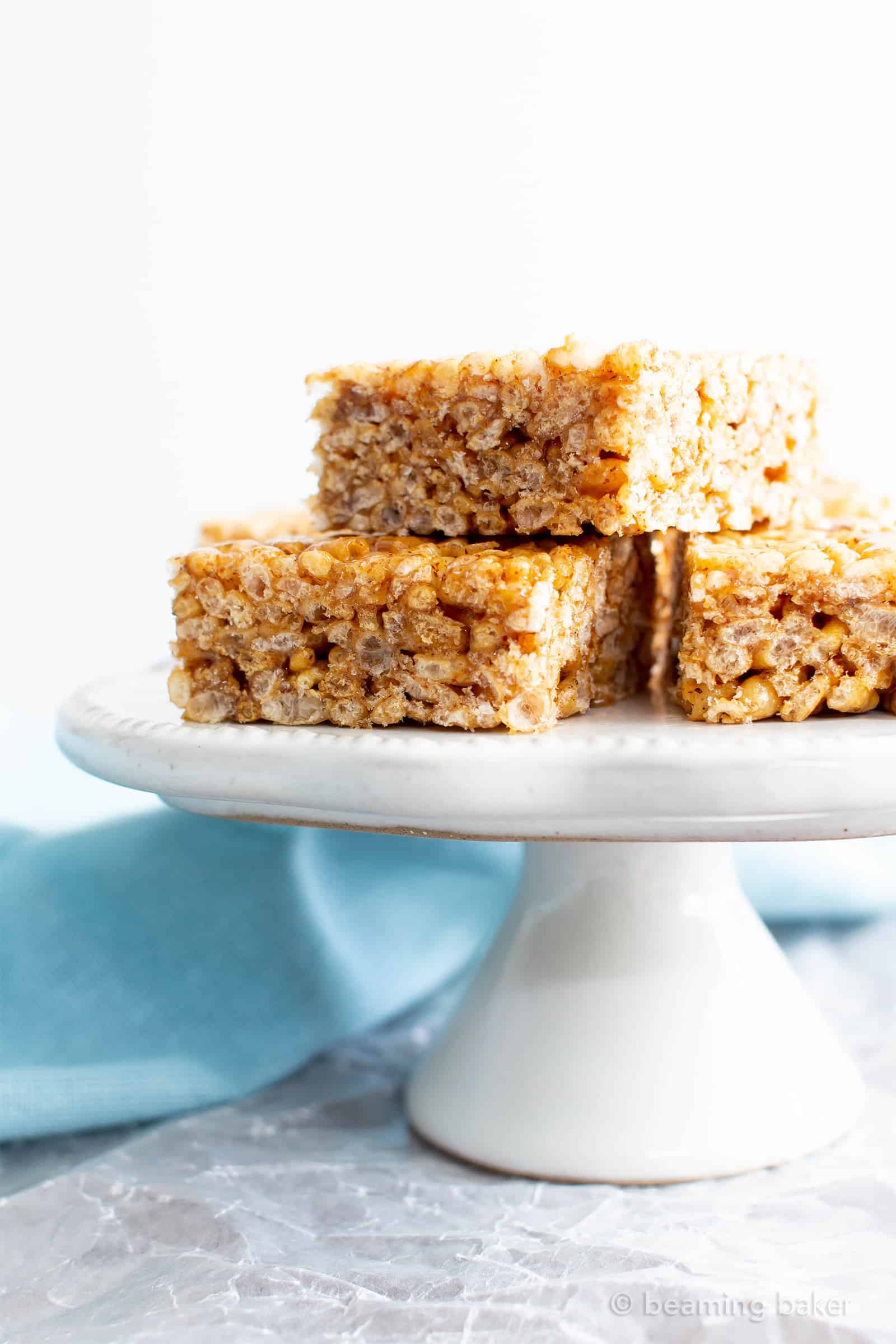 And just in case you're looking for a chocolatey version of this guy, try my chocolate peanut butter rice crispy treats–yep, from the archives!
Bonus: the mouthwatering, super cozy scent that fills your kitchen. There's nothing quite like a treat that's made with whole ingredients and still totally tasty!
Bonus bonus: the satisfaction you get from pressing that crisp rice cereal mixture down? Still here! (Am I the only odd person who needs this?!?)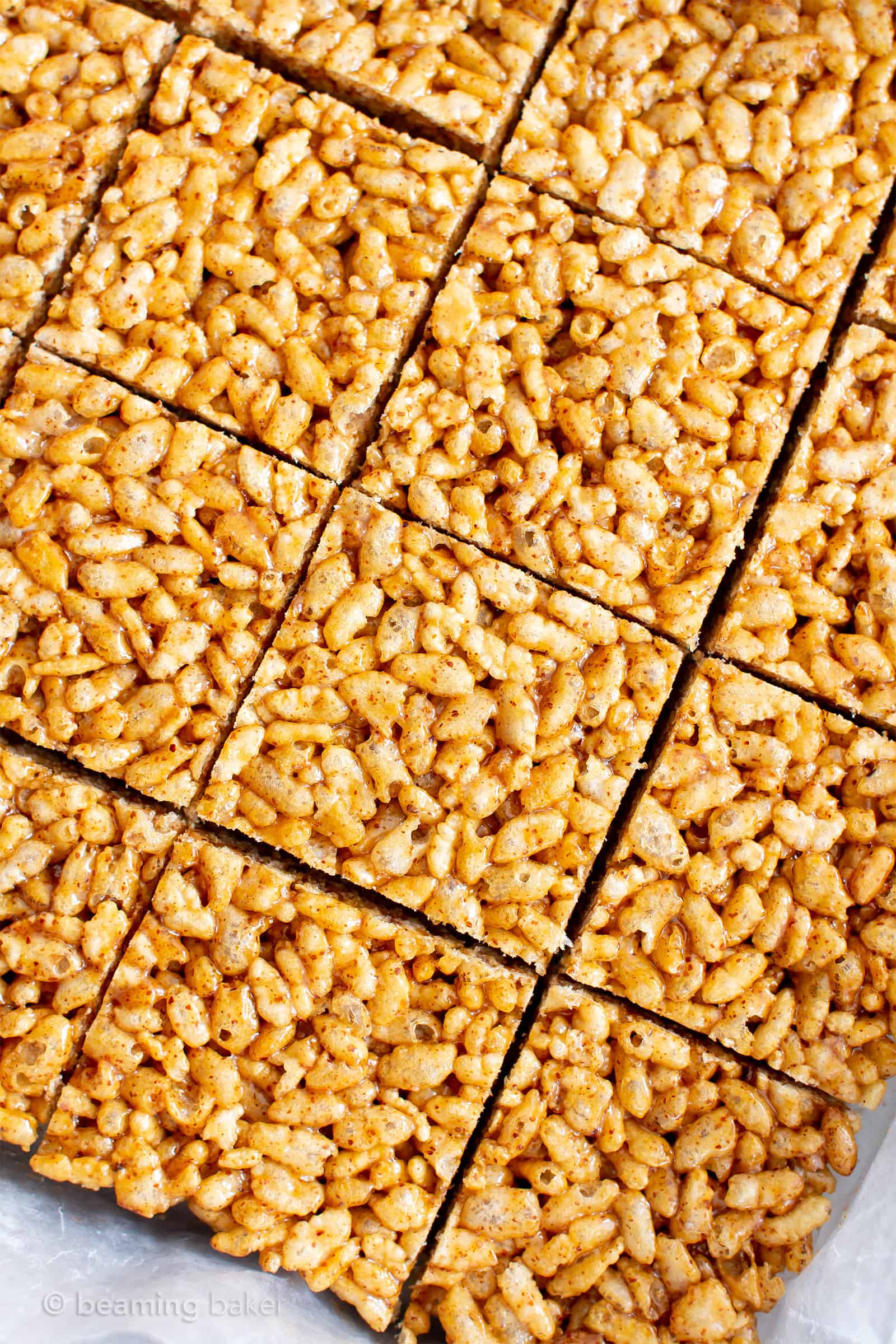 Bonus bonus bonus (why don't I just write 3rd bonus??): these treats join your favorite 3 ingredient Beaming Baker recipes: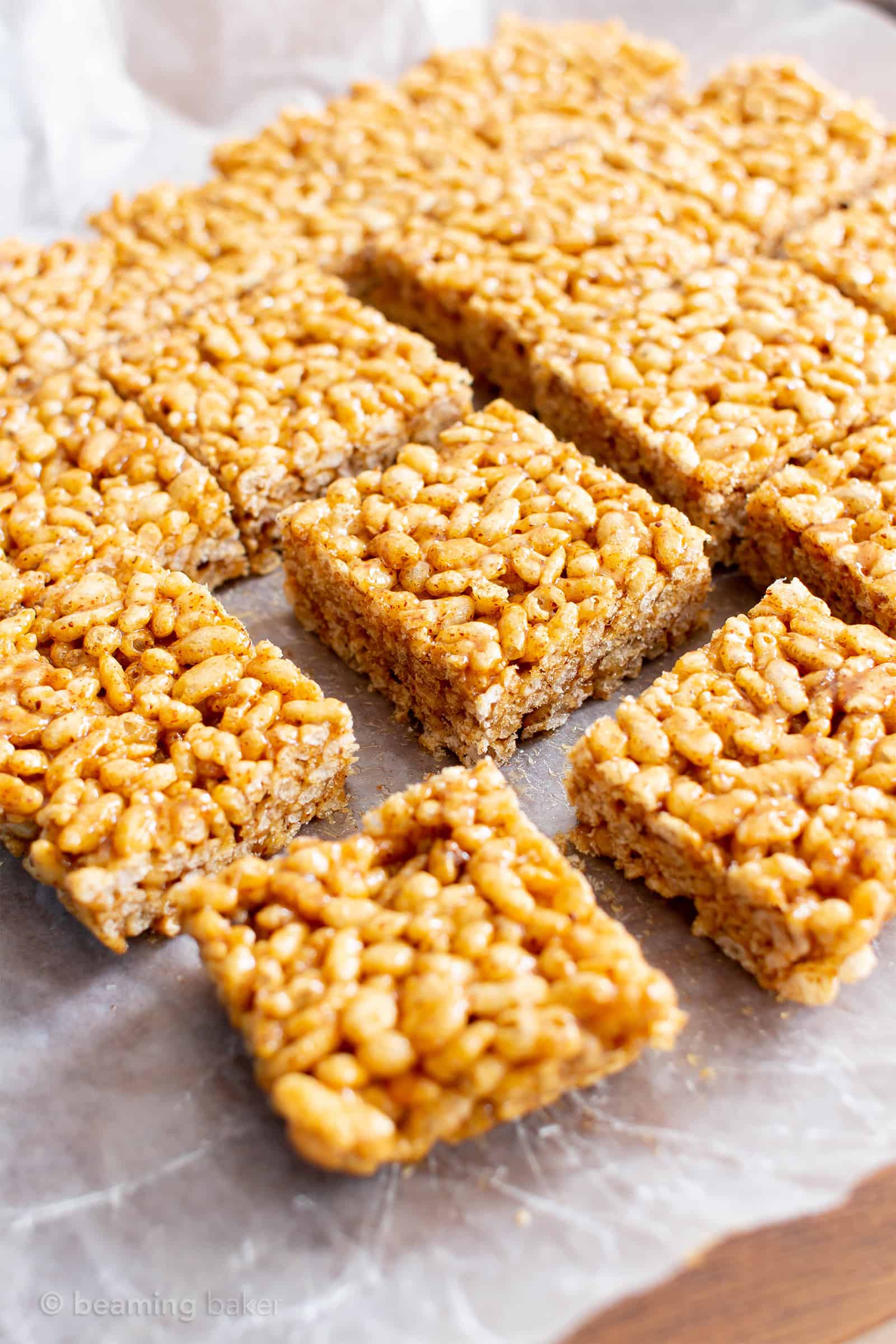 Try this healthy vegan rice crispy treats recipe for yourself and let me know what you think! In case you need just a few more points to be convinced, here are these rice krispy treats' finest ones. They're:
made with just 3 simple ingredients
so deliciously chewy
vegan, gluten free, dairy-free, refined sugar-free
pretty much the tastiest way to make healthy rice crispy treats without marshmallows
made with the healthy, whole ingredients that you know and love
super easy to make
delightfully plant-based and allergy-friendly
just the gluten free rice krispy treats recipe you've been looking for
amazingly satisfying paired with a vegan pumpkin pie smoothie (just a tasty suggestion). 😉
the perfect addition to your healthified vegan gluten free recipe box!
Are you ready to get your no bake on? Let's do it! You grab the almond butter, I'll grab the gluten free crisp brown rice cereal! It's truly my life's joy sharing and creating these treats and memories with you. Thank you for taking the time to stop by and enjoy a sweet moment with me. 'Til next time…
Sending you all my love and maybe even a dove, xo Demeter ❤️
????︎ Click below to Pin ????︎

???? Did you make this recipe? Take a pic and share it on Instagram with the hashtag #beamingbaker and tag @beamingbaker. I would love to see it! ????︎
If you enjoyed this Healthy Vegan Rice Crispy Treats recipe, then you'll just love these gluten free vegan snack recipes:  No Bake Paleo Chocolate Pecan Bars, Healthy Banana Blueberry Muffins, No Bake Chocolate Peanut Butter Bars, Vegan Chocolate Chip Cookies Recipe.

3 Ingredient Healthy Vegan Rice Crispy Treats (Gluten Free, Dairy-Free, V)
3 Ingredient Healthy Vegan Rice Crispy Treats (V, GF): a chewy homemade vegan rice krispy treats recipe, made with protein-rich whole ingredients. Vegan, Gluten-Free, Dairy-Free, Refined Sugar-Free, Clean Eating, Healthy Snacks.
Author:
Demeter | Beaming Baker
Recipe type:
Bars, No Bake, Vegan, Gluten-Free, Dairy-Free, Refined Sugar-Free, Clean Eating, Healthy Snacks
Ingredients
⅓ cup unsalted, natural creamy almond butter
⅓ cup pure maple syrup
Instructions
Line an 8-inch square baking pan with wax paper, parchment paper or greased foil. Set aside for later.
Add almond butter and maple syrup to a microwave-safe bowl. Whisk until well mixed. Heat in 20-second increments in the microwave until warm and fragrant, and the mixture begins to dry out and caramelize (about 4-7 rounds).* Whisk in between heating increments.
Add cereal to almond butter mixture. Stir and fold until well-incorporated.
Pour into the prepared baking pan. Using a rubber spatula, smooth into an even, very tightly packed layer.
Chill in the freezer for 1 hour. Remove and slice into 16 square treats. Enjoy! Storing notes below.

Also try my Toasted Coconut Almond Rice Crispy Treats and my Chocolate Peanut Butter Rice Crispy Treats.
Notes
- *Stovetop directions: In a small saucepan over medium-low heat, add almond butter and maple syrup. Whisk until well incorporated. Stir occasionally, heating until this mixture begins to bubble.
- Store in an airtight container in the refrigerator or freezer for up to 1 week.
© beamingbaker.com. All content and images are protected by copyright. Please do not use my images or recipe without my permission. Please do not republish this recipe, instead, include a link to this post for the recipe.
This post may contain affiliate links, which allow me to make a small commission for my referral, at no additional cost to you. Thank you for supporting Beaming Baker.
Facebook ☀︎ Pinterest  ☀︎ Twitter ☀︎ Instagram