Refreshing, fruity, and sweet! The Aperol Spritz is a cooling, colorful cocktail that tastes like vacation on a warm summer's day.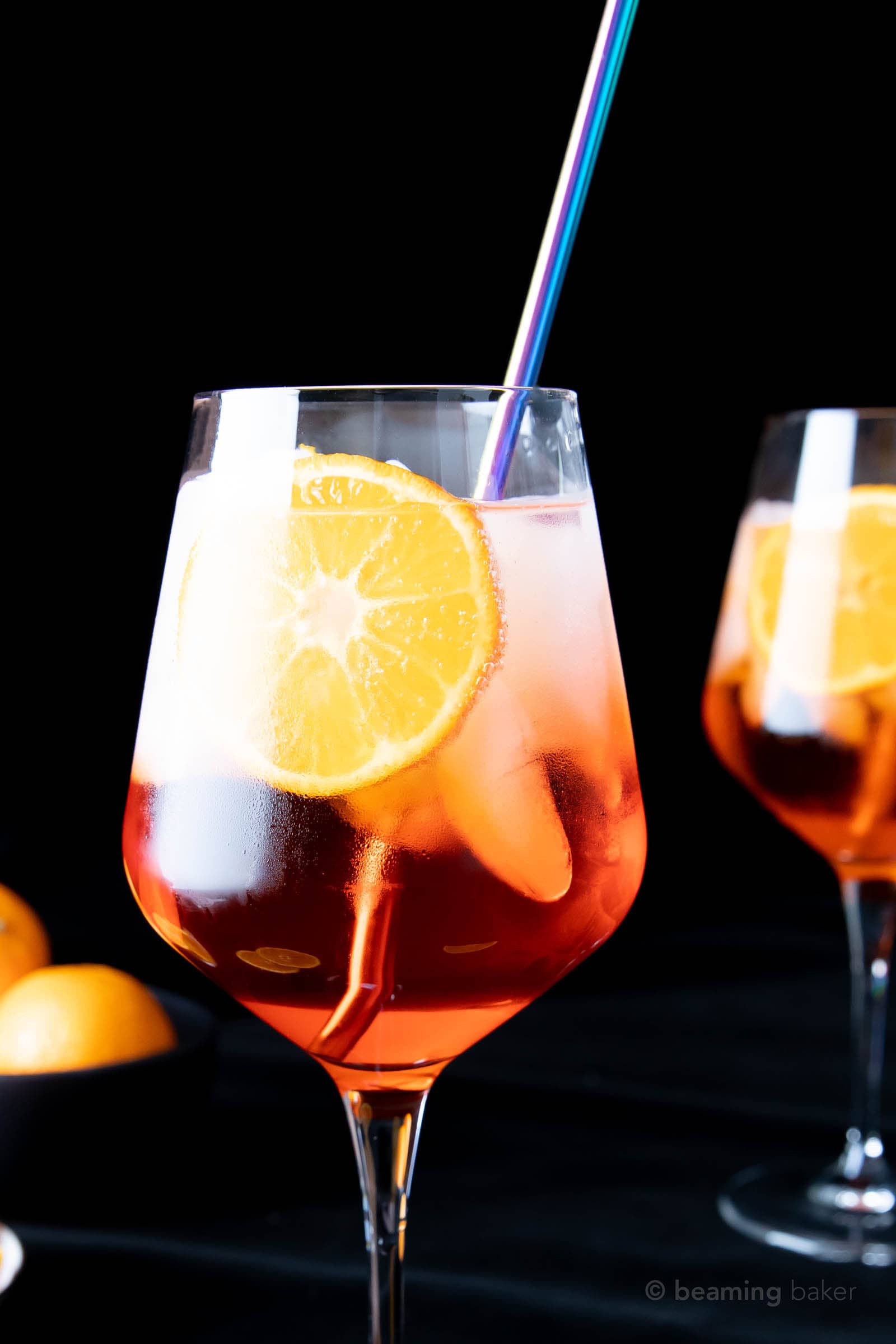 A Sunset-Tinged Cocktail, An Aperol Spritz For Any Delightful Occasion.
Orange, marmalade, the Golden Gate bride, a ombre sunset, tangerines and grapefruits—the beautiful colors in an Aperol Spritz make me think of these things. A sunset-tinged cocktail, if you will. Not only does stirring up an Aperol Spritz come easy, but it also evokes the thought of such beautiful and relaxing things. Ready to join me in today's new cocktail adventure? Ready, set, spritz!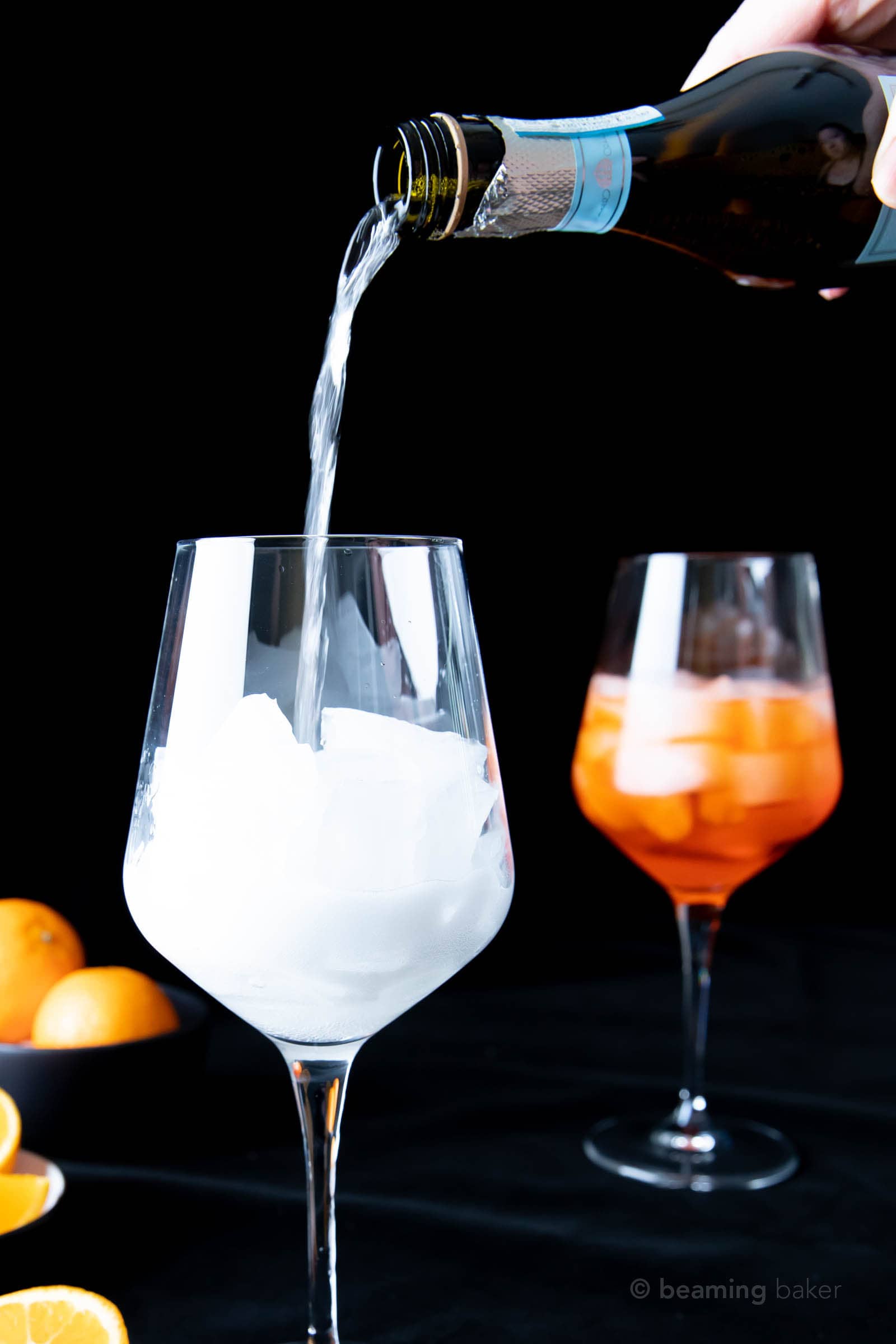 What is Aperol?
Aperol is a deep & bright red-orange-hued Italian bitter created in 1919 by Luigi and Silvio Barbieri. Aperol is an alcoholic bitter with an alcohol content of 11%. It's made with rhubarb, gentian, cinchona and bitter orange, among other ingredients. [1] Aperol is often swapped with Campari in making Spritzes, or the other way around. Campari is less sweet and has a higher alcohol content, at 20.5% to 28.5%. [2]
What's in an Aperol Spritz
An Aperol Spritz is made very simply with three ingredients, not including ice:
Aperol – a red-orange hued Italian bitter made with herbs and bitter orange
Prosecco – a sparkling wine from Italy
Club Soda – an unsweet, bubbly drink without flavoring, often used in drinks to add fizz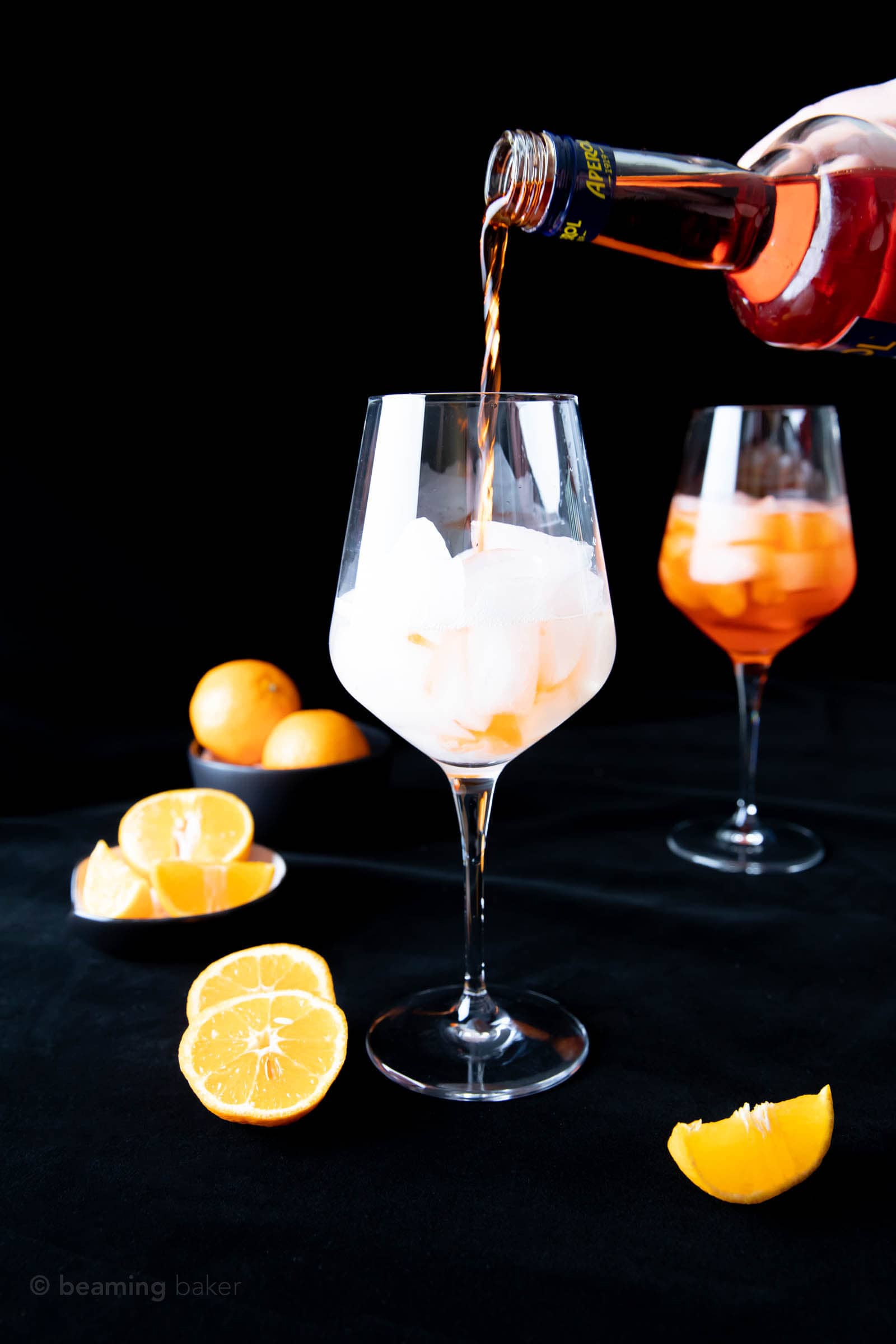 What is An Aperol Spritz?
An Aperol Spritz is a Spritz Veneziano—a wine-based cocktail from Italy. [3] Spritz Veneziano are very popular, and usually named after the kind of bitters that used in a particular cocktail. Some examples of Spritz Veneziano are today's cocktail and Spritz al Campari.
When a Spritz Veneziano uses Aperol for its bitters component, it's called an Aperol Spritz; when a Spritz Veneziano uses Campari for its bitters component, it's called a Spritz al Campari or a Campari Spritz. [4]
An Aperol Spritz is an Italian, wine-based cocktail made with Aperol, Prosecco, and Club Soda. It's an alcoholic cocktail that boasts a red-orange hue, and is usually served over ice with a slice of orange and a straw for sipping. [5]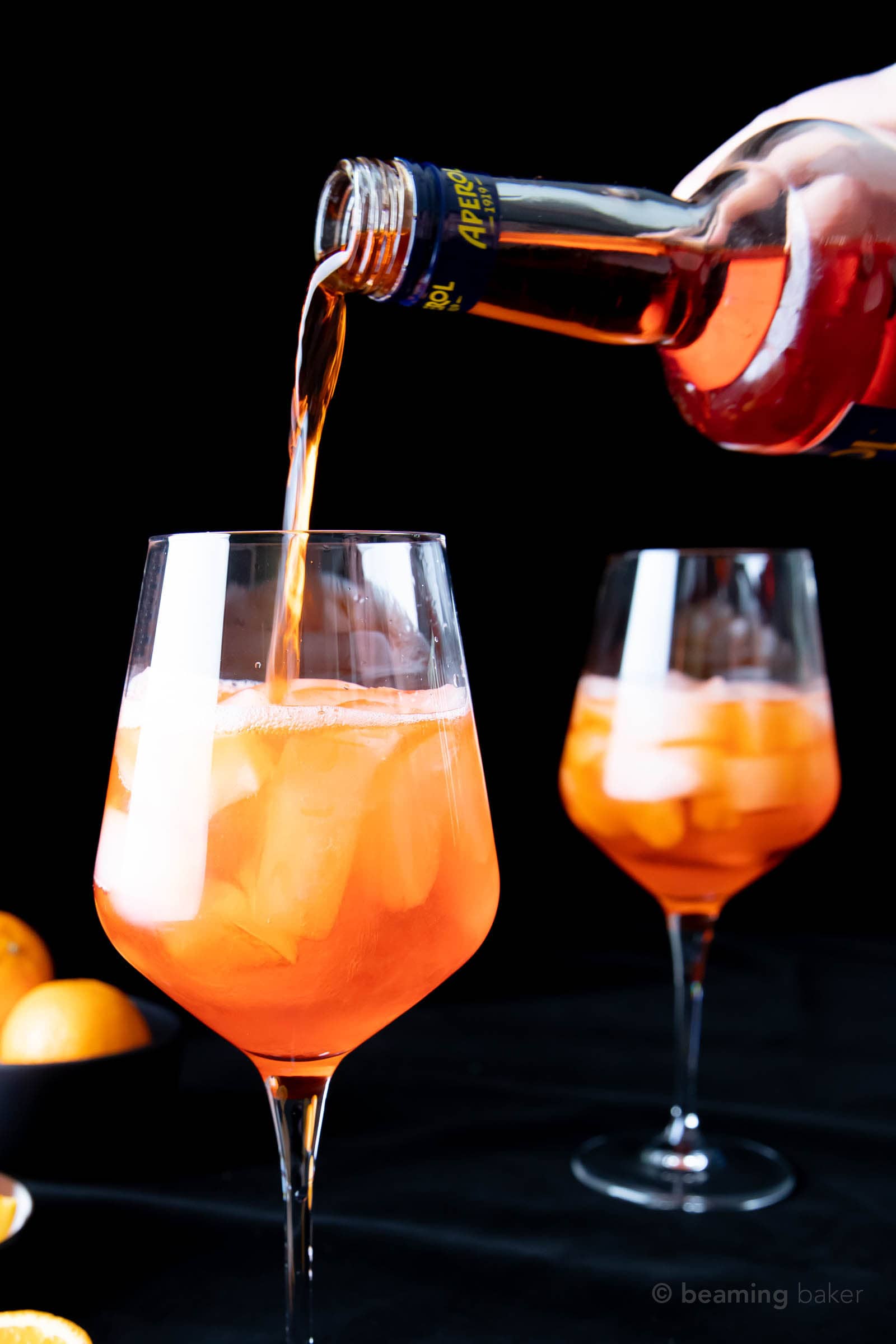 How to Make Aperol Spritz
Learn how to make an Aperol Spritz with just a few simple steps and very few ingredients.
First, set out a large wine glass.
Second, fill the wine glass with ice.
Third, uncork a bottle of Prosecco and pour 3 ounces over the ice. You'll basically want to fill the wine glass about halfway.
Next, measure out 2 to 3 ounces of Aperol in this measuring jigger. Pour the Aperol over the Prosecco.
Then, pour 1 ounce of club soda over the Aperol. 1 ounce is basically a heavy splash.
Using a stirring spoon from your cocktail set, give the ingredients a stir.
Drop a slice of orange into the drink as a garnish. Then, add a straw so you can sip and enjoy!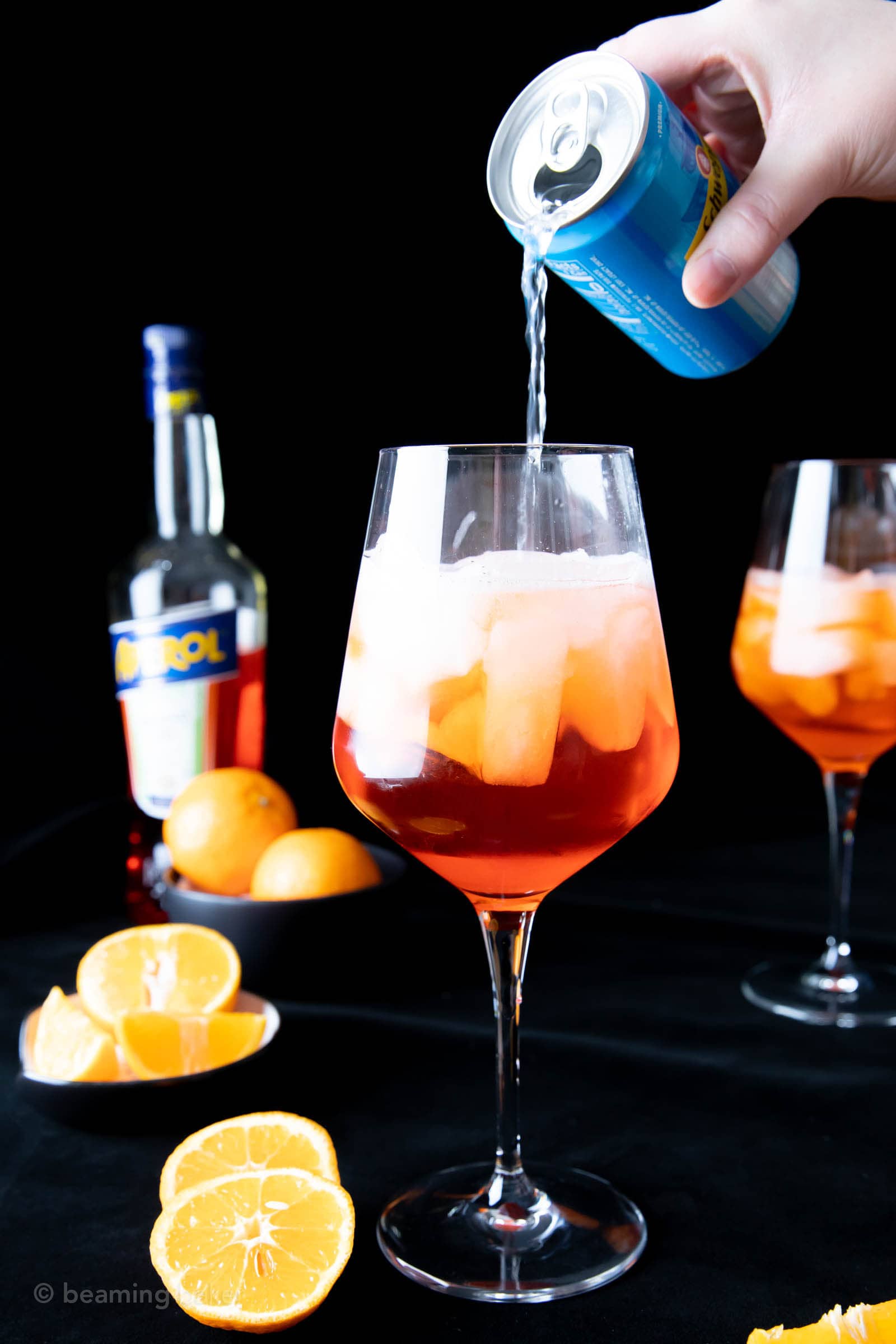 The Best Aperol Spritz Glasses
The best glass to serve an Aperol Spritz in are large wine glasses. Here are a few of my favorites:
Aperol Spritz Calories
Now that you're ready to stir up your first Aperol Spritz, you might be curious about the nutrition facts of one. I've created a nutrition facts label for you below. One serving has about 203 calories.
Aperol Spritz Recipe: 3-2-1
What's the perfect Aperol Spritz recipe ratio? Well, according to many, it's the 3-2-1 ratio. What does that mean? It's 3 parts Prosecco, 2 parts Aperol, and 1 part club soda. In today's cocktail recipe, we're taking that ratio and following it closely, with some wiggle room for personal taste. We'll be doing:
3 ounces Prosecco
2 to 3 ounces Aperol
1 ounce club soda
Feel free to try the 3-2-1 ratio and adjust to your liking. If it can't be done just the way you like it, why bother making it, right?
What Does an Aperol Spritz Taste Like?
An Aperol Spritz tastes like an adult version of a Kool-Aid. Lol. Remember that sweetness, hint of something not quite natural, but still strangely captivating? That's what an Aperol Spritz tastes like. While you might expect this cocktail to have an overwhelming orange taste based on its color, you'll actually taste more of the herbs with just the slightest hint of orange. It's refreshing, deeply sweet, complex with all the flavors of Prosecco and Aperol mixing together, with a lightly bubbly finish and twist of saltiness thanks to the club soda.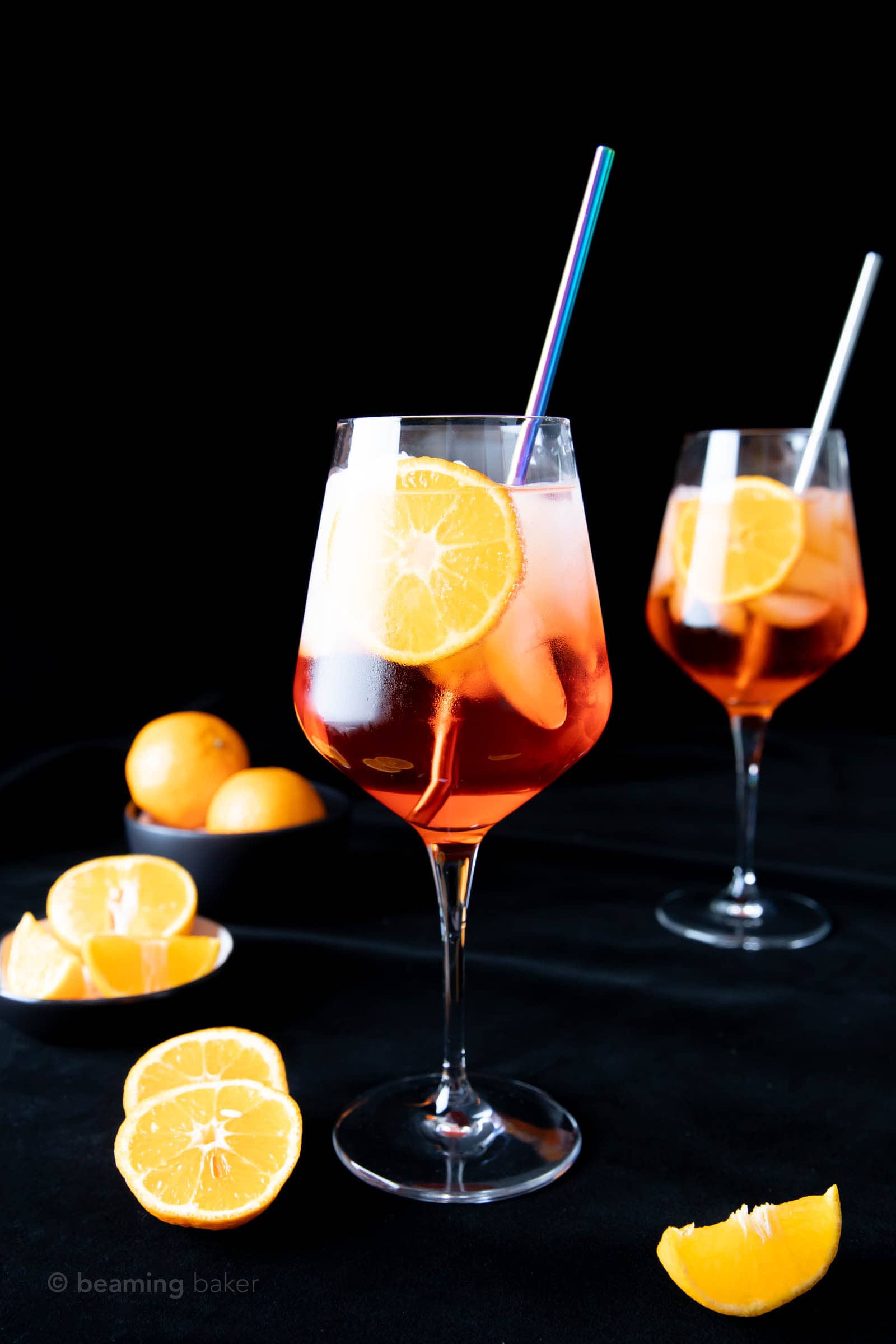 Cooling Cocktail Recipes
Tools You Need
One Spritz, Two Spritz
What is it about this beautifully-hued Spritz that makes the whole day seem brighter? 🙂 I hope you loved learning and making this cocktail with me today. When you stir up your refreshing cocktail, make sure to take a pic and share it on Instagram using @beamingbaker and #beamingbaker. I'd love to see it. 'Til our next cocktail adventure…
Sending you all my love and maybe even a dove, xo Demeter ❤️
🍊📸 🍹
📸 Did you make this cocktail recipe? Take a pic and share it on Instagram with the hashtag #beamingbaker & tag @beamingbaker. I'd love to see it! 📸
Print
Aperol Spritz
---
Description
Refreshing, fruity, and sweet! The Aperol Spritz is a cooling, colorful cocktail that tastes like vacation on a warm summer's day.
---
Aperol Spritz
3 ounces

Prosecco

2

to

3

ounces Aperol

1 ounce

club soda
Garnish
---
Instructions
Add ice to a wine glass.
Pour Prosecco, Aperol and club soda into the glass.
Stir to mix.
Garnish with an orange slice. Add a straw. Sip and enjoy!
Equipment
Prep Time:

1 minute

Cook Time:

0 minute

Category:

Drinks, Cocktails

Method:

Stir

Cuisine:

Italian
© beamingbaker.com. All content and images are protected by copyright. Please do not use my images or recipe without my permission. Please do not republish this recipe, instead, include a link to this post for the recipe.
Curious Cocktails to Celebrate With…
This post may contain affiliate links, which allow me to make a small commission for my referral, at no additional cost to you.