How to Make Vegan Buttermilk
Learn how to make vegan buttermilk with just 2 ingredients. This buttermilk is vegan and can be used in any recipe as a vegan buttermilk substitute!
At Last, We're Making the Infamous Vegan Buttermilk. And how!
Have you ever made vegan buttermilk? It's a vegan substitute for buttermilk that's made with just 2 simple ingredients. You can use it to make buttermilk pancakes, buttermilk biscuits, and so much more. Today, I'm going to show you how and go over some of your burning vegan buttermilk substitute questions!
The Best Vegan Buttermilk Substitute in Just 2 Ingredients
You truly only need 2 ingredients to make today's vegan buttermilk substitute! You can play around with these two ingredients with what you have on hand, but I recommend sticking to one specific kind of milk for the best buttermilk.
The Milk: There are two good options for non-dairy milk when making vegan buttermilk: unsweetened soy milk and unsweetened almond milk. However, the best milk option is unsweetened original soy milk. But why? Because it's naturally thick already, and that thickness gets even delightfully thicker for the perfect curdle to make vegan buttermilk.
The Acid: I love using apple cider vinegar to make vegan buttermilk because of its many benefits, however you can use a number of other acid components, which I'll outline later in the post.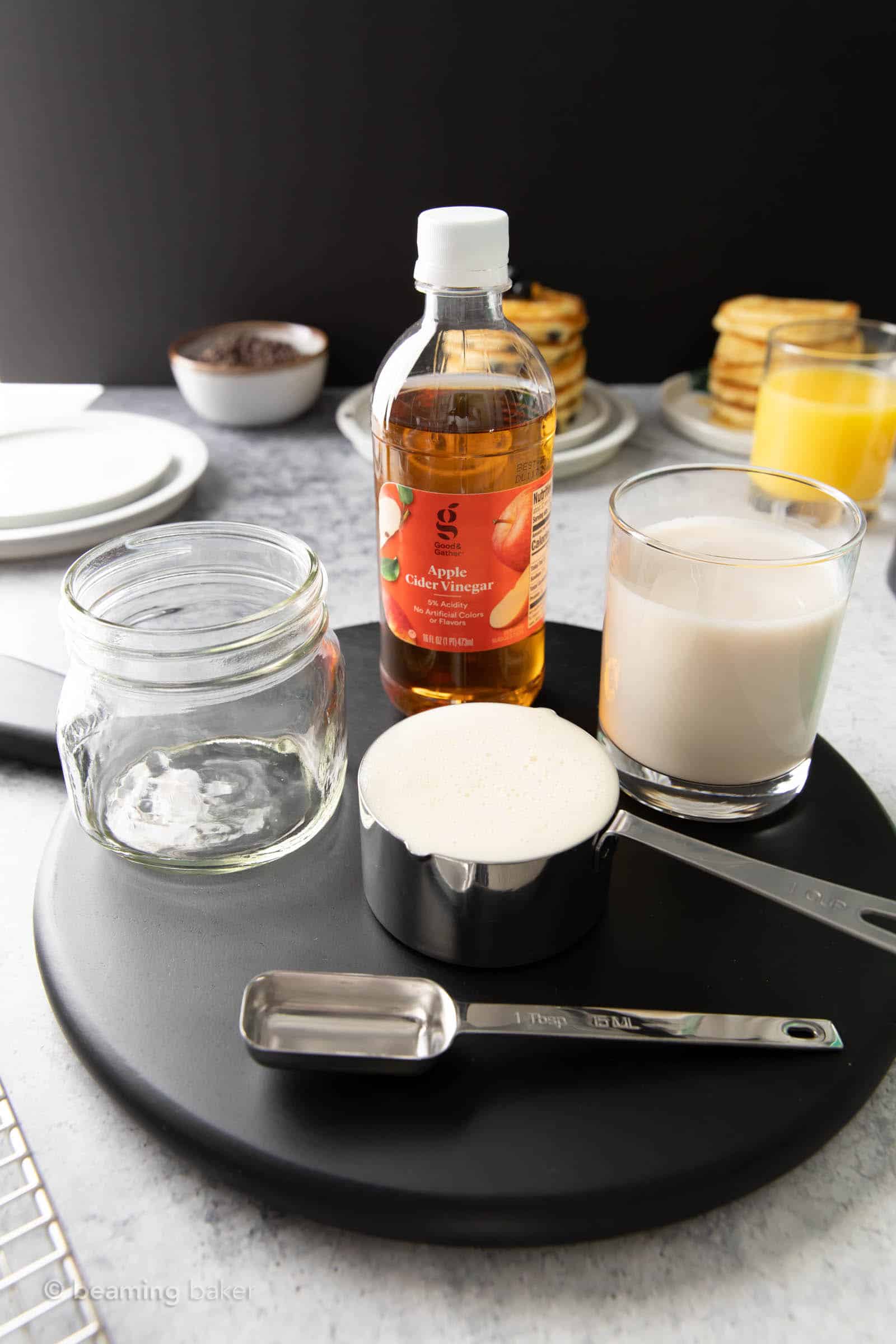 What is Vegan Buttermilk?
Vegan buttermilk is a vegan substitute for traditional buttermilk. Traditional buttermilk is the leftover liquid that remains after churning butter. Thus, buttermilk is milk with bits of butter in it that's kinda sour. Buttermilk is fermented milk. [1]
What is Vegan Buttermilk Used For?
Buttermilk is used for several purposes in the kitchen, amongst them being baking, cooking and drinking. Here's a little sum up of everything vegan buttermilk is used for.
Baking
Activates baking soda. Buttermilk is the acidic component that pairs so well with baking soda in baked goods because it activates it! This activation process produces a gas that makes batter and dough rise. What do we get when batter and dough rise? A lighter, fluffier baked good.
Adds tanginess. Ever tried a spoon of buttermilk? Okay, that might not be your thing. The sour tanginess of buttermilk nicely complements the creamy and sweet flavors found in many treats—enhancing them and making them taste better, like salt does for sweets.
Acidity breaks down protein. Guess what protein is in most baked goods? Gluten! Thusly, when you add buttermilk to a recipe, it breaks down the gluten. This creates a delicate crumb, yet again adding to the enhanced texture of a buttermilk baked good.
Cooking
Remember how I said that the acids in buttermilk can break down protein? Well guess what it does to proteins like meat? It tenderizes! Some cooks use buttermilk to tenderize the protein component in their dishes, and to add the tanginess! Another place you might be thinking of buttermilk? Fried chicken, salad dressing, mac'n cheese and so much more.
Drinking
Okay, this is not the kind of drinking we're thinking. (Who doesn't love a good rhyme?) We're talking about adding buttermilk to a number of beverages such as smoothies to thicken them. We're also talking about straight up drinking buttermilk! Some buttermilk beverages are spicy like this Masala Chaas, some are sweet, and others are fruit-based. [2]
How to Make Vegan Buttermilk
Today, we're learning how to make vegan buttermilk in just a few easy steps. It's one of my favorite vegan substitutes because it's so close to the "real thing."
Pour Vegan Milk into a Jar
First, measure out 1 cup of soymilk into a large jar. Make sure the jar is big enough to stir in one more ingredient and accommodate a little stirring action.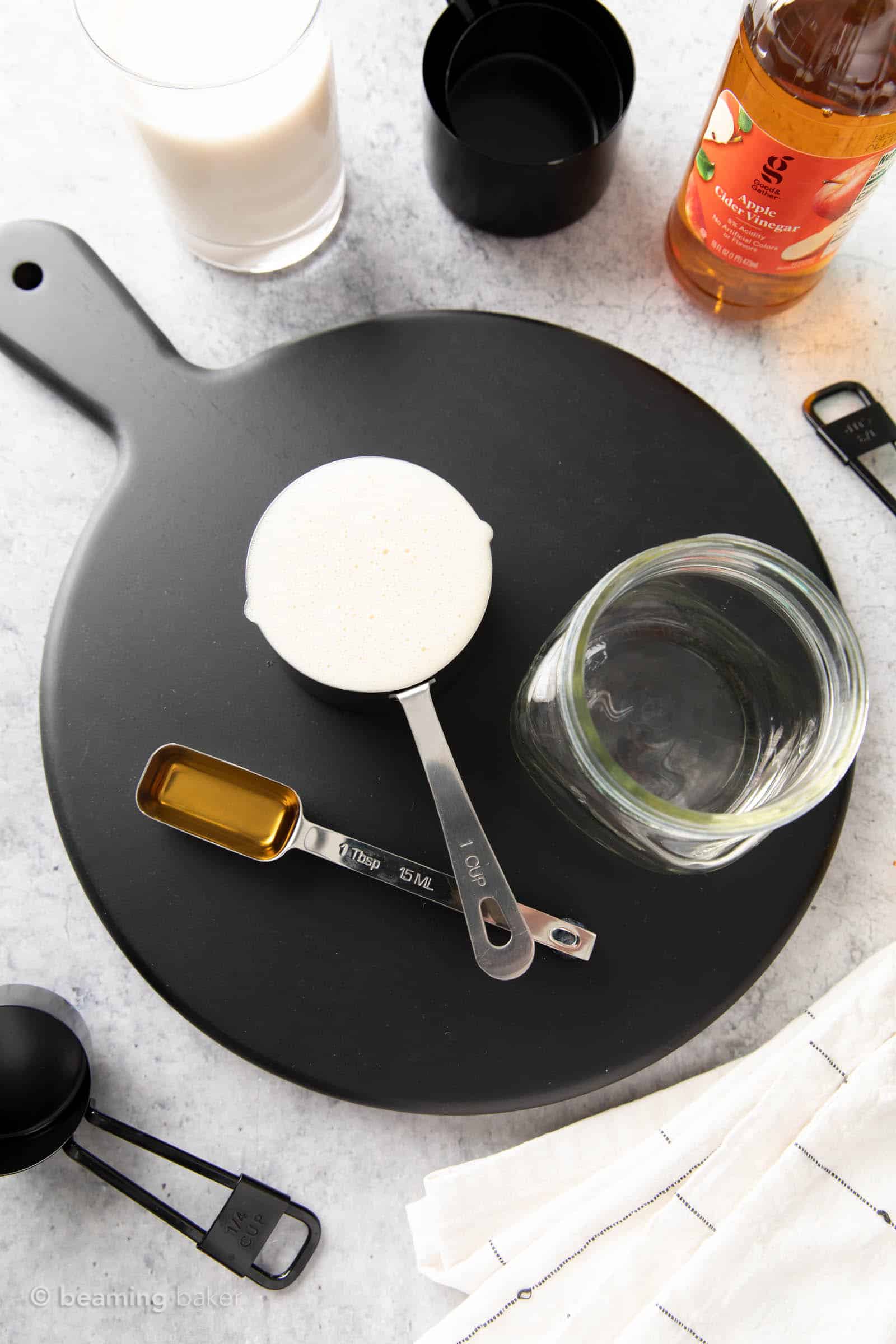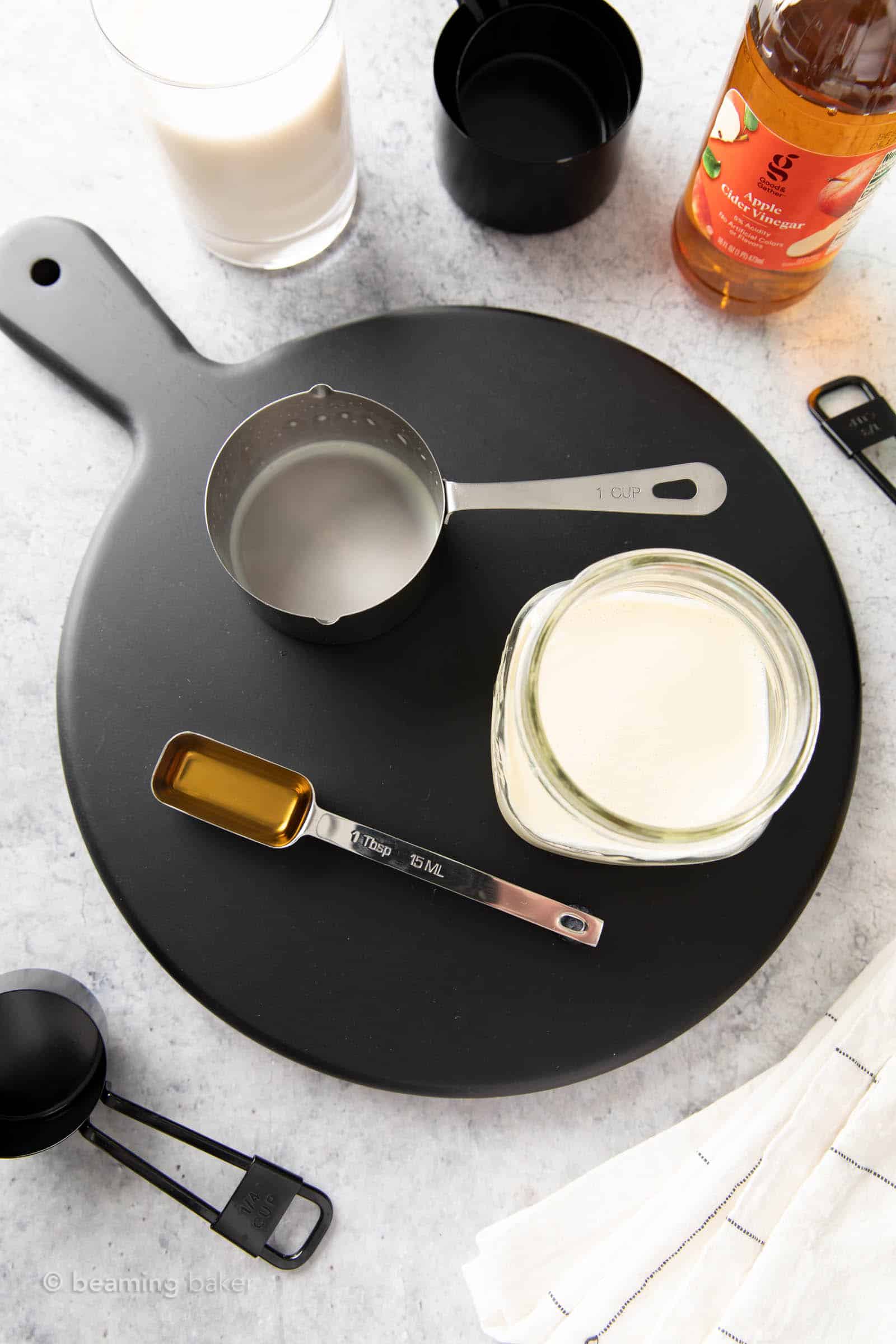 Add Apple Cider Vinegar
Second, grab a 1-tablespoon spoon and measure out that much apple cider vinegar. Drop the vinegar into the jar filled with soymilk.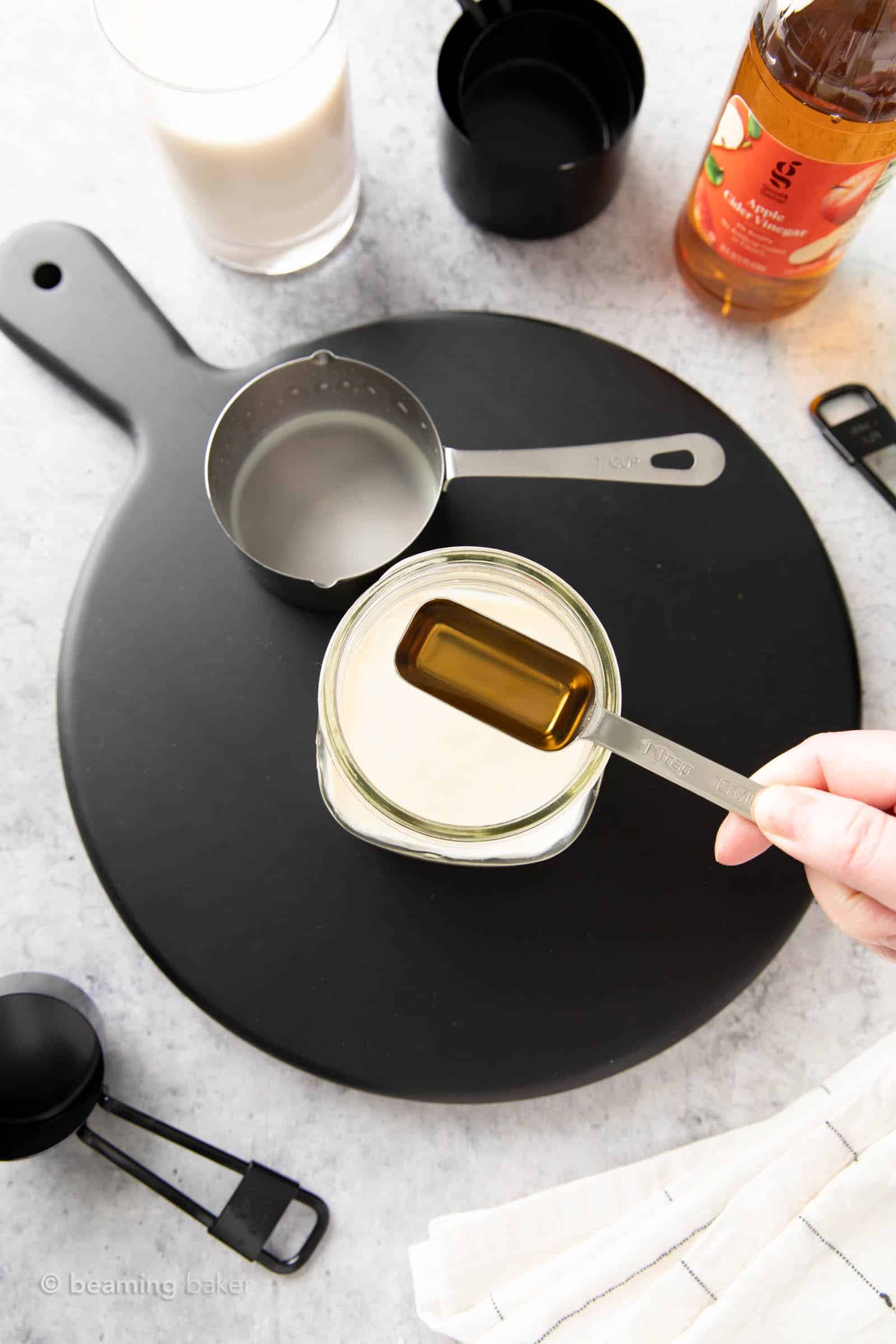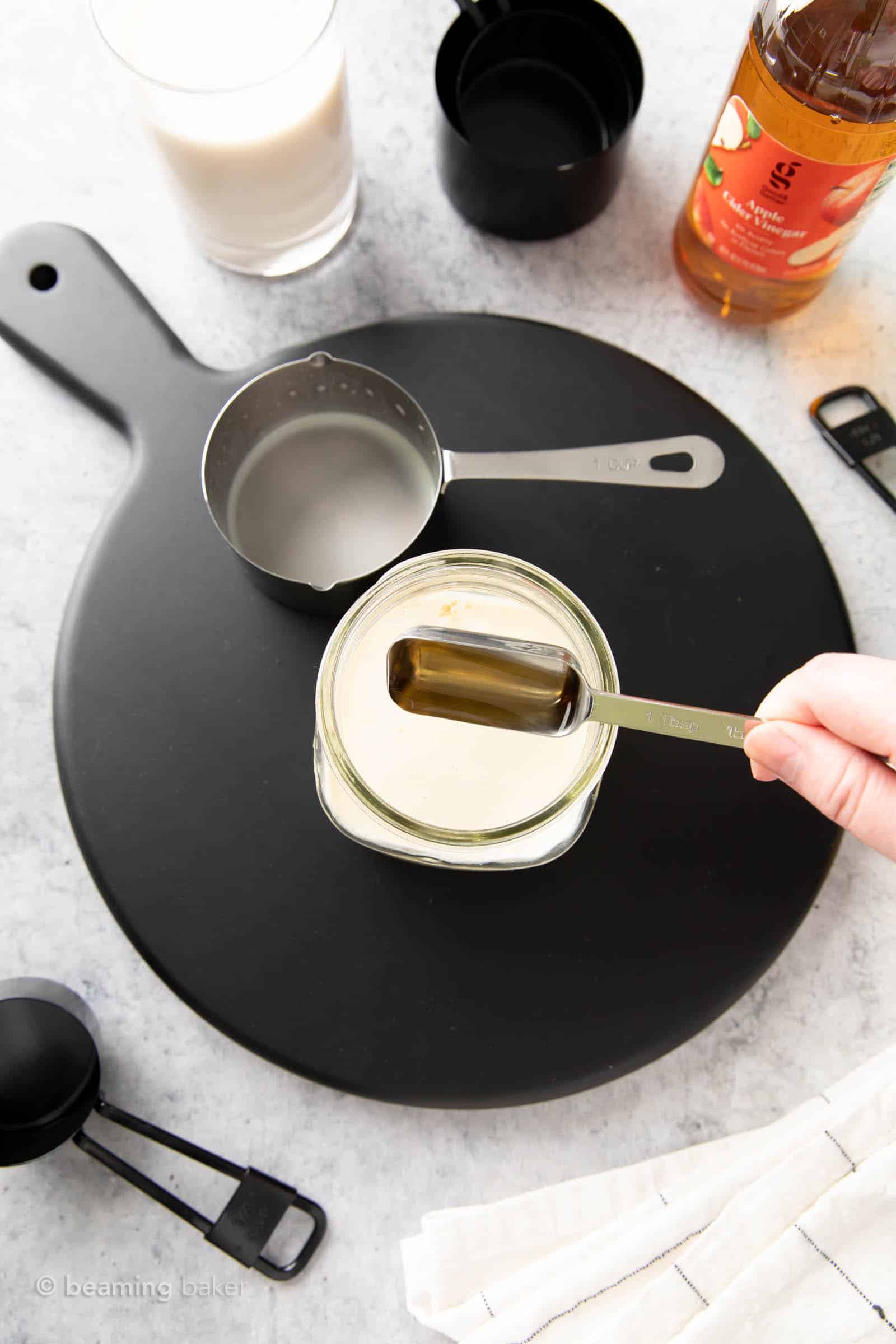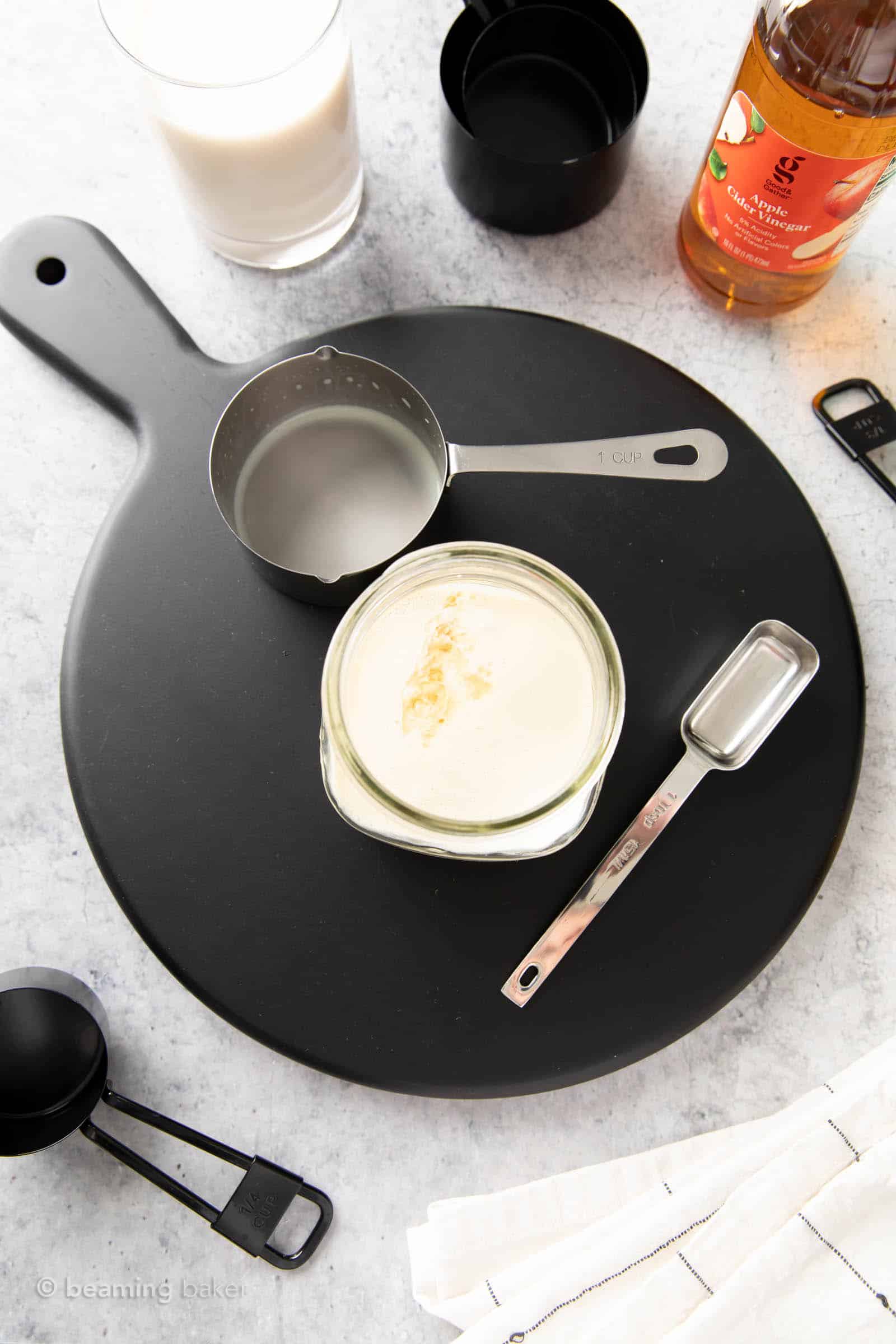 ,
Whisk Vegan Milk & Vinegar Together
Grab a tiny whisk or fork and stir the apple cider vinegar and vegan milk together.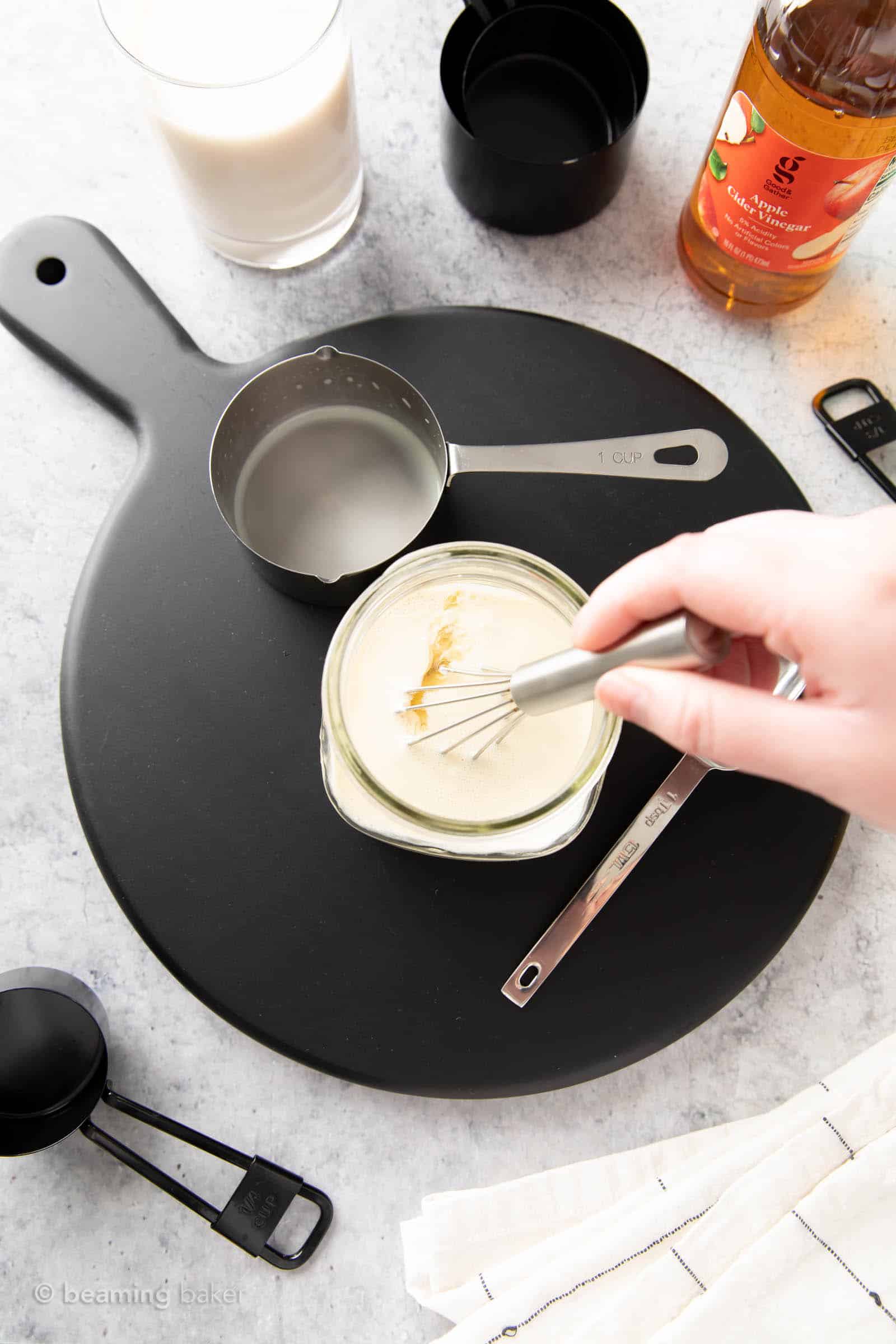 Allow to set for 5-10 Minutes Until Curdled
Now, leave it be! Allow the vegan milk and vinegar to combine and ferment, thereby creating vegan buttermilk. You'll know it's done when: 1) 5-10 minutes have passed; 2) the milk has thickened enough to see a texture difference; 3) you can scoop up a spoon and see the grainy, lumpy texture you see here in this photo.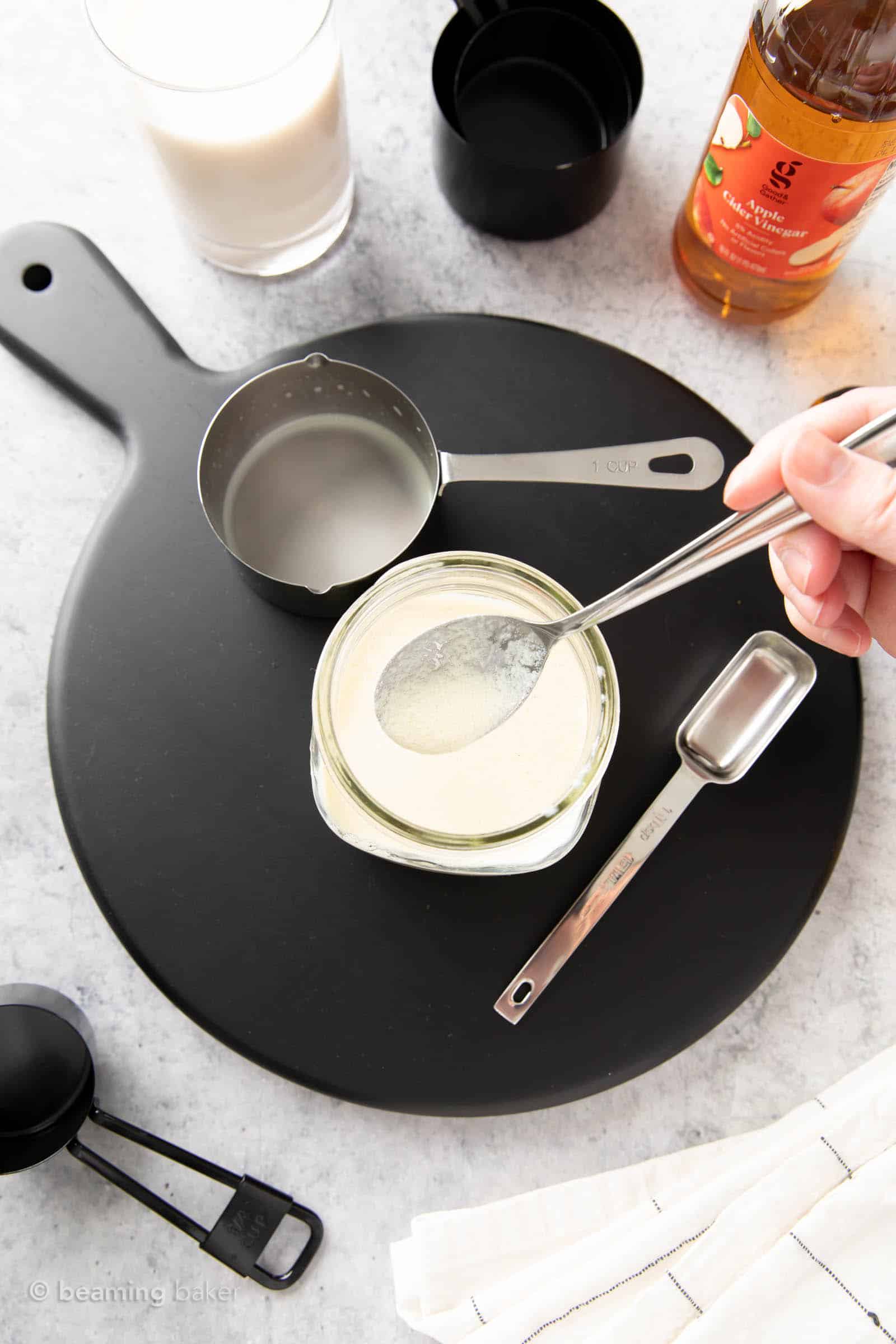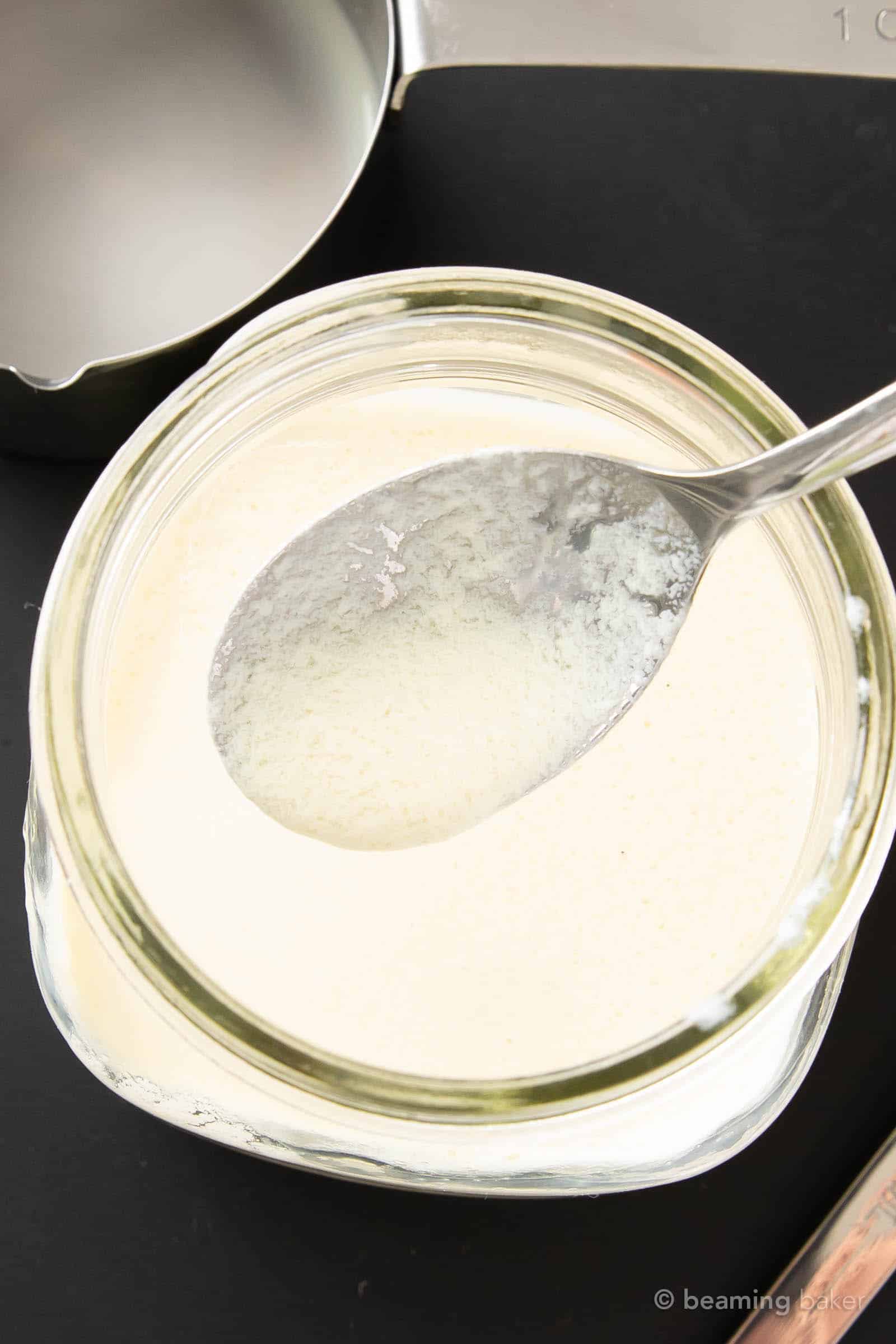 Vegan Buttermilk Q&A
Can I make vegan buttermilk ahead of time? Yes! You can make vegan buttermilk ahead of time and store it in the refrigerator or in the freezer. However, I recommend making it right before a recipe, while you're prepping. The fresher the vegan buttermilk, the better I think it works in a recipe.
Do I have to use apple cider vinegar? What else can I use? You don't have to use apple cider vinegar. You can use lemon juice or white vinegar to make vegan buttermilk.
What kind of vegan or non-dairy milks can I use to make this buttermilk vegan? You can use unsweetened original soy milk or almond milk. However, I highly recommend using soy milk because it's so much thicker and better for curdling in the buttermilk.
How do I know when the vegan buttermilk is curdled completely? First things first, allow the buttermilk to set for at least 5 minutes. Somewhere between 5 and 10 minutes, your buttermilk will thicken and start to curdle. To tell if it's curdling, grab a spoon and scoop up a bit of the vegan buttermilk—it will be a bit grainy or what I like to call "micro-chunky". Micro-chunky means that it's has a mini or somewhat micro-level of chunkiness—it's tiny, but there if you look closely. Also, refer to my pics if you're unsure. Don't worry though, 5-10 minutes of setting will do the trick!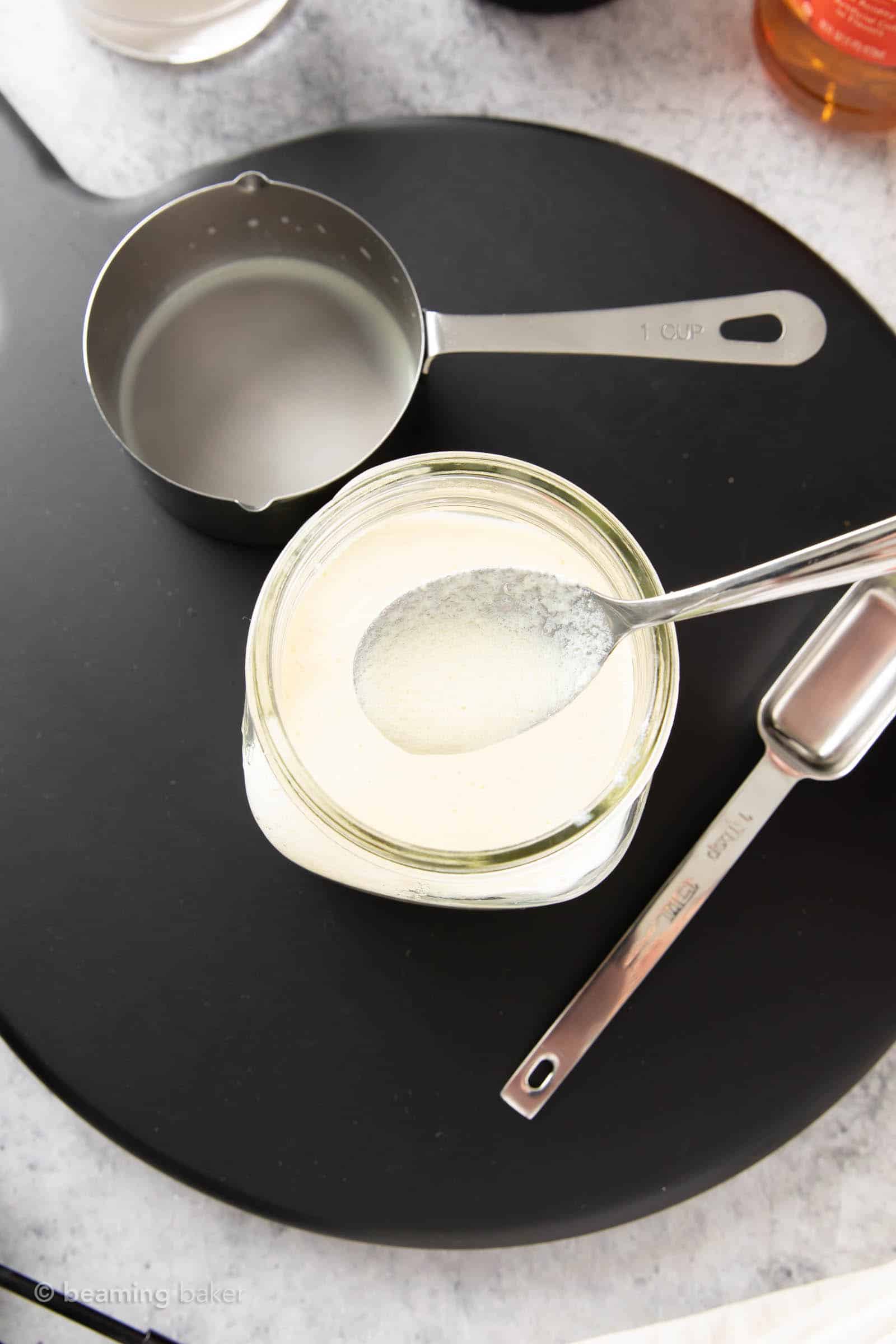 Related Vegan Recipes
Tools You Need
What Will You Use this Vegan Buttermilk Substitute in Next?
Stay tuned for a delicious vegan recipe that uses today's vegan buttermilk! (hint hint) *Update April 2022: It's here! Check out my fluffy vegan buttermilk pancakes and see this vegan buttermilk in action! In the meantime, drop a comment below, letting me know what buttermilk recipes you'd like me to share using this vegan buttermilk substitute! I can't wait to hear what you think.
🧈 📸 🥛
📸 Did you make this vegan buttermilk recipe? Take a pic and share it on Instagram with the hashtag #beamingbaker & tag @beamingbaker. I'd love to see it! 📸
Print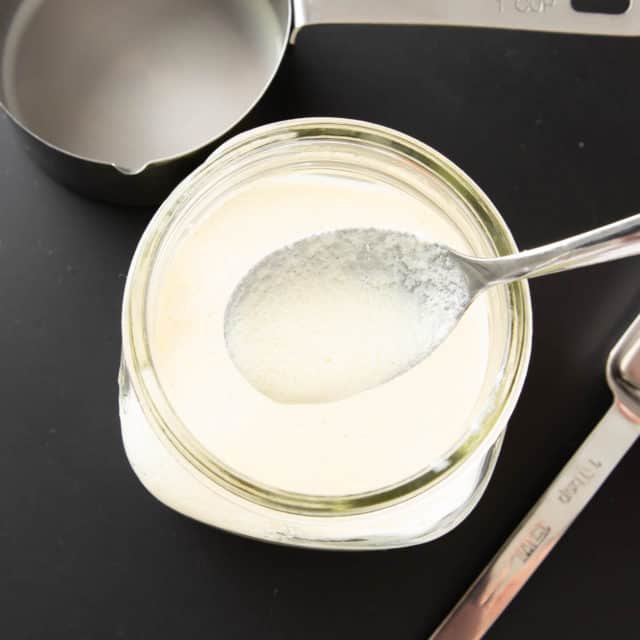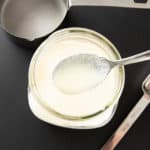 How to Make Vegan Buttermilk
---
Description
Learn how to make vegan buttermilk with just 2 ingredients. This buttermilk is vegan and can be used in any recipe as a vegan buttermilk substitute!
---
Vegan Buttermilk
1 cup

unsweetened soy milk (preferred) or other vegan milk – make sure to use unsweetened

1 tablespoon

apple cider vinegar, lemon juice, or white vinegar
---
Instructions
Add soy milk to a small mixing bowl or cup.
Add apple cider vinegar.
Whisk together and set for 5-10 minutes, until thickened and curdled.
Use as a vegan buttermilk substitute in baked goods! Storing instructions below. Enjoy!
Notes
Storing Instructions: Keep vegan buttermilk in a tightly sealed jar for up to 4 days. Use the freshest non-dairy milk possible to lengthen the life of your vegan buttermilk.
Prep Time:

2 minutes

Category:

How To, Dessert, Breakfast

Method:

Stir

Cuisine:

American
© beamingbaker.com. All content and images are protected by copyright. Please do not use my images or recipe without my permission. Please do not republish this recipe, instead, include a link to this post for the recipe.
Wanna help grow the Beaming Baker community? ☀️
You play such an important part in the livelihood of Beaming Baker–and just know that Erik and I truly appreciate it. 🧡 If you want to help grow the BB community, you can do the following:
📝 Leave a comment & rating. When you try a recipe, leave a comment and star rating to let us know how you liked the recipe. It truly helps all of our readers discover which recipe works best–and keeps us going in the right direction.
📸 Instagram. Made a recipe? Take a photo and share it on Instagram with the tag #beamingbaker and tag us at @beamingbaker. It makes our day to see how the recipe turned out for you!
👭 Tell a friend. You know when you love something, you can't help but tell others about it? If you love any of the recipes on Beaming Baker, tell a friend. 🙂 It truly helps to grow the BB community. ☀️
This post may contain affiliate links, which allow me to make a small commission for my referral, at no additional cost to you.