Is oat flour gluten free? What makes oat flour gluten free or not? Find these answers and learn how to make gluten free oat flour in today's post!
Yes, You Can Make Gluten Free Oat Flour at Home!
Ever walk down that specialty store baking aisle and see a diminutive bag of gluten free oat flour for like $100? (Slight exaggeration.) Then, think to yourself, "There's gotta be a cheaper way to get my oat flour recipes on!" Well, today's the day we're gonna make oat flour gluten free with just 1 ingredient and a few minutes of kitchen time. Ready? Let's make this!
Is Oat Flour Gluten Free?
To understand whether oat flour is gluten free, we need to first examine whether oats, the main ingredient in oat flour is gluten free.
Are oats gluten free?
Yes, oats are naturally gluten free. [1] However, the issue arises when oats come in contact with other ingredients, such as wheat and barley, that contain gluten. This cross-contamination occurs while the oats are being stored in the factory or are being transported from one location to another during the production process.
Is oat flour gluten free?
To ensure that your oat flour is gluten free, make sure that the oat flour that you buy is certified gluten free, meaning that it is tested and verified to meet "the strictest of gluten-free standards" when bearing the "Certified Gluten Free" logo. This logo is known as the GFCO Global Certification Mark, created by the Gluten-Free Certification Organization. [2] [3]
What is the GFCO?
GFCO stands for the Gluten-Free Certification Organization. This organization is program run by the Gluten Intolerance Group of North America (GIG). "GIG is a 501c3 non-profit organization which empowers the gluten-free community through consumer support, advocacy, and education." [4]
The GFCO enlists doctors, scientists, and researchers to test and verify that products contain 10 ppm (parts per million) or less of gluten. (Low levels are considered 3 ppm, while most gluten-containing foods have more than 200 ppm.) [5] [6] Through this process, the GFCO can test consumer products such as gluten free oatmeal packets and certify whether they are gluten free.
If you're unsure about whether a product is certified gluten free, look for the mark or try searching their directory. Here is the GFCO's Gluten-Free Certified Product Finder. Just bear in mind that the list is not complete.
Alternately, if you are making your own oat flour, make sure to use certified gluten free oats, and use equipment that is not shared with/comes in contact with any gluten-containing grain.
Some individuals may still experience sensitivity
It's best to learn what works best for each individual. While some folks who are sensitive to gluten can enjoy gluten free certified oats, others may still experience sensitivity and must avoid oats. According to the National Library of Medicine, "it appears that some oat cultivars may trigger an immune response in sensitive individuals." [7] [8]
What You'll Need to Make Gluten Free Oat Flour
A good food processor or high-speed blender – I like to use a sturdy food processor that can pulverize the oats to the smallest, finest bits. You might also prefer using a quality high-speed blender.
Gluten-free rolled oats – make sure to use certified gluten free rolled oats to ensure that your oat flour is gluten free.
Sifter – you can make the gluten free oat flour without using a sifter, but I recommend doing so. Since none of us are likely to be using factory-grade blenders, we're sure to be left with tiny, coarse bits of oats in our final homemade oat flour product. Once you're done blending the oats, I recommend sifting out those coarse bits to create the finest oat flour.
What is Gluten Free Oat Flour?
Gluten free oat flour is a gluten free baking substitute for flour. It's made with gluten free certified oats that are pulverized in a food processor or blender until it reaches a near flour-like, fine consistency. Once blended, the flour can also be sifted to remove coarse bits for a finer flour.
Oat Flour Benefits
I prefer using oat flour in nearly all of my gluten free recipes because it's so versatile, tastes delicious, and is nutrient-packed. Here's a sum-up the many benefits of oat flour:
Versatile
No Distinct Flavor in baked Goods: while oat flour might add a very light oat-y flavor to your baked goods, the addition is fairly mild compared to other types of flour. Some can completely change the texture of your baked goods, while others add in a rather distinct wheat-y, fruit-y, or herbaceous smell to your treats.
Can Be Eaten Raw: this is one of the biggest benefits of oat flour. Since oat flour can be eaten raw, you can feel free to use it in a number of no bake recipes. Unlike with traditional all purpose flour, oat flour can be eaten raw. All purpose flour needs to be baked at a high enough temperature until the bacteria is killed. Oat flour can be eaten raw, just like with regular oats.
Nutrient-Packed: Oat flour is packed with nutrients, such as manganese, phosphorus, zinc, and soluble and insoluble fibers.
Easy to Work into Vegan, Gluten Free, & Healthy Recipes.
How to Make Homemade Oat Flour
Although oat flour is fairly easy to make, it can still be difficult to get just the right texture. I find that haphazardly made oat flour will result in failed baked goods. It's important to take your time making homemade oat flour because the finer the texture, the better the flour will work in baked goods. Also, see optional sifting step in the last step.
STEP ONE
Add gluten free rolled oats (otherwise known as "old-fashioned oats") to a food processor or blender. I like to use a food processor because it can blend more thoroughly and evenly throughout.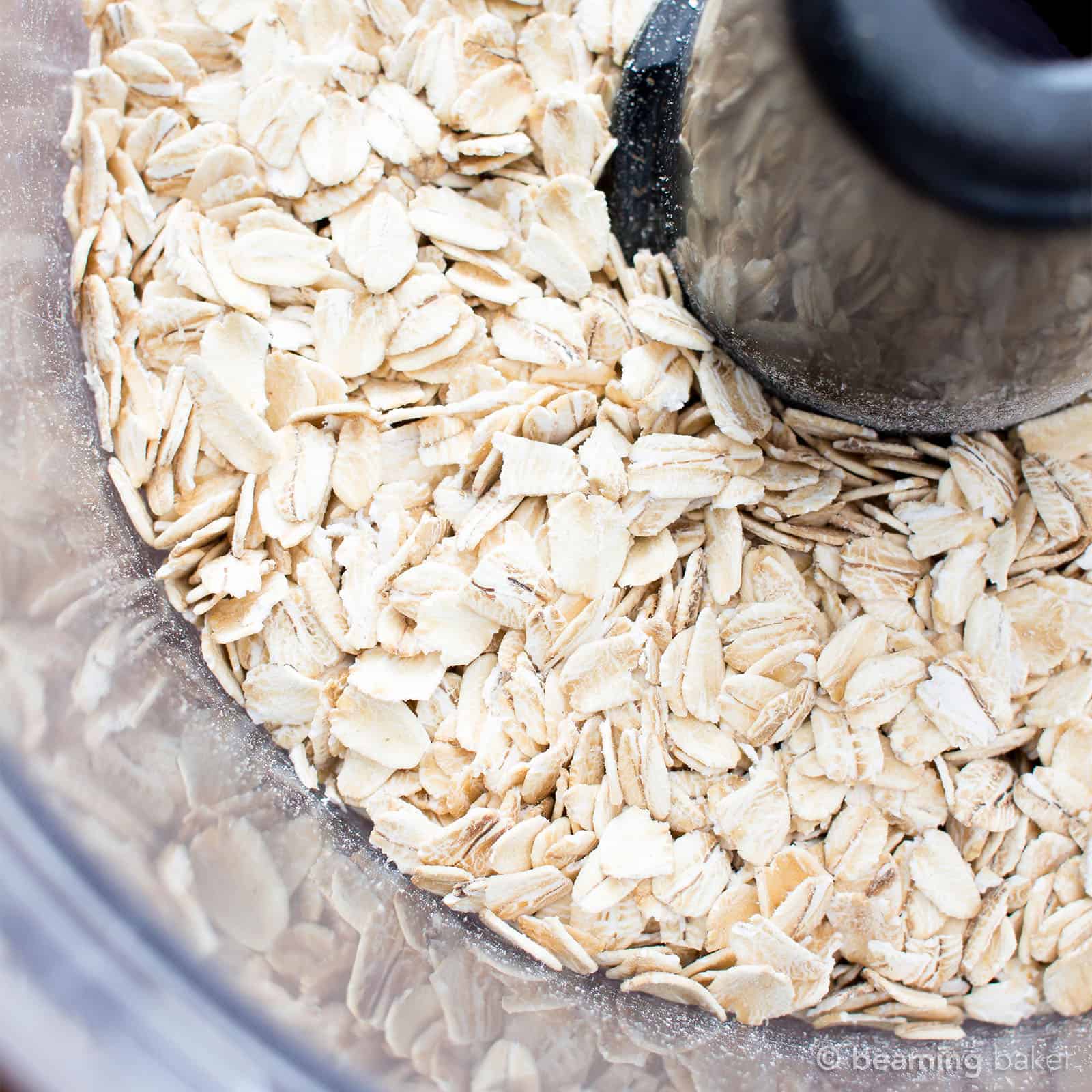 STEP TWO
After the first few rounds of blending, the oats will look like this. Some oats are still whole, others are beginning to turn into flour.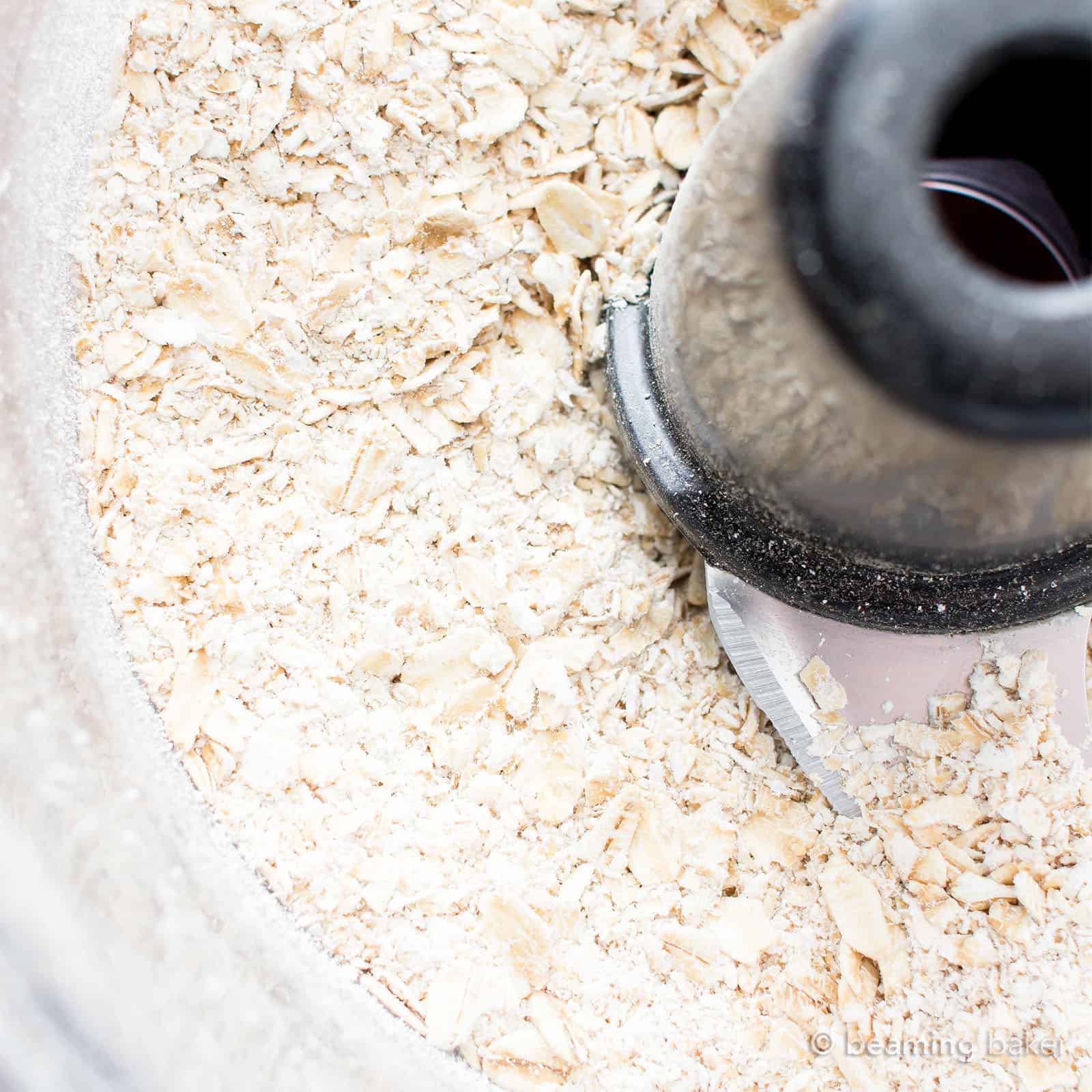 STEP THREE
Blend more, making sure to periodically scrape down the sides of the processor. After about a minute or two, no whole oats remain. Much of the mixture has turned to flour. However, if you take a closer look, flakes of oats still remain. Using a spoon, scoop up some flour and look closely. The more oat pieces that remain, the grittier and chunkier the flour will be in your recipe (which you usually don't want). Blend until you reach Step Four.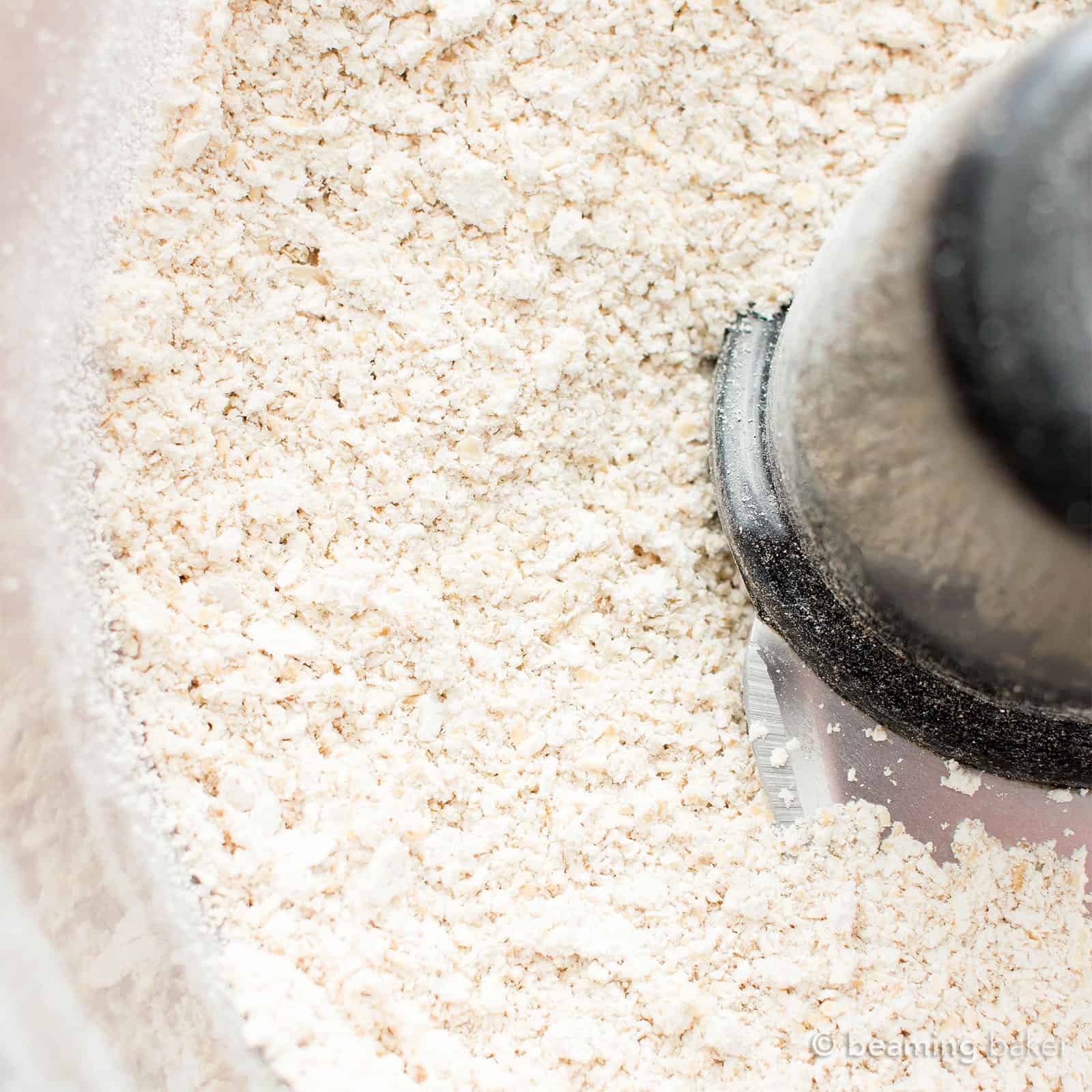 STEP FOUR
Now you've got it! The flour must be fine all the way through. Yes, it's perfectly normal to have a few flakes of oats here and there. But try your best to grind the flour as finely as possible.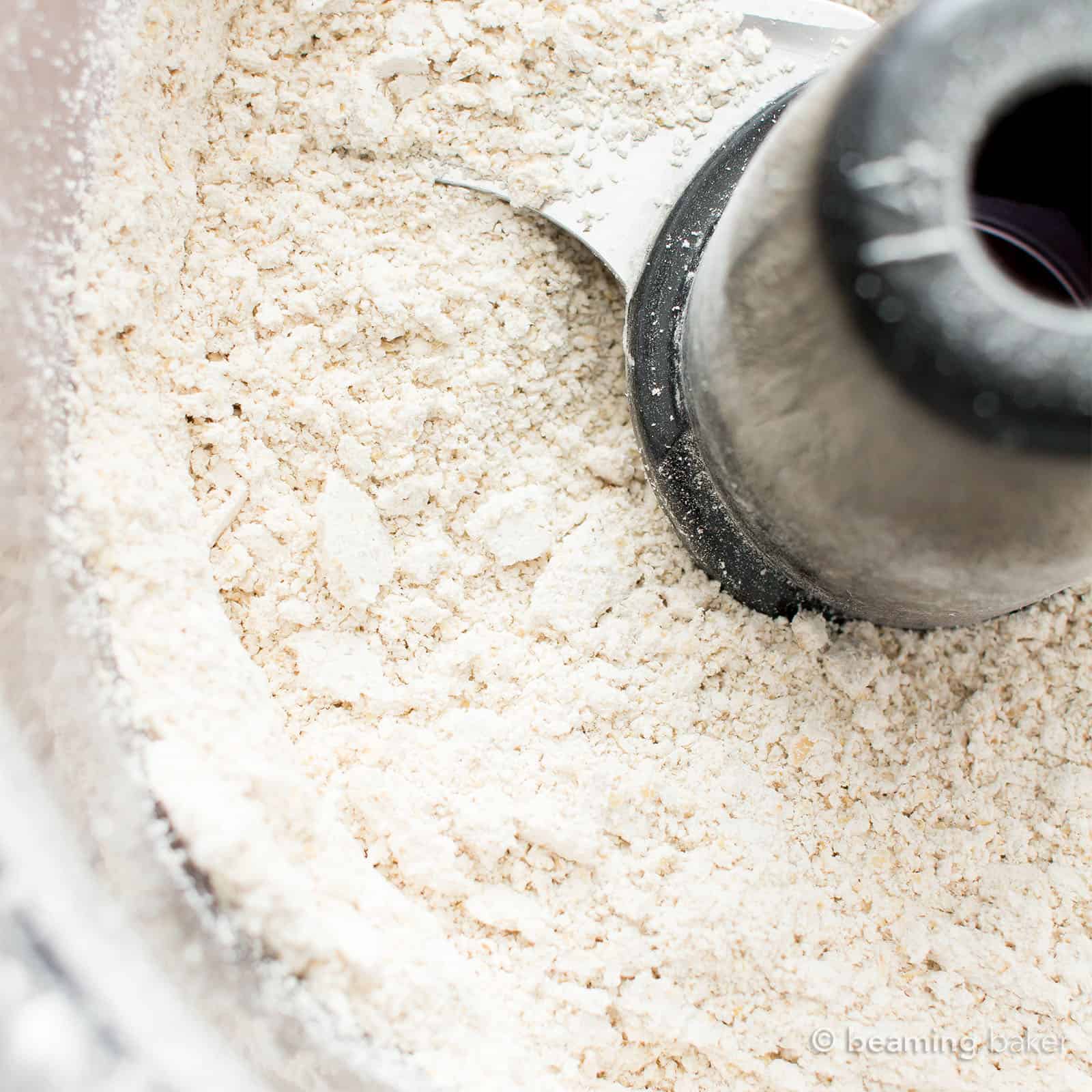 STEP FIVE
Use it! Make sure to measure the oat flour after you've ground it and not before, when it's in whole oat form. Recipes below. 🙂 Optional 6th Step: Once you're done blending the oats into a fine flour, you can run that flour through a sifter. Through sifting, you can remove any coarse, larger bits of oats that remain. The finer the oat flour, the better it will work in your oat flour recipes.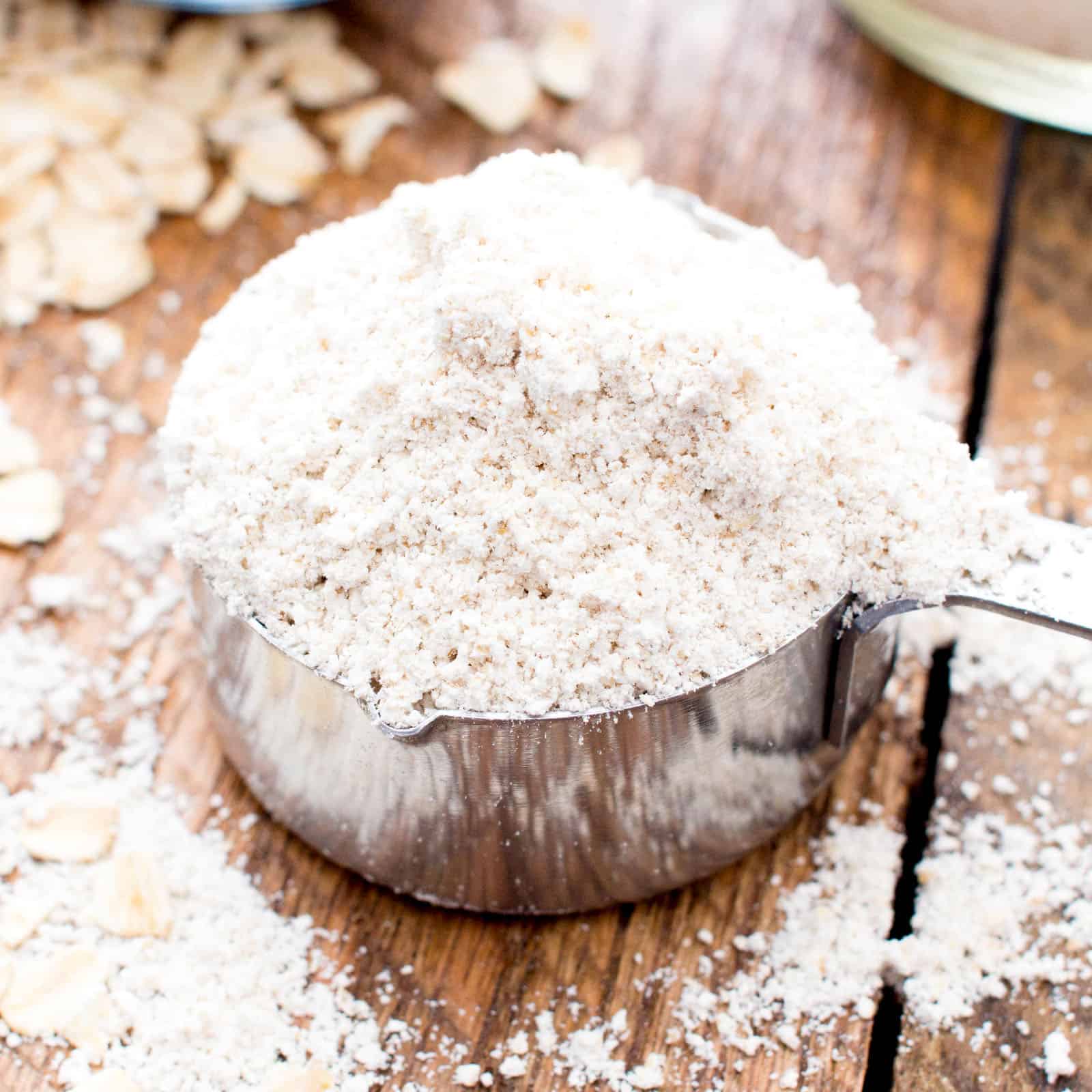 Oat Flour Recipes – easy recipes made with oat flour
Tools You Need
More How-To's/Homemade Recipes
Oat Flour Power
Show your love for oat flour by making your very own homemade oat flour! If you try one of my oat flour recipes or making oat flour, take a pic and share it on Instagram and tag @beamingbaker. I can't wait to see it! 'Til our next kitchen adventure…
Sending you all my love and maybe even a dove, xo Demeter ❤️
☀️ 📸 🌸
📸 Did you make this gluten free oat flour recipe? Take a pic and share it on Instagram with the hashtag #beamingbaker & tag @beamingbaker. I'd love to see it! 📸
Print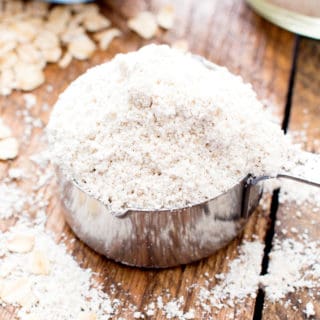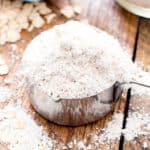 Gluten Free Oat Flour
---
Author:

Demeter | Beaming Baker

Total Time:

5 minutes

Yield:

approx. 1 ¾ cups + 2 tablespoons oat flour

Diet:

Gluten Free
Description
Is oat flour gluten free? What makes oat flour gluten free or not? Find these answers and learn how to make gluten free oat flour in today's post!
---
---
Instructions
Add oats to a food processor.
Blend until coarse.
Scrape down the sides of the processor as needed. Blend until the oats become a fine flour, with little to no flakes of oats remaining.
Use as needed in oat flour recipes. Remember to measure after blending. Enjoy!
Equipment
Notes
Gluten Free Recipes using Oat Flour:
Storing Instructions: Store in an airtight container, in a cool, dark environment for up to 1 year.
Prep Time:

5 minutes

Category:

How-To

Method:

Blend

Cuisine:

American
© beamingbaker.com. All content and images are protected by copyright. Please do not use my images or recipe without my permission. Please do not republish this recipe, instead, include a link to this post for the recipe.
Wanna help grow the Beaming Baker community? ☀️
You play such an important part in the livelihood of Beaming Baker–and just know that Erik and I truly appreciate it. 🧡 If you want to help grow the BB community, you can do the following:
📝 Leave a comment & rating. When you try a recipe, leave a comment and star rating to let us know how you liked the recipe. It truly helps all of our readers discover which recipe works best–and keeps us going in the right direction.
📸 Instagram. Made a recipe? Take a photo and share it on Instagram with the tag #beamingbaker and tag us at @beamingbaker. It makes our day to see how the recipe turned out for you!
👭 Tell a friend. You know when you love something, you can't help but tell others about it? If you love any of the recipes on Beaming Baker, tell a friend. 🙂 It truly helps to grow the BB community. ☀️
This post may contain affiliate links, which allow me to make a small commission for my referral, at no additional cost to you.