How to Make Homemade Oat Flour (V, GF): a step-by-step tutorial and guide on how to make your own gluten-free oat flour at home. Vegan, Gluten-Free, Dairy-Free.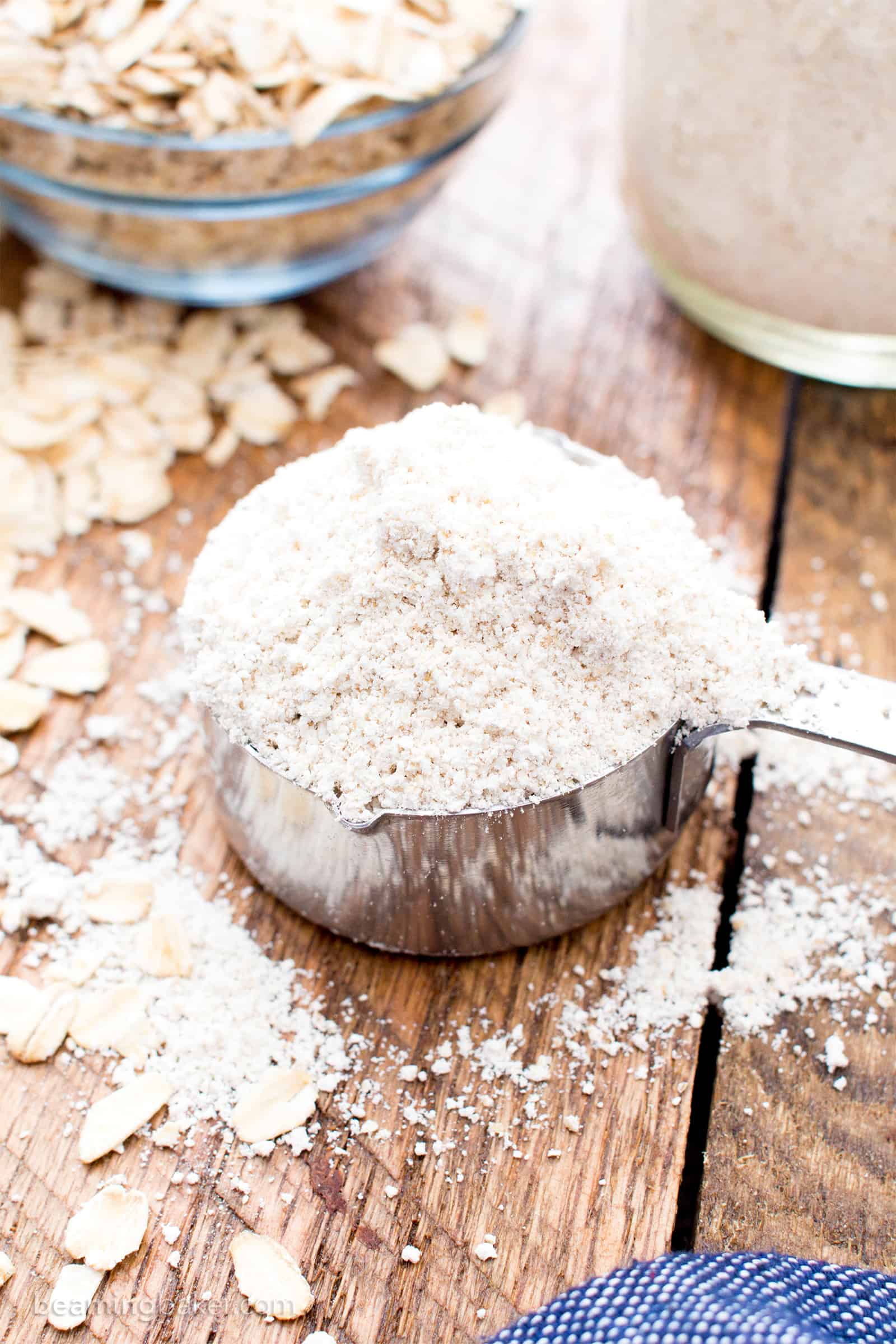 Welcome back to the Beaming Baker Baking Basics series!! At least, that's what I'm tentatively calling it. 😉 I'm kinda feeling the alliteration, are you?
We kicked off this series with How to Make a Flax Egg. I know, super sexy, thrilling stuff. Some of you may have already known how to make a flax egg and just wondered about the nuances, wondered if you could swap one with chia eggs, or were just learning about it for the first time. Either way, it was tons of fun and eye-opening for us all!
Next up on the basics list: How to Make Homemade Oat Flour. I've often gotten questions like, "Where do I find oat flour?" "Can I make it at home?" "What kind of oats do I use?"
I'm going to first cover the steps on how to make homemade oat flour, then I'll go over a few frequently asked questions. Sound good? Let's get started!
STEP ONE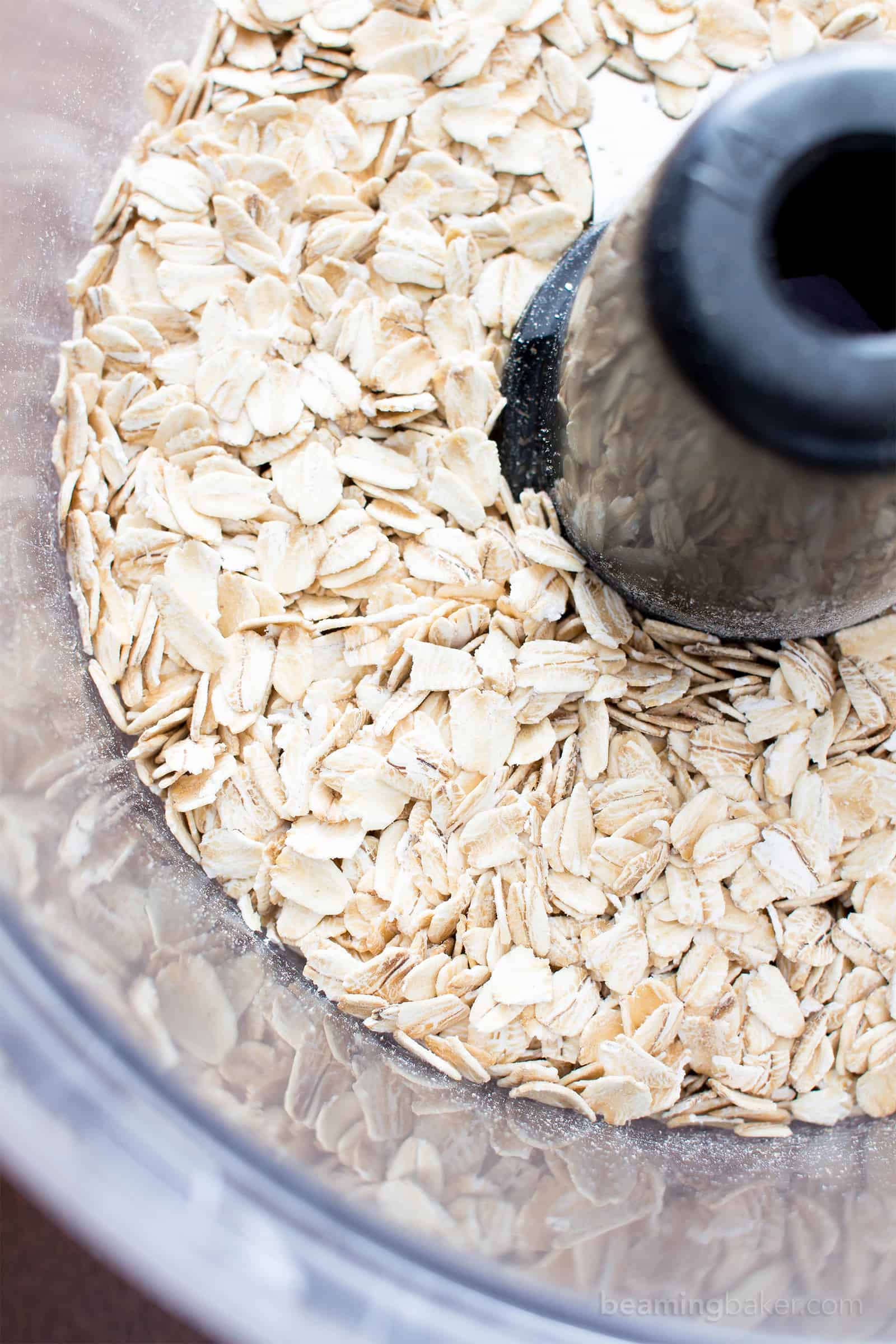 Add gluten free rolled oats (otherwise known as "old-fashioned oats") to a food processor or blender. I like to use a food processor because it can blend more thoroughly and evenly throughout.
STEP TWO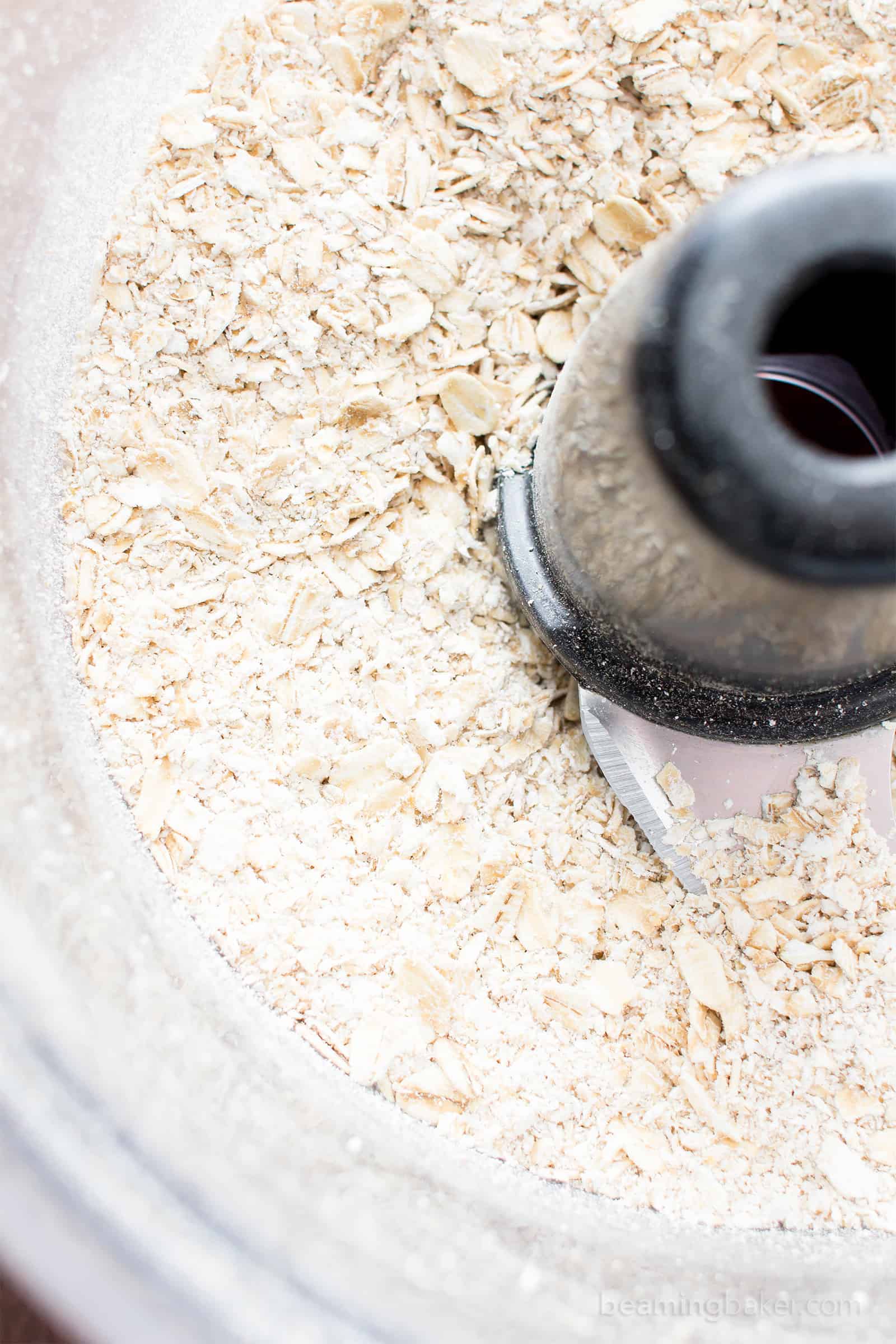 After the first few rounds of blending, the oats will look like this. Some oats are still whole, others are beginning to turn into flour.
STEP THREE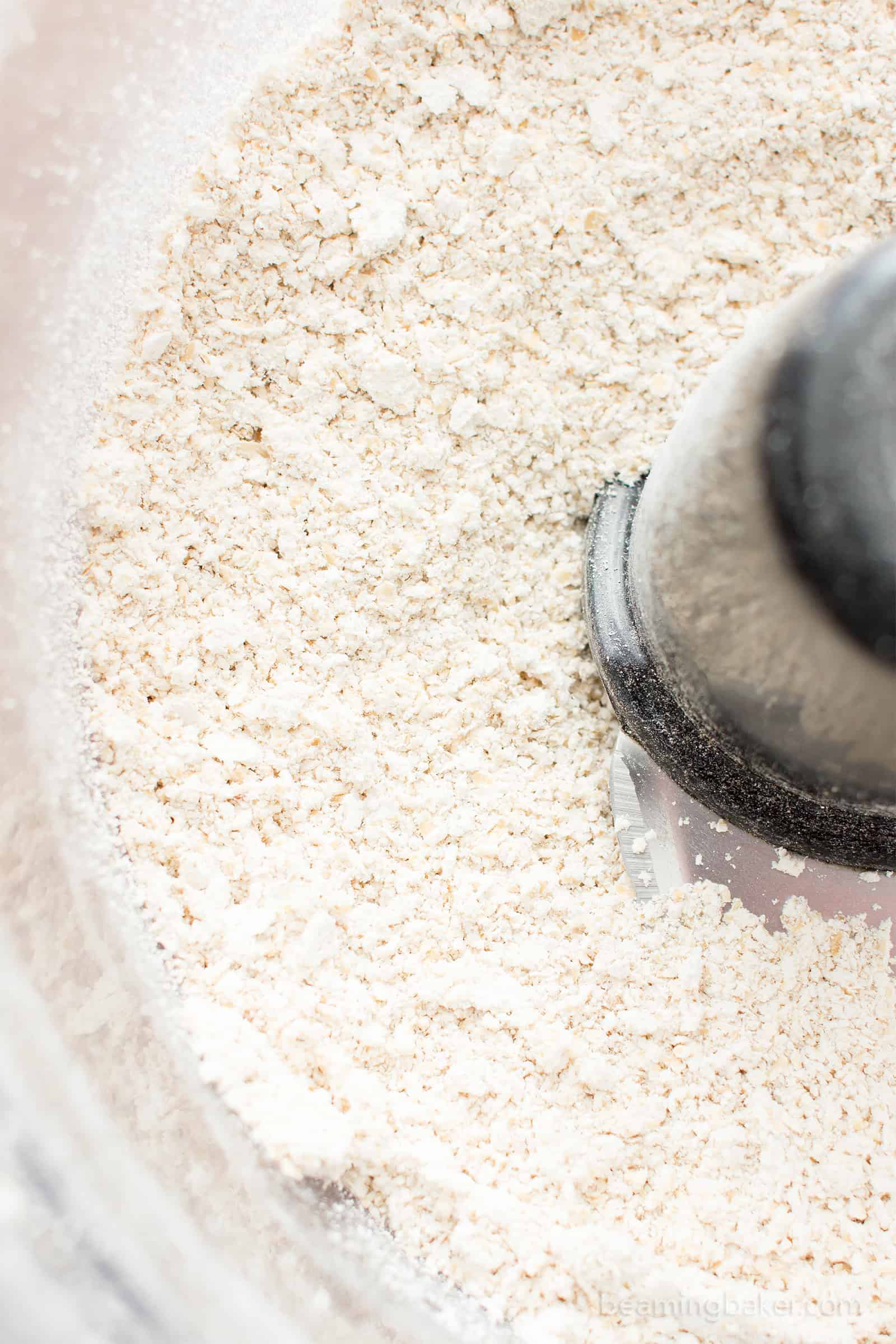 Blend more, making sure to periodically scrape down the sides of the processor. After about a minute or two, no whole oats remain. Much of the mixture has turned to flour. However, if you take a closer look, flakes of oats still remain. Using a spoon, scoop up some flour and look closely. The more oat pieces that remain, the grittier and chunkier the flour will be in your recipe (which you usually don't want). Blend until you reach Step Four.
STEP FOUR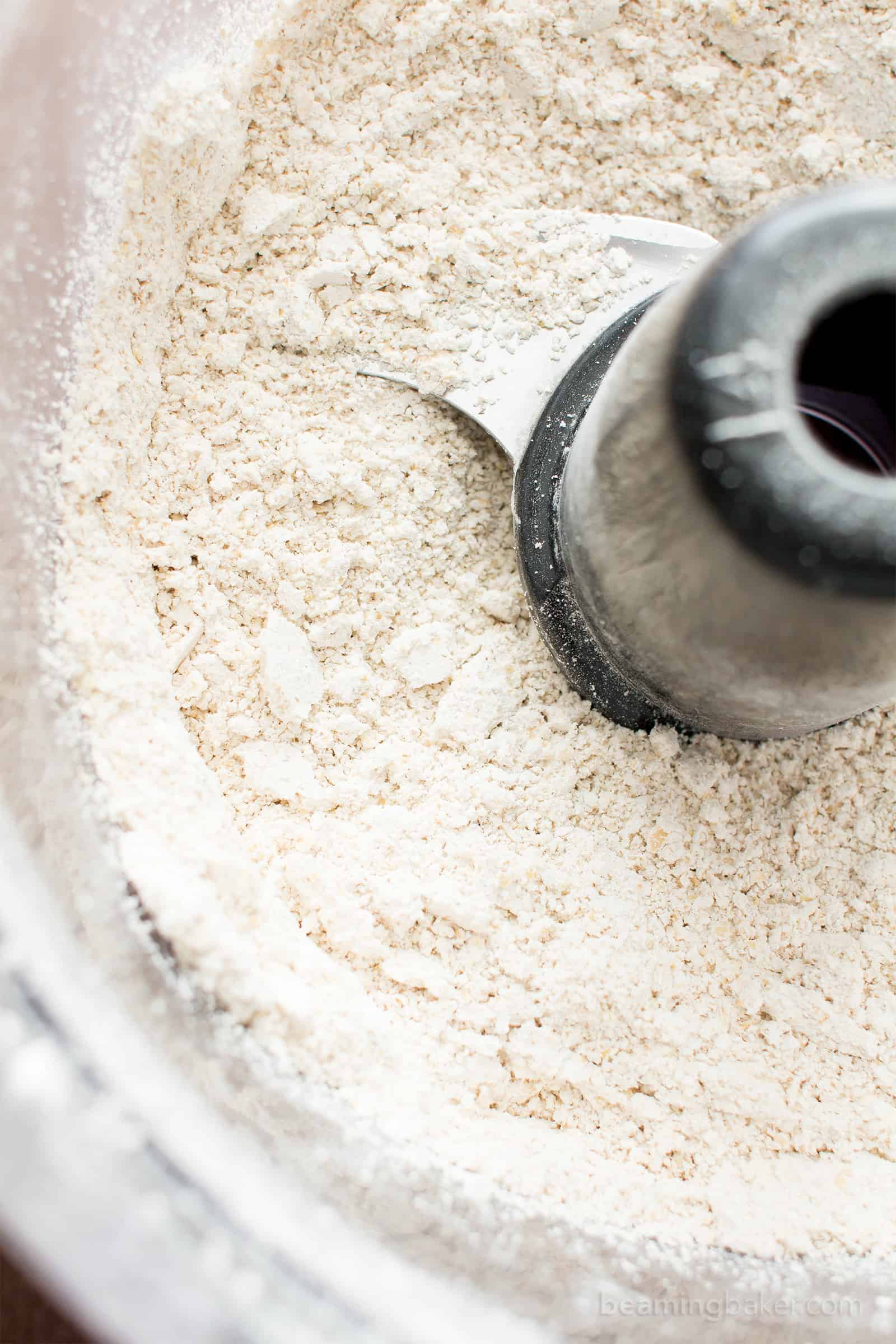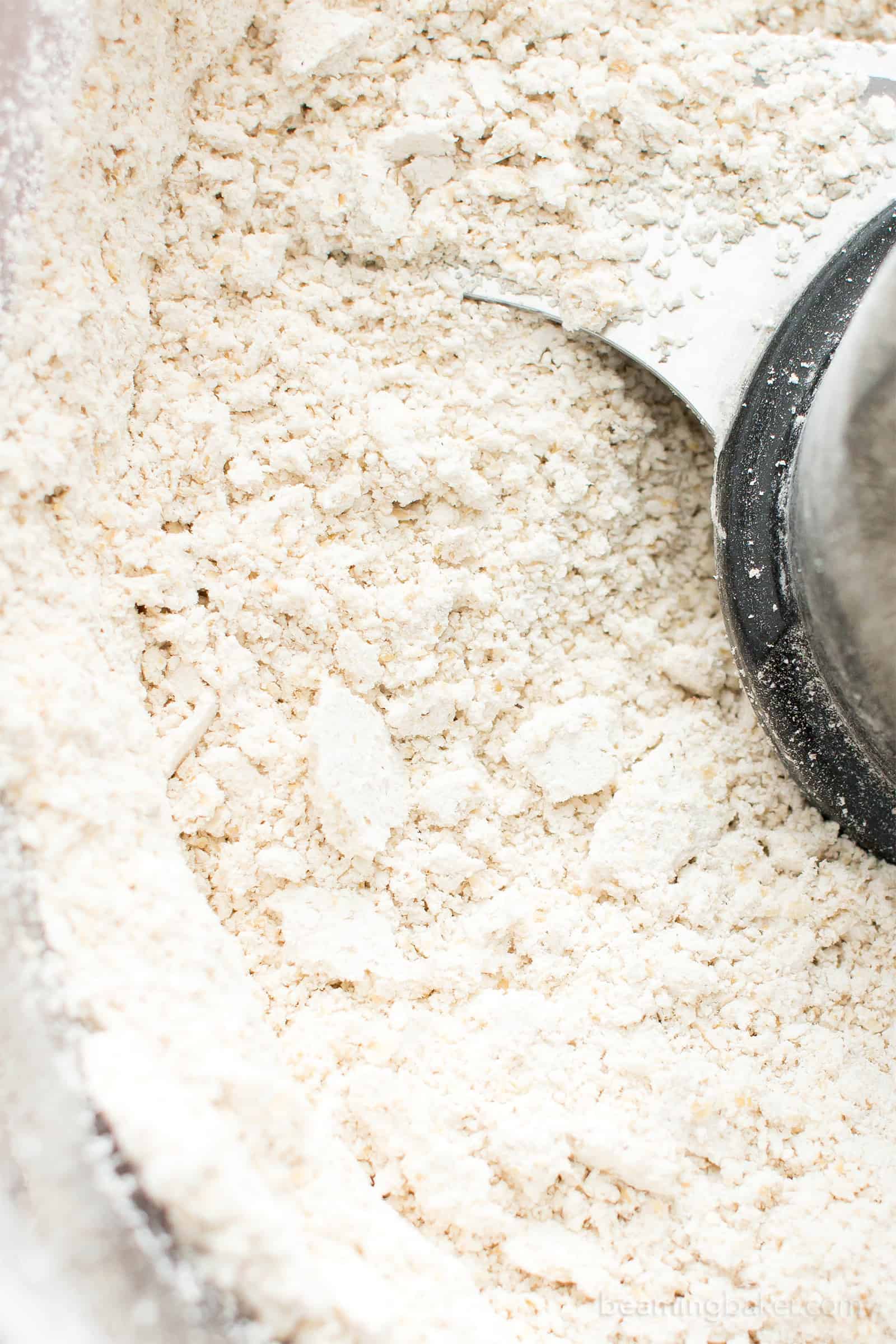 Now you've got it! The flour must be fine all the way through. Yes, it's perfectly normal to have a few flakes of oats here and there. But try your best to grind the flour as finely as possible.
STEP FIVE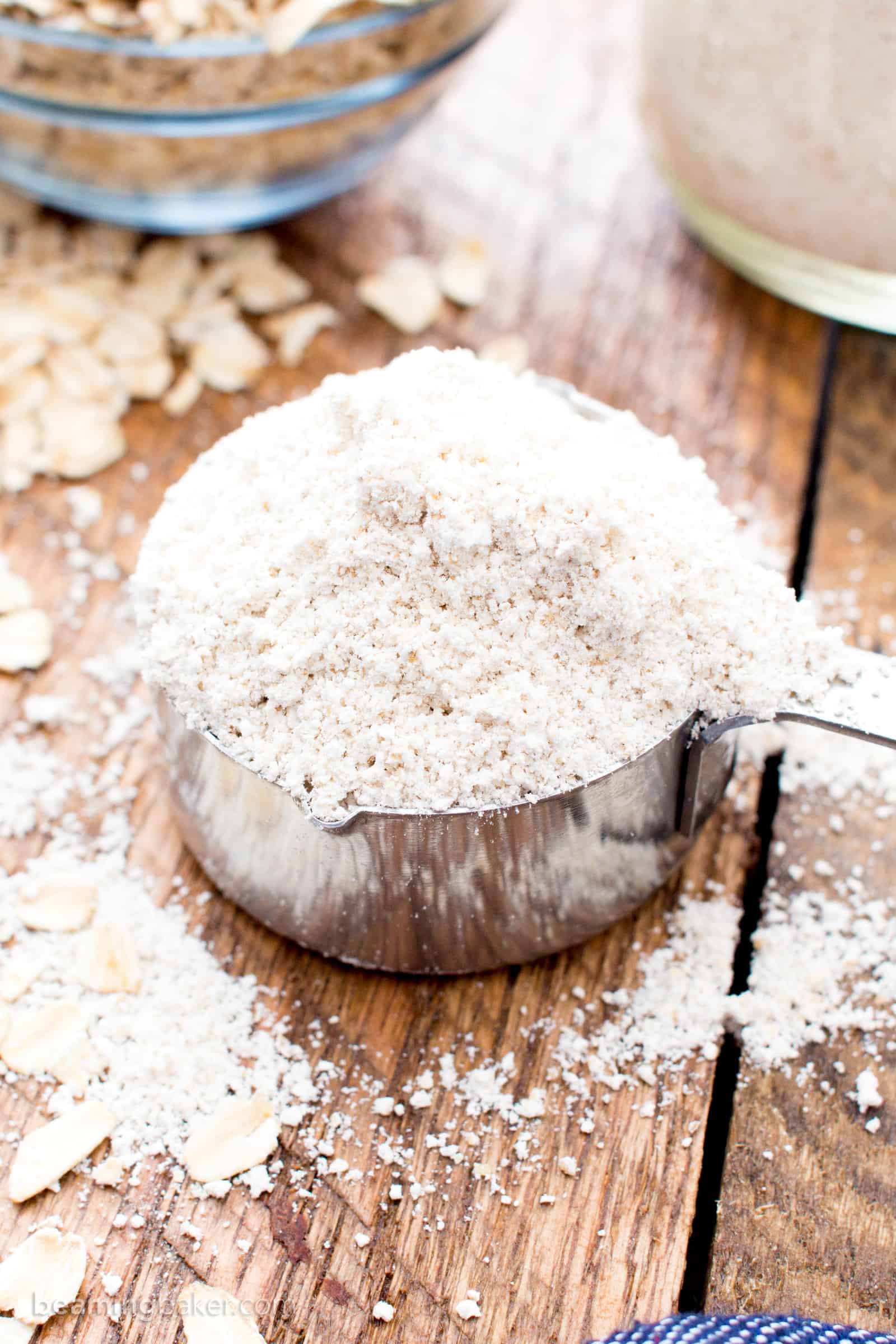 Use it! Make sure to measure the oat flour after you've ground it and not before, when it's in whole oat form. Recipes below. 🙂
Common Questions About Oat Flour
What is oat flour?
Oat flour is a nutritious, unrefined flour made from just one whole ingredient: rolled oats. It's a great baking flour for gluten free and vegan recipes. It has a fairly neutral taste and absorbs flavors really well.
Where do I find oat flour?
You can find gluten free oat flour online here! Oat flour is usually located in the health food section of your local grocery store. In stores like Trader Joe's and Whole Foods, you can find it in the baking section, usually near the allergy-friendly products.
Can I just make my own oat flour to use in a recipe?
Yes! Be sure to make more than the recipe calls for. 1 cup of rolled oats does not equal 1 cup of oat flour. There's about a 1 tablespoon difference per cup. Most importantly, make sure to grind the oats until they're very fine. Coarse/crumbly oat flour is not ideal to use in recipes (unless noted). Coarse oat flour will result in crumbly baked goods.
Can I substitute oat flour for other kinds of flour and vice versa?
Yes and no (I know, what an annoying non-answer). Oat flour can sometimes be substituted with gluten free all purpose flour and whole wheat flour, with a 1:1 ratio. However, you should always proceed with a recipe substitution with caution. Unexpected results may occur, as that recipe was not developed for your substitution. Good luck!
Recipes That Use Oat Flour
Dessert Recipes Made With Oat Flour
Cookie Recipes Using Oat Flour
Breakfast Recipes Using Oat Flour
Snack Recipes Using Oat Flour
More How-To's/Homemade Recipes
Oat flour is one of my favorite ingredients to use! I hope this tutorial gets you interested in using it, making it, and enjoying it. Let me know if you have any questions.
Sending you all my love and maybe even a dove, xo Demeter ❤
☀︎ Click below to Pin ☀︎

☀︎ Did you make this recipe? Take a pic and share it on Instagram with the hashtag #beamingbaker and tag @beamingbaker. I would love to see it! ☀︎
Print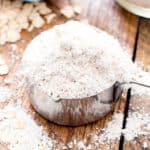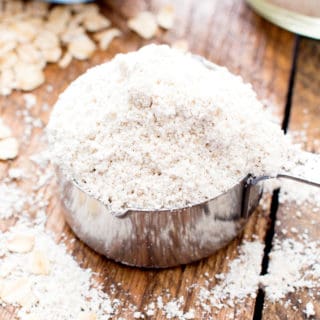 How to Make Homemade Oat Flour (Gluten Free, Vegan)
---
Description
How to Make Homemade Oat Flour (V, GF): a step-by-step tutorial and guide on how to make your own gluten-free oat flour at home. Vegan, Gluten-Free, Dairy-Free.
---
---
Instructions
Add oats to a food processor. Blend until coarse.
Scrape down the sides of the processor as needed. Blend until the oats become a fine flour, with little to no flakes of oats remaining.
Use as needed in oat flour recipes. Remember to measure after blending. Enjoy!
Equipment
Category:

Ingredient, Baking Basics

Method:

Blend

Cuisine:

American
© beamingbaker.com. All content and images are protected by copyright. Please do not use my images or recipe without my permission. Please do not republish this recipe, instead, include a link to this post for the recipe.
SHOP THE RECIPE
Here are a few items I used in today's recipe. 🙂
GF Rolled Oats (Bulk) | Food Processor | Stainless Steel Measuring Cups | Blender | Mason Jars | Silicone Spatulas
This post may contain affiliate links, which allow me to make a small commission for my referral, at no additional cost to you. Thank you for supporting Beaming Baker.
Facebook ☀︎ Pinterest ☀︎ Twitter ☀︎ Instagram