How To Toast Coconut (Easiest Way!)
Learn how to toast coconut the easiest way, yielding crispy crunchy coconut with delicious toasted coconut flavor!
The Easiest Way to Toast Coconut, Ever
If you've ever seen the beautifully golden edges and perfectly curled shape of toasted coconut, then you know why it's the best thing ever. Especially if said toasted coconut is toasted the easiest way ever. Today, we're learning how to toast coconut the simplest, easiest way so you can add an extra pop of wow! to your recipes.
The Only Ingredient You Need to Toast Coconut
Coconut! Yep, that wasn't a trick question (er… title?). Learning how to toast coconut is the easiest thing ever, thanks to the simplicity of the ingredient collection. I mean, we've all had to dive into our pantries (or go from market to market) to collect like 13-20 ingredients for those complicated recipes! The best way to toast coconut calls for just one ingredient—coconut. No salt, no oils, no added junk.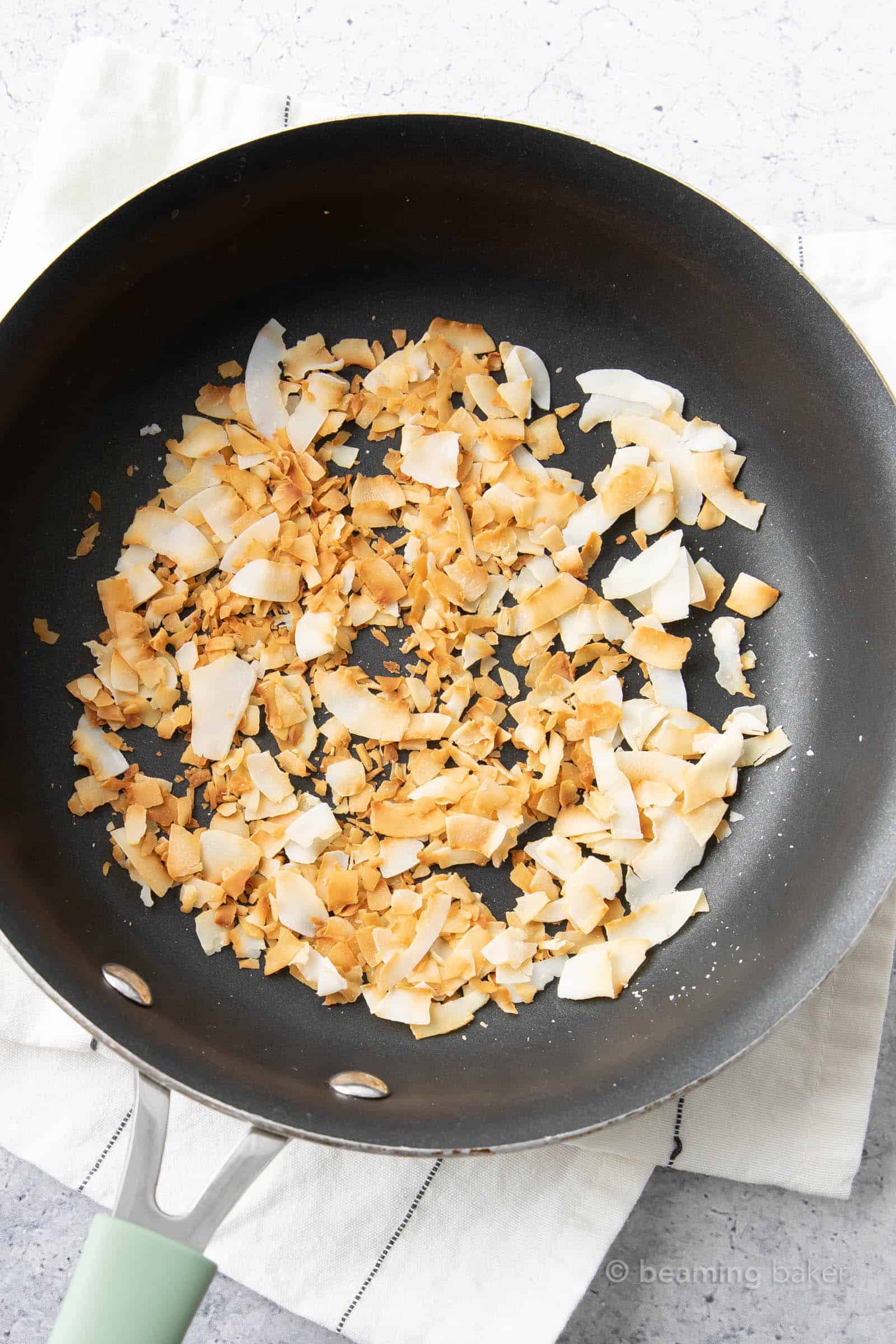 How to Toast Coconut
How do you toast coconut? How do I toast coconut? Glad you asked! Here are the very simple steps for the best way to toast coconut!
Steps
Set a small skillet set over medium heat. Measure out coconut and pour into skillet.
Stir and flip coconut every minute or so, until you begin to see the edges turn golden.
Once the coconut starts becoming more golden, stir more frequently. Pay closer attention as the coconut begins getting more golden and toasted.
Lower the heat and give it few more stirs.
Turn off the heat and move the skillet to an unused burner. Here, we'll use the residual heat still in the skillet to gently toast the coconut. Stir and allow to sit for another minute.
Pour coconut onto a sheet or plate to cool completely.
Sprinkle on top of salads, desserts, or eat just as is for a great snack. That's really how easy it is!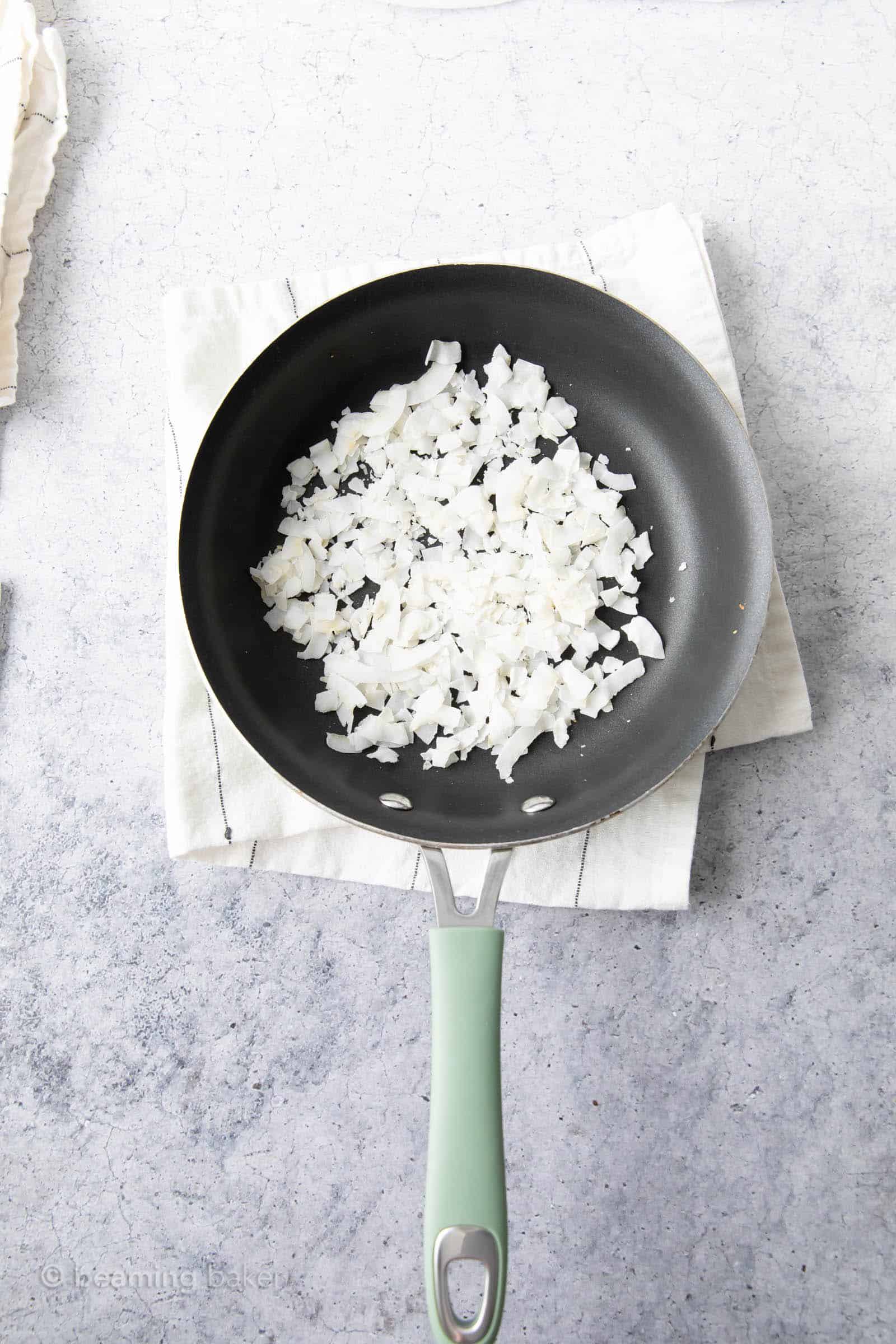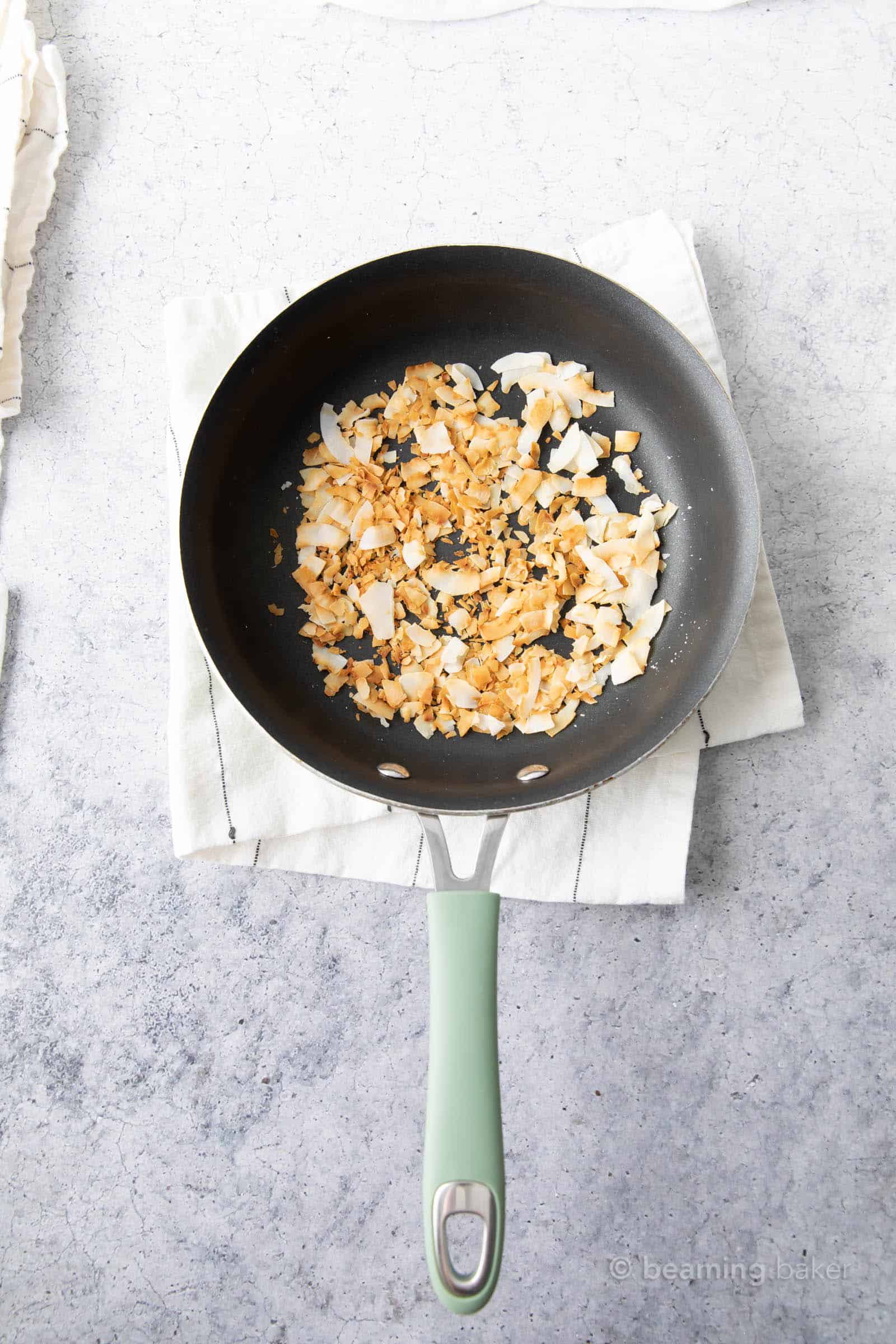 How about Shredded Coconut? Coconut Flakes?
So, how do you toast coconut flakes? How about toasting shredded coconut? You can actually use the same method to toast both types of coconut. Just keep in mind that the smaller the coconut pieces, the more closely you need to monitor them for burning.
Also, consider that sweetened coconut is not ideal for this process. Sweetened coconut includes oils and sugars which change the toasting/cook rate. Sugar tends to lead to quick burning ingredients, and altogether different results—so keep that in mind when toasting sweetened coconut.
The Best Way to Toast Coconut Couldn't Get Easier
Once you get the hang of toasting coconut on a skillet, the world is your oyster! You can toast coconut whenever you please, in just minutes. Then, you can use said coconut as a topping on your ice cream, brownies, salad, or even as a snack.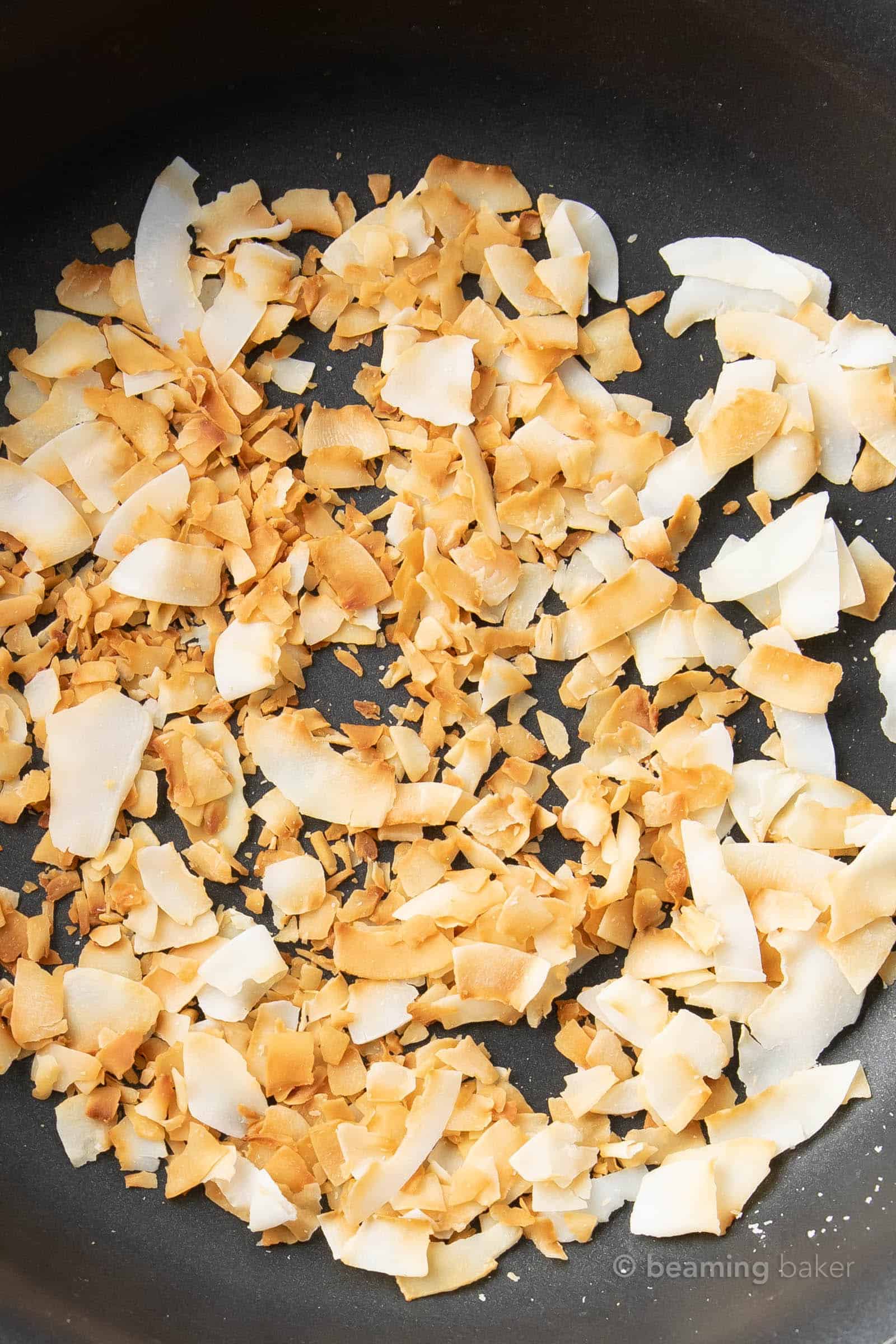 Wonderfully Fulfilling How to Recipes
Tools You Need
Coconut, You're Toast!
…in the best way possible. 😉 The last thing anyone needs is untoasted coconut as the blasé topping for everything. There's something special about easily and wonderfully toasted coconut that takes any recipe to the top. If you make this, take a photo and share it in Instagram, tagging me at @beamingbaker and tagging #beamingbaker. I'd love to see it! 'Til our next sweet adventure…
Sending you all my love and maybe even a dove, xo Demeter ❤️
🥥 📸 🌴
📸 Did you make this toasted coconut recipe? Take a pic and share it on Instagram with the hashtag #beamingbaker & tag @beamingbaker. I'd love to see it! 📸
Print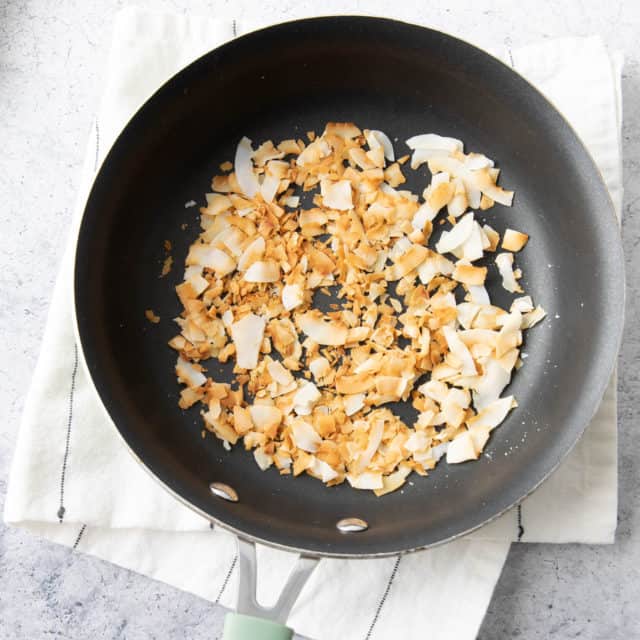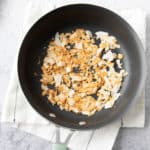 How To Toast Coconut (Easiest Way!)
---
Description
Learn how to toast coconut the easiest way, yielding crispy crunchy coconut with delicious toasted coconut flavor!
---
---
Instructions
Add coconut to a skillet set over medium heat.
Stir and flip every minute or so, checking to ensure that the coconut doesn't burn. Smaller pieces will toast quickly; so stir the smaller bits to the outer edge of the pan and shift the large bits into the center, where the pan is hottest. This will take 3-5 minutes.
When most of the coconut is golden brown at the edges, remove the skillet from heat. Stir again and allow coconut to cook just a bit more using the residual heat for about 1 minute.
Pour coconut on a plate or sheet to cool completely. Enjoy. Storing instructions below.
Equipment
Notes
I absolutely love these raw coconut chips, whether I'm using them for toasting or adding them into an ice cream, coconut bar, or other yummy coconut recipe.
Storing Instructions: Cool completely, then store in an airtight container for about 1 week at room temperature.
Refrigerator Storing: If storing in the refrigerator, follow instructions above, then store in the refrigerator for 1-2 months.
Prep Time:

1 minute

Cook Time:

5 minutes

Category:

How to, Snacks

Method:

Toast, Skillet

Cuisine:

American
Keywords: how to toast coconut, best way to toast coconut, easiest way
© beamingbaker.com. All content and images are protected by copyright. Please do not use my images or recipe without my permission. Please do not republish this recipe, instead, include a link to this post for the recipe.
Wanna help grow the Beaming Baker community? ☀️
You play such an important part in the livelihood of Beaming Baker–and just know that Erik and I truly appreciate it. 🧡 If you want to help grow the BB community, you can do the following:
📝 Leave a comment & rating. When you try a recipe, leave a comment and star rating to let us know how you liked the recipe. It truly helps all of our readers discover which recipe works best–and keeps us going in the right direction.
📸 Instagram. Made a recipe? Take a photo and share it on Instagram with the tag #beamingbaker and tag us at @beamingbaker. It makes our day to see how the recipe turned out for you!
👭 Tell a friend. You know when you love something, you can't help but tell others about it? If you love any of the recipes on Beaming Baker, tell a friend. 🙂 It truly helps to grow the BB community. ☀️
This post may contain affiliate links, which allow me to make a small commission for my referral, at no additional cost to you.