Fresh, ruby red strawberries laced throughout fluffy, buttery pancakes and drenched in maple syrup for the best easy strawberry pancakes!
Simply the Best Easy Strawberry Pancakes
You're simply the best!! The best I've ever eaten… Okay, so I don't know all the lyrics to that song… but I'm sure food should be involved. Especially if you're talking about today's easy strawberry pancakes. These pancakes are so fluffy, you could sleep on a cloud-like stack. They're so perfectly flavored, with the pancake trifecta of buttery-salty-sweet goodness. And bonus, these strawberry pancakes are perfect for dessert, breakfast, or dinner. Heck yeah! Let's get the griddle warmed up, 'cuz we're making pancakes!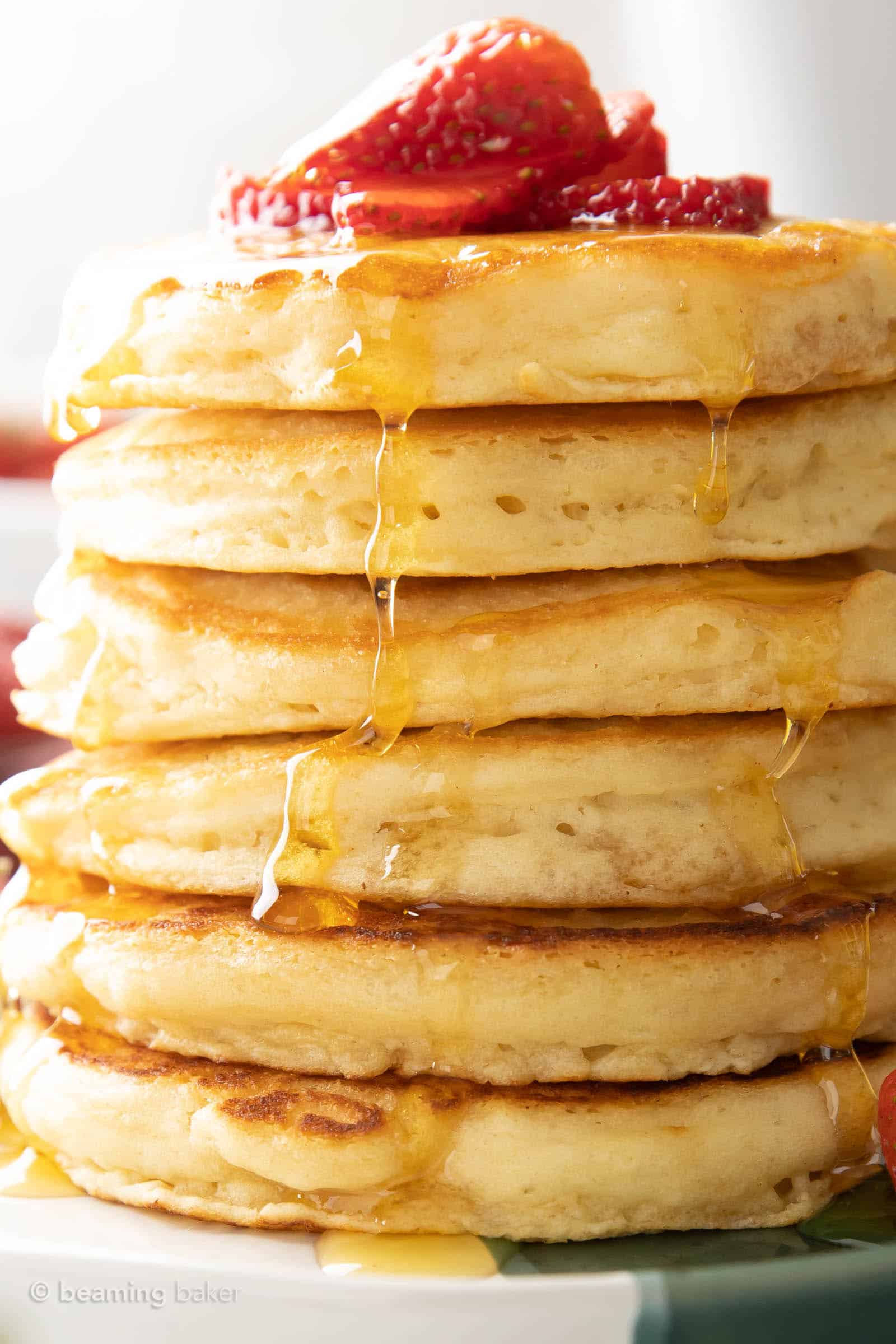 Everything You Need to Make Strawberry Pancakes
Buttermilk – you can use buttermilk you might have on hand, or try using my buttermilk recipe for the best results.
Flour – I like using unbleached all purpose flour for this recipe.
Baking powder
Cane sugar
Salt – I don't recommend skipping the salt, as it creates a delicious sweet 'n salty flavor combo with the sweet components in this recipe
Butter
Milk
Vanilla
Strawberries – fresh strawberries work best in this easy strawberry pancakes recipe. I tend to find that frozen strawberries thaw to a soggy, gummy texture. Use fresh strawberries for the best flavor, and so you can top your pancakes off with beautiful fresh strawberry slices.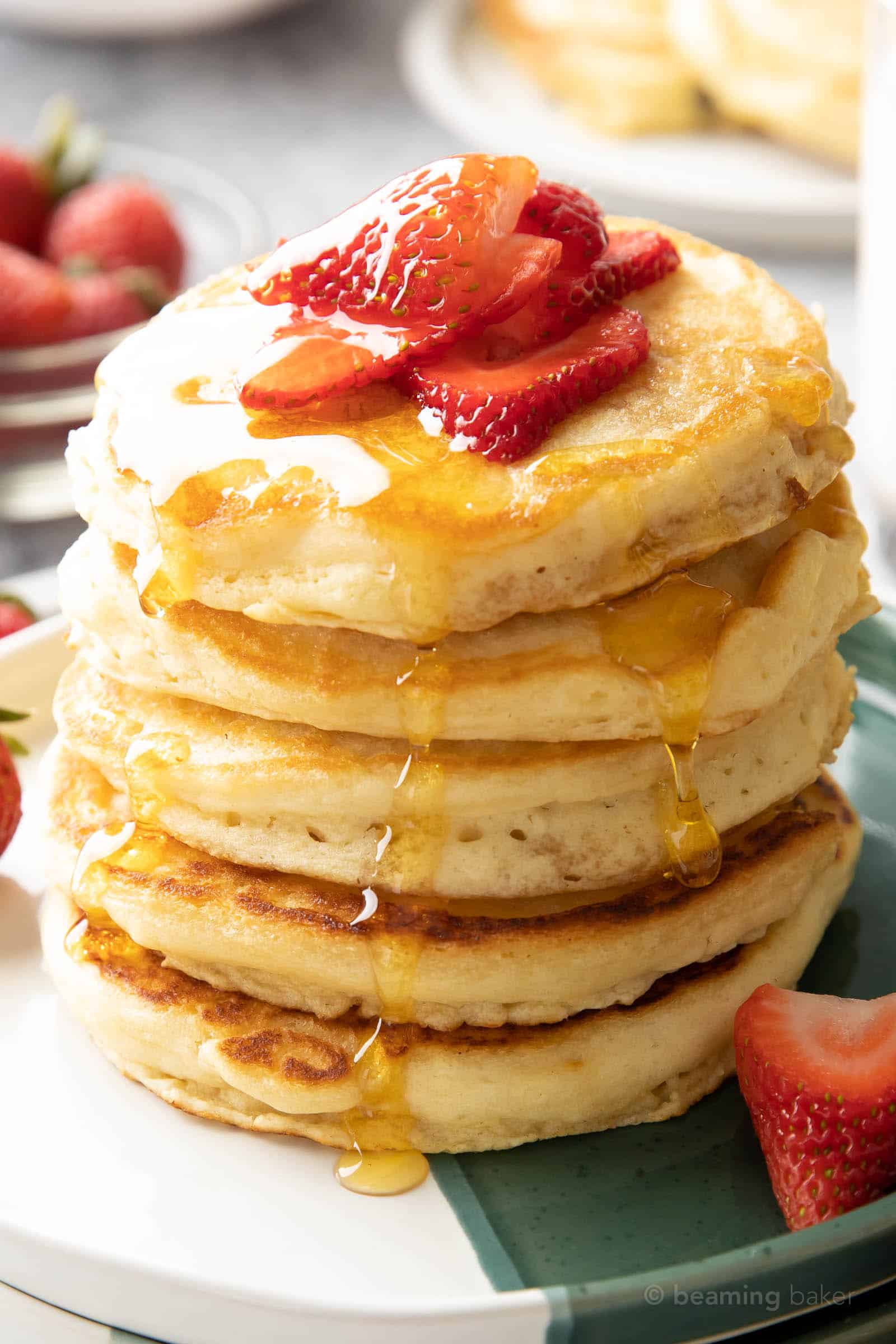 How to Make Strawberry Pancakes
Before you begin, make the buttermilk. I like using this buttermilk recipe for my easy strawberry pancakes. Set the buttermilk aside for later.
Next, sift together the flour and baking powder into a medium mixing bowl. Once fully sifted, add cane sugar and salt into the same bowl. Whisk it all together until well mixed.
Now, add the buttermilk you made earlier, melted butter, milk and vanilla.
Whisk all the pancake batter ingredients together until well mixed, with just a few tiny clumps remaining—but no dry ingredients around the sides or bottom of the bowl. Be careful not to overmix your batter.
Set for 5 minutes.
Preheat the skillet fully to medium heat. Drop a dollop of butter onto the skillet and move it around with your spatula to fully coat the skillet.
Using a large batter scoop, scoop and drop about ¼ cup of pancake batter onto the center of the skillet. Even out the batter into a smooth layer, forming a circle.
Press strawberries into the batter. Cook for about 2 minutes.
Flip with a pancake spatula.
Cook for another minute, then transfer to a plate or cooling rack.
Repeat for the rest of the strawberry pancake batter. Serve in a stack with maple syrup and whipped cream. Enjoy!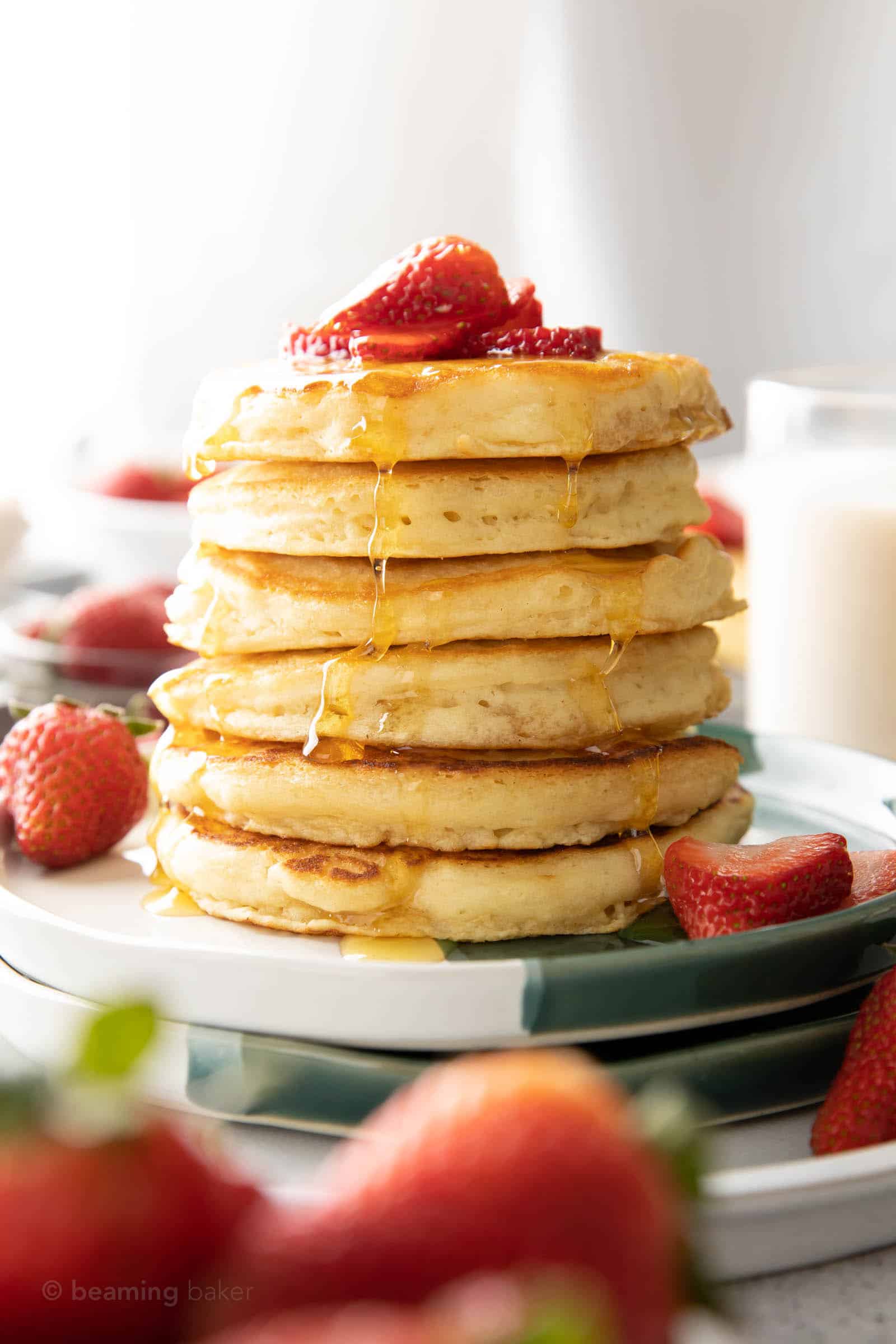 Tips & Tricks
I loved writing super extensive tips and tricks for making the best ever fluffy pancakes. Be sure to check out that post for my top secrets for making heavenly fluffy pancakes with beautiful buttery taste, and amazing cloud-like pancakes. Some of the tips include:
Use the Buttermilk, for real
Buttermilk is crucial to creating the best strawberry pancakes. Not only does buttermilk add a delicious, slightly tangy flavor, but it also helps to break down the gluten in this recipe for a soft and tender crumb. As a result, you'll be make the best strawberry pancakes!
Don't overmix the batter
I know, you've heard this a million times over in all the baking recipes you've ever read. But there's a reason this oldie is a goodie. When I made my pancake batter, I worried about those little clumps of dry ingredients that weren't fully incorporated into the batter. But I had to go against my need to *fully-complete* everything and let it be.
Just know that those 5 minutes of set time will help to integrate those small bits of dry ingredients into the wet batter, and that those clumps will dissipate while cooking on the skillet. Just make sure not to leave too many clumps in the batter. You'll get the hang of it as you make strawberry pancakes again and again.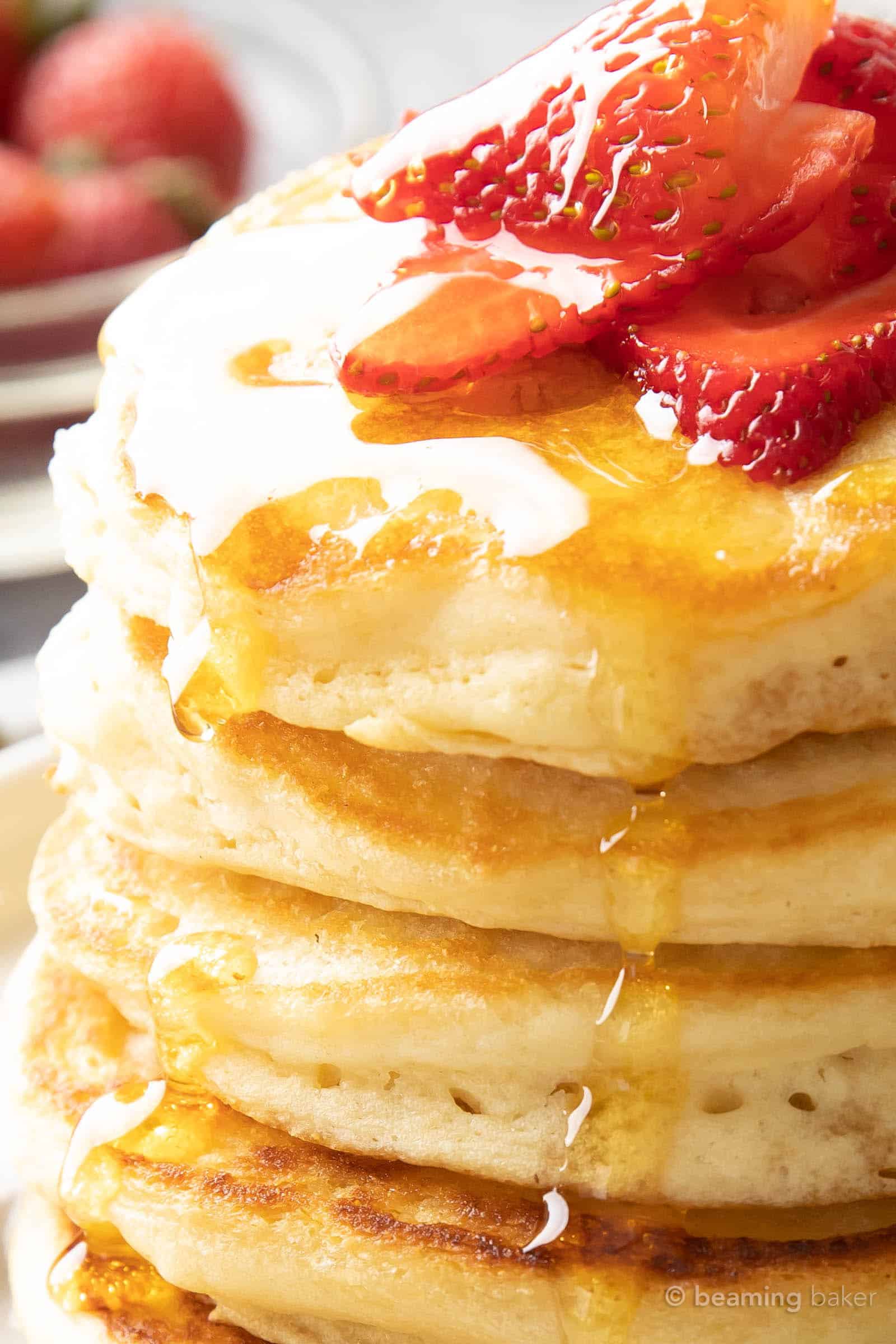 Keep the Recipe As-Is
Whenever you make a change to a recipe, no matter how small you perceive it to be, it will most likely have big effects on the final product.
Leave out the sugar? Miss out on the subtly sweet taste and the mouthwatering crystallization that occurs to sugar while cooking—thereby missing out on crispy edges on your pancakes.
Leave out the salt? Miss out on that just-right savory twist that makes pancakes go so darn well with sweet maple syrup. Salty 'n sweet lovers, you know what I'm talking about.
Use a Pancake Spatula
I know, it seems silly to "have to" use a pancake spatula to make the best strawberry pancakes. I thought it was a gimmick, too. Until I used one. I didn't have the havoc-wreaking consequences of a too-small spatula that allowed the batter on the uncooked side of the pancakes to dribble away, or a spatula that wasn't smooth and flat enough to slide right under the pancake to make for easy flipping. This pancake spatula worked wonders for me.
Fully Preheat the Skillet
It's so important to fully preheat the skillet before you start pouring your pancake batter on it. If the skillet is just preheated halfway, you'll mistake the cooking time duration of the first few pancakes with the real cook time of the rest of the pancakes. Hence, if the skillet is fully preheated before you begin, you can rely on a somewhat smooth pancake-making process, with less burnt pancakes.
How to Serve Strawberry Pancakes
With fresh strawberries and the creamiest whipped cream
Topped with a pat of butter and doused in pure maple syrup
Sprinkled with candied pecans

More Breakfast Recipes to Satisfy Your Morning
Tools You Need
Top it Off
… with a pic of your beautiful strawberry pancake stack, please! I can't wait to see the fun you have with pouring that perfect circle of strawberry pancake a batter, then setting up a tall stack for a sumptuous and relaxing breakfast. Take a pic and share it on Instagram, being sure to tag me at @beamingbaker and #beamingbaker. I'd love to see it! 'Til our next breakfast adventure…
Sending you all my love and maybe even a dove, xo Demeter ❤️
🍓 📸 🥞
📸 Did you make this easy strawberry pancakes recipe? Take a pic and share it on Instagram with the hashtag #beamingbaker & tag @beamingbaker. I'd love to see it! 📸
Print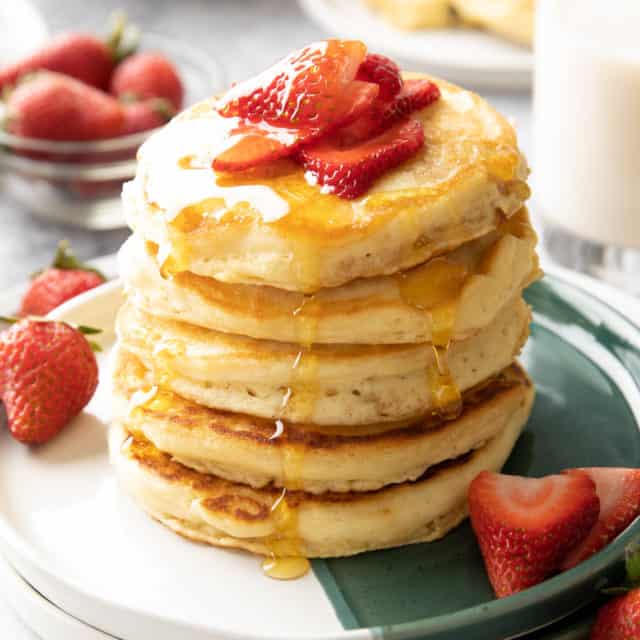 Easy Strawberry Pancakes
---
Description
Fresh, ruby red strawberries laced throughout fluffy, buttery pancakes and drenched in maple syrup for the best easy strawberry pancakes!
---
Fresh Strawberries
Pancakes
Buttermilk

1 tablespoon

lemon juice, white vinegar or apple cider vinegar

1 cup

milk

1 ¼ cups

all purpose flour – spooned and leveled

1 tablespoon

+

1 teaspoon

baking powder

2 tablespoons

cane sugar

½ teaspoon

salt

2 tablespoons

melted butter

2 tablespoons

milk

1 teaspoon

pure vanilla extract
Optional Toppings
Whipped topping
Pure maple syrup
---
Instructions
Prepare the strawberries: Wash the strawberries and pat dry. Then, hull the strawberries. Take a handful of strawberries and slice them—you will use these as toppings on your pancake stacks. Now, take the remainder of the strawberries and dice them—you will use these diced strawberries as add-ins. Set aside strawberries for later.
Make buttermilk: Add lemon juice, white vinegar or apple cider vinegar to a small mixing bowl or large measuring cup. Add milk. Whisk together and set for about 5 to 10 minutes while you prepare the other ingredients.
Set a skillet onto your stovetop, you'll need this later.
Sift the dry ingredients: Sift the flour and baking powder together into a medium mixing bowl. Add in cane sugar and salt. Whisk until well mixed.
Add the wet ingredients: Pour the buttermilk, melted butter, milk and vanilla over the dry ingredients in the mixing bowl.
Combine: Whisk the wet and dry ingredients together until just combined, being careful not to over-mix, as this will result in dense pancakes. Whisk well until mostly smooth, but with still a few very small pebbles of flour throughout—these will incorporate into the batter as it sets in the next step.
Let set for 5 minutes. Your pancake batter is ready!
Prep the Skillet: Turn the heat to medium on your stovetop, waiting until the skillet is evenly heated, but not smoking. Once evenly heated, drop a dollop of butter into the skillet. As it melts, gently swirl the dollop around to evenly coat the skillet.
Make Pancakes: Using a large batter scoop, scoop ¼ cup of pancake batter into the center of the skillet. Then, using the rim of the scoop, smooth the batter into an even layered circle about 1/4" thick. The batter will rise as it cooks. Make sure the batter isn't especially thick in the center of the pancake to ensure an even cook.
Gently press diced strawberries into the batter, as many or as little as you'd like.
Allow the batter to cook until bubbles form throughout the center of the pancake. About 1-2 minutes, depending on the heat of your skillet. Using a pancake spatula, gently lift the edge of the pancake to test that it can be flipped. Flip the pancake. When flipping the pancakes, if the batter spills to the side a bit, gently nudge it back into the center of the pan.
Cook for about 1 minute, until golden brown on the underside of the pancake touching the skillet. Transfer to a plate.
Turn the heat to medium low.
Re-butter the pan in between pancakes.

If the butter is smoking quite a bit, the pan is too hot and you need to take it off the heat for a little bit to cool it, and turn the heat lower. If the heat is too high, the pancakes will be burnt, but uncooked on the inside. If the heat is just right, you'll have evenly cooked pancakes throughout the pancake-making process.
If it's smoking just a little, it's okay and you can keep your heat the same. Also, periodically wipe off the pan to clear out crumbs that could burn.

Repeat until all batter is used.
Serve in a stack with strawberry slices, whipped topping, and pure maple syrup. Enjoy!
Equipment
Notes
Tip: only make one pancake at a time. Also, pour the batter into the middle of the pan.
For more tips, read this fluffy buttermilk pancakes recipe.
To Keep Warm for a Large Batch: Before making pancakes, preheat oven to 200°F. Line a baking sheet with parchment paper or greased foil. Place baking sheet into oven. Every time you've made a few pancakes, open the oven and lay the pancakes on the sheet in a single layer.
Prep Time:

20 minutes

Cook Time:

15-20 minutes

Category:

Breakfast

Method:

Cook

Cuisine:

American
© beamingbaker.com. All content and images are protected by copyright. Please do not use my images or recipe without my permission. Please do not republish this recipe, instead, include a link to this post for the recipe.
Wanna help grow the Beaming Baker community? ☀️
You play such an important part in the livelihood of Beaming Baker–and just know that Erik and I truly appreciate it. 🧡 If you want to help grow the BB community, you can do the following:
📝 Leave a comment & rating. When you try a recipe, leave a comment and star rating to let us know how you liked the recipe. It truly helps all of our readers discover which recipe works best–and keeps us going in the right direction.
📸 Instagram. Made a recipe? Take a photo and share it on Instagram with the tag #beamingbaker and tag us at @beamingbaker. It makes our day to see how the recipe turned out for you!
👭 Tell a friend. You know when you love something, you can't help but tell others about it? If you love any of the recipes on Beaming Baker, tell a friend. 🙂 It truly helps to grow the BB community. ☀️
This post may contain affiliate links, which allow me to make a small commission for my referral, at no additional cost to you.