Vegan Chocolate Chip Pancakes
Cloud-like fluffy pancakes studded with sweet chocolate chips, and drenched in rich chocolate ganache for the best vegan chocolate chip pancakes!
Rise 'n Shine with the Best Ever Vegan Chocolate Chip Pancakes
Is there anything better than having the perfect excuse to enjoy a mountain of chocolate for breakfast? I mean, there are pancakes inside that mountain and perhaps a plate full of fruit on the side. 😉 Take in today's gorgeous, mouthwatering stack of cloud-like fluffy vegan chocolate chip pancakes, studded with melted chocolate chips and drenched in velvety chocolate ganache, with a dollop of vegan whipped cream on top. Ready? Let's make this!
Everything You Need to Make the Perfect Chocolate Chip Vegan Pancakes!
Vegan buttermilk – follow my vegan buttermilk recipe and use soy milk! It will create the thickest, fluffiest and best tasting chocolate chip vegan pancakes.
Vegan Chocolate Chips – here are some of my faves (all vegan): vegan | allergy-friendly | sugar-free keto
All purpose flour – I like using unbleached all purpose flour for this option, but you can use whatever all purpose flour you have on hand. I do not recommend using coconut flour, almond flour, tapioca flour, or anything of that sort. Those flours work very, very differently than AP flour.
Vegan butter – make sure to melt your vegan butter before you begin, and to keep it in a warm environment until it's ready to go in the batter. You don't want it to re-solidify before using.
Baking powder
Organic cane sugar + salt – make sure not to leave out the salt and sugar in this vegan chocolate chip pancakes recipe. The sugar will crystallize while cooking on the skillet and add a light crispiness to your pancakes. The salt will simultaneously pair well with the sugar for the salty/sweet effect and bring out the delicious tang of vegan buttermilk.
Non-dairy milk – I highly recommend using soy milk, it has a thicker texture, and its' flavor won't clash with the vegan buttermilk you made earlier with soy milk.
Vanilla – use pure vanilla extract for the best flavor. Imitation vanilla isn't great, folks! (I know, I've been in a bind before and had to use it haha.)
Vegan chocolate ganache – It's thick, rich, and oh-so-chocolatey. If you're not in the mood to make ganache, grab a bottle of vegan chocolate syrup to speed things up.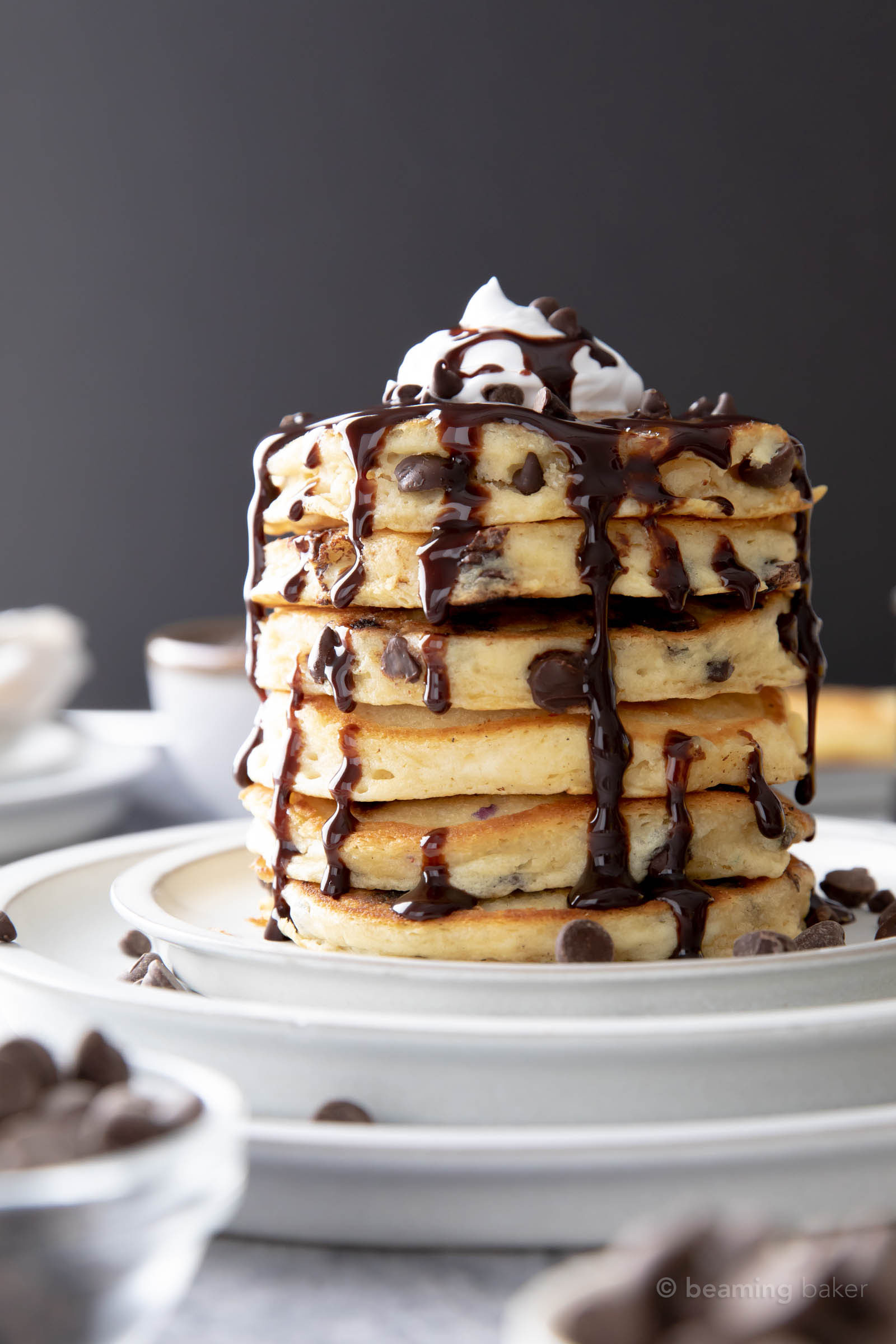 How to Make Vegan Chocolate Chip Pancakes
Gather around, because today, we're learning how to make vegan chocolate chip pancakes with no milk and without eggs! These vegan pancakes are fluffy, thick and have the best pancake flavor I've ever, ever tasted. (Did I tell you I'm a pancake aficionado?)
The first thing you gotta do before even prepping your dry ingredients for the pancake batter is to make your vegan buttermilk! Learn how to make vegan buttermilk.
Set the buttermilk aside at room temperature while you prep the rest of the chocolate chip vegan pancakes recipe.
Select your best, non-stickiest skillet and set it on the stovetop. No need to heat it up just yet—simply allow it to sit tight.
Next, sift together the flour and baking powder into a medium mixing bowl. Add sugar and salt, then whisk until it's all well mixed. This is your dry ingredient mixture.
Now, grab the thickened vegan buttermilk and pour it over the dry ingredient mixture. Add the melted vegan butter, soy milk, and vanilla.
At this point, you can whisk both the dry and wet ingredients together, thereby forming your vegan chocolate chip pancakes batter! 🙂 Set the batter aside and allow it to thicken and amalgamate for 5 minutes.
You can now preheat the skillet. Make sure it's fully preheated before starting for consistently good (aka unburnt) pancakes.
Butter the skillet, then drop ¼ cup of pancake batter onto the skillet. Press about ½ to 1 tablespoon of chocolate chips into the batter. Cook for about 2 minutes, depending on the heat of your skillet.
Using a pancake spatula (highly recommended for easy flipping), flip the pancake and cook for about 1 minute.
Transfer to a cooling rack or plate. Serve your chocolate chip vegan pancakes in a stack, topping with coconut whip, chocolate ganache or syrup, and of course, more vegan chocolate chips!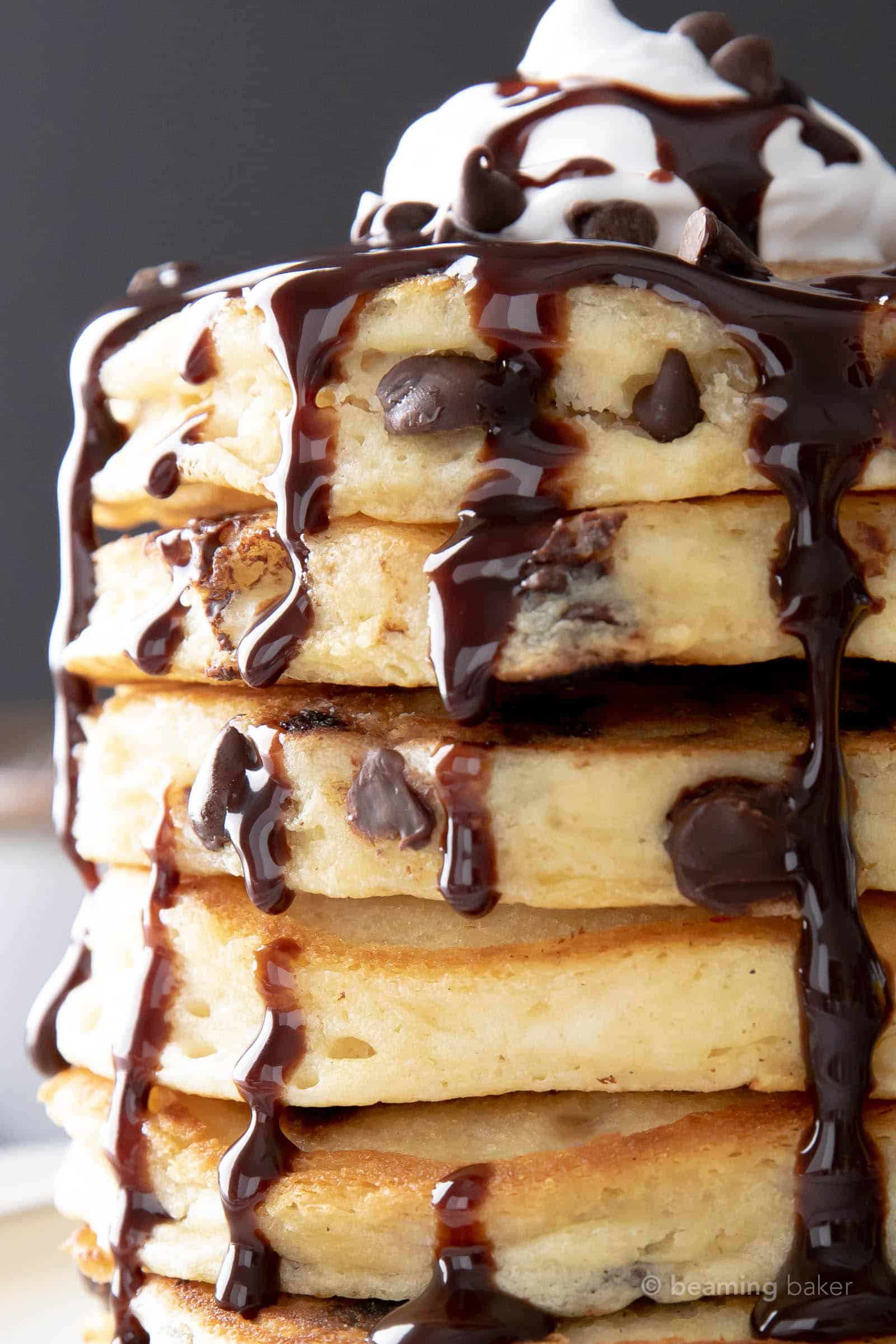 Delicious Ways to Serve Chocolate Chip Vegan Pancakes
Want more Tips?
Check out my Vegan Buttermilk Pancakes recipe. It's chockfull of detailed tips and secret tricks for making the very best fluffy vegan pancakes.
Is it possible to make chocolate chip pancakes without eggs and no milk?
Yes and yes! These vegan chocolate chip pancakes are made without eggs and no milk—at least the dairy kind. This is made possible using vegan buttermilk and soy milk to replace traditional dairy milk. Also, we're not even using flax eggs in today's recipe! It's simply not needed.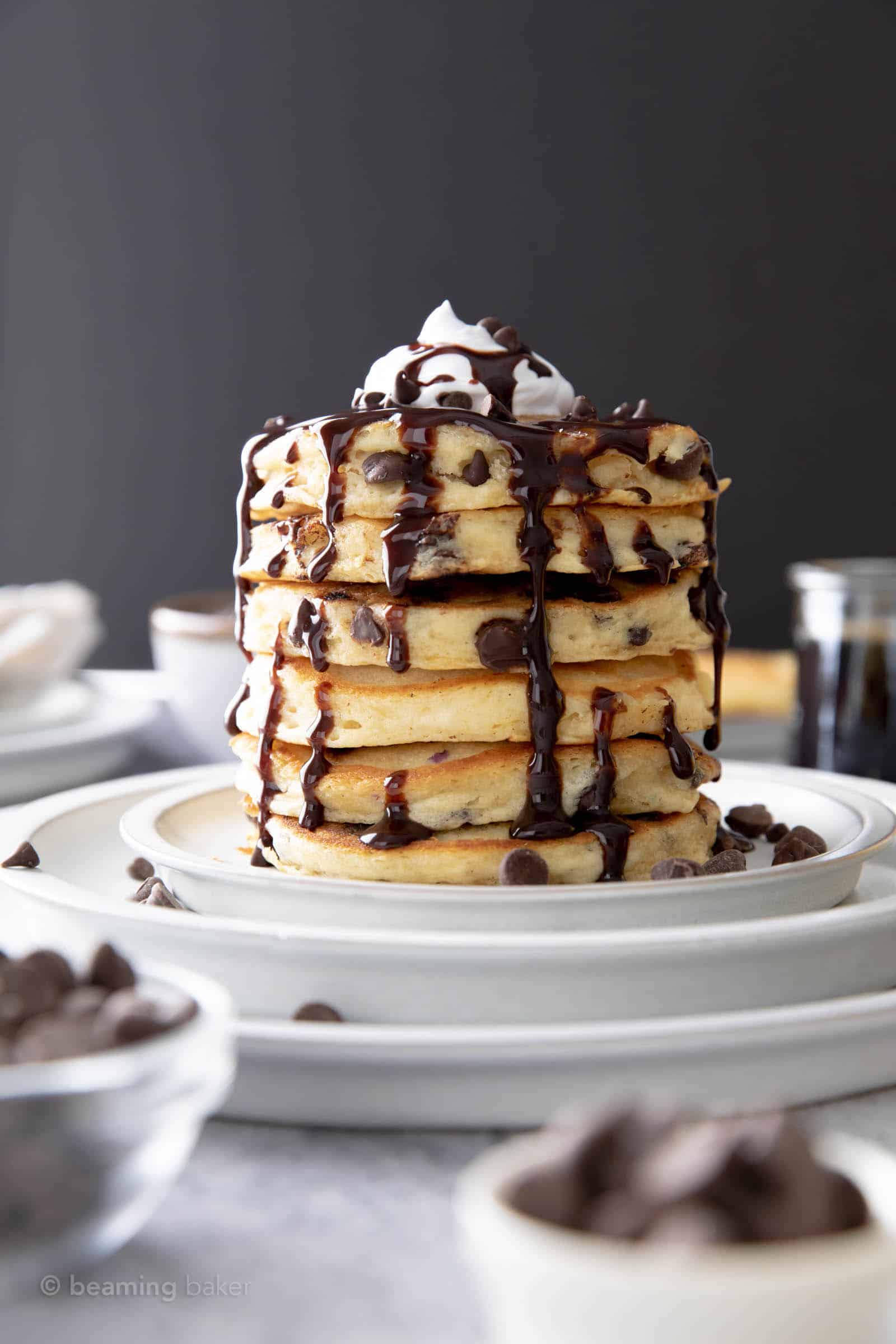 More Breakfast Recipes to Brighten Your Day
Loving today's chocolate chip pancakes without eggs? Try your hand at one of these wonderful vegan recipes for your next awesome vegan breakfast!
Tools You Need
Good Morning!
And good evening to you, wherever you are in the world. I hope you can kick off a bright and sunny morning, or even a cool and mild evening with a great big stack of yummy vegan pancakes. 🙂 Just know that I'm grateful for you, wherever you're enjoying that wonderful stack. 'Til our next sweet adventure…
Sending you all my love and maybe even a dove, xo Demeter ❤️
🍫 📸 🥞
📸 Did you make this chocolate chip vegan pancakes recipe? Take a pic and share it on Instagram with the hashtag #beamingbaker & tag @beamingbaker. I'd love to see it! 📸
Print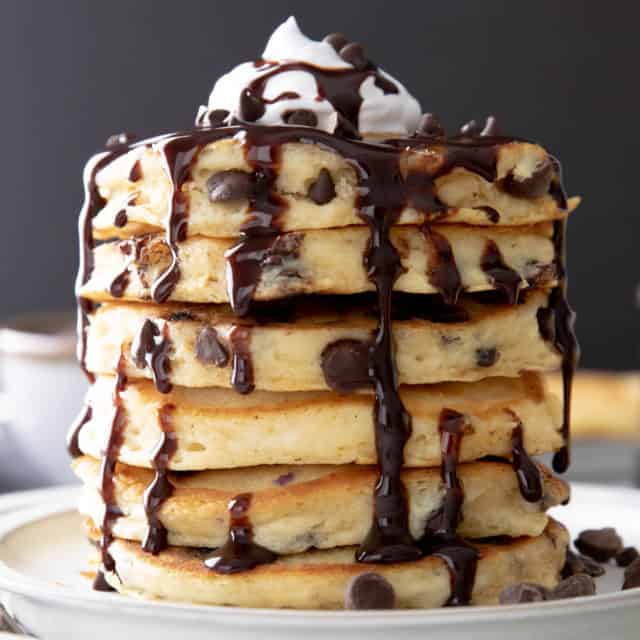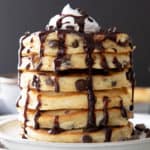 Vegan Chocolate Chip Pancakes
---
Description
Cloud-like fluffy pancakes studded with sweet chocolate chips, and drenched in rich chocolate ganache for the best vegan chocolate chip pancakes!
---
Vegan Chocolate Ganache
Vegan Pancakes
Vegan buttermilk

1 tablespoon

apple cider vinegar, lemon juice, or white vinegar

1 cup

unsweetened soy milk (preferred) or other vegan milk

1 ¼ cups

unbleached, all purpose flour – spooned and leveled

1 tablespoon

+

1 teaspoon

baking powder

2 tablespoons

organic cane sugar

½ teaspoon

salt

2 tablespoons

melted vegan butter

2 tablespoons

soy milk (preferred) or other vegan milk

1 teaspoon

pure vanilla extract
Add-ins
Toppings
Vegan chocolate ganache or vegan chocolate syrup
Non-dairy whipped topping
Mini and regular vegan chocolate chips
Additional Ingredients
Vegan butter to coat pan, more for topping pancakes
---
Instructions
Make the ganache (or skip and use vegan chocolate syrup). Use the double boiler method to melt the chocolate or do the following: In a medium, microwave-safe bowl, add coconut cream and vegan chocolate chips. Heat in 15-second increments until just softened and melted. Whisk together until smooth. Keep warm until pancakes are ready to serve.
Make vegan buttermilk: Add apple cider vinegar to a small mixing bowl or large measuring cup. Add soy milk. Whisk together and let set for about 5 to 10 minutes while you prepare the other ingredients.
Sift the dry ingredients: Sift the flour and baking powder together into a medium mixing bowl. Add in cane sugar and salt. Whisk until well mixed.
Add the wet ingredients: Pour the vegan buttermilk, melted vegan butter, soy milk and vanilla over the dry ingredients in the mixing bowl.
Combine: Whisk the wet and dry ingredients together until just combined, being careful not to over-mix, as this will result in dense pancakes. Whisk well until mostly smooth, with just a few tiny pebbles of flour throughout—these will incorporate into the batter as it sets in the next step.
Set batter for 5 minutes. Your pancake batter is ready!
Prep the Skillet: Set a skillet onto your stovetop. Turn the heat to medium, waiting until the skillet is evenly heated but not burning or smoking. Once evenly heated, drop a dollop of vegan butter into the skillet. As it melts, gently swirl the dollop around to evenly coat the skillet.
Make Pancakes: Using a large batter scoop, scoop ¼ cup of pancake batter into the center of the skillet. Then, using the rim of the scoop, smooth the batter into an even layered circle about 1/4" thick. The batter will rise as it cooks.
Sprinkle chocolate chips into pancake batter. Press gently into the batter.
Allow the batter to cook until bubbles form throughout the center of the pancake. About 1-2 minutes. Using a pancake spatula, gently lift the edge of the pancake to test that it can be flipped. Flip the pancake. When flipping the pancakes, if the batter spills to the side a bit, gently nudge it back into the center of the pan.
Cook for about 1 minute, until golden brown on the underside touching the skillet. Transfer to a plate, then turn the heat to medium low. Make sure to re-butter the pan between pancakes.
Repeat for the rest of the batter.
Serve in a stack. Pour the vegan chocolate ganache you made earlier over the pancake stack. Add vegan chocolate chips and coconut whip. Enjoy!
Prep Time:

20 minutes

Cook Time:

20 minutes

Category:

Breakfast

Method:

Stovetop

Cuisine:

American
© beamingbaker.com. All content and images are protected by copyright. Please do not use my images or recipe without my permission. Please do not republish this recipe, instead, include a link to this post for the recipe.
Wanna help grow the Beaming Baker community? ☀️
You play such an important part in the livelihood of Beaming Baker–and just know that Erik and I truly appreciate it. 🧡 If you want to help grow the BB community, you can do the following:
📝 Leave a comment & rating. When you try a recipe, leave a comment and star rating to let us know how you liked the recipe. It truly helps all of our readers discover which recipe works best–and keeps us going in the right direction.
📸 Instagram. Made a recipe? Take a photo and share it on Instagram with the tag #beamingbaker and tag us at @beamingbaker. It makes our day to see how the recipe turned out for you!
👭 Tell a friend. You know when you love something, you can't help but tell others about it? If you love any of the recipes on Beaming Baker, tell a friend. 🙂 It truly helps to grow the BB community. ☀️
This post may contain affiliate links, which allow me to make a small commission for my referral, at no additional cost to you.