No Bake Chocolate Coconut Bites (Vegan, Gluten Free)
No Bake Chocolate Coconut Bites: A one bowl recipe for soft, chewy and indulgent no bake chocolate coconut bites. Vegan, gluten-free and delicious.
Lately, Erik and I have been focusing on getting healthier. And by lately, I mean the last five years or so. Now before you gasp and lift your eyebrows in shock at the length of time it's taken to "get healthy," let me explain. Or, continue gasping. It's a free country after all. Judgment and every-thang.
Getting healthy is this insanely eye-opening process which humbles both of us constantly. Once you think you've gotten the hang of things: making raw snacks, removing refined sugars from… like everything, or learning how to massage (!) kale, something goes BAM! and slaps you in the face with all of its new, informative, blah-dy-blahness and makes you realize you know, like, nothing.
Nothing at all.
Goodness. Who knew I was signing up for a big slice of Healthy Humble Pie? (That's bound to taste good. Ahem.)
I know that growing up (or whatever) is all about learning to adapt, and all of that mature stuff. But come on! Right? Some of us are gonna need a few carrots to go with those super-hard, super-dry sticks.
Enter, Carrot: my No Bake Chocolate Coconut Bites.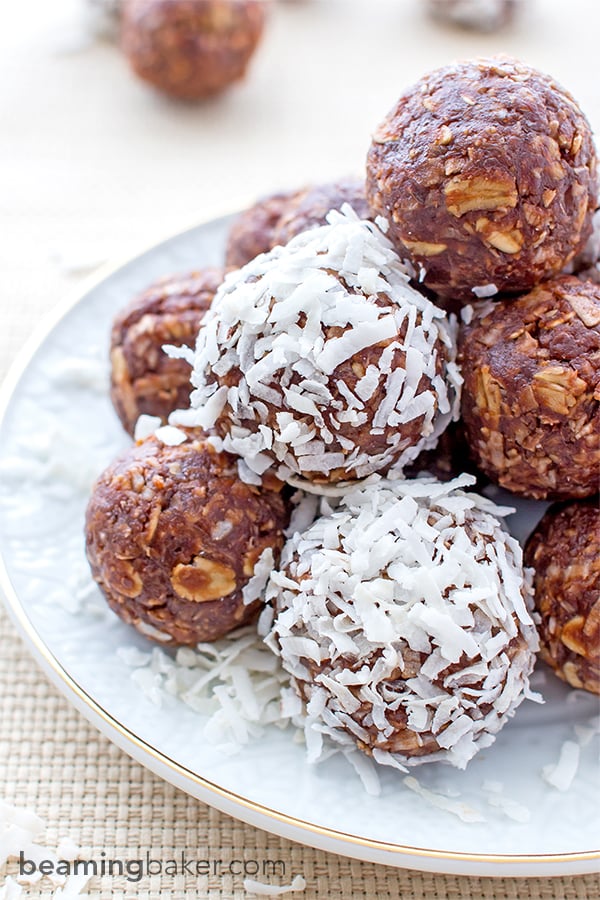 Naturally, these carrots that I demand must taste nothing like carrots, and everything like chocolate. If I can have chocolate, I can deal with all of them new-fangled health rules. M-kay?
Now as shifty and change-y as the health codes have been, one thing remains steadfast and awesome: no bake, vegan sweets. Guuuuuurl, I love me some no bake vegan sweets.
When the world is just spinning around so fast, and everything's so blurry and noisy, and I'm just busy/chaotic/crazy with life, I make my no bake chocolate coconut bites (or these peanut butter coconut bites, if I'm feeling sassy). They're quick, simple and delicious. Oh, and they stick by them new-fangled health rules too. And just in case you're looking for a special, super chocolatey (i.e. ah-mazing) treat, you've got to try Allergylicious' Chocolate Seed Bites. They're gluten-free, vegan, and top-8 free! .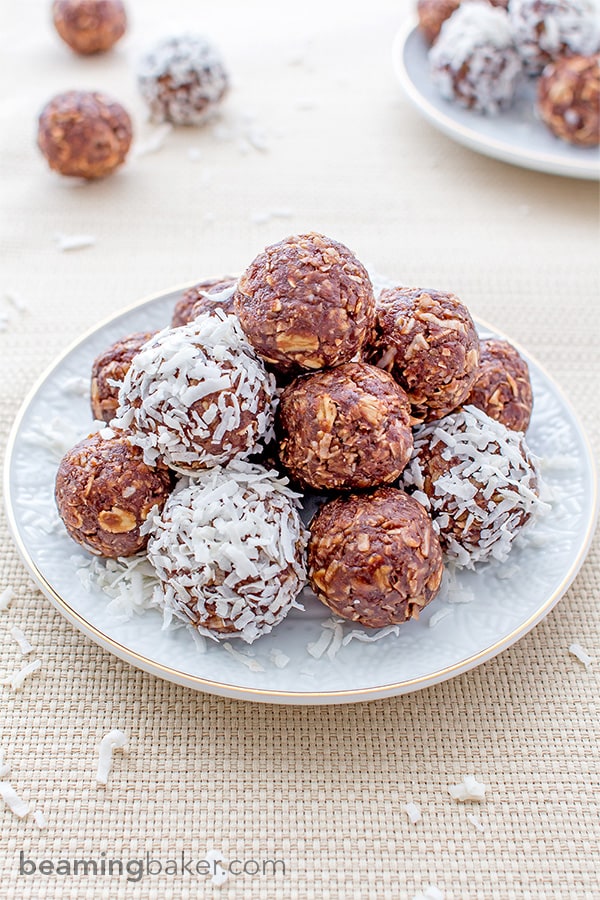 These no bake chocolate coconut bites are:
Vegan and Gluten Free
soft, sweet and chockfull of coconut love
made with just 7 ingredients (or 8, if you'd like to count water. Up to you, free world and all.)
made in just one bowl (no one likes doing dishes)
and packed full of protein
So you see, being healthy isn't always hard… it can actually be soft and sweet. (I'm sorry. I could not help myself). And, at the end of the day, it's so worth it, dontcha think?
Let's do this healthy thang together, and let's have some fun, shall we?


Print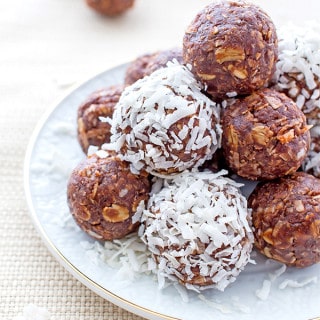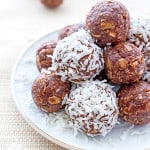 No Bake Chocolate Coconut Bites (Vegan, Gluten Free)
---
Description
No Bake Chocolate Coconut Bites: A quick recipe for soft, chewy and indulgent no bake chocolate coconut bites. Vegan, gluten-free and delicious.
---
½ cup

natural, unsalted peanut butter or almond butter

½ cup

pure maple syrup

¼ cup

unsweetened cocoa powder

¼ cup

warm water

1 ½ cups

unsweetened coconut shreds or flakes

1 cup

gluten-free rolled oats

½ cup

almond meal

¼ cup

ground flaxseed
OPTIONAL

1/4 cup

unsweetened coconut flakes for rolling
---
Instructions
In a large bowl, whisk together the nut butter, maple syrup, cocoa powder and water. Whisk until smooth.
Add in coconut, oats, almond meal and flax. Stir until you get a cohesive, dough-like mixture. Towards the end, I use a rubber spatula to fold the dough.
Scoop mixture into your hands and roll into bites. Optionally, roll in coconut flakes.
Enjoy!
Notes
– Store in an airtight container for up to 2 weeks. If you like them firm, you can store them in the fridge.
– These also keep well in the freezer for up to a month.
Prep Time:

10 mins

Category:

no bake, snacks
© beamingbaker.com. All content and images are protected by copyright. Please do not use my images without my permission. If you wish to republish this recipe, please re-write the entire recipe using your own words and include a link to this post for the recipe.
Guess what? Your love for no bake goodness is obliged by my No Bake Peanut Butter Coconut Bites. Muah!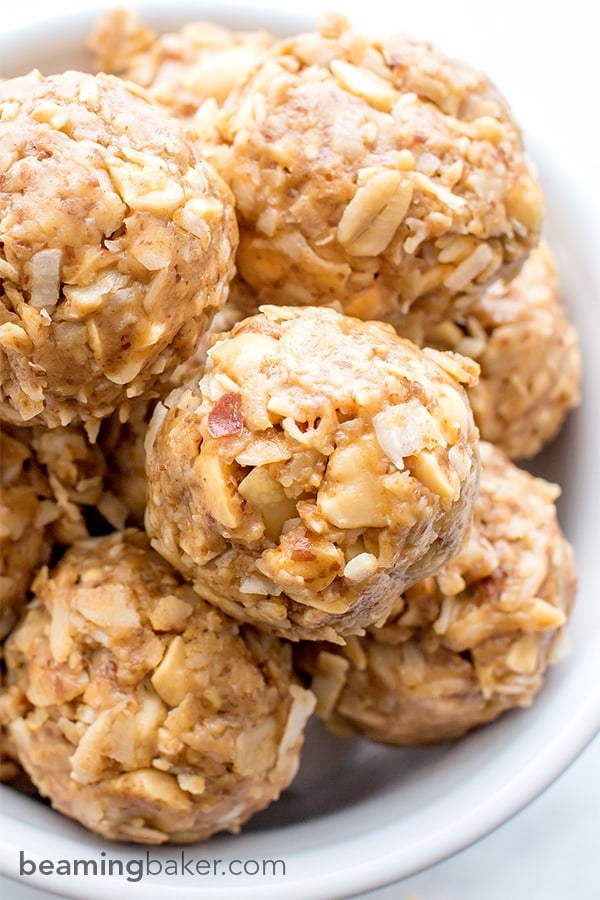 Questions of the Day
What new-fangled health news have you learned about recently?
What's your favorite healthy pick-me-up snack?
I can't wait to hear your responses! ❤️ demeter