4 Ingredient Ultimate Chewy Vegan Coconut Cookies (Gluten Free, Paleo)
4 Ingredient Vegan Coconut Cookies: chewy, crispy healthy coconut cookies bursting with coconut flavor. The best paleo gluten free coconut cookies!
Today, we're gonna dedicate the last cookie in the 2nd Annual Beaming Baker Vegan Cookie Countdown, these Healthy Vegan Coconut Cookies, to my favorite person in the world! Erik, you can sit back down. I'm talking about my momma, of course! 😉 Okay, Erik, you can stand up too. (Second place should get something, right??) J/K… these two are probably tied, if I'm being honest.
Every year, I make sure to write a post or two or three dedicated to my mom. She's known as "Popo" in my family, aka "Grandmother" in Chinese, and "Grams" in English. One of her favorite things in the world, besides family and fitness and making fun of my less-stylish-than-hers gym outfits… is coconut!
If you've been with me a long time, you know that Grams cannot get enough of this drupe! Yep, I had to say drupe. One day, I might even achieve my lifelong dream of saying "drupe" out loud. Stay tuned.
So I've made all manner of coconut desserts for her. See:
But today's healthy coconut cookies are one of her absolute faves. Why? Well, because they're perfectly crispy at the edges, chewy and moist on the inside, and bursting with delicious, perfectly sweetened coconut flavor. YUM.
Read on to learn more about these vegan coconut cookies… that are paleo, gluten free and healthy. Whoop!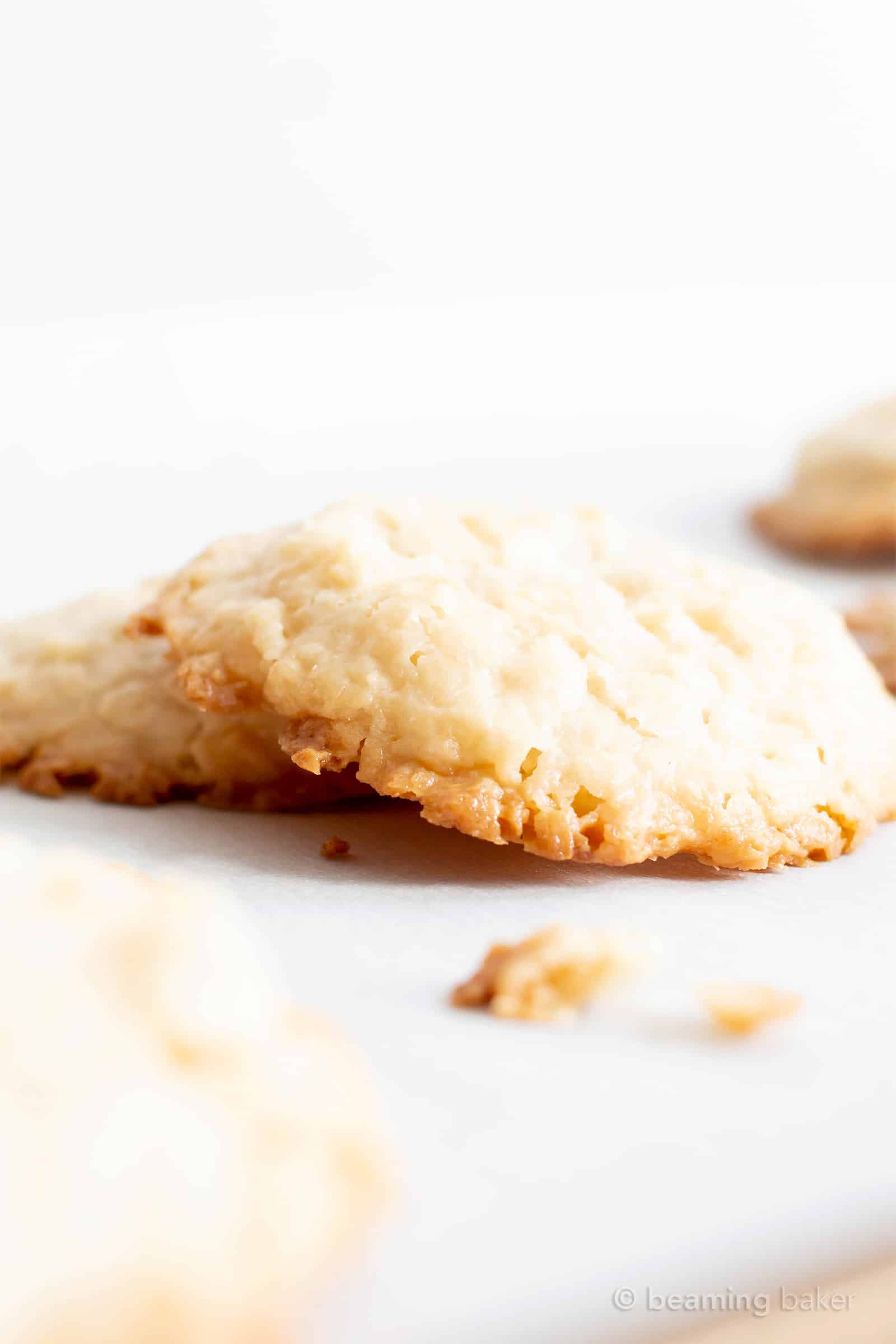 How to Make Vegan Coconut Cookies
Preheat
Preheat the oven to 350°F. Then, line a cookie sheet with parchment paper.
Add Ingredients
Now it's time to add all the ingredients (coconut, almond flour, coconut oil and maple syrup) into the bin of your food processor. Here is the food processor that I use.
Blend
Blend all the ingredients together until you get a thick and sticky coconut mixture that holds together with smaller pieces of coconut. You want the coconut cookie dough to stick together, but not be so blended that it's coconut butter! 😉
Scoop
Scoop firmly-packed balls of coconut mixture and drop them onto the prepared cookie sheet. These coconut balls will melt and spread as they bake into perfect coconut cookies.
Bake, Cool & Enjoy
Bake for about 15 minutes, until the edges are a deep golden brown. Cool and enjoy the best vegan coconut cookies ever!
Just 4 ingredients for the best healthy coconut cookies
Ingredient 3 – Coconut Oil
Ingredient 4 – Pure Maple Syrup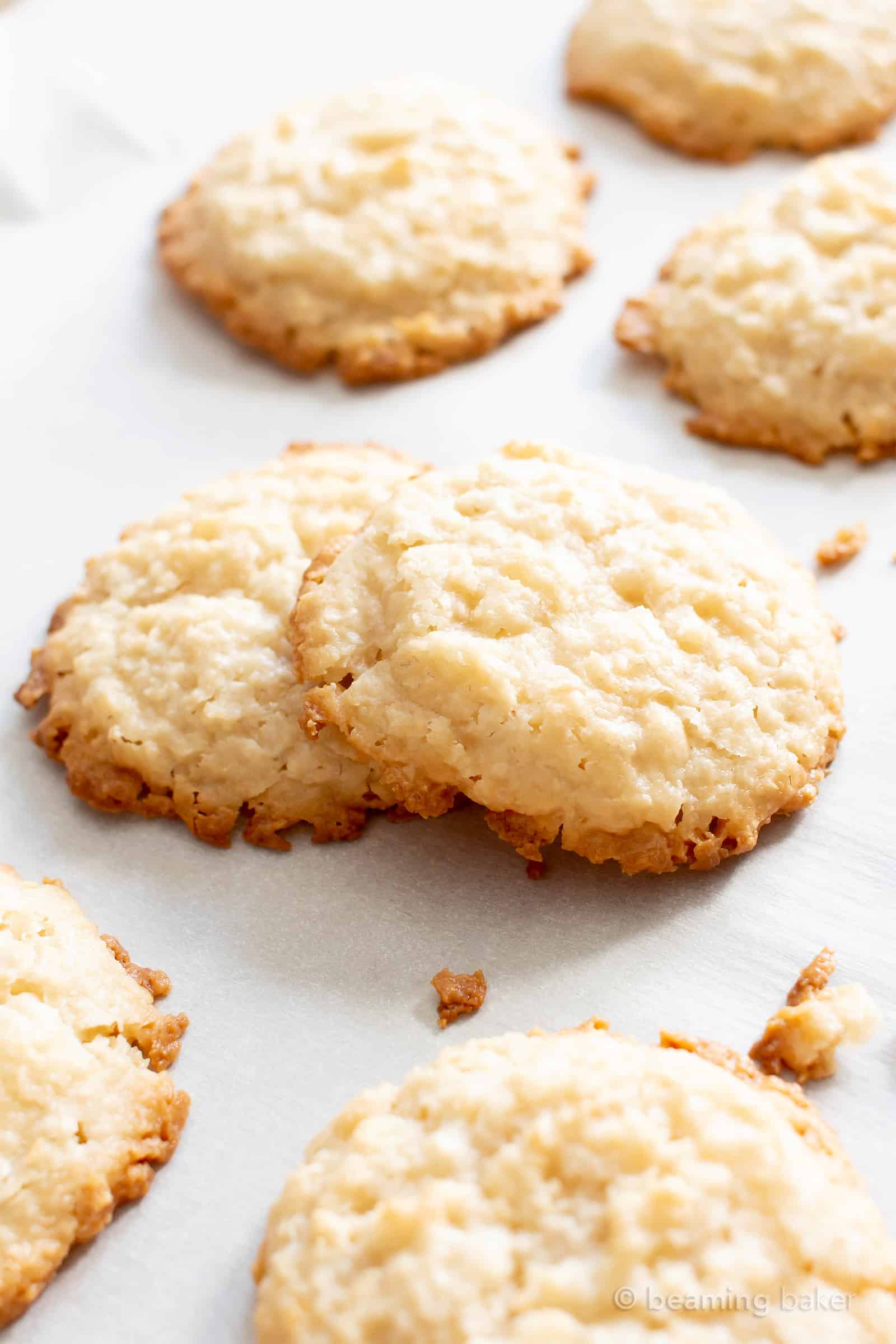 Tips for the Best Vegan Coconut Cookies
Use the right size coconut flakes
It's so, so important that you use the right sized coconut flakes for this healthy coconut cookie recipe. Make sure to use large coconut flakes or chips—[here is where I get mine.] If you use large coconut flakes or chips, your cookies will spread out and flatten, as they should. If you use small coconut flakes, you will basically be making coconut macaroons, which are high, round, globe-like coconut cookies.
It's super important that your vegan coconut cookie dough is firmly packed together so your cookies bake up cohesively aka don't fall apart. I like using this medium cookie scoop to help me really pack in the coconut cookie dough. Bonus: they keep all of your cookies uniform.
The best vegan coconut cookies—moist and chewy on the inside, delicious crispy edges on the outside, and bursting with amazing coconut flavor.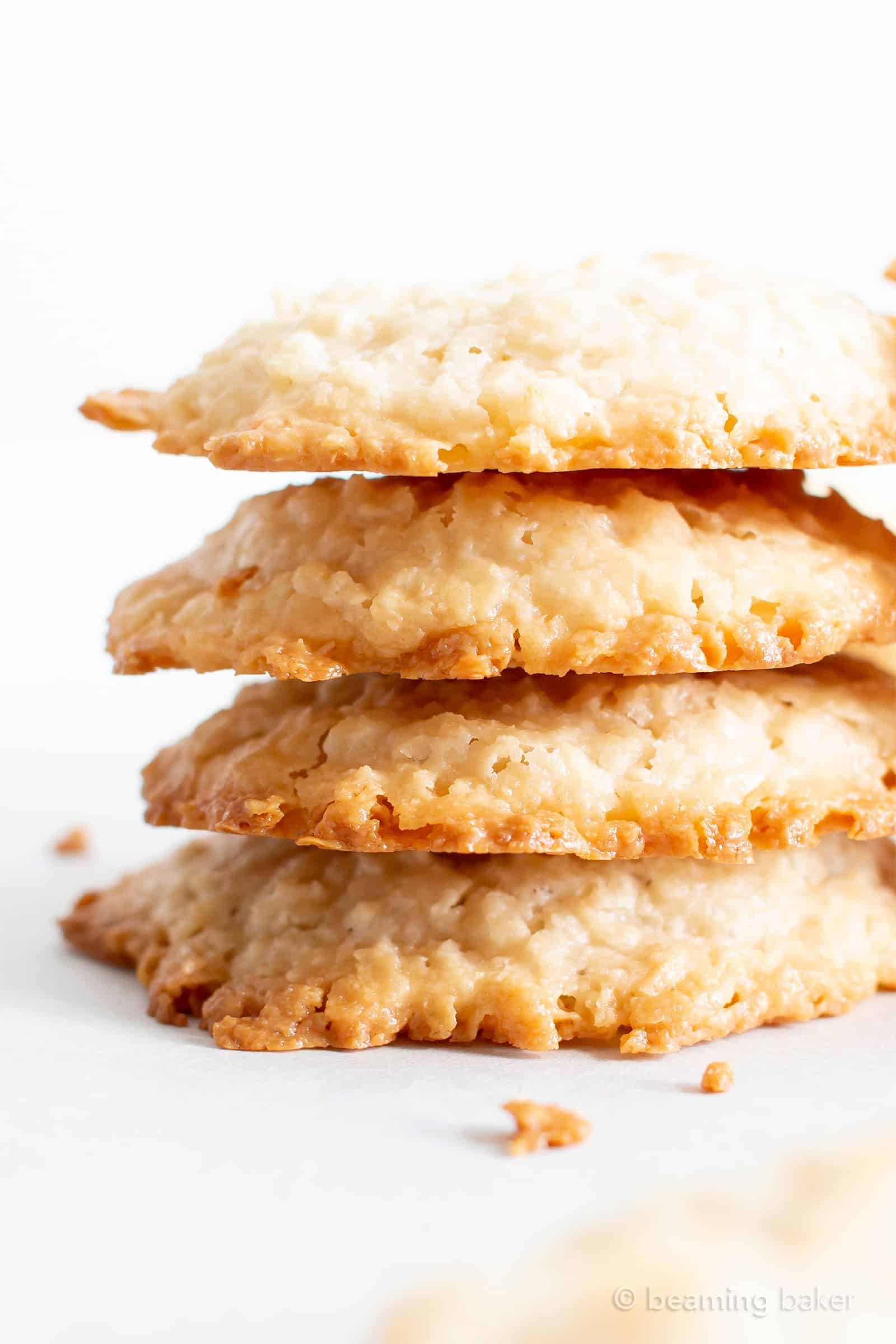 Testimonials: Paleo Coconut Cookies
Stefani says, "Made these just now! They are delicious! I followed the recipe but my coconut oil was liquid bc it's been 100 degrees here in NJ PAST few days. Didn't matter. It turned out PERFECT. The kids gobbled them up. You would never know they were non traditional cookies."
Riedwaan says, "Lovely recipe for delicious biscuits! Quite easy to follow and make. Thought I messed up when the cookie flattened in the oven, but it created a crispy outer layer with a chewy centre."
Marta says, "Hi! I used hazelnut flour instead of almond (I am obsessed with hazelnuts!) and the cookies turned out great! Thank you for this recipe!"
Elaine says, "I made these the other week and used homemade oat flour and added a little salt, they came out perfectly! Crispy edges, chewy center, they were a hit!"
More Vegan Recipes We Love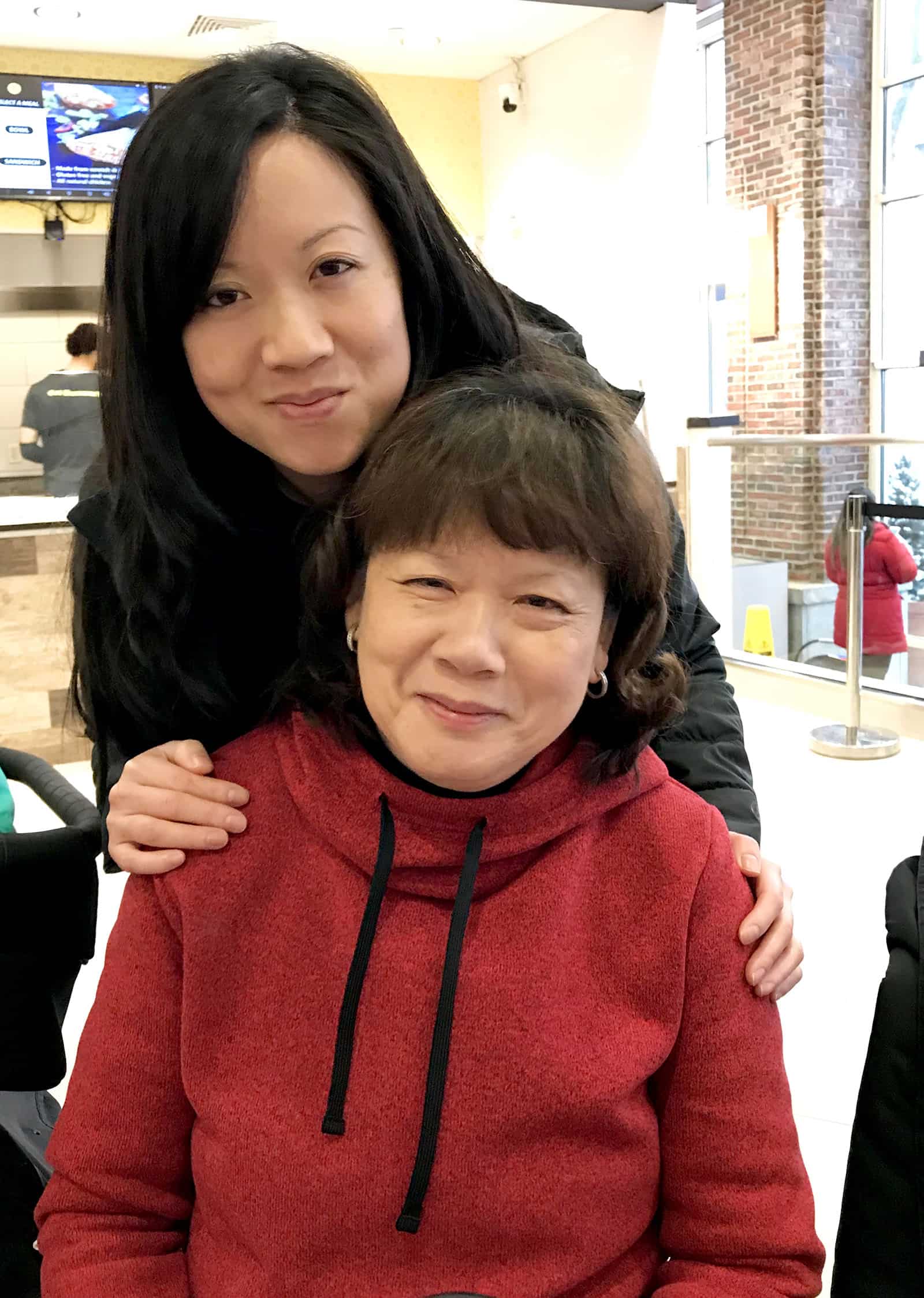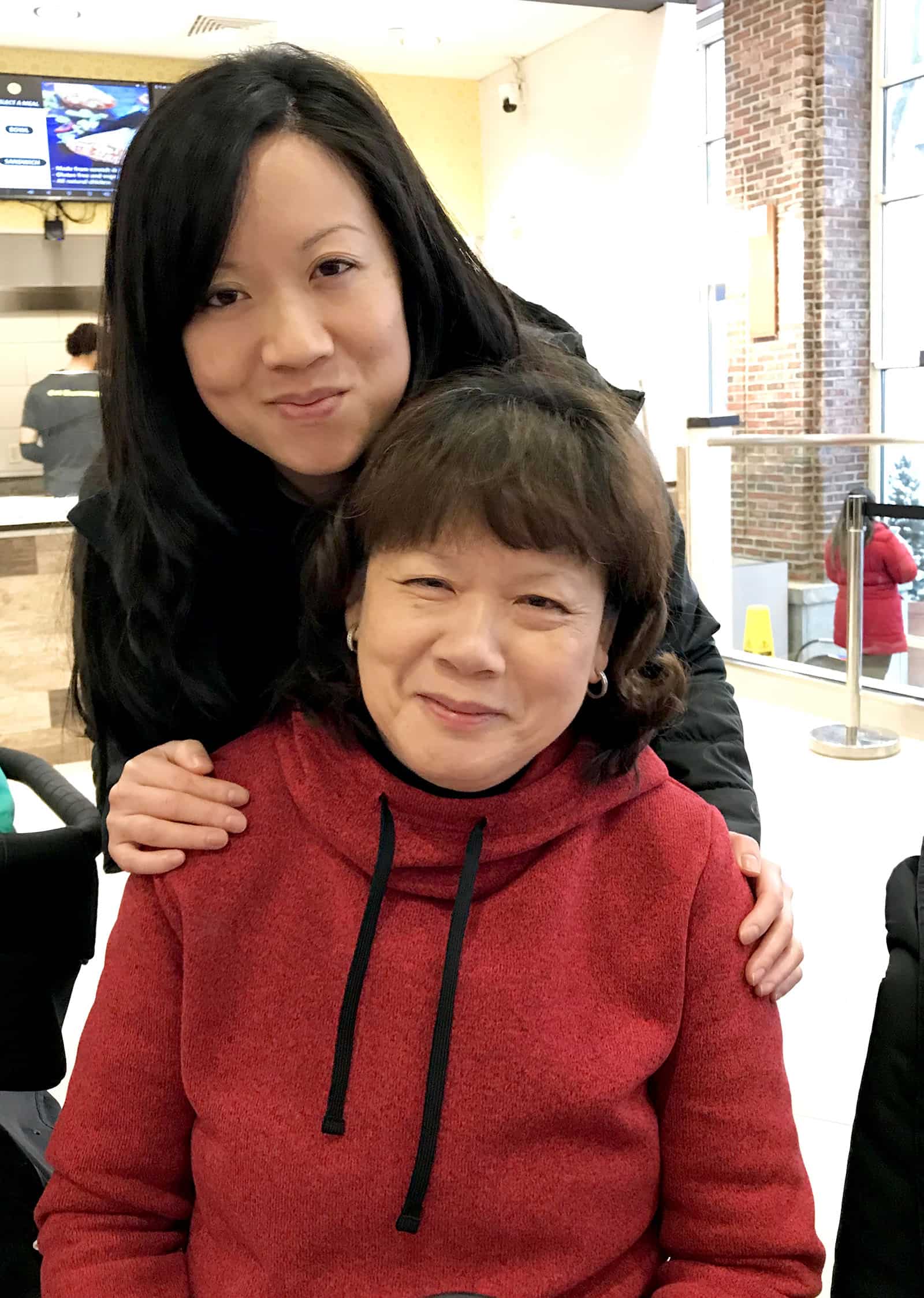 Will you join me in baking in honor of all the great moms in the world? (And maybe even tastily celebrating the holidays with these heroes?) I can't wait to hear what you think of my healthy coconut cookies. 'Til the next joyful baking adventure…
Sending you all my love and maybe even a dove, xo Demeter ❤️
☀ Click below to Pin ☀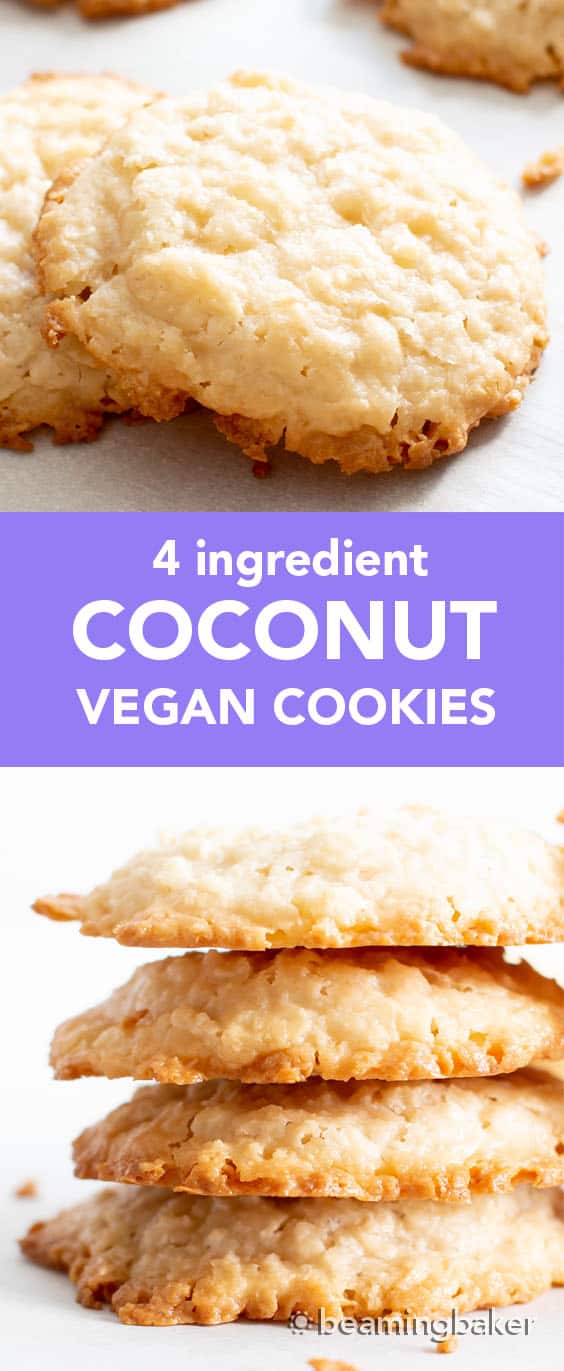 📸 Did you make this vegan coconut cookies recipe? Take a pic and share it on Instagram with the hashtag #beamingbaker & tag @beamingbaker. I'd love to see it! 📸
Print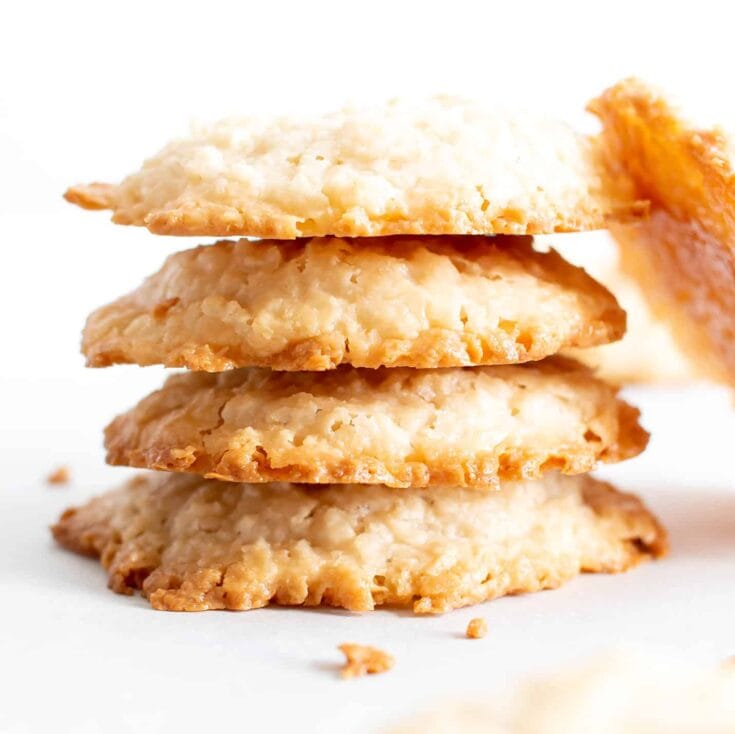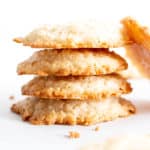 4 Ingredient Ultimate Chewy Vegan Coconut Cookies (Gluten Free, Paleo)
---
Description
4 Ingredient Vegan Coconut Cookies: chewy, crispy healthy coconut cookies bursting with coconut flavor. The best gluten free coconut cookies—paleo ingredients, delicious!
---
---
Instructions
Preheat the oven to 350°F. Line a baking sheet with parchment paper or greased foil. Set aside.
Add all ingredients (coconut, almond flour, oil and maple syrup) to a food processor. You must use large coconut flakes to ensure flat cookies. If you use small coconut flakes, the cookies will not spread.
Blend until you get a thick and sticky mixture that holds together, with smaller, but still noticeable coconut pieces. If any maple syrup remains at the bottom of the processor, fold into dough until well mixed.
Using a cookie scoop, scoop firmly packed balls of coconut mixture. Drop onto the prepared baking sheet, making sure to space balls evenly apart–they will spread quite a bit.
Bake for 12-16 mins, until golden brown around the edges and slightly golden on top. Mine took 15 mins for large cookies. Place baking sheet onto a cooling rack. Allow to cool on baking sheet for 30 mins-1 hour. Enjoy! Storing instructions below.
Adapted from my Paleo Vegan Coconut Macaroons.
Vegan Coconut Recipes We Love
Equipment
Notes
*You must use LARGE coconut chips or flakes for this recipe. Using small-flaked coconut will result in very round, tall cookies that retain the cookie-scoop shape. Here are the large coconut chips I used in this recipe.
**Solid coconut oil is best for this recipe.
Storage Notes: Store in an airtight container for up to 1 month at room temperature. If freezing, store in an airtight, freezer-friendly container for up to 2 months. Allow to thaw for 15 minutes before enjoying.
Prep Time:

10 minutes

Cook Time:

15 minutes

Category:

Dessert, Snacks

Method:

Bake

Cuisine:

American
This post may contain affiliate links, which allow me to make a small commission for my referral, at no additional cost to you.