Creamy protein oatmeal thickened to perfection with sweet, ripe fruit and maple syrup, and packed with 20g of protein! Calcium and Iron-rich. My favorite oatmeal—protein-rich, sweetly comforting with satisfying oat goodness!
Protein-Rich, Sweetly Comforting, and Satisfying-Oat Goodness: My Favorite Protein Oatmeal!
With 20g of plant-based protein, how can you argue with a steaming-hot bowl of warming protein oatmeal? Don't like nuts? Leave 'em out! Want a special treat? Top this incredible protein oatmeal with chocolate chips! Just want 10g of protein? Make a ½ batch. However you like your oatmeal with protein, however you want it, you've got it.
Can you feel my excitement over this delicious protein treat? Let's make this!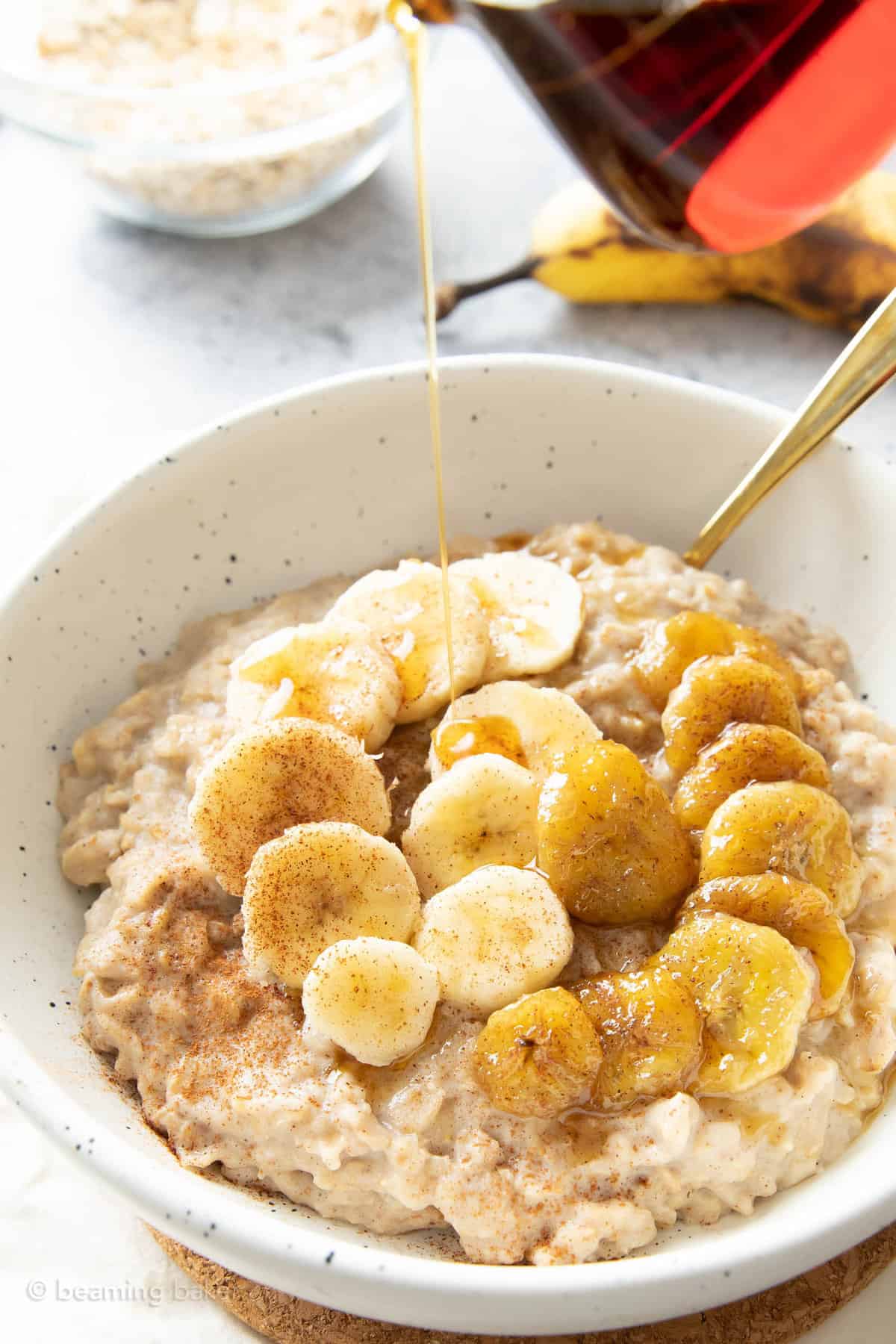 Simple Ingredients for High Protein Oatmeal
We won't be using any unusual, or hard-to-get ingredients in today's protein oatmeal. Nosireebob, we're gonna keep it simple and easy for the creamiest, most satisfyingly thick protein oatmeal packed with sweet fruit goodness.
Fruit of choice – Strawberries, blueberries, or any fruit you can think of will do!
Rolled Oats
Cinnamon – optional
Milk
Maple Syrup
Nuts – optional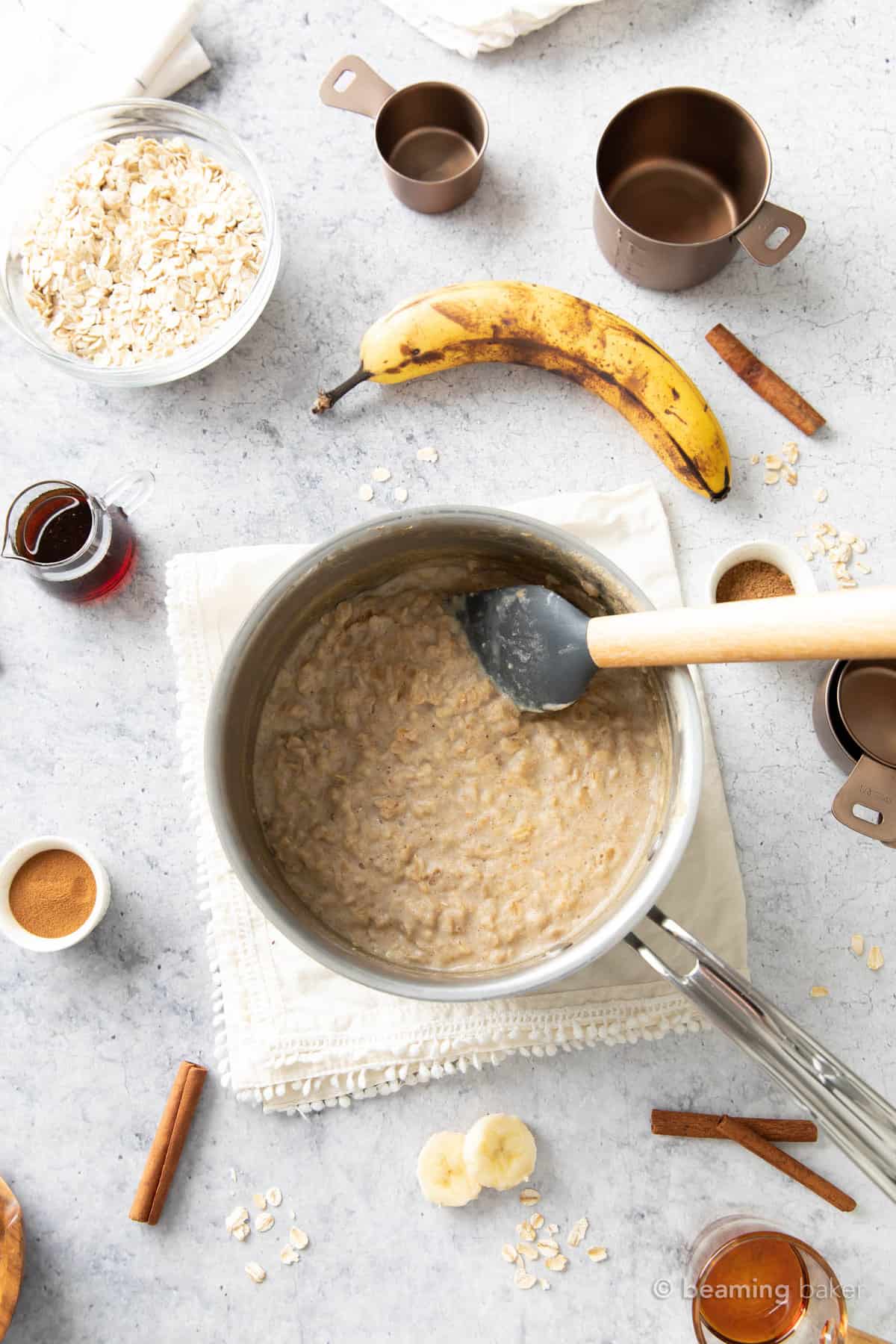 How Much Protein Does This Oatmeal Actually Have?
You came for the protein and stayed for the tasty oatmeal, amiright? 🙂 Check out the nutrition facts for your soon-to-be favorite protein oatmeal. I've calculated mine based on using this protein powder, so be sure to calculate yours with the specific protein powder you use.
Protein: 20.6g
Calories: 453 cal
Fat: 5.8g
Carbohydrates: 77g
Dietary Fiber: 12g
Sugars: 16g
Vitamin A: 23%
Calcium: 59%
Iron: 36%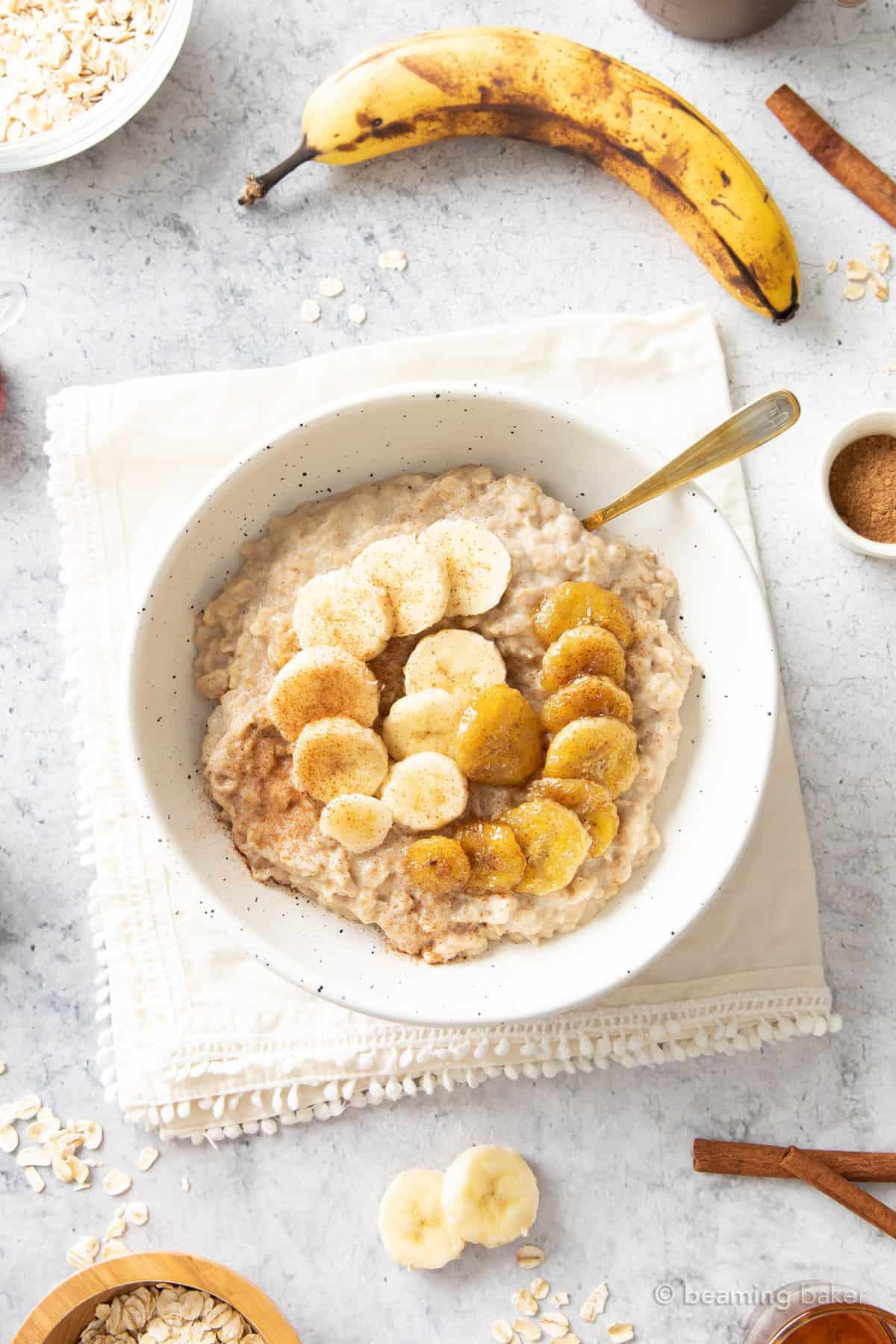 How to Make Protein Oatmeal
Learning how to make high protein oatmeal is actually quite easy. First, you start by mashing the fruit in a small mixing bowl. Then, you fold in the oats and cinnamon to that same bowl. You've just made the fruity oat mixture.
Next, place a medium-sized saucepan over medium heat on the stove. You'll add milk and vanilla protein powder to the pan. Whisk the milk and protein powder together until no clumps remain.
Add the oat mixture to the pan. Using a heatproof spatula, stir the fruits and oats into the protein milk.
Now, add maple syrup, salt and nuts, if using. Stir everything together until well mixed.
When the oatmeal begins bubbling, reduce the heat to medium low. This will allow your oatmeal to cook, but not overflow while doing so.
Make sure to stir the protein oatmeal occasionally, until it's just about thickened to how you like it. Remember to cook your protein oatmeal until it's right under the amount of thickness you like, as it'll thicken as it sets.
Serve in a bowl topped with fruits and a drizzle of maple syrup.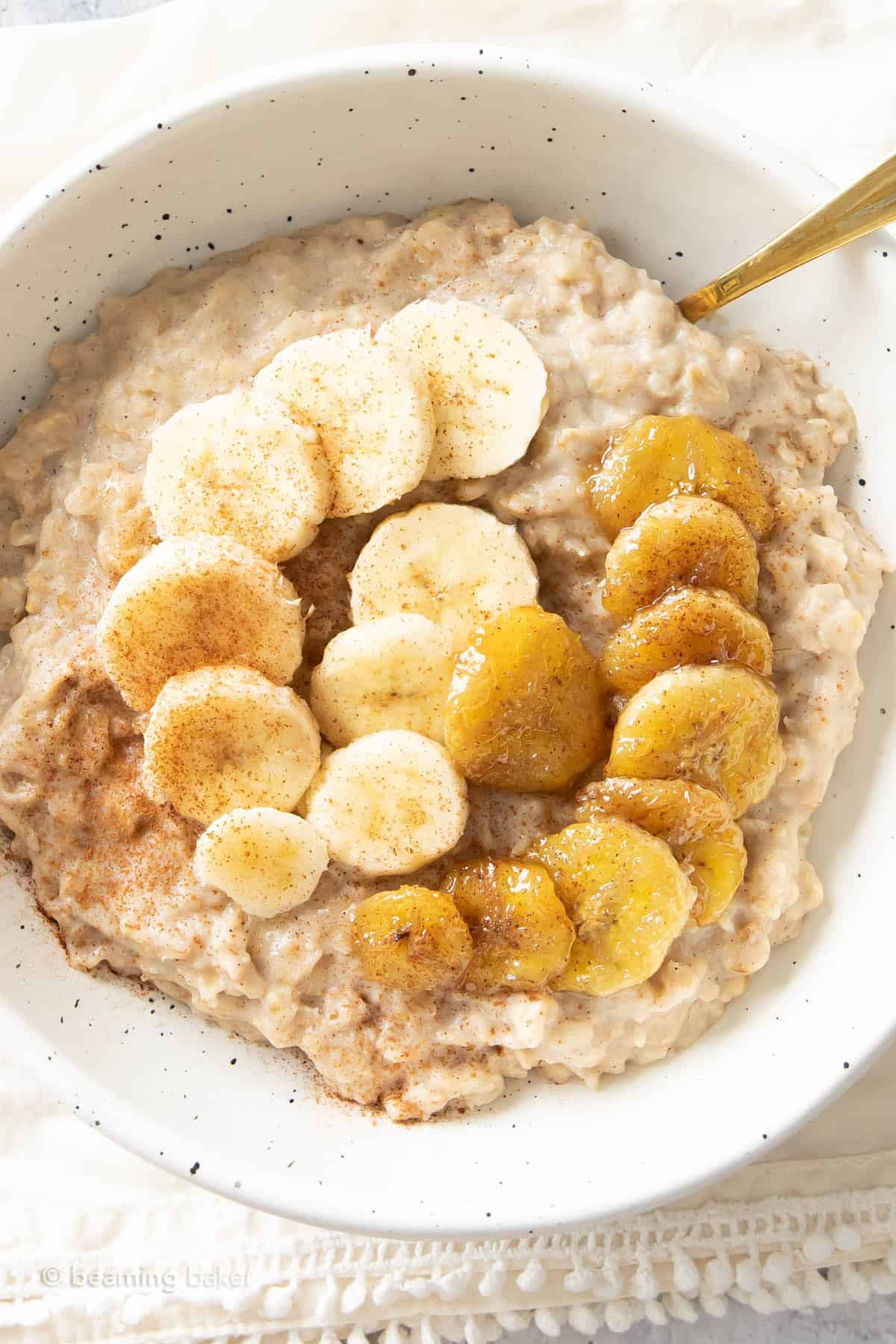 Tools You Need
I'm Crazy For Your Pics! 🤩
Just know that every time you drop by and chat with me, post a pic, or just take a few moments to enjoy some kitchen time with a BB recipe, I truly enjoy and appreciate it. <3 Remember to take a pic when you make a BB creation, post it on Instagram using @beamingbaker and #beamingbaker. I can't wait to see it! 'Til our next sweet morning adventure…
Sending you all my love and maybe even a dove, xo Demeter ❤️
🍌 📸 🥣
📸 Did you make this protein oatmeal recipe? Take a pic and share it on Instagram with the hashtag #beamingbaker & tag @beamingbaker. I'd love to see it! 📸
What to Pair with My Protein Oatmeal? 🤔💭💪
One of my favorite things to do is top this protein oatmeal with caramelized bananas. Think: ooey, gooey vanilla caramel sauce coating cozy coins of bananas that've been seared to perfection on a skillet. This super easy to make treat will take your protein oatmeal from breakfast treat to breakfast YUM.
Here are a few protein recipes + guides to pair this protein oatmeal with:
Print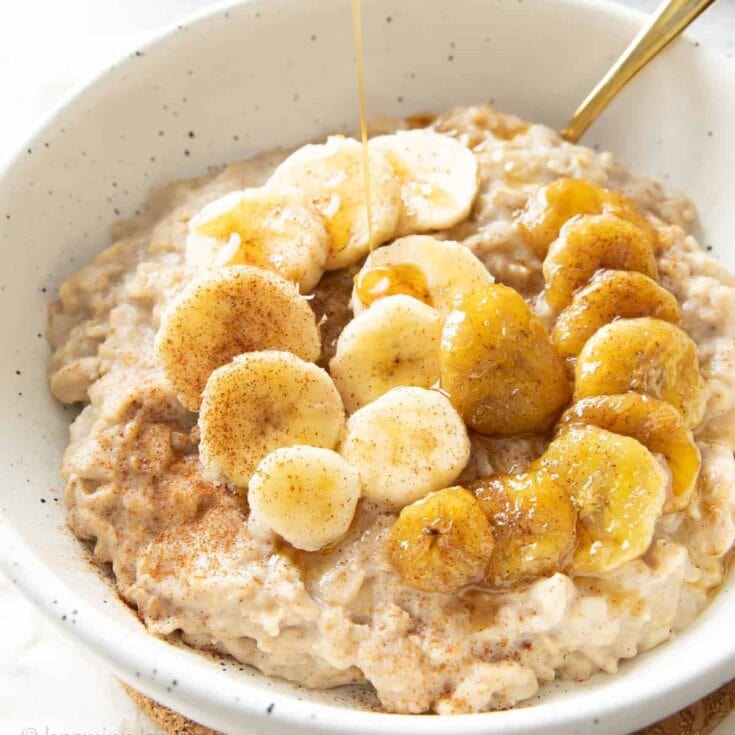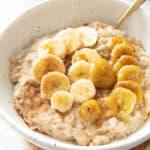 Protein Oatmeal
---
Description
Creamy protein oatmeal thickened to perfection with sweet, ripe fruit and maple syrup, packed with 20g of protein! Calcium and Iron-rich. My favorite oatmeal—protein-rich, sweetly comforting with satisfying oat goodness!
---
Protein Oatmeal
1

ripened banana or

2/3 cup

fruit of choice

¾ cup

rolled oats

¼ teaspoon

ground cinnamon (optional)

1 ½ cups

milk of choice

1

scoop vanilla protein powder

1

–

2

teaspoons pure maple syrup
Pinch of salt (optional)

2

–

4

tablespoons walnuts or nuts/seeds of choice, chopped (optional)
Topping
Top with fruit slices or Caramelized Bananas (as seen in photos)
Sprinkle of ground cinnamon
A drizzle of pure maple syrup
Chopped walnuts (optional)
---
Instructions
In a small mixing bowl, add fruit. Mash until mostly smooth. Fold in oats and cinnamon, if using.
Set a medium saucepan over medium heat.
Add milk and vanilla protein powder and whisk until thoroughly mixed and nearly no clumps remain.
Add oat mixture. Using a wooden spoon or heatproof spatula, stir out any clumps of mixture that have formed.
Add maple syrup, and optionally, salt and chopped walnuts.
Stir until well mixed.
Reduce the heat to medium-low or low when your oatmeal starts to bubble.
Stir occasionally, until thickened to desired texture. I like to cook the oatmeal until most of the milk is gone, but with just a bit too much left. Remember, the oats will continue to thicken and soak up the milk as it sits there and waits to be served and eaten! You want to leave a bit of extra milk in the pot to be absorbed so that the oatmeal doesn't dry out.
Remove from heat and transfer to a bowl or two.
Serve topped with fruit slices and optionally, a drizzle of maple syrup. For a special treat, top with caramelized bananas—it's soooo good!
Notes
Notes: I used this vanilla protein powder to make my protein oatmeal. If you use another protein powder, be sure to calculate the amount of protein according to that specific product. 😉
Prep Time:

2 minutes

Cook Time:

5 minutes

Category:

Breakfast

Method:

Cook

Cuisine:

American
© beamingbaker.com. All content and images are protected by copyright. Please do not use my images or recipe without my permission. Please do not republish this recipe, instead, include a link to this post for the recipe.
Oatmeal Recipes You'll Love ♥️
This post may contain affiliate links, which allow me to make a small commission for my referral, at no additional cost to you.