No Bake Oatmeal Raisin Bites (Vegan, Gluten Free)
No Bake Oatmeal Raisin Bites (V+GF): A super easy, one bowl recipe for healthy energy bites bursting with oatmeal raisin cookie flavor. Vegan and Gluten Free.
Okay, you're probably gonna laugh at me. Which is probably why you're here in the first place. It is my pleasure to poke fun at myself, for you, especially if it can bring you a smile or two. Imagine me slipping on a banana peel over here. But not, because that would really hurt.
Um, what was I saying?
Oh yeah! So some of you may know that I have a very special place in my heart for no bake treats. In fact, that place is probably where all of my baking pans, oven mitts and cooling racks go to hide after they've had it with the oven. I mean, I personally like to hide head there from time to time. Especially when things like this happen.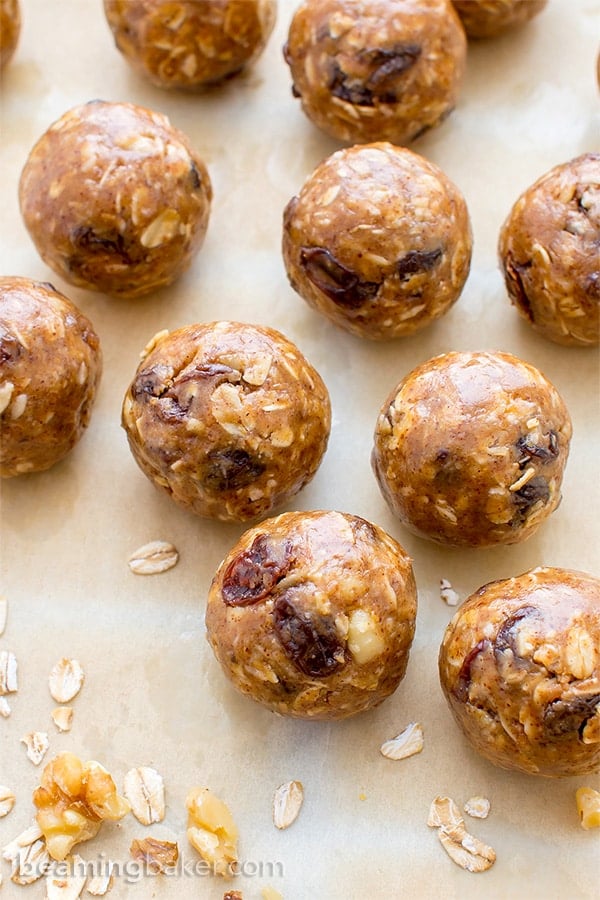 Truth be told, I used to think that no-bake stuff was weird! Like, "what do you mean you don't have to bake it?" Imagine my eyes narrowing suspiciously at this concept. And, "wait, no battles with the oven, not even the slightest whisper of a fallen cake need to happen to make these treats?" What culinary wizardy may this be?
No bake recipes just seemed too good to be true. But one day, I decided, I'd had enough with that highly temperamental oven, all of that space scientist precision-required flour measuring, and I was just plain old tired from the week.
So I put on my sharpest-looking glasses (bc people with glasses are smarter, duh), rolled back my sleeves and put on my figurative starchy-white lab coat. It was time to get my no-bake on! I created a recipe that… well, gave me a LOT of trouble at first. It was too wet (trial 1 & 2), too dry (trial 3 & 4), and then just right (trial 5).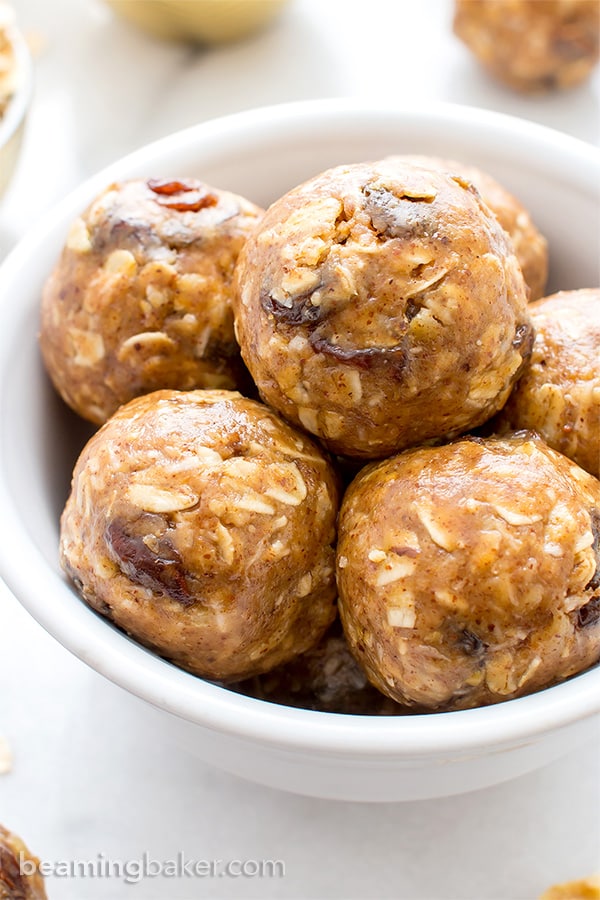 Again, I somehow managed to make something that's supposed to be fairly simple, well, fairly complicated. I may or may not have a Mensa-level PhD in doing this… now that I think about it.
However, I like to think that my life is like a Simpsons episode: I start off at Point A, move in a beeline from Point C to Points That Don't Even Exist, to Parts Unknown, swirling and zigzagging along the way, taking a nap, getting all hyper for exactly two hours, maybe even visiting Comic Book Guy, involving myself in hijinks, and then returning to Point A. Pleased as can be, happy ending in tow.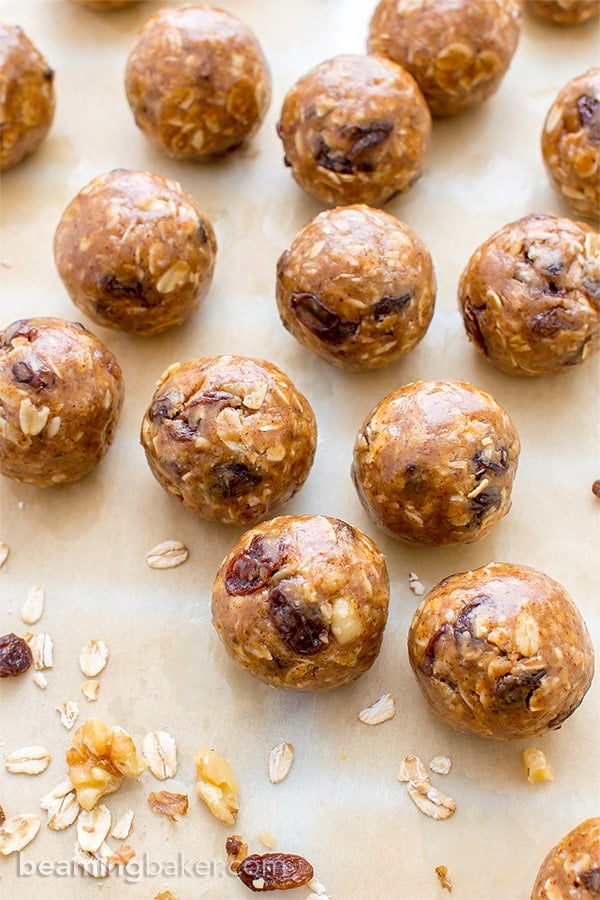 Trial 5 of that Simpsons-esque kitchen adventures experimentation turned into my now most-popular recipe on the blog, my No Bake Peanut Butter Coconut Bites. See, didn't I tell you it was all gonna work out? 🙂
Those Peanut Butter Love bites spawned so many different bites on the blog, I was starting to consider renaming this blog to Beaming No-Baker. That just sounds so… uh…. unfortunate, doesn't it? You can be honest. We're all friends here. Ahem.
The best part is, I was able to happily and easily adapt my pb coco bites recipe into this no bake oatmeal raisin bites one. No Simpsons zigzagging; no hijinks whatsoever.
Plus, who doesn't love a good oatmeal raisin cookie, right? I know Homer would eat this entire batch, and then order like 500 donuts to wash it all down. There I go with my chatty zigzags again.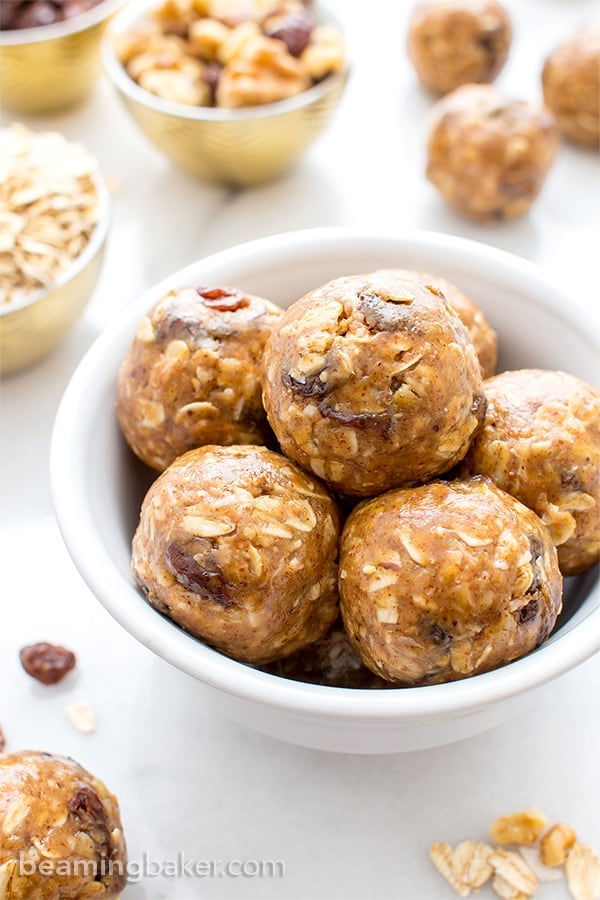 Back on point, let me tell you all about these delicious energy bites. These No Bake Oatmeal Raisin Bites are:
made in just one bowl
so easy to make
vegan and gluten free
protein-packed to help you keep going
perfect for on-the-go snacking
made of just 8 ingredients
bursting full of sweet raisins
require no oven-usage, whatsoever
So join me in making these wonderfully healthy and delicious no bake oatmeal raisin bites. Give your oven and yourself a rest. Time to start planning that summer vacation!
☀︎ Click below to Pin ☀︎

☀︎ Did you make this recipe? Take a pic and share it on Instagram with the hashtag #beamingbaker. I would love to see it! ☀︎
Print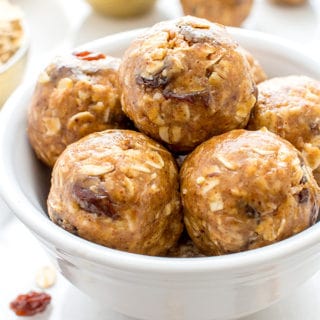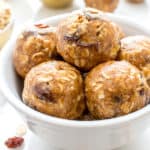 No Bake Oatmeal Raisin Bites (Vegan, Gluten Free)
---
Description
No Bake Oatmeal Raisin Bites (V+GF): A super easy, one bowl recipe for healthy energy bites bursting with oatmeal raisin cookie flavor. Vegan, Gluten Free.
---
Dry Ingredients
½ cup

raisins

¼ cup

finely chopped walnuts

¾ cup

gluten-free rolled oats

½ cup

unsweetened coconut shreds or flakes

¼ cup

ground flaxseed

1 teaspoon

ground cinnamon
Wet Ingredients
¾ cup

natural, unsalted almond butter (mine is very liquidy)

¼ cup

pure maple syrup
---
Instructions
In a large bowl, mix together all of the dry ingredients: raisins, walnuts, oats, coconut, flax and cinnamon.
Add almond butter and maple syrup. Using a sturdy spatula, stir and fold together until well incorporated.
Scoop mixture into your hands (mine are 2 tablespoons each). Roll and press into bites. If the mixture is a little dry, add in a little more almond butter or maple syrup. Enjoy!
Prep Time:

10 mins

Category:

No Bake, Snacks, Vegan, Gluten Free
© beamingbaker.com. All content and images are protected by copyright. Please do not use my images without my permission. If you wish to republish this recipe, please re-write the entire recipe using your own words and include a link to this post for the recipe.
Oatmeal raisin cookies are even yummier in bar form, dontcha think? Try my Oatmeal Raisin Cookie Bars (Vegan, Gluten Free).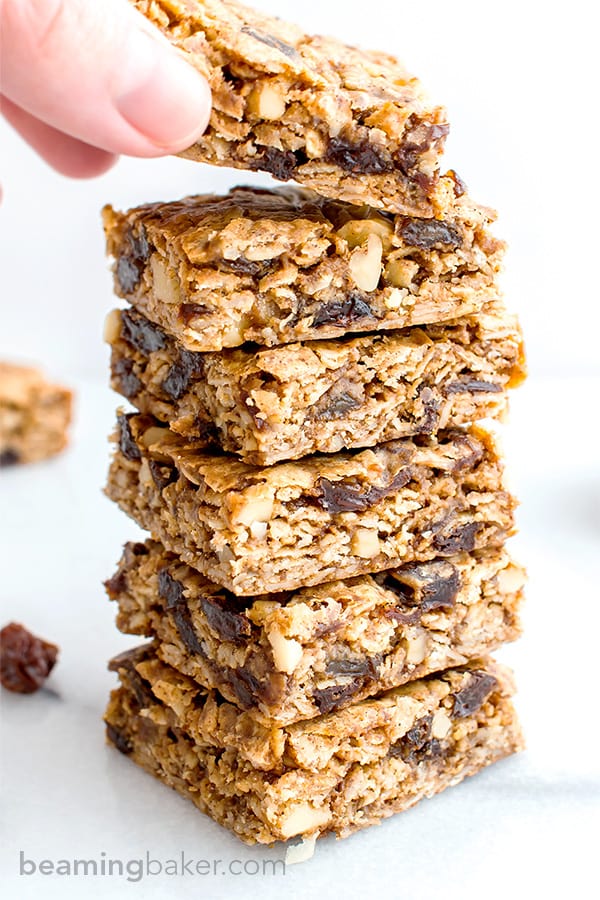 No bake comes in all shapes and sizes. Try my No Bake Oatmeal Raisin Granola Bars (Vegan, Gluten Free).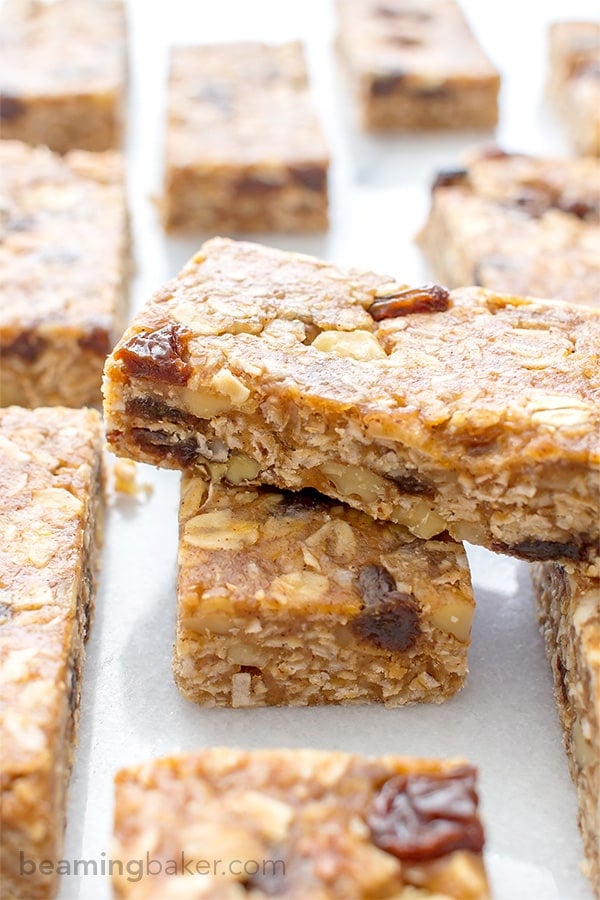 Have you ever made anything really simple, well, really complicated?
I can't wait to hear your responses.