Paleo Vegan Chocolate Coconut Truffles (V, Paleo, GF, DF): an easy, 4-ingredient recipe for deliciously textured coconut truffles dipped in chocolate. Paleo, Vegan, Gluten Free, Dairy-Free.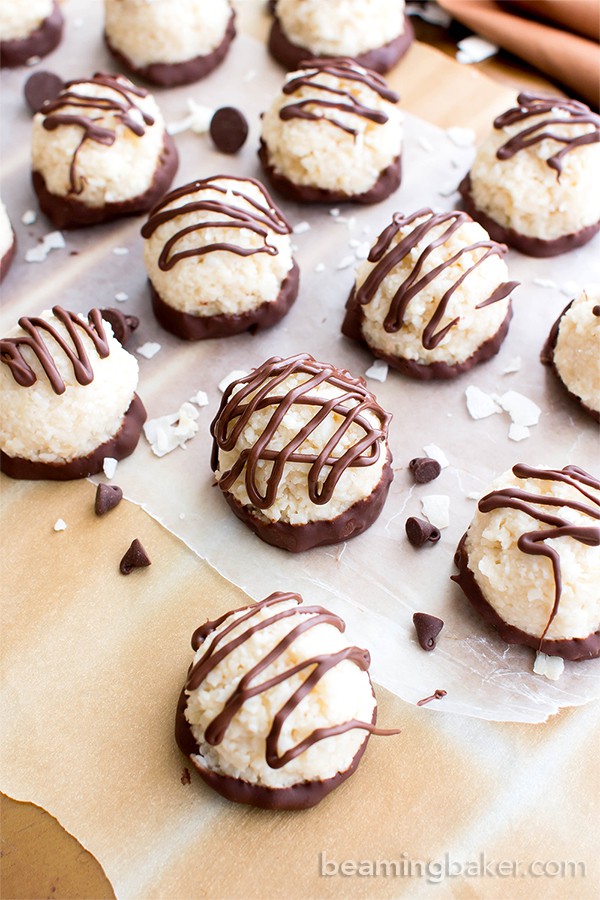 A few months back, I finally got around to making my mom her long-requested homemade almond joy bars. I put off making them for a few reasons… The thing is, she's loved, loved, loved (did I mention, LOVED??) chocolate and coconut since she was a wee one. And ever since she discovered Almond Joy decades ago, she's held a soft, sweet spot for it.
But since we received the, quite frankly, crappy news of her health issues and resulting diet restrictions, she hasn't been able to enjoy her candy bars… that is, until I got around to cracking the super yummy code (er… recipe) for my Paleo Almond Joy. I took so long to make them because I was afraid of letting her down. But as it turns out, I was worried about nothing. Months later, she's still raving about those guys. Consider me quite the Beaming Candymaker. 😉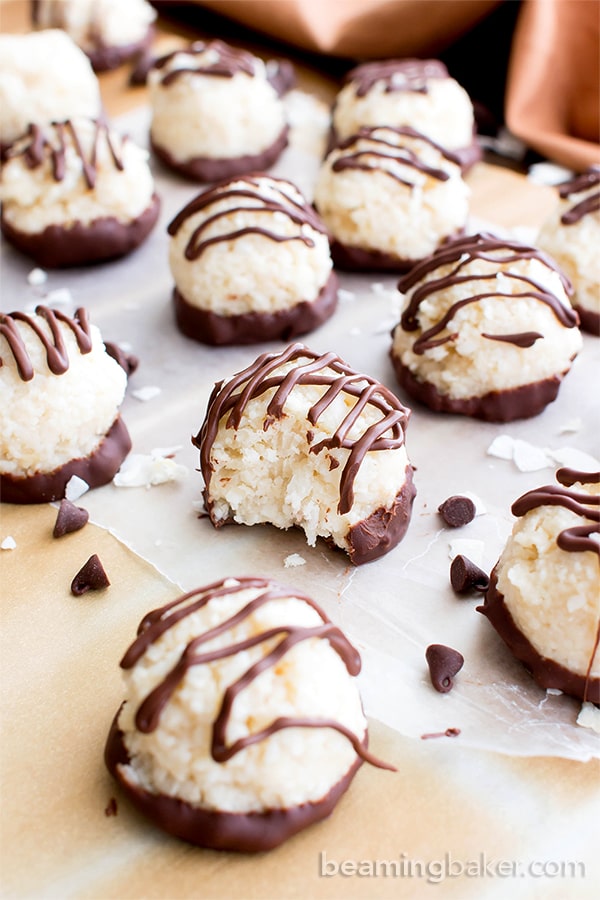 So I got to thinking, why not create a new version of this for Christmas? Why not make paleo vegan chocolate coconut truffles? My mom would love and accept any and all forms of chocolate coconut delight. In fact, I should really get to whipping up a chocolate coconut frappe or something for her soon… Anyway, back to what I was saying, why not make a truffle version of these coconut treats for my mom, right in time for the holidays?
The holiday gift-giving season is ALL about the candy, the truffles, the cookies and the much-less popular fruit cake. Poor fruit cake. All it wants to do is bring Christmas cheer. In a very dense and interestingly heavy fruit-packed way…
But we're not talking about fruit cake are we? Wait, are we? Nope, it's all about coconut and chocolate today. *Clears throat* Anyway, I thought she'd get such a kick out of this recipe–especially since she has a long and storied history with coconuts.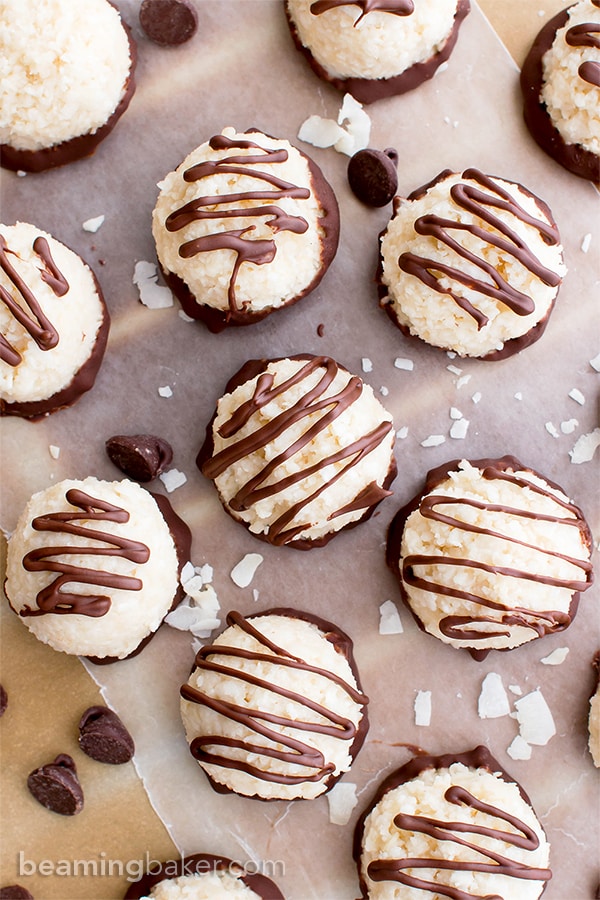 Did I tell you? My mom, Erik and I have this bit where, whenever we walk by a fruit-packed tree, we all joke about grabbing a couple. Because: they're free. But not. My mom will semi-jokingly suggest to Erik that he grab a few, make a run for it, and she and I will walk by and whistle like nothing happened. Somehow, we're all supposed to meet around the corner and discuss our spoils. Then, my mom will proudly and cherishingly place those ill-gotten fruits in a bowl and chuckle to herself every time she ate one.
Of course, this is all in jest.
Well, one year, my sister Jenny and her family took my mom to Hawaii. Over many days, my mom would see a positively-packed, ripe-for-the-picking coconut tree. She would point out what an incredible waste it was for no one to be picking those soon-to-drop-to-the-ground coconuts. Jenny would joke and say, "Yeah, Mommy, it IS a waste! Maybe you should put on your gym shoes and try to climb up the tree. Free coconuts taste better than regular coconuts right??"
They would both laugh and say yeah, one day we'll climb that tree. Maybe not this trip, but the next. Or, maybe Jenny's 2-year-old, Dylan, who's been climbing everything, will do it. For momma. And for Grams. How sweet…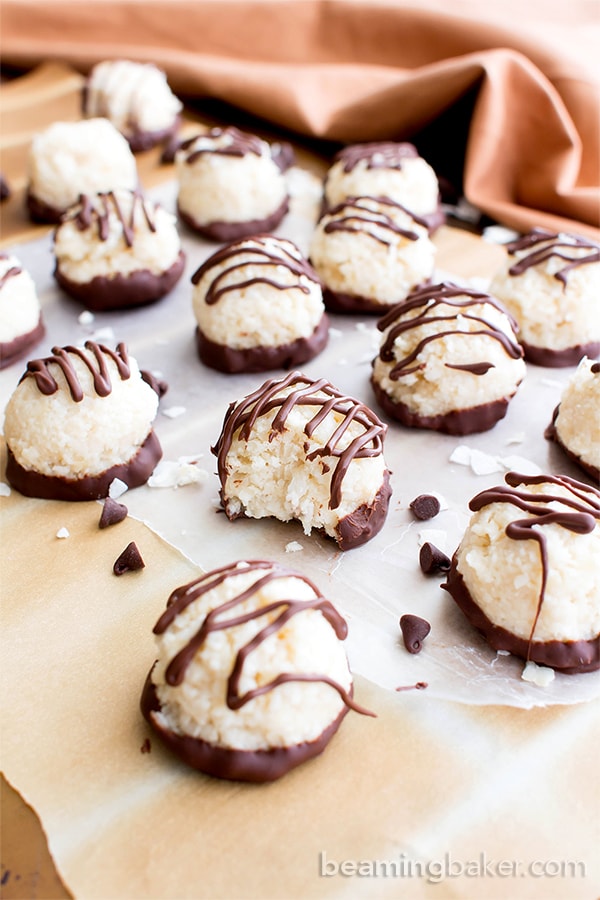 On one of the final days of the vacation, Jenny and my mom see yet another coconut-packed tree. My mom raises her eyebrows at Jenny; Jenny shakes her head laughingly, indicating a big no. They start talking plans for the day: swimming, some shopping, maybe picking up some tiny sunglasses for the kiddo.
Suddenly, Jenny gasps.
J: "What the???"
Mom: "So I think we should eat two dinners. Last night I was so hungry, my stomach was growling loud enough to wake up people in Alaska!"
J: "Mommy. Mommy, woah!!!!"
M: "But we need to eat snacks, too. You know I'm like a bird. I have to eat lots of nuts and fruits."
J: "Mommy, look!!!"
M: "And since fruit is SO cheap here, we should probably eat as much as we can. Do you think we can bring some back in our suitcase? We should probably buy another suitcase so we can. I think—"
J: "Mommy, LOOK!!!"
M: "—it would be a good idea to buy two suitcases. And—oh my heavens!!!!!!!!"
J: "You're so oblivious!!"
M: "Someone is climbing the tree!!!!"
J: "That's what I was trying to tell you!!"
M: "That's so crazy! But, oh my, they're grabbing all of MY coconuts!! My free coconuts!! Jenny, my dear, sweet, favorite daughter ever, why don't you climb the tree??"
J: "What the??? No!"
M: "I always knew you were the best daughter. So willing to sacrifice. Always willing to do whatever it takes to make Mommy happy. And—what??? NO?!?!? What do you mean no??? It's a waste!!!"
J: "Mommy, I will just BUY you some coconuts!!"
M: "But look at that guy, he can climb the tree. You know I'm too old. But YOU can do it!! Don't you love your own mother??"
J: "Yes, that is why I will buy you coconuts."
M: "Oh fine… man, I wish my favorite daughter Demeter was here. She would climb the tree for me." (No, I wouldn't. Okay, maybe I would. Okay, I wouldn't. But Erik on the other hand…)
After the excitement, they end up going to lunch, where my mom is still talking about the would-be free coconuts. They walk around a shopping mall and end the day swimming at the hotel pool. Jenny tells my mom to take a nap before they go for their second dinner. She's gonna go pick up some sunscreen for Dylan at the store.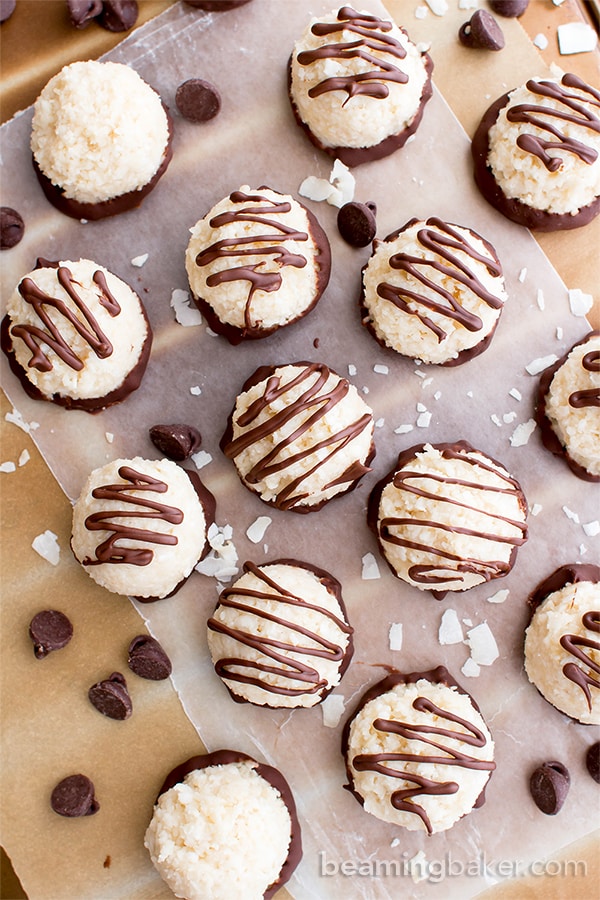 A little while later, my mom wakes up from her nap, and slowly blinks open her eyes. She looks around the room to see Jenny typing on her laptop. She continues looking around the room and starts sitting upright. But she feels some kind of weight near her legs.
She looks towards the source of the weight and sees two fuzzy, brown spheres. One's a little stout, the other a bit hairy. Slowly, a big smile stretches across her face. She looks up at Jenny, who's busily typing away.
M: "I KNEW you were my favorite daughter!!!"
J: Lolololololol.
And so I dedicate these paleo vegan chocolate coconut truffles to Jenny–the sister, the daughter, the mother, the friend, the everything you could hope for, who will never let you down. Who will never let "free" stuff go to waste. Who will always be a BOSS.
And to Mommy, even though I'm clearly not your favorite daughter. Hahaha. All of us kiddos will always do whatever we can to make you happy. So, in fact, we should all be your favorite. Just sayin'. 😉
This Christmas, I'm making a quadruple batch of these paleo vegan chocolate coconut truffles to hand out. Oh, and I'm SO excited about packaging them up all cute! What will you make this holiday season? Are you a big fan of gift wrap, or more of a "slap a tag on it and call it a day" kind of person?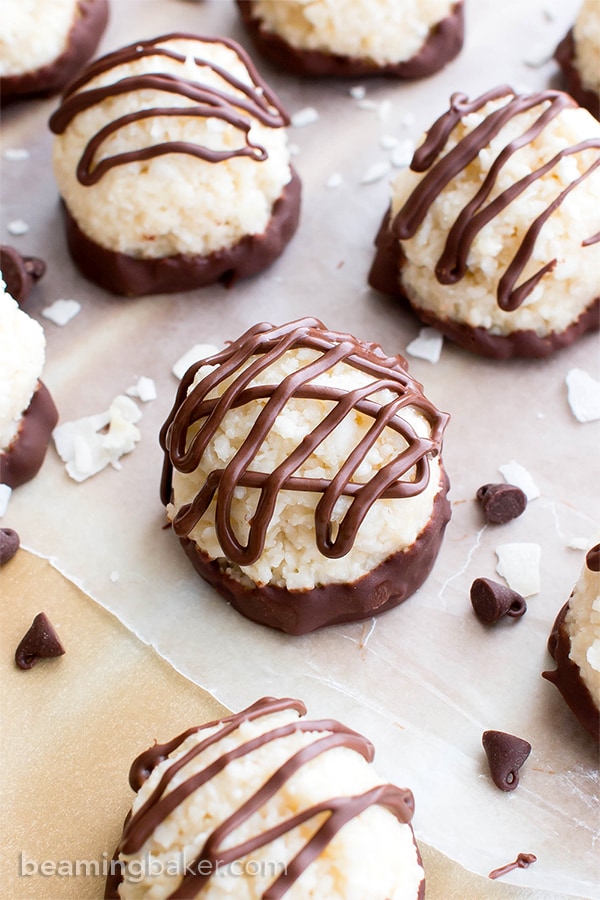 While I eagerly await to hear all about your holiday prep, allow me to tell you about these simply amazing paleo vegan chocolate coconut truffles. They are:
made with just 4 simple ingredients
one of my favorite homemade candy recipes to date
paleo, vegan, gluten free, dairy-free
deliciously textured, with wonderful bits of coconut
perfectly sweet and rich
plant-based and allergy-friendly
scrumptiously balanced with chocolate notes
so easy to make
perfect for the holidays
dedicated to my sister and my mom, for their lovable quirks ❤️
Try your hand at making homemade candy. It's unbelievably fun and satisfying. Who knew making something so impressive-looking could be this easy? 😉 Okay, fine, my seriously talented friend Sharon knew! Just… you have to try the Paleo Chocolate Truffles from her amazing site, What the Fork Food Blog. Remember to follow her directions on how to make them dairy-free!
Before I forget, I've got to tell you how happy I am to spend the holidays with you. It means so much to me to be able to share recipes from my family to yours. 🙂 Tell me…
Will you be making any treats to gift or bring to a party this holiday season? Or, what's your favorite edible treat to receive?
I can't wait to hear what you think. Sending you all my love and maybe even a dove, xo Demeter ❤️
☀︎ Click below to Pin ☀︎

☀︎ Did you make this recipe? Take a pic and share it on Instagram with the hashtag #beamingbaker and tag @beamingbaker. I would love to see it! ☀︎
Paleo Vegan Chocolate Coconut Truffles (Gluten Free, Vegan, Paleo, Dairy-Free)
Paleo Vegan Chocolate Coconut Truffles (V, Paleo, GF, DF): an easy, 4-ingredient recipe for deliciously textured coconut truffles dipped in chocolate. Paleo, Vegan, Gluten Free, Dairy-Free.
Author:
Demeter | Beaming Baker
Recipe type:
Candy, Dessert, Paleo, Vegan, Gluten Free, Dairy-Free
Ingredients
Coconut Balls
1 ½ cups unsweetened coconut, shreds or flakes
¼ cup coconut oil, solid or melted
2 tablespoons pure maple syrup
Chocolate Dip Layer
¼ cup + 2 tablespoons vegan chocolate chips
½ teaspoon coconut oil
Chocolate Drizzle
2 tablespoons vegan chocolate chips
¼ teaspoon coconut oil
Instructions
Line a baking sheet with parchment paper or wax paper. Set aside for later.
Make the coconut balls: Add coconut, coconut oil and maple syrup to a blender or food processor. Blend until you get a wet and sticky mixture, with smaller, but still noticeable coconut pieces.
Using a 1-tablespoon cookie scoop, scoop firmly-packed balls of coconut mixture onto the prepared baking sheet, spacing them evenly apart. If needed, gently press and shape loose bits of mixture into a firm ball. Repeat until no mixture remains.
Freeze for 15-20 minutes. About 5 minutes before the balls are done freezing, it's time to prepare the chocolate dip layer.
Make the Chocolate Dip Layer: Use the double boiler method, or the following. In a medium, microwave-safe bowl, add the Chocolate Dip Layer ingredients: add ¼ cup + 2 tablespoons chocolate chips and ½ teaspoon coconut oil. Heat in 20-second increments until just slightly softened and melted. Stir in between heating, until smooth.
Remove coconut balls from the freezer. Dip the bottom of one ball into the bowl of melted chocolate, using the side of the bowl to scrape off excess. Lay back onto the baking sheet. Repeat until all coconut balls have been coated.
Make the chocolate drizzle: add Chocolate Drizzle ingredients to the bowl of leftover melted chocolate. Heat in the microwave in 20-second increments until just softened. Stir until smooth.
Using a rubber spatula, scrape melted chocolate into a zip bag, then trim a tiny corner off. Holding the bag over a coconut ball, pipe the chocolate in a zigzag pattern. Repeat for all balls.
Place baking sheet into the freezer for 10-15 minutes. Thaw for 10-15 minutes before serving. Enjoy! Storing instructions below.
Notes
- Store in an airtight container at room temperature for 1 week. Or, store in the refrigerator for up to 2 weeks.
- If freezing, store in an airtight, freezer-friendly container for up to 1 month. Allow to thaw for 15 minutes before enjoying.
- More Paleo Vegan treats recipes:
paleo almond joy
,
almond butter cups
,
no bake chocolate pecan bars
,
no bake pecan pie bites
.
- Nutrition Info is an estimation based on 15 total truffles made for this recipe.
- More coconut recipes (all V, GF, DF):
coffee coconut frappuccino
,
no bake peanut butter coconut bites
,
toasted coconut almond rice crispy treats
.
Nutrition Information
Serving size:
1 truffle
Calories:
107
Fat:
9g
Carbohydrates:
8g
Sugar:
6g
Sodium:
2mg
Protein:
1g
© beamingbaker.com. All content and images are protected by copyright. Please do not use my images or recipe without my permission. If you wish to republish this recipe, please re-write the entire recipe using your own words and include a link to this post for the recipe.
☀︎ More Delicious & Healthy Paleo Vegan Dessert Recipes ☀︎
Paleo Almond Joy | Ultimate Fudgy Paleo Vegan Brownies | Paleo Apple Pecan Coconut Crisp | No Bake Chocolate Pecan Bars | Coconut Chocolate Chip Vegan Ice Cream | Paleo Almond Butter Cups | 2 Ingredient Pineapple Coconut Sorbet | Homemade Almond Joy Cups | 4 Ingredient Paleo Coconut Chocolate Cups | Coffee Coconut Frappuccino | All Paleo, Vegan, Gluten Free, Dairy-Free)
This post may contain affiliate links, which allow me to make a small commission for my referral, at no additional cost to you. Thank you for supporting Beaming Baker.
Facebook ☀︎ Pinterest  ☀︎ Twitter ☀︎ Instagram