Coconut Chocolate Chip Vegan Ice Cream (Paleo, V, GF): an easy, 6 ingredient recipe for creamy chocolate chip ice cream bursting with coconut flavor. Vegan, Paleo, Gluten-Free, Dairy-Free.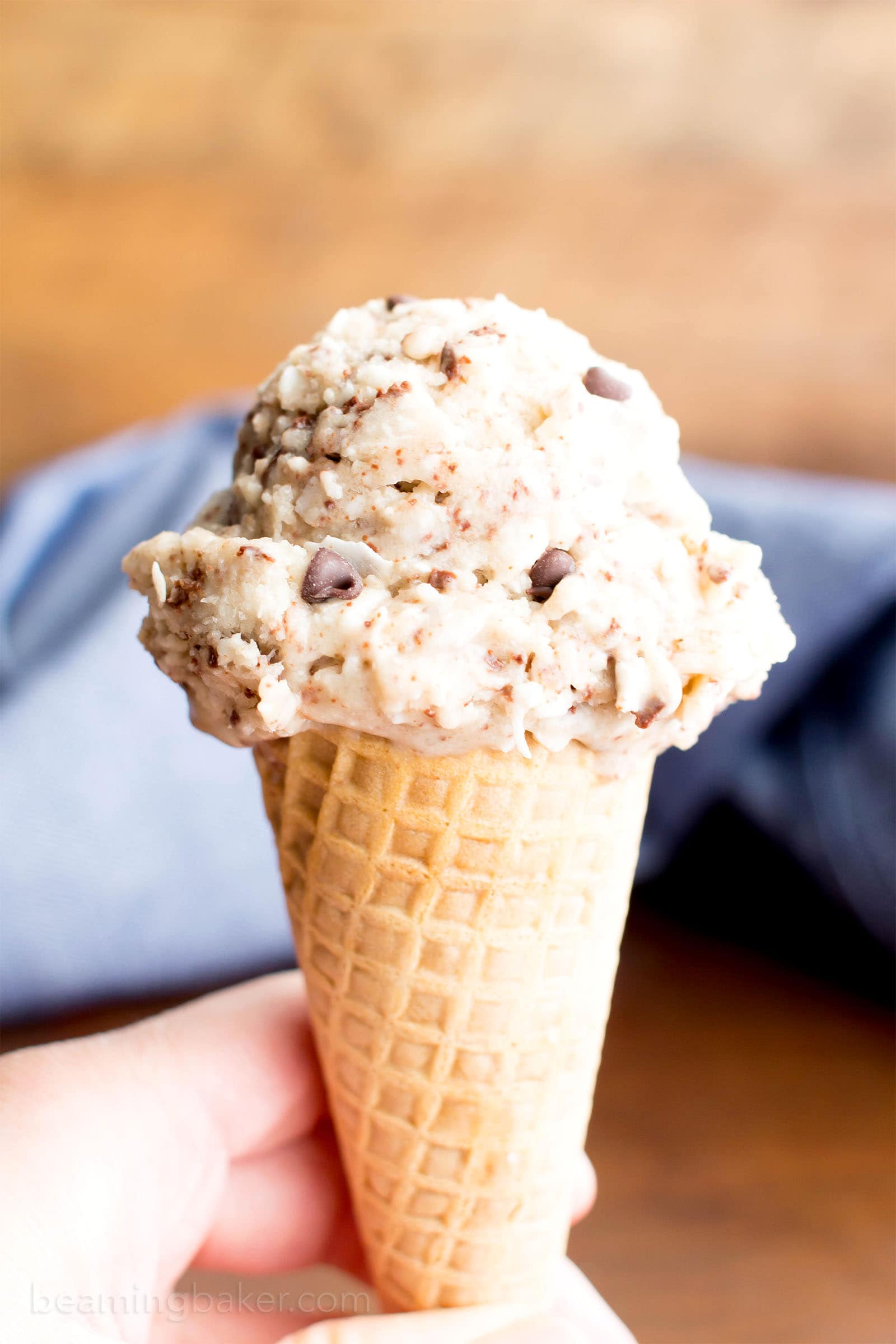 So a few weeks ago, I was visiting my mom and sister Jenny in Boston. I got the usual requests for cookies, candy, banana bread and wait for it: smoothies. Yep, smoothies!
Some of you might be surprised that my fam would ask for smoothies out of all the things I could make. Why not coconut chocolate candy? Why not my super fudgy brownies? Why not pizza? Okay, I don't actually have a recipe for pizza on Beaming Baker, but I totally wish I did! Plus, it's pizza. Why wouldn't someone ask for this… right?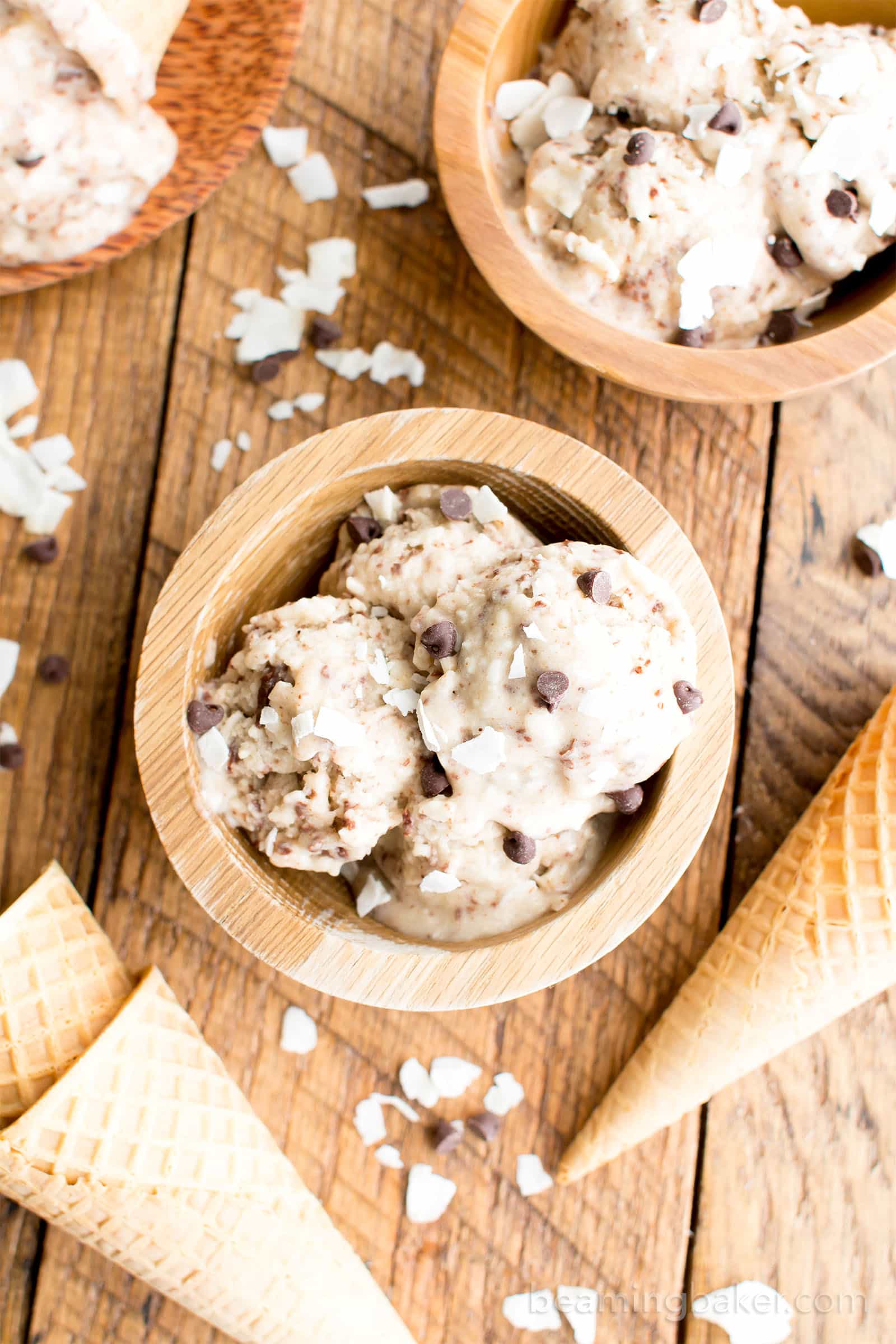 Anywho, the reason why they asked is because I've become a bit of a smoothie fanatic. You might've noticed a few (or more) smoothie recipes on the blog… But I actually realized last summer that all the work (okay fine, it's not really that much work) that goes into making a smoothie puts it one step, one skip, and one ingredient away from being vegan ice cream.
So this time, when Grams and Jenny asked for smoothies, I thought I'd whip up a teeny, tiny, but more like hugely, awesome surprise for them. You guessed it: this Coconut Chocolate Chip Vegan Ice Cream.
As you may have noticed, my family's really big on all things chocolate and coconut. And, really, anything edible. Ahem. That was why, last summer, I whipped up this toasted coconut chocolate chip nice cream. I absolutely still love this recipe, but this summer, I wanted to take that recipe and kick it up like 500 notches.
Make that 500 tasty notches.
See, while that recipe was very tasty and chockfull of delicious texture, there was just something missing. It was a tad bit… healthy tasting. Nothing wrong with that if you're looking for something, well, healthy tasting, to "satisfy" those tasty health buds of yours. Alright, I don't really know what the heck health buds are, but work with me, would ya?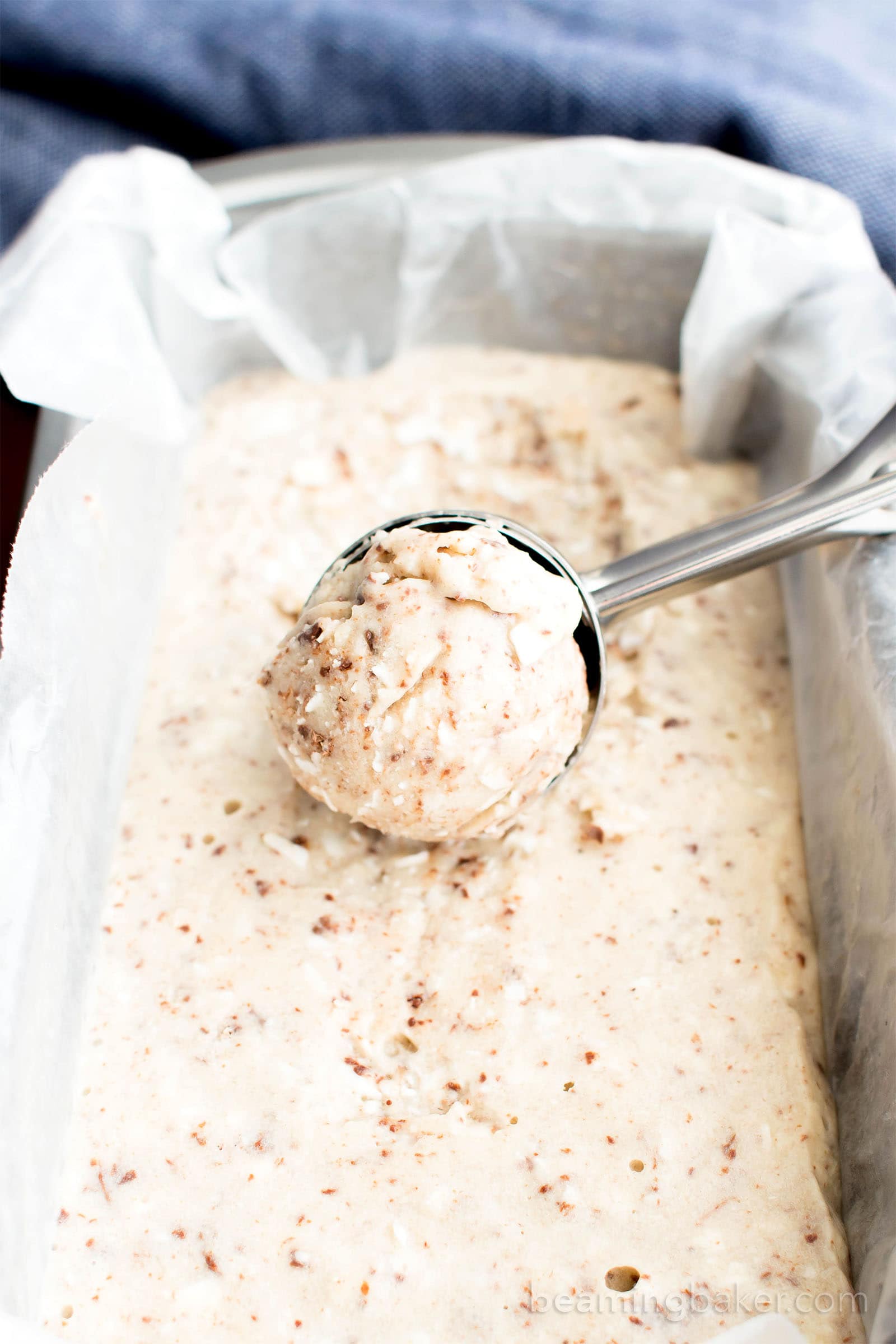 Anyway, I really wanted this ice cream to blow my mom and sister's socks off. And I surely did not want them to say anything about this coconut chocolate chip vegan ice cream tasting… healthy. So I reworked the entire recipe, with a good dose of help from coconut cream and a bit of that excitement that always comes from spontaneously whipping up something new. 🙂
Then I presented them with their very first scoops of this Coconut Chocolate Chip Vegan Ice Cream. I actually waited with bated breath, staring at them as intensely as possible while waiting for the verdict on a new recipe casually as can be… And the first thing my mom says is…
Well, nothing. She was too busy eating. Good Sign #1.
Then, she said, "Did you write this recipe down? What if you can't make this again? You know, I always forget to write good recipes down, then, I remember to do all the things I don't care about. Isn't that annoying? And when can you make this again? Did you add any sugar to this?" Good Sign #2, except for the annoying part and everything else after that. Heh. Heh.
Then, she and Jenny started looking at each other's bowls, and began to hunch their shoulders protectively over their bowls, glaring at each other, daring the other to ask for sharesies. Good Sign #3.
Then then, I heard the clanging of those spoons against empty bowls. And then the scraping of those spoons in a futile search for more ice cream in said empty bowls. Good Signs #4 and #5. All of these good signs have become a thing with my mom, as she did the exact same thing when I brought over some of my 3 Ingredient Strawberry Coconut Sorbet for her to try. Ah, Mommy…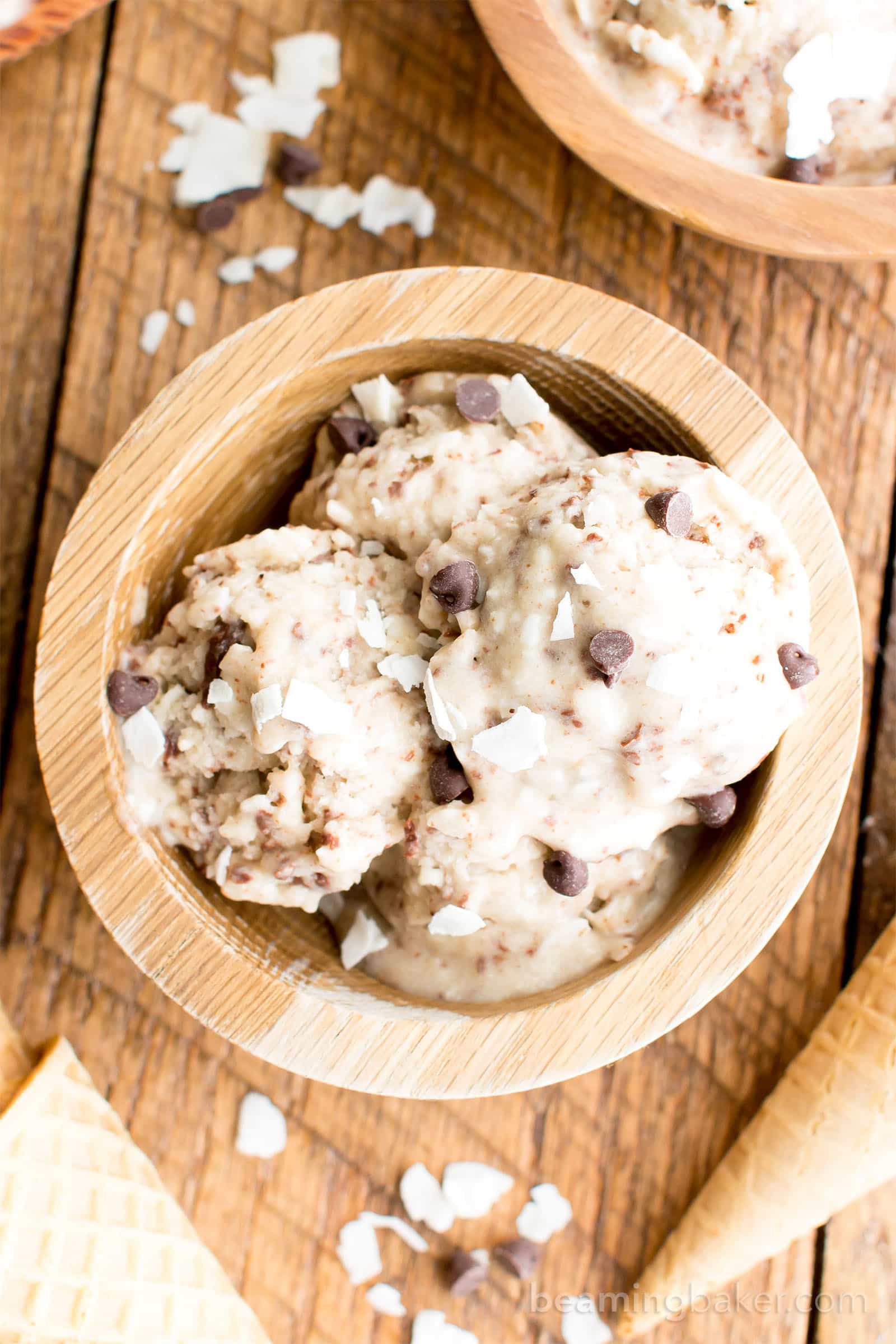 As such, I think it's safe to say that this vegan ice cream awesomeness is well, freaking awesome! When both Jenny and Grams like (and can agree on) a recipe, we're gold. But in case you still need convincing, let me tell you all about this Coconut Chocolate Chip Vegan Ice Cream. It's:
super easy to make
awesomely no-churn!
vegan, paleo, gluten-free, dairy-free
made with just 6 ingredients
creamy, thick, delicious
packed with chocolate and coconut YUM
plant-based and allergy-friendly
made from deliciously healthy ingredients
wonderfully scoopable
perfect for dessert, a mid-afternoon treat, or a movie night (oh, wow, we should totally do this soon!)
So whaddya think? Are you ready to make paleo vegan ice cream history? Okay, fine… I'm not totally sure why this would make history, but that made it sound so much cooler, didn't it? Grab your favorite food processor or blender, your most whimsical apron (because that definitely makes making things so much more fun), and an appetite for frozen dessert deliciousness. It's time to all scream ice cream! And just in case you're feeling more like a coconut cookie, try my super summer-ready lemon coconut macaroons! They're amazing. ????
I'm so happy to be whipping up all manner of homemade treats with you. I can't wait to hear what you think. In the meantime, tell me:
What's your favorite ice cream topping?
Sending you all my love and maybe even a dove, xo Demeter ❤
☀︎ Click below to Pin ☀︎

☀︎ Did you make this recipe? Take a pic and share it on Instagram with the hashtag #beamingbaker and tag @beamingbaker. I would love to see it! ☀︎
More Paleo Vegan Desserts you might like…
Ultimate Fudgy Paleo Vegan Brownies | Paleo Almond Joy | No Bake Paleo Chocolate Almond Butter Bars | Paleo Chocolate Coconut Cups | No Bake Paleo Chocolate Pecan Bars | How to Make Chocolate Ganache Recipe | 4 Ingredient Paleo Coconut Macaroons Recipe (one of my absolute faves!!)

Coconut Chocolate Chip Vegan Ice Cream (Paleo, V, GF, Dairy-Free)
Coconut Chocolate Chip Vegan Ice Cream (Paleo, V, GF): an easy 6 ingredient recipe for creamy chocolate chip ice cream bursting with coconut flavor. Vegan, Paleo, Gluten Free, Dairy Free.
Author:
Demeter | Beaming Baker
Recipe type:
Frozen Desserts, Ice Cream, Paleo, Vegan, Gluten-Free, Dairy-Free
Serves:
about 2 cups (eight ¼ cup servings)
Ingredients
3 medium bananas, sliced and frozen
½ cup coconut cream*
1-2 tablespoons pure maple syrup
½ teaspoon pure vanilla extract
½ cup unsweetened coconut, shreds or flakes
¼ cup vegan chocolate chips
Instructions
Add bananas to a food processor. Blend until crumbly. Add coconut cream, maple syrup and vanilla, blending until smooth. Scrape down the sides of the blender as needed.
Add coconut, blending until just incorporated (3-6 pulses).
Add chocolate chips to a small, microwave-safe bowl.** Heat in the microwave in 15-second increments until melted. Stir in between increments, until smooth. Scrape melted chocolate into the blender. Pulse a few times to combine. Scrape down the sides of the blender as needed.
If you like super soft, melty ice cream, enjoy immediately. If you want your ice cream firm and scoopable: pour into a freezer-friendly, airtight container. Freeze for 3-6 hours, or until completely frozen. Allow to thaw for 5-15 minutes before scooping. Enjoy!
Notes
- Here's
the food processor I use and love
, since so many of you have been asking. 🙂
- *You can use canned coconut cream, or you do the following: Allow a can of full-fat coconut milk to settle for 1-3 days—set it in a stable, cool environment. Open the can and scoop the firm, creamy white part off the top—this is the coconut cream.
- **You can skip this step (melting chocolate) and simply add mini vegan chocolate chips instead. I like this step because it creates soft chocolate flakes that are deliciously dispersed throughout the ice cream.
- Store in an airtight container in the freezer for up to 1 week. Before serving, allow to thaw for about 5-15 minutes. Scoop and enjoy!
- More vegan + gluten-free frozen desserts:
paleo ice cream bars
,
dark chocolate nice cream
,
blueberry coconut popsicles
.
- Nutrition Facts are an estimate, calculated based on 1 tablespoon of maple syrup used in the full recipe.
Nutrition Information
Serving size:
¼ cup
Calories:
146
Fat:
10
Carbohydrates:
16
Sugar:
10
Sodium:
4
Protein:
2
© beamingbaker.com. All content and images are protected by copyright. Please do not use my images or recipe without my permission. If you wish to republish this recipe, please re-write the entire recipe using your own words and include a link to this post for the recipe.
SHOP THIS RECIPE
Here are a few items I used in today's recipe! 🙂
Food Processor | Silicone Spatulas | Gluten Free Sugar Cones
 Coconut Cream | Coconut Flakes
This post may contain affiliate links, which allow me to make a small commission for my referral, at no additional cost to you. Thank you for supporting Beaming Baker.
Facebook ☀︎ Pinterest  ☀︎ Twitter ☀︎ Instagram