Ultimate Fudgy Paleo Vegan Brownies (V, GF, DF): an easy, one bowl recipe for seriously fudgy, super moist paleo brownies bursting with rich chocolate flavor. Vegan, Gluten Free, Paleo, Dairy-Free.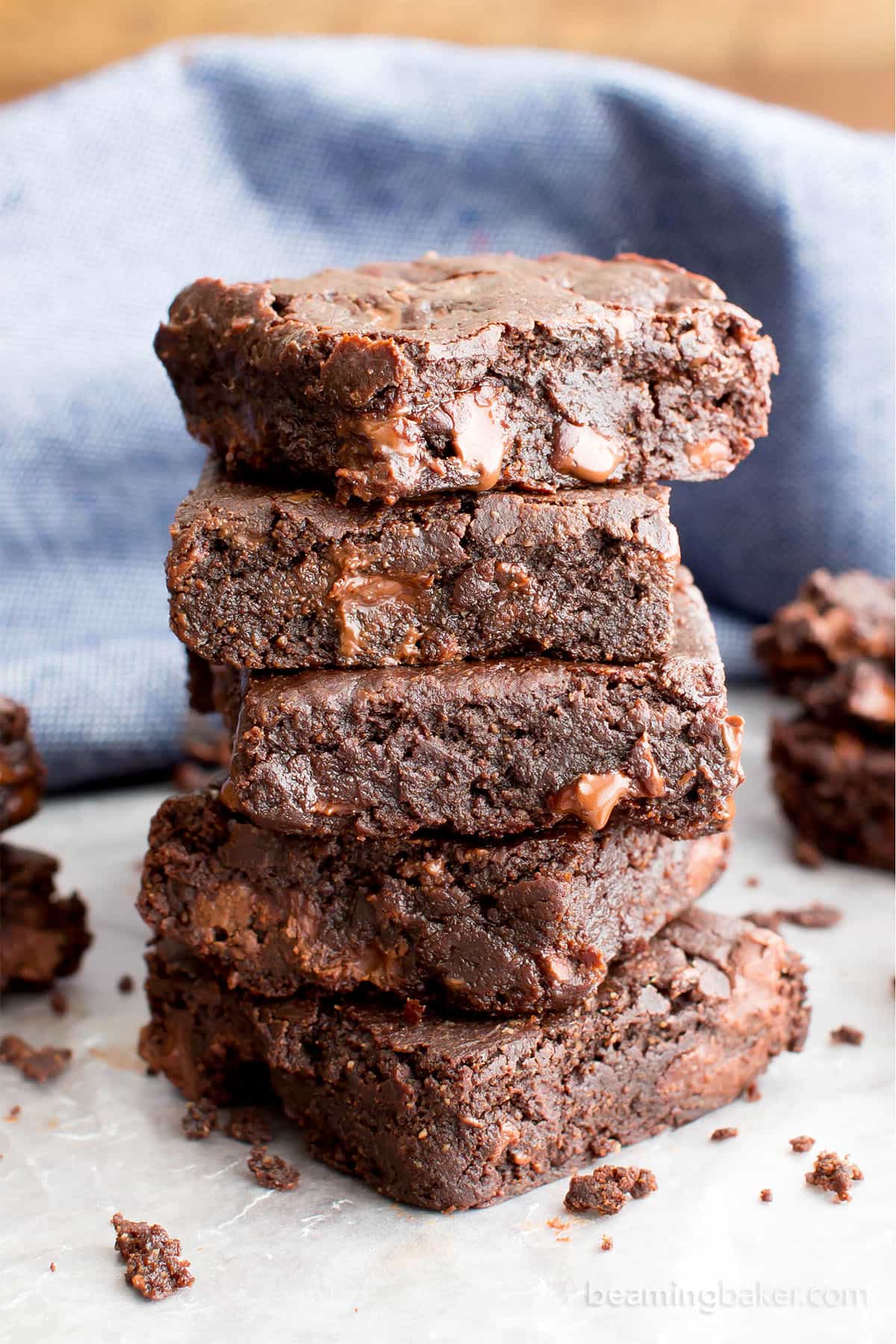 What's your favorite dessert? Like, of all time?
If I had to pick one… well, I couldn't. Let's be honest. Oh, alriiiight, if I had to pick, it would be a close call between oatmeal chocolate chip cookies, almond joy ice cream and brownies. And vegan paleo chocolate chip cookies. Wait, wait, let's not forget paleo chocolate orange muffins (but not all the other muffins because no chocolate is involved).
If you were to ask Erik, he would most definitely say brownies. And cookies. And—oh you know where this is going. But one of the things we agree on the most is our love of brownies. There's just nothing quite like it.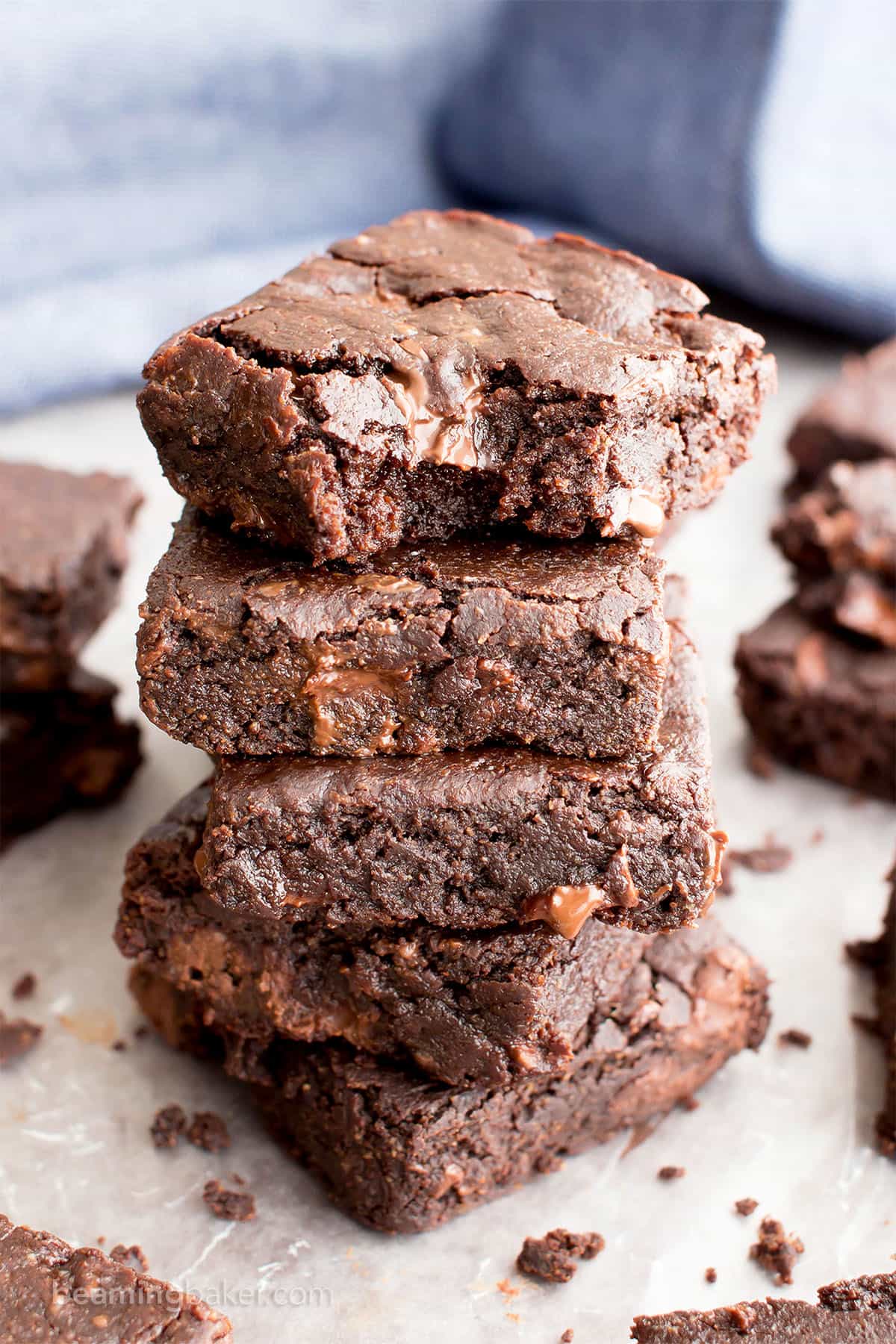 For us, the perfect brownie is a cross between fudge, cake and straight up chocolate. We like our brownies moist, rich as all get out, and so chocolatey even chocolate couldn't stand up to those brownies in a chocolate contest.
How about you—do you like your brownies cakey or fudgy? Super rich or just kinda rich? How about your preference on moistness? Super, medium, ultimate? How about topped with amazing homemade paleo chocolate frosting (made with this seriously amazing Paleo Vegan Dark Chocolate)?
Well, I'm totally hoping you just said or thought: seriously fudgy, super duper rich, and ultimate (and deliciously) moist. If you're nodding your head yes, or your mouth drooled just reading those adjectives, then I have something very special for you…allow me to present:
THE Ultimate Fudgy Paleo Vegan Brownies.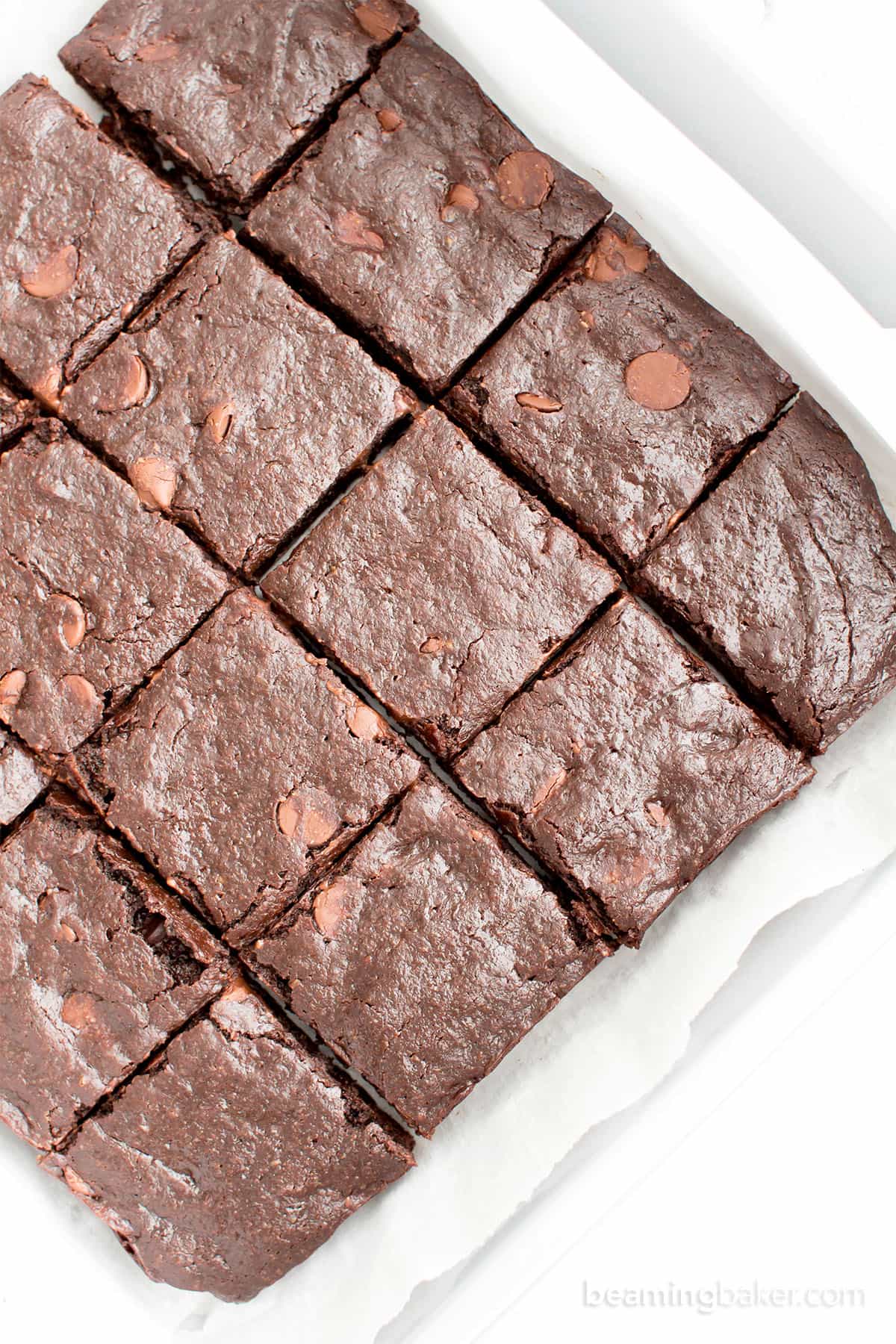 So good. So rich. So fudgy. So moist. So all the things your chocolate lovin' heart could dream of, GOOD. Like, so good that "THE" had to come in front of it.
I mean, how many recipes can you put "THE" in front of, anyway? It's an honor only to be bestowed upon the best of the best. Kind of like my Best Vegan Brownies. Which, actually, come to think of it, don't have "THE" in front of the title, but you know what I mean!
Well, it's been one year and two weeks since I shared my Best Vegan Brownies with you. Since then, it's gotten a ton of amazing reviews, been Instagrammed like crazy, and become the staple brownie recipe for many folks—vegans and non-vegans alike.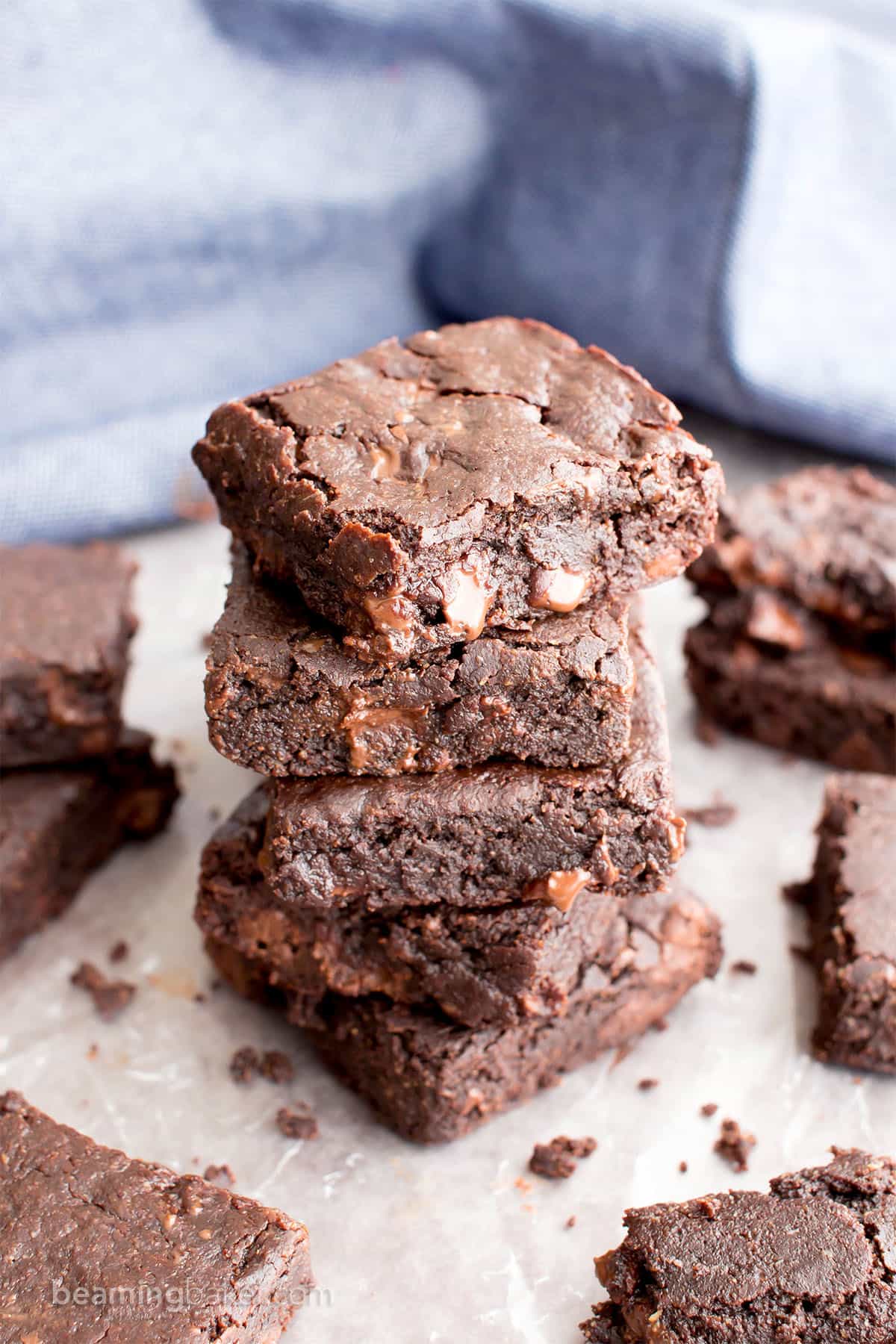 But since then, no paleo brownies recipe has been shared… Since then, I've gotten a ton of requests for a paleo brownie recipe…and since then, a year has passed. I know, I know, I totally dropped the ball. I just really wanted to share something spectacular.
I wanted the paleo brownie recipe to taste as close to my best vegan brownies as humanely possible. Wait, wait, did I just write "humanely" possible?
I need a nap. And a brownies. Like a GIANT one.
Dagnabit, did I just write "and a brownies"? Hmm…
As you know, when baking's involved, nothing is simple. And neither is typing, apparently. So I tested, I begged, I gave dirty looks, then soothing looks, to all of my baking supplies, and got down to business. (I also took a looooong nap.) And I'm pleased to tell you, IT WORKED. I can finally type cohesively!!
And, oh yeah, I created insanely GOOD brownies. You know I know you know what's coming… the BB bulletpoint list of Why You Should Make These. Ready? Here we go! (Super Mario voice, duh.)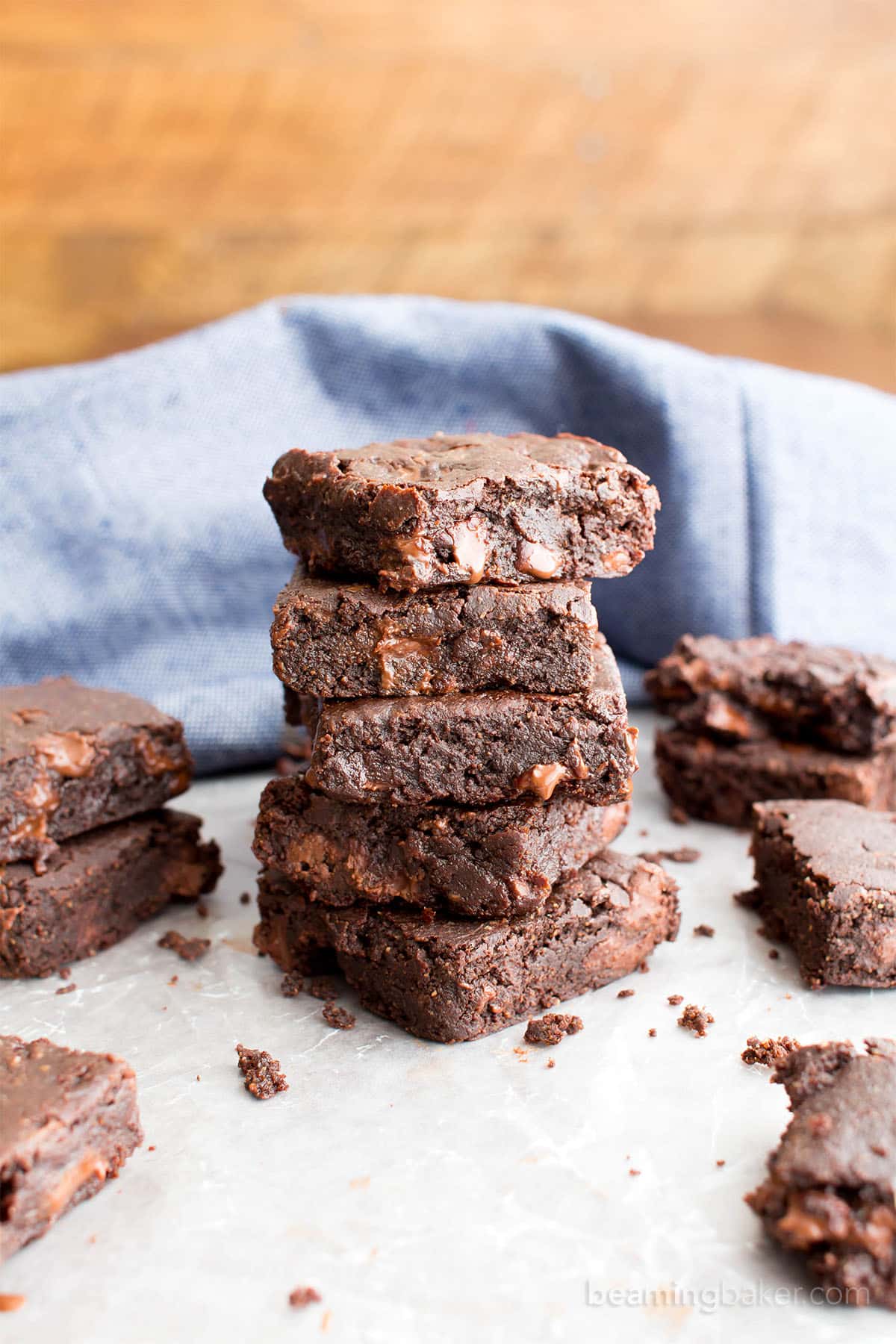 My Ultimate Fudgy Paleo Vegan Brownies are:
divinely rich and indulgent
so easy to make, in just one bowl
paleo, vegan, gluten free, dairy-free
mouthwateringly moist
a Chocolate Lover's dream come true
…especially when you use this out-of-this-world tasty paleo chocolate
perfectly fudgy
delightfully refined-sugar free
soon to join your favorite paleo desserts & snacks: no bake paleo chocolate almond butter bars, raw vegan brownies, big sesame tahini cookies, and paleo coconut macaroons. Nom nom!
so good, you'll want to eat the entire pan, all at once
so inspiring, you might be be able to avoid all the typos I embarrassingly graciously included for you in this post (yes, I did just write "be be")
perfect for the ultimate dessert
worthy of having a "THE" in the title
I hope you love this recipe as much as Erik and I do. So grab just one bowl, Willy Wonka levels of chocolate love, and your appetite for All Things Chocolate. You ready? Let's bake this! I can't wait to hear what you think. In the meantime, tell me…
What's your favorite way to eat brownies?
Topped with nice cream or coconut cream
warm and gooey, fresh out of the oven
chilled and dense like fudge
or… something else?
Sending you all my love and maybe even a dove, xo Demeter ❤️
☀︎ Click below to Pin ☀︎

☀︎ Did you make this recipe? Take a pic and share it on Instagram with the hashtag #beamingbaker and tag @beamingbaker. I would love to see it! ☀︎
If you enjoyed this Ultimate Fudgy Paleo Vegan Brownies recipe, then you'll just love these…
☀︎ Paleo Chocolate Recipes & Vegan Chocolate Desserts
Print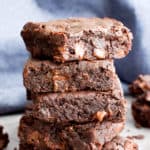 Ultimate Fudgy Paleo Vegan Brownies (Gluten Free, One Bowl, Paleo, V)
---
Description
Ultimate Fudgy Paleo Vegan Brownies (V, GF, DF): an easy, one bowl recipe for seriously fudgy, super moist paleo brownies bursting with rich chocolate flavor. Vegan, Gluten-Free, Dairy-Free.
---
---
Instructions
Preheat oven to 325°F. Line an 8-inch square baking pan with parchment paper or greased foil. Set aside.
In a medium bowl, whisk together almond butter, coconut sugar, maple syrup and coconut oil. Whisk until it resembles caramel.
Add cocoa powder in ¼ cup increments, whisking until well-mixed and thick like frosting. Scrape down the sides of the bowl as necessary. Whisk in vanilla, salt and flax eggs, until well incorporated. Using a rubber spatula, fold in almond flour until you get the consistency of soft dough or very thick batter, and no flour patches remain.
Fold in chocolate chips. Pour batter into pan. Using the rubber spatula, smooth batter into an even layer.
Bake for 28-36 mins. Mine took about 30 minutes. Cool for 1-2 hours, or until completely cool.* Slice into 16 brownies. Enjoy!

Adapted from my Best Vegan Brownies and Gluten Free Vegan Brownies.

Also try my Paleo No Bake Chocolate Coconut Bars and my 5 Minute Homemade Fudge.
---
Equipment
Category:

Healthy Desserts

Method:

Bake

Cuisine:

American
© beamingbaker.com. All content and images are protected by copyright. Please do not use my images or recipe without my permission. If you wish to republish this recipe, please re-write the entire recipe using your own words and include a link to this post for the recipe.
SHOP THIS RECIPE
Here are a few items I used in today's recipe. 🙂
Paleo Vegan Dark Chocolate | Blanched Almond Flour | Vegan Chocolate Chips | My Favorite Knife | Unsweetened Cocoa Powder | Creamy Almond Butter | OXO Mixing Bowls | Coconut Oil | Silicone Spatulas | Maple Syrup | Baking Pan (8-inch) | Cooling Rack
This post may contain affiliate links, which allow me to make a small commission for my referral, at no additional cost to you. Thank you for supporting Beaming Baker.
Facebook ☀︎ Pinterest ☀︎ Twitter ☀︎ Instagram