4 Ingredient Paleo Coconut Macaroons Recipe (V, GF): a super easy, 5-min prep recipe for irresistibly chewy and sweet macaroons bursting with delicious coconut flavor. Paleo, Vegan, Gluten-Free, Dairy-Free, Egg-Free. Low-Carb Coconut Macaroons – only 4g carbs per serving.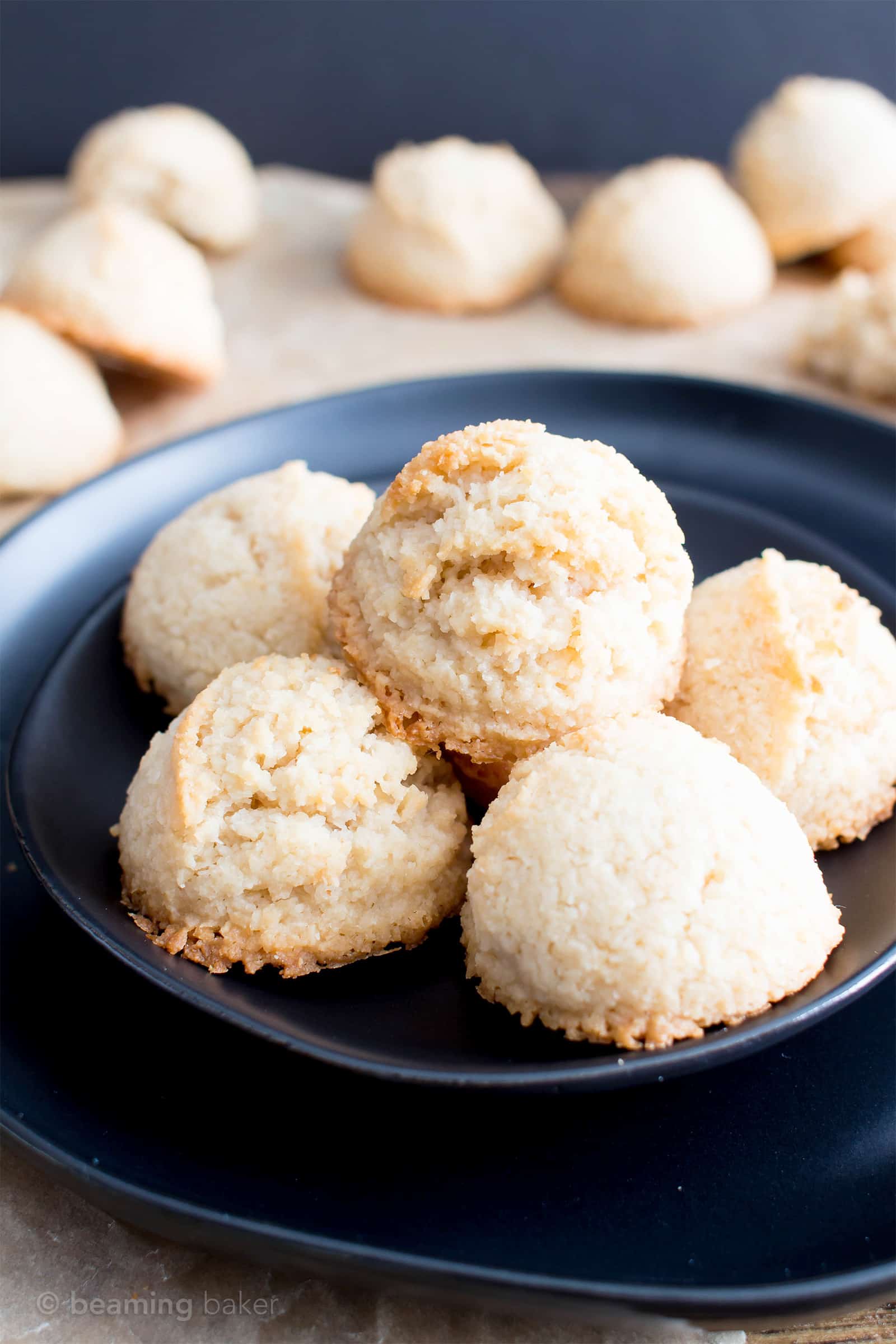 Happy Spring! Ahh… doesn't it feel good to just say that? According to my planner, which I have right next to me, the first day of Spring was March 20. Oh, happy, happy day!
Update, I made a lemon version of these and they're getting rave reviews already. 🙂 Check out my paleo vegan lemon coconut macaroons!
The thing is, it's been soooo frosty and cold in Boston. Yeah, it for sure hasn't been the worst of the worst, but it definitely is cold as all get out compared to California. Even after a decade of moving back and forth from coast to coast, I still can't get used to snow and such.
Even baking a batch of vegan chocolate chip cookies and vegan paleo chocolate chip cookies with coconut flour can't make all the frostiness go away.
But there is one upside to all this frostiness.The second it's over, everyone starts dancing and laughing through the streets. Okay, that's probably just happening in my mind, but still!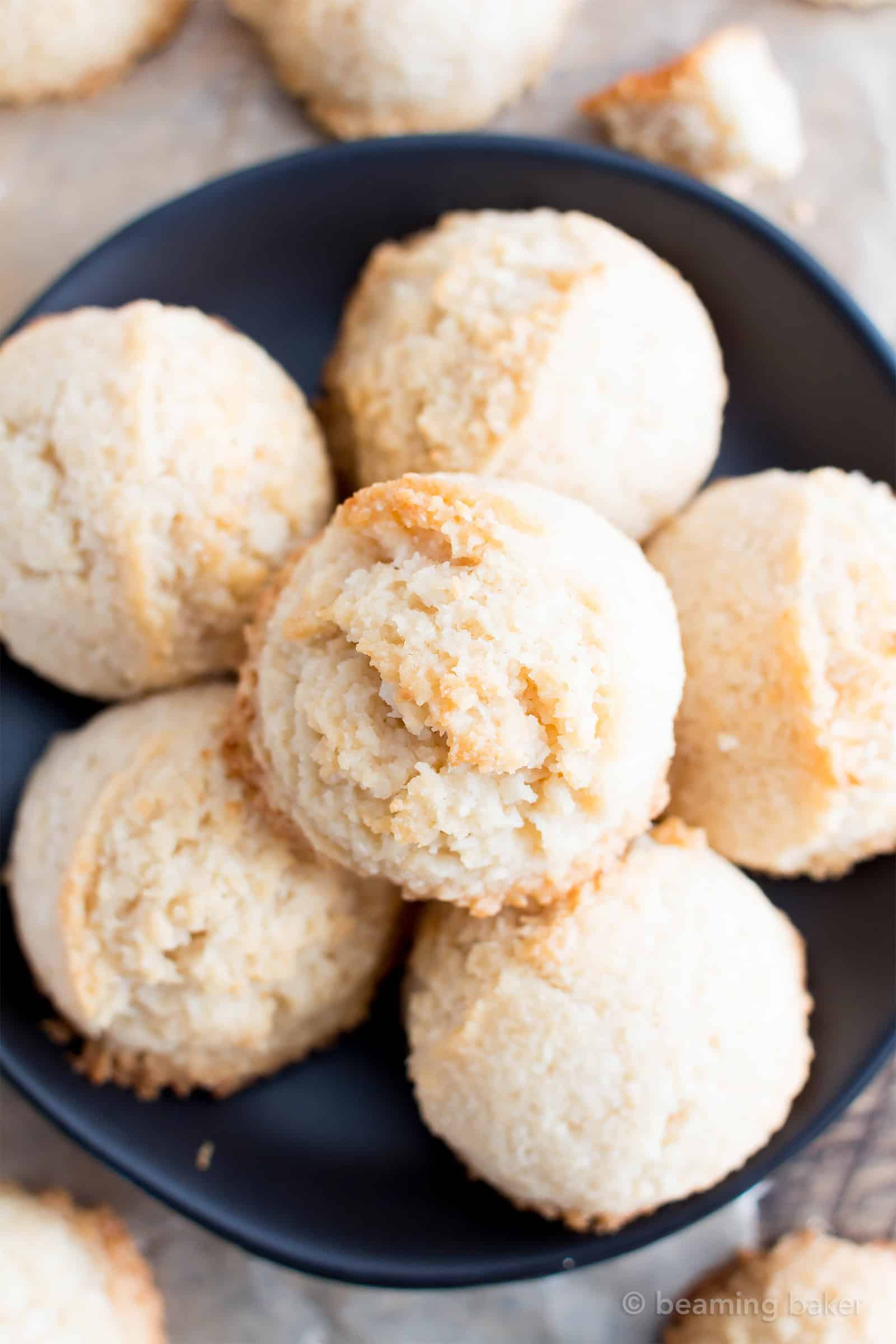 Every day the sun warms my skin, every day we get to go out in shorts and flip flops… every day we get to not wear balaclavas is a GOOD day!
And so, without further ado, let's kick off SPRING with this irresistible 4 Ingredient Paleo Coconut Macaroons Recipe!!! Let's kick of Easter with these coconut yummies and a few others (just for good measure):
Back to what I was saying… 😉 Gather 'round, because these coconut macaroons are OFF THE CHARTS good. Like, I had no choice but to yell "off the charts" GOOD. They're the best coconut macaroons I've ever had.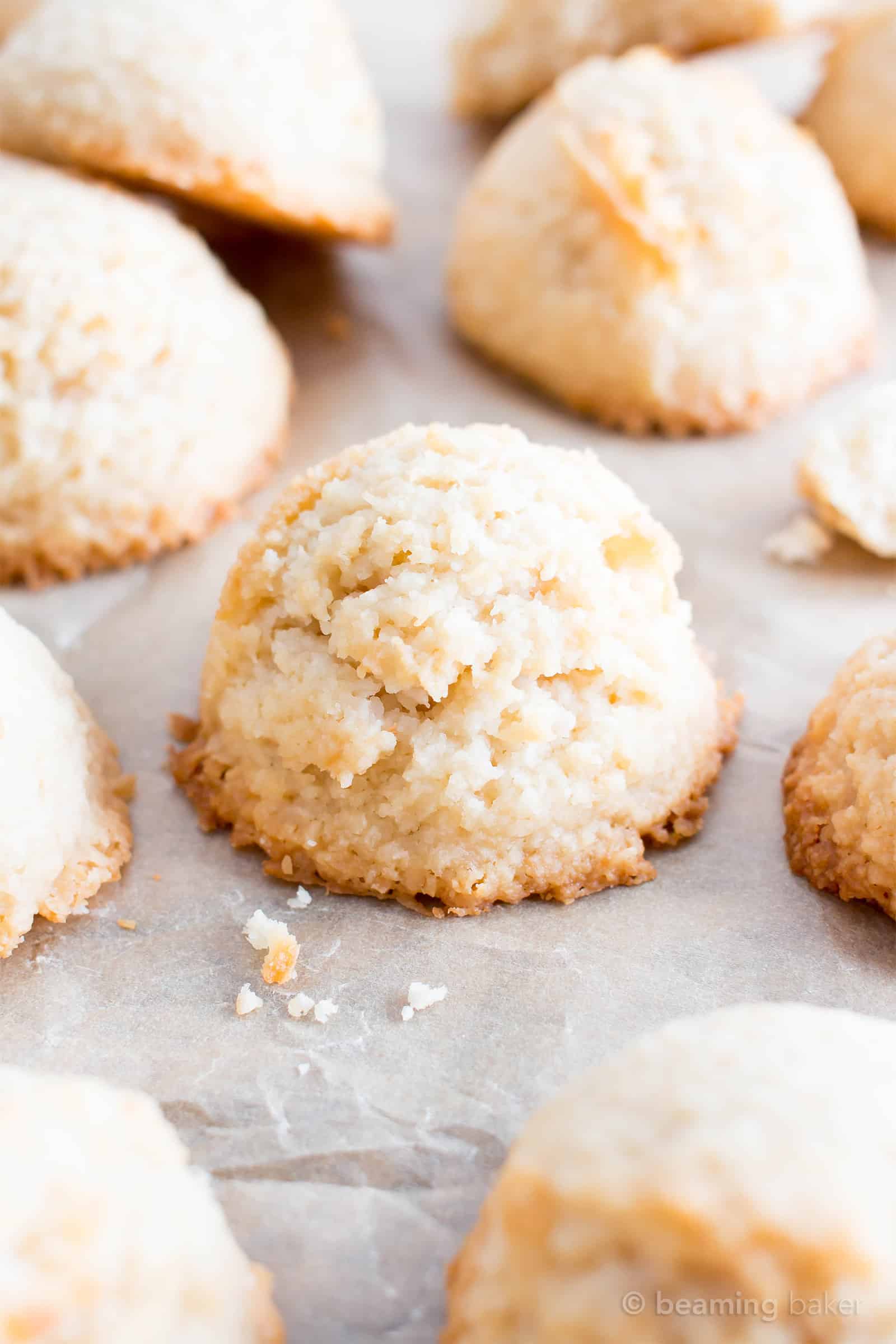 I nervously and excitedly brought a few of these over to my sister Jenny's house the other day. She is THE connoisseur of junk food, sweets, and all things indulgent. So if she approves of something, I know it can stack up to the traditional faves/classics we all grew up with. Case in point, her previous favorite recipes of mine: my best vegan brownies, oatmeal raisin cookies, and homemade crunch bars.
Anywho, the first thing she literally did with the macaroons was slice into one of them. She insisted on slicing one so she could save some for her little one, Dylan aka PB, who doesn't like his food being pre-bitten into (like, who doesn't?!?) 😉 She immediately said, "the texture is good. Firm and dense like a macaroon should be." (I know, she loves reviewing things).
She took one bite, with the blankest, most neutral face ever (to keep things honest and fair). Then, immediately LOST it. Her eyes grew big like saucers and practically popped out of her head. Her mouth dropped open, then closed immediately so as to not lose even one bite of coconut macaroon.
Then, she exclaimed, "WOW. These taste like the REAL THING."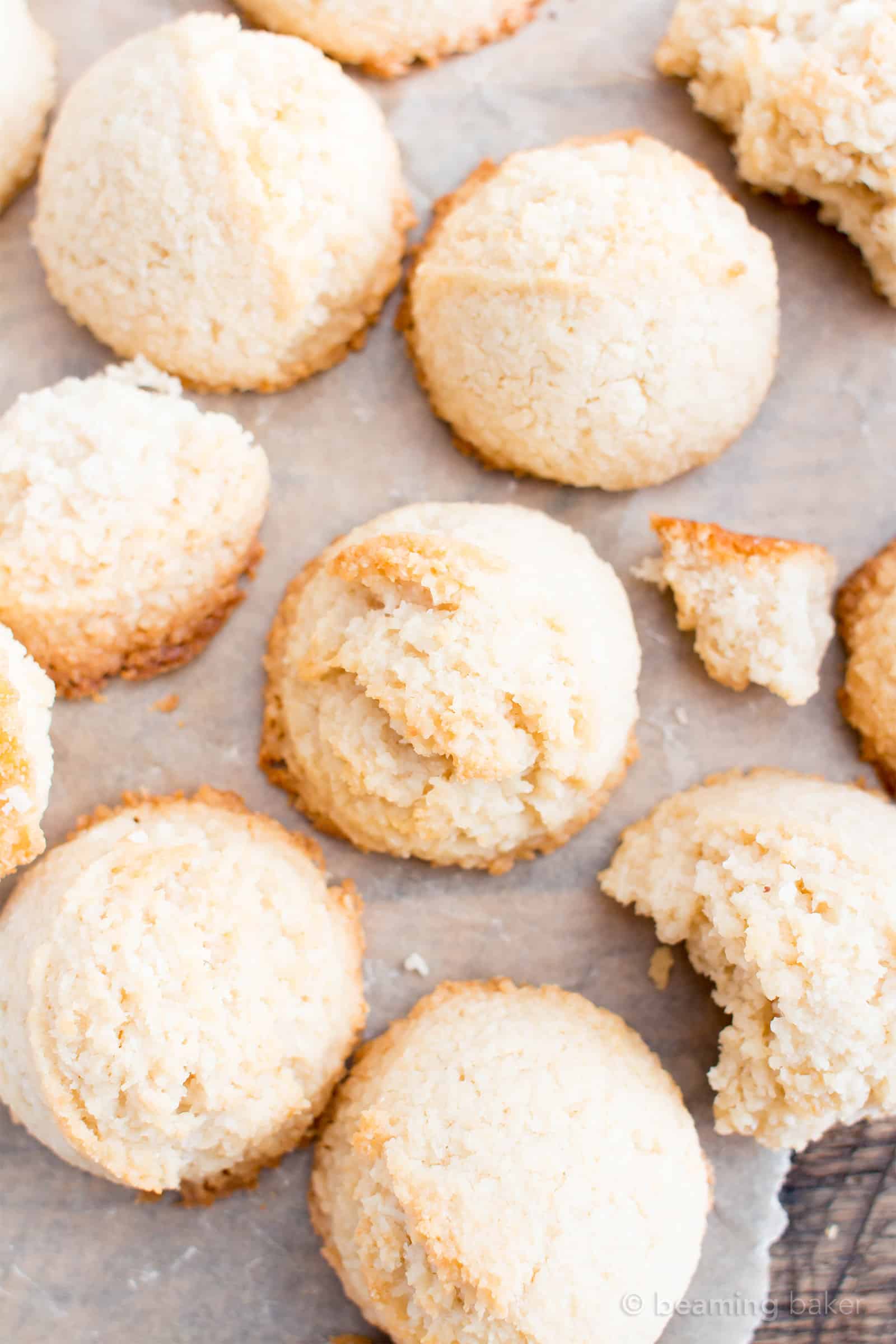 To Jenny, the "real thing" means the classics. And the classics = YES. All of the yes's!!
She then immediately squirreled away the remainder of the paleo coconut macaroons and proclaimed, "PB's not getting any of these!!"
So, let me tell you in the clearest, firmest way possible: These are the BEST coconut macaroons ever. The best vegan coconut macaroons ever. The best paleo coconut macaroons ever. The best ALL the things macaroons ever. And I hope you try them. 🙂
Speaking of wonderfully tasty things you need to try, you have to give these paleo chocolate coconut candy clusters a whirl. Trust me, you will be so happy you did.
Back on point, this 4 Ingredient Paleo Coconut Macaroons Recipe is made without condensed milk, without eggs, without processed sugar, without any of the junk that you don't want/don't need. And they taste even better than the junky ones.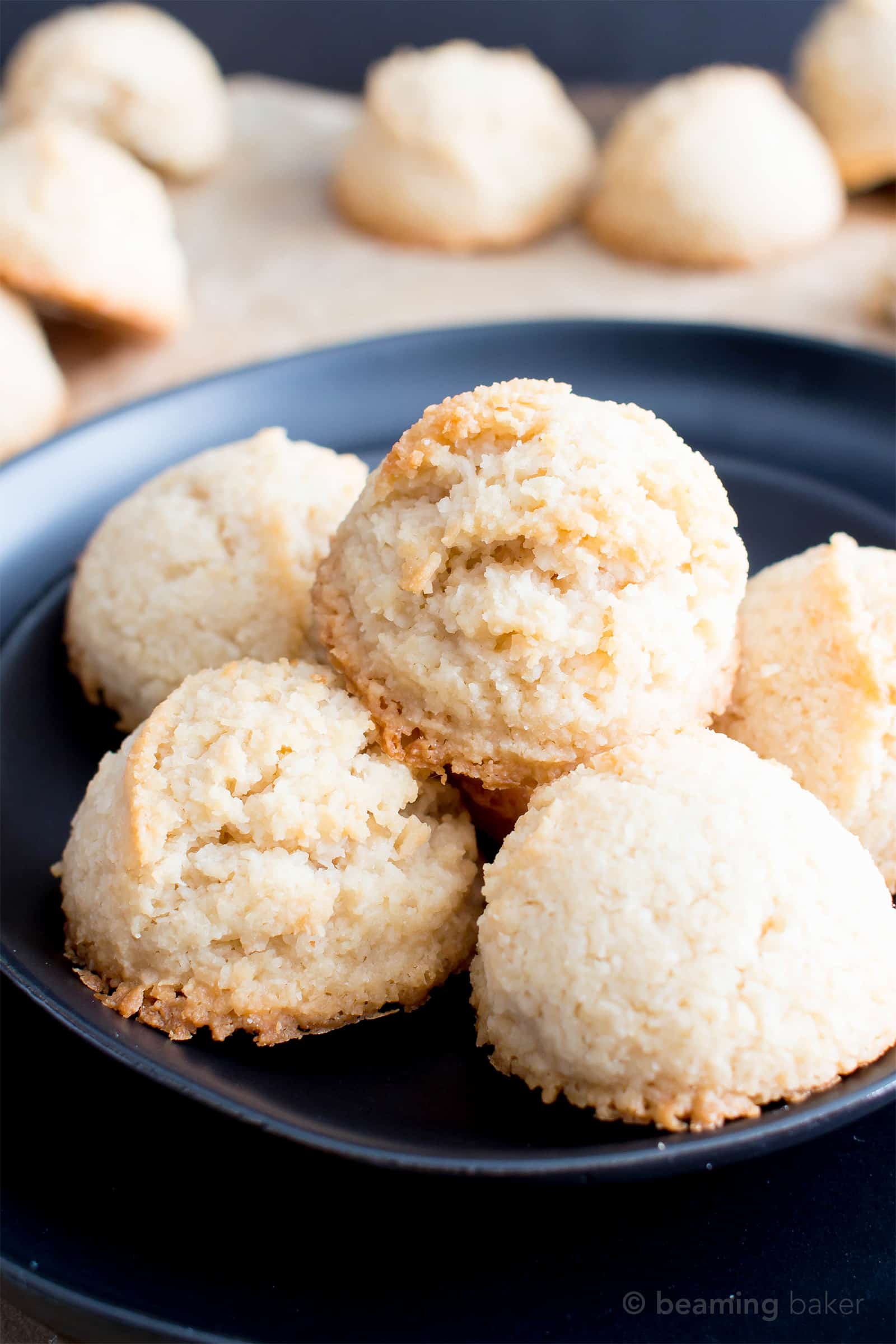 In case you're still not convinced, let me tell you all the best bulletpoints about these 4 Ingredient Paleo Coconut Macaroons Recipe. They're:
made with just 4 ingredients
chewy, bursting with rich, bold coconut flavor
made with coconut oil for an extra coconut flavor boost!
vegan, paleo, dairy-free, gluten-free
the best gluten free coconut macaroons you'll ever have…
in fact, the most delicious healthy coconut macaroon recipe you'll ever have
wonderfully refined sugar-free
made with the healthy, whole ingredients you know and love
just the egg-free coconut macaroons you've been searching for! .
seriously stand up to the traditional coconut macaroons you grew up with
and just perfect for Easter!
So grab your favorite blender or food processor and let's hit the kitchen! Let's make these macaroons quick so we can eat em! 😉 I'm truly so proud of this recipe and I hope that you love them as much as I do. Looking forward to hearing your thoughts!
In the meantime, let me know:
What flavor of coconut macaroon would you like to see next?
Sending you all my love and maybe even a dove, xo Demeter ❤
Click Below to Pin

Did you make this recipe? Take a pic and share it on Instagram with the hashtag #beamingbaker and tag @beamingbaker. I would love to see it!
More Gluten Free Vegan + Coconut Recipes
Print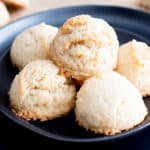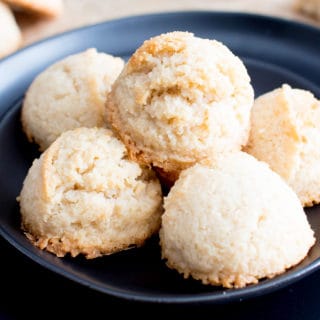 4 Ingredient Paleo Coconut Macaroons Recipe (Vegan, Paleo, Gluten Free, Dairy-Free, Refined Sugar-Free)
---
Author:

Demeter | Beaming Baker

Prep Time:

10 minutes

Cook Time:

15 minutes

Total Time:

25 minutes

Yield:

about

10

large cookies or

20

medium cookies

1

x
Description
4 Ingredient Paleo Coconut Macaroons Recipe (V, GF): perfectly chewy and bursting with sweet coconut flavor, these are the best macaroons you've ever had! Paleo, Vegan, Gluten-Free, Dairy-Free.
---
---
Instructions
Preheat the oven to 350°F. Line a baking sheet with parchment paper or greased foil. Set aside.
Add all ingredients (coconut, almond flour, oil and maple syrup) to a food processor. Here are the gluten-free small coconut flakes that I use–you must use small coconut flakes in this recipe, about the size of sprinkles–see the Video above the recipe for visuals. Using large coconut flakes will result in flat, spread-out cookies.
Blend until you get a thick and sticky mixture that holds together, with smaller, but still noticeable coconut pieces. If any maple syrup remains at the bottom of the processor, fold into dough until well mixed.
Using a small cookie scoop, scoop firmly packed balls of coconut mixture. Drop onto the prepared baking sheet, making sure to space balls evenly apart–they will increase a bit in size.
Bake for 12-16 mins, until golden around the edges and slightly golden on top. Mine took 15 mins for large ones. Place baking sheet onto a cooling rack. Allow to cool on baking sheet for 30 mins-1 hour. Enjoy! Storing instructions below.
Looking for Coconut Macaroons made with coconut flour? Try these Gluten Free Coconut Macaroons Recipe (Dairy-Free, Egg-Free).
Paleo Coconut Recipes You'd Love:
Equipment
Category:

Dessert, Snacks

Method:

Bake

Cuisine:

American
Nutrition
Serving Size:

1 macaroon

Calories:

86

Sugar:

4g

Sodium:

2mg

Fat:

7g

Carbohydrates:

4g

Protein:

1g
© beamingbaker.com. All content and images are protected by copyright. Please do not use my images or recipe without my permission. Please do not republish this recipe, instead, include a link to this post for the recipe.
SHOP THE RECIPE
Here are a few items I used in today's recipe. 🙂
Gluten Free Unsweetened Coconut | Cookie Sheet | Maple Syrup | 2-Tablespoon Cookie Scoop | Unbleached Parchment Paper | 1-Tablespoon Cookie Scoop | Coconut Oil
This post may contain affiliate links, which allow me to make a small commission for my referral, at no additional cost to you. Thank you for supporting Beaming Baker.
Facebook ☀︎ Pinterest ☀︎ Twitter ☀︎ Instagram