Paleo Apple Pecan Coconut Crisp (V, GF): a super crisp, nutty topping blanketing warm, apple cinnamon-spiced filling. Vegan, Paleo, Gluten-Free, Dairy-Free.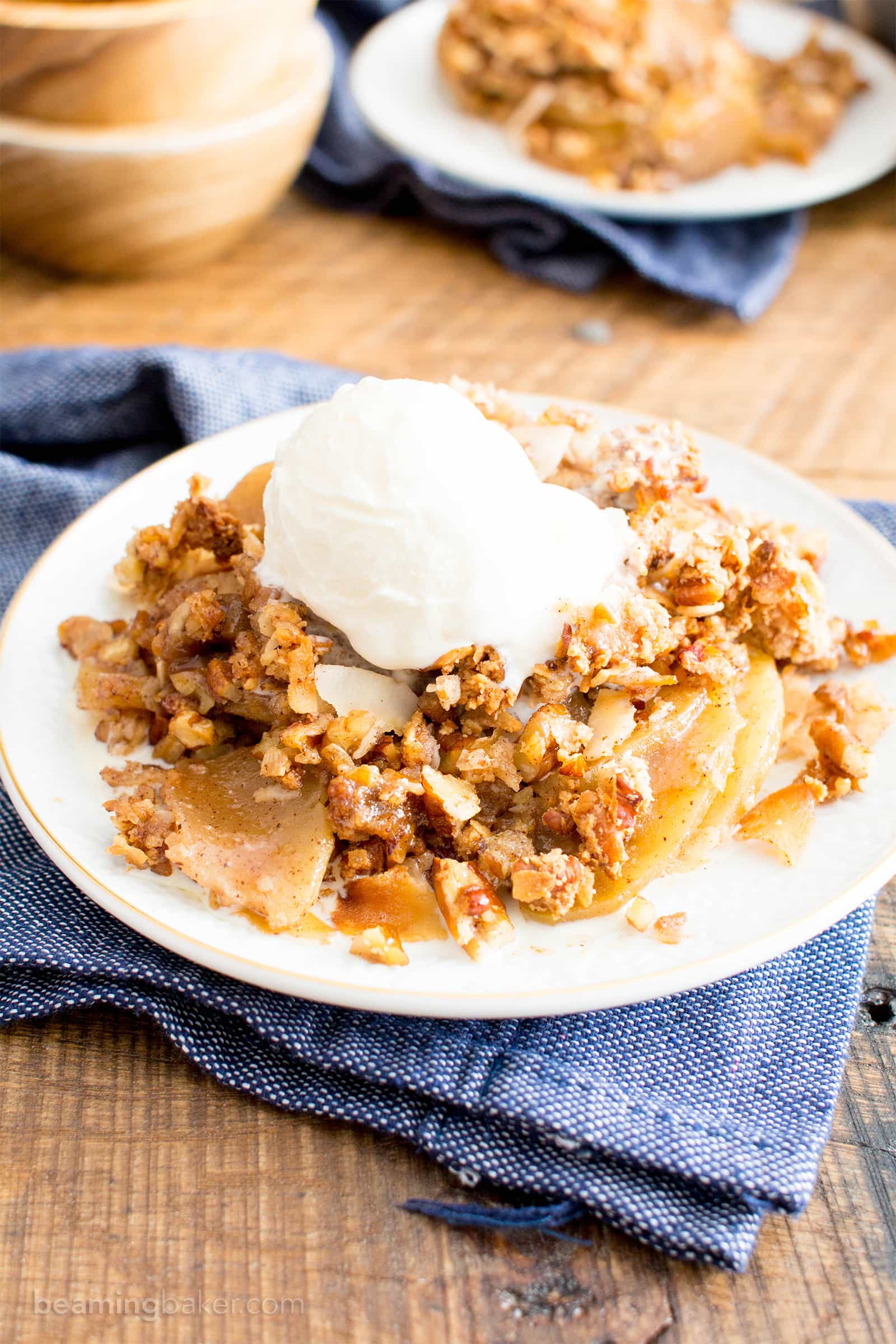 Did I tell you we were going to get our Fall on or what? Let's welcome fall with our open arms, open mouths (what a visual), and open forks! Now, go ahead and spear that fork right into a nice, warm, gooey, crispy, and ridiculously-off-the-charts-comforting Paleo Apple Pecan Coconut Crisp.
There are just a few things that make fall so goshdarn wonderful. Alright, there are many things that make it wonderful. Say: thick, cozy socks with little orange and brown pom poms on it, apple picking with the family, all those freaking yummy fall-exclusive drinks at you know where, pumpkin pie (or pumpkin pie smoothies), candy apples, healthy homemade granola, bright red, orange and the colors in-between leaves, pumpkin bread, then chocolate pumpkin bread, then pumpkin muffins and, you guessed it: apple crisp.
That's fall bliss. 🙂
Basically, fall is when we all turn into bears. Freaking cozy bears with mugs of apple cider!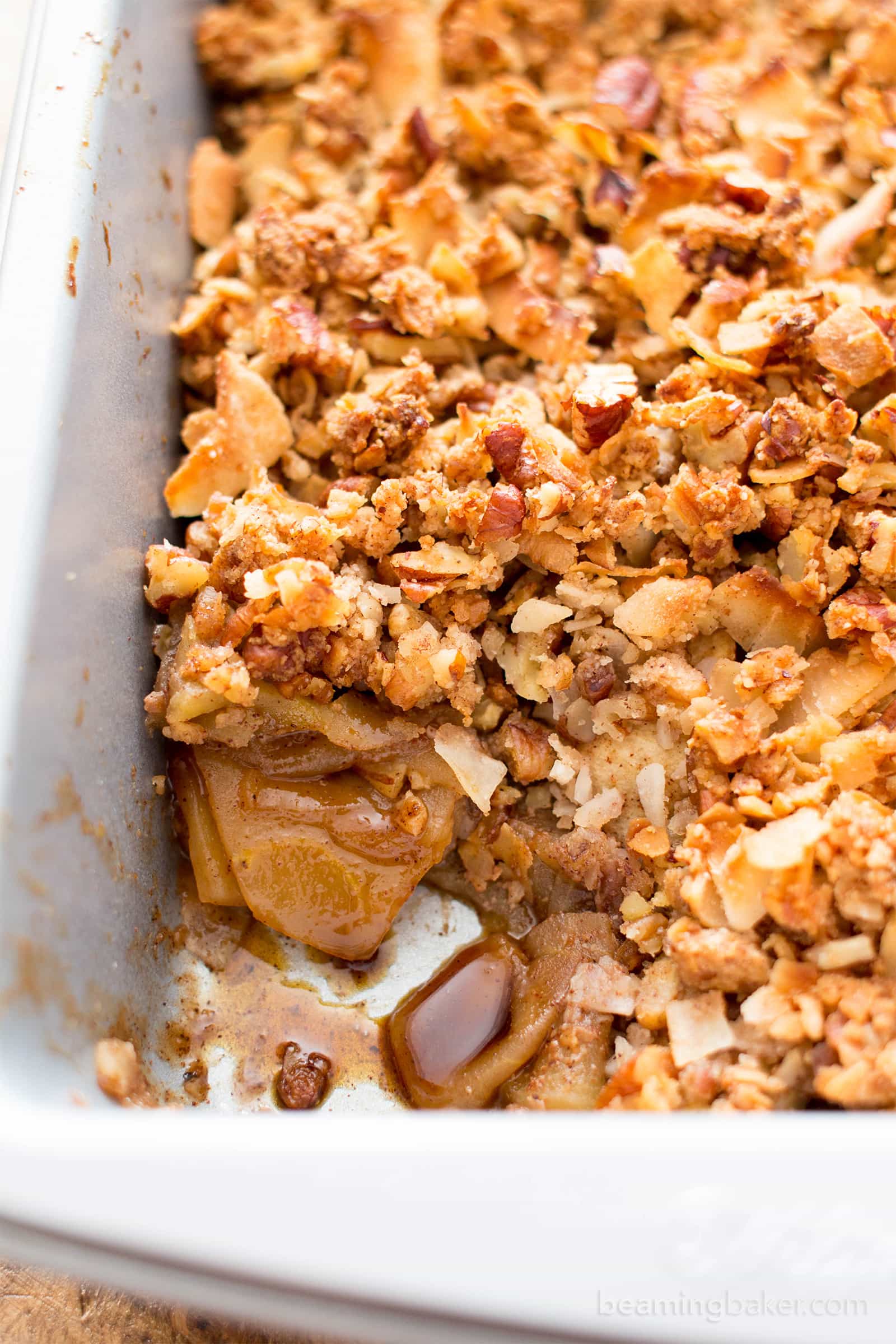 So this paleo apple pecan coconut crisp started pretty innocently as a regular 'ol gluten free apple crisp. There were oats involved, hopes for a beautiful crumble top that even Betty Crocker would be giving me the stinkeye for at the local bake-off.
As if she would stoop to my level.
Anywho, there were oats aplenty and things looked promising. But (isn't there always a big ol' butt—yep, I said it), that ol' jerk wonderfully versatile ingredient named coconut oil reared its difficult head. Dagnabit. Truth is, coconut oil just doesn't work like butter. There. I said it. <– Why does that feel like giving in? Bugger…
In some cases, it works just fine to replace butter; in others, well, in others I'd like to give it a few choice words. In the case of making a deliciously crispy crumble topping, it was not to be.
At least not with the ingredients I knew were traditionally expected.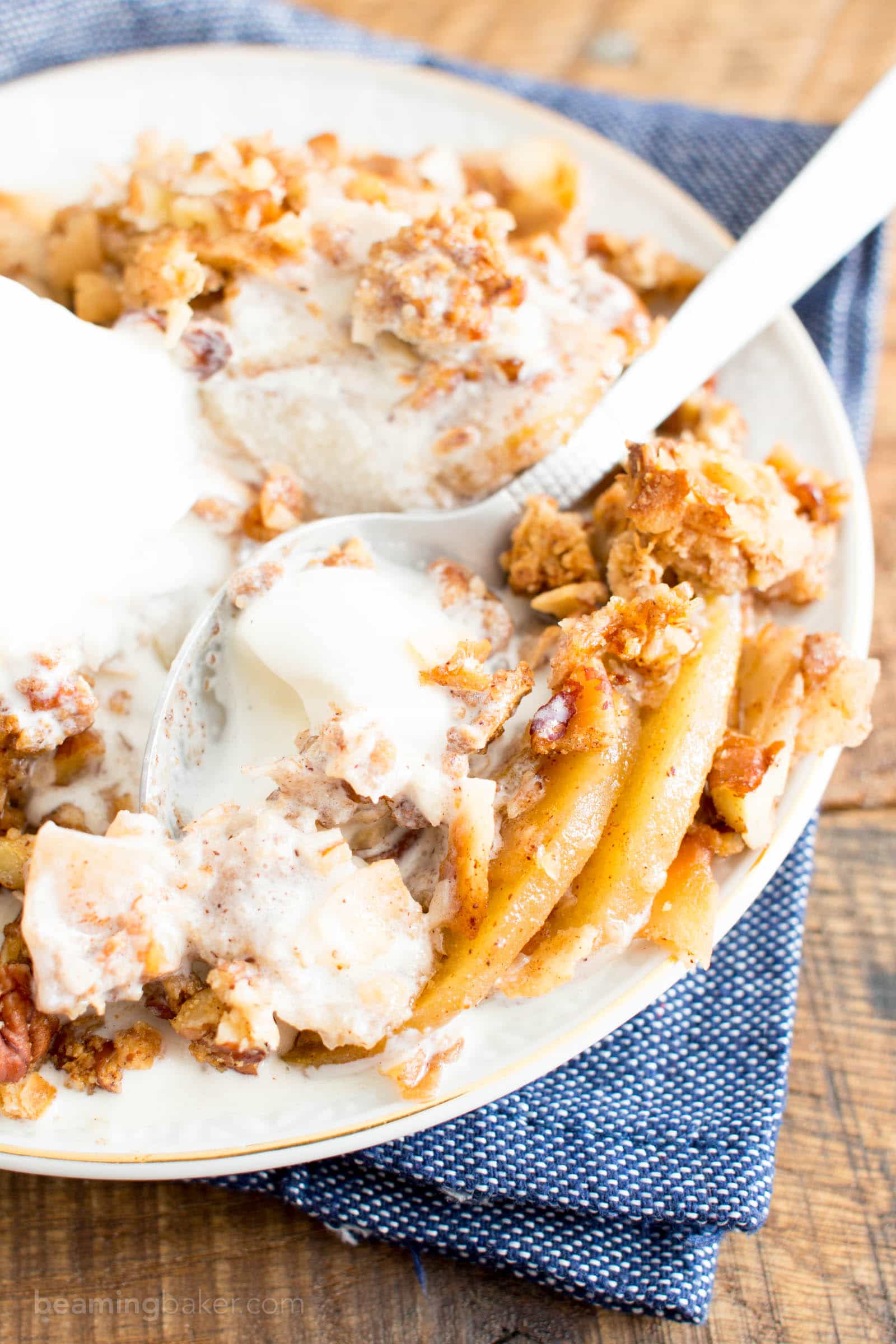 So after Erik and I peeled apples til our eyes were crossed joyfully reveled in the delight that is peeling and coring 20 apples for those sanity questioning incredibly educational apple crisp trials, I decided to change directions.
Sometimes, you just have to scrap everything you know and start fresh.
Forget tradition, forget what you think you knew. And just go at it like you're a newborn baby (but not because babies should not have to suffer the "joy" that is apple peeling and coring).
So after Erik begrudgingly bemoaned playfully and happily agreed to help peel more apples with me, we began again. One thing I learned from the previous merrymaking trials was how little added sugar I could use to still create a gooey and perfectly sweet apple filling. SCORE one for the Apple Haters Peelers!!!
Now that I had the apple filling nailed down, all I needed to figure out was the topping. I went around the internet, searching for the most negative feedback on traditional apple crisp recipes.
One thing I learned: people really don't like a non-crispy topping. What do ya know?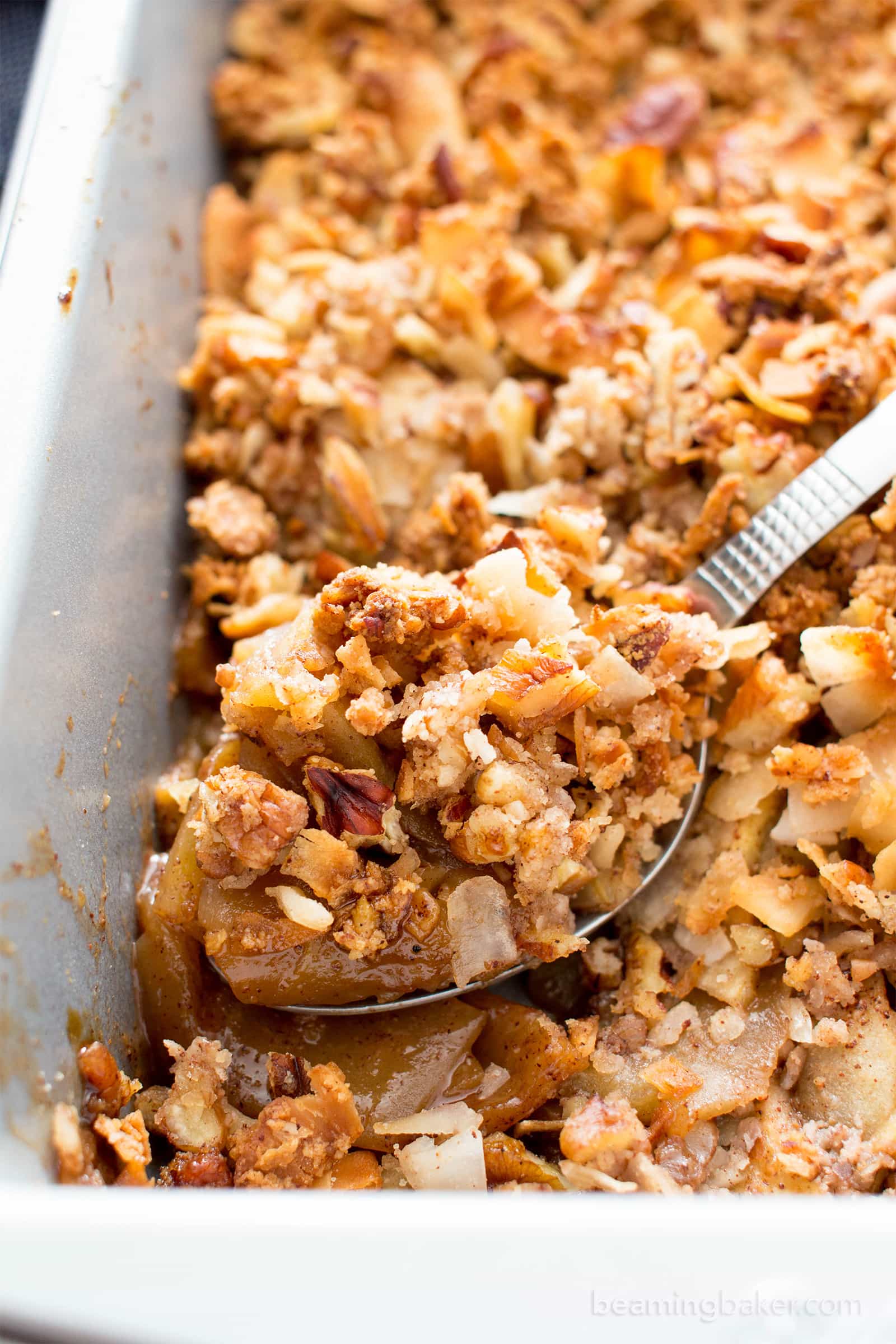 As such, one of my number one goals (yes you can have several), was: Make a Crispy Topping. In sentence case and everything. It was much more difficult than it seems, unfortunately. After some soul searching (I'm a baker, what can I say), a few semi-snide passive aggressive comments lovingly traded between me and Erik, then a few be-cool-guys-don't-let-the-apples-get-to-you BB team talks, I had an epiphany.
Let's make this apple crisp PALEO.
YES!!! Throw away the flour, throw away the grains, and start fresh. But, don't throw stuff away because it's expensive and that's wasteful. Just… throw it away figuratively. The grains and the flour were totally slowing me down (and so was all of that goshdarn apple peeling).
I thought to a few different recipes I'd recently developed: homemade KIND Bars and the soon to be published Paleo Granola. One of the best things about those two recipes were: the super, ridiculously low amount of added sugar + the unparalleled crispy vibes. Yes, unparalleled.
So I realized: why not use elements from my KIND bars and granola to create a crisp AF (let's just say this means "as fudge" even though that doesn't make sense… contextually) top for this Paleo Apple Pecan Coconut Crisp? 😉 And that's when it all started coming together. Erik would cancel plans for our would-be backyard apple grove (to offset apple costs). I would cancel my order for a bulk-size pack of apple peelers. And we could each stop writing down better comebacks/clapbacks to each other for the next round of passive aggressive apple-peeling induced jabs.
Happy sigh.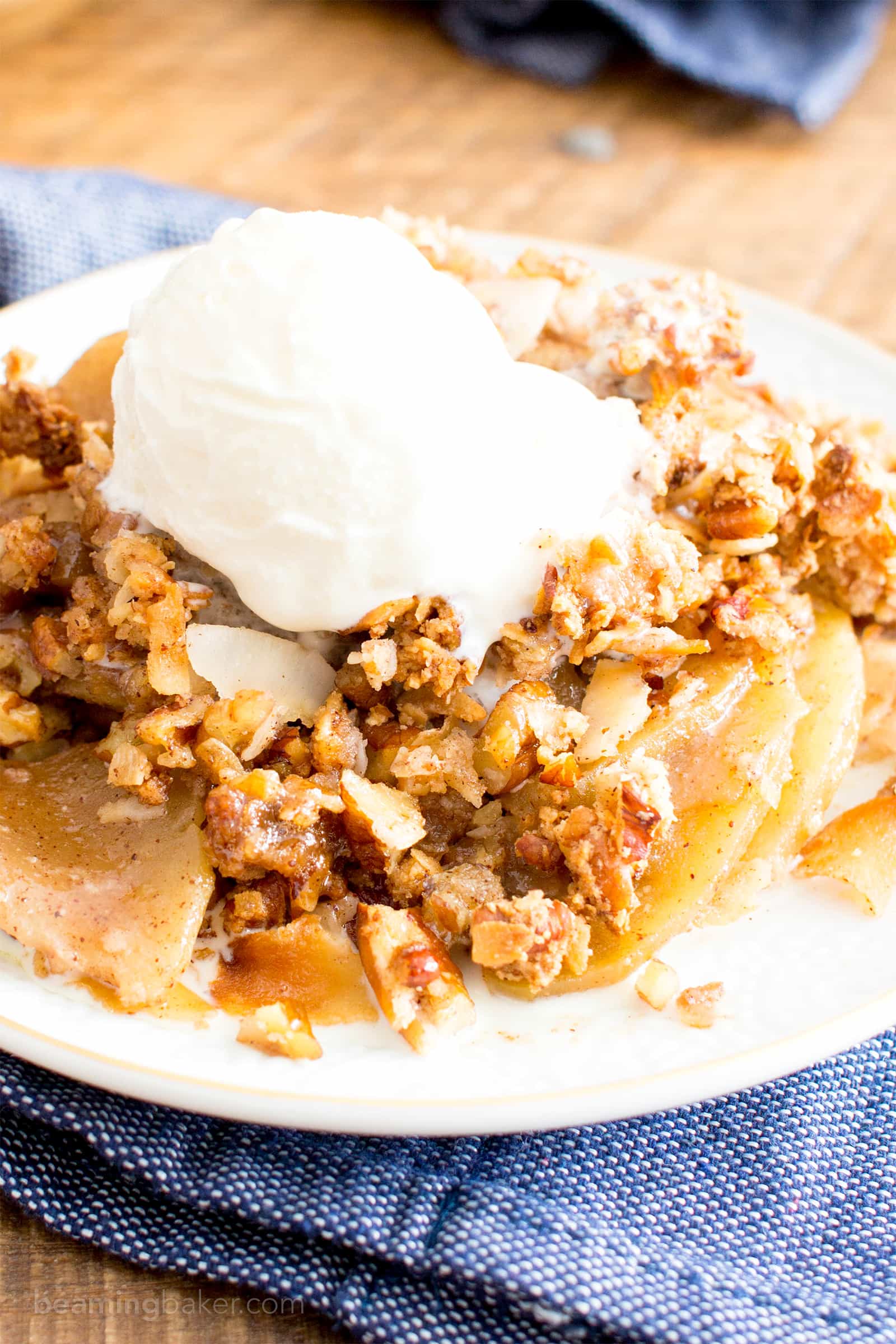 And what we have here is what I'll lovingly present to you as… my Paleo Apple Pecan Coconut Crisp. Gosh, that felt GOOD!!! Because honestly, this post was really not about to happen. Let me tell you about this out-of-this-world apple crisp. It's:
so deliciously crispy on top, you can legit tap it with a spoon and hear it
filled with warm, cozy apple filling
amazingly oil-free (except that goshdarn coating of the pan!!)
vegan, gluten-free, dairy-free, PALEO
bursting with nutty goodness
refined sugar-free
made with just 5 tablespoons of added sugar
… for the ENTIRE pan
made with the simple, healthy ingredients you love
plant-based and allergy-friendly
tested like crazy so you don't have to 😉
Grab your Pinterest-worthy bucket of apples, and meet me in the kitchen (as we have permanently cancelled plans for our apple grove)! It's high-time we get our crispier than crisp Paleo Apple Pecan Coconut Crisp on! Shall we make some apple cider while we're at it? 😉 I'm beyond excited about spending the season getting our pumpkin apple cinnamon home-baked deliciousness on. Thank you for being here and spending it with me. I can't wait to hear what you think of this recipe, in the meantime, tell me:
What's your favorite fall activity?
Sending you all my love and maybe even a dove, xo Demeter ❤️
☀︎ Click below to Pin ☀︎

☀︎ Did you make this recipe? Take a pic and share it on Instagram with the hashtag #beamingbaker and tag @beamingbaker. I would love to see it! ☀︎
Print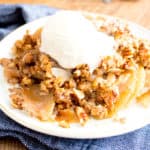 Paleo Apple Pecan Coconut Crisp (Vegan, Gluten Free, Dairy-Free, Refined Sugar-Free)
---
Description
Paleo Apple Pecan Coconut Crisp Recipe (V, GF): a super crisp, nutty topping blanketing warm, apple cinnamon-spiced filling. Vegan, Paleo, Gluten-Free, Dairy Free.
---
Scale
Ingredients
Filling
3

medium apples, peeled and thinly sliced* (

4 cup

s)

2 tablespoon

s coconut sugar

1 tablespoon

pure maple syrup

1 tablespoon

finely ground, blanched almond flour

½ teaspoon

ground cinnamon

¼ teaspoon

ground nutmeg

½ teaspoon

pure vanilla extract

1

–

2

tablespoons water (optional)
Topping
¾ cup

pecans, chopped

½ cup

unsweetened coconut flakes

¼ cup

finely ground, blanched almond flour

¼ teaspoon

ground cinnamon

2 tablespoon

s pure maple syrup
---
Instructions
Preheat oven to 350°F. Grease an 8-inch square baking pan with coconut oil. Set aside.
In a large bowl, add all Filling ingredients: apples, coconut sugar, maple syrup, almond flour, cinnamon, nutmeg and vanilla extract. Using a rubber spatula, stir and fold until apples are fully coated and sugar has dissolved. If your mixture isn't very wet, add in water—you'll want to see 1-2 tablespoons liquid at the bottom of your mixing bowl. I used 1 ½ tablespoons water in mine.
Pour this mixture into the prepared baking pan. Use the spatula to smooth apples into an even layer.
Add all Topping ingredients to a medium bowl. Using a fork, stir and fold until crumbles form. Gently spoon evenly over apples, making sure to keep crumbles intact.
Bake for 40-60 minutes. Mine took 45 minutes. It's done when the top is a deep golden brown and the juice around the filling has thickened. To test, use a spoon to carefully lift up a corner of the crisp to see the juices. If it's still watery, bake for another 5 minutes.
Allow to cool for 10-15 mins. Serve warm with a scoop with dairy-free ice cream on top. Enjoy! Storing instructions below.
---
Notes
– *I like to use a mix of apples: Braeburn, Fuji, Gala, and Granny Smith.
– Refrigerator storing notes: Cover with foil, or transfer to an airtight container. Store in the refrigerator for up to 1 week. Reheat before serving.
– Room temperature storing notes: Cover with foil and store at room temperature for up to 2 days. The topping is more likely to stay crispy if stored at room temperature.
– To freeze: place in an airtight, freezer-friendly container for up to 2 weeks. Heat in 30-second increments until the filling is warm.
– More cozy Fall recipes: chocolate pumpkin bread, pecan brownies, maple cinnamon roasted pecans (paleo).
Cuisine:

Dessert, Vegan, Gluten Free, Paleo, Dairy-Free, Fall, Healthy
Recipe Card powered by
© beamingbaker.com. All content and images are protected by copyright. Please do not use my images or recipe without my permission. If you wish to republish this recipe, please re-write the entire recipe using your own words and include a link to this post for the recipe.
If you enjoyed these plant-based, allergy-friendly Paleo Apple Pecan Coconut Crisp, then you'll just love these delicious and easy healthy recipes:
☀︎ More Gluten Free Vegan Paleo + Fall Recipes ☀︎
Ultimate Fudgy Paleo Vegan Brownies (V, GF, DF, Paleo) | Skillet-Roasted Maple Cinnamon Pecans (Vegan, GF, Paleo) | Gluten Free Vegan Chocolate Pumpkin Bread (GF, Dairy-Free, V) | No Bake Pecan Pie Bites (Paleo, Vegan, GF, DF) | No Bake Caramel Apple Tartlets (GF, DF, Vegan) | Pumpkin Chocolate Chip Muffins (V, GF, One Bowl) | Gluten Free Vegan Pumpkin Bread (One Bowl, Whole Grain) | No Bake Paleo Chocolate Pecan Bars (Paleo, V, GF, Refined Sugar-Free) | and Paleo Almond Joy… just for fun. 😉
This post may contain affiliate links, which allow me to make a small commission for my referral, at no additional cost to you. Thank you for supporting Beaming Baker.
Facebook ☀︎ Pinterest  ☀︎ Twitter ☀︎ Instagram