Peanut Butter Chocolate Chip Oatmeal Cookies (Vegan, Gluten Free)
Peanut Butter Chocolate Chip Oatmeal Cookies (V+GF): An easy recipe for soft, deliciously textured cookies with oats, coconut, and LOTS of peanut butter and chocolate. Vegan and Gluten Free.
Confession time: peanut butter and I weren't always besties. Okay, now before you gasp and guffaw over this confession (wait, you guffawed?), hear me out. We're all friends here; this is a safe place for exposing our most embarrassing, most vulnerable vulnerabilities and such. Right? ☺ For instance, I tend to me be dramatic… again, only with my pen. Erm, keyboard. No judgments, right?
Anywho, back to PB. Well, for a long time throughout my adventurous youth, I did not like peanut butter. Not one bit. It was so dry, too salty, not salty enough, NOT chocolate, and so many other perceived-to-be negative attributes. But worst of all, I feared and respected it.
Yep, exactly like how Danny Castellano felt about the sea.
Okay, so do you remember that ridiculously torturous Got Milk commercial with the dog? Omigosh, I feel bad just thinking about it! Okay, if you haven't seen it, this is what happens (more or less according to my patchy memory): Some evil kid holds out a ginormous spoon of peanut butter to a dog. The gorgeous, kind, and completely unawares dog starts licking the spoon. Happy and ignorant of what's to come, of course. Dun dun dun!!!!!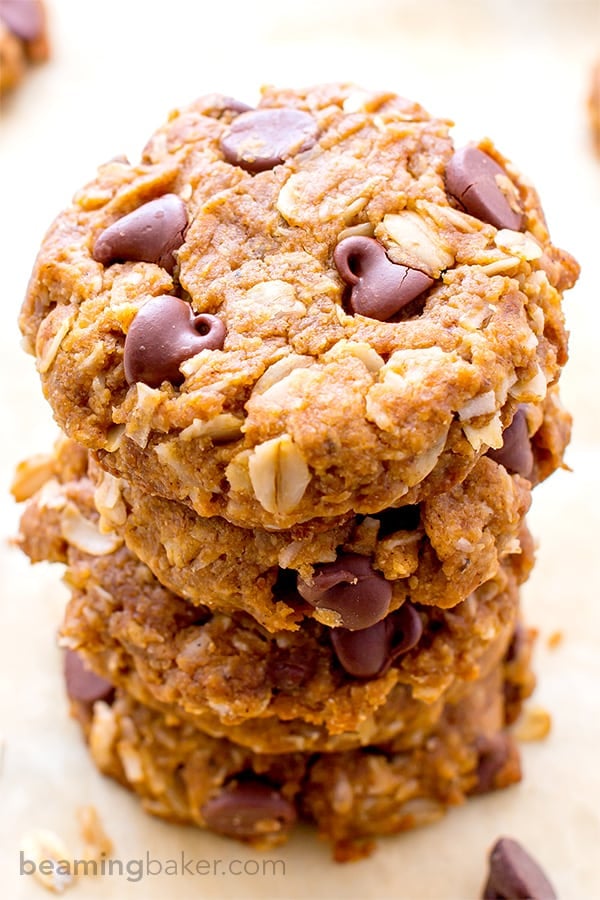 Alright, this is some kind of scene out of a Hallmark card right? What's Demeter tripping about? Why is she talking in third person? Let me tell you why—and hey, maybe some POV distancing helps me to cope with the torture that is this commercial.
Okay, so the dog is licking the peanut butter and in basic doggie heaven. Then, the spoon gets taken away and the dog begins licking its lips, to somehow be able to swallow all of that peanut butter. But it doesn't happen. The dog just keeps licking it lips or whatever, going on and on… And it has no clue what to do. I mean, where is that evil kid with some water or… ya know, milk?!? And so the commercial ends on that stunning cliffhanger. Will the dog get some kind of water so it can just go play in a pool or chase butterflies?
We'll never know.
And that, my friends, is why I feared and respected peanut butter. Eventually I grew up… ish. And realized, hey! I can and will get my own glass of milk/water/coffee to go with any peanut butter goodness that I please. There's no evil kid here! I'm not a dog… Huh. Whoever thought I'd say that sentence?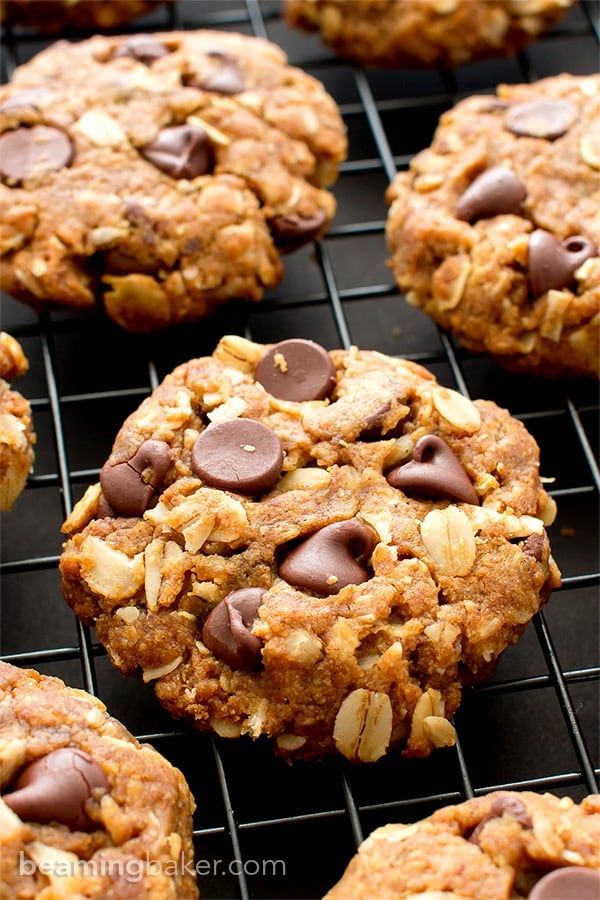 Anyway, once you get peanut butter (and the need for liquid accompaniments), you just GET it. It's not dry; it's thick and rich. It's not too salty; it's just right. It's still not chocolate, but guess what? Chocolate and peanut butter are even bigger besties than me and peanut butter. Or Chandler and Joey. Or Ross and, um, Dinosaurs.
Alright, now I see how I have the attention-span of a dog. Maybe that's why I felt for the little guy so much. Ahem.
Cut to a decade later and my love and admiration (isn't that so much better than fear and respect?) for peanut butter is vast. Think: the amount of peanut butter that Americans eat in one year vast. Fun fact: that's three pounds of PB per American per year.
At least according to the Texas Peanut Butter Board. 😉 Geez… that must be a delicious board.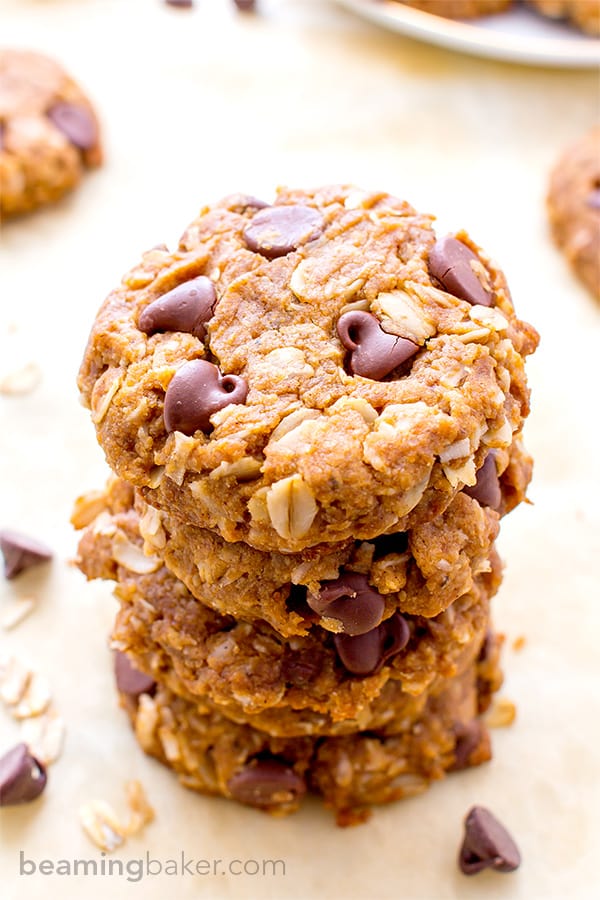 So here we are, embarking upon another peanut butter love recipe. Welcome friends, to this new, amazing, delicious, and just perfect Peanut Butter Chocolate Chip Oatmeal Cookie. Gather 'round, grab a super large mug of coffee, glass of milk, or just plain ol' water.
It's time to get your peanut butter on!
These cookies are the perfect marriage between peanut butter and chocolate. Doesn't just seeing those two ingredients together make you feel good? ☺ You've got the rich, nutty, pretty-much indescribable peanut butter nirvana delicately balanced with sweet, dark, blissful dollops of chocolate chips. Then, a complementary appearance of lightly crunchy shreds of coconut.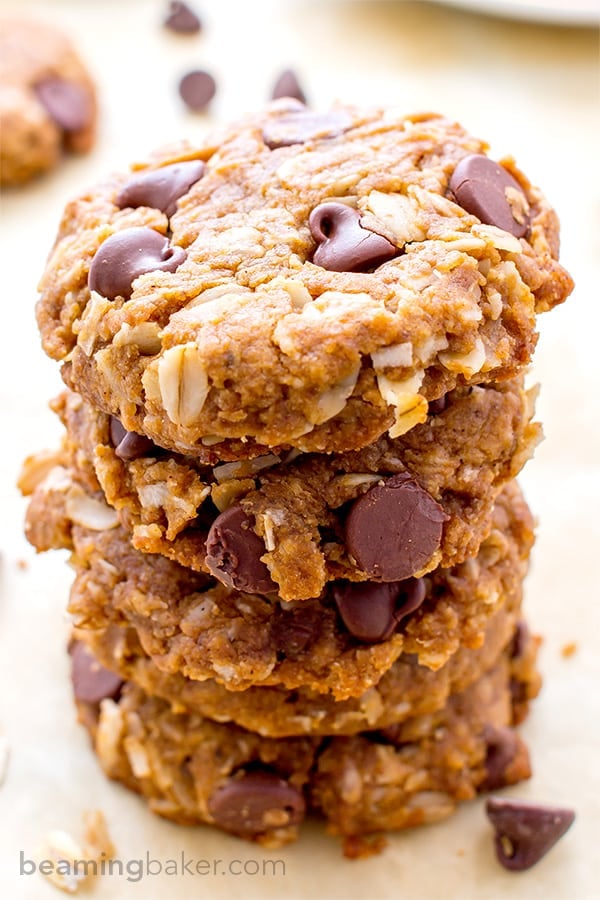 What more could you really ask for? These Peanut Butter Chocolate Chip Oatmeal Cookies are:
soft and perfectly textured
vegan and gluten free
made with simple ingredients you can feel good about
stuffed full of peanut butter & chocolate chips
kid-tested and adult-approved
easy to make, in just two bowls
perfect with a hot cup of coffee
Whip up a batch and feel all the good feels. There's really nothing like homemade goodness, made right from your own hands. ☺
☀︎Click below to Pin☀︎

☀︎ Did you make this recipe? Take a pic and share it on Instagram with the hashtag #beamingbaker and tag @beamingbaker. I would love to see it! ☀︎
Print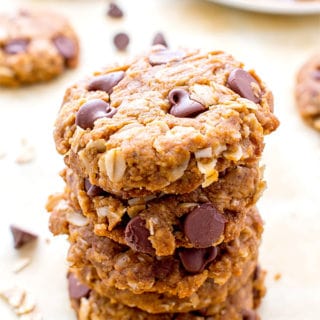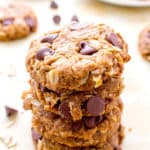 Peanut Butter Chocolate Chip Oatmeal Cookies (Vegan, Gluten Free)
---
Description
Peanut Butter Chocolate Chip Oatmeal Cookies (V+GF): An easy recipe for soft, deliciously textured cookies with oats, coconut, and LOTS of peanut butter and chocolate.
---
Dry Ingredients
1 cup

gluten free rolled oats

¾ cup

gluten free oat flour

¾ cup

unsweetened, shredded coconut

¾ teaspoon

baking soda

¾ teaspoon

baking powder

1 teaspoon

ground cinnamon

¼ teaspoon

of salt
Wet Ingredients
1 cup

natural, unsalted peanut butter (make sure to use naturally liquidy PB)

¼ cup

melted coconut oil

½ cup

coconut sugar*

¼ cup

pure maple syrup

2

flax eggs (

2 tablespoons

ground flax +

6 tablespoons

warm water, whisked together, set for 15 mins)

1 teaspoon

pure vanilla extract
Add-ins
¾ cup

vegan chocolate chips
---
Instructions
Preheat oven to 350°F. Line a cookie sheet with parchment paper or greased foil. Set aside.
In a medium bowl, whisk together the dry ingredients: oats, oat flour, coconut, baking soda, baking powder, cinnamon and salt.
In a large bowl, whisk together all the wet ingredients: peanut butter, coconut oil, coconut sugar, maple syrup, flax eggs and vanilla.
Add the dry mixture to wet mixture. Using a rubber spatula or wooden spoon, stir and fold until you get a cohesive dough. Fold in chocolate chips.
Using a 2-tablespoon cookie scoop, scoop 2 tablespoon-sized cookie dough balls onto the cookie sheet, spaced evenly apart. Flatten to desired shape–these cookies won't spread too much. Bake for 8-10 minutes.
Using a flat, heatproof spatula, carefully lift the cookies off the baking sheet and place onto a cooling rack. Allow to cool. Enjoy!
Prep Time:

5 mins

Cook Time:

8 mins

Category:

Vegan, Gluten Free, Cookies
© beamingbaker.com. All content and images are protected by copyright. Please do not use my images without my permission. If you wish to republish this recipe, please re-write the entire recipe using your own words and include a link to this post for the recipe.
If you enjoyed my peanut butter chocolate chip oatmeal cookies, you'll just love these recipes…
I'm sensing that you like peanut butter. 😉 How about trying my much-loved, most popular recipe on the blog: No Bake Peanut Butter Coconut Bites (Vegan, Gluten Free).
Like a chocolate chip cookie, but more portable. Try my Chocolate Chip Cookie Dough Truffles (Vegan, Gluten Free). You'll just love it.
This post may contain affiliate links, which allow me to make a small commission for my referral, at no additional cost to you. Thank you for supporting Beaming Baker.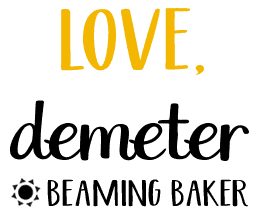 Save