Easy Gluten Free Peanut Butter Chocolate Chip Oatmeal Cookies (V, GF): an irresistible recipe for lightly crispy, perfectly chewy peanut butter oatmeal cookies. Vegan, Gluten-Free, Dairy-Free, Refined Sugar-Free.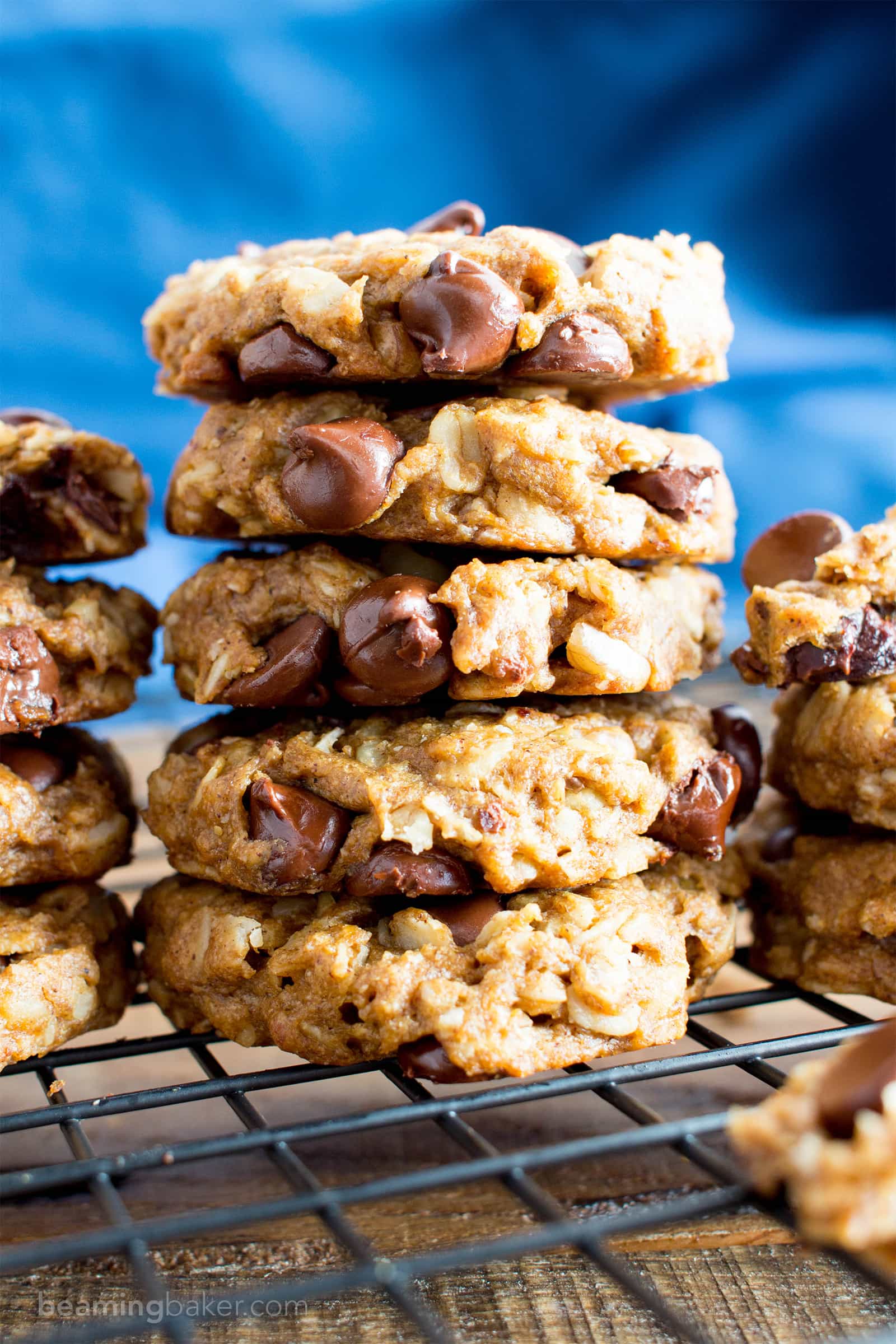 Happy November! Totally one of my fave months—which has nothing to do with it being my birthday month. Ahem. 😉 November is just one of the most activity-packed, and thus, sleepiest months for me. Is it just me, or do you also get super sleepy when you have lots to do?
This month, we're celebrating my mom's birthday (which is technically in October, but still), my birthday, getting all the preparations ready for Thanksgiving, and then we have the buildup to Christmas.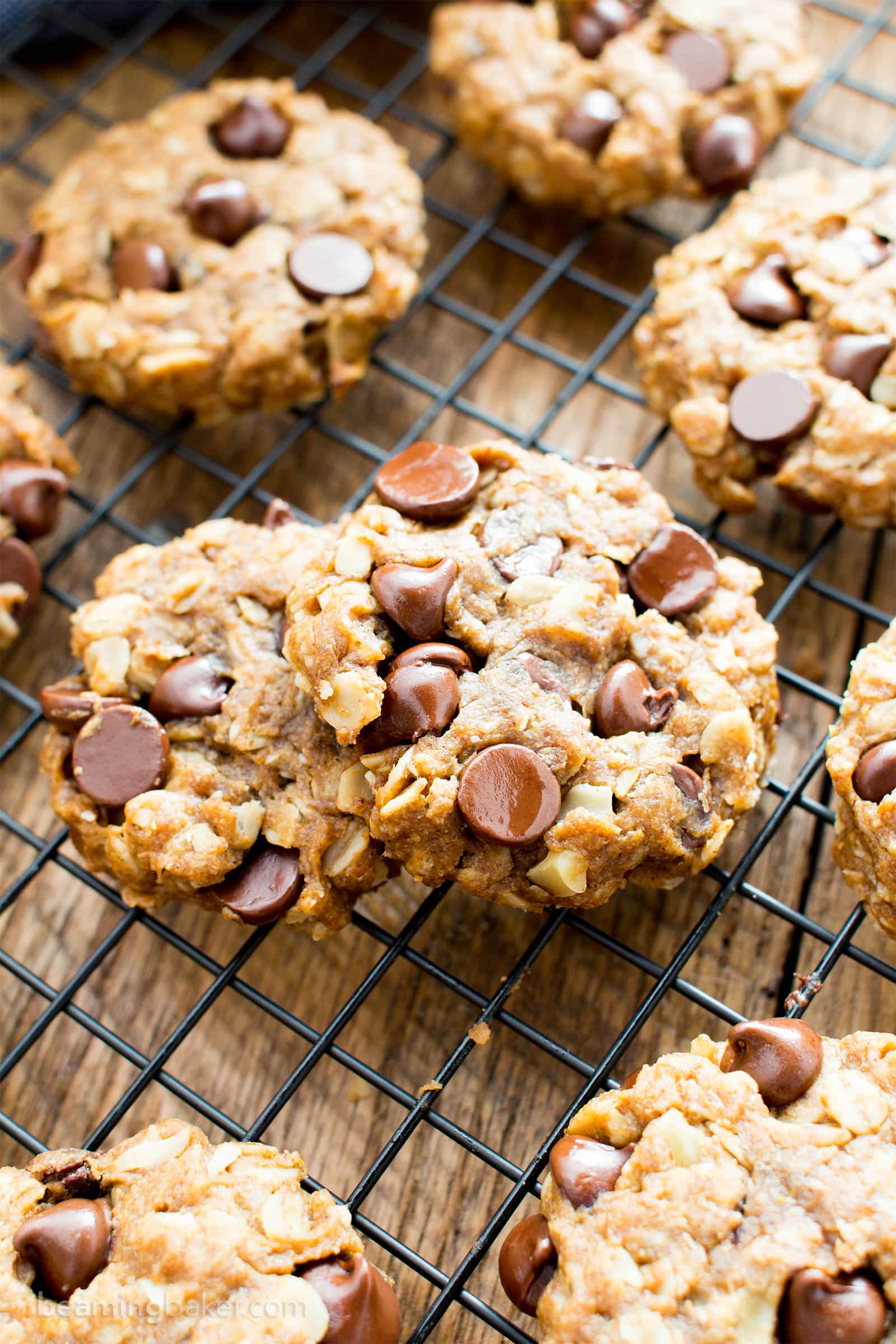 This year, I'm super excited because my whole family's gonna be in town for Thanksgiving! It's been years since we all got together for this holiday. We usually do Christmas or a summer new-baby-is-about-to-pop-out get-together. Yes, that's a thing. And just like last year, I'm more than determined to get us to all do a family portrait.
If all else fails, of course, I'll just have to turn to photoshopping everyone into a pic. Here's one I'm particularly proud of doing from past years… 😉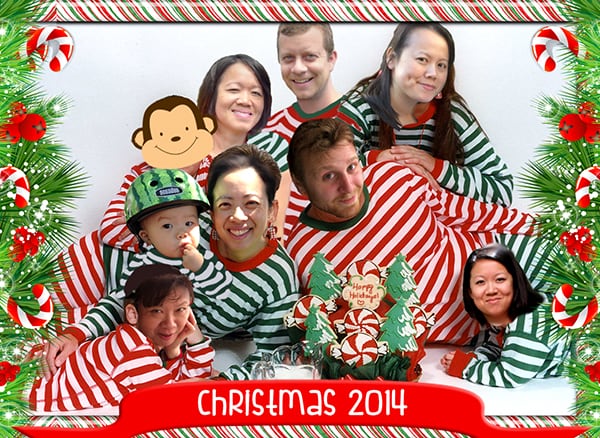 But we'll hang onto the photoshop'd tactic—only to be used if absolutely necessary. Or, if Erik and I need a few giggles. By the by, what are your favorite Thanksgiving Day desserts? Side dishes? I'd love to hear some ideas so I can start putting together my Thanksgiving Day menu (instead of just whipping up all the Choc+PB desserts like these no bake chocolate peanut butter bars). <– But who would complain??
Back on topic, a few years back, Erik would specially request a marshmallow-topped sweet potato casserole. Let's just say we didn't eat the healthiest foods back then. And let's just say that each casserole turned into a HUGE disaster because we amped up the brown sugar and marshmallows so much that there was hardly any sweet potato left.
And let's just also say… that we'd determined that it wasn't quite the sweet potatoes we were after, but the sugar and the marshmallows.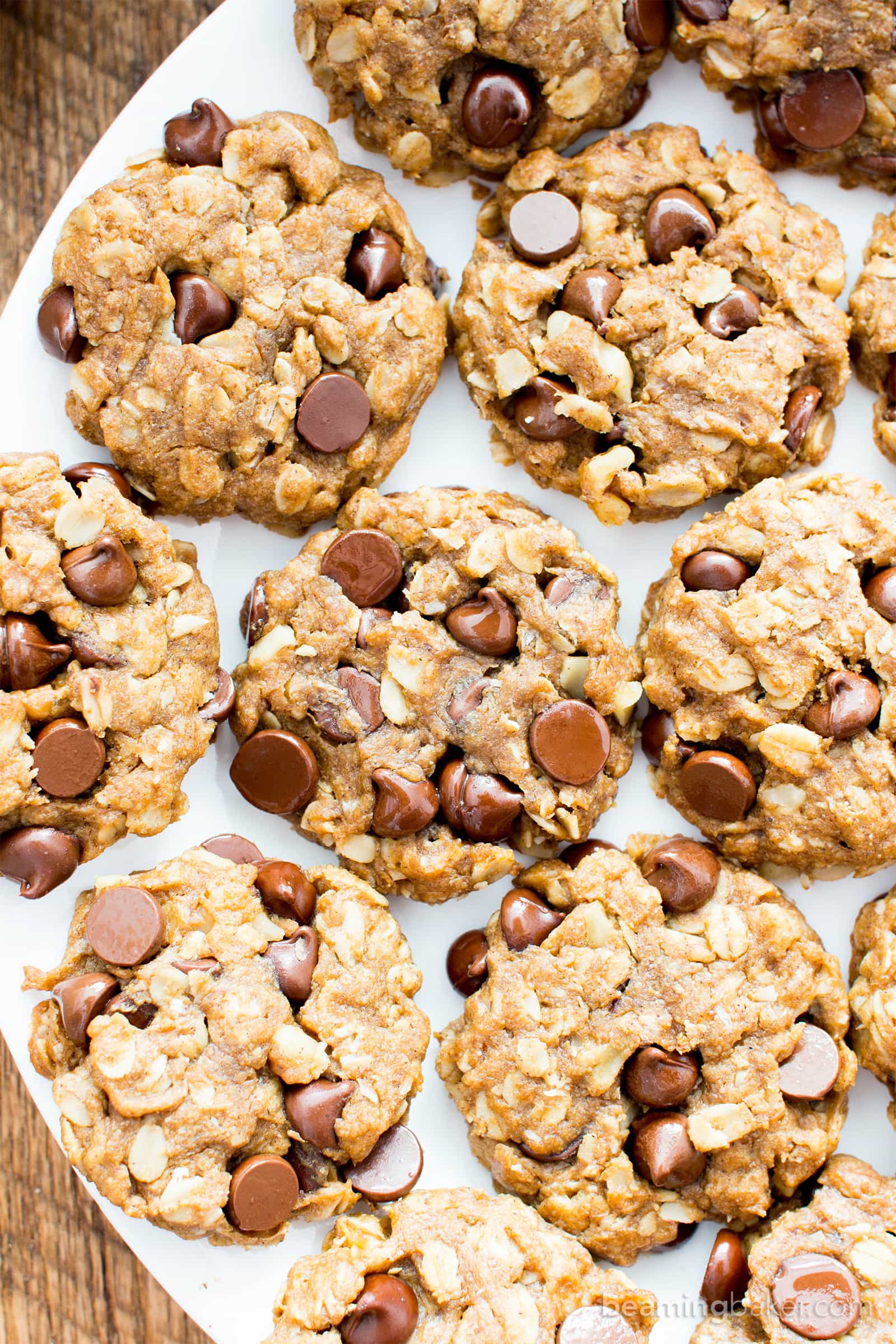 And… perhaps that just turned into one huge, sugary/syrupy/gooey mess.
Picture a casserole dish FULL of donut glaze. Make that marshmallow donut glaze.
Yep… that's it!!
Now that we're all adult and responsible about our eating (most of the time), we like to tone down the 7-year-olds in us and practice some restraint when it comes to whipping up all the Thanksgiving Day treats. But just in case things get out of hand with Erik and my 5-lb bag of coconut sugar, I'm making a double batch of these Easy Gluten Free Peanut Butter Chocolate Chip Oatmeal Cookies beforehand.
I just wanted to squeeze in one last super easy, semi-non-seasonal recipe before we got all the ultra fall/Holiday/Christmas recipes going. Not that chocolate pumpkin bread, paleo apple crisp, cinnamon granola, maple pecan brownies, pumpkin chocolate chip oatmeal breakfast cookies and chocolate pecan fudge weren't seasonal. Like, at all. 😉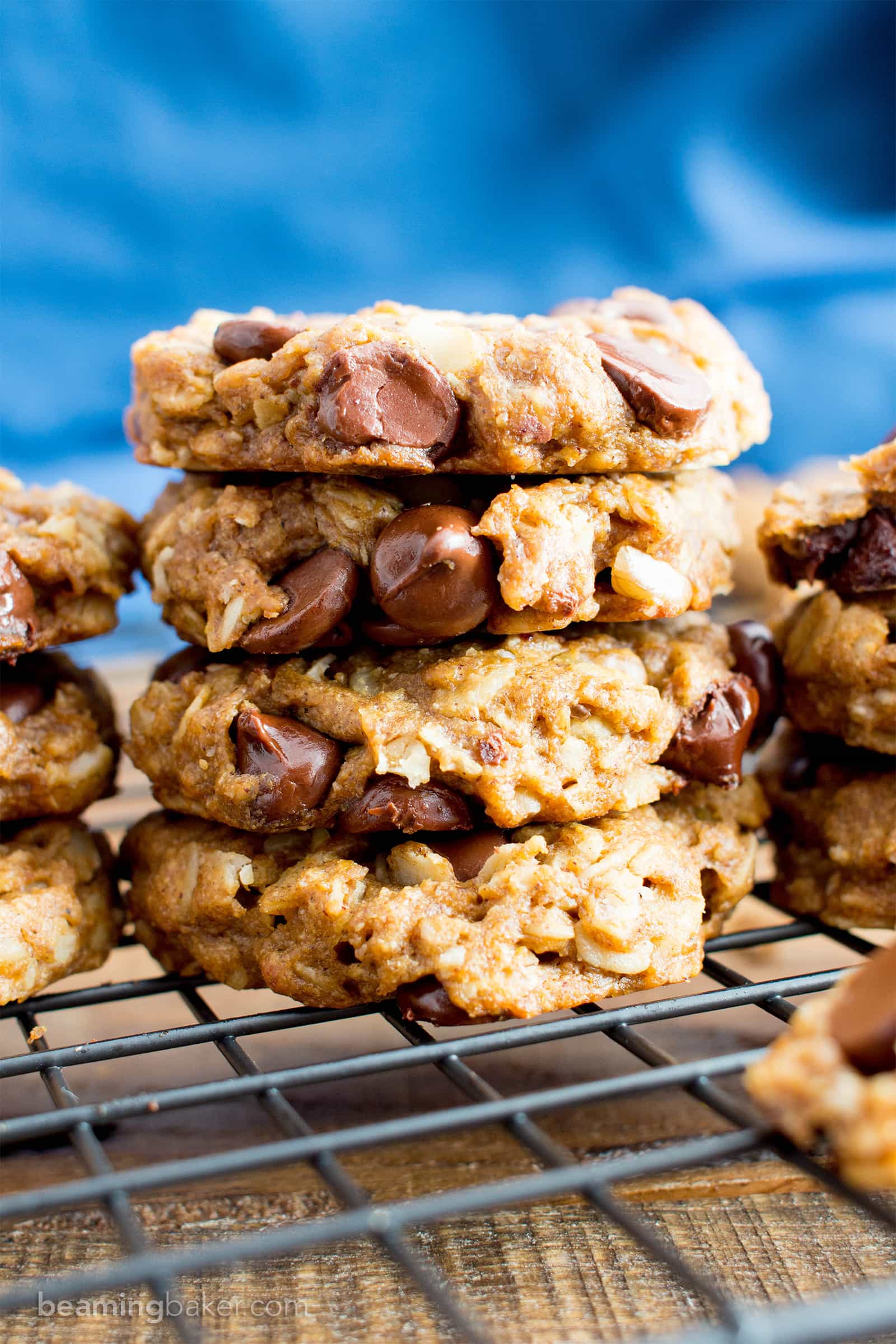 These Easy Gluten Free Peanut Butter Chocolate Chip Oatmeal Cookies are the perfect treat/snack to keep you going: jam-packed with protein, whole ingredients and just a bit (alright, totally more than that) of chocolate! They come together pretty quickly. And once they're out of the oven, oh goodness. Just try and see if you can wait 'til they cool down.
They're perfectly crispy on the outside, soft, moist and chewy on the inside. These are totally one of my favorite cookies of all time. So, you might've noticed that there is another peanut butter chocolate chip oatmeal cookie on the blog. Er, you may have noticed and managed not to say anything because: who doesn't want more peanut butter + chocolate chips + oatmeal?
And, well, COOKIES?!?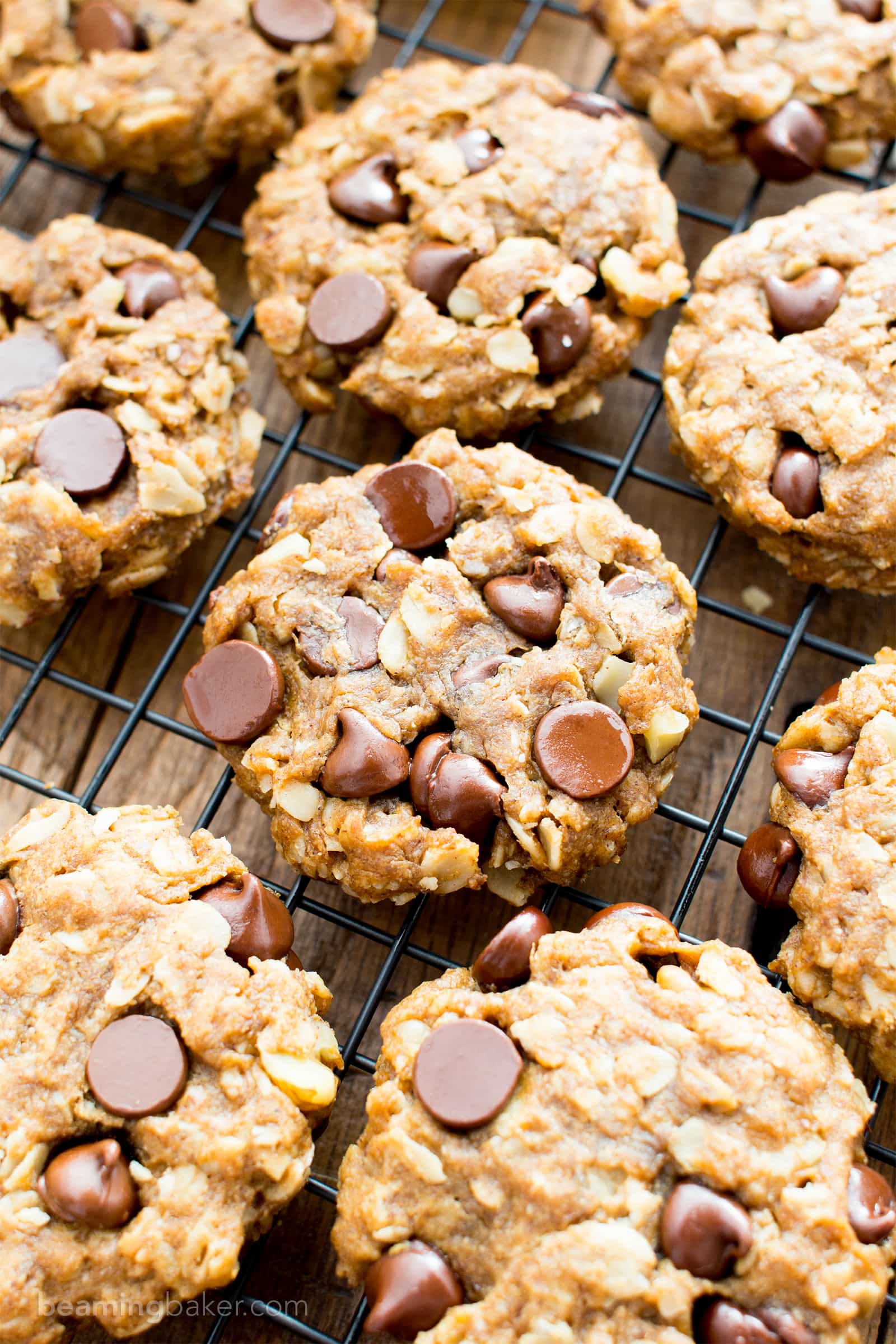 While those were and still are a big hit in my house and yours, I figure I'd switch up that recipe a bit to accommodate all of the substitution questions I've fielded in the past. This recipe doesn't have any coconut flakes in it!! Yay!! Just in case you weren't a fan/are allergic to coconut.
Also, P.S. what was I thinking putting coconut into a peanut butter cookie??? Oh right, it's dee-licious! 😉
I've also dialed down the amount of sugar so you can feel even better about eating these. Lastly, I adjusted the recipe just a tad so the cookies would turn out slightly crispier on the outside and slightly softer on the inside. I hope you love all of the changes—and I can't wait to hear your feedback.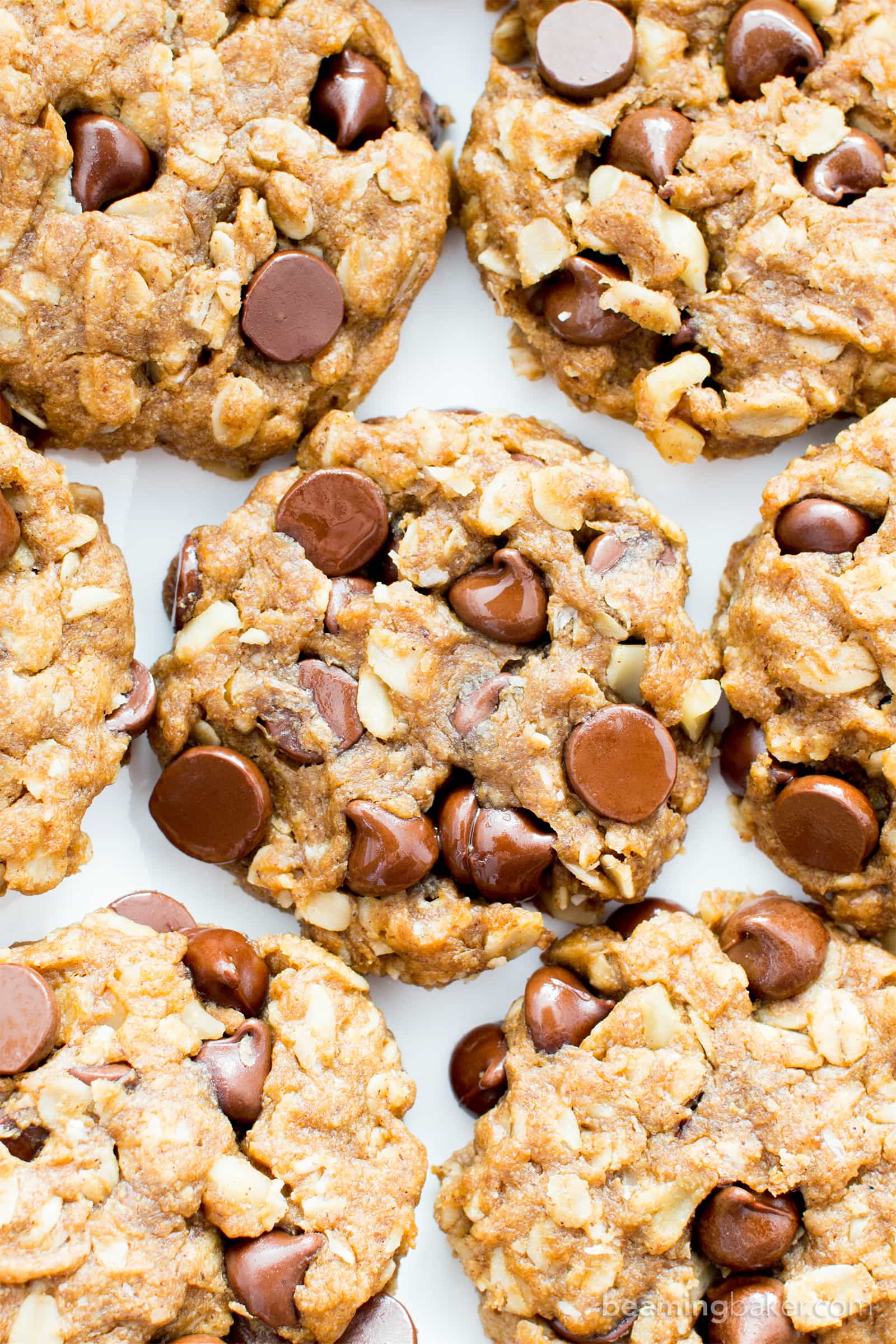 Meanwhile, I'll just go ahead and tell you all about how amazing these Easy Gluten Free Peanut Butter Chocolate Chip Oatmeal Cookies are. They're:
easy to make, in just two bowls
don't require any dough chilling (woohoo!!)
vegan, gluten-free, dairy-free
awesomely protein-packed
crispy on the outside, soft and chewy on the inside
deliciously whole grain
wonderfully refined sugar-free
plant-based and allergy-friendly
made with the simple, whole, healthy ingredients you love
the perfect snack, dessert, or just cause recipe
and the tastiest healthy peanut butter chocolate chip oatmeal cookie you've been looking for
great for making up a triple batch to bring to holiday gatherings
Are you ready to whip up some of these cookies and get properly fueled for all the holiday shenanigans to come?? Let's do it! As always, I'm beyond pleased to be here with you, creating all of the tasty treats for our loved ones (including ourselves!). 😉 I'm so excited to hear what you think of this! In the meantime, tell me:
What are your plans for Thanksgiving?
Sending you all my love and maybe even a dove, xo Demeter ❤️
☀︎ Click below to Pin ☀︎

☀︎ Did you make this recipe? Take a pic and share it on Instagram with the hashtag #beamingbaker and tag @beamingbaker. I would love to see it! ☀︎
If you enjoyed these Easy Gluten Free Peanut Butter Chocolate Chip Oatmeal Cookies, then you'll just love these deliciously easy healthy cookie recipes:
☀︎ More ­­­­­­Gluten Free Vegan Cookie Recipes ☀︎
Peanut Butter Coconut Oatmeal Cookies | Easy Peanut Butter Banana Breakfast Cookies | Almond Butter Oatmeal Chocolate Chip Cookies | 3 Ingredient No Bake Peanut Butter Oatmeal Cookies | Vegan Chocolate Brownie Cookies | Oatmeal Raisin Cookies | Drizzled Chocolate Walnut Cookies | Oat Flour Chocolate Chip Cookies and… Chocolate Chip Cookie Dough Bites, just for fun 😉
Print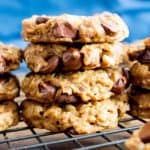 Easy Gluten Free Peanut Butter Chocolate Chip Oatmeal Cookies (Healthy, Vegan, Gluten-Free, Oat Flour, Dairy-Free)
---
Description
Easy Gluten Free Peanut Butter Chocolate Chip Oatmeal Cookies (V, GF): an irresistible recipe for lightly crispy, perfectly chewy peanut butter oatmeal cookies. Vegan, Gluten Free, Dairy-Free.
---
Dry Ingredients
¾ cup

gluten free rolled oats

¼ cup

gluten free oat flour

½ teaspoon

ground cinnamon

¼ teaspoon

baking powder

¼ teaspoon

baking soda

1/8 teaspoon

salt
Wet Ingredients
¼ cup

+

2 tablespoons

natural, unsalted creamy peanut butter

2 tablespoons

melted coconut oil

¼ cup

coconut sugar

2

flax eggs (

2 tablespoons

ground flax +

6 tablespoons

warm water whisked together, set for 15 mins)

½ teaspoon

pure vanilla extract
Add-in Ingredients
½ cup

vegan chocolate chips

¼ cup

walnuts, chopped (or add-ins of your choice)
Optional Topping
2 tablespoons

vegan chocolate chips
---
Instructions
Preheat oven to 350°F. Line a baking sheet with parchment paper or greased foil. Set aside.
In a large bowl, whisk together all of the dry ingredients: oats, flour, cinnamon, baking powder, baking soda and salt.
In a medium bowl, whisk together all of the wet ingredients: peanut butter, coconut oil, coconut sugar, flax eggs and vanilla. Whisk until well mixed.
Pour the wet mixture over the dry mixture. Using a rubber spatula, fold the ingredients together until well combined. Fold in chocolate chips and walnuts.
Using a 2-tablespoon cookie scoop, scoop and drop cookie dough balls onto the prepared baking sheet, spaced evenly apart. Using a fork, flatten cookies to desired thickness. They will not spread during baking. Optionally, press chocolate chips into the top of each cookie.
Bake for 10-14 minutes. Transfer cookie sheet to cooling rack. Allow to cool for 1 hour. Enjoy! Storing instructions below.
Category:

Cookies, Dessert, Vegan, Gluten-Free, Dairy-Free, Peanut Butter
© beamingbaker.com. All content and images are protected by copyright. Please do not use my images or recipe without my permission. If you wish to republish this recipe, please re-write the entire recipe using your own words and include a link to this post for the recipe.
SHOP THE RECIPE
[amazon_link asins='B000Q3D95Y,B00Y8HZS1W,B0083QJU72,B005EEYGCA,B00H6YILW2,B01HKALEC0,B00K282KY4′ template='BB-ProductCarousel' store='beamingbake0c-20′ marketplace='US' link_id='1c9a8ab0-b9a2-11e7-b92a-c5e09056a85d']
Here are a few items I used in today's recipe. .
Cookie Sheet | Maple Syrup | Cooling Rack | 2-Tablespoon Cookie Scoop | Glass Mixing Bowls | Silicone Spatulas | Coconut Oil
This post may contain affiliate links, which allow me to make a small commission for my referral, at no additional cost to you. Thank you for supporting Beaming Baker.
Facebook ☀︎ Pinterest ☀︎ Twitter ☀︎ Instagram