Chocolate Chip Cookie Dough Bites (V+GF): An easy, guilt-free recipe for seriously delicious chocolate chip cookie dough bites. Vegan and Gluten Free.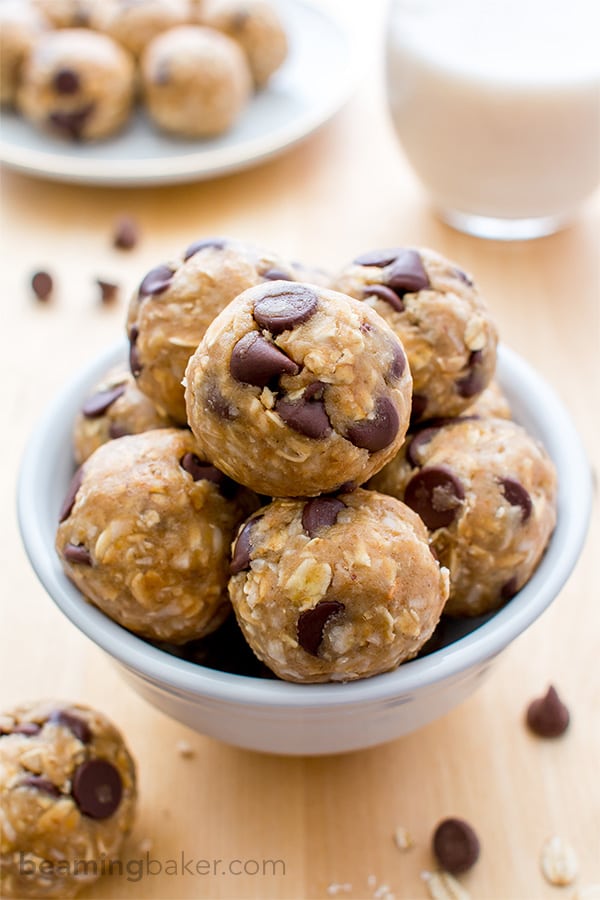 Who here loves eating raw cookie dough? Can I get a show of hands?
As for the rest of the people not raising their hands… Is it because you're currently wearing TWO very heavy watches?
Or is it because there are usually raw eggs in said cookie dough? Is it because ya feel kinda guilty eating cookie dough? Or is it because you like being asked, like, a million questions in a row?
Well, if you said yes to any of the above questions, I've got exactly what you need, including some much lighter watches. (Did you really say yes to being asked a million questions? Well, there's another for ya. ?)
For years, I've heard Erik talk about how much he absolutely loves, loves, loves eating raw cookie dough. You would think, if he could, he'd trade me in for a big tub of cookie dough. Erik, if you're reading this, I'm giving you a dirty look right now.
But then again, who else would let him take a big mixing spoon full of that raw goodness if it weren't for me? (There I go with more questions…)
What a quandary.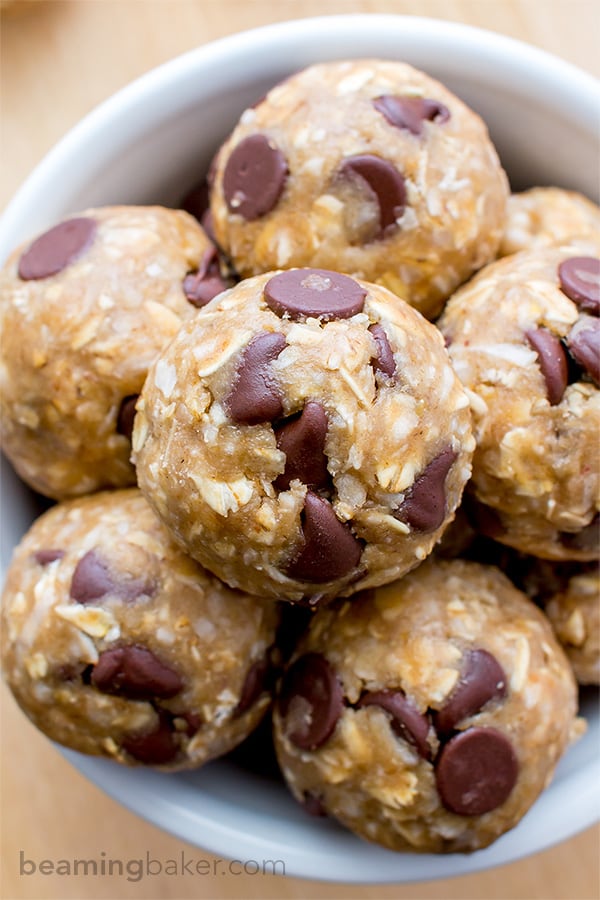 I've also enjoyed a misty watercolored memory or two reminiscing about the days before we knew eating raw cookie dough was dangerous and all of that other adult stuff.
Well, folks (and Erik, that cookie dough eating traitor), I've finally cooked up (but not really, because, ya know…) a no bake, raw or whatever you wanna call it, eggless, dairy-free cookie dough that you can feel good about eating.
That's right, good about eating. Do you love me already?
This is one of the coolest, coolest things about vegan baking: you can eat/test/faceplant whatever it is you're stirring up in that mixing bowl of yours. Cuz… no uncooked danger zone. Yay!!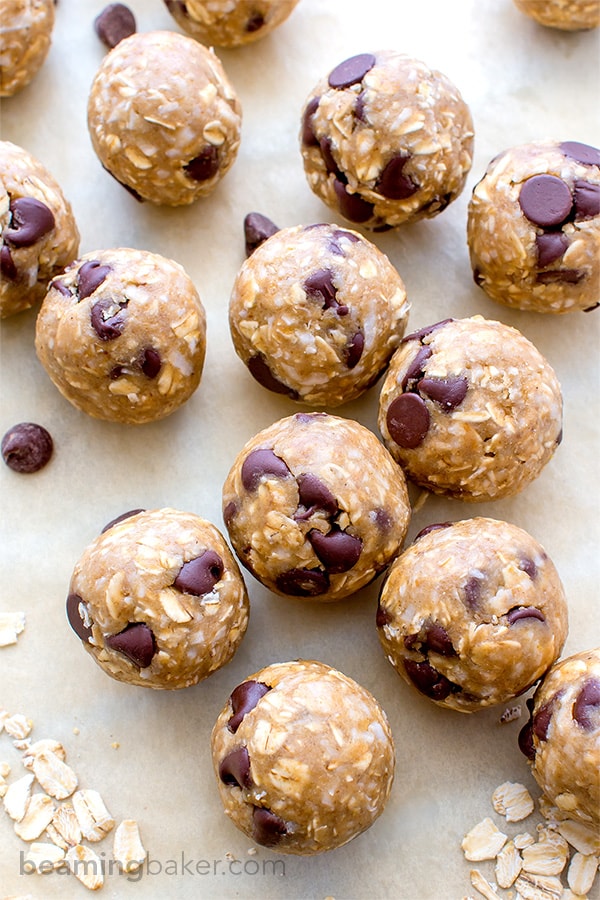 Check it out, these Chocolate Chip Cookie Dough Bites are:
perfectly sweet and dotted with LOTS of chocolate chips
tasty, just like the good stuff (egg and all. But not.)
vegan and gluten free
made with whole grains
quick and easy to make
full of simple, whole ingredients
If these cookie dough bites got any better, I might be violating some laws… Or something. Huh.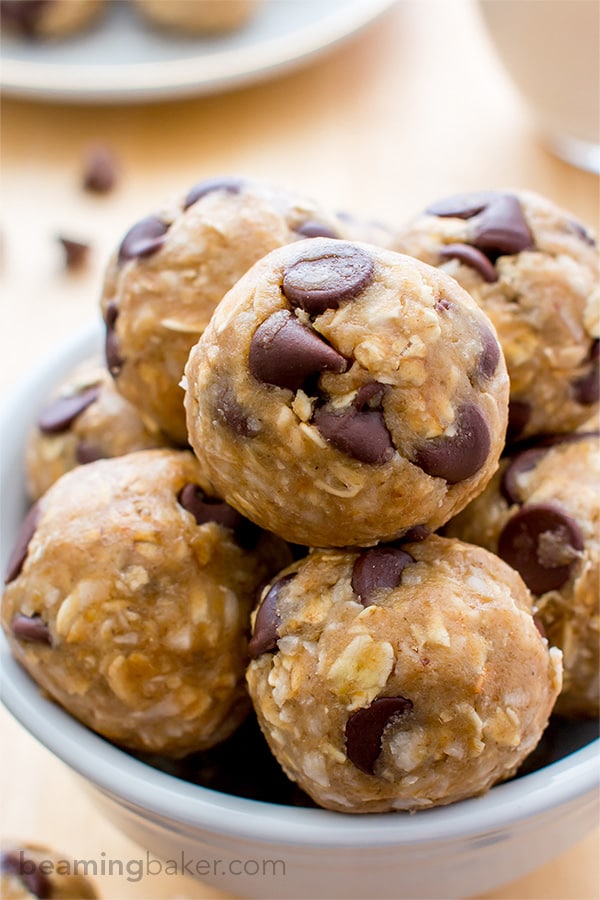 You'd never know that these chocolate chip cookie dough bites weren't packed full of Ingredients That Shall Not Be Named.
Mix up one big bowl, and heck, forget about rolling these guys into bites. Put on your favorite romcom/sci-fi flick, cuddle up with someone special (enough to share this with), and dive right in.
Psst… don't worry, I've got big, BIG, plans for these bites. Stay tuned.
☀︎Click below to Pin it ☀︎

Chocolate Chip Cookie Dough Bites (Vegan, Gluten Free)
Chocolate Chip Cookie Dough Bites (V+GF): An easy, guilt-free recipe for seriously delicious chocolate chip cookie dough bites. Vegan and Gluten Free.
Author:
Demeter | Beaming Baker
Recipe type:
no bake, vegan, gluten free
Ingredients
Dry Ingredients
1 ½ cups gluten free rolled oats
1 ¼ cups gluten free oat flour
¾ cup unsweetened, shredded coconut
½ teaspoon salt
Wet Ingredients
¼ cup melted coconut oil
½ cup pure maple syrup
2 flax eggs (whisk together 2 tablespoons ground flax + 6 tablespoons warm water, let set for 15 mins)
2 teaspoons pure vanilla extract
Add-in Ingredients
1 cup vegan chocolate chips
Instructions
In a large bowl, whisk together all of the dry ingredients: oats, flour, coconut, and salt.
In a medium bowl, whisk together all of the wet ingredients: coconut oil, maple syrup, flax eggs and vanilla. Whisk until smooth.
Pour the wet mixture over the dry mixture. Use a rubber spatula or wooden spoon to fold the ingredients together until well combined. Fold in chocolate chips.
Cover the bowl and place into the freezer for 15 minutes—the will allow the dough to chill and harden for easier rolling.
Remove bowl from the freezer. Scoop about 2 tablespoons of cookie dough into your hands and roll into balls. Enjoy!
Notes
- Store in an airtight container in the refrigerator or at room temperature for 1-2 weeks.
- If you like your cookie dough softer, leave at room temperature.
- You can also freeze these for up to a month.
© beamingbaker.com. All content and images are protected by copyright. Please do not use my images without my permission. If you wish to republish this recipe, please re-write the entire recipe using your own words and include a link to this post for the recipe.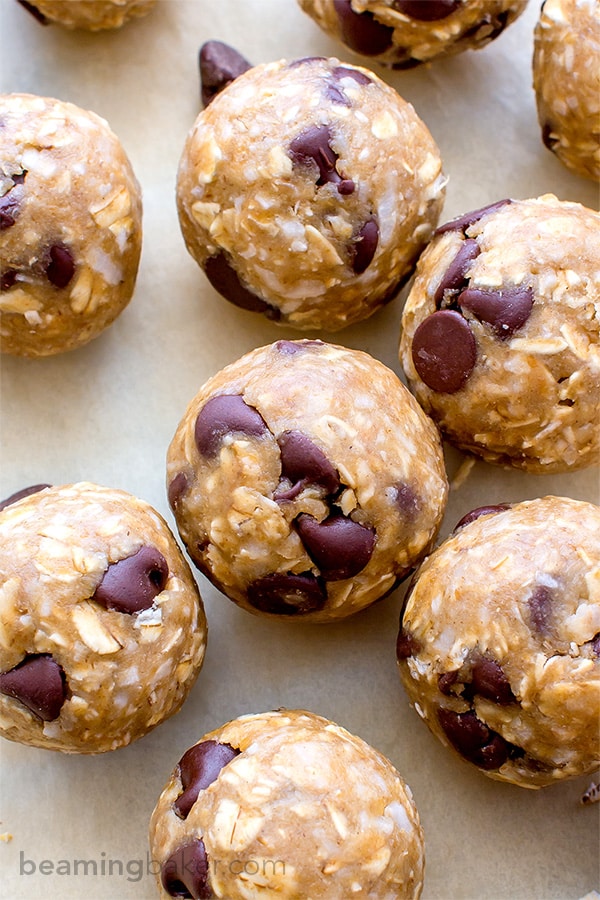 So, you're big on no bake bites. How about trying my No Bake Peanut Butter Coconut Bites? Yep, they're as good as they sound.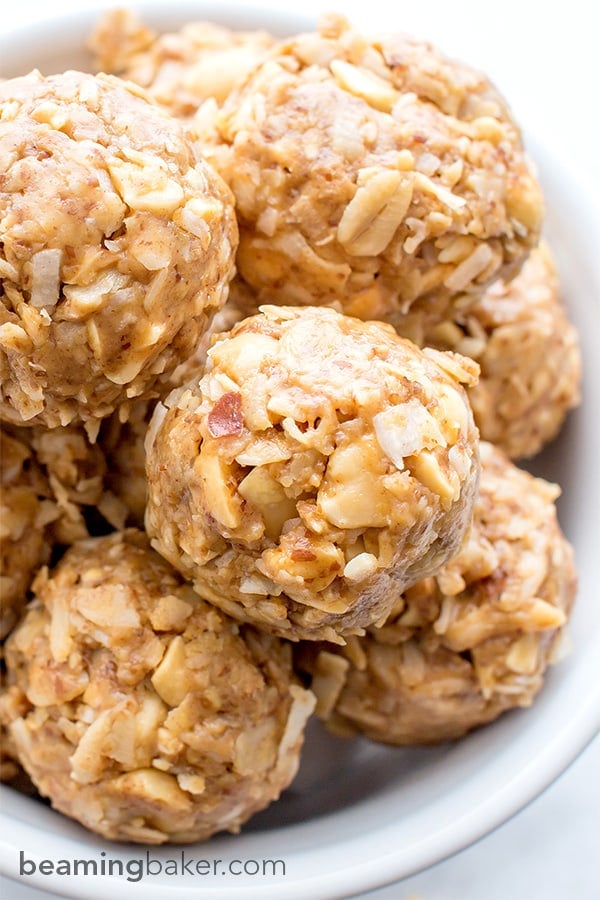 Looking for more ways to enjoy these cookie dough bites? Try my Chocolate Chip Cookie Dough Truffles.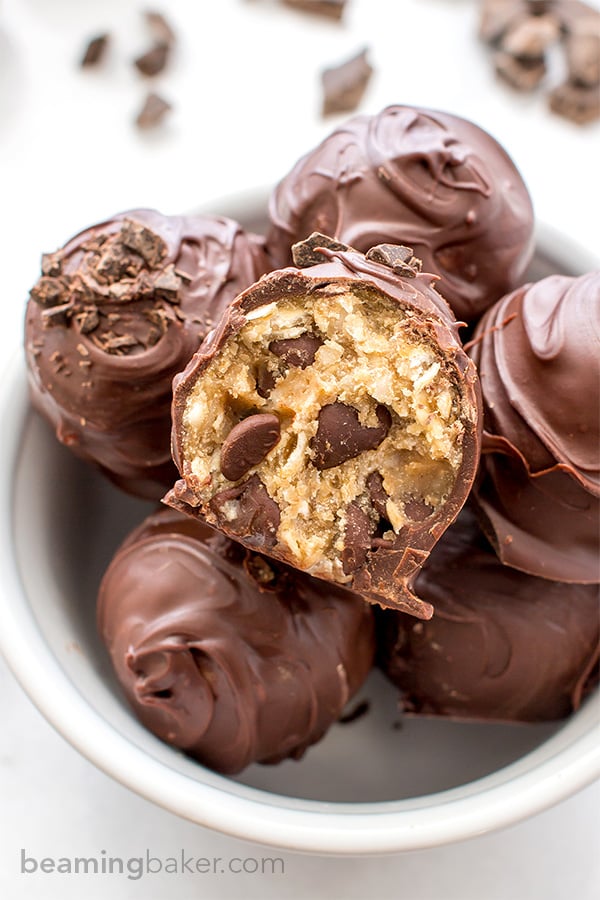 Questions of the Day
Do you like eating raw cookie dough? What's your favorite comfort food?
I can't wait to hear your responses.