Gluten Free Vegan Oat Flour Chocolate Chip Cookies (V, GF): an easy recipe for simply delicious, soft, chewy chocolate chip cookies made with oat flour. Vegan, Gluten-Free, Dairy-Free, Oat Flour.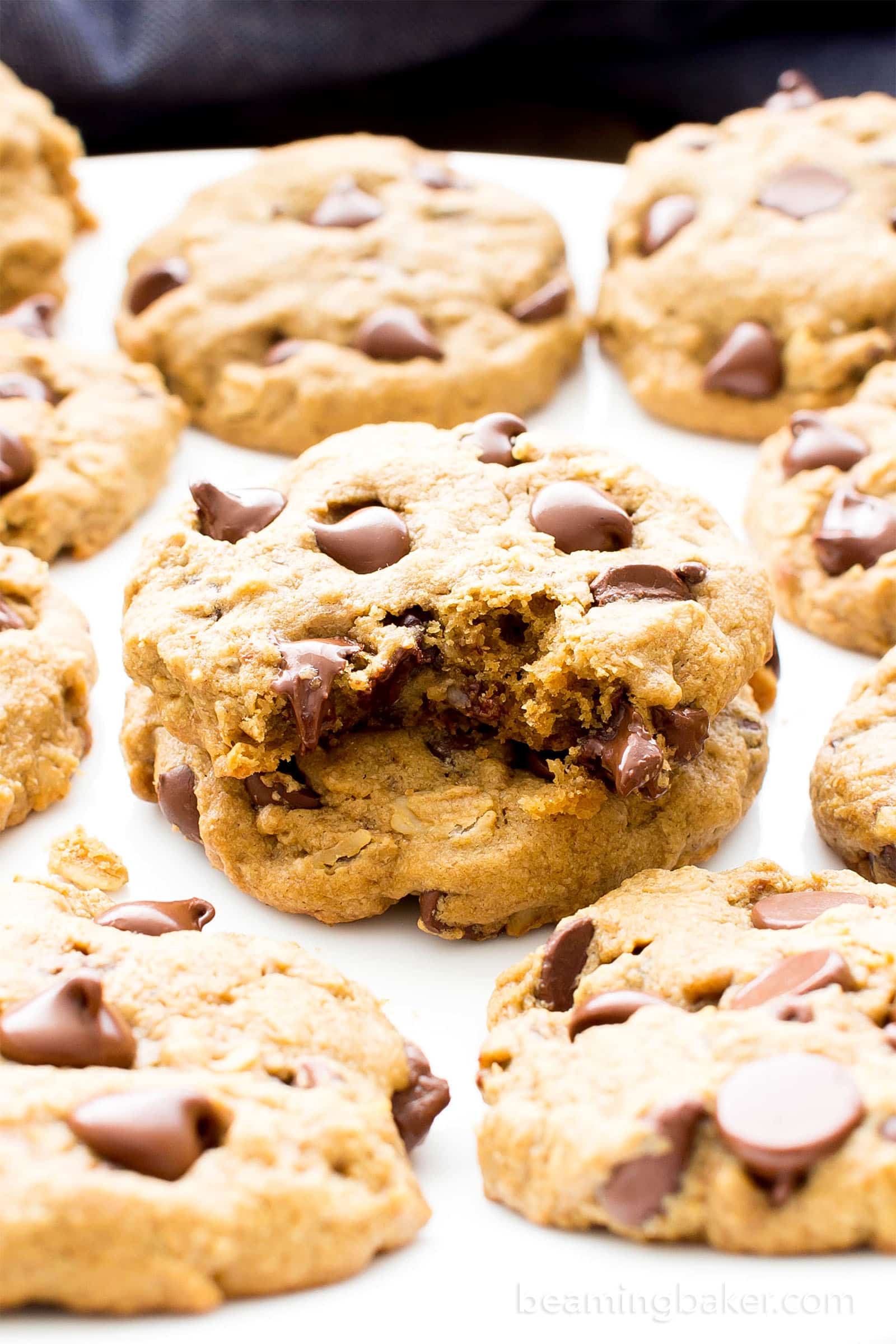 When I was a little kid, I would get into all kinds of trouble. In fact, my mom used to (okay, still) calls me "troublemaker." I used to totally get offended by this—especially as I grew older and was very determined to make less trouble. But then I started hearing her call her grandson, Dylan, "troublemaker" over and over again. Then, smothering him in all the kisses and hugs.
While he kinda is a troublemaker (facts are facts), I felt much better about being labeled that way. Perhaps she called/calls me this because she loves me (duh). Better yet, she calls me a troublemaker because she simply loves trouble. 😉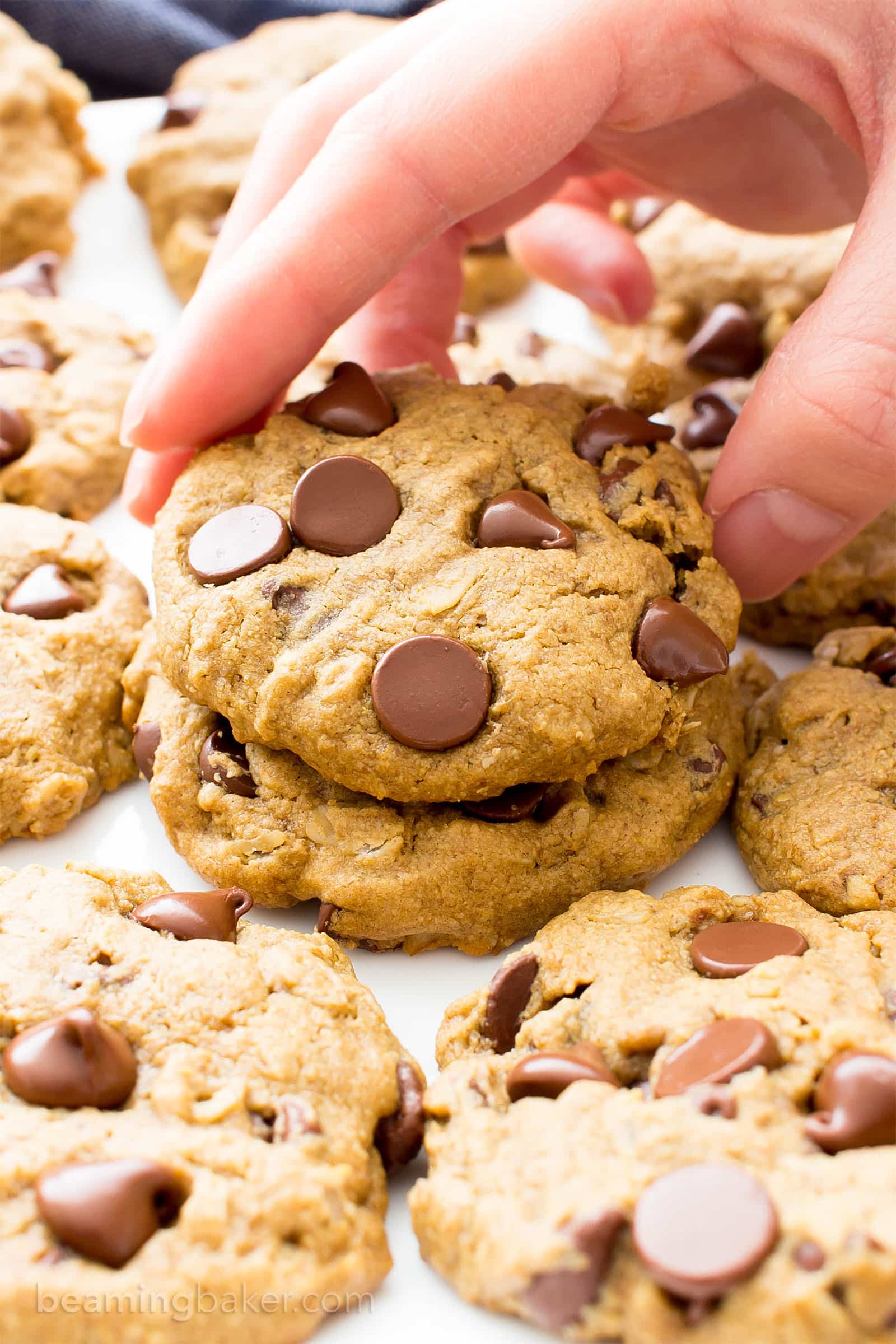 If I could tell you all about the mischief my mom gets into with her very curious mind, she might actually start insisting on "proofreading" (i.e. censoring) all of my posts. So let's just leave it at that. Also, between you and me, I'll be spilling the beans on her shenanigans a few posts down the line. Ahem. 😉
Anywho, what and how does this relate to gluten free vegan oat flour chocolate chip cookies? Besides the very obvious fact that the length of this recipe title is a bit of trouble in and of itself? Heh heh. Well… when I was a wee one, I would get into all kinds of trouble when it came to food. Okay, fine, by "food" I really mean COOKIES!! Specifically, chocolate chip cookies. Who is even surprised by that?
Anyway, when I was about 7 years old, I loved ice cream and cookies. But if those two could be combined, then it was basically my birthday. So when I tried my first scoop of cookie dough ice cream, I was in heaven. Nothing could be better.
Except maybe an ice cream birthday party with a bouncy house and a pizza buffet. With balloons and Sailor Moon sticker goodie bags. Of course.
After eating countless bowls of cookie dough ice cream, I started to think. <–Cue the "Uh-oh!!" My mom's resident troublemaker was on the loose! I thought, if these little chunks of yumminess were really cookie dough… then they could be baked, right?
So while my mom was busy washing/folding clothes/working/being a supermom, I decided to sneak into the freezer for an innocent bowl of chocolate chip cookie dough ice cream. I scooped the most ice cream I thought I could get away with experimenting without anyone noticing… then got to work.
I used my sparkly purple plastic bowl to hold the ice cream. Then, I grabbed my yellow daisy cup to hold my findings. One by one, I plucked out little bits of cookie dough. I kept at it for what felt like 3 whole days (adult time: 15 minutes). After I was done harvesting all the tasty cookie dough bits, I "smartly" and thoughtfully put the vanilla ice cream back into the carton.
I turned on the mini toaster oven, put a sheet of foil onto the baking sheet, and carefully put each tasty cookie morsel onto the sheet. Spaced evenly apart, of course. 😉 After about 500 hours (real adult time: 6 minutes), I knew the cookies were ready.
The whole kitchen smelled like fresh baked chocolate chip cookies. I was beside myself with excitement! This would be my very first batch of homemade cookies, EVER!! I couldn't wait to show my mom. I put oven mitts on, slowly opened the toaster oven, and peeped inside.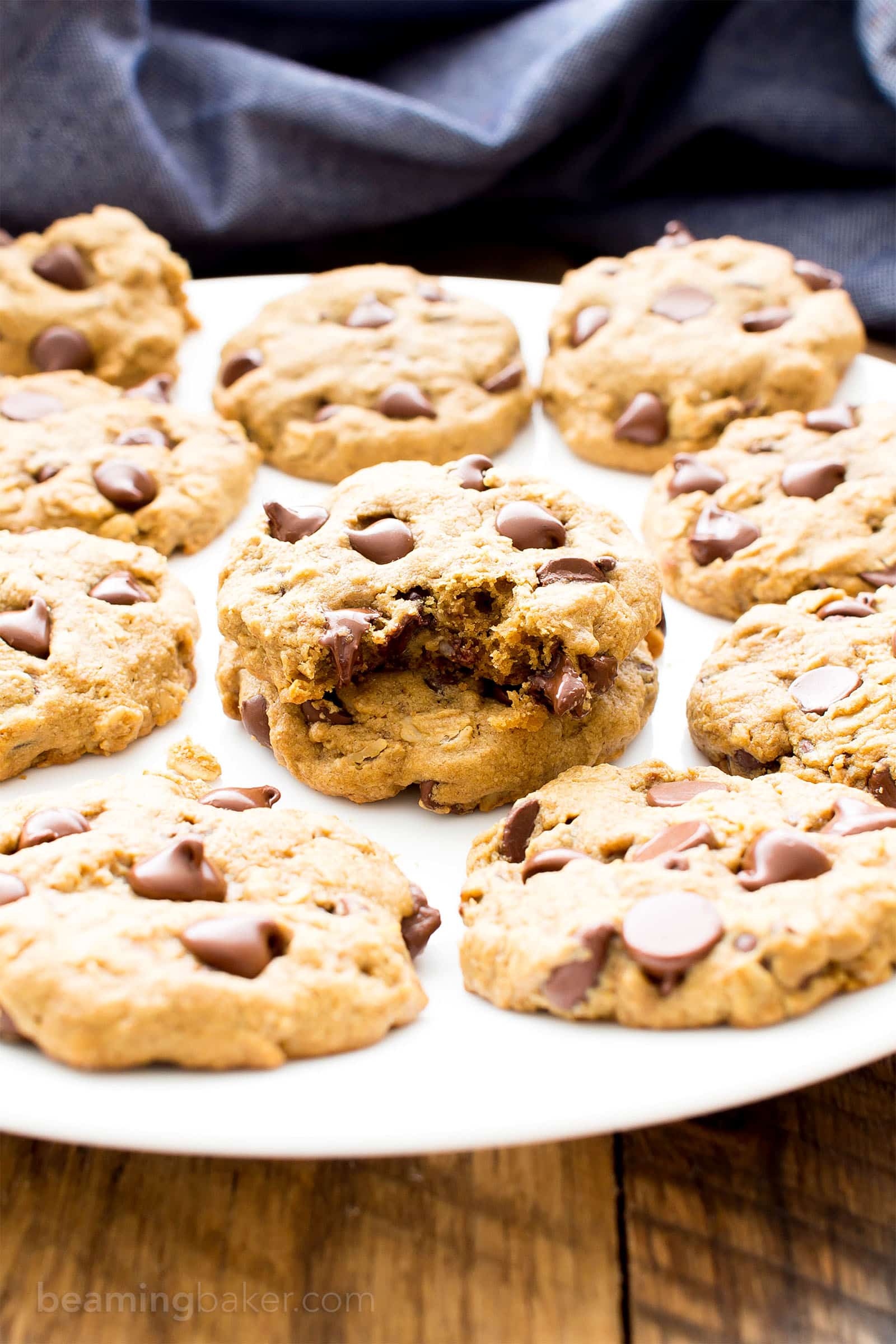 What did I find but 23 super mini chocolate chip cookies. All puffed up, with teeny, tiny mini chips… all ready for my dolls (and me) to eat. Sure, most of them were burned, but the ones that weren't were just perfect. Better than the cookies in my favorite book, If You Give a Mouse a Cookie!
I ran to my toy box and rooted around until I found this miniature metal spatula my mom got me in this baking set. I ran back into the kitchen and gently lifted each tiny chocolate chip cookie onto a plate from the plastic rose tea set my mom got me for my birthday.
I walked slowly for about 2 weeks (real adult time: 8 minutes) to the living room and showed my mom what I did. I was covered in head to toe in mini chocolate chips, my hands and face were sticky with vanilla ice cream. And of course, I forgot to comb my hair that morning. But I still smiled brightly, I beamed when I showed my mom what I made.
And you know what she said?
"Come here, my little troublemaker!!! What trouble did you make."
Then she smothered me in all the kisses and hugs. 🙂
Just a week ago, I made these for my mom and I could just tell it was on the tip of her tongue to ask me what her little troublemaker had made. But then Dylan aka "PB" dropped something with a clang and her attention was quickly averted to the new troublemaker. 😉 Thanks, PB! I knew you had my back!
I hope you get to try this recipe with your little one, or your momma, and you two get into all the trouble creating/making/enjoying mischief that obviously comes with chocolate chip cookies. 🙂 Heck, you can even skip the baking part and maybe roll up little balls of cookie dough to put into your ice cream…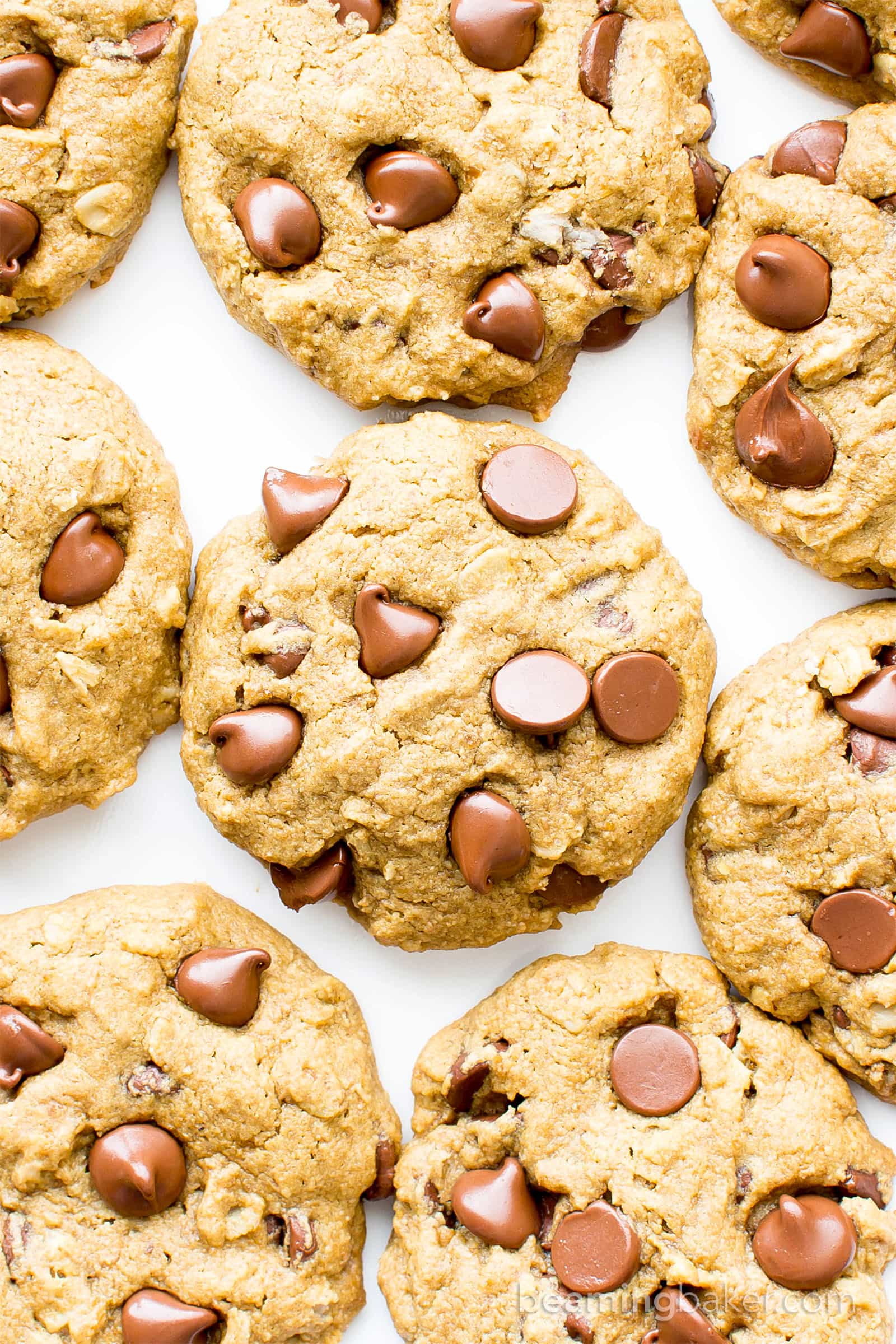 While I wait to hear what you think of this recipe, let me tell you all about it. These Gluten Free Vegan Oat Flour Chocolate Chip Cookies are:
Are you ready to get your troublemaking on? 😉 I'm planning on making a big batch with my 3 year-old nephew PB. Think he'll try to pick all the chocolate chip out?? <– Duh!! I'm so grateful to be here with you, creating all of the delicious and healthy treats our loved ones deserve. I can't wait to hear what you think of these! While I wait, tell me:
When was the first time you had a chocolate chip cookie?
Sending you all my love and maybe even a dove, xo Demeter ❤
☀︎ Click below to Pin ☀︎

☀︎ Did you make this recipe? Take a pic and share it on Instagram with the hashtag #beamingbaker and tag @beamingbaker. I would love to see it! ☀︎
SHOP THE RECIPE
Here are a few items I used to make these irresistible gluten free chocolate chip cookies. 🙂
Vegan Chocolate Chips | Gluten Free Oat Flour | Maple Syrup | Coconut Oil | Medium Cookie Scoop | Coconut Sugar | Cookie Sheet | Cooling Rack | Gluten Free Rolled Oats | OXO Mixing Bowls
Print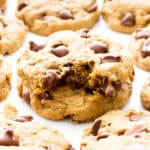 Gluten Free Vegan Oat Flour Chocolate Chip Cookies (V, GF, Dairy-Free)
---
Description
Gluten Free Vegan Oat Flour Chocolate Chip Cookies (V, GF): an easy recipe for simply delicious, soft, chewy chocolate chip cookies made with oat flour. Vegan, Gluten Free, Dairy Free, Oat Flour.
---
Dry Ingredients
1 ½ cups

gluten free oat flour

½ cup

gluten free rolled oats

½ teaspoon

baking soda

½ teaspoon

baking powder

¼ teaspoon

salt
Wet Ingredients
¼ cup

+

2 tablespoons

melted coconut oil

¼ cup

coconut sugar

¼ cup

pure maple syrup

2

flax eggs (

2 tablespoons

ground flax +

6 tablespoons

water, whisked together, set for 15 minutes)

1 teaspoon

pure vanilla extract
Add-in Ingredients
1 cup

vegan chocolate chips
Optional Topping
¼ cup

vegan chocolate chips
---
Instructions
Preheat oven to 350°F. Line a baking sheet with parchment paper or greased foil. Set aside for later.
In a medium bowl, whisk together all the dry ingredients: oat flour, oats, baking soda, baking powder and salt.
In a large bowl, whisk together all the wet ingredients: coconut oil, coconut sugar, maple syrup, flax eggs and vanilla. Whisk until thoroughly combined and resembles caramel, about 5 seconds.
Add the dry ingredients to the wet ingredients. Whisk until thoroughly combined. Fold in chocolate chips.
Cover the bowl of cookie dough. Let sit for 10-15 minutes at room temperature—this allows the dry mixture to absorb the wet mixture and become more cohesive.*
Scoop about 2 tablespoons of cookie dough onto the prepared baking sheet. Using a fork, flatten cookies into a round disc—they will not spread during baking. Optionally, press chocolate chips into the tops of the cookies.
Bake for 8-12 minutes. Mine took 9 minutes. Using a flat, heatproof spatula, carefully lift cookies off the baking sheet and transfer to a cooling rack. Allow to cool completely. Enjoy! Storing instructions below.
Notes
Adapted from my Maple Pecan Chocolate Chip Cookies and my Cranberry Chocolate Chip Cookies.
*You can skip this step, but the dough is more likely to be too sticky to flatten with a fork. Also, the cookies are less likely to have a beautiful textured on top.
Store in an airtight container at room temperature for up to 1 week.
These cookies freeze well. Store in an airtight, freezer-friendly container for 1-2 months. Allow to thaw at room temperature for 5-10 minutes. Or, heat in the microwave in 20-second increments until warm.
Category:

Cookies, Vegan, Gluten-Free, Dairy-Free, Whole Grain
© beamingbaker.com. All content and images are protected by copyright. Please do not use my images or recipe without my permission. If you wish to republish this recipe, please re-write the entire recipe using your own words and include a link to this post for the recipe.
If you love these Gluten Free Vegan Oat Flour Chocolate Chip Cookies, you'll just fall head over heels for these gluten free vegan cookie recipes:
☀︎ Gluten Free Vegan Cookie Recipes
Facebook ☀︎ Pinterest ☀︎ Twitter ☀︎ Instagram