3 Ingredient Chocolate Peanut Butter Fudge Cups (V, GF): an easy, one bowl recipe for deliciously thick fudge cups bursting with peanut butter YUM. Vegan, Gluten-Free, Dairy-Free, Protein-Packed.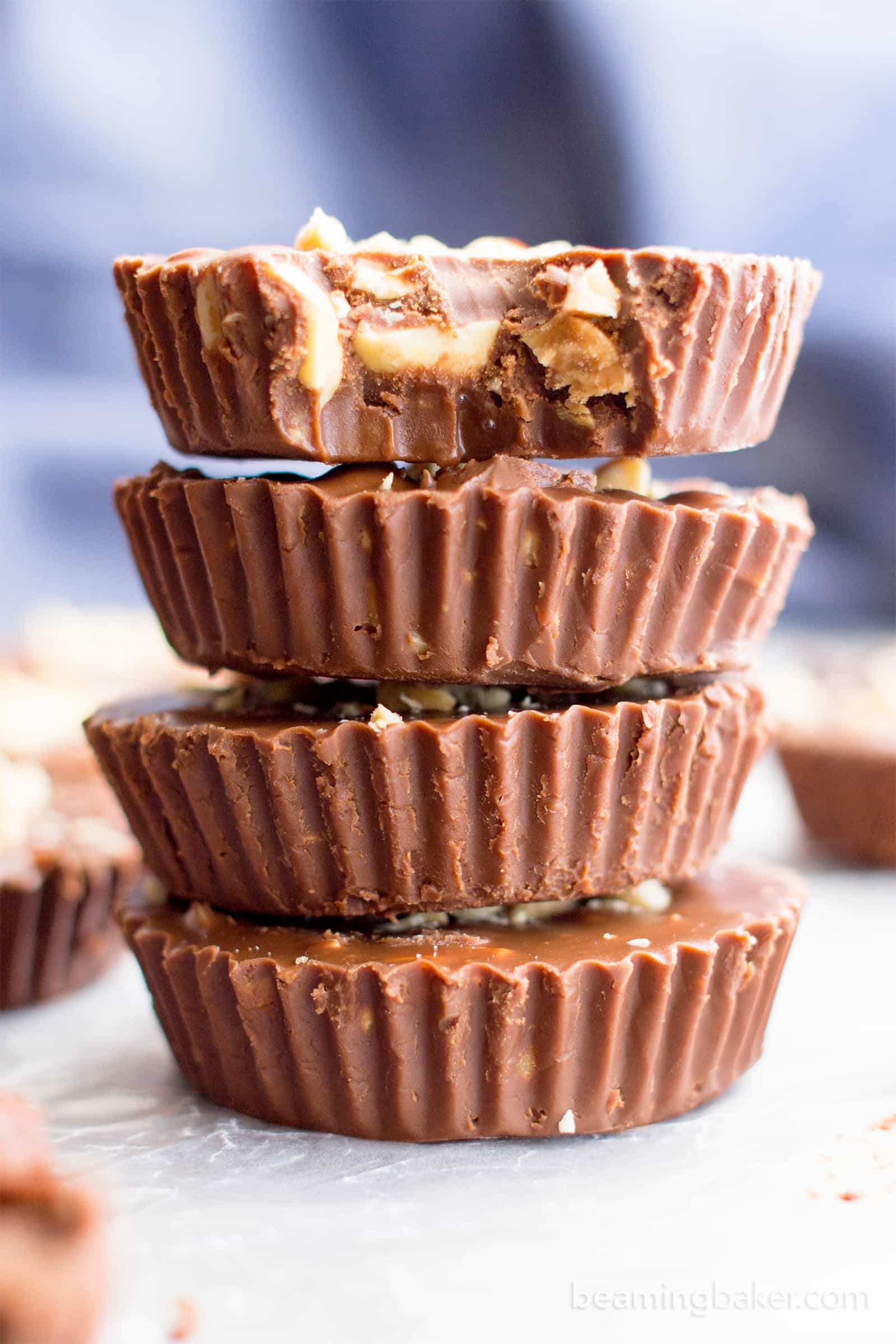 Have I finally convinced you that making your very own homemade candy is AWESOME?? No? Dang it, I'll just have to try again. 🙂 Welcome to my latest exhibit for Why You Should Totally Make Candy at Home.
It should go with saying, but one reason: you can EAT them afterward. Note that my eyebrows are vigorously raising and I'm rubbing my tummy, singing Monica's song: "yummy yummy yummy, I've got love in my tummy."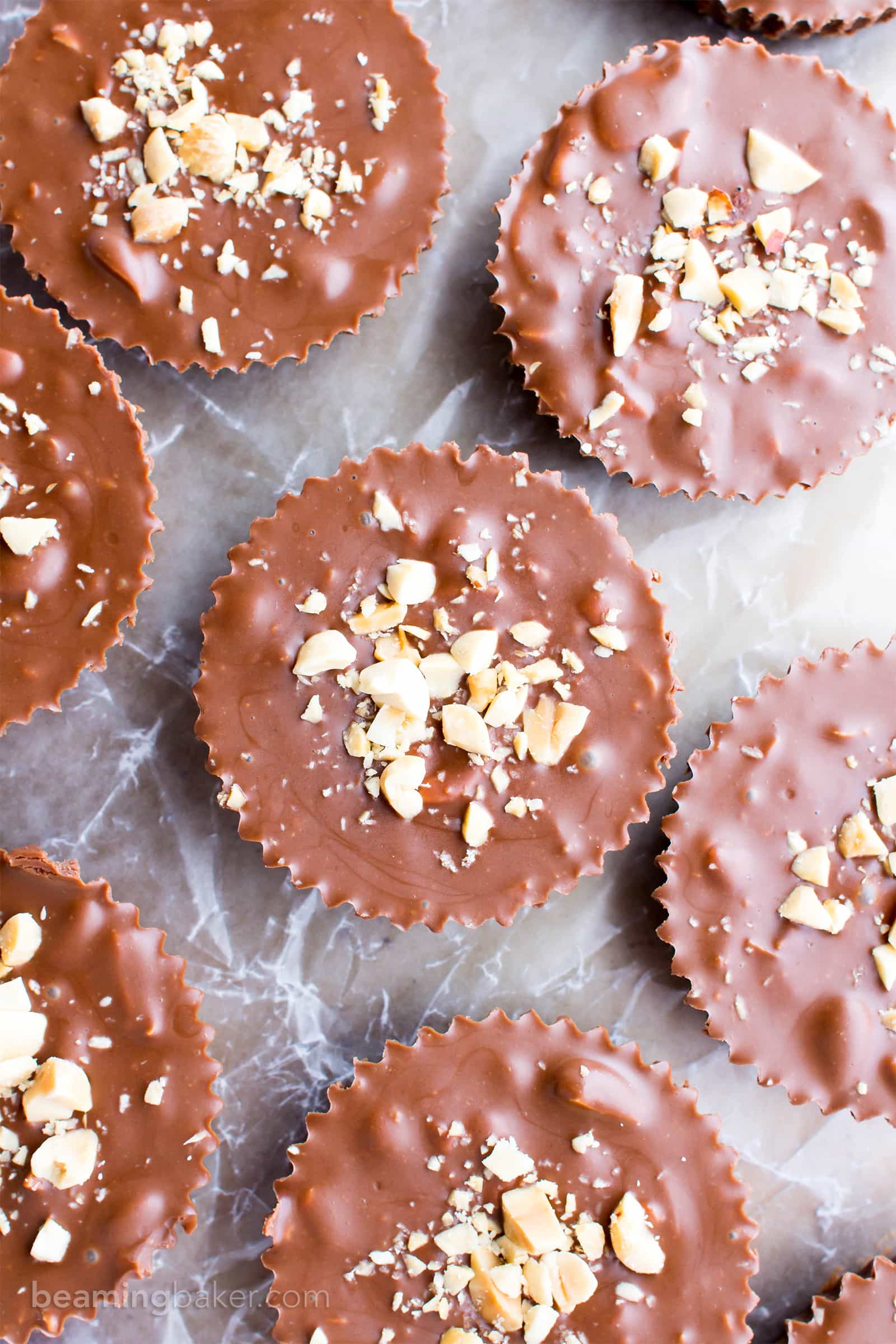 Yep, I'm that cool. But come on, you can eat it! Alright, I'm totally sensing that you need more reasons. How about this one: these 3 Ingredient Chocolate Peanut Butter Fudge Cups are ridiculously easy to make. I mean, even I thought that the second and third time I made them. One would think that I would already have been to prepared for how easy they are to make.
But no… I blame it on my very shoddy memory.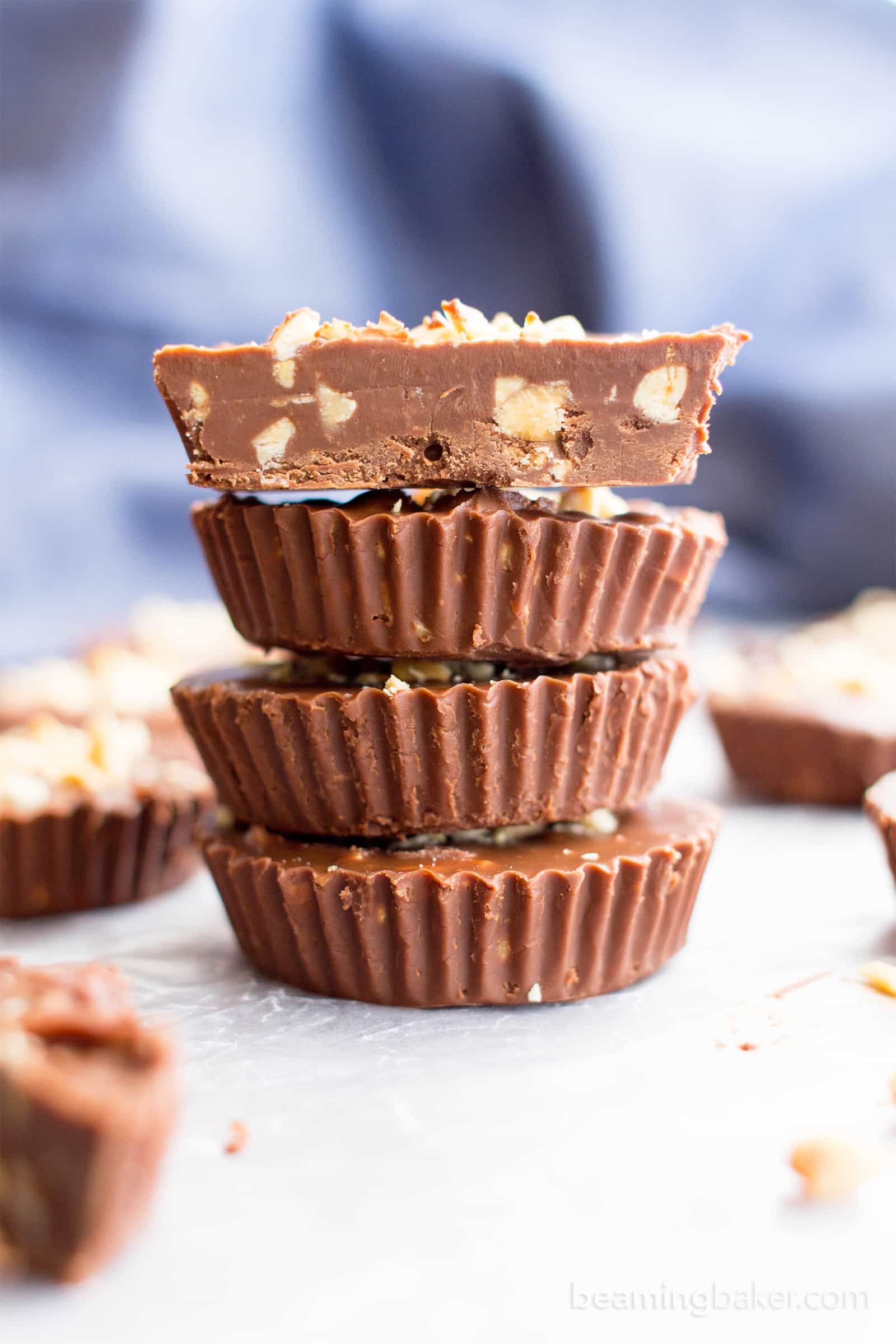 Anywho, normally, I would tell you that this recipe came about because: duh, Peanut Butter + Chocolate = All Delicious Daydreams Come True. But actually these came about because folks asked me repeatedly if my paleo chocolate almond butter fudge cups could be made with peanuts. Also, some people told me they loved the look of that recipe, but wouldn't try it because it wasn't made with peanut butter.
So here ya go! The peanut butter remixed version—for all my fellow Peanut Butter Lovers who will not go near, or even consider the look/the thought/the text/the sight of almond butter. 😉 Also, I completely get it—AB can be a bit of a hit on the ol' wallet. PB is much gentler in that regard. ????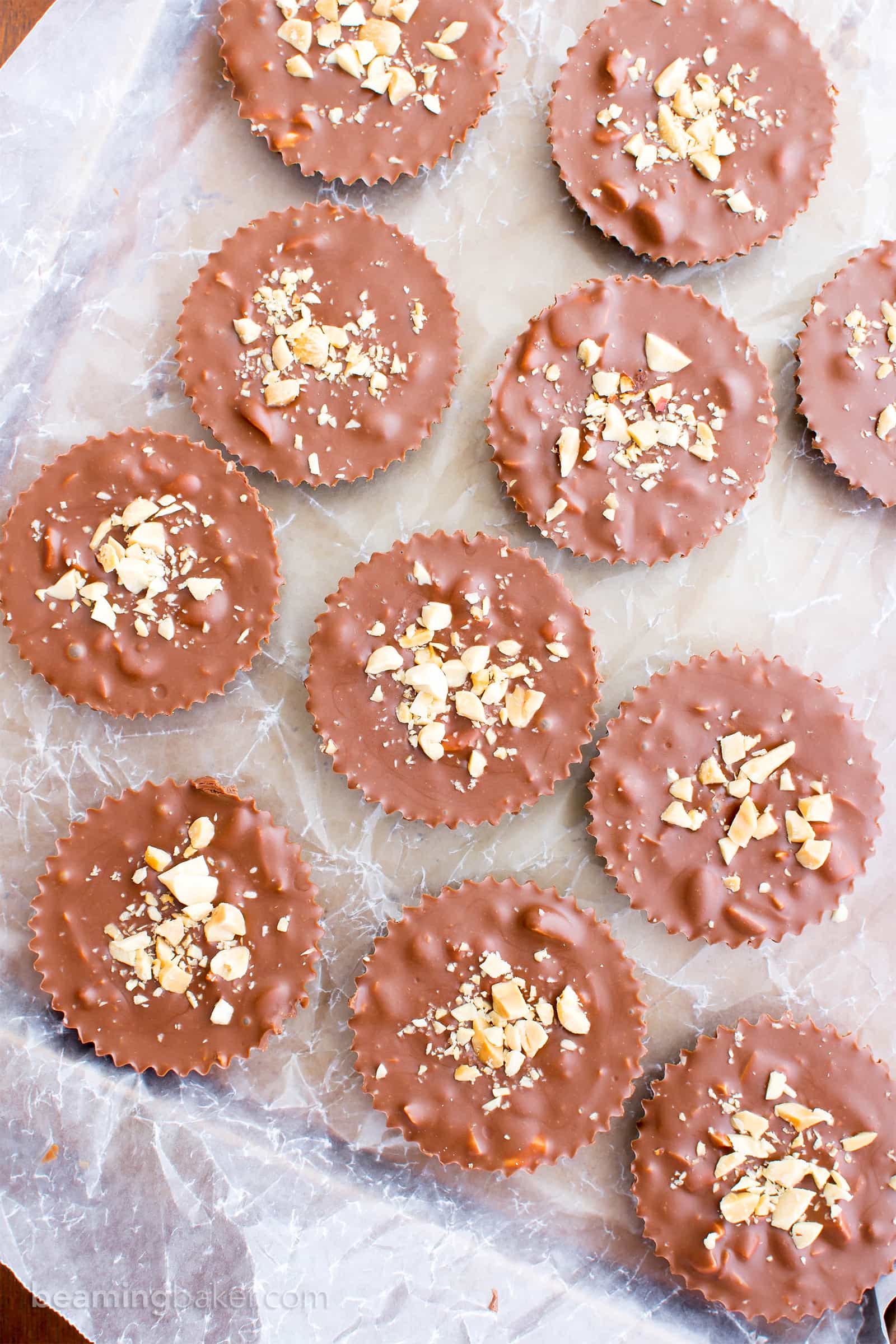 And now I, of course, must ask you: do you prefer almond butter or peanut butter? Seems like opinions change all the time on these guys. Maybe you like peanut butter on the weekdays and almond butter on the weekends…
Now, onto this recipe… as you know, I'm a HUGE fan of no bake. No bake bites, no bake bars, no bake ice cream. Okay fine, is there such a thing as bake ice cream?? How about Baked Alaskas or fried ice cream? Oh right… that's fried. But as the summer approaches, I'm getting super jazzed about not turning the oven on. In fact, I just typed "overn." That's how little respect I have for that word right now. ????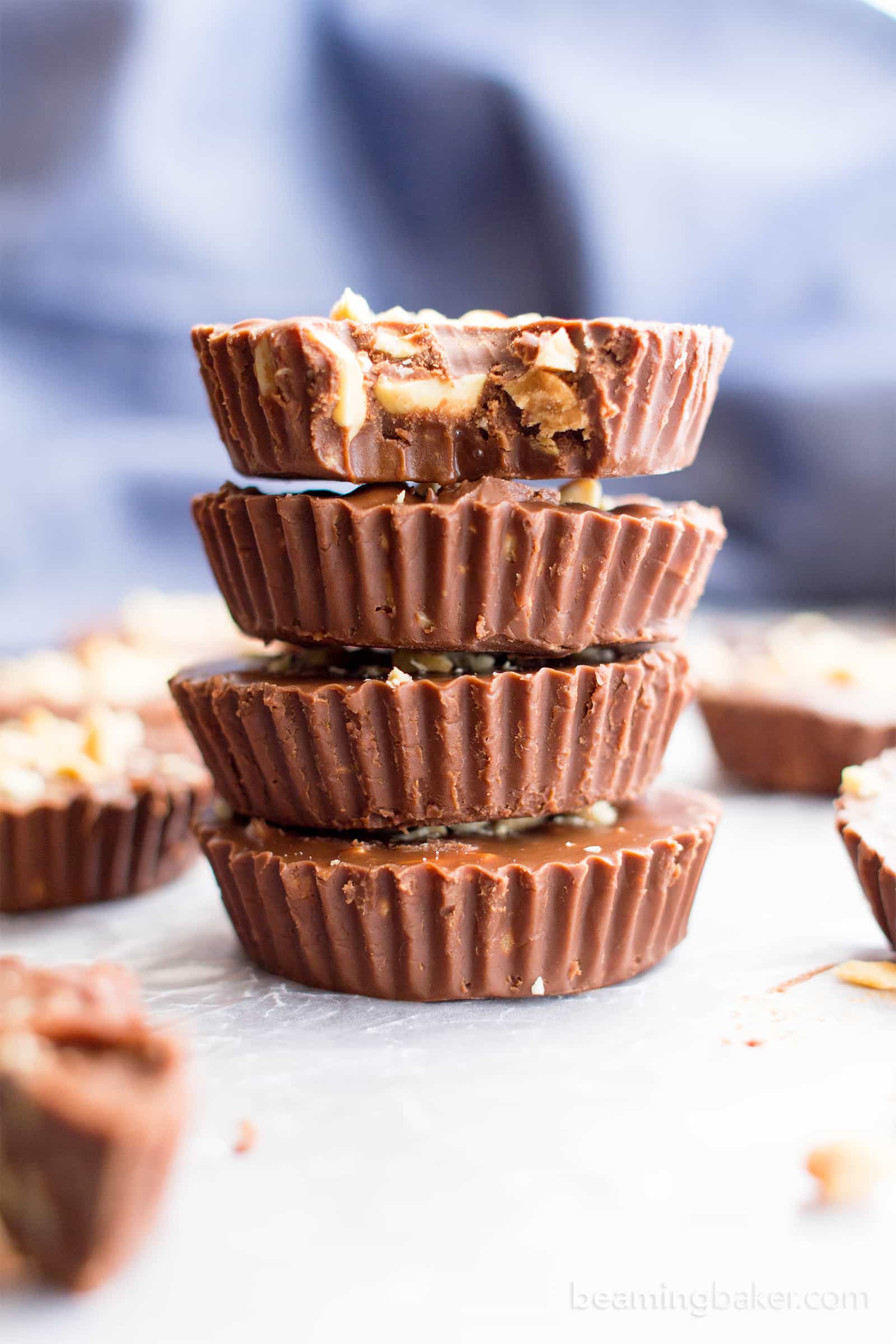 But just because some of us don't even want to type/use the overn, doesn't mean we don't have a hankering for some amazingly GOOD dessert. ENTER: these chocolate peanut butter delights! If you're still not convinced, let me tell you all about these 3 Ingredient Chocolate Peanut Butter Fudge Cups. They're:
made in just one bowl
so easy to make
vegan, gluten-free, dairy-free
indulgently fudgy, perfectly thick
deliciously protein-packed
bursting with crunchy peanuts
made with just 3 simple ingredients
plant-based and allergy-friendly
great for dessert or an afternoon sweet tooth craving
happily made without an over—ahem—oven
So what do you think? Are you ready to get your no-bake candy-make on? I know, you definitely have to say that 3 times fast. I'm so happy to be creating all the smile-inducing plant-based treats with you. I can't wait to hear what you think of these. In the meantime, tell me:
What candy recipe would you like to see next?
Sending you all my love and maybe even a dove, xo Demeter ❤️
☀︎ Click below to Pin ☀︎

☀︎ Did you make this recipe? Take a pic and share it on Instagram with the hashtag #beamingbaker and tag @beamingbaker. I would love to see it! ☀︎
3 Ingredient Chocolate Peanut Butter Fudge Cups (Vegan, Gluten Free, DF, Protein-Rich)
3 Ingredient Chocolate Peanut Butter Fudge Cups (V, GF): an easy, one bowl recipe for deliciously thick fudge cups bursting with peanut butter YUM. Vegan, Gluten-Free, Dairy-Free, Protein-Rich.
Author:
Demeter | Beaming Baker
Recipe type:
Candy, Vegan, Gluten Free, Dairy-Free, Protein-Packed
Ingredients
PB Fudge Cups
¾ cup unsalted, natural creamy peanut butter
¾ cup vegan chocolate chips
¾ cup unsalted, roasted peanuts, chopped
Optional Topping
1 tablespoon unsalted, roasted peanuts, finely chopped
Instructions
Line a 12-cup muffin pan with cupcake liners. Set aside for later. Clear some space out in the freezer for this pan—you will need it later.
Use the double boiler method or the following. Add chocolate chips and peanut butter to a medium, microwave-safe bowl. Heat in the microwave in 20-second increments, until softened and melted. Stir between heating, until smooth and thoroughly combined. Fold in peanuts.
Scoop about 2 ½ tablespoons of this mixture into a cupcake liner. Repeat until all liners have been filled. Gently tap the muffin pan to create smooth, even cups. Optionally, top with finely chopped peanuts.
Freeze for 25-40 minutes. Enjoy! Storing instructions below.
© beamingbaker.com. All content and images are protected by copyright. Please do not use my images or recipe without my permission. If you wish to republish this recipe, please re-write the entire recipe using your own words and include a link to this post for the recipe.
If you like these 3 Ingredient Chocolate Peanut Butter Fudge Cups, then you'll love these gluten free vegan peanut butter recipes:
☀ More Peanut Butter Candy + Dessert Recipes
Gluten Free Vegan Peanut Butter Cups (GF, V, DF)
2-Ingredient Chocolate Peanut Butter Freezer Fudge (Vegan, Gluten-Free, Dairy-Free, Protein-Packed)
Gluten Free Vegan Chocolate Peanut Butter Truffles (V, GF, Dairy-Free, Protein-Packed, 5 Ingredient)
4 Ingredient No Bake Chocolate Peanut Butter Bars (Vegan, Gluten-Free, Dairy-Free, Protein-Packed)
☀ More Gluten Free Vegan Candy Recipes
Homemade Crunch Cups (GF, V, DF)
Homemade Almond Joy Cups (Paleo, GF, V, DF)
4 Ingredient Paleo Chocolate Coconut Cups (Paleo, GF, V, DF)
Facebook ☀︎ Pinterest  ☀︎ Twitter ☀︎ Instagram