2 Ingredient Vegan Chocolate Peanut Butter Freezer Fudge (V, GF, DF): a super easy recipe for thick, decadent chocolate peanut butter fudge. Vegan, Gluten Free, Dairy-Free.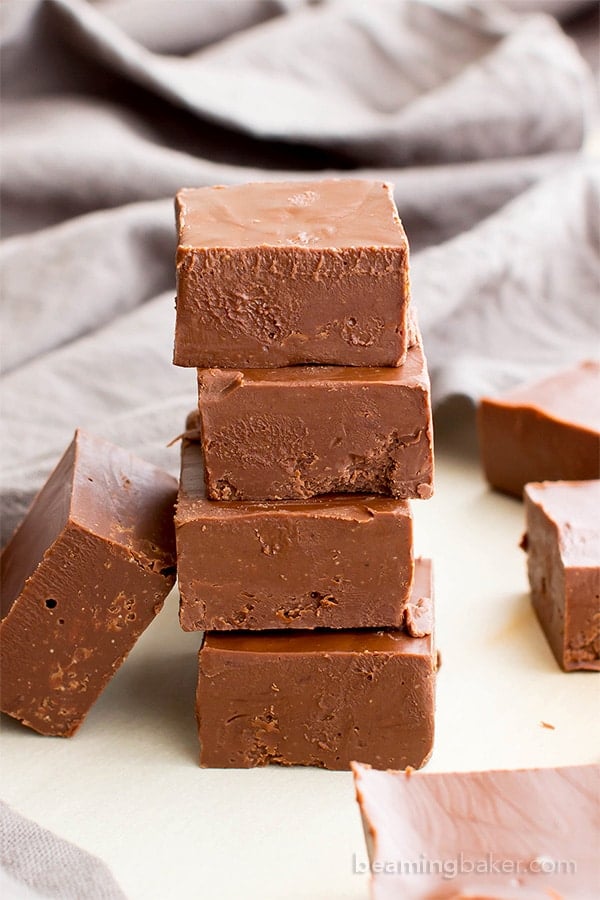 It's almost Valentine's Day! AKA, the perfect excuse to eat all the chocolate soon (plus some peanut butter because we're awesome like that). Btw, have you tried my 2 minute 5 ingredient homemade fudge recipe? Just sayin, you'll love it–plus there's no refrigeration required for storing!!
Anywho, are you a big fan of the holiday?
Do you go all out and make tons of treats, DIY heart-adorned tablecloths, and book wine cruises and hot air balloon tours? <–WOAH!!! Take me with you! I'm semi-onboard with V-day, but generally pretty chill about it. Erik and I've had a few fun adventures building up to the holiday–which I'll tell you all about below.
But before I get waaaay too misty-eyed telling you about this, I'm gonna get to the recipe: 2 Ingredient Vegan Chocolate Peanut Butter Freezer Fudge. It's so simple, so easy to make and ridiculously good. But of course, you can tell your loved one that it took you all day and then some to prepare this. We can keep the easy prep time between us. 😉 And just in case you're looking for an amazing chocolate-free PB fudge recipe, try my friend Erin's vegan peanut butter fudge over at Texanerin. All I have to say is: YUM!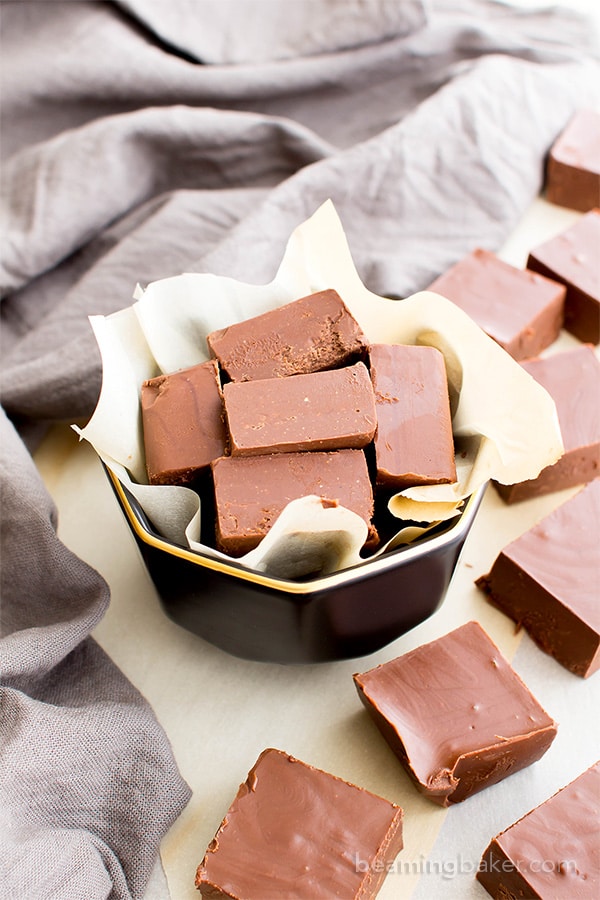 Anywho, I've been thinking about this recipe for quite some time. I may or may not have whipped up a few batches over Christmas. But at the time, I had already shared almond butter fudge cups, peppermint crunch bars, double chocolate peanut butter brownies and no bake chocolate peanut butter bars with you.
I thought you might be a bit chocolate/nut butter overloaded. And in the blink of an eye, it was January and totally time to clean up all the candy and cookie recipes. But here we are, safely seated in February… we've all done a kickass job with our resolutions and now it's totally time for a little treat. Don't you think? 😉
Treats, chocolate, peanut butter… what more could you really need in life? I've got a lot of wonderful things on my mind, some of them sweet and some of them even sweeter. Some of them even low carb, like this dreamy low carb peanut butter fudge from All Day I Dream About Food! . So go ahead, grab a bowl, just 2 ingredients and let's make some 2 Ingredient Vegan Chocolate Peanut Butter Freezer Fudge! 🙂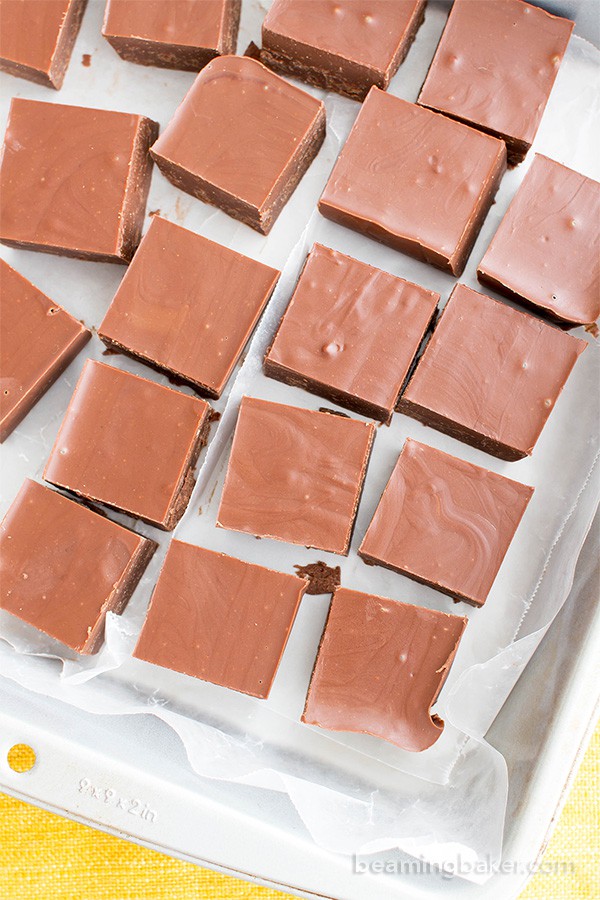 While I wait with bated breath to hear what you think of this fudge, let me tell you about one of my favorite Valentine's Day memories. *Cue the harps*
It was 2009… and our first year of dating. Please, try not to count how many it's been.
…
You did it anyway, didn't you??
Back then, Erik played it real coy (i.e. he was wayyyy less communicative than I was used to). He was really pumped about taking me on our first vacay to celebrate Valentine's Day. He was actually so pumped and devoted to making it all super intriguing that he refused to tell me where we were going. Dude, not cool.
Okay, kinda cool. But not cool for my packing situation, ya feel me?
So I asked and bugged and bribed and even batted my eyelashes (soooo not effective without pounds of mascara, btw) that he finally gave me one clue. He told me, "You have to wear waterproof boots."
Say whaaaaaaa?
Tell me, what would you make of this? My young, wild mind went to all the places: white-river rafting, jet-skiing, water park, water world, wet jungles of some sort, pool cleaning (I. Don't. Even. Know.), and scenic rafting. Apparently I really wanted to go rafting.
I walked all over San Francisco, searching for the perfect waterproof boots that would look stylish and sexy, but were also versatile and rugged. My mind dreamed of grander and wilder locales 'til I just couldn't take it anymore.
In the end, I buckled under the pressure. And soooo did not buy waterproof boots for the trip. I wasn't made of money, ya know? 😉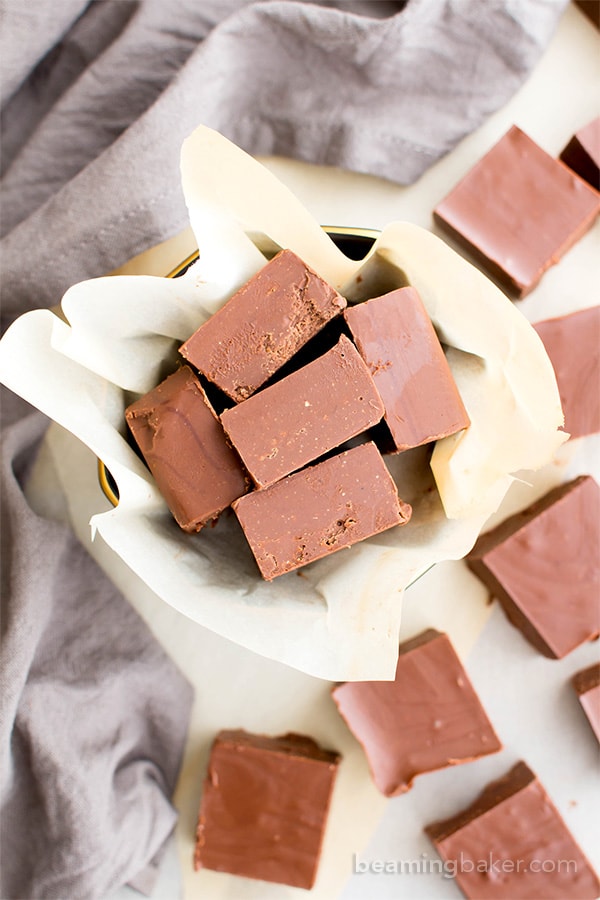 The day of the trip finally came. Erik and I walked into the airport, and up to a check-in kiosk. Alas, I saw the destination:
Seattle, WA.
Me: "Are we going whitewater rafting in Seattle."
Erik: "Um, no. Why?? Did you book a reservation to go rafting. Oh!!! I wanna go rafting!!"
Me: "What?? Why would I book a reservation?? I didn't even know where we were going!!"
E: "Oh, right. Well, what do you think?"
Me: "Are we going to a water park in Seattle? I've always wanted to go to Seattle!!"
E: "A water park! That would be so cool!! Did you book a—"
Me: *Eye glare*
E: "Oh. Right again… Hmm. Anyway, did you bring your waterproof boots?"
Me: "Er… no. Is that gonna be a huge problem? I kinda blew it, I know! But I can't handle it! What kind of watery adventure are we going on?? Is there any kind of rafting involved??" (Why was I so obsessed with rafting??)
E: "Watery adventure? Umm…"
Me: "Why did you want me to bring waterproof boots? I don't get it."
E: "Because it's Seattle. It rains a lot there."
I narrow my eyes and look right into Erik's shiny, big greenish gray doe eyes. Innocent as can be. His eyes widen even more innocently. Mine narrow even more. He smiles, hopeful as a puppy.
And I laugh. And laugh. And laugh.
Me: "I love you."
And he laughs, too. ❤️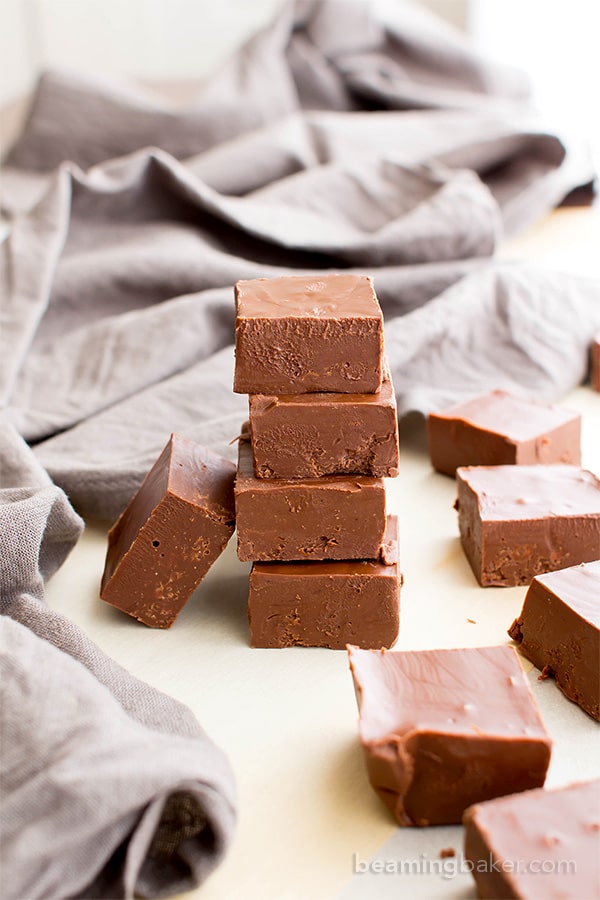 I hope you enjoyed that little nugget from our past. Do you have any memorable stories about Valentine's Day? Or leading up to it? I'd love to hear all about it. In the meantime, let me tell you all about my 2 Ingredient Vegan Chocolate Peanut Butter Freezer Fudge.
This 2 Ingredient Vegan Chocolate Peanut Butter Freezer Fudge is:
made with just 2 ingredients
decadent, rich and oh-so-chocolatey
vegan, gluten free, dairy-free
thick and fudge-y (because it's fudge)
so easy to make
perfect for dessert
even more perfect for Valentine's Day
… or just 'cause
I can't wait to hear what you think of this recipe. 🙂 And I sooo cannot wait to hear all about your memorable Valentine's Day stories. While I wait, tell me:
What is your favorite V-Day date spot?
Sending you all my love and maybe even a dove, xo Demeter ❤️
☀︎ Click below to Pin ☀︎

☀︎ Did you make this recipe? Take a pic and share it on Instagram with the hashtag #beamingbaker and tag @beamingbaker. I would love to see it! ☀︎
Try my latest fudge recipe: 5 minute easy peppermint fudge! Yes, you really can prep it in just 5 minutes, plus it's, wait for it… no refrigeration required! 🙂 All you need are three simple ingredients. 🙂
More Vegan Fudge & Peanut Butter Treats:
Print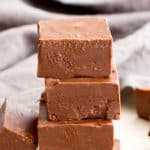 2 Ingredient Vegan Chocolate Peanut Butter Freezer Fudge (Vegan, Gluten Free, Dairy-Free)
---
Description
2 Ingredient Vegan Chocolate Peanut Butter Freezer Fudge (V, GF, DF): a super easy recipe for thick, decadent chocolate peanut butter fudge. Vegan, Gluten Free, Dairy-Free.
---
---
Instructions
Line a standard loaf pan with parchment paper or wax paper.* Set aside. Clear some space in the freezer for this pan—you will need it later.
To make the fudge, use the double boiler method or the following: Add peanut butter and chocolate chips to a medium, microwave-safe bowl. Heat in 20-second increments until chocolate is softened and melty. Stir in between heating, until smooth.
Pour this mixture into the prepared loaf pan. Using a rubber spatula, smooth into an even layer.
Transfer pan to freezer. Freeze for about 1 hour, until solid. Remove from freezer and slice into 18 squares. Enjoy! Storing instructions below.
Category:

No Bake, Candy, Vegan, Gluten Free, Dairy-Free
© beamingbaker.com. All content and images are protected by copyright. Please do not use my images or recipe without my permission. If you wish to republish this recipe, please re-write the entire recipe using your own words and include a link to this post for the recipe.
☀︎ Craving something sweet? Sign up for the email list & get yummy recipes!
Facebook ☀︎ Pinterest ☀︎ Twitter ☀︎ Instagram