Paleo Chocolate Almond Butter Fudge Cups (Vegan, 3 Ingredient, Gluten Free, Paleo, Dairy-Free)
Paleo Chocolate Almond Butter Fudge Cups (V, GF, DF, Paleo): a 3-ingredient recipe for decadently rich almond butter fudge cups packed with almond crunch. Paleo, Vegan, Gluten Free, Dairy-Free.
Come on, admit it. You read the title of this post and just smiled. Right? Aw, come on!! A teeny, tiny smile couldn't hurt… 😉 Especially when you're smiling for a good cause: CANDY!!! Make that homemade candy! Is it obvious that I've been enjoying said candy prior to getting my trusty keyboard to type this sweetness out?
Yep, I just said that.
I may have been enjoying these dee-licious fudge cups, plus one or more of the following: my favorite chewy gluten free almond butter chocolate chip cookies ., easy gluten free dark chocolate muffins, and ultimate fudgy paleo vegan brownies. That's right, I said, and. It's Chocolate Central up in here!
Side note, it totally annoys me when Erik says something is "sweeeeeeeeeet." Which is not good considering the things I make/photograph/eat. But, what can ya do? Give Erik a thesaurus. Yes, that's what I should give him for Christmas this year! I know, I know, it sounds like the perfect, most thoughtful gift on earth. But not.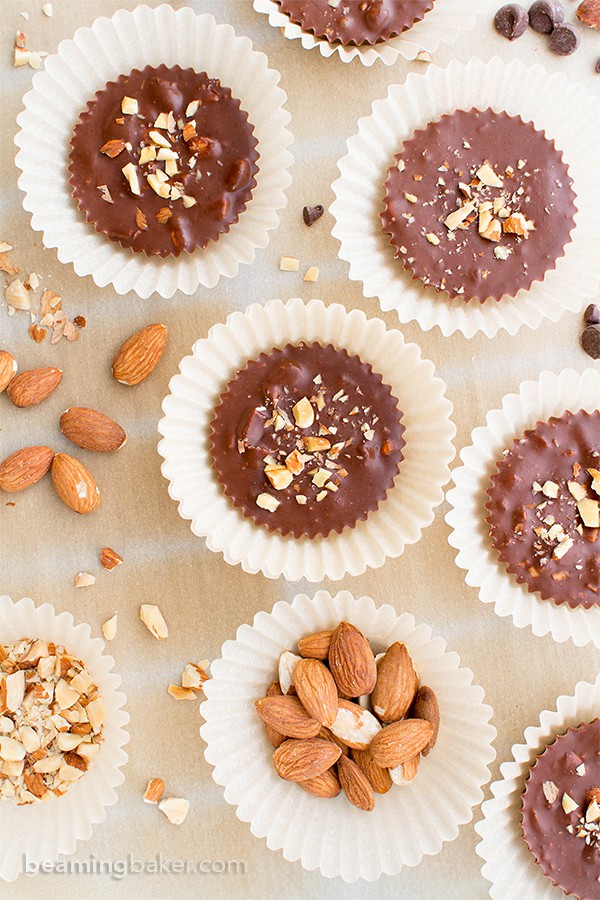 Oh, I'll just tuck that brand, spanking new thesaurus amongst his green and red beribboned gift tins of triple chocolate peppermint cookies, peppermint crunch bars, and perhaps a big 'ol box of these. 😉 Now, who could imagine him complaining about whining bemoaning lamenting about his "gift" then?
Man, who knew there were so many words that meant complaining?
Okay, now we have to do a word that's way more pleasant, like… sweet. Even though I don't like the way in which that word is used (by Erik only, of course haha), let's thesaurus it!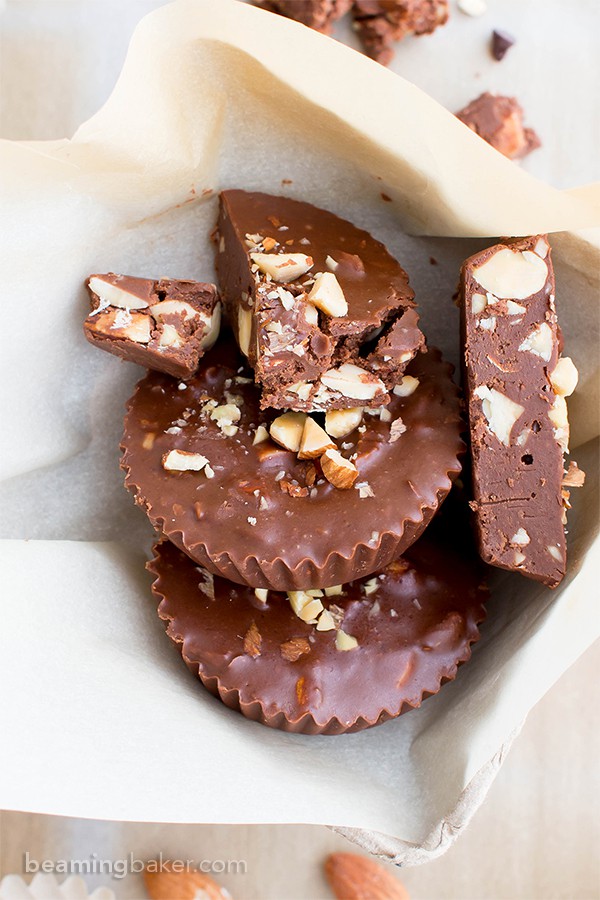 So, for example, if we were to describe these Paleo Chocolate Almond Butter Fudge Cups, we could say that they're… wonderfully sweetened (alright, that's not a great one), or luscious (interesting), or like candy (makes sense), syrupy (might cause confusion, with the whole lack of syrup in this recipe), confectionary (not bad), or beloved (whoops, wrong meaning).
So it's settled then. These Paleo Chocolate Almond Butter Fudge Cups are wonderfully confectionary. Hmm… seems purely factual, doesn't it? Maybe I should nix this whole gift idea after all. Can you imagine, Erik will just go around saying things like, "so yesterday, I saw Christmas Vacation on sale for $0.99. I mean, isn't that confectionary?"
Or, "I was listening to the Revisionist History podcast the other day and learned that Bowdoin College has like chef-level-amazing food in their cafeterias. Can you imagine their desserts? They must be ridiculously confectionary!"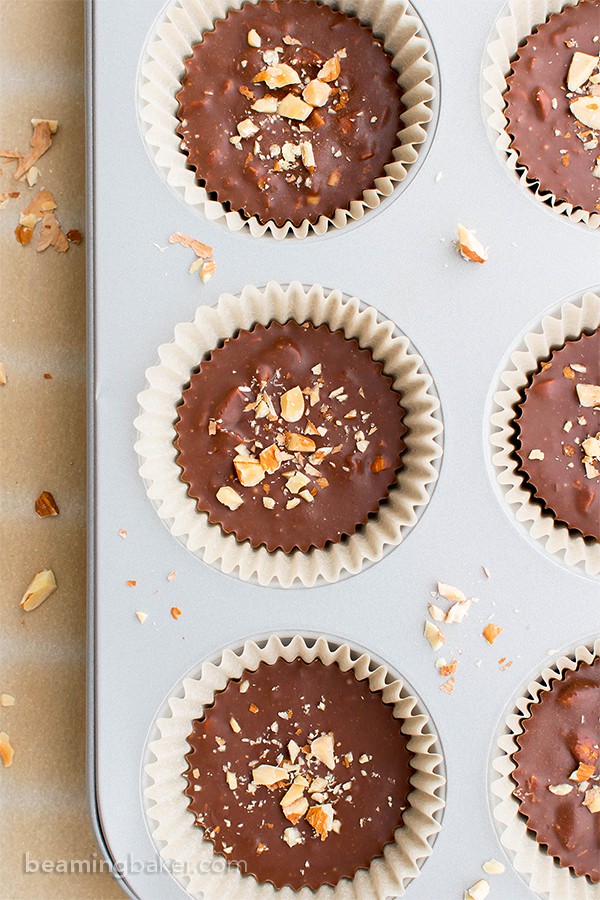 Or… "My love, when you made that miniature version of a chocolate coconut truffle just for me yesterday, it got me all teary-eyed. It was just so… confectionary."
Or… well, you get the picture delineation portrait portrayal vignette sketch. Alright, this gift idea is back on the list! After all, who doesn't need like 200 more words for the words they're already saying that don't even really mean the things that they were trying to say, but just in more confusing and not-at-all-intelligent-or-even-entertaining ways?
🙂
Hopefully, next Christmas, I can tell you all about how last year, I cooked up the harebrained scheme idea to give Erik one of his most beloved (or sweet apparently) ideas of all time. And how it came to be our undoing greatest joy!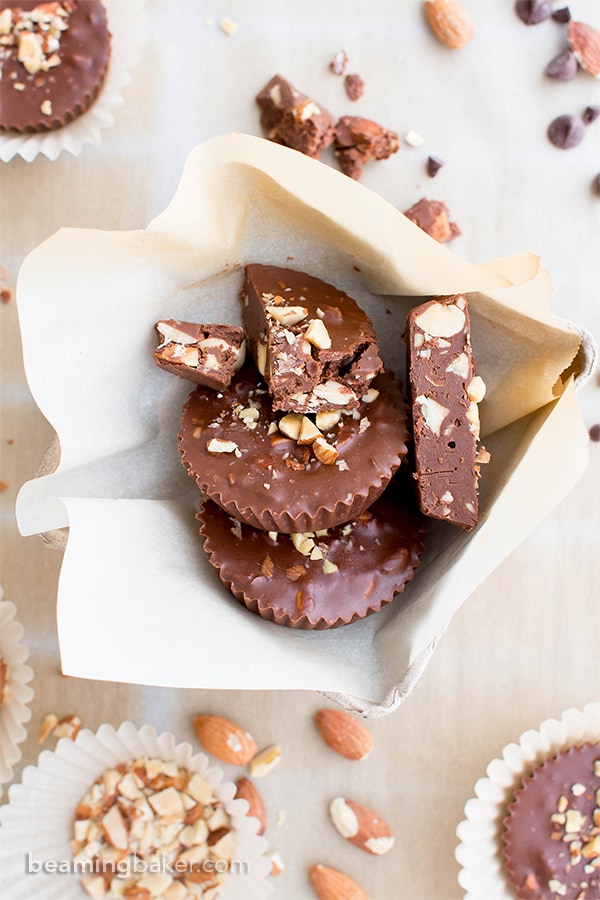 In the meantime, I wouldn't exactly recommend this gift idea to you… some folks might take it the wrong way. Fortunately for me, Erik tends to see things in a more open-minded and happy rainbows/butterflies/gumdrops kind of way. We'll just keep the real reason for this gift between you and me. 😉
All jokes aside, what are you planning on giving your loved ones this season? Clothes, candy, books, tricycles? Oh, wow, a tricycle would be awesome! Especially if you're giving a tricycle to an adult. I mean, what adults are lucky enough to regularly ride a tricycle anyway? Imagine if said adult could ride that newly gifted tricycle and enjoy a slice of this paleo chocolate pie from Texanerin!
Alright, how'd we get to talkin' about pie? Gift-giving sure does have me going off on a tangent, I tell ya!
Anyway, I'm totally excited to hear all about what you're gifting this year! As for me, I'm whipping up a batch of these paleo chocolate almond butter fudge cups for my family. They're always super excited to see what kind of new treats Erik and I make at our annual pop-up candy shop (which is another way of saying that we make All the Candy).
Last year, we made chocolate-covered pretzels, coconut and almond haystacks, chocolate-covered gummy bears and brownies. I'm kind of seriously excited about how easy these are to make. I mean, we've got to keep that candy shop production moving!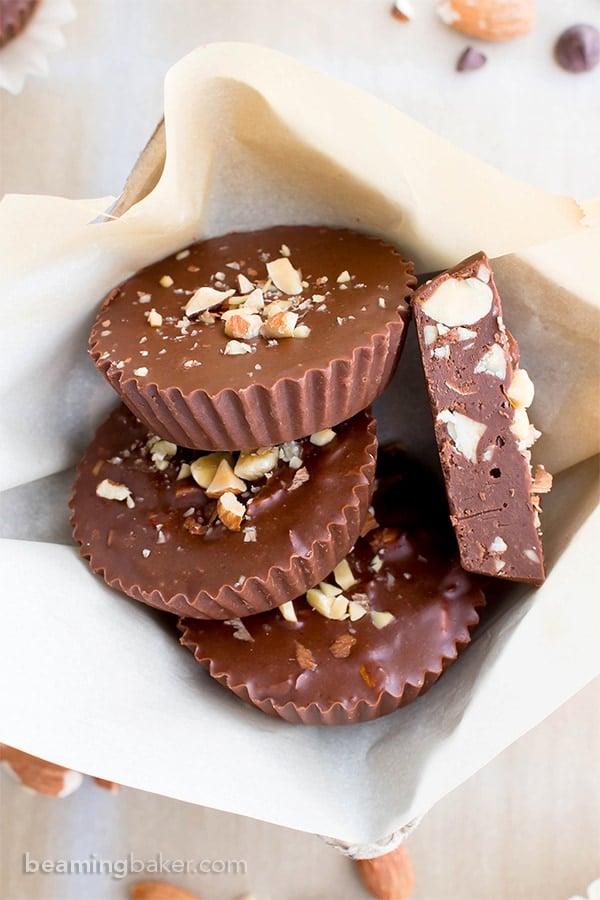 While you and I start dreaming all the confectionary dreams, allow me to tell you about these Paleo Chocolate Almond Butter Fudge Cups. They're:
made with just 3 ingredients
vegan, paleo, gluten free, and dairy-free
deliciously soft and firm
rich, chocolatey and nutty
packed with mouthwatering almond crunch
plant-based and allergy-friendly
easy to make
absolutely, 100% confectionary, in every meaning of the word 😉
So what do you think? Would you like to whip up a batch this year? The best part is totally sprinkling the chopped almonds on top. It makes ya feel like a candy pro! It's wonderful to spend the holidays with you, getting ready and bustling around the kitchen during this exciting time of year. 🙂 Wishing you a magical, warm, and simply splendid Happy Holidays!
What are you most excited to give this year?
Sending you all my love and maybe even a dove, xo Demeter ❤
☀︎ Click below to Pin ☀︎

☀︎ Did you make this recipe? Take a pic and share it on Instagram with the hashtag #beamingbaker and tag @beamingbaker. I would love to see it! ☀︎
Irresistible Gluten Free Vegan Almond Butter Recipes!
Print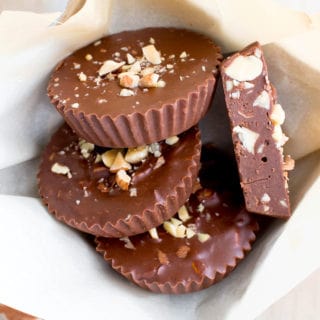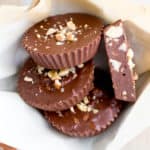 Paleo Chocolate Almond Butter Fudge Cups (Vegan, 3 Ingredient, Gluten Free, Paleo, Dairy-Free)
---
Description
Paleo Chocolate Almond Butter Fudge Cups (V, GF, DF, Paleo): a 3-ingredient recipe for decadently rich almond butter fudge cups packed with almond crunch. Paleo, Vegan, Gluten Free, Dairy-Free.
---
¾ cup

unsalted, natural almond butter

¾ cup

vegan chocolate chips

¾ cup

unsalted, roasted almonds, chopped

¼ teaspoon

salt (optional)
optional topping: 1 tablespoon unsalted, roasted almonds, finely chopped
---
Instructions
Line a 12-cup muffin pan with cupcake liners. Set aside. Clear some space out in the freezer for this pan—you will need it later.
Use the double boiler method or the following. Add chocolate chips and almond butter to a medium, microwave-safe bowl. Heat in the microwave in 20-second increments, until softened and melted. Stir between heating, until smooth and thoroughly combined. Fold in almonds and salt, if using.
Scoop about 2 ½ tablespoons of this mixture into a cupcake liner. Repeat until all liners have been filled. Gently tap the muffin pan to create smooth, even cups. Optionally, top with finely chopped almonds.
Freeze for 15-20 minutes. Peel off cupcake liners and enjoy! Storing instructions below.
Category:

Candy, No Bake, Vegan, Paleo, Gluten Free, Dairy-Free
© beamingbaker.com. All content and images are protected by copyright. Please do not use my images or recipe without my permission. If you wish to republish this recipe, please re-write the entire recipe using your own words and include a link to this post for the recipe.

☀︎ More Homemade Candy & Dessert Recipes ☀︎
Paleo Almond Butter Cups (Vegan, Paleo, Gluten Free, Dairy-Free)
4 Ingredient Peppermint Crunch Bars (Vegan, Gluten Free, Dairy-Free)
No Bake Chocolate Peanut Butter Bars (Vegan, Gluten Free, Dairy-Free)