Dark Chocolate Nice Cream (V+GF): an easy, 4 ingredient recipe for velvety smooth, rich dark chocolate nice cream made of bananas, cocoa powder and maple syrup. Vegan, Paleo, Gluten Free, Dairy Free.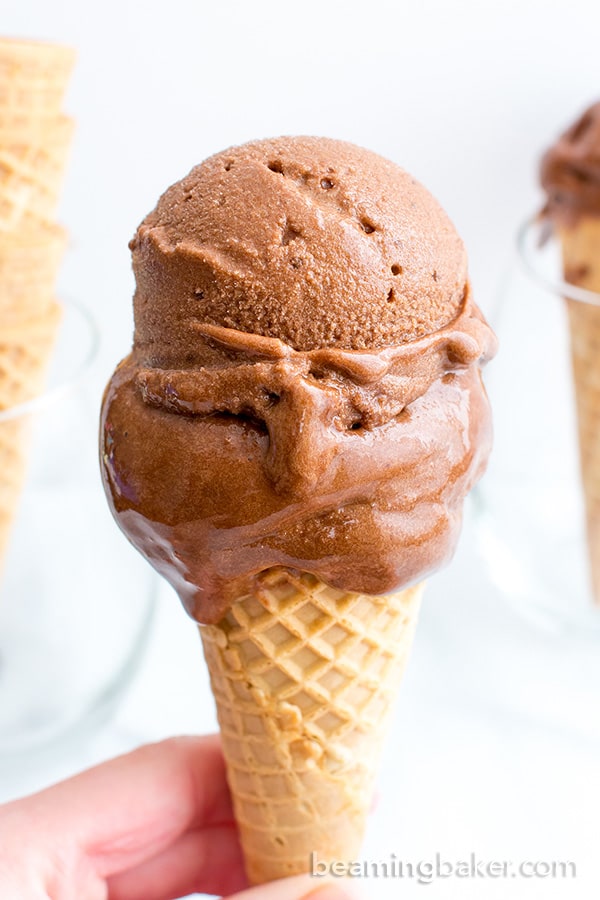 I scream! You scream! We all scream for nice cream!!
Wait a minute. That's not how that goes. Well, why not turn a classic into a modern-day non-dairytale? Omigosh, I've clearly had too much delicious nice cream and I can no longer think like a calm, relaxed adult.
But who cares, 'cause it's the summer! Amiright? The truth is, I hadn't even heard of nice cream until like a couple months ago. Hilarity of all hilarity, turns out I've been making it for years. This just goes to show you how good I am at keeping up with the trends. Hey, at least I made popsicles before winter hit. 😉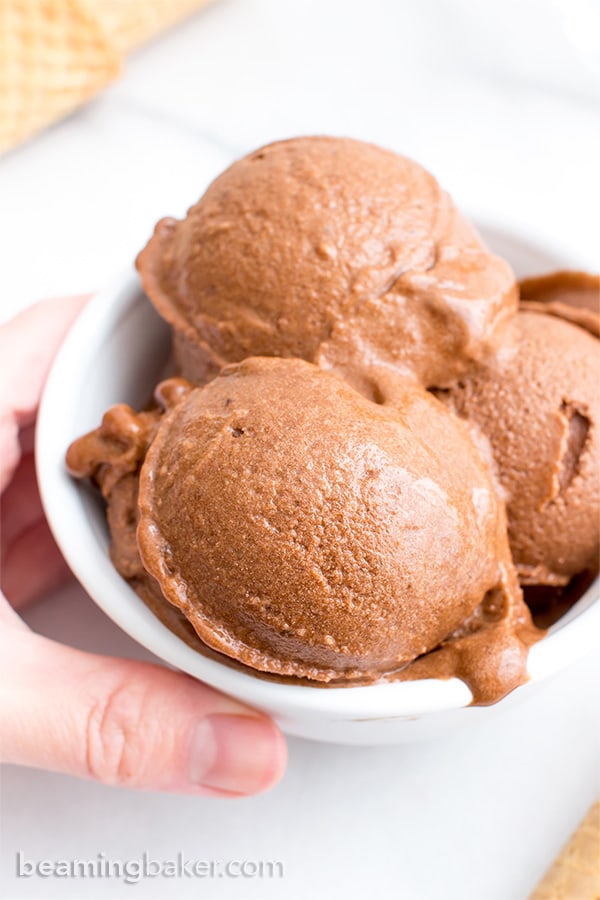 So just in case you're new to this term like I was, here's the icy lowdown: Nice Cream is vegan ice cream made out of bananas. I think. Erm, note that I'm still not a trendy cool-hunter type. This term's been around for a few years, I hear. But honestly, it could've been around since the dawn of time… and I still wouldn't know it.
Bubble I live in: intact. Moving on. But slowly, so the bubble doesn't pop.
My family's loved nice cream for quite awhile now for it's simplicity, deliciousness and overall awesomeness. Think about it, you kill two birds with one stone (geez… could that saying BE any more frightening??? *Chandler-voice*). You get your fruits in, and you get to enjoy your dessert, guilt-free. Awwww, yeah.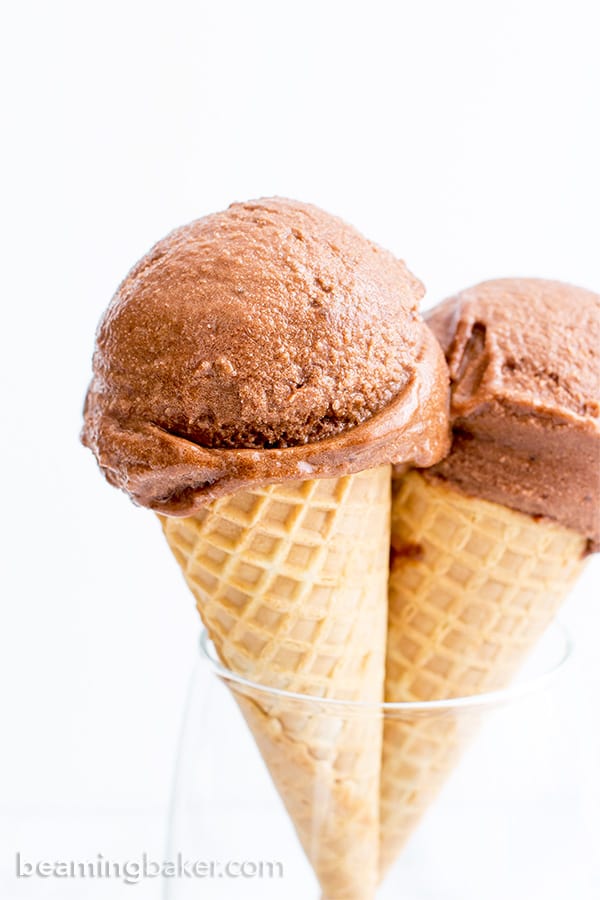 Back in the day, when Erik, my mom and I would be sweating bullets in San Diego, we'd whip up a batch of nice cream (it was called banana soft serve back then, sigh) and top it with all kinds of fun stuff. Think: homemade magic shell, chopped nuts, fresh fruits, and when we were feeling saucy, crushed peanut butter chocolate chip oatmeal cookies.
An ice cream A nice cream sundae you could feel good about. *Happy sigh* Then, just a few weeks ago, I feel a major, MAJOR chocolate craving coming on. But what to do? Make my best vegan brownies? How about some chocolate peanut butter banana popsicles? Or how about just melting a big ol' bowl of chocolate and going to town? Chocolate Town, population: me.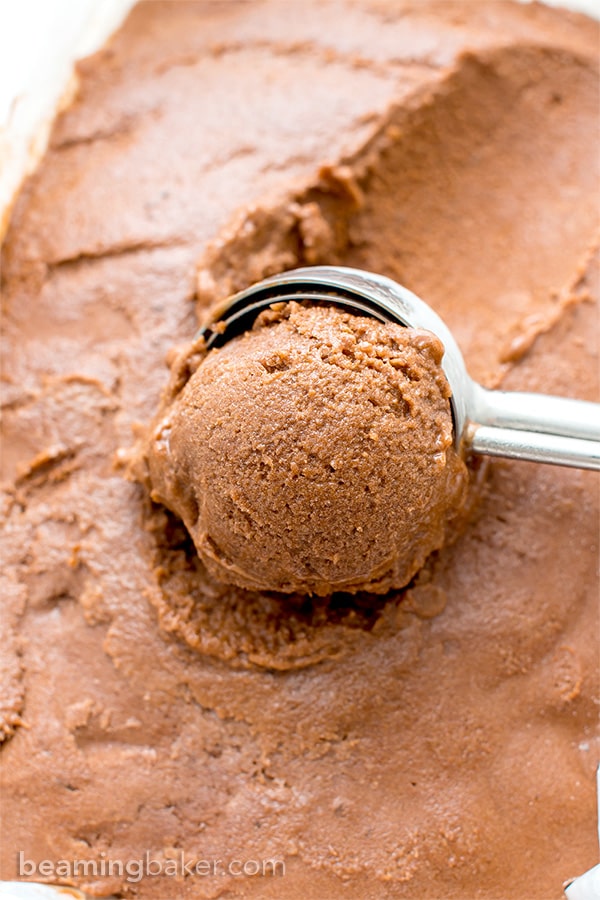 But then an unexpected wave of maturity and responsibility came over me. Where did that come from?!? No one will ever know. And I figured it's time to chocolate-fy nice cream! I mixed in more cocoa powder than someone who doesn't have a special place in their heart for chocolate might think twice about, and added a bit of this and a bit of that.
Et voila! Simply dark, simply pleasurable dark chocolate nice cream. That's vegan, dairy free and gluten free. Score!! Scoop one, scoop two, or heck scoop til your arm tires… Just go ahead and scoop all of this Official Chocolate Lover goodness into cones, cups, or directly into your mouth. And enjoy!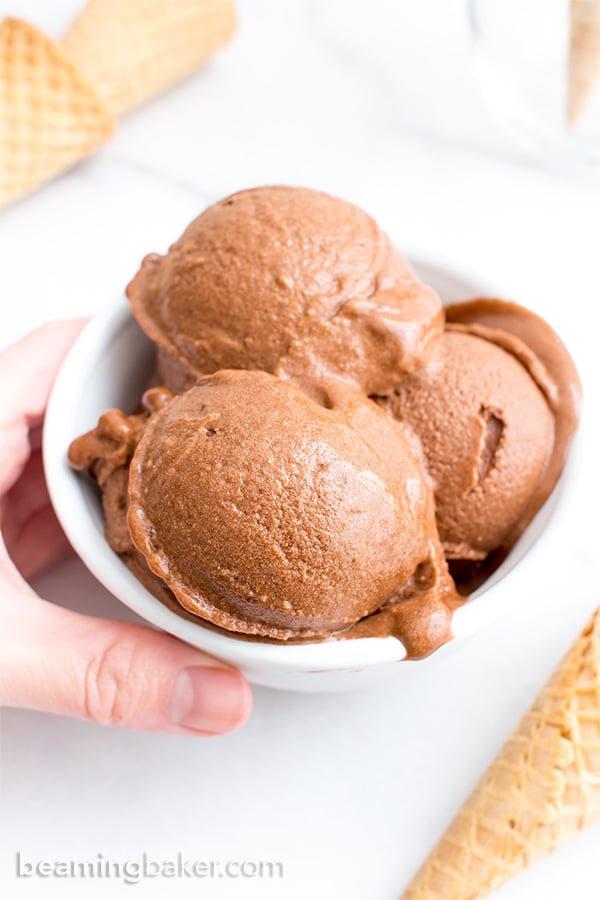 My Dark Chocolate Nice Cream is:
ridiculously easy to make
vegan, paleo, gluten free, dairy free
rich, dark and chocolate-y
made with just 4 ingredients
stays delicious for up to 1 week
satisfies the sweet tooth, guilt-free
allows you to change the Ice Cream song lyrics
So go ahead, sing it with me: I scream! You scream! We all scream for…. NICE CREAM!!! Get your ice cream cones ready, I'll meet you by the pool.
A few more delicious Paleo | Vegan | Dairy Free frozen treats, hand-picked just for you below:
☀︎ Click below to Pin ☀︎

☀︎ Did you make this recipe? Take a pic and share it on Instagram with the hashtag #beamingbaker and tag @beamingbaker. I would love to see it! ☀︎
SHOP THIS RECIPE
[amazon_link asins='B00939FV8K,B0083QJU72,B00004OCIW,B008J8MJIQ' template='BB-ProductCarousel' store='beamingbake0c-20′ marketplace='US' link_id='fff2ec89-68bc-11e7-b8d7-19ce0735a780′]
Here are a few items I used in today's recipe. 🙂
Food Processor | Blender | Maple Syrup

Dark Chocolate Nice Cream (Vegan, Paleo, Gluten Free, Dairy Free)
Dark Chocolate Nice Cream (V+GF): an easy, 4 ingredient recipe for velvety smooth, rich dark chocolate nice cream made of bananas, cocoa powder and maple syrup. Vegan, Paleo, Gluten Free, Dairy Free.
Author:
Demeter | Beaming Baker
Recipe type:
Ice Cream, Dessert, Vegan, Paleo, Gluten Free, Dairy Free
Ingredients
4 medium ripened bananas, sliced and frozen
1-2 tablespoons pure maple syrup
1 teaspoon pure vanilla extract
¼ cup unsweetened cocoa powder*
Instructions
Add bananas to a blender or food processor. Blend until bananas turn into a crumbly mixture.
Add maple syrup and vanilla. Blend until smooth and creamy, scraping down the sides of the blender as necessary. This will take a few minutes.
When you get a smooth, creamy mixture, it's time to add the cocoa powder. Add the cocoa powder and blend until well incorporated. Scrape down the sides of the blender as necessary.
If you like soft ice cream, enjoy immediately. If you want your ice cream firm and scoopable: pour into a freezer-friendly, airtight container. Freeze for 4-6 hours, or until completely frozen. Allow to thaw for 5-15 minutes before scooping. Enjoy!
Notes
-*If you prefer less dark, milkier chocolate nice cream, leave out 1 tablespoon of unsweetened cocoa powder
- Store in an airtight container in the freezer for up to 1 week. Before serving, allow to thaw for about 5-15 minutes. Scoop and enjoy!
- Other chocolate frozen/chilled desserts:
popsicles
,
smoothies
,
cookie dough cups
.
© beamingbaker.com. All content and images are protected by copyright. Please do not use my images without my permission. If you wish to republish this recipe, please re-write the entire recipe using your own words and include a link to this post for the recipe.
Toasted Coconut Chocolate Chip Nice Cream. Need I say more? Deliciously Paleo, Vegan, Gluten Free and Dairy-Free. 🙂
So many delicious frozen desserts, so little time. Try my Vegan Ice Cream Bars (V, Paleo, GF, DF). Just 8 simple ingredients to dessert bliss…
Sometimes ya just need a milkshake. Or two. 😉 Sip my Vegan Strawberry Coconut Milkshake and just wait for the good vibes to happen. Vegan, Gluten Free, Paleo, Dairy-Free.
What's your favorite frozen treat to enjoy over the summer?
I can't wait to hear your responses.
This post may contain affiliate links, which allow me to make a small commission for my referral, at no additional cost to you. Thank you for supporting Beaming Baker.
Facebook ☀︎ Pinterest  ☀︎ Twitter ☀︎ Instagram