Homemade Almond Joy Cups (Paleo, Vegan, Gluten Free, 5-Ingredient)
Homemade Almond Joy Cups (Paleo, V, GF): a 5-ingredient recipe for rich, nutty Almond Joy cups layered in velvety chocolate. Paleo, Vegan, Gluten-Free, Dairy-Free. Check out the nut-free version here.
Who loves Almond Joy? Go on, don't be shy, raise those hands up high! Who else just loves the combo of coconut, chocolate and almonds, regardless of it being in candy bar form?
Yep, I thought so. 😉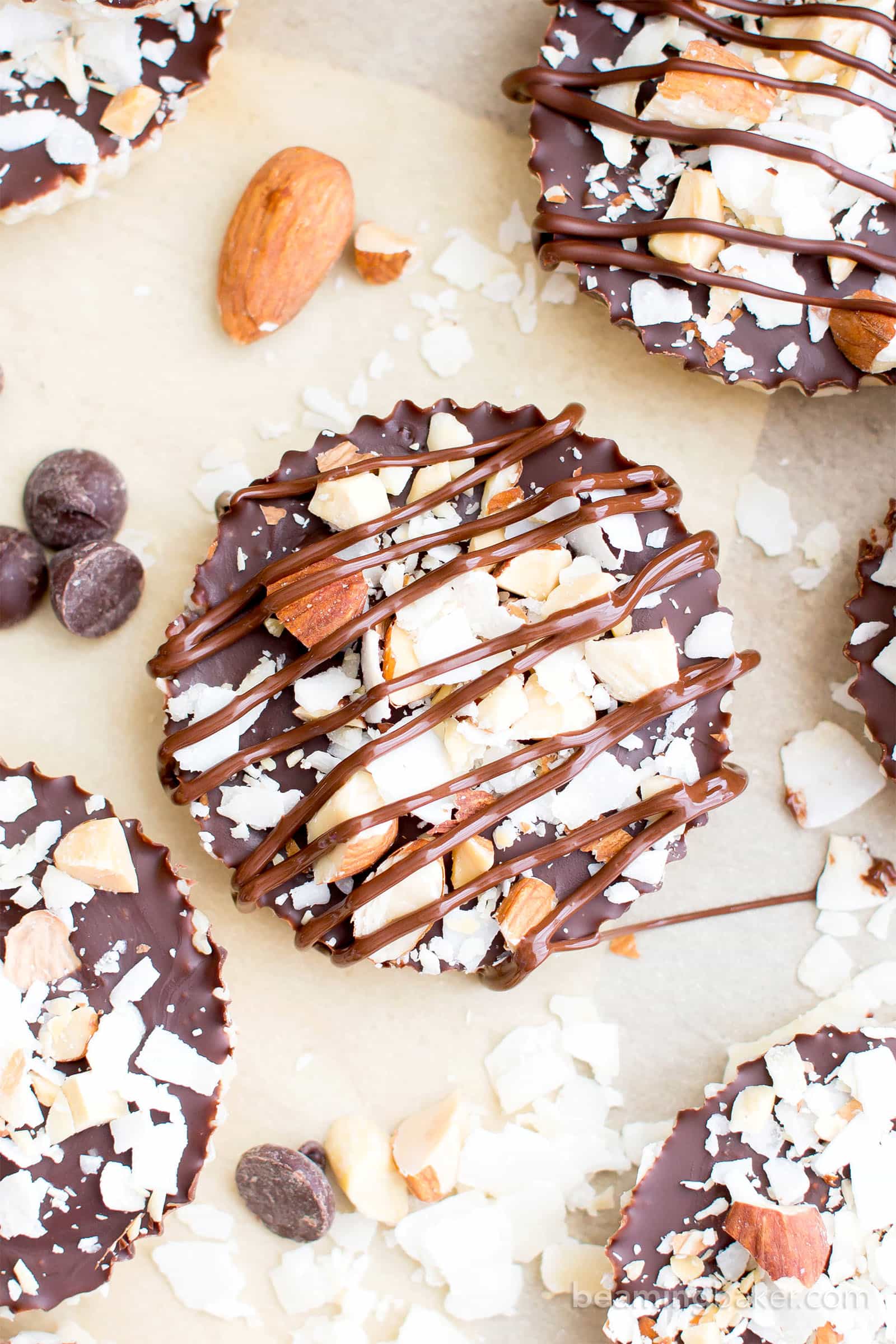 I'm BEYOND pleased to share the Almond Joy-remixed version of my chocolate coconut cups from last week! Here's the thing, this all started last Halloween when I shared my recipe for Paleo Almond Joy. Since those few short months ago, that recipe has become one of the most popular recipes on Beaming Baker.
Thereby proving one of Erik's theories: people LOVE Almond Joy anything. Since then, I've gone on to share exactly zero more Almond Joy recipes with you. Because I'm smart like that. *coughs*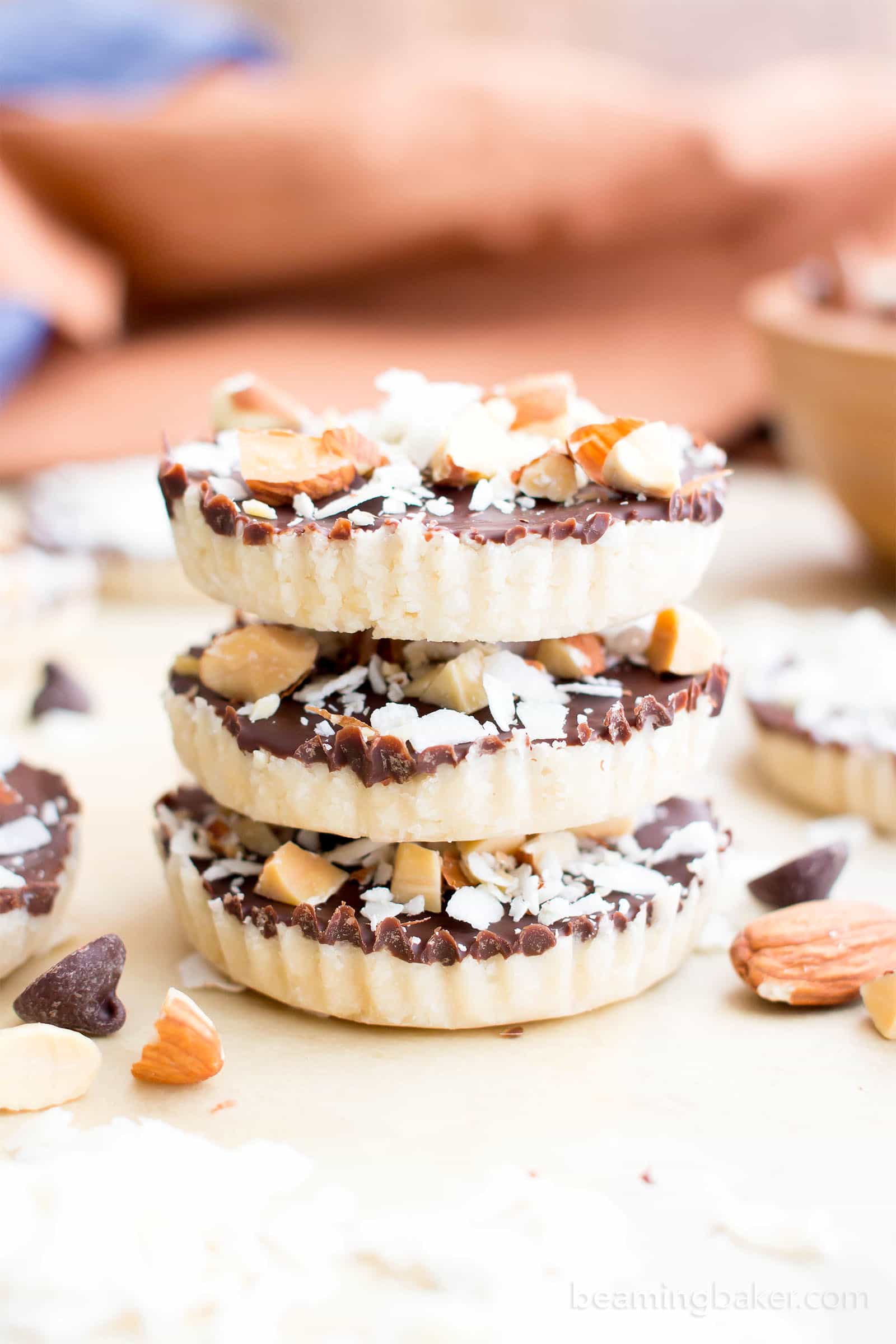 The thing is, I just wasn't sure how to go about another Almond Joy recipe! Should I start with Almond Joy brownies? Maybe go in a different direction with an Almond Joy smoothie? Perhaps go for an AJ cookie instead? The possibilities were, and still are, endless. Imagine, Almond Joy truffles…
But, I had another one of Erik's totally unsolicited pieces of advice echoing in my mind (he is so annoying sometimes… 😉 )… it goes something along the lines of: when in doubt, make a cup. And by cup, I mean, CANDY cup!!! Followed by vigorous eyebrow raises and a few exaggerated elbow nudges. Oh, Erik…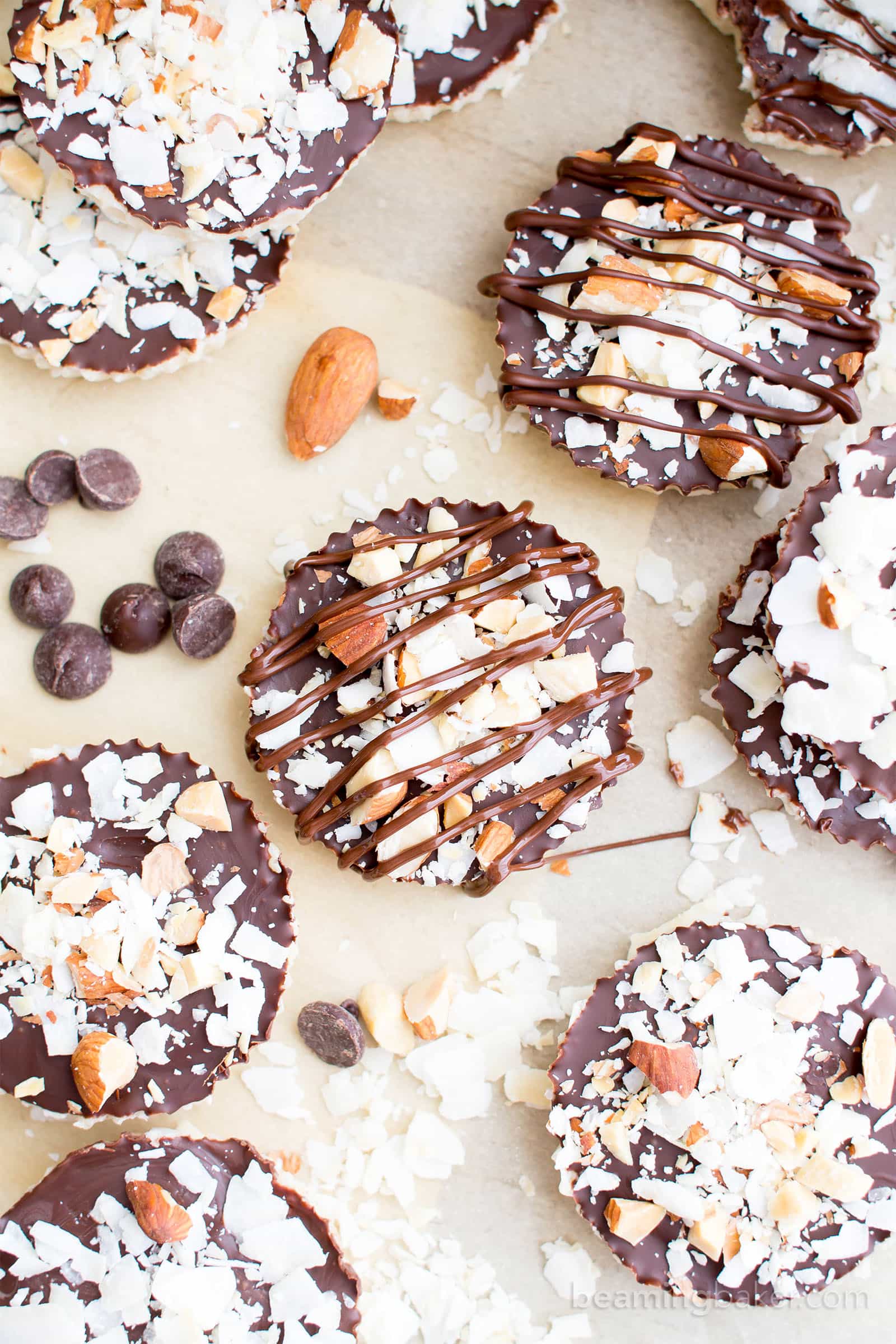 Guess what though? He was totally right! But don't tell him I said that. Ahem. These homemade Almond Joy cups were even more fun to make than my candy cups of days' past (peanut butter, almond butter fudge, cookie dough, to name a few).
To top it off, these had more coconut. And I mean, literally, topped off. 🙂 Alright, alright, enough with the corny "jokes." Something about eating/making/then eating more candy makes me wayyyy too energetic. I wonder what it could be… 😉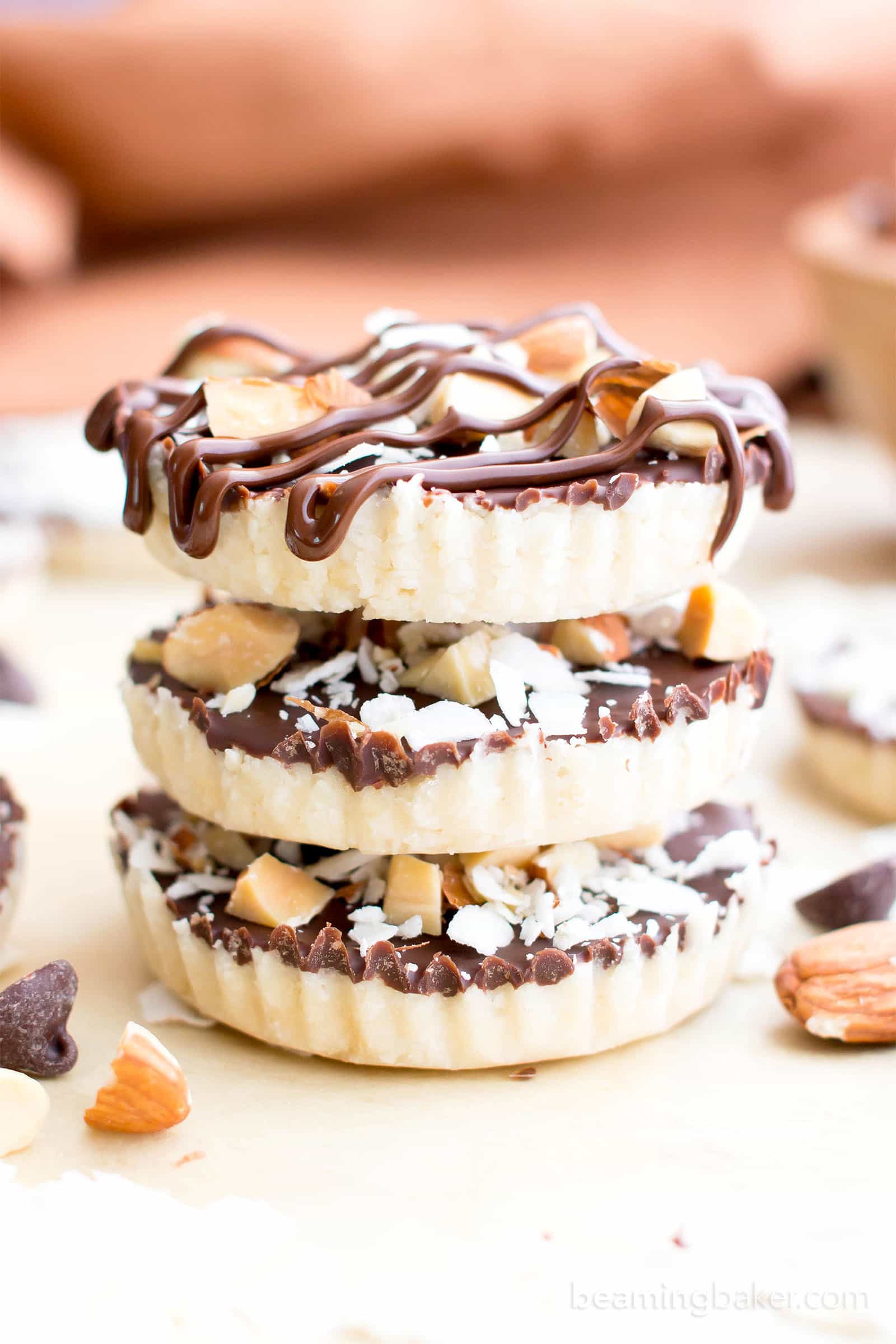 Now before I go off on a tangent even the pointiest of elbow nudges couldn't get me out of, allow me to tell you all about these Homemade Almond Joy Cups. They're:
scrumptiously crispy, chewy and crunchy
packed with just the right amount of your favorites: coconut, almond and chocolate
made with just 5 simple ingredients
vegan, gluten-free, dairy-free, and paleo
delicately sweet, perfectly satisfying
plant-based and allergy-friendly
so good, you'll be walking around thinking about what else you could make in cup form afterward…
So are ya ready to get your cup on? Grab your 5 ingredients, your biggest Almond Joy-craving-induced appetite and meet me in the kitchen! It's time to go Willy Wonka up in this piece (excluding all of the mysterious incidents, of course). I can't wait to hear what you think of this recipe! In the meantime, tell me:
What's your favorite way to enjoy candy?
As is, in candy form
As a milkshake
As ice cream
________________?
Sending you all my love and maybe even a dove, xo Demeter ❤️
☀︎ Click below to Pin ☀︎

☀︎ Did you make this recipe? Take a pic and share it on Instagram with the hashtag #beamingbaker and tag @beamingbaker. I would love to see it! ☀︎
Print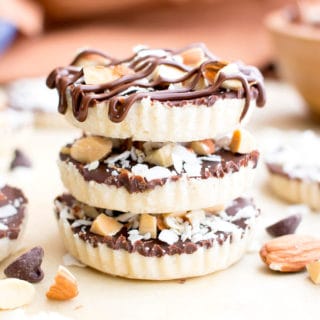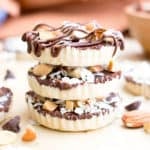 Homemade Almond Joy Cups (Paleo, Vegan, Gluten Free, 5-Ingredient)
---
Description
Homemade Almond Joy Cups (Paleo, V, GF): a 5-ingredient recipe for rich, nutty Almond Joy cups layered in velvety chocolate. Paleo, Vegan, Gluten-Free, Dairy-Free.
---
Coconut Cups
1 ½ cups

unsweetened coconut, shreds or flakes

¼ cup

coconut oil, solid or melted

2 tablespoons

pure maple syrup
Chocolate Layer
½ cup

vegan chocolate chips

½ teaspoon

coconut oil
Topping
2 tablespoons

unsweetened coconut, shreds or flakes

2 tablespoons

almonds, chopped
Chocolate Drizzle
2 tablespoons

vegan chocolate chips

¼ teaspoon

coconut oil
---
Instructions
Line a standard 12-muffin pan with cupcake liners. Set aside for later.
Make the Coconut Cups: Add Coconut Cups ingredients to a blender or food processor. Blend until you get a wet and sticky dough-like mixture, with smaller, but still noticeable coconut pieces.
Scoop about 1 tablespoon of coconut mixture into each muffin cup. Press down and smooth until you get an even, tightly-packed layer. Coconut mixture will be sticky.* Set aside.
Make the Chocolate Layer: Add Chocolate Layer ingredients to a medium, microwave-safe bowl. Heat in the microwave in 20-second increments until melted. Stir in between heating, until smooth. Scoop and drop 1 teaspoon of melted chocolate onto each cup. Using a small spoon, spread chocolate into an even layer. Tap the pan a few times to even out the chocolate.
Add Topping ingredients to a small bowl and stir until mixed. Sprinkle 1 teaspoon onto each cup. Set aside.
Make the Chocolate Drizzle: add Chocolate Drizzle ingredients to the bowl of leftover melted chocolate. Heat in 20-second increments in the microwave until just softened. Stir until smooth. Pour melted chocolate into a zip bag and trim off a very small tip. Drizzle all cups.
Place muffin pan into the freezer for 10-15 minutes. Thaw for 10-15 minutes before serving. Enjoy! Storing instructions below.
Category:

Candy, No Bake, Vegan, Paleo, Gluten-Free, Dairy-Free
© beamingbaker.com. All content and images are protected by copyright. Please do not use my images or recipe without my permission. If you wish to republish this recipe, please re-write the entire recipe using your own words and include a link to this post for the recipe.
If you love these Homemade Almond Joy Cups, then you'll enjoy these gluten free vegan recipes…
☀ Paleo + Vegan Candy Recipes
Paleo Almond Joy (Vegan, Gluten-Free, Dairy-Free, Paleo, 5 Ingredient)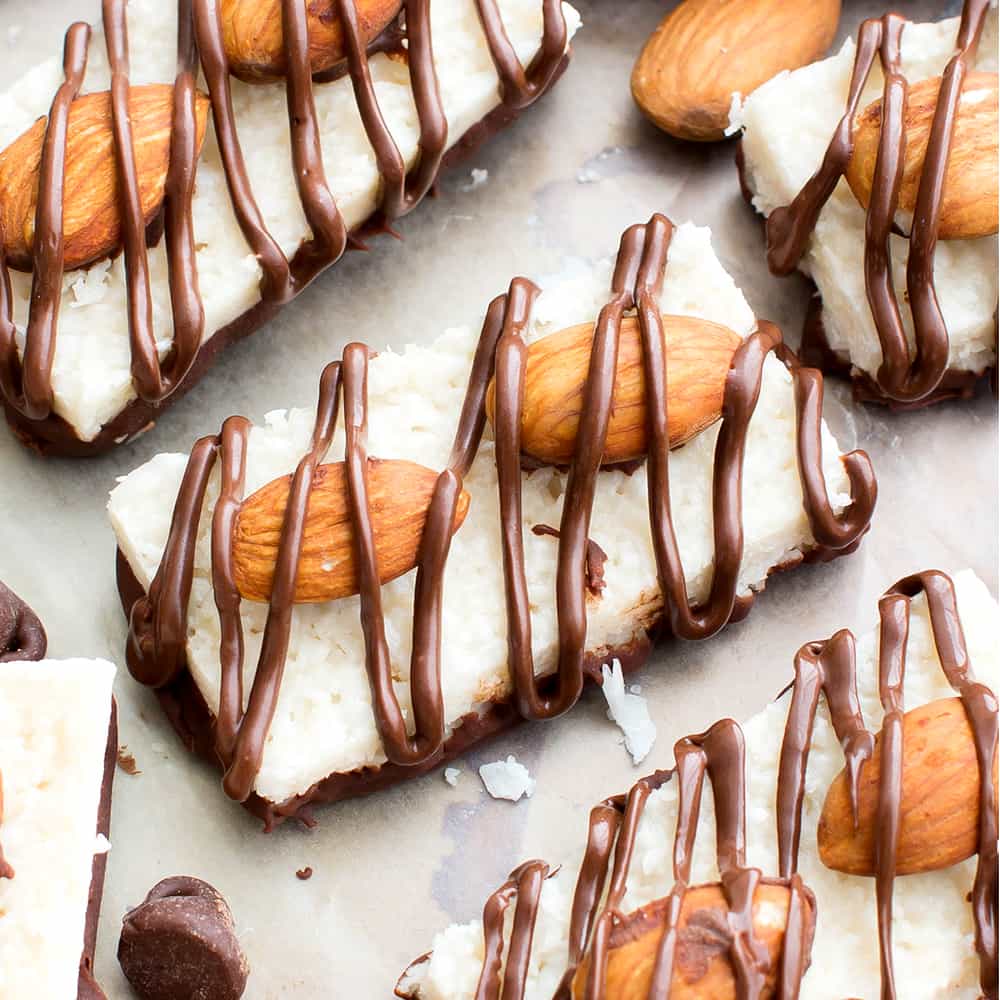 Chocolate Coconut Truffles (Vegan, Gluten-Free, Dairy-Free, Paleo, 4 Ingredient)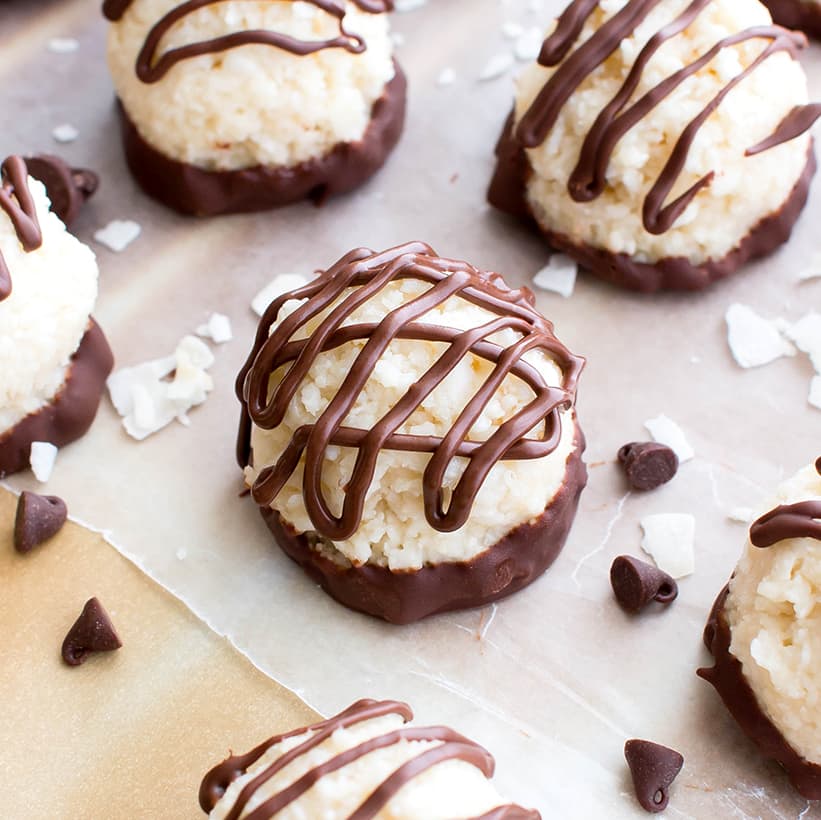 Paleo Chocolate Almond Butter Fudge Cups (Vegan, Gluten-Free, Dairy-Free, Paleo, 3 Ingredient)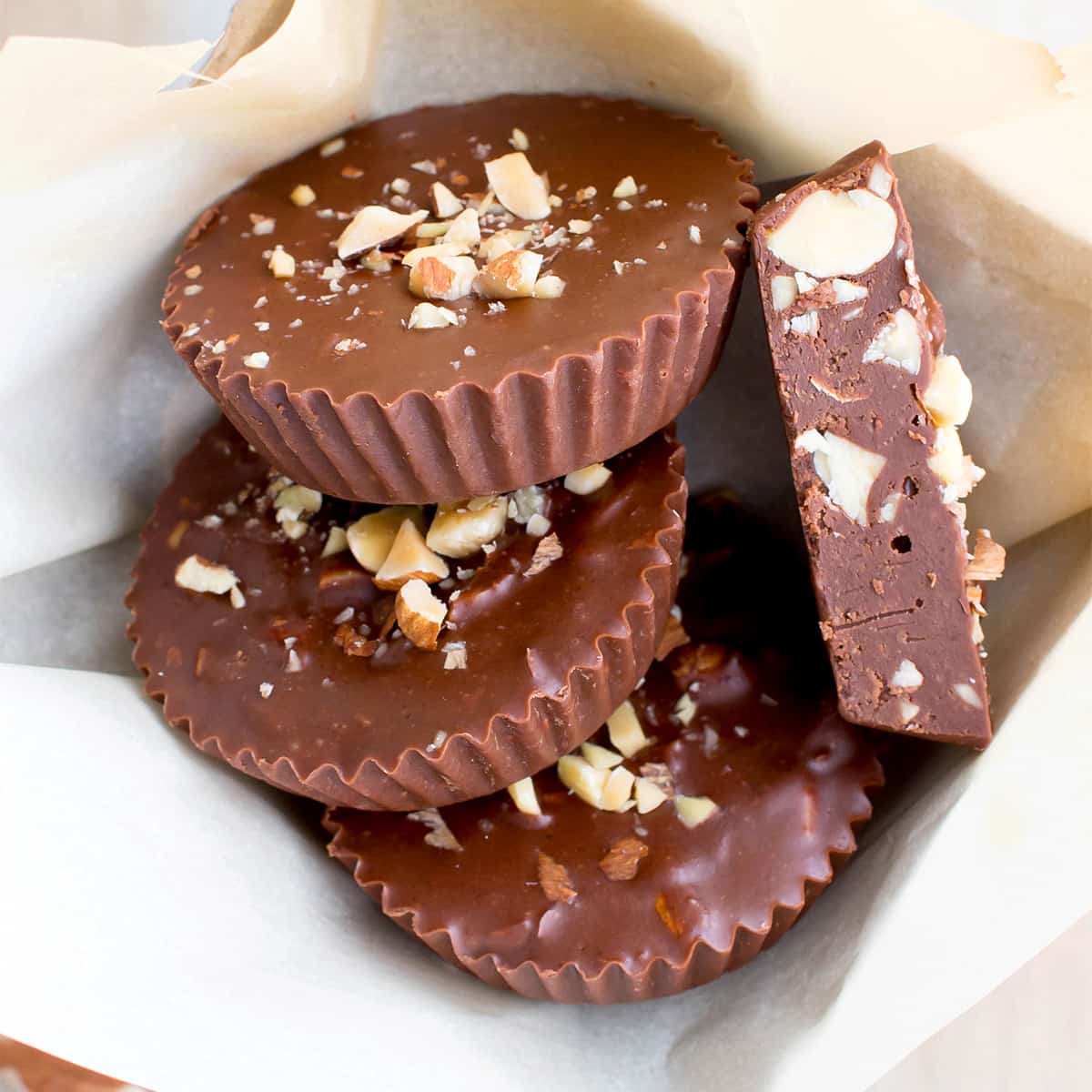 ☀ More Chocolate Candy recipes
4 Ingredient Chocolate Coconut Cups (Paleo, V, GF, DF)
Paleo Almond Butter Cups (Paleo, V, GF, DF)
Chocolate Chip Cookie Dough Truffles (V, GF, DF)
Facebook ☀︎ Pinterest  ☀︎ Twitter ☀︎ Instagram