Chocolate Chip Walnut Cookie Bars (Vegan, Gluten Free)
Chocolate Chip Walnut Cookie Bars: a simple vegan and gluten-free recipe for thick, chewy, super-chunky chocolate chip cookie bars.
Okay, can I see a show of hands for people who love the warm, comforting smell of cinnamon, maple syrup and chocolate all beautifully mixed together?
'Cuz… if I could bottle this scent and carry it around with me in my purse, I would. ?
But you know, only for the really rough times. Like, for when your coworker/frenemy passive aggressively tells you your outfit is actually cute today. Or, when you realize you left the extra-special 7-layer birthday lasagna in the oven 30 minutes too long. (Well, in this case, you'd probably need to air out the kitchen first before you could smell anything but smoke…) Or, when–oh, you get the idea.
Are you sensing that baking/eating/fooding is therapeutic to me? (Yep, fooding.) Woah, did I just sense a nod of mutual agreement on your end? A-ha! I'm not the only one. 🙂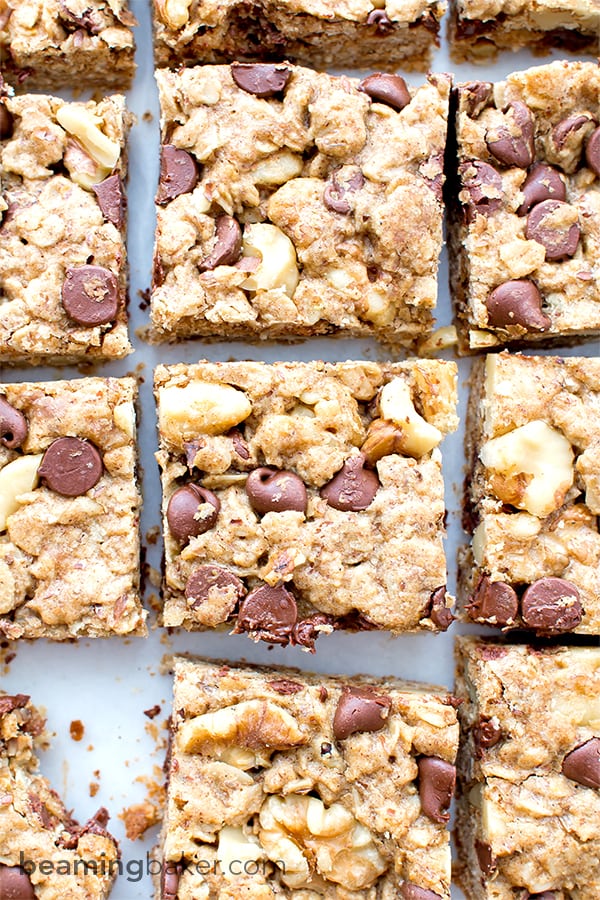 Just one whiff of this worry-melting aroma and you're happy as a clam. That's what these Chocolate Chip Walnut Cookie Bars are all about. Once you pop these guys in the oven, the baking process just spreads this blissful scent all throughout your abode.
Bonus? They're incredibly easy to make, full of simple ingredients and sweet-tooth nourishing. Yep, nourishing. P.S. If you're looking for a sugar-free cookie bar, try this totally droolworthy Magic Cookie Bars recipe from All Day I Dream About Food. To make then vegan, use vegan butter, vegan chocolate chips and coconut condensed milk. And enjoy!
Check it out, these Chocolate Chip Walnut Cookie Bars are…
quick and easy to make
super chunky, with generous portions of walnuts and chocolate chips
vegan and gluten free
perfectly sweet, with a light cinnamon kick
thick, chewy and deliciously satisfying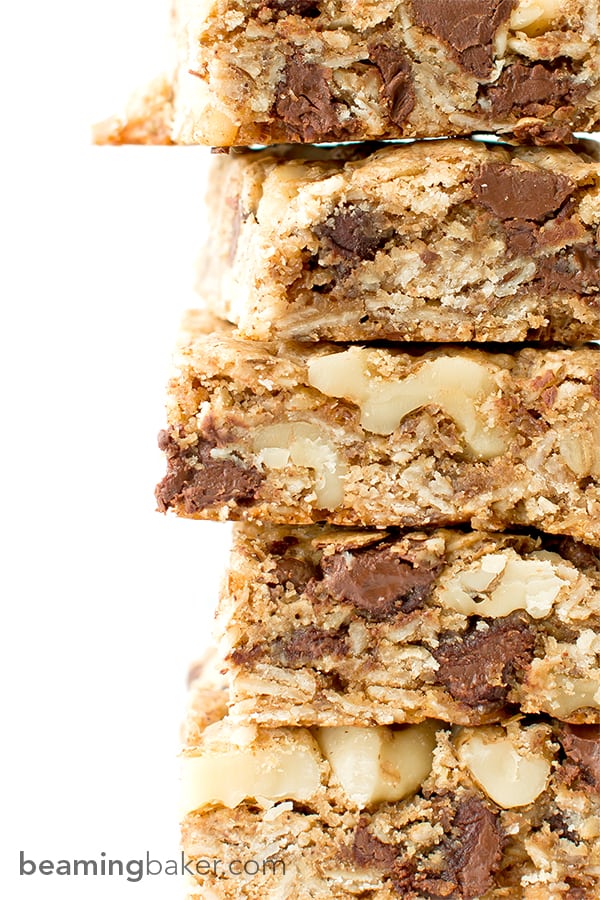 The best part is, this recipe and I go waaay back. It was one of the first recipes I ever tried that was made from better ingredients (i.e., not ingredients referred to as Those That Shall Not Be Named). Back then, I was putting all my efforts into making something healthier for my mom and just trying to figure out the difference between good calories and bad calories. *Sigh* Cue The Barbra belting out "Memories… like (light?!?) the corners of my mind!!!!" 
Anyway, years later, I'm a little less clueless about the whole Good vs. Bad ingredients business, and this recipe still kicks butt. At least according to my mom.
So before you even think about figuring out how to bottle this scent, make these Chocolate Chip Walnut Cookie Bars first. Don't worry, we can figure out the scent as a team (and sing like it's the last thing we'll do on this earth). After all, us weirdos have got to stick together! 😉
In the meantime, let's make some more gluten free treats! I'm particularly drooling over these Gluten Free Sugar Cookie Bars from Flippin' Delicious. They look soooo yummy and my friend Brianna (the genius blogger behind Flippin' Delicious) even included vegan options in the recipe! Woohoo! Next up, I'm gonna be making my Gluten Free Vegan Oatmeal Chocolate Chip Cookies and my Easy Vegan Peanut Butter Cookies. 🙂

More Gluten Free Vegan Cookies & Desserts:  Best Moist Chocolate Chip Banana Bread Recipe, Almond Butter Oatmeal Chocolate Chip Cookies, Easy Gluten Free Peanut Butter Chocolate Chip Oatmeal Cookies.
Print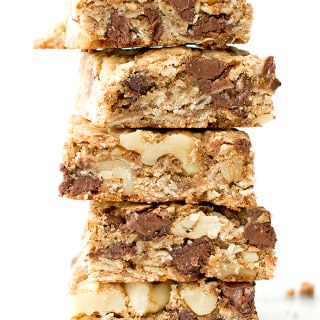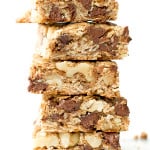 chocolate chip walnut cookie bars – vegan, gluten-free
---
Description
Chocolate Chip Walnut Cookie Bars: a simple vegan and gluten-free recipe for the deliciously chewy, super-chunky chocolate chip cookie bars.
---
Wet Ingredients
2 tablespoons

melted coconut oil

3 tablespoons

unsalted, natural nut butter

1/3 cup

pure maple syrup

3 tablespoons

dark brown sugar

1 teaspoon

pure vanilla extract
Dry Ingredients
1 cup

gluten-free rolled oats

¼ cup

gluten-free oat flour

2 tablespoons

ground flax

1 teaspoon

ground cinnamon

¾ cup

chopped walnuts

¼ teaspoon

salt
Add-in Ingredients
1/3 cup

vegan chocolate chips
---
Instructions
Preheat oven to 350°F. Line an 8×8 pan with parchment paper or greased foil. Set aside.
In a medium bowl, whisk together the wet ingredients: coconut oil, nut butter, maple syrup, sugar and vanilla.
In a large bowl, whisk together all of the dry ingredients: oats, flour, flax, cinnamon, walnuts and salt.
Pour the wet mixture over the dry mixture. Stir together until well-incorporated. I like to fold the mixture together with a rubber spatula. Fold in chocolate chips.
Pour this mixture into your baking pan. Using a rubber spatula, spread into an even layer.
Bake for 10-15 minutes. Keep in mind that the bars will harden as they cool.
Allow to cool on a cooling rack. Slice into 16 bars. Enjoy!
Notes
– Store in an airtight container for 1-2 weeks.
– You can easily swap out the nuts for another ingredient, like cacao nibs or dried fruit. 🙂
– Adapted from Oh She Glows.
Prep Time:

1 min

Cook Time:

14 mins

Category:

dessert, cookies
© beamingbaker.com. All content and images are protected by copyright. Please do not use my images without my permission. If you wish to republish this recipe, please re-write the entire recipe using your own words and include a link to this post for the recipe.
Try my Healthier Vegan Chocolate Chip Cookies. I mean, can you really resist these?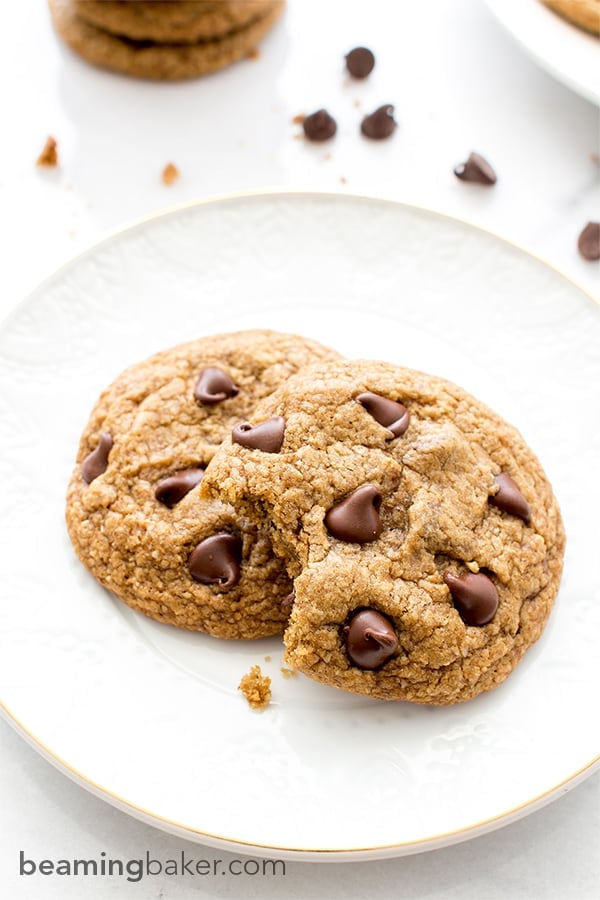 And for my fellow chocoholics out there, try my Double Chocolate Chip Coconut Cookies (Vegan) They're out of this world. ? ?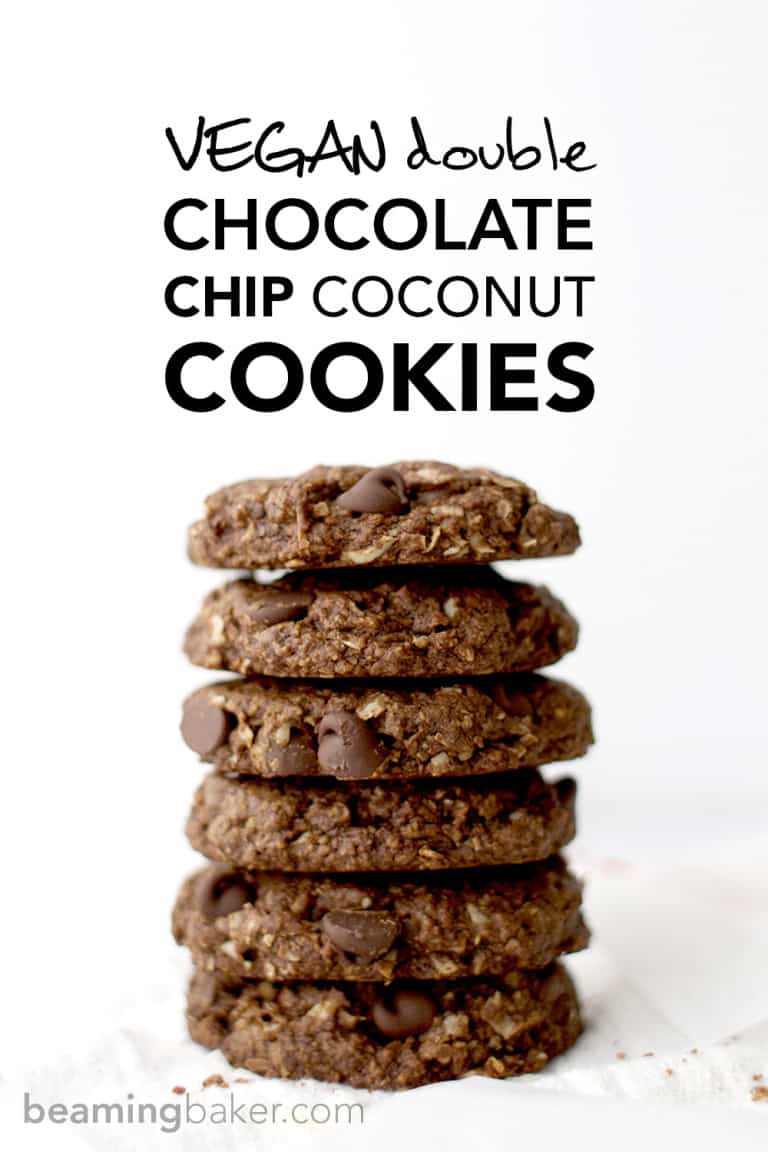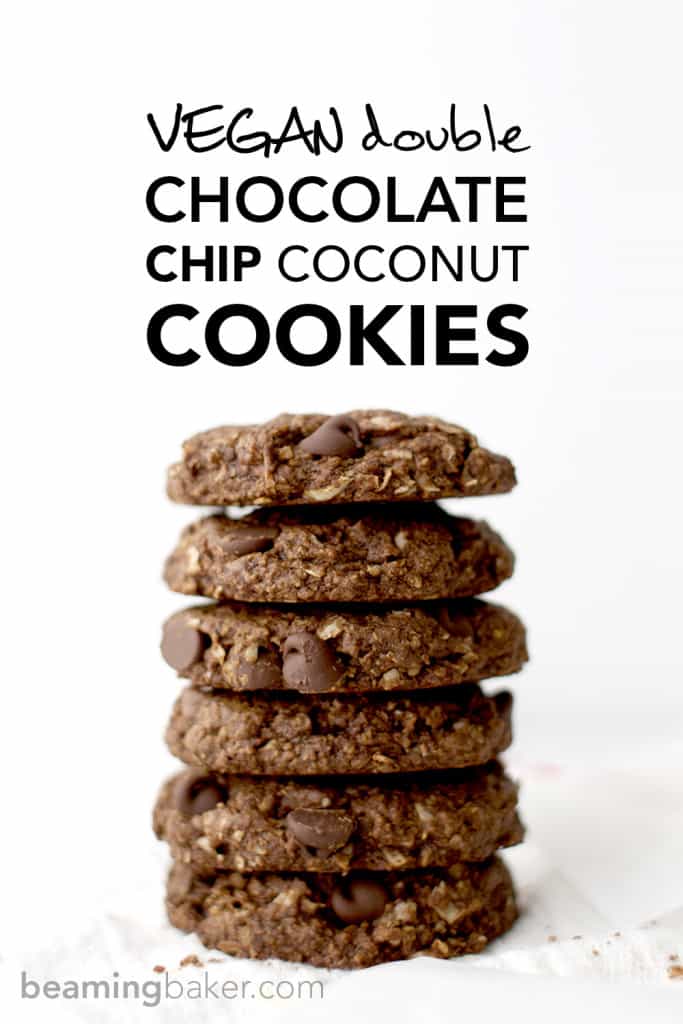 Question of the Day
What's your favorite kitchen scent?
I can't wait to hear your responses. ❤ demeter