Rich, chewy & indulgent Double Chocolate Chip Coconut Cookies – a simple, vegan, gluten-free recipe for twice the chocolate plus coconut oil, coconut sugar and coconut shreds! Dairy-Free.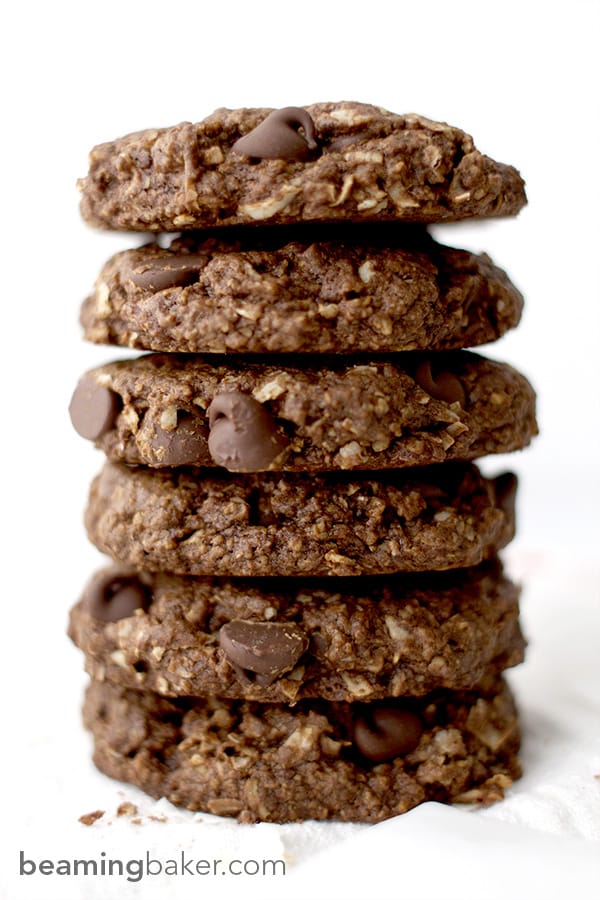 How many cookies do you think could solve the world's problems? Maybe, like two. And one of them is these double chocolate chip coconut cookies.
Okaaaaaaay, these cookies probably won't solve the world's problems, but they'll definitely help you forget about them.
But, how long will this world-problem-forgetting euphoria last?
Well, about as long as it takes to eat this cookie. And, well, daydream about the day when you can eat them again.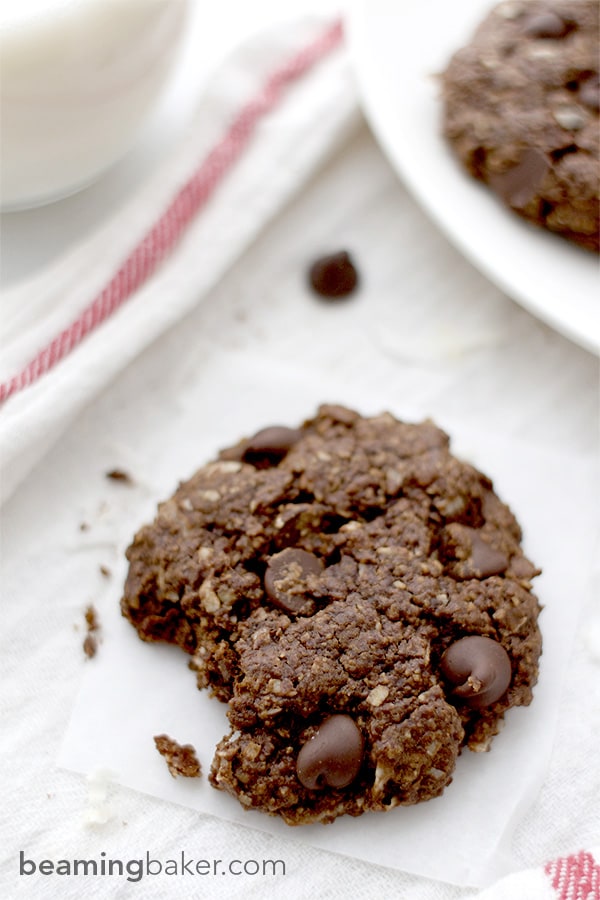 Yup, these are those kind of cookies. When you're super stressed out, feeling hopeless or just annoyed by all the things, these double chocolate chip coconut cookies will make it all better.
At least for as long as you eat them, of course. 😉
These cookies are wonderful in so many ways. Shall we count? They're:
rich and indulgent, just bursting with chocolate goodness
made of simple ingredients:

such as oat flour, cocoa and ground flax

full of coconut awesomeness:

coconut flakes, coconut oil and coconut sugar (yum!)

crispy on the outside and chewy, chocolate-melty on the inside
world-problem erasing (temporarily, of course)
easy to make!
I could keep counting the ways, but then you'd have to get Cookie and me a room. Um…
So here's how my love double chocolate chip coconut cookies got started: I was having a wretched day and Erik was feeling a bit catty. Men… What can I say?
Side note, I was also totally drooling over these double chocolate chip cookies from Veggie Balance. Don't they look fab? 😉 And while I'm at it, I've got to mention Meaningful Eats' Almond Flour Chocolate Chip Cookies. They're grain-free and gluten-free. Just sub eggs with flax eggs and use dairy-free butter to make them vegan.
Anyway, we both immediately called for a summit on How to Fix Our Generally Sour Dispositions. And the answer was immediate and obvious:
COOKIES.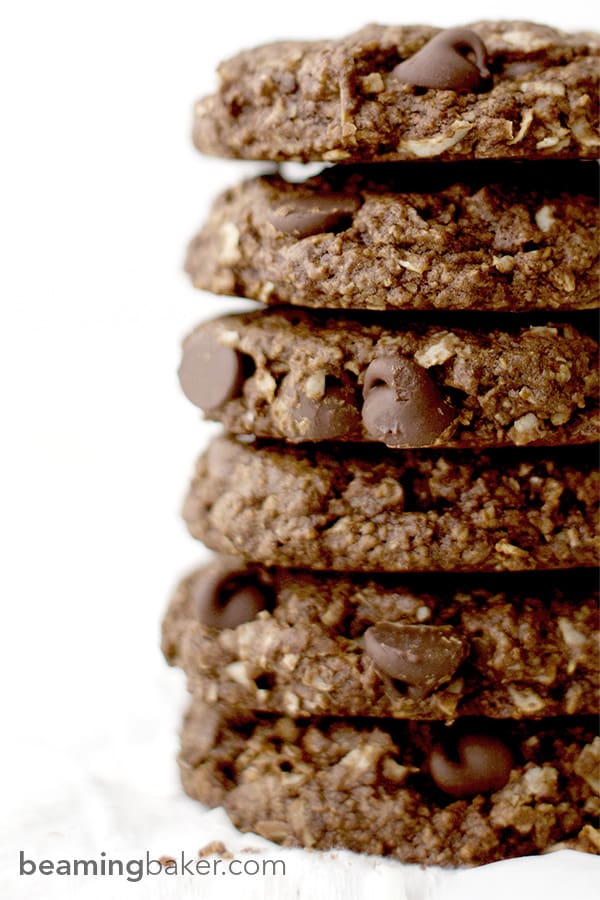 Honestly, when is the solution on How to Fix Our General Sour Dispositions not cookies? Duh, right?
But as per usual, we didn't want to fall back on our old bad habits of just ordering like 10 pizzas and/or at least enough Chinese food to feed a small village–okaaaaay, a large village. So making super-junky cookies (even though they don't even look like 10 pizzas or 15 Chinese dishes) was not gonna be the answer.
So I thumbed through my cookbooks, made some pretty big stinkers, and decided: to heck with it! Today is not the day to be restrained by any ol' stinkin' cookbook. Yes, I go all cowboy when I get sassy. Or should I say brassy?
Enter: the cookie that I threw wildly together based on much brassy supposition and even wilder guesswork.
But, it worked.
The cookies were amazing.
And we both felt so much better.
Sometimes, a bad day is the best thing that can happen to you. You are literally so annoyed/peeved/whatever that you don't have your sensible rationalizations holding you back. Amiriiiiight?
Right.
Go on, make these double chocolate chip coconut cookies and forget your problems/the world's problems. And most importantly…
Always remember to get brassy.

Delicious Gluten Free Vegan Cookies (all GF, V, Dairy-Free, Refined Sugar-Free)
Print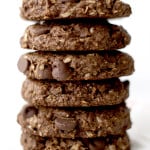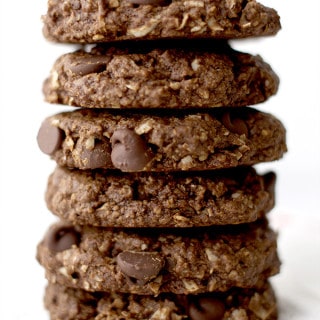 double chocolate chip coconut cookies (vegan, gluten-free)
---
Author:

Demeter | Beaming Baker

Prep Time:

5 mins

Cook Time:

10 mins

Total Time:

15 mins

Yield:

20

cookies (2-tablespoons each)

1

x
Description
Rich, chewy & indulgent Double Chocolate Chip Coconut Cookies – a simple, vegan recipe for twice the chocolate plus coconut oil, coconut sugar and coconut shreds!
---
Scale
Ingredients
Dry Ingredients
1 cup

unsweetened, shredded coconut

1 ¼ cup

s gluten-free oat flour

1/3 cup

unsweetened cocoa powder

¼ teaspoon

baking soda

¼ teaspoon

baking powder

¼ teaspoon

salt
Wet Ingredients
¼ cup

vegan chocolate chips (for melting, more later)

¼ cup

coconut oil

2

flax eggs (whisk together

2 tablespoon

s ground flax +

6 tablespoon

s warm water, let set for 15 mins)

¾ cup

coconut sugar

1 teaspoon

vanilla extract
Topping
¾ cup

vegan chocolate chips
---
Instructions
Preheat oven to 325°F. Line a cookie sheet with parchment paper or greased foil.
In a medium bowl, whisk together dry ingredients: coconut, flour, cocoa powder, baking soda, baking powder and salt.
Melt the chocolate: In a small saucepan over low heat, add ¼ cup chocolate chips and coconut oil. Stir chocolate chips until just slightly softened and coconut oil is melted. Quickly remove from heat and stir until completely melted and smooth. Set aside.

Alternative chocolate-melting method (microwave): If you'd like to use a microwave, add ¼ cup chocolate chips and coconut oil into a microwave-safe bowl. Heat in 20 second increments, stirring in between, until the coconut oil and chocolate chips are melted. Watch it closely to ensure that it doesn't burn. Stir until smooth and set aside.

Make the cookie dough: In a large mixing bowl, whisk together melted chocolate mixture, flax eggs, sugar and extract. In thirds, whisk in dry ingredients. When the dough is harder to mix, use a rubber spatula to fold until well-incorporated. Fold in ¾ cup chocolate chips.
Scoop 2 tablespoons of cookie dough into your hand and roll into a ball. Make sure the ball is smooth and round, like a sphere–this will ensure that the cookies bake up nice and round.
Place these balls evenly spaced apart on the prepared cookie sheet. Flatten slightly.
Bake the cookies: Bake for 8-10 minutes. The cookies are done when they're slightly soft in the center, but have a firm bottom.
Using a flat spatula, carefully lift cookies off the baking sheet and place on a cooling rack. Allow to cool. Enjoy!
---
Notes
– Store in an airtight container for up to 2 weeks.
– You can easily double the recipe to make more cookies.
Recipe Card powered by
© beamingbaker.com. All content and images are protected by copyright. Please do not use my images without my permission. If you wish to republish this recipe, please re-write the entire recipe using your own words and include a link to this post for the recipe.
If you're feeling PB Lovin' brassy, make my problem-dissolving Peanut Butter Coconut Cookies (Vegan).
Questions of the Day
What do you do when you're feeling grumpy?
What are your favorite feel-good-right-now recipes?
I can't wait to hear your responses. <3, demeter