Best Moist Chocolate Chip Banana Bread Recipe (Vegan, Gluten-Free, One Bowl)
Best Moist Chocolate Chip Banana Bread Recipe (V, GF): a one bowl recipe for deliciously moist banana bread bursting with chocolate and made with healthy, whole ingredients. Vegan, Gluten-Free, Dairy-Free, Healthy.
The last time I shared a bread recipe post that really touched people in an emotional way was Vegan Chocolate Banana Nut Bread. I think about that post from time to time when I'm getting down about myself and know that things need to change. My attitude, my outlook, my whole way of looking at things… needs to change.
It should be as simple as turning that frown upside down, right?
But it isn't. Sometimes I think about the reasons why I started this blog. And it always starts with one point: my mom. She's been my guiding light, my inspiration, my drive, my heart for more years than I can count. Okay… since I was born. There, that was easy. Beaming Baker always starts with my mom.
The biggest and most important thing she ever taught me was to be kind—to be open—to people, to possibilities, to vulnerability. Things weren't always roses growing up. I had another influence in my life that tried to impress upon me the complete opposite thing. And was very, very hard on all of us kids. I don't talk about this person very often and I still choose not to.
Why? Because we're gonna keep it positive here, but we're also gonna keep it honest. To speak more about this person would be to give him the space and power that I don't want or need in my life. I choose to focus on what my mom taught me–openness, positivity and love.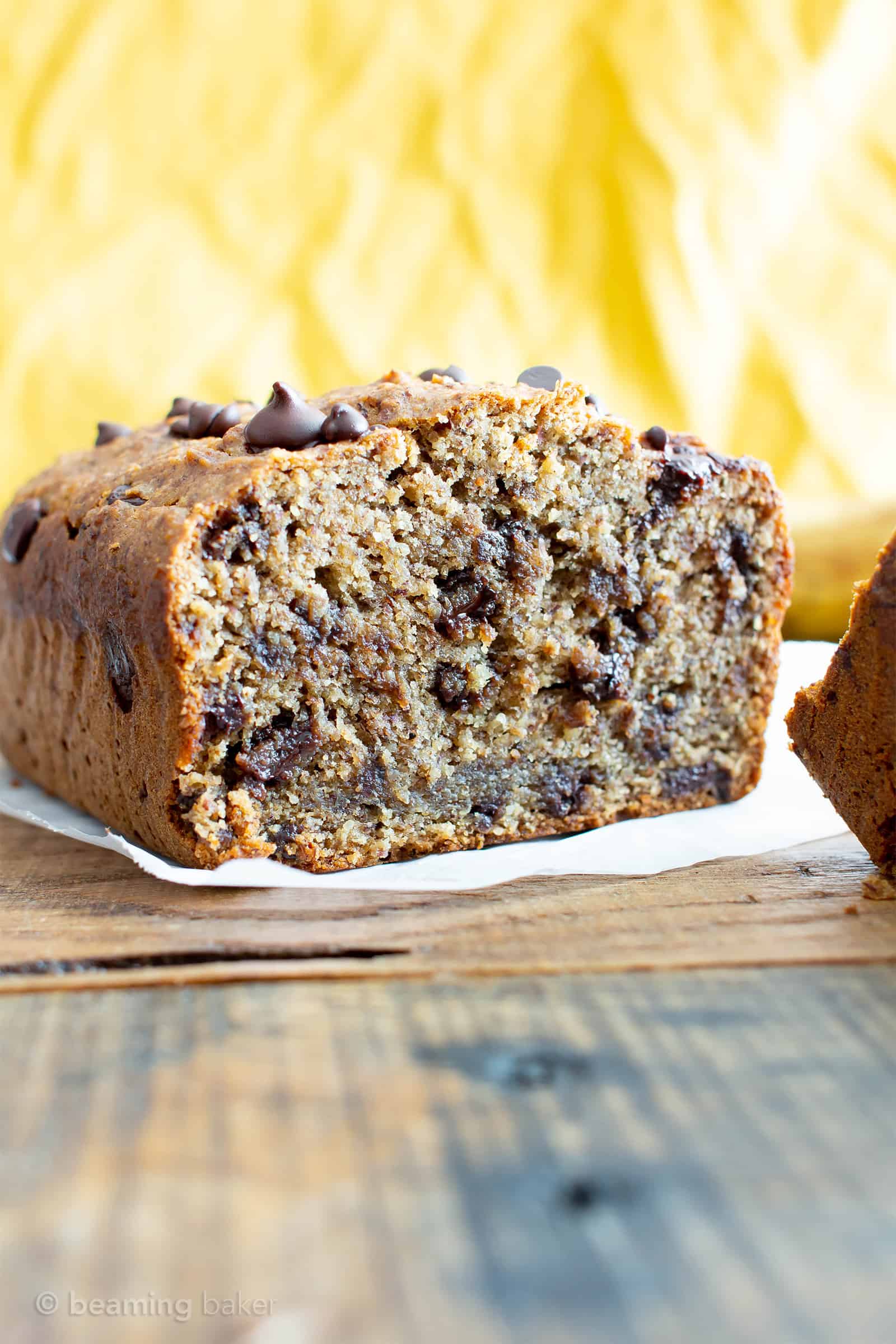 I am always open with you and I always try my darnedest to share in my experiences—in hopes that you will, too.
This blog is not just about baking; it's about life. It's about the connections we have with each other.
When I started working on this recipe for moist banana bread, I flashed back to that day in the banana nut bread post, when I dropped the entire tray of perfect muffins (which I confusingly allude to in the post for bread—I know, I know). What led to that day and how I reacted? Why did I get so upset? And why did I push so hard for perfection?
Why did I punish myself for making a simple mistake?
And right in that moment, as I chose to take a mental break from it all—the baking, the expectations, the constant disappointment from that person—I decided to check my email.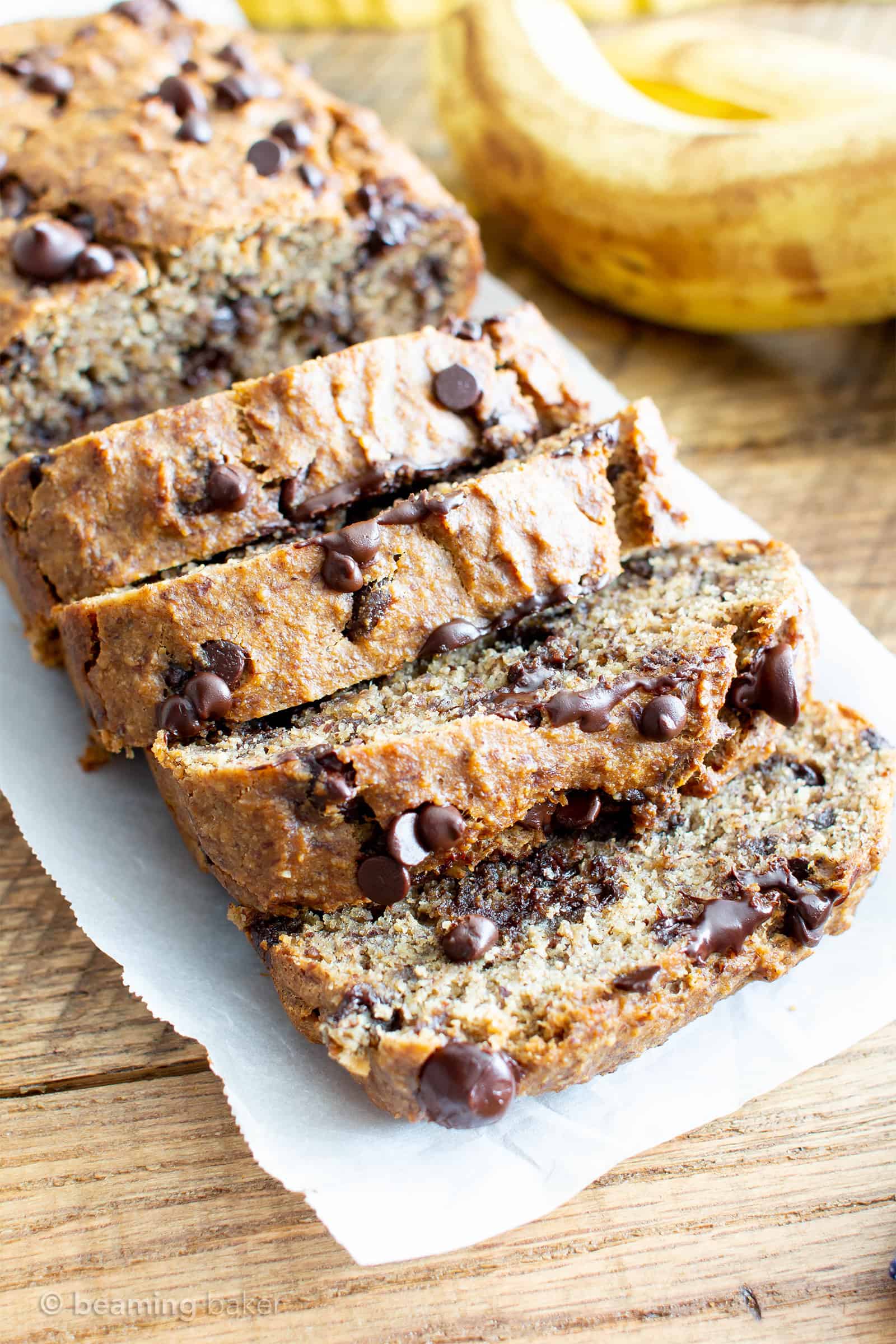 There in my inbox was an email from a reader. One that told me that I was too wordy, I should just "GET TO THE POINT" and stop "blabbing" on and on about my "nonsense." There were comments along the lines of "no one cares about your stories," "why are you wasting my time", and "really, no one gives a crap about your mom, so stop rambling on about her."
That really hurt me. That really shook me and it felt like the final straw in a long line of crappiness that day. Growing up with the constant disappointment of someone you care so much about, you're always the first to be disappointed in yourself. You know other peoples' harsh criticisms before they're even lobbed your way.
You know what you're doing wrong before anyone even utters a word.
I had been taught by that negative influence in my life that I didn't matter. That I should stop rambling on and on. That I only mattered in the ways that could benefit him. And if I didn't live up to his expectations and live my life the way he wanted me to, then I was a disappointment.
Seeing that email (and many others from that point on) made me question myself and my sense of self worth. What was I doing right? Was I "performing" and behaving in a way that pleased people? Did I write and shoot and present recipes in a way that was perfect for every single person on this planet?
Does that even matter?
I know the answer to this one. It doesn't. I can't please everyone in the entire goshdarn world. I can only live my life and be who I choose to be. I've come too far to live at the mercy of some other person's opinions and ideas of who I should be.
From the first point of Beaming Baker to the very last, I want this for you, for all of us: openness. Love, acceptance.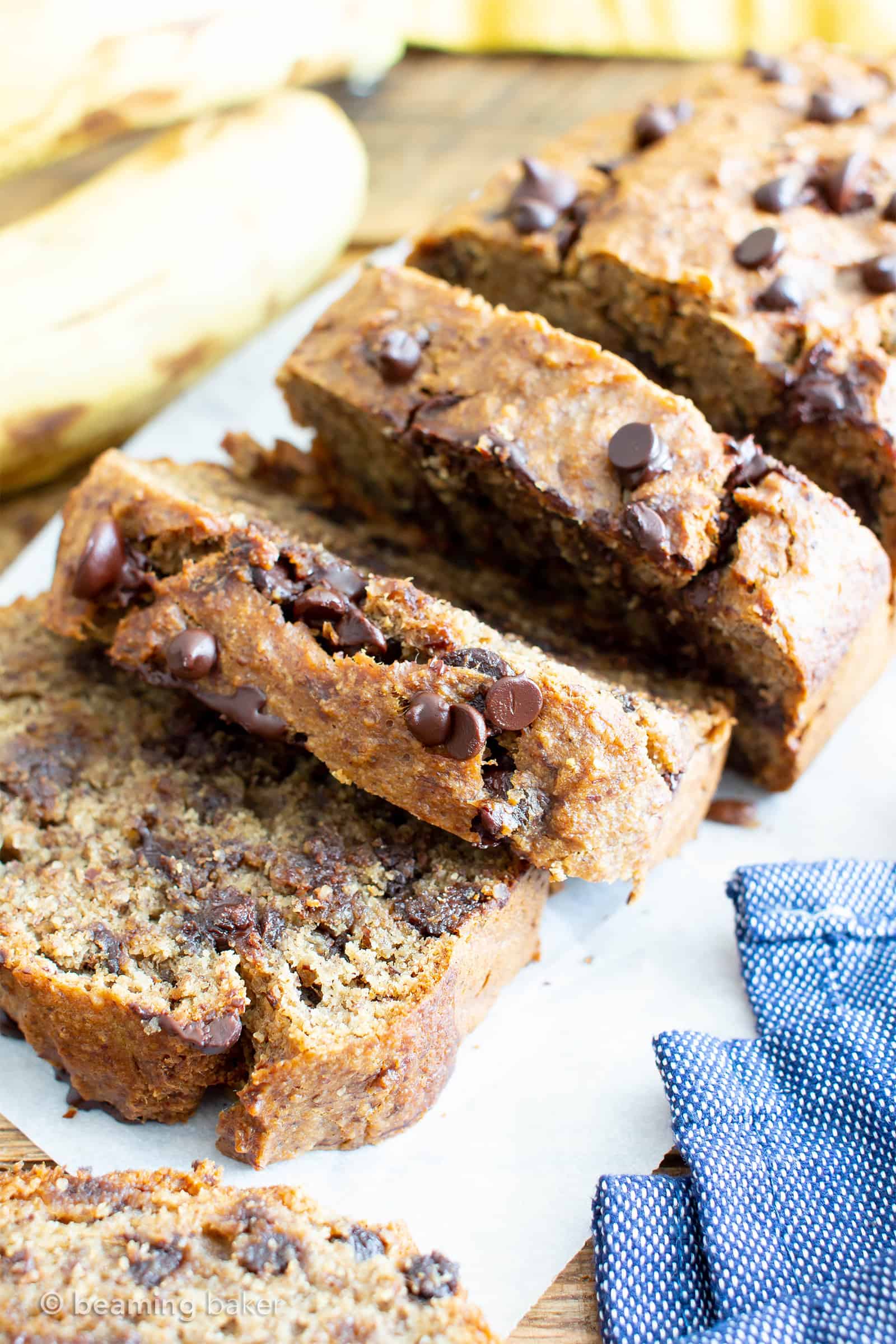 This is what the Beaming Baker community is about. We're here to support each other, bolster each other, and tell each other that all of our stories are important. I'll say it again, because it needs repeating:
This blog is not just about baking; it's about life. It's about the connections we have with each other and the lives that we share.
We may not be on the same continent, we make not have the same friends, but we are here, doing this baking and LIFE thing, together.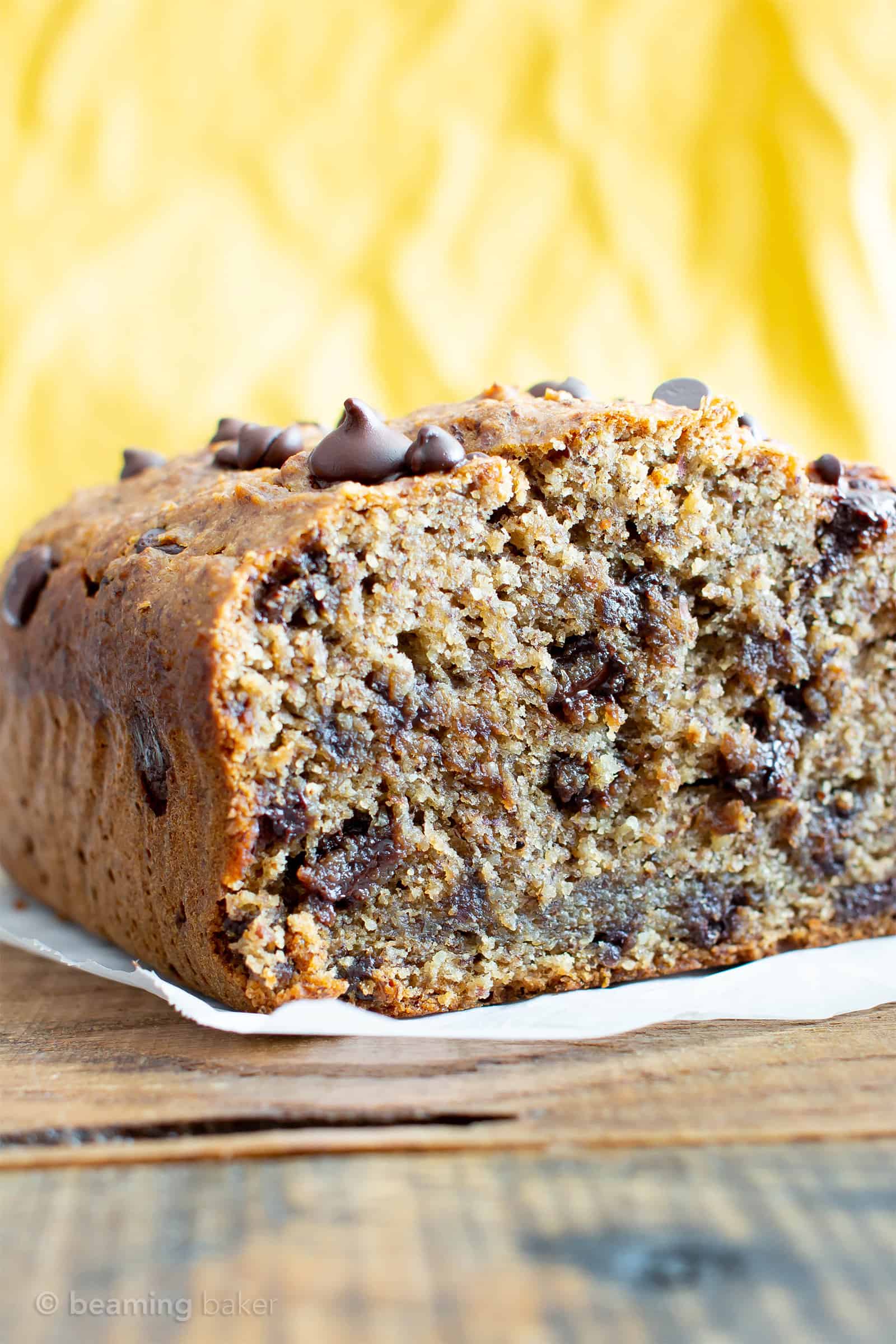 And if you don't agree, that's completely up to you. You don't have to read my posts, you don't have to "suffer" through anything. Be free and find the blogs, websites, or community that suits you.
And for those of you who do, welcome and hello, again. I say it with every post, and I'll say it 'til I stop blogging: it's so wonderful to share in these kitchen moments and adventures with you.
Thank you for stopping by and sharing in these sweet moments with me.
It's your emails, Instagram posts, comments and family pics that I live for. 🙂 It's why I work as hard as I do to share the best recipes with you. <3 And I never, ever take that lightly.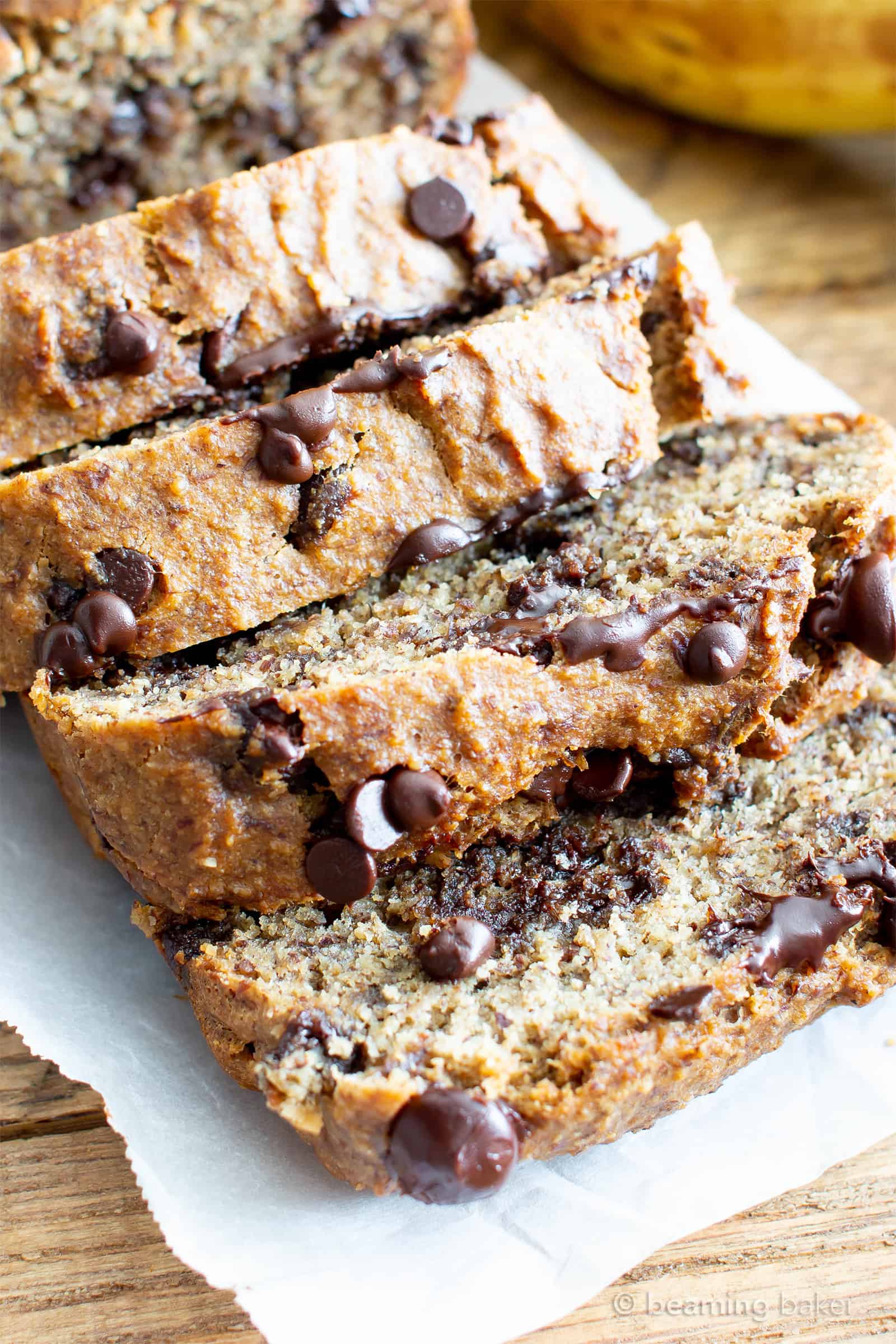 Moist Banana Chocolate Chip Banana Bread Recipe
Now, for the good stuff: the star of this emotional post… my Moist Chocolate Chip Banana Bread Recipe. It's moist, it's banana-packed, and it's full of all the chocolate chips! (Don't tell me you didn't guess that from the recipe name. ;)). It's one of my favorite quick bread recipes to date—and you know I love all of my babies! This banana bread is incredible! I literally had to slice and freeze most of the loaf to stop eating it. It's:
made in just one bowl
so perfectly moist and delicious… seriously one of my favorite quick breads!!
… along with these: . One Bowl Gluten Free Vegan Pumpkin Bread, my first . bread: Moist Vegan Gluten Free Zucchini Bread Recipe (GF, Easy, Healthy) . Easy Vegan Lemon Almond Poppy Seed Bread Recipe (Gluten-Free) and my reader-loved . Vegan Gluten Free Banana Bread Coffee Cake Recipe
vegan, gluten free, dairy-free
deliciously refined sugar-free
my sister's favorite vegan banana bread with chocolate chips!
made with the simple, healthy, whole ingredients you know and love
and, of course, made with all the love, just for you
I'd apologize for the lengthiness of this post, but that seems completely not-in-keeping with what I just said. Lol. My hope in sharing this is that you know that no matter what anyone says to you, you matter; your stories matter. And if you ever want/need an ear, I'm right here.
Sending you all my love and maybe even a dove, xo Demeter ❤️
Click below to Pin

❤️ Did you make this moist banana chocolate chip bread recipe? Take a pic & share it on Instagram with the hashtag #beamingbaker and tag @beamingbaker. I would love to see it! ❤️
If you enjoyed this Best Moist Chocolate Chip Banana Bread Recipe, then you'll just love these delicious and easy gluten free vegan banana recipes:
More Gluten Free Vegan Banana Recipes
Print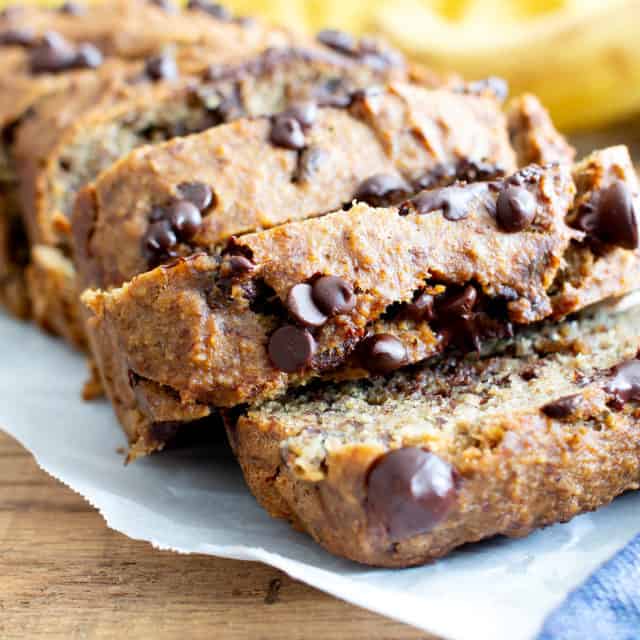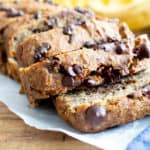 Best Moist Chocolate Chip Banana Bread Recipe (Vegan, Gluten-Free, One Bowl)
---
Description
Best Moist Chocolate Chip Banana Bread Recipe (V, GF): a one bowl recipe for deliciously moist banana bread bursting with chocolate and made with healthy, whole ingredients. Vegan, Gluten-Free, Dairy-Free, Quick Breads.
---
Wet Ingredients
Dry Ingredients
Add-ins
Optional Topping
---
Instructions
Preheat the oven to 350°F. Line an 8-inch loaf pan with parchment paper or greased foil. Set aside.
Peel bananas and add to a large mixing bowl. Using a sturdy whisk or fork, mash bananas until smooth. Add the coconut oil, maple syrup, flax egg and vanilla. Whisk until well incorporated.
Add oat flour, almond meal, baking powder, baking soda, cinnamon (optional) and salt. Whisk together until just incorporated, making sure no flour patches remain. Batter will be a bit thick. Fold in chocolate chips.
Pour batter evenly into prepared loaf pan. Using a rubber spatula, smooth batter into an even layer, with the shape of a rise down the center—just like a loaf. Optionally, sprinkle with chocolate chips. Lightly press chocolate chips into the top.
Bake for 60-70 minutes. Mine took 65 minutes. Test for doneness by sticking a toothpick into the center of the loaf. The toothpick will come out clean-ish, with just a few bits of moisture on it when the loaf is done.
Allow to cool on a cooling rack for 2 hours. Lift out, slice and enjoy!

More Gluten Free Vegan Recipes
Equipment
Notes
*If using homemade oat flour, make sure to sift the flour to remove coarse bits of oats that could create grainy texture.
Storage notes: Store in an airtight container for up to 1 week.
This loaf freezes well. Wrap in parchment paper and store in an airtight container in the freezer for up to 1 month. Allow to thaw at room temperature for 30 minutes, or heat in the microwave in 10-second increments until just warm.
Prep Time:

25 mins

Cook Time:

65 mins

Category:

Quick Bread, Snack, Dessert, Vegan, Gluten-Free, Dairy-Free

Method:

Bake

Cuisine:

American
Keywords: vegan banana bread, moist chocolate chip banana bread, healthy recipe, quick bread
© beamingbaker.com. All content and images are protected by copyright. Please do not use my images or recipe without my permission. Please do not republish this recipe, instead, include a link to this post for the recipe.
SHOP THE RECIPE
Here are a few items I used in today's recipe. 🙂
8-inch Loaf Pan | Unbleached Parchment Paper | Maple Syrup | Coconut Oil | Cooling Rack | Vegan Chocolate Chunks | Glass Mixing Bowls | Stainless Steel Measuring Cups
This post may contain affiliate links, which allow me to make a small commission for my referral, at no additional cost to you.
Facebook ☀︎ Pinterest ☀︎ Twitter ☀︎ Instagram