Easy Vegan Peanut Butter Cookies (V, GF): an easy recipe for comforting peanut butter cookies that are lightly crispy on the outside, soft and chewy on the inside, made with healthy, whole ingredients! Vegan, Gluten-Free, Dairy-Free.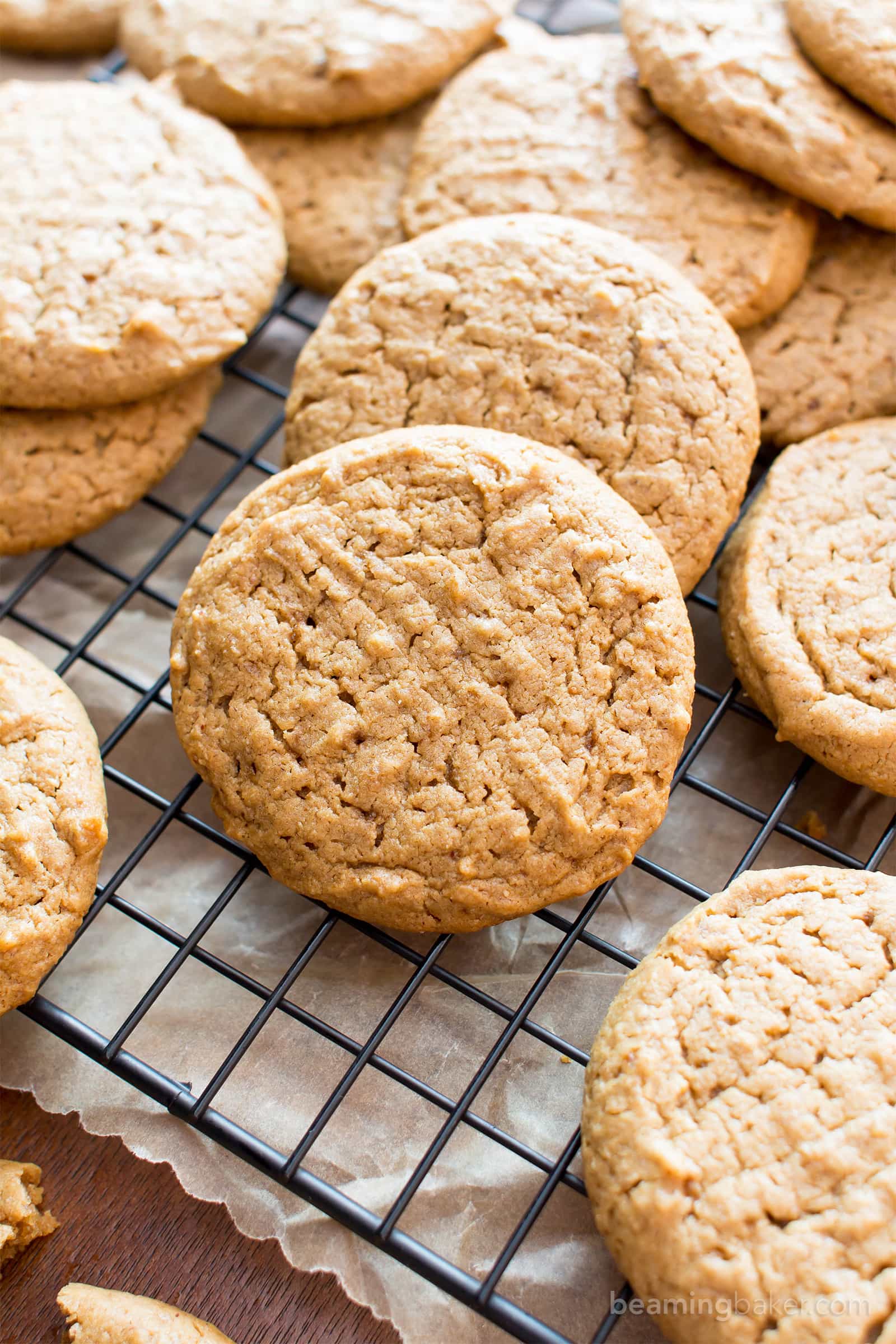 Peanut Butter is one of my FAVORITE ingredients. Of all time. It's creamy, nutty, satisfying and kind of guilt-free. Alright, it's not guilt-free if you eat an entire jar in one sitting.
Which I haven't done.
Or anything.
Best of all, peanut butter goes with everything. Or, I should say, it goes well IN everything: breakfast bars, cookies, candy, truffles, smoothies, cookies, dessert bars, cookies. And finally, cookies.
Did I say that already? 🙂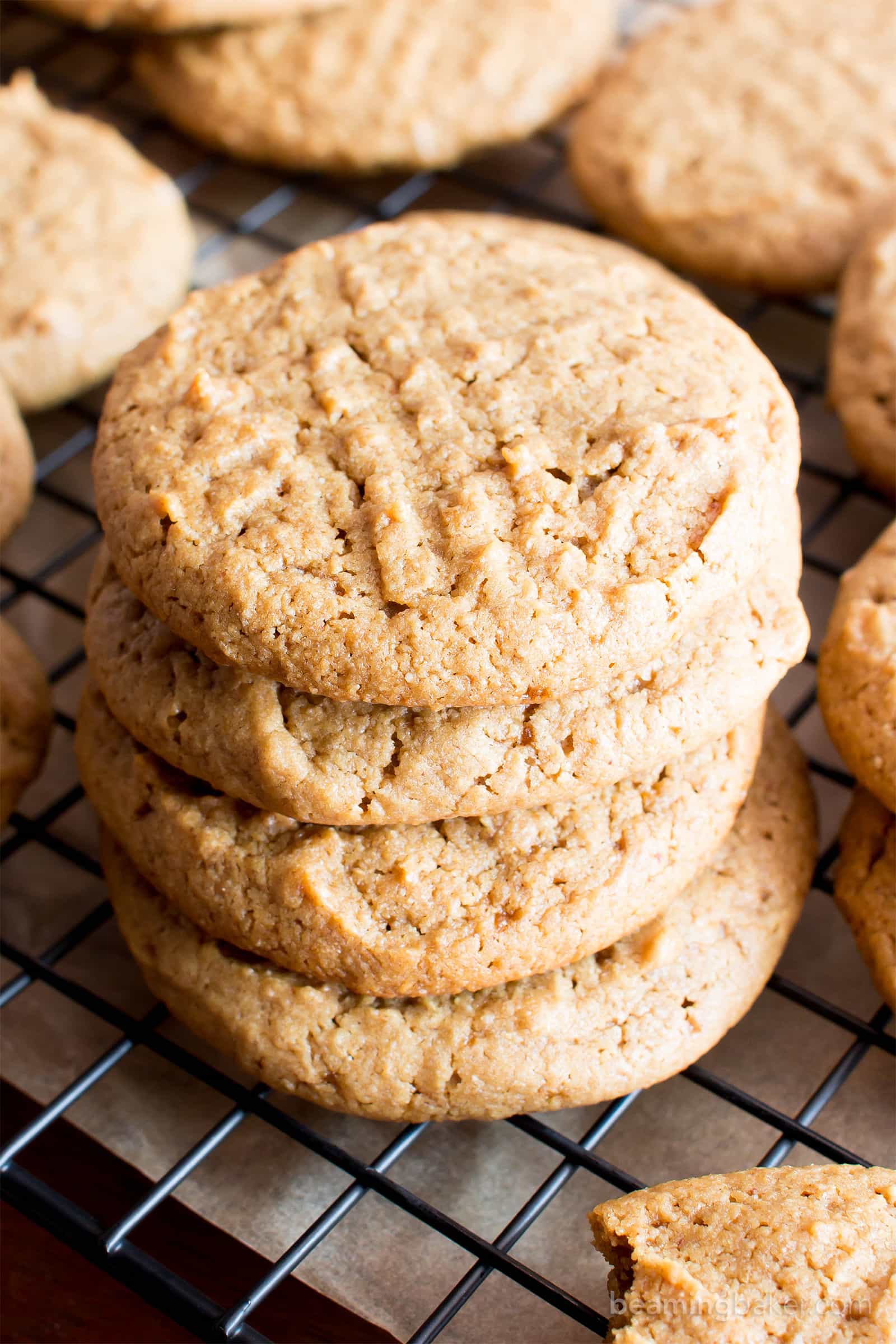 It's just… Cookies + Peanut Butter = All Dessert Goals Achieved in Life. Unless you throw in chocolate. In which case, all bets are off.
Here's just a small, teeny, tiny list of my favorite Peanut Butter-upgraded baked goods:
And here are some of my favorite Peanut Butter-upgraded unbaked/no-baked goods:
Basically, I could go on and on. And I think you kinda like it. 🙂 Come on now, who else is clicking on these PB recipes, surely it's not just my mom and Erik!
Mom? Erik? Please confirm this guys!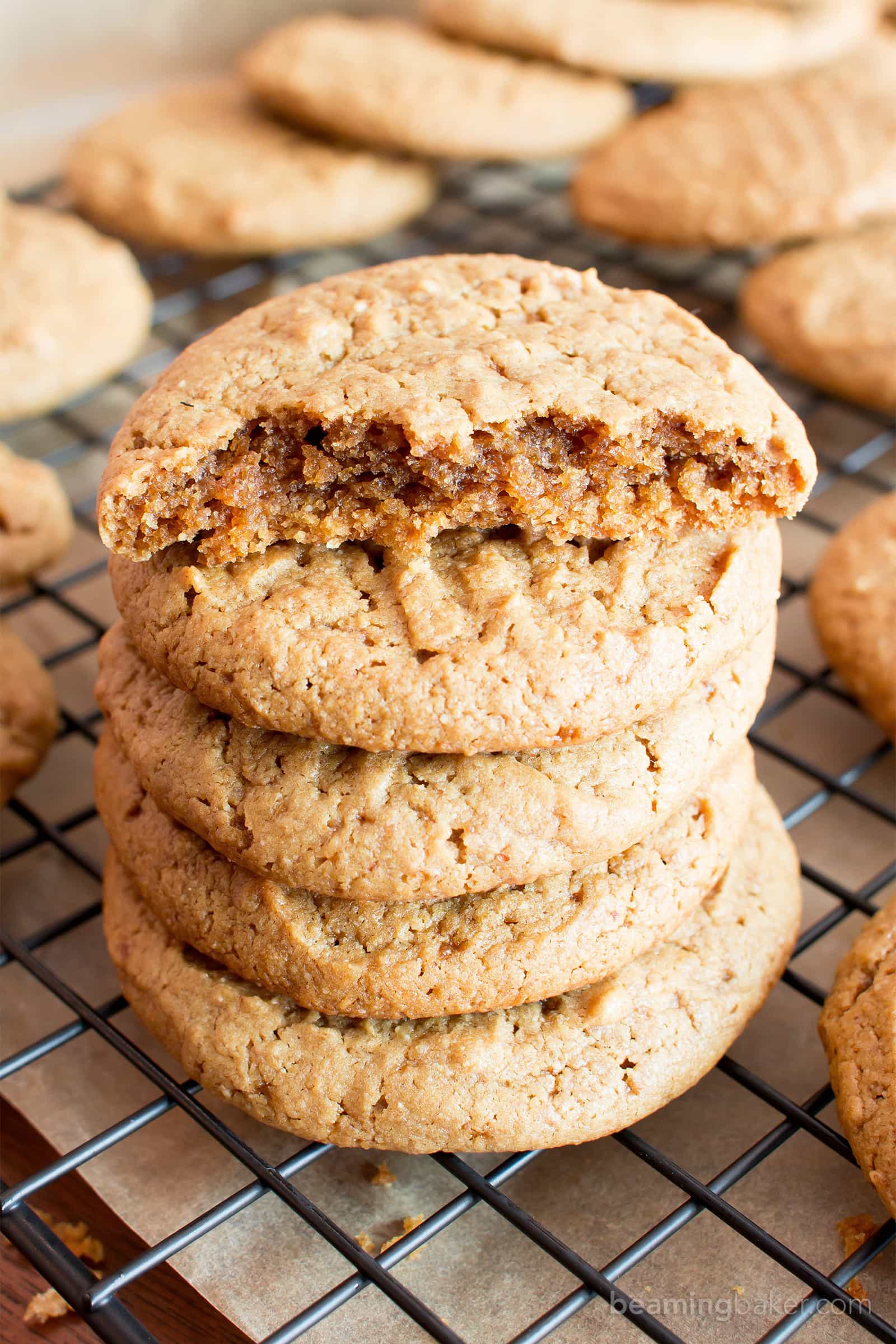 But with all of that peanut butter goodness, there hasn't been one simple easy vegan peanut butter cookie. Can you believe?
It's just that… I have this thing about not releasing a basic/staple recipe until it's AMAZING. If there's just one glitch in it, there's a glitch in the whole system! I will literally toss and turn all night knowing that it's out and it's not perfect.
So guess what?
These Easy Vegan Peanut Butter Cookies are amazing.
The thing is… even when I, someone who has to eat baked goods all day and all night for testing purposes, need to snugly put that lid on the container of peanut butter cookies, then, ask Erik to quietly and stealthily hide the cookies so I can stop eating them..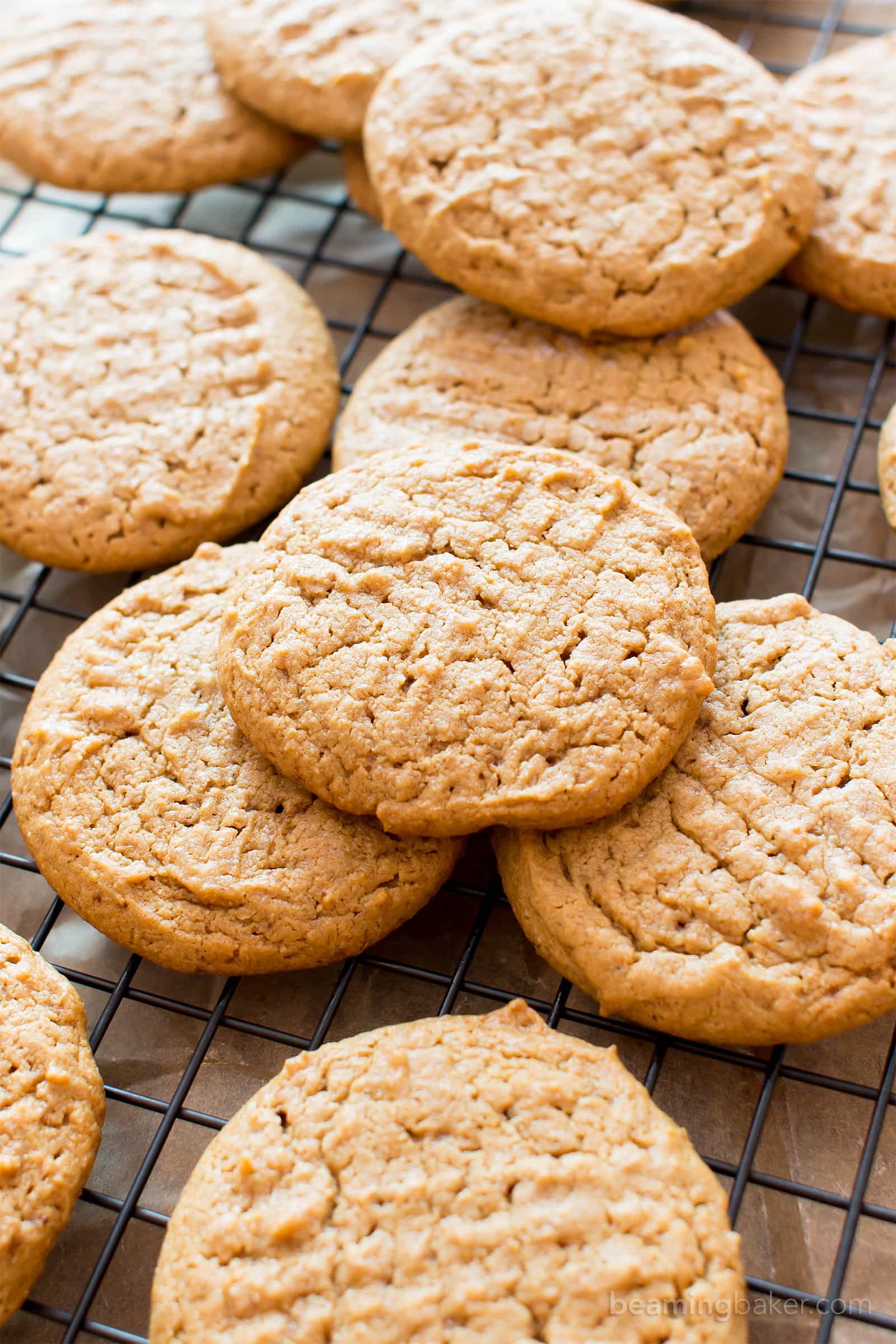 That, my friends, is Peanut Butter Perfection.
Now, these aren't my ultimate classic peanut butter cookies. Let's just get that nice and cleared up right now. And let's all hold back on insightful witticisms about my unbearable perfectionism traits… the thing is, classic peanut butter cookies are thick, super chewy, dense, and kinda small.
These Easy Vegan Peanut Butter Cookies are BIG. They spread beautifully and gracefully like those butter-filled, sugar-overdose, guilt-laden cookies from your favorite bakery.
YES.
They're deliciously large and thin, lightly crispy on the outside, chewy, soft and moist on the inside. The second day, they're seriously soft (be gentle with them :)) and the sweet peanut butter flavor comes through even more.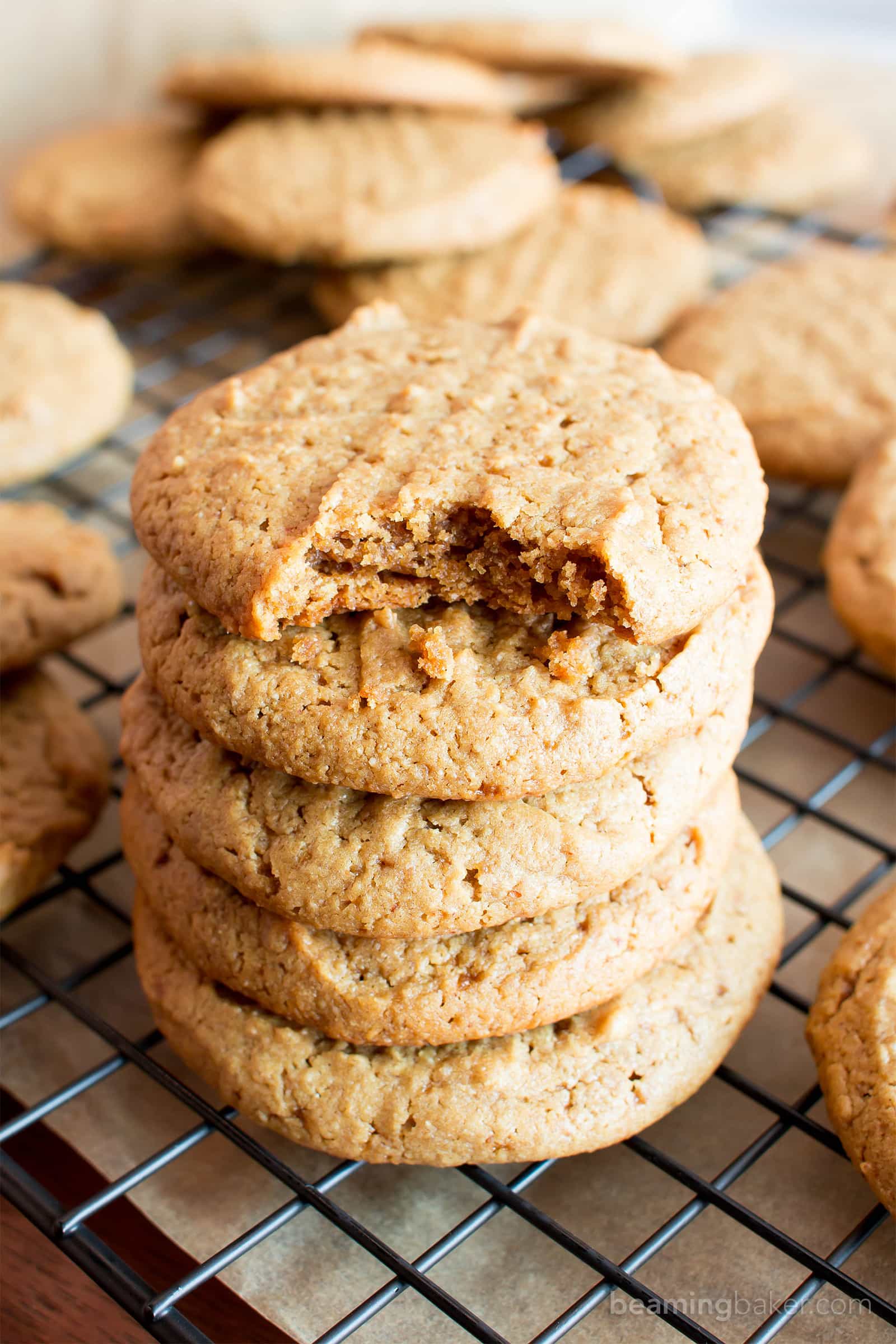 And I cannot stop eating them.
And and neither can Erik.
I literally heard him re-open the PB cookies container I had just sealed up and make gobbling noises like he was the Cookie Monster himself—all while on his mission to hide them from me!
The nerve!
Folks, I hope you love these big, delightfully nutty, crispy, chewy, soft, and delicious (let's not forget) Easy Vegan Peanut Butter Cookies. They're here, right on time for all your holiday baking needs! You happy? I hope so. 🙂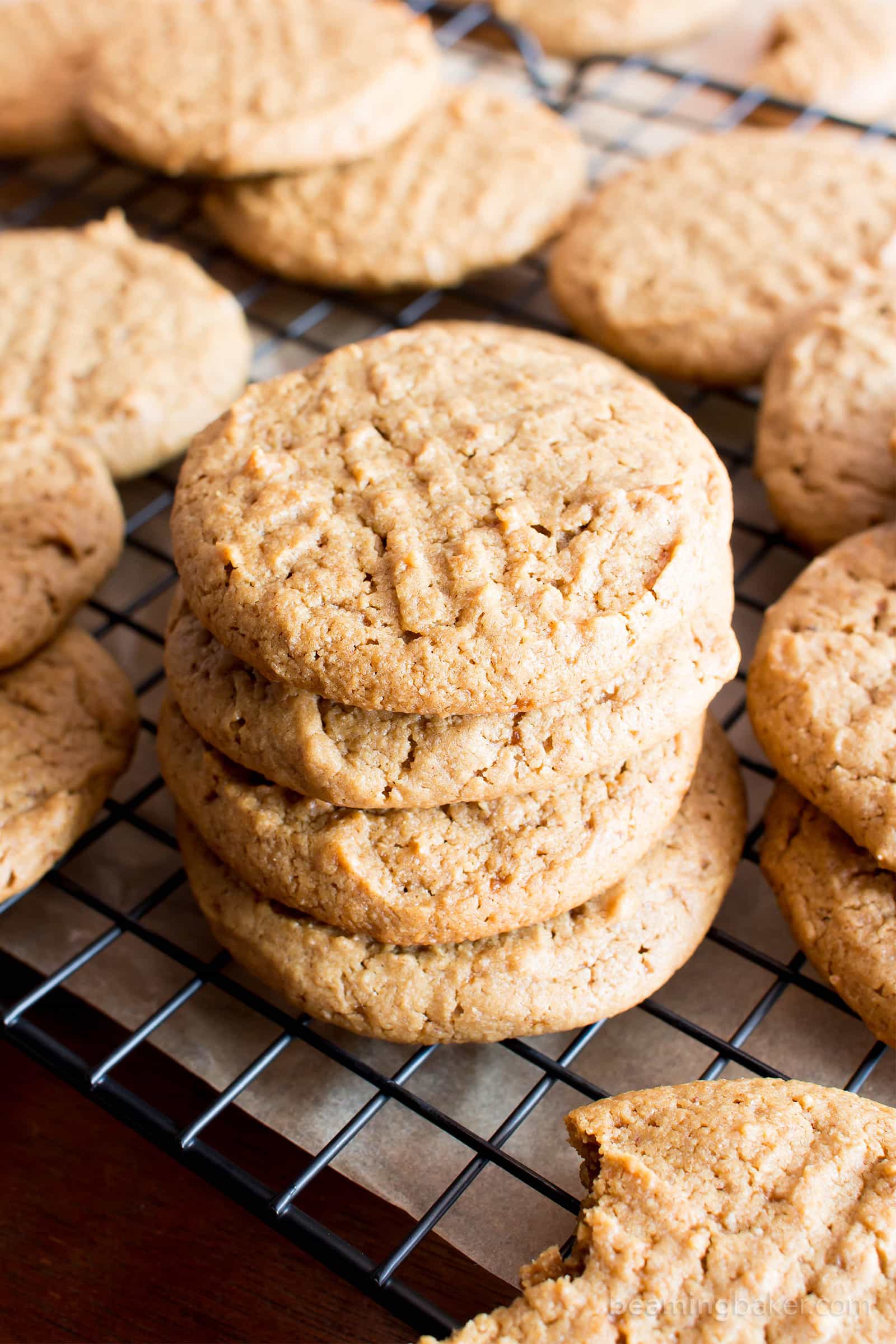 Just in case you're not convinced, allow me to tell you all about them! My Easy Vegan Peanut Butter Cookies are:
Are you super pumped about these Easy Vegan Peanut Butter Cookies? Let's do it! You grab the oat flour and I'll grab my 10-gallon jar of peanut butter (totally not the jar I completely ate in one sitting, or anything). I'm beyond thrilled to be spending the holidays with you, baking, no-baking and creating all the guilt-free holiday desserts our loved ones deserve. If you're looking for some edible holiday gift ideas, you've got to try my 5 minute easy peppermint fudge! ????
I can't wait to hear what you think of this recipe! In the meantime, tell me:
Have you started your holiday shopping yet?
Sending you all my love and maybe even a dove, xo Demeter ❤
☀︎ Click below to Pin ☀︎

☀︎ Did you make this recipe? Take a pic and share it on Instagram with the hashtag #beamingbaker and tag @beamingbaker. I would love to see it! ☀︎
If you enjoyed these classic Easy Vegan Peanut Butter Cookies, then you'll just love these classic cookie recipes:
☀︎ More ­­­­­­Gluten Free Vegan Cookie Recipes ☀︎
Easy Vegan Peanut Butter Cookies (Gluten Free, Healthy, V, Dairy-Free, Refined Sugar-Free)
Easy Vegan Peanut Butter Cookies (V, GF): an easy recipe for comforting peanut butter cookies that are lightly crispy on the outside, soft and chewy on the inside, made with healthy, whole ingredients! Vegan, Gluten-Free, Dairy-Free.
Author:
Demeter | Beaming Baker
Recipe type:
Cookies, Dessert, Vegan, Gluten-Free, Dairy-Free
Serves:
17-21 cookies, Mine made 19 cookies
Ingredients
Dry Ingredients
1 cup gluten free oat flour
½ teaspoon baking powder
½ teaspoon baking soda
¼ teaspoon salt
Wet Ingredients
¾ cup natural, unsalted creamy peanut butter
3 tablespoons melted coconut oil
½ cup coconut sugar
¼ cup pure maple syrup
2 flax eggs (whisk together 2 tablespoons ground flax + 6 tablespoons warm water, let set for 15 mins)
1 teaspoon pure vanilla extract
Instructions
Preheat oven to 350°F. Line a baking sheet with parchment paper or greased foil. Set aside.
In a large bowl, whisk together all of the dry ingredients: oat flour, baking powder, baking soda and salt.
In a medium bowl, whisk together all of the wet ingredients: peanut butter, oil, sugar, maple syrup, flax eggs and vanilla. Whisk until well mixed.
Pour the wet mixture over the dry mixture. Whisk thoroughly, as long as you can, until thickened and cohesive. Using a rubber spatula, fold until no flour patches remain.
Using a 2-tablespoon cookie scoop, scoop and drop cookie dough balls onto the prepared baking sheet. Cookie dough will be very soft and a bit sticky. Space cookies evenly apart, with enough space to spread considerably during baking. Using a fork, press down slightly to flatten cookies. Turn the fork in the opposite direction and press down on the cookie to create a crisscross pattern on top.
Bake for 10-14 minutes. Transfer cookie sheet to cooling rack. Allow cookies to cool on cookie sheet for 10 minutes. If desired, transfer cookies directly onto the cooling rack until completely cooled. Enjoy! Storing notes below.
© beamingbaker.com. All content and images are protected by copyright. Please do not use my images or recipe without my permission. If you wish to republish this recipe, please re-write the entire recipe using your own words and include a link to this post for the recipe.
SHOP THE RECIPE
Here are a few items I used in today's recipe. ????
Cookie Sheet | Maple Syrup | Cooling Rack | 2-Tablespoon Cookie Scoop | Glass Mixing Bowls | Silicone Spatulas | Coconut Oil
This post may contain affiliate links, which allow me to make a small commission for my referral, at no additional cost to you. Thank you for supporting Beaming Baker.
Facebook ☀︎ Pinterest  ☀︎ Twitter ☀︎ Instagram