Easy Gluten Free Vegan Oatmeal Raisin Cookies (V, GF, DF): an easy recipe for soft and chewy oatmeal cookies bursting with juicy raisins. Vegan, Gluten Free, Dairy-Free.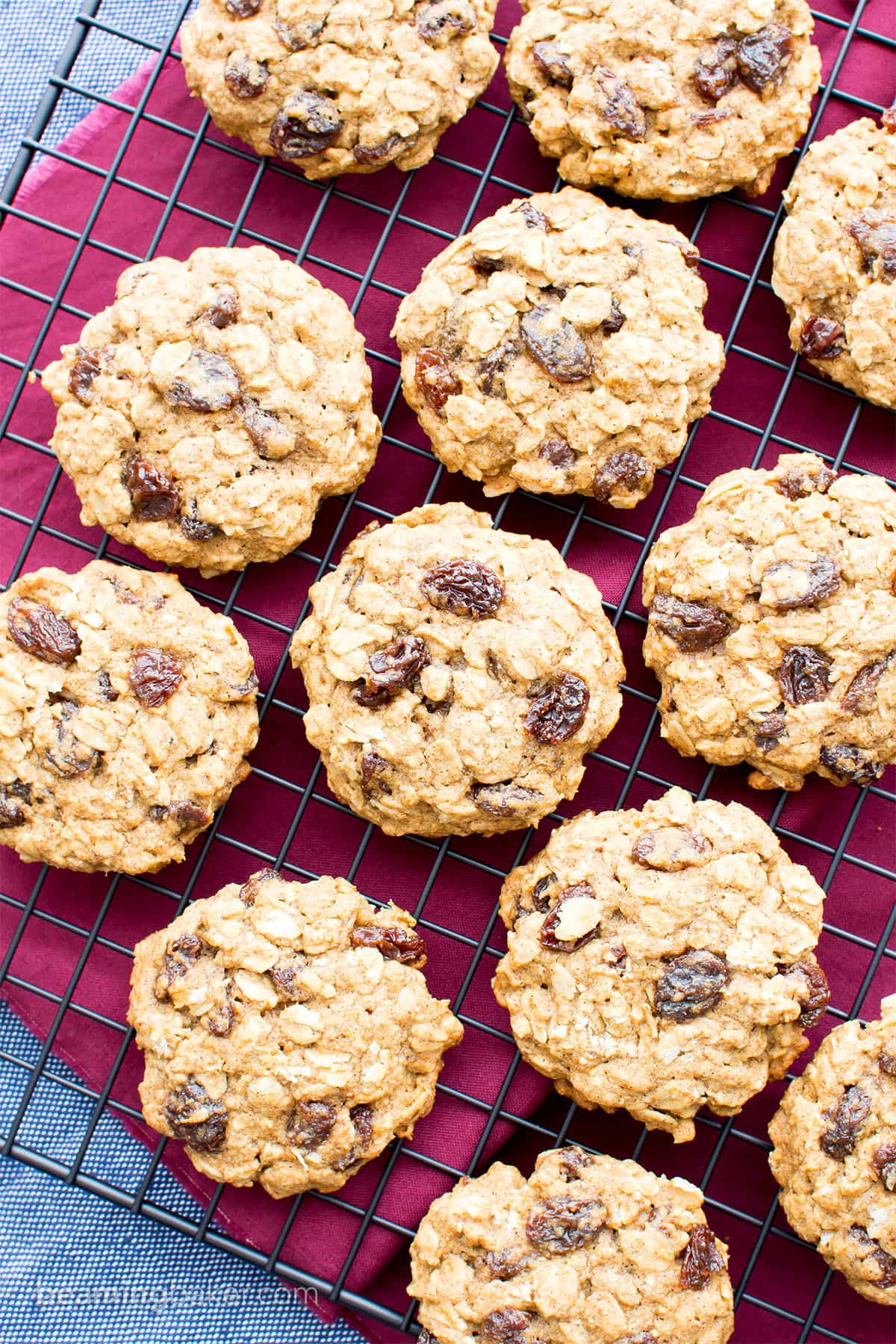 So, funny thing…I just learned a brand new fact about my sister Jenny. Ya know, the sister I've known for, like, my whole life. Okay, scratch the "like" and let's just go with my whole, entire life. Woah!
Does it ever throw you for a loop when you learn something new about someone you've known forever? You thought you knew everything there already was to know, but then they decided to keep you on your toes and announce something you really feel like you should have known already? <– Hands raised if just reading that sentence made you dizzy.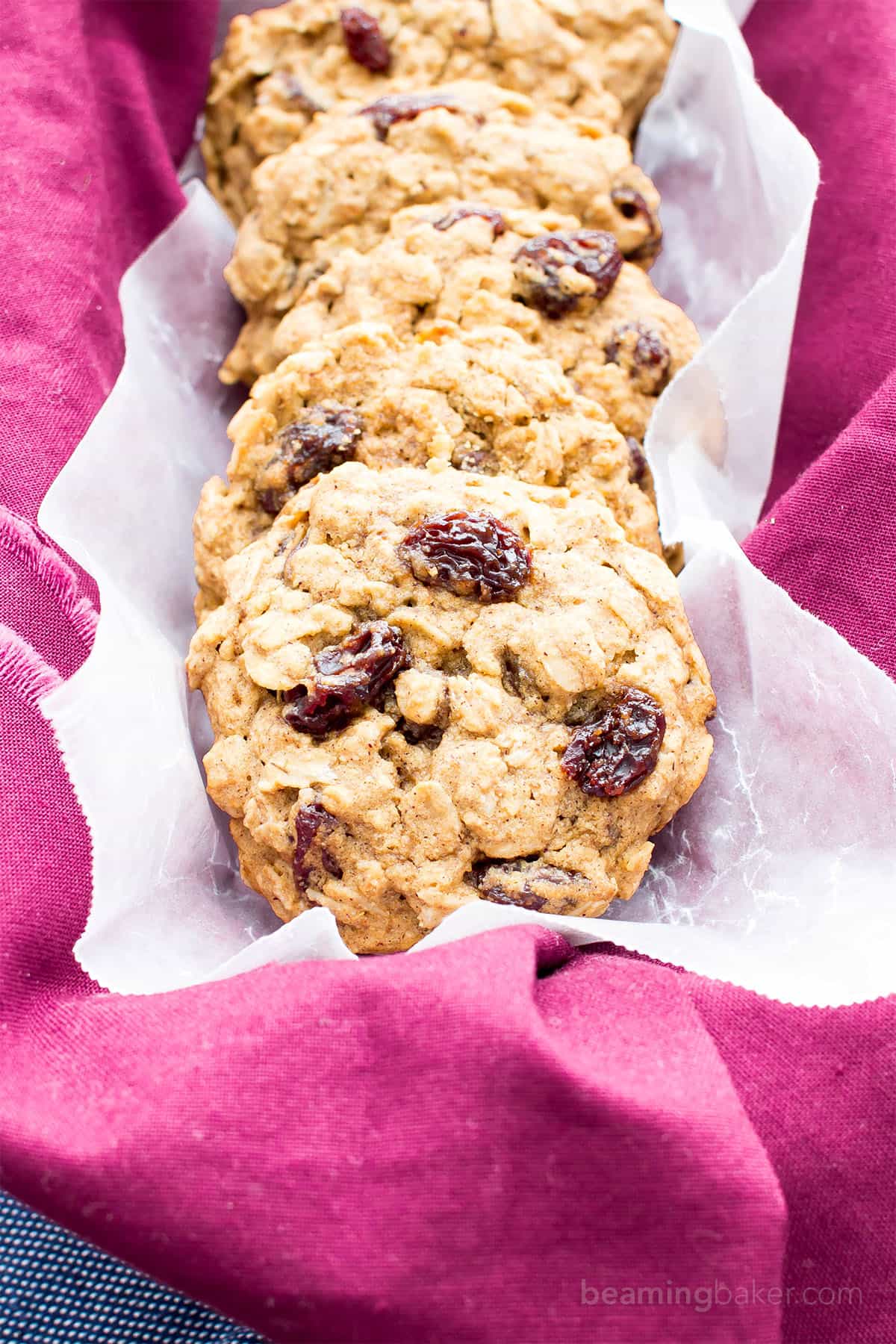 And you're searching your brain, thinking, how did I not know this? Could it be because of the hereditary forgetfulness in my family (ahem, I'm looking at you, Mommy)? Or the fact that this person just changed her mind and covertly added this fact to her Facebook all-there-is-to-know-about-me-without-actually-knowing-me profile fact sheet while you weren't looking?
Okay, Jenny doesn't even have a Facebook because she's avant garde like that. And she totally would roll her eyes at me calling her "avant garde" then ask me to use it in a sentence.
But I totally just did already, so there, Jenny!
Well, anyway, Jenny just informed me that she LOVES oatmeal raisin cookies! Say whaaaaaaa? How could I not know such a thing? After making and sending approximately 12,954 care packages full of brownies, homemade crunch bars, chewy paleo coconut cookies, the best gluten free oatmeal chocolate chip cookies and more to her for decades… After regularly updating my dossier on her likes for when package-sending/birthdays/rando family trivia quizzing times come up…
After… So. Much. Time.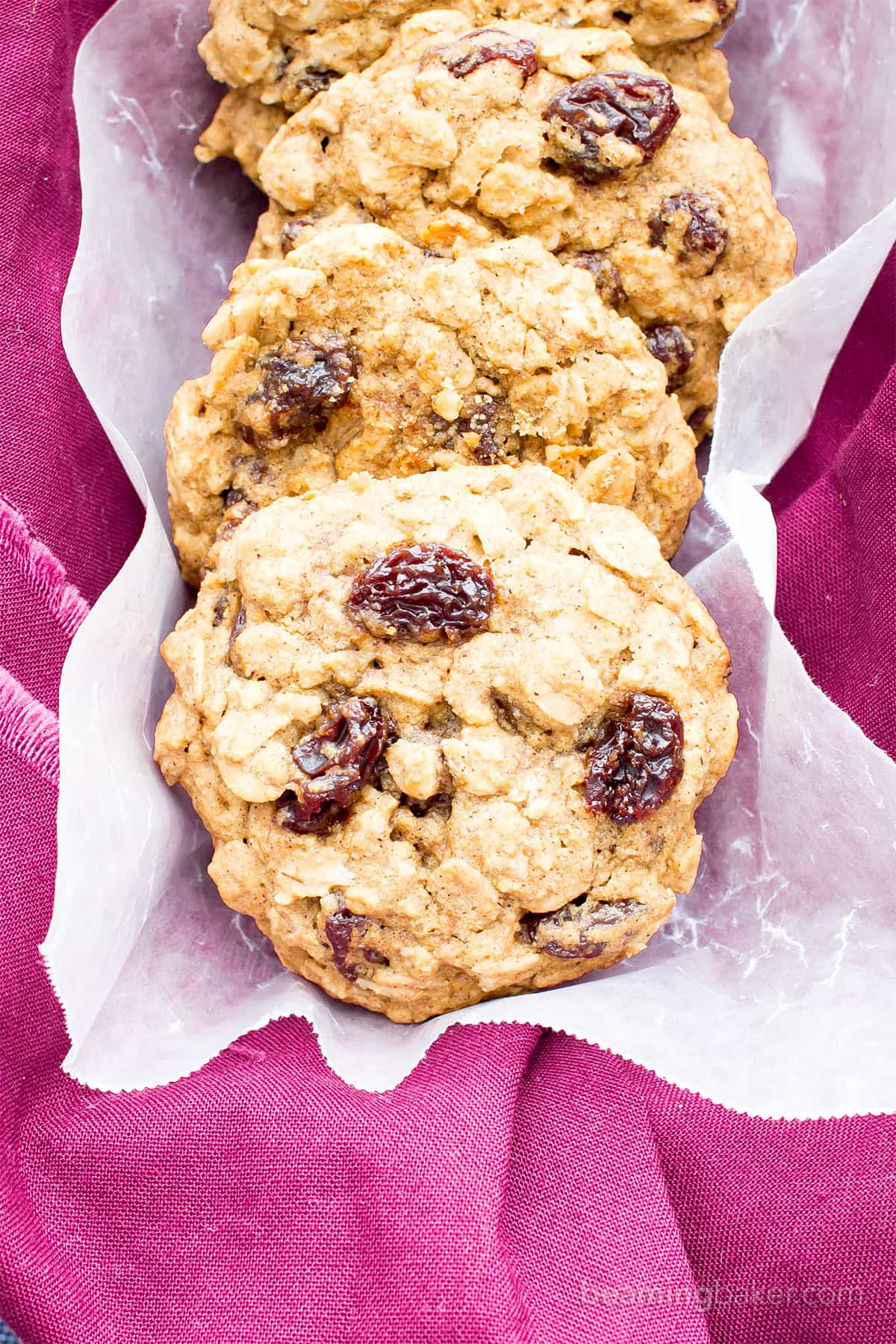 And ya know, the whole I bake for a semi-living thing. I should know this! Let me tell you, I am blushing all the lovely-but-not shades of red and green right now. I am totally a bad sister, right? Okay, don't answer that!
In any case, I've checked with Erik, otherwise known as the Family Historian aka Holder of All the Facts About Everyone Dude and he says that he didn't know it either! So I'm off the hook, right Jenny? Riiiiight?
Either way, Erik and I just sent her a big ol' box of these Easy Gluten Free Vegan Oatmeal Raisin Cookies and she gave her biggest seal of approval: texting me that they were her Number 1. In front of Best Vegan Brownies, which used to hold that coveted spot. Meanwhile, I was still numb, eyes big as saucers all weekend long, trying to unblow my mind from the little nugget about oatmeal raisins being her favorite.
Monica, Penny, Grams, did you know this? I have to text them at once, and see if they've finally surged ahead of me in the forever-ongoing family trivia showdown, and more importantly, Erik, in the Family Facts throwdown. I'll keep you posted. In the mean time, you have to check out this seriously amazing Gluten-Free Vegan Cookie Crunch Cereal from my friend Chrystal at Gluten-Free Palate! It basically fulfills all of my childhood dreams of cookies for breakfast!!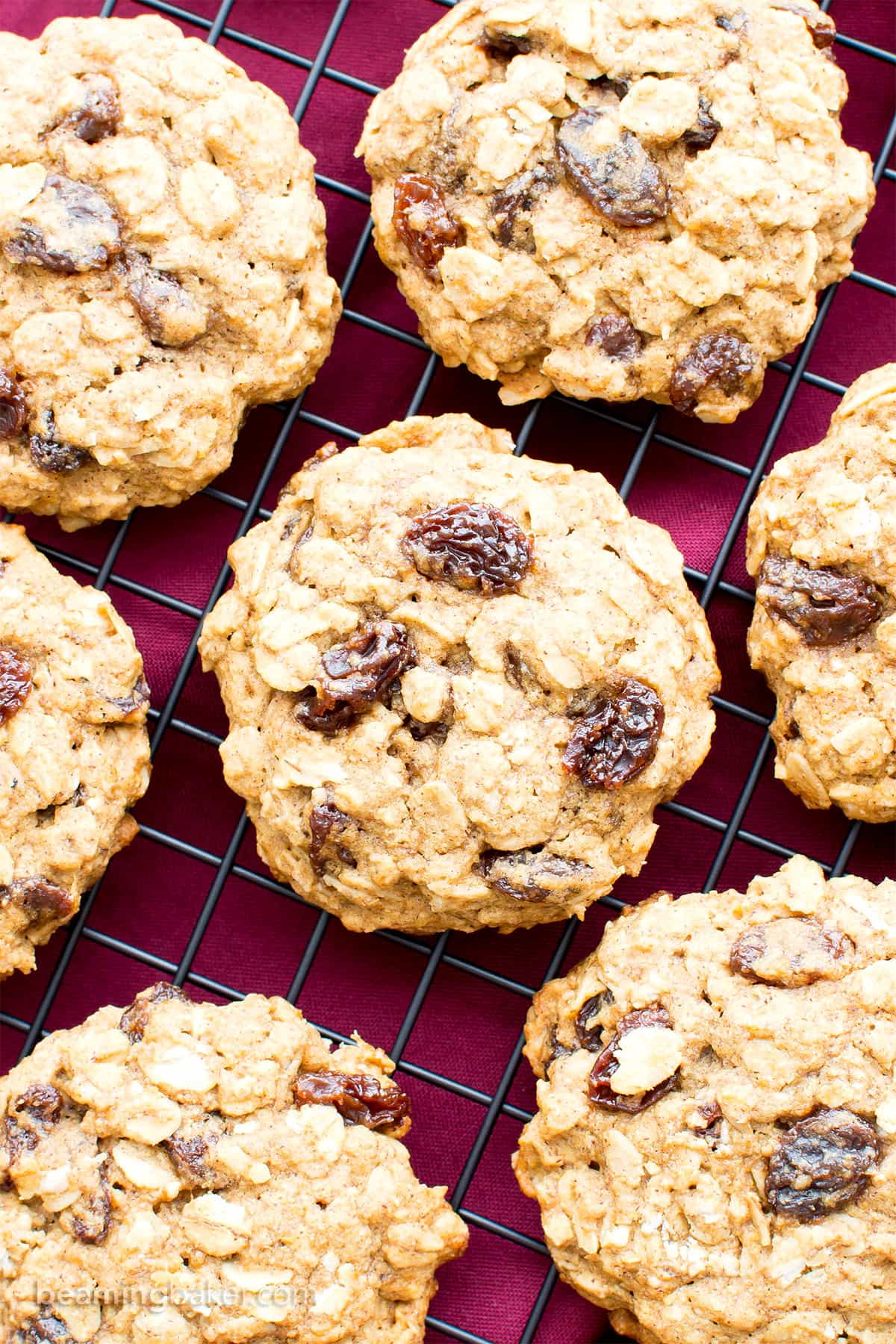 Anyway, while I still recover from this earth-shattering news, would you like to hear all about these easy Gluten Free Vegan Oatmeal Raisin Cookies? Let's go ahead and dedicate these cookies to Jenny. We're gonna pretend like that was my intention all along. And hopefully, hopefully, secure my spot as favorite sister. Even though no one has favorites.
My Easy Gluten Free Vegan Oatmeal Raisin Cookies aka Jenny's Obviously Favorite Cookies are:
delightfully easy to make
perfectly soft and chewy
bursting with juicy raisins
lightly balanced with cinnamon
vegan, gluten-free, dairy-free, whole grain
made with healthy ingredients
doubled up on whole grains: rolled oats and oat flour
plant-based and allergy-friendly
melt in your mouth GOOD
of course, totally made in advance for Jenny, who I already knew, again, in advance, loved oatmeal raisin cookies
So grab your Family Facts sheet and make sure that thing is updated! Then, grab a few bowls, your juiciest raisins (or pretty dry ones—they'll moisten up in the oven!!), a healthy appetite and get ready to bake! I'm so happy to whip up delicious homemade treats with you. I can't wait to hear what you think. In the meantime, tell me:
When have you been surprised to learn a new fact about someone you've known forever?
Sending you all my love and maybe even a dove, xo Demeter ❤
☀︎ Click below to Pin ☀︎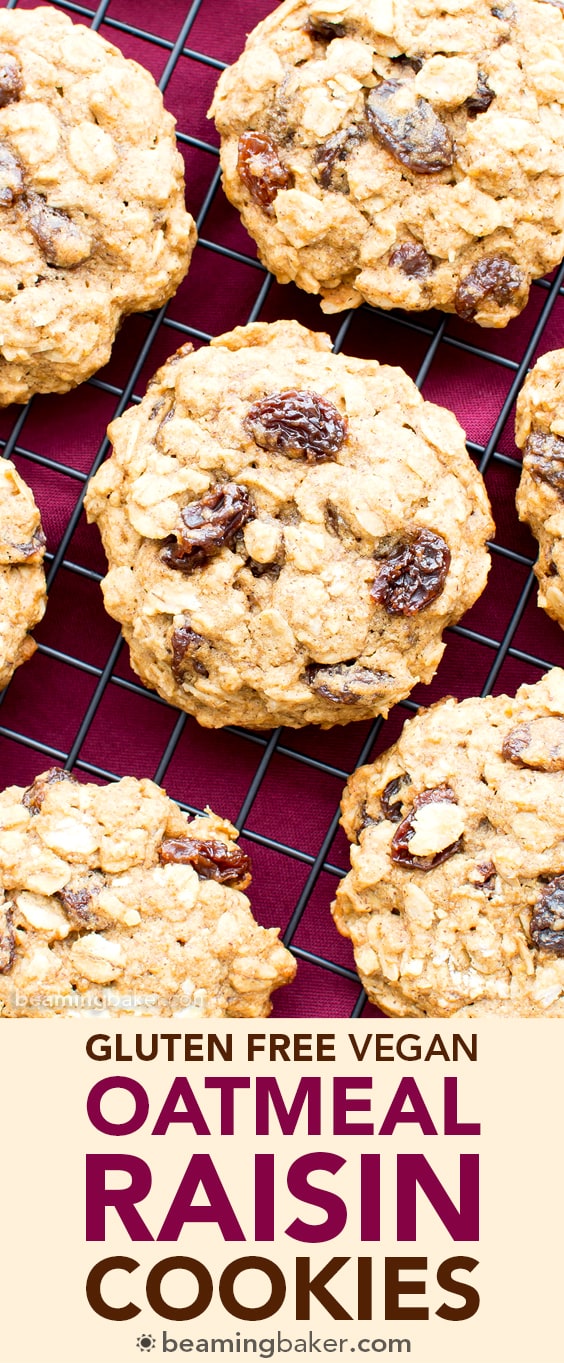 ☀︎ Did you make this recipe? Take a pic and share it on Instagram with the hashtag #beamingbaker and tag @beamingbaker. I would love to see it! ☀︎
More Gluten Free Vegan Oatmeal Recipes
Print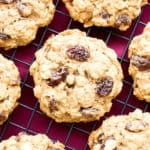 Easy Gluten Free Vegan Oatmeal Raisin Cookies (V, GF, Dairy-Free, Refined Sugar-Free)
---
Description
Easy Gluten Free Vegan Oatmeal Raisin Cookies (V, GF, DF): an easy recipe for soft and chewy oatmeal cookies bursting with juicy raisins. Vegan, Gluten-Free, Dairy-Free, Oat Flour, Refined Sugar-Free.
---
Scale
Ingredients
Dry Ingredients
1 cup

gluten free rolled oats, more in Add-Ins

1 cup

gluten free oat flour – if using homemade, made sure it's finely ground and not coarse

½ teaspoon

baking powder

½ teaspoon

baking soda

1 teaspoon

ground cinnamon

¼ teaspoon

salt
Wet Ingredients
¼ cup

+

2 tablespoon

s melted coconut oil

¼ cup

coconut sugar

¼ cup

pure maple syrup

2

flax eggs (

2 tablespoon

s ground flax +

6 tablespoon

s water, whisked together, set for 15 minutes)

1 teaspoon

pure vanilla extract
Add-in Ingredients
¾ cup

raisins, packed

½ cup

gluten free rolled oats
Optional Topping
---
Instructions
Preheat oven to 350°F. Line a baking sheet with parchment paper or greased foil. Set aside for later.
In a medium bowl, whisk together all the dry ingredients: oats, oat flour, baking powder, baking soda, cinnamon and salt.
In a large bowl, whisk together all the wet ingredients: coconut oil, coconut sugar, maple syrup, flax eggs and vanilla. Whisk until thoroughly combined and resembles caramel.
Add the dry ingredients to the wet ingredients. Whisk until thoroughly combined. Fold in raisins and oats. The dough will be sticky.
Using a medium cookie scoop, scoop cookie dough and drop onto the prepared baking sheet. Using a fork, flatten cookies into a round disc—they will not spread during baking. Optionally, press raisins into the tops of the cookies.
Bake for 8-12 minutes. Mine took 10 minutes. Using a flat, heatproof spatula, carefully lift cookies off the baking sheet and transfer to a cooling rack. Allow to cool completely. Enjoy! Storing instructions below.
---
Equipment
Category:

Cookies, Vegan, Gluten-Free, Dairy-Free, Oat Flour, Refined Sugar-Free
Nutrition
Serving Size:

1 cookie

Calories:

91

Sugar:

7g

Sodium:

24mg

Fat:

4g

Carbohydrates:

13g

Protein:

2g
© beamingbaker.com. All content and images are protected by copyright. Please do not use my images or recipe without my permission. If you wish to republish this recipe, please re-write the entire recipe using your own words and include a link to this post for the recipe.
This post may contain affiliate links, which allow me to make a small commission for my referral, at no additional cost to you. Thank you for supporting Beaming Baker.
Facebook ☀︎ Pinterest ☀︎ Twitter ☀︎ Instagram